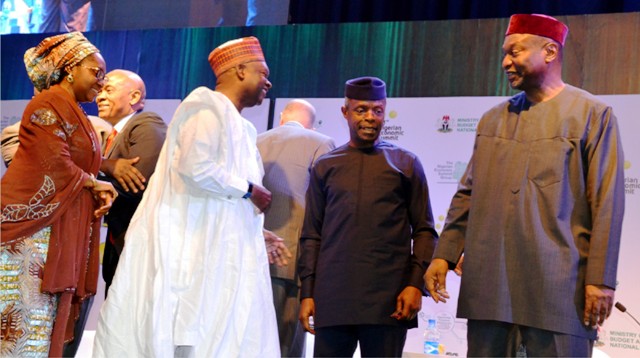 Minister of Budget and National Planning, Senator Udo Udoma has said that Federal Government was committed to the faithful implementation of the Economic Recovery and Growth Plan (ERGP) 2017-2020.
ERGP was launched by President Muhammadu Buhari on April 5.
Udoma said this in Abuja at the opening of the 23rd Nigerian Economic Summit (NES) with the theme "Opportunities, Productivity and Employment; Actualising the ERGP''
He said that so many Nigerians had expressed concern about whether the plan would be properly implemented, given Nigeria's past record with previous plans.
"I appreciate these concerns. This Government is committed to the faithful implementation of the ERGP.
"It is for this reason that this year's Summit is dedicated to the implementation of the ERGP.
" We cannot and must not allow it to fail.
"At this Summit, we will be expecting the active participation of all the private sector persons gathered here in reviewing and strengthening our implementation strategies,' the minister said.
Udoma said the summit would give an opportunity for the gathering of captains of industry and influential members of the private sector to contribute toward the effective implementation of the ERGP.
He said that the Federal Government would ensure that annual budgets align with the ERGP so that government spending would be driven by the plan.
The minister said that the government had set up a special implementation unit to ensure effective delivery of the Plan and had also engaged staff to drive the process.
"In the coming weeks, we will be running sector-focused Malaysian style labs.
"The labs are intended to bring all relevant stakeholders into weeks of intensive working sessions, to brainstorm on practical steps to overcoming identified challenges in the selected area.
"The central objective of the labs will be to bring in private capital to finance projects across the country.
"We will be inviting many of you to participate in these labs.
" Some of the staff we have retained will be available in the course of the Summit to interact with you and give you more information on the proposed labs as well as all our implementation initiatives.
Also, Mr Kyari Bukar, Chairman of Nigerian Economic Summit Group (NESG) said the summit had become a platform to discuss and understand economic policies in the country, for the past 23 years.