Now, A Port Harcourt Of Pleasure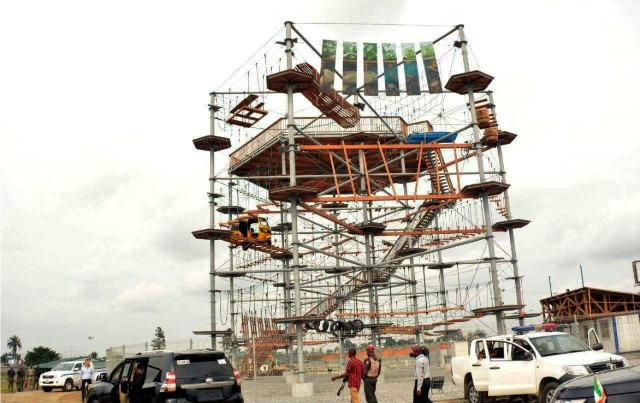 It is now true that the Port Harcourt Pleasure Park is completed. An official ceremony to inaugurate the park and open it for use by members of the public who will desire to enjoy its recreational comfort has also been held by the former Governor of the State, Dr. Peter Odili, on Friday, 26th May, 2017 as part of activities marking the Golden Jubilee Anniversary of Rivers State.
The park will offer a plethora of benefits to users and indeed,  the entire Rivers State.
Discreetly,  the park is delineated. A section has been marked out for public car park. The floor is concrete and easy to allow run-off of water into the drains.  The other mass of land has been prepared as a broad field. There are purposeful walkways interconnected to offer walking pleasure to any user.
The low leveled grasses are green and preen. The ornamental trees are sparsely distributed and they offer a presence that takes away the wilderness looks. The entire park space exudes freshness. Nature is invoked and it is available to touch by lovers of recreation.
There is a central bar, which will serve as a restaurant. The bar is already presented as a public reception venue for any social activity. From this place,  it is obvious that every guest who sits under the several hut-like  shelters that dot the entire space of the park will get supply to satisfy any order made.
Again, there are clearly marked-out grounds to be used for several outdoor games. Though,  it will not be a place for fierce competition,  if the users desire,  they can compete  prayerfully,  playing the games with spirit of recreation.
Indeed,  two weeks before the formal commissioning of the Port Harcourt Pleasure Park,  Rivers State Governor, Nyesom Ezenwo Wike, visited with his family. Some leaders of the State accompanied them.
The governor tried his hands on the game of golf with one of his sons. They played and the governor could not tee the ball into the hole. But his son did,  several times and over. The excitement stamped on the spectators and the feelings shared were grand.
Truly,  that signaled that the park is set for public use. It means, the interest of children and adults alike have been considered and provided for.
Later,  the governor and his wife,  Justice Suzette, sailed in the pal boat on the artificial lake created within the park.
The lake is an artificial one. But its water supply method is uniquely configured. Water could flow from the Ntawogba creeks into the lake. Since the water flow situation in the natural creek was not regular and not of the volume required in the artificial lake,  a dependable option was devised.
Two motorised nozzles of pipes are installed at opposite ends within the lake. They will serve as fountain springs and will splash water often as required. While the splatter of water becomes a appealing sight to guests, there is surety that the volume of water required in the lake will be supplied,  gainfully.
Another benefit of the Port Harcourt Pleasure Park is the change it has stamped on the overall landscape of the State capital. Already,  the park is a miniature garden within the popular garden city that is known of Port Harcourt.
Surely, what several administrations in the past could not achieve beyond paying lip services, the Wike administration has achieved it. Governor Wike has proved that it is possible to restore the beauty of Port Harcourt with political will. The administration has demonstrated that the glory of the garden city cannot be lost eternally.
There is yet another benefit to derive from the park. It will be a source of revenue to the government. The park will be operated as a commercial venture.
Nigeria is still in economic recession. The Wike government has refused to be so confused.  It has thought through the box. The Port Harcourt Pleasure Park is its creation, presented as a viable business venture. It will also offer employment to youth and women.  There is no doubt that there is a general enabling climate created for the business community in the State to carry on with their activities.
The daily proceeds from the park will be direct income generated for the government. It will certainly boost its internally generated revenue profile.
When you plan your holidays or should you consider the best recreational place to visit, think of the Port Harcourt Pleasure Park.
There are many more comfort to derive. Only a visit to the place will satisfy all the recreational yearnings nursed for a long time.
Ibulubo writes from Rivers State Television, RSTV, Port Harcourt.
Tamunobarabi Ibulubo
A. I. are abbreviations for Artificial Intelligence, but it would not be enough to define artificial intelligence as the study of how to make computers do things which human beings can do; there is a need to describe A.1. Culture as a creeping darkness. A. I. Culture has advanced to such a sophistical level that humans, rather than computers, are becoming puppets, subservient to artificiality. Perhaps, unwittingly humans may surrender their personal volition and independence to artificially created intellectual monsters. The concepts of mastermind, artificial intelligence, robotics, altered state of consciousness, etc, have been fields of research activities, whose consequences do not begin and end with those engaged in them alone. In the recent times, fall-outs from such research activities have caused some panic here and there, without the full details of such projects being known to unsuspecting public. So far, speculations and opinions about Acquired Immune Deficiency Syndrome (AIDS) and COVID-19 Pandemic, have died always, without the details all known to the public.
Obviously there have been various research projects of very sensitive nature and involving studies in virological and brain substances. At the end of the day, whether the results of such activities are published or not, there are often some aspects of high-stake research works that have far-reaching consequences. No matter the level of supervision and security provisions, a number of research projects have resulted in widespread poisoning of human environments and injuries which are not physically verifiable. Thus are a large number of unsuspecting people exposed to various chemicals and radiations dangerous to humans. With particular respect to research projects in artificial intelligence, there is little need to warn that there are lots of implications, ranging from security to sanity. Human brain has been abused grossly in the process of ascertaining what it is capable of doing, so that computers can be programmed to do those things the brain is capable of.  Strategies used by various authorities and agencies to subject humans to such experiments are as unbelievable as they are shrouded in secrecy. Purposes of such research experiments range from economic to military power, of which less than ten percent of the realities are known to the public.
Be it for monetary, military or ego purposes, few of the available information on artificial intelligence create the impression that AI culture has become a cult. It is described as a cult in the sense that there is a definite tendency towards modifying human genetic structure, albeit surreptitiously. Under the commercial services of artificial intelligence, promoters of e-trading and wealth-creation entrepreneur organise training programmes on how participants can become millionaires by the magic of AI. There may be nothing wrong with wealth creation. The cleverness and ruthlessness of artificial intelligence include the fact that it serves without compunction, feeling or conscience, like a human being would exhibit. Thus while one man smiles to the bank as a millionaire; thousands of unsuspecting participants in the cult system grow poor, with expectation to win in the next round of gambling. Like a gambling system, those trapped in the wheel of the artificial intelligence culture, would have to choose between enlarging the network of customers, or forfeiting their investment. The system is so programmed that a vicious circle is created, leaving no option for those trapped therein.
Another aspect of the viciousness of the artificial intelligence culture is the gross diminution of the humanity of the individual participants, whereby they become subservient to an impersonal cult system. The difference between a human being and animals or artificial mechanism, is the personal volition that man is endowed with, which also gives him the freedom to make personal choices and decisions. But a situation where an individual subjects himself to the control of an artificial intelligence, under whatever guise or reason, then he deprives himself of that humanity which makes him a human being. Artificial intelligence and those held captive therein, are described as an impersonal cult system, because, the individual surrenders his personal volition to an impersonal entity, under the guise of being served by the wonders of intellectual science. Advocates and votaries of artificial intelligence would boast that humanity has arrived at the apex of development, where robots replace humans in every service. We are told that cars can be driven by robots in such a way that no accident can occur, and that men can have such partners that would do everything for them, without any refusal or nagging that can cause hypertension.
There is even the claim that governance can be delegated to robots that would not steal or loot public funds or engage in corrupt practices. Thus, there is the admission of gross failures by humans which the artificial intelligence culture would eliminate, by taking over the functions and services of imperfect human beings. What a wonderful level of technological development where the artificial products of human brain would become perfect and better performers than humans! While spirited competitions rage among developed nations in research projects towards creating maximum comfort and security for humans, developing countries usually serve as ready markets and poaching territories for raw materials and cheap collaborators. Once upon a time it was suspected that African children were good enough to serve as guinea-pigs for the testing of various drugs manufactured in developed countries. There had also been some allegations about secret population-reduction moves, aimed at checking production of babies like rabbits. Perhaps proliferation of arms and light weapons in developing countries may be an alternative strategy.
"Trovan" controversy may have come and gone, and drug producers would not want to face any litigations or allegations of testing their drugs on African children. But, the artificial intelligence culture is not being propagated by developing countries, rather, like "Smart phones", developing countries provide large markets. The process of marketing of wonder-products manufactured in developed countries, usually aim at developing nations for consumers. So also is the wealth creation campaign whereby artificial brains are deployed for quick services.All said and done, the body-language of the artificial intelligence culture is a message that humanity is drifting towards a state of languor. The trappings and glamour of AI culture are a part of the tentacles of a global virus which seeks to narcotise humanity. The trend is to install an artificial monster that humans would bow to. There is a need for Nigerian Intelligence Services to pry into the circulation of robotics in Nigeria.
By: Bright Amirize
Dr Amirize is a retired lecturer from the Rivers State University, Port Harcourt.
Towards Containment Of Insane Persons
The rate of insane persons walking along Nigerian roads and streets is becoming unbearable. It simply questions the sanity of our society. Insane persons are those who have a disorder of the mind or are  deranged. They are popularly known as "mad persons". For sometime now, our streets and major roads in Nigeria have become endangered due to the high presence of mad people. Ofcourse this situation is not limited to one state. Virtually all the states in the country are lithered with insane persons . The number of mad persons freely roaming about the streets is on a geometric increase. This is no exaggeration as recent studies have shown that the number of psychiatric patients in Nigeria has doubled over the last few years. One of the primary functions of any government is to protect the lives of citizens from internal or external violence and ensure the safety of its citizens. But it should be noted that the security of lives and properties by government is not limited to fighting crimes like armed robbery, kidnapping or ridding the society of insurgency  as is the case with the fight against Boko Haram in our country today. The government has the responsibility to protect its citizens against any form of danger that may be constituted by persons with mental disability.
It is sad that in Nigeria today, lunatics (who can not distinguish between right and wrong) are allowed to move freely with mentally healthy or sane persons. The sight of these mad persons in our streets is very appalling;  their dirty and tattered appearance alone can make anyone edgy, not to mention their possession of sharp and harmful objects and their violent displays. This drives fear and worry into the minds of the citizens. For years, insane persons have been overlooked as though they are not relevant or pose no form of real danger or threat to the society, but the sad reality is that, this set of deranged people constitutes real danger to the safety of the public. It is, therefore, high time the public and the government found permanent solutions to their littering presence in our society. These insane individuals do not just walk about the streets tormenting the citizens with their violent displays, they sometimes trespass into private property, houses and estates, begging for alms and even stealing foods,  clothes and other valuable items. Unfortunately, their displays on our streets are rather seen as a "normal thing", which ought not be so.
During events like birthdays, weddings and burial ceremonies, mad persons are commonly seen moving freely, constituting themselves into public nuisance. Some people even go as far as appeasing them with food and gift items, just to ensure they leave the venue of the event. This is gradually becoming a culture. Although, there may not be available records to show the number of attacks by these mentally unstable persons, it should be noted that most of the attacks in our society are traceable to mentally unstable presons. Some people are of the opinion that health care workers (psychiatric care givers), relations of the insane persons, and the security officers have their fair contribution to the growth of this problem. The health care workers in psychiatric hospitals whose responsibility it  is to take care of the mentally disturbed persons,  do their jobs with a high level of non-challancy,  resulting sometimes in escape of these mentally deranged persons into our streets. The relatives of these insane persons also share in the blame, they loose them  into the streets without considering the damaging consequences it poses to members of the society.  Many relatives conceal their connections to these insane persons, either to avoid being held responsible for their care or being held liable for any dangers caused or just to avoid public stigma.
The security personnel also overlook the sight of these insane persons  on the streets. This is probably because they feel they are not responsible for them. Even when they are witnesses to an attack by an insane person, they hardly do anything about the situation. What they fail to understand is that some unresolved murder and accident cases which they have in their files can be connected or traced to attacks by deranged persons, and some of them would  most likely have been avoided if the security personnel had considered it a point of duty to protect the public from these persons. Without gainsaying, the government owes the public the duty of ridding our roads and streets of these mentally ill persons. Given the likelihood that the number of mentally ill persons may have overwhelmed or outnumbered the few psychiatric hospitals we have in the country, government needs to build more rehabilitation and mental homes that can conveniently accommodate and cater for these people. Meanwhile, the psychiatric homes should be equipped with state-of-the-art facilities and professionals who can take good care of these persons and keep them away from causing danger to the society.
In addition to building more  psychiatric hospitals, the government should ensure that a general sensitisation is given to members of the public, teaching them about the medical causes, symptoms and how to handle mental insanity. The public should be advised to report cases of insanity in the family, to enable the concerned authorities easily locate them, using the detailed description from the family. The government should also constitute a special taskforce designed to checkmate the activities of these mentally insane persons. The taskforce should be charged with the duty of making sure mad people are taken off the streets. This will create a safe and friendly atmosphere for the people to live. It will also serve as a reassurance that the government has the best interest of the public at heart. When these mentally sick persons are effectively managed and completely taken off our streets, the streets will be more attractive just as the various environmental  nuisance and health hazard caused by these insane persons will be a thing of the past, and the citizens will no longer feel threatened by the presence of these mentally deranged persons.
By:  Happiness Otobo
Otobo writes from Port Harcourt.
 Saving Our Marine Ecosystem
With a coastline of approximately 853km and an exclusive economic ocean zone that stretches 200 nautical miles from her shorelines deep into the Atlantic Ocean: and with a vast area of fresh water and mangrove forest resources, Nigeria has enormous marine resource potentials. These potentials hold much more when Nigeria finally succeeds in extending its reach to 350 nautical miles deeper into the Gulf of Guinea area dubbed as 'the Golden Triangle', which contains unquantifiable resources. This zone is the richest in terms of fishing and sub-sea mineral deposits. Nigeria is pursuing this advantage  through a window of the United Nations Convention on the Law of the Sea (UNCLOS) which, according to reports, "allows a coastal nation to make claims beyond 200 nautical miles of its coastlines up to 350 nautical miles, if the coastal nation is able to prove through scientific data and information that the seabed and the subsoil of the marine area of its territorial sea is a natural prolongation of its land territory to the outer edge of the continental margin."
The magnitude of benefits of Nigeria's marine sector notwithstanding, some harmful activities at home, which without concerted effort to curb the menace, may continue to frustrate the realisation of full benefits from these potentials..Notable among these harmful activities are the perennial problems of pollution on our waterways, especially of oil spills, industrial effluents, gas flares, and uncontrolled release of plastics into waterways, in combination with maritime insecurity. While pollution destroys water quality, the mangrove forests as well as the fishing industry that depends directly on them, insecurity on the other hand has become a threat to genuine waterway navigations occasioned by sea piracy, kidnap and illegal trafficks on the waterways. With oil thefts now rampant, there appears to be a free for all movements on the waterways to the extent that sub-standard oil tankers and berges, that leak crude oil and petroleum products directly into the water channels, now parade. Oil thefts, apart from denying governments of resources needed for developments, like illegal minings in Africa,  also breed arms traffic, impunity, injustice and insecurity.
It appears also that, as multinational oil and gas big weights divest from onshore assets in the face of raising oil thefts, oil and gas industry standards have ebbed to an all-time low, with illegal refining activities, sooth and pipeline failures becoming very common, a condition that has come at a huge cost to the environment. Unprecedented spills have damaged the formerly rich mangroves and waterways of the Niger Delta. The perennial gas flares, as old as the discovery of oil in Nigeria since 1957, continue to heat-up the Niger Delta atmosphere and create acid rains that impact negatively on nearby soils, the mangroves and rivers. This is despite the possibility of gathering these waste gases into gas processing plants to supply much-needed fuel to the gas-starved power sector of Nigeria. To stop all these menace and safegaurd our marine ecosystems, decisive goodwill backed by  effective action, is expected from the navigation authorities and politicians, away from previously failed promises of combating the menace.
Government should formulate and implement frameworks that discourage degradation to the marine systems, and environment as a whole. The navy and other agents of government should be made to up their games in this regard. The navy and other state actors should also not contribute to the assault on the environment by refraining from destroying impounded products on the open waters. Whereas the mangrove forest provides protection as well as breeding grounds for the various species of marine organisms that rely on it as habitat, and therefore is a rich source of supplies of oysters, clams, crabs, periwinkles and an assortment of fishes, it has unfortunately been degraded for too long that these natural supplies are in decline, in addition to the disappearance of so many other biodiverse species.
Apart from its nutrient resources, the arching prop roots, which anchor the mangrove forests into the soils trap inland sediments and soils from being washed off to the oceans by floods, and also stand as breaks against the repeated surge of ocean waves, thereby serving as  protection for the shorelines and for organisms that depend on the forest as home. However, in the face of oil spills and other pollutions, the mangrove forests, as well as aquatic larvae that breed under their protections, are destroyed when waves push oil spills deep into the creaks, with oil spills settling in tidal pools at low tides. On the other hand, unchecked industrial wastes from companies operating within the region aid these processes. For instance, unregulated waste water and other components discharged into nearby rivers alter the balance of water temperatures, salinity, pH and composition of vital dissolved gases, in ways that are harmful to the mangroves and aquatic life, with negative effects on the fishing industry, and other fresh water resources. When these effluents flow downstream from the rivers into the estuaries and down into the wider oceans, they kill in their trail, vital algae and planktons that form the base of aquatic life food web. The resultant effect is the continuous decline in the number and numerous species of sea food that formerly flourished in these water bodies.
This fact might not be far from the mystery behind floating, dead fishes, witnessed sometime, at Bonny River and in some other places.There is also a need for us to reflect on the final destinations of every piece of package wraps we discard on daily basis. Apart from the poorly regulated toxic chemicals being used in the manufacture of these plastic materials, from various thicknesses of cellophanes, satchet water wraps, to pet bottles and plastic vessels of various kinds, majority end up at dumpsites that leach toxic chemicals into aquifers, while the remaining undegradable plastics filt the soil or are eventually washed into nearby rivers by floods. It has become familiar to hear reports of the challenges faced by boat operators whose propellers daily get entangled with plastics, to the extent it no longer draws attention. Marine vessel operators that feed their process water from the rivers and oceans while operating in our waters daily combat with process pipes being clogged with plastic debris. Disposed nets and other plastics most times entangle and kill some species of marine organisms. It has become such a challenge to operate in our waterways.
There is therefore need to assess the impacts of these factors on the environment and on the livelihoods of local communities and the national economy, especially in the face of the current economic challenges in the nation, and implement solutions. The protection of the maritime ecosystem is one major area that is sure to contribute to the revitalisation of the economy, if taken seriously. Given that pollution remediation activities are costly, slow to yield results, and often times ineffective, the best option to solving environmental damage is prevention. There is need for governments at all levels to strengthen laws that regulate activities of all actors that impact on the environment. Companies and citizens should be made to be more responsible in their actions. Waste disposal should be controlled and sorted in ways that enable recycling.
Government should discourage the production and use of one-time usage, disposable plastics while encouraging the production of multiple-usage plastics. Firms should also be encouraged to find alternatives to plastic packaging by employing biodegradable materials in the production of disposable wraps. Those who clear mangroves for fire woods or other purposes should be made to understand the inter-dependence of their livelihoods and wellness with these natural ecosystems, and should be made to desist from destroying our common environment.
By; Joseph Nwankwo