Wike: A Man With A New Vision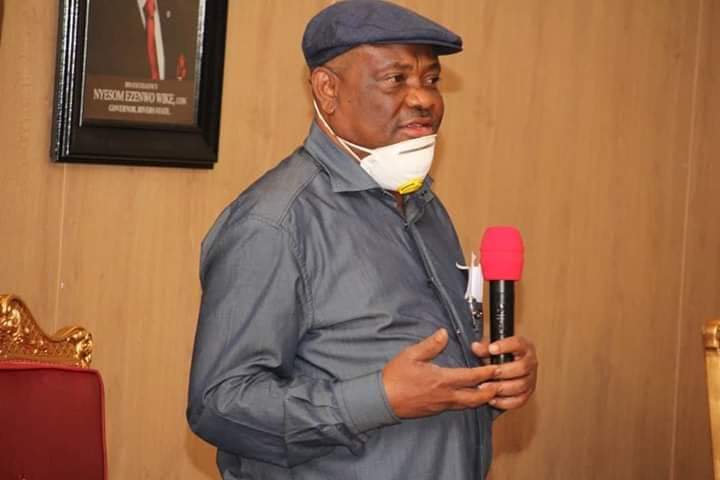 Governor Nyesom Ezenwo Wike has every reason to celebrate the first anniversary of his second tenure as the Governor of Rivers State. From every political calculation and calibration, the unequivocal conclusion is that he is a man of the people who emblematizes the Divine injunction that "Power comes from God alone."
Throwback to 2015: Governor Nyesom Wike, then a Minister of Education, found himself in the eye of a raging political storm, contrived and fermented by treacherous forces, who betrayed a political vision and threatened to completely overturn and dismantle a well nurtured political agenda to achieve their own selfish power grabbing ambitions.
Pitted against the backdrop of a manipulated and deviously translated zonal power sharing arrangement and confronted by the real threat of political annihilation in the face of a viscous opposition that will stop at nothing to secure victory, Governor Wike found himself literally and practically isolated and surrounded as the last man standing and the only hope for the redemption and protection of the political soul of Rivers State.
However, he was greatly loved, admired and adored by the people of Rivers State as their champion. Nyesom Wike took on the opposition, both within and externally, battled them to a standstill, defeated them on all fronts and won the election convincingly. Governor Nyesom Wike ascended the throne, carrying the hopes and aspirations of Rivers people on his broad shoulders.
Fast forward to 2019: The viscious, acrimonious opposition, now emboldened with Federal might and empowered with the added authority of directing their second term campaign, deployed the full weight of both mercenary and compromised military might to the political battlefield. Traditional war songs reigned and echoed ominously at the venues of every campaign stomp and the poisoned manifesto rhetoric reeked of bitterness, inciting anger, unbridled hatred and imageries of political purgatory worse than Dante's inferno, in the event of political defeat.
But Governor Wike was fully prepared and ready for them and believing in his superior strategic plans and greatly buoyed by the resilient will of the people, the tide would once again turn to victory in the quite remarkable life of this political Colossus. The opposition had already perfected their machinery or so they thought, to arrest and detain top people, cause disruptions of the electoral process instigate unrest to nullify voting in certain areas, abduct and hold electoral officials hostage replacing them with compromised lackeys and aid the snatching of election materials by unknown persons. All these were in their handbook of practical guidelines on Election Day and were implemented to the letter.
The last straw was in the Federal High Court, Abuja where they had all hoped that on March 8th, the day before the governorship and state assembly elections, the Court would give judgment in their favour, in a suit seeking to disqualify Governor Wike from contesting the March 9th election.
At the end of the elections however, 37 innocent Rivers people had been killed in Abonnema alone. Many more had been maimed and wounded across the state and at least 187 people had been arrested by soldiers, and detained. The harassment was unparalleled, but the people stood firm behind Wike, especially the heroic courageous women of Okirika and Ogu, who formed a human shield to prevent the military from hijacking their ballot boxes and their votes.
Indeed, as destiny would have it, the Divine hand of fate, had once again already played another master stroke and the monumental miscalculation and failure of the opposition, which had already taken place even before the first ballot was cast, can be summed up in the following Biblical verses:
Exodus 23 vs 27: I will send my terror before you and will throw into confusion all the people against whom you shall come, and I will make all your enemies turn their backs to you.
Deuteronomy 28:7 The Lord shall cause your enemies who rise up against you to be defeated before you; they will come out against you one way and will flee before you seven ways.
Isaiah 19:3-4: Then our enemies (the Egyptians) shall fight themselves rather than fighting us. I will confuse their strategy and they will tremble and fail, they will consult each others demonic powers to no avail"
So, Governor Ezenwo Wike has a plethora of reasons to celebrate the first anniversary of his second tenure in office, but in typical charismatic, all action fashion, the Rivers Governor, who was Christianed as "Mr. Projects" by none other than the Vice President of the country, Prof. Yemi Osinbajo, simply rolled up his sleeves and knuckled down to the business of delivering the dividends of democracy to the good people of Rivers State.
At the end of the first year of his second tenure, the gains of the first term were solidly consolidated upon, but addressing Rivers people in a  statewide broadcast to mark the first year of his second term in office, Governor honestly confessed that normally, the State should be celebrating this important milestone with the commissioning of completed projects and correlated social activities, but these are abnormal times and moments like this call for subdued feelings and thankful prayers to God for His abundant grace and mercy upon the State and on the lives of Rivers people.
That preamble set the tone for the summary of the achievements and engagements of the Governor Wike administration in the first year of his second term and starting with the solemn declaration that, every life matters; and every Rivers life lost is a monumental tragedy, not only to the immediate families, but also to all of humanity. The Governor confirmed that as at May 29, 2020, Rivers State had painfully lost 12 persons, and probably more, to the death pangs of the deadly coronavirus pandemic which has ravaged the entire world with devastating effect for over six months now.
The scorecard on the last one year has however been replete with outstanding achievements, ground breaking events and the initiation of legacy projects which have not only transformed the landscape of the state impressively but also ensured the comprehensive sustenance of the well-being of the people in line with the development blue-print released for the second term in office, which reiterated the commitment and determination of the administration to work and serve Rivers people as if it was still the administration's first term.
A summary reveals that virtually every area and sector has been positively impacted upon in the last year. The urban renewal programme in the capital city have progressed at an amazing place as the restoration works, including underground drains, sidewalks, green areas and street lights on most of the roads in both the old and new Government Reservation Areas are at very advanced stages of completion.
The construction of the three multi-billion-naira flyover projects at Rebisi, Okoro-nu-odo and Rumuogba, all progressing simultaneously, is an architectural wonder to behold and are expected to be delivered within schedule by Julius Berger Nigeria Limited and this is even as work on the construction of the 4th flyover bridge across GRA junction and accompanying dualization of Ezimgbu (Mummy B) road are also underway.
The dualization of several critical roads across the state, including Tombia Extension, GRA to link Ikwerre road,  Kira  Sapkenwa  Bori  Kono, straddling three Local Government Areas in Ogoni heartland are progressing satisfactorily with some having reached 92 per cent completion, all to be delivered on schedule. This is in addition to the construction of Oyigbo (Mbano camp) to Iriebe, linking Oyigbo and Obio/Akpor Local Government Areas of the State, which has already been completed.
Still on infrastructure delivery, the Alesa – Agbonchia – Oyigbo road linking Eleme and Oyigbo Local Government Areas of the State; and the Rumuakunde and Isioudu communities roads in Emohua Local Government Areas of the State, as well as the 2nd phase of Isiokpo community internal roads in Ikwerre Local Government Areas has been completed, while construction works on the 16.85 kilometers Rumuji  Ibaa  Isiokpo road in Emohua and Ikwerre Local Government Areas have reached 90 percent completion level, and the dualization of the 23 kilometers Omoku  Egbema road in Ogba/Egbema/Ndoni Local Government Area has progressed beyond 50 per cent.
The Odufor/Akpoku/Umuoye road in Etche Local Government Area, spanning 21.3 kilometers has crossed 70 percent construction level, while the Aker-base road in Obio/Akpor Local Government, the Ula Ehuda-Odioku-Anwunugboko-Ubeta-Ihuechi-Odiereke road, the Odiokwu internal road network in Ahoada West Area as well as the Abonnema ring road in Akuku-Toru Local Government Area, and the Sime  Eteo  Nonwa road connecting Tai and Eleme Local Government Areas, have all progressed to between 80 and 85 percent completion.
The administration in the last one year, accelerated work on the long-abandoned roads to the coastal communities of Opobo and Andoni in Opobo/Nkoro and Andoni Local Government Areas of the State with appreciable work already done on the Ogoni  Andoni  Opobo (Unity) road the commitment to deliver on the promise to complete these landmark projects and actualize the age-long yearnings of the indigenes and residents of these local government areas to connect and access the rest of the State by tarred road, has been the prime motivating factor driving the zeal and energy to complete these projects and bring joy to the people. In fact, the people of the Ancient Opobo Kingdom drove home for the first time last year.
Apart from roads, significant progress was also made in the delivery of Health Care and Education Infrastructure and Services. The mother and child hospital is virtually completed, fully furnished, equipped and only undergoing necessary testing and preparations for commissioning. Also completed is the Comprehensive Health Centre at Odiokwu in Ahoada West Local Government Area.
Braithwaite Memorial Hospital (popularly known as BMH) was upgraded, completely equipped and converted to the Rivers State University Teaching Hospital, which is not only reckoned as one the best in the country, but has led to the accreditation of the programmes of that facility for the training of medical students by the Medical and Dental Council of Nigeria. Also, the furnishing and equipping of the regional referral hospitals in Degema and Bori in Degema and Khana Local Government Areas respectively, which commenced in the first year of the second term is progressing smoothly, while structural work is continuing on the ones located in Omoku and Okehi in Ogba/Egbema/Ndoni and Etche Local Government areas.
In the area of Education, the strategic intervention of the administration in the restoration, upgrade and expansion of secondary schools across the State, commenced in the first term, continues to deliver remarkable results and improvements in the quality of public education system, as funds have already been released for the comprehensive restoration and upgrade of scores of dilapidated secondary schools across the State, including: renowned schools like Enitonna High School and Government Comprehensive High School, Borikiri in Port Harcourt Local Government Area.
Renovation and upgrading of Obama High School, Degema and Model Secondary School, Tombia, all in Degema Local Government Area, as well as Community Secondary School, Omuanwa in Ikwerre Local Government Area, the famous Kalabari National College, Buguma in Asari Toru Local Government Area, Community Secondary School, Kugbo in Abua/Odual Local Government Area, Community Secondary School, Obeakpu in Oyigbo Local Government Area, and Community Secondary Schoo, Eteo in Eleme Local Government Area, have all been more than 85 per cent completed.
On the international front, the construction of students hostels for the state of the art, visionary Real Madrid Football Academy is progressing with admirable speed and consistency and the academy will soon open its doors for simultaneous academic and football and related training and mentoring programmes.
In the area of Agriculture and in line with the administration's promise to refocus on agricultural development, the Datco cassava processing plant, with guaranteed off-taker opportunities for over 3000 local cassava farmers, and inspiring capacity to stimulate the cassava revolution in the State and related industries and create thousands of direct and indirect jobs for our people is coming on stream.
Indeed the last one year of the second tenure has been hallmarked with a commitment to the promise on inauguration day to provide first-class socio-economic infrastructure and keep the State and businesses safe, secure, achieved through hard work and the accomplishment of more with less resources and a year cut short so dramatically by the outbreak of the coronavirus pandemic and its attendant debilitating consequences.
This progressive trajectory will definitely continue into the second year and while it is already clear that it is not going to be easy given the very poor state of the national economy and the spin-off effects of the Covid-19 pandemic, the zeal and dedication to do more and recommit to work harder and deliver greater development to Rivers people is already evident in the work going on all over the state.
Governor Nyesom Wike himself puts it succinctly: "As a government, we welcome constructive and frank criticisms devoid of politics and mischievousness, because they serve to make us better performers. At any rate, this is a time for governance, not for politics, and we welcome everyone onboard to enable us to create an environment that promotes balanced economic growth, thriving private investments and good jobs; to build a State of shared prosperity; a place of boundless opportunity for all residents; and a State we can truly call our native home, our pride, our heritage, while looking into the future with optimism.
"For us, nothing matters more than Rivers State, our people, our interests, our treasures, our enormous resources and assets, our accomplishments and our greatness. And so, as we look forward to the next twelve months, all I can say is that we are inspired by your continuous support and prayers to believe that our best days are ahead of us, and working together, we will surely do more to move Rivers State forward."
Paulinus Nsirim is the Commissioner for Information and Communications, Rivers State.
Era Of Satanic, Idiotic Jokers
It is Satanic and idiotic to agitate for the dismemberment of Nigeria as a geographical entity; and those who hold meetings to demand that marauding cattle should not destroy farmlands are jokers. Once upon a time, a man called Salman Rushdie published a book titled Satanic Verses for which a death sentence was pronounced on him by some authorities that were vexed by the audacity and insolence of the writer. He escaped lynching by bandits, courtesy of British intelligence network.
Long before the publication of Satanic Verses, there was a vexatious book titled Maria Monk, causing a top clergyman to describe those who would be stupid to read it as idiotic. For the two books mentioned here, some task force and huge sums of money were devoted to buy up all the book everywhere and make bonfire of them. Those who had the chance and audacity to read these books would testify that they were not merely revelations of dark deeds, but also books of timely prophesies. Rushdie's view that it was satanic to kill people in the name of religion was vexatious.
Deeds that are Satanic and idiotic are deeds that are reprehensible and ludicrous. In Nigeria, in recent times, some public notaries described agitators for a divided Nigeria as Satanic and idiotic. An abhorrent Satan is a clever dribbler who sets snares to lure unwary people into wrong paths through their own personal choice or volition. Without forcing anyone, people show their personal weaknesses via Satanic snares and antics.
Thus, the notorious tempter can be described as a quality control and assurance expert, whose clever antics are alluring and iridescent. You can neither outwit him nor buy him over with all the wealth on earth. To intimidate him with all the weapons of mass destruction is to be idiotic. Rather, the tempter, in a "Maradona"-fashion, uses a control of the human sensory faculty of discernment and analysis, to hold humans hostage. Control of that vital tool ensures optimal success.
On the other hand, the idiotic appellation applies to victims who fall easily to satanic antics by becoming slaves to myopic sensory perception. That faculty meant to serve as navigational rudder in the task of sensory perception became enthroned as a king which it is not. With that clever victory the tempter must be having a hilarious laughter that over 90% of humans have failed quality test. Yet, myopic humans in their state of mutual bondage can afford to describe others as Satanic and idiotic, when all of them are enslaved jokers.
One of Rushdie's admirers revealed in 1983 that he witnessed a bonfire festival where several copies of Satanic Verses were set ablaze. He did talk about the supervisors of the festival dancing as they wielded swords while the book burned. For the book, Maria Monk, members of the Society of Jesus took on the task of buying off copies of the book and the mass burning thereof, as a book of sacrilege, written by an idiot. Yet one Akaluka was lynched somewhere in Nigeria for disrespecting a loose sheet of a holy book for toilet purpose in late 1994. Religious sentiments have no bounds.
During the Nigerian Civil War (1967-1970) there were numerous testimonies of how "vandals" made huge bonfire where "holy and academic" books provided the fuel. Celebrants of the festival of fire were said to be "drinking and cursing" those who allowed idiotic books to "scatter their brains". A military commander was alleged to have ordered that no book should be spared, especially in university libraries.
The essence of this article, despite the foregoing digressions, is to point out some wrong attitude which portray Nigerians as a "bunch of idiotic jokers". A Nigerian who nationalised in Germany actually used that appellation: bunch of idiotic jokers, in his bitterness towards the Twitter drama. If the honest opinions of Nigerians were to be obtained on the issue of the nation's image worldwide, the result of such opinion-poll would be shocking. It would show that a typical idiot is the fool who does not know that he is a fool; dancing naked in public!
With regards to the issue of indivisibility of the Nigerian nation, there are issues that should be examined. Apart from how the nation was formed via amalgamation, there are issues which are of vital importance, ranging from justice to self-determination. Perhaps, since the opinions of the various groups which were amalgamated in 1914 were not sought, the culture of a forced union must become a norm. The chemical process of amalgamation demands that various elements can unite and blend only when their differences can be brought to a tolerable state of nearness. There can be no forced union of widely different elements.
Human shenanigans and selfishness seek to distort and prevent the Laws of Nature in such ways that forced and arbitrary blendings bring about artificialities which endanger human existence. From the experiments in grafting in the plant world, to human cloning, results have shown that human vanity tries to dethrone the wisdom of the creator. By that means, humans have brought about various calamities whose consequences affect us in many ways we rarely recognise immediately. Like-minds blend more easily!
To seek to distabilise a country is not the same thing as protests and agitations arising from perceived injustices and acts of marginalisation. A book titled A Spiral of Violence, not written by an idiot, neither is it full of sound an fury, tells us that injustice is the leading form of violence, and that wherever it exists, stability and security would flee. But Satanic and idiotic humanity would rarely recognise that simple logic that you cannot have peace, security and stability when you sow injustices.
Perhaps, the meaning and concept of justice can also be distorted and perverted by Satanic and idiotic minds, through Luciferian antics of calling white black and black white, via the instrumentality of money. Or, is it justice to run a democracy via the antics of oligarchy? Yes, it takes idiotic minds swayed by Satanic snares to describe those who ask for justice in governance as Satanic, idiotic or as jokers. It is justice to destroy farmers' crops, while those who demand for such practice to stop are jokers; then welcome to a Satanic and idiotic social era!
Dr Amirize is a retired lecturer from the Rivers State University, Port Harcourt.
By: Bright Amirize
Fighting Corruption In Nigeria
Corruption in Nigeria is a major topic for discussion at different forums in the country. Everybody seems to know the devastating effect of this social malaise on every sector of the economy, yet not many are willing to resist corrupt practices for the good of the nation.
 Since the news of the sentencing of the former chairman of the House of Representatives ad-hoc committee on fuel subsidy, Hon. Farouk Lawan, to seven years imprisonment over the $3 million bribery charges preferred against him by the federal government broke on Tuesday, many people have been pouring out their minds on the judgment and corruption in the country in general.
While a minute fraction claims that the case was pursued till the end because Lawan may not be in the good books of the government which would have shielded him or ensured that the matter was swept under the carpet — if the reverse was the case, quite a good number of people see the judgment as a plus in the nation's fight against corruption even as they demand that the same seriousness should be seen in pursuing other-high profile corruption cases.
Indeed, the federal government must be commended for having come this far in this case. Not a few people thought the case had gone the way of other similar cases in the past where we only heard about the beginning but never heard about their end. But here we have it today, after nine years; "Mr. Integrity" has to pay for his fraudulent acts.  Of course, as it's always the practice, he may decide to appeal the judgment if the case is appealable but for the fact that such a highly placed citizen is made to face the wrath of the law gives a glimmer of hope for a good country in the future.
Let us hope that this will serve as a deterrent to other public office holders who milk the country dry and make life hellish for a greater number of the population and development in the country almost stagnant. It's no news that the numerous problems in the country – poverty, poor infrastructure, low standard of education, poor and inadequate health facilities, insecurity, high rate of unemployment and many more are traced to corruption. Money meant for all the development of the country and welfare of the citizens are syphoned by a few persons at the corridors of power and utilised in some foreign countries while the citizens suffer. A typical example is the case of the former Minister of Petroleum, Deziani Allison-Madueke, who allegedly embezzled billions of dollars from Nigerian government and used it to acquire expensive properties in different parts of the world.
So, we need governments at all levels to show more commitment both in words and action in the fight against corruption. There is no way the future of our children will be assured if the high rate of corruption in the land presently is not tackled.
 However, one erroneous attitude of many Nigerians is to always point accusing fingers at the leaders whenever the issue of corruption is mentioned. No, corruption is not restricted to only politicians or those in authority. It has permeated all facets of the society including the police, the judiciary, the business sector, the education and health sectors, and the civil service. Traders, artisans, housewives and many others cannot be exonerated. Imagine where our markets and shops are now filled up with adulterated edible products. A greater percentage of "palm oil" we have in our markets and shops today is highly adulterated. You add oil to your food and instead of the irresistible taste and aroma that the original palm oil is known for; it gives the food an offensive smell and awful taste.
 A plumber tells you that a part of your water pumping machine that went bad will cost N30,000 for the original one and N15,000 for the "Taiwan". You give him money for the original one and he buys the part and couples the machine. After a short while, the pumping machine parks up again, you call another plumber who finds out the first plumber bought neither the origin part you paid for nor the "Taiwan". What he bought was a refurbished engine part which did not cost more than N5000, 00. 
Your house help cries to you that she just got a call that her grandmother has kicked the bucket, and that she needs to travel to her village for the burial. You take pity on her and give her money for transportation and some burial expenses. Later you find out that she was not bereaved and that she instead spent the time and money with her boyfriend in another part of the town.
 The list is endless. We recall how some people in a viral video on social media were allegedly vandalising the newly rehabilitated rail track of the Nigeria Railway Corporation along its Warri-Itakpe axis.
 In all these cases, did we see President Muhammadu Buhari or Governor Nyesom Wike, a lawmaker, a minister or any top politician or government official perpetrating the fraudulent act? No. They were all ordinary citizens engaging in dishonest, fraudulent acts which they feel will benefit them, not minding the consequences of such actions on their fellow human beings and the nation. On the story of the adulterated palm oil for instance, the substance(s) or chemical used in the adulteration at various levels of the value chain until it finally gets to the consumer, might be more harmful to human life than the effect of sum amount stolen by a politician. 
Therefore, the sooner we begin to look inward and think of how we can fight this cankerworm starting from ourselves, the better. In 2016, Buhari launched the national reorientation campaign tagged, "Change Begins with Me" which was geared towards reorienting Nigerians on whose responsibility it is to bring on the positive changes they crave for, pointing out that if Nigerians want "change", they should be the change themselves. Is it not time this campaign was revived?
 My point is that to stem corruption in Nigeria, the government has a huge role to play by being deliberate about the fight, showing more commitment and particularly through exemplary leadership. But without the citizens saying no to corruption and living corrupt free lives, the government's efforts might yield little or no fruit.
By: Calista Ezeaku
Consequences Of High Bride Price
Bride price is payment made by a groom or his kin to the family of the bride in order to ratify a marriage.  It is paid by the family of the groom to their future in-laws at the start of the marriage usually in cash and materials.
Bride price in Nigeria varies from one ethnic group to another.  What obtains as bride price in Rivers State may be different from Kogi State in terms of cash and materials required by the bride's family. Although there are a few similarities in the list of items to be provided by the groom in Nigeria. 
It also varies from family to family. Some families collect as low as N5,000 while others collect as high as N1,000,000.
There are criticisms that this African tradition of paying bride price to the bride's family before marriage degrades a woman by putting a required monetary value on a wife.But those who support the tradition uphold it as a cherished cultural and religious symbol of marriage.
Some families see bride price as symbolic, hence they ask for less. I have seen a situation where the mother of the bride collected N30,000 and later gave it back to the couple, asking them to put it in their bank account so that it will serve as a "starter pack". This shows that she wasn't really giving her out for money.
In our local setting, a marriage is recognised only when bride price and gift items have been presented to the bride's family.  It is important because it validates marriage to give a woman respectable status in the society as a wife.
The importance of bride price can never be over-emphasised. It is one of the highest honours confirming a bride's value and womanhood, giving a husband the full rights to the economic and reproductive powers of his wife. It is an honour bestowed on the parents that their daughter is getting married.
I see nothing wrong in payment of bride price but in recent time, the issue of high bride price seems to be competitive among families whose daughters are ripe for marriage.It is alarming and heart-breaking how newly-wedded couples end up paying debts years after marriage. When demanding for high bride price, some parents do not realise the fact that the yet-to-be couple will plan for church and court (Registry). The Registry requires little token. Although, the clergy will not ask, but the couple need to settle one or two things in church. 
More worrisome is the fact that some parents demand a live cow from an in-law as if the lady is to be exchanged. I know of a culture where cow must be provided to her kinsmen by the surviving husband or children before a late woman must be buried. The claim is that the man didn't complete the marriage rites before the death if the woman. This is just to extort money from the late woman's children.
A young man was mandated to pay about N2million to the wife's kins after losing her during child birth, simply because he never completed marriage rites. What about the welfare of the surviving child?
A situation where a basin of fish that costs over N200,000 must be presented in the name of bride price for a traditional marriage to be contracted gave me concern. 
A father also demanded about N1million as dowry for his daughter. For Christ's sake, no amount of money collected as bride price can pay all the expenses from birth to University level of a lady as this is the dream of greater percentage of our parents nowadays. No amount of money can buy a woman. "Her value is inestimable".
High bride price can cause disharmony between husband and his in-laws. A young man was lamenting that after his marriage, his in-laws can never be allowed into his family. This is as a result of whatever high bride price they would have charged.
High bride price can cause a man to exhibit violent behaviours when he remembers how much he paid. He gets angry at every little thing the wife does which can lead to domestic violence. The implication is that the woman will suffer in silence with the fear that the man may demand for the high bride price if she leaves the marriage.
Income from her job or personal business is seen by the man as his. She is being denied freedom on using her income and often leads to a situation where the husband must be consulted before any monetary transaction in the family. This leads to hostile marital environment and can destabilise the marriage.
Man dominates the woman in terms of decision-making. The woman has little say or nothing when issues come up in the home. He can say: "Don't talk, I paid heavily".
One of the consequences of high bride price is that if perhaps divorce occurs, the bride and the family, according to customary norms, have to return the dowry. If the dowry were very expensive to the tune of N1million, they may not be able to pay back.
High bride price encourages gender inequality. It reduces the power and prestige of the woman with the perception that she was paid for.
High bride price leads to poverty. A couple may have been forced to incur debts in the course of marriage. These are young men and women who are starting life perhaps after graduation and have not made enough savings. Paying back debts incurred during weddings for two to three years should be discouraged.
For many young men, withdrawal syndrome sets in when they remember that they have to provide as much as N1million to marry a wife. You see someone going to marry at the age 50 because he didn't have enough.  Even the ladies are also affected here. Some men get scared of going into such families or ethnic groups for marriage.  When will they train their children? 
No matter the status of the groom, minimal amount should be fixed for dowry to avoid certain consequences in future. Family of the bride should take cognizance of the fact that their daughter deserves some comfort in her new home.
It is high time the traditional institutions worked through their subjects in the various communities to create awareness on the dangers of high bride price in our society. 
Community heads who are saddled with the responsibility of marriage functions and rites should be advised to cut down some of the items and reduce the costs of available ones.
I call on local government councils to work with traditional rulers, community and family heads as well as women leaders to come out with minimum and maximum amount of money and other items needed as bride price and dowry. 
It should be domesticated in the by-laws of the local councils across Nigeria.
By: Eunice Choko-Kayode