Teaching In Indigenous Languages?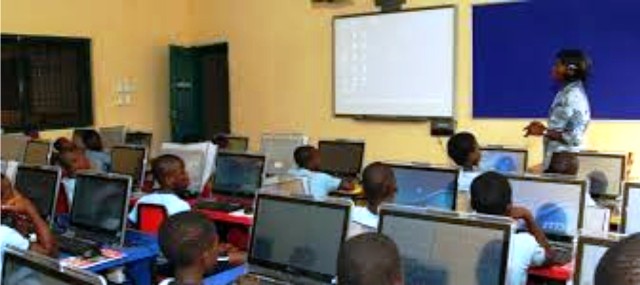 At an event in Enugu recently, the Minister of Science and Technology, Dr Ogbonnaya Onu, hinted about the Federal Government's plan to promote pupils' interest in Mathematics and science subjects through the teaching of these subjects in indigenous languages. He said that lack of economic growth and development will continue to stare the country in the face if science, technology and innovation are not given serious attention.
He observed that prior to enrollment in schools where they are taught in foreign languages, pupils grow up with their indigenous languages at home. As a result, there is usually a challenge to understand the foreign language first before they could even start understanding what they are being taught. He attributed pupils low interest in Mathematics and science subjects to this challenge and posited that teaching these subjects in indigenous languages will help students to understand Mathematics and science subjects and also promote the application of science and technology for national development.
Expectedly, this disclosure has elicited diverse reactions from many Nigerians. While many think it is a laudable idea worth giving a trial, some believe it is unrealistic given the multiplicity of  languages in the country and other factors. Many others say there are more serious problems bedeviling the education sector like lack of facilities, lack of equipment, poor funding, few qualified ans committed teachers and many others. These, they say, should be given attention instead of language.
In as much as one will agree that these areas need urgent attention, l see Dr Onu's proposition as being in line with what is obtainable in many other countries. Surveys have revealed that most, if not all Asian countries, use indigenous languages at very early stages of their education and they are considered very smart. The case is the same even in some parts of Europe.
Yes, we know that Nigeria has over 250 languages, many of whose vocabularies are not in depth with just a few qualified language teachers presently; but going by the words of  Onu, modalities are being worked out by the Federal Ministry of Science and Technology to collaborate with the Ministry of Education to develop the vocabularies of the indigenous languages before they could be used to teach the subjects effectively.
If you had been to or had your primary or secondary education outside the cities where many of the children could understand and communicate in English language, you will appreciate the minister's plan.
During my service year in Adamawa State, I taught Literature in English in a secondary school where SS2 students could not understand English. I did everything l could to make them understand the novel we were reading to no avail. Then, l decided to use a particular brilliant student as an interpreter. After reading a passage, Bala interpreted it in Hausa language and the same students who hitherto made no sense of the story would echo "yowa nagani", meaning now l understand. With that, I was able to break through and the students started enjoying the subject.
A friend once shared the story of how he stopped cramming formulas for perimeter of the different shapes. It happened the day he knew the denotative meaning of perimeter. With that knowledge, he said he began to solve most difficult mathematical problems involving perimeter with relative ease.
No doubt, the fact that our indigenous languages do not have enough vocabulary to capture science and mathematical terms could be a big obstacle but if this can be overcome, students will definitely develop interest in these subjects as this will be coming to them in their mother tongue. The phobia for mathematics and science subjects will be conquered.
Apart from that, teaching Mathematics and science subjects in indigenous languages will also help to preserve our local languages. Linguists have raised alarm over the possibility of many Nigerian local languages and dialects going extinct if urgent measures are not taken to preserve them.
The President of the Institute of Project Management of Nigeria, Dr Victoria Okoronkwo, recently revealed that studies have shown that 60 percent of most Nigerian profound dialect speakers are above 50 years. Quoting a United Nations report, she said the percentage of children that speak local dialects is thinning down. "This may result in loss of our identity , our culture, our moral values and heritage. Hence, preserving our dialect is an important national challenge that requires our urgent and collective responsibility", she said
However, one major problem with ideas like this is the implementation. In the past, many policies had been tested and found worthy but were kept in the crucible. It is very easy for the Federal Government to come up with such laudable proposition, but the big question is, will it be implemented? Upon the exit of Dr Onu as the Minister of Science and Technology or at the expiration of President Muhammadu Buhari's regime, what happens to the policy?
It is therefore advisable that for the plan to succeed and live beyond the present administration, all the necessary legislative framework must be put in place. We should also avoid the fire brigade approach that had characterized many government's policies and projects in the past. For the desired results to be achieved, there must be adequate planning. As it is said, prior planning prevents poor performance.
Calista  Ezeaku
Agric Literacy In Secondary Schools
All over the world, educational institutions are known mainly as a platform used directly or indirectly to influence the general life of a person. The government, in most cases, through the school, plans and leads the study of experience, and also contributes to the continuous growth of an individual through the systematic reconstruction of knowledge and experience.
Haven known knowledge as a dynamic and functional element, there is every need to have it constantly reconstructed, especially in accordance with the change of time.
This is why in various spheres of life, interested parties always prefer using education to solve issues that limit social orientation and thinking. Harry Smorenberg, the founder and chairman of the World Summit on the Fight Against Corruption, realized this for which he said that "teaching financial literacy as a subject in schools helped other countries increase access to financial products and services."
With the place of financial literacy in promoting financial participation, consumer protection and financial stability, Smorenberg advised Nigeria to teach financial literacy in schools. He believed that such idea would allow students to better understand financial planning, the importance of preparing household budget, managing cash flows and distributing assets to achieve financial goals.
However, Smorenberg is not alone in his thought. Tanner and Tanner (Tanner and Tanner, 1980) in their "curriculum" Development: Theory and Practice", also recognized the role of the school in systematically building knowledge and experience, unlike the role of other institutions.
If the thought postulated by these educators and others like them is anything to go by, then it is enough to say that education is very useful to the society, and therefore, should be accepted and embraced by Nigerian leaders as a platform through which a faster sensitisation of the theory and practice of agriculture among the Nigerian citizenry could be achieved.
Therefore, if Nigeria is really interested in the development of agriculture as an alternative source of income, it follows that from the junior secondary level, emphasis should be placed on driving programmes aimed at promoting the understanding and knowledge necessary for the synthesis, analysis and transmission of basic information about agriculture to students, producers, consumers and the general public.
It is expected that such programmes will focus on helping teachers and other stakeholders to effectively incorporate agricultural information into subjects taught or studied for public and private purposes in order to better understand the impact of agriculture on society.
The writer is thus concerned about the aspect of agricultural literacy that acquaints and farmiliarises students or individuals with the knowledge and understanding of not only the concepts of health and the environment, but also their history, current economic and social significance for the people of Nigeria.
In this case, the knowledge of the production, processing and domestication of food and fiber, as well as international marketing through the school will ultimately lead to informed citizens of our great country who, in turn, will play an important role in the development and implementation of policies able to maintain competitive agro-industrial enterprises.
By this, young people with knowledge and understanding of nutrition system and fibers will naturally be able to synthesize, analyze and communicate basic information about agriculture, such as the production of plants and animal products, its processing, economic effect, social significance, marketing and distribution, etc.
Therefore, making agricultural literacy compulsory from the level of primary education through secondary education, regardless of the intended course of study, undoubtedly will have a significant impact on the rehabilitation and development of Nigeria's difficult economy.
That is why Gbamanga (2000) advised students to plan the programme as necessary, to examine and interpret the nature of the society in relation to its basic stable values and the areas in which it changes, when choosing content.
While Nigeria is currently talking, preaching and dreaming about agriculture, individuals must be encouraged to take advantage of the opportunity provided by the prevailing economic crisis in the country to get involved in agriculture. It is advisable that every child be subjected to compulsory agricultural knowledge in school.
The recovery of Nigeria from the impact of fallen crude oil prices will certainly not be sudden. In fact, there is a need for an orderly organization of a series of courses and support activities aimed at helping young Nigerians to rediscover themselves in the field of agriculture.
Sylvia ThankGod-Amadi
Nigeria, Not Ripe For Democracy 
The word 'democracy' which has been mostly used, misused, confused and abused by many people for centuries and, in recent times, also badly maimed by most Nigerians in their understanding and application of it, especially since our return to it in 1999, is a concept whose understanding, as universally accepted, should ordinarily not herald any controversy.
Most people, particularly our leaders in Nigeria, and I dare say in Africa, use it in some ways only to fit their idiosyncracies selfish, parochial end they imagined it can be achieved through its practice. They push it down the throats of their people as if to say 'you asked for it and here it is' discountenancing the fact that it takes preparation and information massaged by quality institutions to make democracy and its practice possible and seamless in any country.
Democracy is not an orphaned child or a toddler that was born yesterday. As with most other concepts and human reality, it has its own history and parentage etched in known and universally acceptable minimum standards. Even though still evolving, some of these standards are sacrosanct and characteristic of what constitutes a democracy.
Democracy originated over 2,400 years ago in ancient Greece. The word "democracy" comes from two separate Greek words ('Demos': people and 'Kratia': rule); meaning 'Rule by the people', leadership that takes authority and legitimacy from the people.
Citizens of a democracy govern their nations through a proxy selected or chosen by them in the presence of information and working institutions to lead them.
Democracy is simply people's power to make a choice and determine who should lead or govern them for the attainment of certain fundamentals like the protection and promotion of their rights, as well as the protection of their interests and provision of welfare for them.
Democracy is about the people and for democracy to function properly in any country, it must ask and answer the following questions in the affirmative. The proper answering of these questions would determine whether indeed such country can or should practice democracy or choose other forms of government that would best suit their peculiarities:
Are the people 'educated' enough to make informed decisions without prevarications that are devoid of sentiments and biases such as religion, ethnicity, colour, tribe, sex and other intangibles not necessary for making informed decisions?
Are the institutions through which choices are made calibrated to be free, fair and incorruptible enough to only reflect the choices of the people at all times in Nigeria? Ask INEC and the process of nominating its chairman.
Are the people equally motivated to come out in their number to make their choices about who would govern them without being driven by unnecessary enticements provided them to so do? Reflect on what happened in Edo, Ondo, Ekiti, Osun States and even in the 2019 general election.
Are the people able to make choices without poverty as the chief consideration that influences such choices?
Are the people able to collectively share or have expectations from the candidates they wish to choose or have others choose from or simply have expectations of the process? Reflect on the standard of education in Nigeria and the unwillingness of people from where majority of the votes came from to go to school.
Is there a guarantee that the process of the people making their choices would not be thwarted by the activities of state actors like the military, the police and other law enforcement agencies, and even cult groups and gangs whose only interest is to sabotage the will of the people? This we have continuously seen in the various and several elections that we have had in Nigeria since our return to democracy.
Does everyone who is 'qualified' to make this choice of who should govern them have similar or near similar levels of information, intelligence, exposures and awareness that would enable him/her rationally assess the candidates for competency to lead and administer our common wealth?
Should the court as an institution be used to usurp the people's choice and will by always deciding for the people who to govern them through their very suspicious, frivolous and, in most cases, anti-people rulings that are based on technicalities to determine leadership for the people? It should be the people's choice and not the choice of the court as it were in democracy. Judges must not be allowed to, as a result of political recklessness and rascality, always determine who should lead the people. Today in Nigeria, politicians no longer care about the people's choice but bother most about judges' choice and do all what is necessary and possible, including but not limited to giving of bribes, to secure judgements in their favour to become the people's choice.
What really is the importance of 'structure' and 'godfatherism' in how the will and choice of the people are allowed to be?
Do all the candidates have similar levels of playing field that make it possible for them to be heard and seen so that choices can be said to be truly rational?
When you most rationally and critically answer these questions in Nigeria and in most African countries, placing them side-by-side our recent statistics in the world as poverty capital, a country with the highest illiteracy rate and out-of-school children, uneducated youths and adults, etc, you would, just like me, come to the conclusion that democracy cannot work in Nigeria today and that we should immediately seek an alternative form of government that would appeal to our peculiarities until, maybe, we mature and evolve enough for democracy tomorrow. But again, tomorrow is far yet near. Therefore, leadership now has a huge responsibility to bring the tomorrow that would make for the conditions precedent to good democratic practices guaranteeing good democracy, even closer today.
Akpotive is a Port Harcourt-based social reformer and activist.
Andy Akpotive
Open Letter To Nigerian Politicians
Dear Honorable Politicians of Nigeria, events taking place in the country in the recent times demand that you hear how those that you represent feel about you hear how those that you represent feel about you and your activities. In the first place, Nigeria is larger and greater than a few powerful individuals who represent the masses. Secondly the task of political leadership is a serious responsibility meant to be undertaken with patriotism and a volition to serve.
Money and power rarely on their own make a good and responsible leader, but personal integrity comes in as a strong factor. Politics as a calling is obviously being debased and distorted considering the way it is being practised in Nigeria. If you would be perceptive enough to look into the souls of those that you lead, you would see disillusionment, disappointment and hunger. There is a longing for a change for the better. There is a need to bring down the level of anxiety and frustration in the land.
One of the key responsibilities of national leadership is to manage the economy in such a way that the masses can be motivated to strive diligently and honestly to earn a living and contribute positively towards an up-building of the nation. To beg or steal in order to live would not be an ideal situation in a well-managed economy, for any citizen.
Unfortunately, Nigerian citizens have the impression that politics is a means of personal and sectional aggrandizement rather than opportunity to serve and make personal sacrifices for the sake of the well-being of the masses. Ordinary Nigerians feel that politicians constitute a part of the problems which they have. Money and power cannot be the key issues of life, but those who possess them can utilize them, with maturity, for the well-being of the struggling masses.
There is the story of Timon of Athens whose misapplication of his wealth through over-generosity resulted in his fall and banishment. In his dying statement he wondered: "What a god is gold, that he is worshipped in a baser temple than where swine feed!" There is also the story of Macbeth whose ambition for power led to a personal and national disaster. One of his dying statements was that "There's nothing serious in mortality, all is but toys: renown and grace is dead …"
The purpose of the two examples cited above is to remind those who possess wealth and power that material possessions and positions are transcient. One great man who had tasted wealth and power left or will which contained the following statement: "There are two things to aim at in life; first, to get what you want, and after that, to enjoy it. Only the wisest of mankind achieve the second."
The nature of Nigerian politics was portrayed in an unguarded statement as a "do-or-die affair," by an ex-president. Majority of Nigerians would have wished that politics should be about service to the nation rather than a gangsterist affair or "dirty game". Through monetization it has become a "cut-throat business" whereby huge financial investments must be recouped in a gansterist manner. There must be some good politicians who have the interest of the masses at heart.
There is a general impression that politicians are oppressors rather than friends of the masses. This perception should be altered through patriotic and exemplary service which would not be difficult for the people to observe and appreciate. It is obvious that the task of nation-building is enormous and demanding, but there would be a focus on providing an enabling environment wherein the masses can put in their best willingly.
Perhaps, unknown to many people, there is a global cleansing process, meant to correct past imbalances brought about by human greed and ignorance, largely. A few people who are permitted to perceive the trend of this global phenomenon, see that Nigeria is a flash point where there must be diligent care with regard to the practice of politics. Politics should not degenerate into conspiracies and gangsterism.
Without being specific, it is necessary to advise Nigerian politicians generally to bridle personal ego, vanity and vaulting ambitions. To plunge a community into anxiety and instability cannot be described as good politics. There is an old prophecy that those that the gods would destroy, they first make mad. A "do-or-die" system of politics can be described as politics of madness. May be time will unfold what cunning intrigues hide away now. The military and police should stay away from the growing madness.
Dr. Amirize is a retired lecturer from the Rivers State University, Port Harcourt.
Bright Amirize