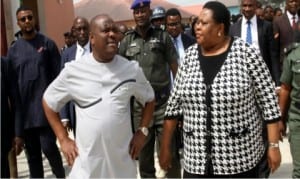 A total of N104,287,285,108.00  earlier submitted by the Governor of Rivers State, Chief Nyesom Wike as supplementary appropriation bill has been passed as 2015 supplementary budget by the State House of Assembly.
The Speaker of the House, Rt. Hon. Ikuiniyi-Owaji Ibani who announced the passing of the supplementary appropriation bill yesterday at the hallow chamber of the 8th Assembly in Port Harcourt, said the bill was passed into law  deliver the dividends of democracy in the state.
According to the Speaker, the supplementary budget was for capital expenditure like education, healthcare, construction of roads and water supply among others in the state.
He said, the additional budget being passed by the 8th Assembly brought to a total of N191,208,827,794.00 as the 2015 capital expenditure of the state.
Rt Hon. Ibani also explained that, the additional budget would boost the economy o f the state, saying that, the approved N86,921,542,636.00 as capital expenditure by the former administration of Chibuike Rotimi Amaechi was  misused.
He expressed optimism that the supplementary budget would be judiciously used to impact developments in the state.
The supplementary budget was passed into law after  it went through 1st, 2nd and third readings of the House.
The bill was subsequently deliberated and passed into law, after a motion was moved to stand down order 50 of the Assembly Acts, which said that a bill can be given an urgent attention in accordance to its important to the state.
At Hon. Ibani appealed to the executives council of the state to implement the additional budget to serve the purposes needed in the state.
Meanwhile, the Rivers State House of Assembly confirmed two additional Ccommissioner nominees, Dr. Odaneme Menebari Theophileus and Dr. Austine Tam-George as Commissioner designates of the state.
The Assembly also approved appointment of five additional Special Advisers submitted to the House by Governor Nyesom Ezenwo Wike of the state.
The two Commissioner nominees were confirmed after passing through the 8th Assembly screening yesterday at the harllow chamber of the House in Port Harcourt.
The Speaker of the House, Rt. Hon. Ikuniyi Ibani adviced the Commissioner designates to put their best in transforming the state in line with the new Rivers Agenda of Governor Nyesom Wike.
The two Commissioner designate made up the list of Commissoner designates to 22 in the state .
Enoch Epellel