Sokonte Davies And The Folly Of Speaking When Silence Is Better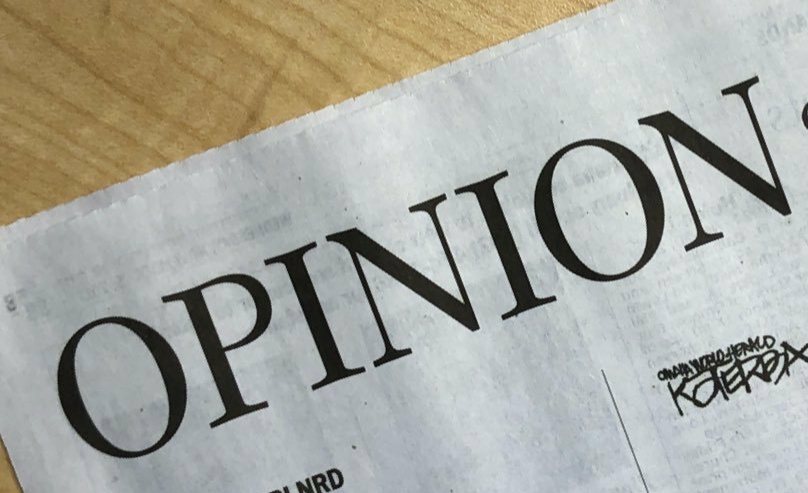 There are some people who really have nothing meaningful to say, but finding themselves in the perculiar situation where they must say something, they end up sounding like a tired, irrelevant ventriloquist, straining his falsetto vocal chords to mouth some overflogged, outdated criticism.
Dr. Sokonte Davies is one of such persons and his populist echo, calling on Governor Nyesom Wike to, according to him, "reopen markets which have remained securely locked in the overall interest of the people," which was reported in some media platforms, is the very epitome of ventriloquy at it's worst.
According to several reports, Dr. Sokonte Davies made this call, while receiving a delegation of market women in the State who paid him a visit at their Port Harcourt Party Secretariat, in his capacity as APC's Caretaker Committee Chairman in Rivers State.
He also echoed other irrelevant comments to justify the visit of the market women including the obvious white lie that the APC had a complete understanding of the situation, and a rejuvenated party which is currently engaged in internal efforts at reconciliation, would defend the interests of Rivers people and those who
reside in the State. What a joke!
But the part which really raised a huge laugh was when he was described as the "APC's Caretaker Committee Chairman in Rivers State". Against this backdrop therefore, it becomes quite obvious why Dr. Sokonte Davies must be compelled to say something, even when he has absolutely nothing to say, but must talk in other people's voices, like a Ventriloquist's dummy.
It is important to state here that there is absolutely nothing wrong with the appeal by the market women for the markets to be reopened and the Rivers State government also feels the pains which affects not just the market women alone, but indeed, what majority of the populace is going through, as a result of the Corona virus pandemic, which has completely dislocated and rearranged all our lives, from the normal way we used to do things, to the new normal.
Without mincing words, the Rivers State Government, ably marshalled by Governor Nyesom Ezenwo Wike, can beat it's chest proudly and claim that it has done excellently well in the proactive efforts and strategic initiatives which have been deployed so far, to contain and curtail the  spread of Covid-19 in Rivers State.
The unfortunate irony of such calls by Dr. Sokonte Davies for all precautionary restrictions to be lifted, is reflected in the fact that, even as the leader he claim to be, he still wallows in the tragically naive ignorance that Covid-19 is just a hype and not as dangerous as it is made to appear. And that is why for example, he and his ilk can deceive market traders, who they are supposed to be educating, with statements like finding "creative ways of getting their people to maintain social distancing and encouraging them to have access to the marketplace".
The question to ask Dr. Sokonte Davies is this: "Has he actually been studying the figures released everyday by the Nigeria Centre for Disease Control, NCDC and has he also noticed that the states with the highest number of confirmed positive cases and recently recorded spikes in numbers, are those states that have lifted precautionary restrictions and relaxed Covid-19 advisories and directives? Does Dr. Sokonte Davies even realize that there is no "creative way" of getting people to wear face masks and observe social distancing, except to enforce it, and in the process, protect and secure their lives?
Covid-19 is not a child's play or a tea party. Global economies are struggling for survival and
tottering on the edge of recession. Some have even collapsed right now and looking for aid, so when Dr. Sokonte Davies rants that: "The continued lockdown of the markets, has become an impediment to the expansion of commerce and trade, both of which have clear impacts on the health of the Rivers economy", one begins to wonder which economy he wants to expand and which Commerce an trade he is talking about, in a Coronavirus pandemic afflicted world, or is he actually living in another world different from ours?
Indeed, if Dr. Sokonte Davies has been living in Rivers State, he would confirm that the efforts of Governor Nyesom Ezenwo Wike to address, contain and curtail the spread of Covid-19 in Rivers State have been robust, bold, pragmatic and implemented with both legitimate and humane considerations.
From the periodic lockdowns of specific communities, to the provision of comprehensive palliatives to every local government area, to the free bus service scheme and the on-going decontamination of  markets, schools, churches and other settings that accommodate large crowds, even the most unrepentant critic will applaud the structured and strategic manner through which the Rivers State Government has
been responding and  forestalling the community spread of the Coronavirus pandemic in the state.
It is little wonder therefore, that the confirmed cases in Rivers State, which rose disturbingly for a couple of days, have now been decreasing rapidly with each passing day, with recoveries and discharges on the rise and reported cases confined mostly to those with underlying health issues or those exposed to cross border, imported carriers. This reduction in cases is the result of the bold and stringent enforcement of the directives and precautionary measures mandated by the state government and medical authorities, with Governor Nyesom Wike himself leading from the front and ensuring that impressive compliance is observed.
The fact remains that Covid 19 is not only real and dangerous, it has now become a fluid, unpredictable condition, which may not even manifest the symptoms earlier associated with it before striking it's victim and it has no respect for anybody. But the most worrisome realization is that till date, a cure or vacinne that can be easily accessed by everybody, has still not been developed for it and the best prevention is to observe precautions and advisories.
So, when people like Dr. Sokonte Davies talk about opening markets and advocate other glib and flippant suggestions, because they want to sound politically correct and play politics with Covid-19, without considering the dangerous implcactions of their reckless suggestions to the lives of our people, they deliberately coerce and deceive people into endangering themselves and when the inevitable happens, they will be the first to turn around and accuse government of not enforcing precautionary measures.
Of course, it is understandable that his new elevation to the dodgy position and status of APC Rivers State Caretaker Committee Chairman, could be responsible for this urge to speak up and be heard when silence could have been wiser, but one can only sympathize with Dr. Sokonte Davies for the simple reason that his amateur strategy of trying to divert attention from the many troubles of his fractured party, as well as carrying the monumental responsibilities he did not bargain for on his weak shoulders, may have compelled him to the desperation of leaning on the old and tired crutches of criticising Governor Wike, which sadly has failed in the past and will continue to fail.
Let us remind Dr. Sokonte Davies that he has bigger things to battle with and more important
things to say in his factional and fractured party. We also want to assure him that Governor Wike is not all disturbed by this unnecessary noise and distraction, because he is fully committed in his effort to secure and protect the lives of Rivers people from the devastating Covid-19 pandemic.
Rivers lives matter and Governor Nyesom Ezenwo Wike will continue to do what is right for Rivers people. Covid-19 is real, but together we can outlast and overcome the pandemic by the Grace of God. Amen.
Soibi Max-Alalibo
SA on Media to the Hon Commissioner
Ministry of Information and Communications
Rivers State
July 8, 2020.
Bleak Human Development Index?
It is pathetic and emotionally devastating to notice that Nigeria is the fourth most indebted nation in the world. A profile of the 10 most indebted countries on the borrowers list of the International Development Association (IDA), released by the World Bank Fiscal Year 2022 audited financial statements for the IDA as at the end of June 2022 reveals that Nigeria has a 13 billion dollar International Development Association debt stock.
According to the statement, Nigeria was ranked fifth in the World Bank Fiscal Year 2021 audited financial statements known as the IDA financial statement, with 11.7 billion dollars IDA debt stock as at June 30, 2021. Sadly, the report further reveals that Nigeria's debt profile increased significantly  like a Phoenix last year by 1.3 billion dollar. And that the IDA debt profile is different from the outstanding loan facility of 486million dollars Nigeria accessed from the World Bank International Bank for Reconstruction and Development.
Applying the rudiments of elementary Mathematics, the cumulative debt profile of Nigeria, the self-acclaimed giant of Africa to the World Bank and its agencies is Thirteen Billion, Four hundred and Eighty-Six Million Dollars  (13,. 486 billion  dollars). This will translate to about Nine Trillion, Five Hundred and Seventy-Five billion and Sixty Million Naira when  exchanged to Nigeria's currency. That is quite a whopping amount which is far above the total budget of Nigeria in the last three years. This figure is also apart from loans obtained from China and other Domestic debts Nigeria has incurred. Economic analysts have blamed the rising debt profile on  non-budget performance status of the country. They posit that a nation that imports with nothing to export will inevitably suffer deficit, or financial and currency crisis. This untoward development explains the  depreciation of the value of the Naira with a downward spiral inflationary trend that ravages Nigeria.
A borrowing nation remains a slave economically to the creditor-nation. The rising debt profile of Nigeria as revealed by the World Bank is a strong and infallible pointer to another debt crisis that Nigeria is into barely six years she wriggled herself out of that 1996 economic quagmire. Even with an increasing annual budget, the challenge has always been the debt service to revenue which has assumed an alarming dimension,  eliciting questions if the country is bankrupt or at the verge of bankruptcy. According to reports, in 2020, to service domestic debt, Nigeria spent about N1.7 trillion as against a budget of N1.87 trillion. For Foreign debts, about N553 billion was spent against a proposed budget of N805.45 billion. The rising debt profile of the country violates a new milestone with the country's debt service as a percentage of revenue rising to 83 percent in 2020. This means that 83 percent of the revenue generated was used to service debt. Nigeria is currently ranked the highest among Sub-Saharan Africa  heavily indebted countries. The situation is made worse with a stunted Gross Domestic Product (GDP) growth rate, retarded export growth rate, a fast dwindling per capita income and an increasing poverty level exacerbated by gross unemployment.
Government spending is a function of income. Government articulates her expected income and expenditure on yearly basis in a budget. Sometimes, the expected expenditure exceeds the expected income, this leads to budget deficit. The shortfall in finance is in most cases financed through borrowing with attendant cost and associated terms and conditions relating to payment patterns at maturity. Consequently, Nigeria is caught in the web of hasty and distress borrowing which she has not been able to service in full over the years.It is sad to state that despite revenue shortfalls, the recurrent expenditure remains all-time high while the needed capital projects suffer. It is speculated that some of the domestic and foreign loans  accessed are misappropriated or outrightly embezzled with impunity through white elephant projects and funding of ponzi scheme and projects that have no economic and social value to the people. It is also not far from the truth that public money are wasted on inordinate political ambition and frivolous activities to curry favour to the detriment of the economy and the people. The startling disclosure of the National Bureau of Statistics (NBS) Poverty and Inequality in Nigeria reports that about 44 percent of about 200 million population or about 88 million  people in Nigeria live below the country's poverty line.
This is emotionally devastating. Recall that in 2005 the Paris Club granted indebted nations debt relief which was informed by the need to free up resources for investment and foster faster economic growth. This led to a significant decline in the country's  debt  burden in 2016. Unfortunately 16 years after the respite, the debt profile of Nigeria is in the doldrums. The past and present Federal Governments led by President Muhammadu Buhari have been accumulating debt at an alarming rate through obnoxious domestic and foreign borrowing, while debt servicing cost has again increased astronomically. The economy is therefore overburdened with massive government debt and debt servicing costs that consume a very large chunk of scare revenue. To get out of this mess government at all levels should limit borrowing to service critical economic and social infrastructure. Loans should not be obtained for frivolous and selfish purposes. The people's representatives at the National Assembly, State Houses of Assembly and Local Government Legislatures should not be hoodwinked in approving loan facility to Federal, States and Local Governments. They should critically examine the purpose of the loan request vis-a-vis the benefits accruable  to the people before approval should be granted.
Without sounding pessimistic, the economic future and  human development index of Nigeria is precarious and bleak, except intentional measures are put in place to check  incessant borrowing syndrome. It may take a century of no borrowing to offset the nation's domestic and foreign debt, going by the borrowing sprees of the Federal Government which in less than one year has borrowed 1.3 billion dollar. God help Nigeria.
By: Igbiki Benibo
Cold War On Capitalist Economy
Many observers may continue to wonder why terrorism is commonly associated with Islam and the demands and mission of religious extremists such as Al Queda, ISWAP, Boko Haram, etc. Do terrorist groups not have sponsors who are usually faceless? What do such terrorist organisations want to achieve as an ultimate goal? Without going into speculations and prevailing opinions, it can be said that terrorist groups traceable to Islam, are waging a war against an unacceptable global economic order. That economic order is capitalism, which is primarily parasitic. Opportunism as an economic ideology goes along with parasitism, whose major instrument of operation is looking for lines of least resistance or points of vulnerability, to prey upon. Operating as a wolf in the clothing of a sheep, opportunists do great harms by the abuse of confidence and the betrayal of trust, and there by promoting fears and suspicion in society. As clever poachers and gold-diggers, parasites and opportunists are usually ruthless exploiters who take undue advantage of individuals and communities during moments of crises and conflicts.
Opportunists and parasites often cause crises and confusions deliberately among unsuspecting communities and nations, as strategies for advancing their selfish projects. From the sale of weapons, cars and other products, capitalist proponents look for poaching territories where they can exploit with maximum profits and least competitions. They would use local collaborations as agents who would become millionaires by spreading economic tentacles. A capitalist entrepreneur would hire a local agent to serve as a promoter and marketing outlet for his products, but would not teach him how to produce them with local raw materials. The question of transfer of technology, skills and knowledge is solely an academic and theoretical issue, rather than a practical reality. After spending much time and resources in research and then coming up with some formula and technology to practicalise the result of the project, no entrepreneur would want to give away such treasure. Neither should anybody blame him, for this is the essence of capitalism.
To capitalise on what you have at hand demands focus and concentration of attention, so as to develop it to the optimum capacity. There is a universal admonition against offering precious treasures to profane and indolent persons (i.e. pearls to swine). Those who choose to waste their time and resources in frivolous ventures should not bear grudges against those who invest their talents profitably. Without diligent application of available resources there can hardly be a sustainable development.  The ugly side of capitalist ideology has to do with the principle of Osmosis, whereby the stronger substance absorbs the weaker one, so that the strong gets richer. This is an extension of a natural law which provides that leaving your gate open out of indolence, naivety or conceit, is a willing invitation to poachers. Would you blame poachers for harvesting your farm or your kidney if you do not guard and place value on what you have? Capitalism and opportunism apply the provisions of this law in their operation, namely: the pearl you cast to a swine would serve a diligent man. Neither does it make sense for anyone to believe and live on the basis that there are no ill-disposed persons on the earth. The ancient race of the Incas perished largely because of lack of vigilance, alertness and development of the urge for self-preservation. There is nothing being said here to justify brutish attacks on innocent and docile people by bandits and gangsters. Rather, the truth is that those who offer their throats and treasures to ill-disposed persons without prior caution, usually end up regretting their actions. Self-preservation is a vital law in nature.
That there is currently a cold war against capitalist's economy is a reality whose details are not easily comprehensible to average Nigerians. Those who got close to Osama bin Laden before his death, were able to know that he alluded to a "vicious beast devouring humanity economically". Although he did not mention capitalism specifically as the ruthless beast, the terrorist attack on the World Trade Centre in the United States of America, was seen as an attack on global capitalism. There was also an allusion to the fact that after the fall of USSR, "Islamic ideology had a duty to rescue humanity from the vicious beast".
Global ideologies and worldviews are largely conceptual frameworks on how to perceive and manage the affairs and resources of the world. Dominant among such ideologies had been capitalism and socialism, represented by USA and USSR, respectively as pillars and vanguards. Developing nations tried in vain to form a third force of non-alligned nations, and to serve as a check on contending world ideologies. As things are, currently capitalist political economy holds sway globally as leading ideology.
From the World Bank to the World Health Organisation, and from arms trade to foreign debts and borrowings, many nations stand like pawns in the global economy. Oil-producing nations, particularly among the third world countries, are caught in the dragnets of capitalist political economy and in such a way that poverty and instability increase as a few people get richer. The formation of the Organisation of Petroleum Exporting Countries (OPEC) and the Organisation of Islamic Cooperation (OIC) were motivated by a desire for self-preservation from global economic hegemony. The history of Afghanistan is an interesting one, because, with 90 percent of the natural gas in that country piped across long distance into the former USSR, crises and instability became widespread. A long-drawn civil war with the Soviet, gave rise to the emergence of the Talibans, 1994. What is pertinent here is that mineral oil and gas are resources around which capitalist political economy swings. Countries that produce them are sucked into the vortex of global oil politics, whereby corruption and instability become common features of such countries.
The tentacles of capitalist economy seek to plant local stooges who are usually faceless but very strong. Antics of the cold war also plant bandits, terrorists and agents whereby religion is the visible face of an invisible mission. The mission aims to dethrone the pillars of western culture and world view, of which education and religion are key instruments. Boko Haram translates into "Away with Western, book-oriented culture". The cold war against capitalist economy is an arduous and intractable one. It is ideological, coupled with epistemology.
By: Bright Amirize
Dr Amirize is a retired lecturer in Rivers State University, Port Harcourt.
That Mailafia's 2022 Civil War Prediction
Last September, the country received, with shock, the news of the death of one  of the greatest intellectual minds of our time. He was amongst many precious souls who departed this sphere in an era when there is a famine of truth. Some suspected foul play, but according to the Chief Medical Director of the University of Abuja Teaching Hospital, Prof. Bissallah Ekele, the death was due to COVID-19 complications. Mr Mailafia, was a financial expert, a former Central Bank of Nigeria's Deputy Governor, and a former presidential candidate of the ADC. Most importantly, he was one of President Buhari's fiercest critics. Beyond that, he was also a security analyst, and we can also call him a prophet in the light of the current security uncertainties in the past few months;  especially, given his revelations on August 10, 2020, during an interview on Nigeria Info, in which he raised alarm over the plans of Boko Haram to start a civil war in Nigeria by 2022.
During that interview, he made public the intel he had gathered through his security network, detailing how Boko Haram has planned a phase-by-phase attack that would culminate in urban invasion and the assassination of prominent Nigerians. His revelations came after he met with some repentant Boko Haram members. He said, "Let me make some revelations because some of us have our internal security networks, we have met with some of the bandits' high commanders, who have repented and they told us that one of the Northern governors is the commander of Boko Haram in Nigeria.
"Boko Haram and bandits are one and the same, they have a sophisticated network, during the lockdown, their planes were moving up and down with ammunition, logistics, money, and distributing them in different parts of the country.
"They are already in the rainforest of the South, they are everywhere. They told us that when they finish these rural killings, they would move to phase two.
"In phase two, they will go into the urban cities, moving from house to house killing prominent people. "I can tell you this is their game plan and by 2022, they want to start a civil war in Nigeria."
The security events in and around Abuja, and other major cities have given credence to Mr Mailafia's 2020 predictions. In fact, since June 5 -Kuje prison break, there has been an uptick in attacks in  and around Abuja metropolis. Cases of kidnapping in Abuja have become so frequent  that some who looted funds to build mansions in Abuja are beginning to contemplate relocation to their home state for safety.
Sadly, what is happening in Abuja and its environs is beyond kidnapping. It is clearly the acceleration of the second phase of Boko Haram's civil war programme, and its purpose is to intimidate, dislocate and overwhelm whatever is left of our fragile security architecture.
Unfortunately, it is bearing fruit from every indication. Surprisingly, President Buhari's 'spin doctor',  Lai  Muhammad,  has not said anything about the recent carnage and bloodletting in the country or reminded us how large swath of land was ceded to the Boko Haram during President Jonathan's administration. Or, how the Nigerian army has technically won the war against Boko Haram; or, how members of the opposition party are the key sponsors of acts of violence in the country.
The growing audacity of terrorist groups and their associates has become so palpable that they can openly threaten to kidnap a sitting president and governor. Honestly, I hope President Buhari has come to terms with the meaning of "making the country ungovernable"; and Governor Nasir El Rufai, his comments on body bags. A few weeks ago, Boko Haram and their associates showed Nigerians and the whole world how impotent, and incapacitated we have become as a nation when they circulated a video depicting the worst humiliation of our lifetime. In the video, members of Boko Haram, including one escapee from the June 5, Kuje prison break was whipping victims of the March 7th ill-fated Abuja – Kaduna train attack.
The war has begun, to say otherwise, is to live in denial like President Buhari and his cabal. They have abdicated the primary responsibility of protecting the lives and property of Nigerians  of a better future. Incompetence and mortal inertia have led to the morphing and amalgamation of terrorists of varied interests making the country a killing field.
Aside from a few states, Nigeria is burning, Boko Haram, bandits, kidnappers, and killer herdsmen in the North; while kidnappers and killer herdsmen are ravaging the South. Things have fallen so far apart, but the centre has taken sides. There are two wars going on concurrently in the country: the war of Fulanisation, and the war of Islamisation – both are the same. It is clearly a war for ethnic domination shrouded in the toga of religion.
At the centre, there are glaring signs of Islamisation; but in Zamfara State, and most states in the Middle-Belt and the South, Fulanisation is afoot. In a speech given after his recent vacation abroad, Governor Samuel Ortom of Benue State rolled back the covering of climate change which has been the major lie of expansionist Fulani herdsmen. According to him,  he decided to visit the United Kingdom and the United States of America to correct the wrong narratives that the crisis in Benue State was caused by climate change and there,   he was surprised to learn that the attacks were beyond what they had fed them with.
"Even during the rainy season, the Fulani herders come to our communities, killed, maimed, raped our women even our men. These Fulanis come from Niger, Senegal, Mauritania and other places.They only used that as shield,  their main reason for attacks was occupation of our lands".
He further accused President  Buhari of dereliction, he said,  "Things are getting worse in Nigeria. You know I said this before I travelled out, that  very soon, with the manner bandits are operating without proactive steps from the federal government, they will soon enter the Aso Rock.
"You have seen happenings in the country; the Kuje prison break and the threat to kidnap the president, God forbid, but this is what I saw a long time ago.
"Those people in Afghanistan, who are bandits and Fulanish are the ones (wreaking havoc). They are being sponsored. I feel pain that this is happening in my generation. There is no government in Nigeria today. Those who are surrounding the president are criminals.
"You have left us digging our graves, we need a true change, not the change from top to bottom you promised us in 2015. We are at war, and if we are not allowed to bear arms to defend our families, then our governor must heed the call of human rights lawyer, Femi Falana (SAN), to apply for gun licences to arm their various security outfits. And if the Federal Government refuses, they should go to court; but in the meantime, they should judiciously use the humongous security votes they collect  every month to purchase drones and other security hardware to protect their people."
By: Raphael Pepple