Hearing Day: UBTH Provides 20 Hearing Aids To Deaf Children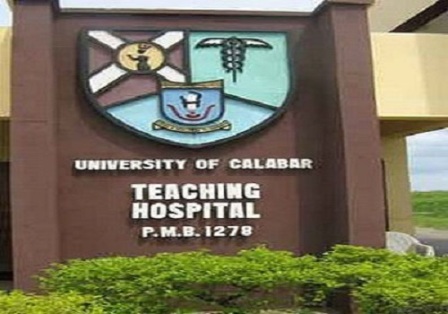 The University of Benin Teaching Hospital (UBTH), Department of Ear, Nose and Throat, Head and Neck Surgery (ENTH and surgery) has provided 20 hearing aids to children with deafness.
Chief Medical Director (CMD) of UBTH  Dr Darlington Obaseki, disclosed this during an awareness programme, to mark  the World Hearing Day, in Benin.
Obaseki, who was represented by Commandant, Military Hospital, CMAC UBTH Prof. Casmir Omuemu, stated that the World Hearing Day, was a campaign held globally every  year, by the Office of Prevention of Blindness and Deafness of the World Health Organisation (WHO).
"The activities take place across the globe every March 3. The campaign objectives are to share information and promote actions toward the prevention of hearing loss and improved hearing.
In line with the objective of marking the Day, the ENTH and surgery department of UBTH, distributed 20 Hearing aids, which included canal hearing aids to children with deafness.
The year 2020 theme: "Don't let hearing limit you", aims at encouraging the deaf and creating opportunities for them to hear through a hearing aid.
According to Dr Omuemu, "a hearing aid as a device designed to improve hearing by making sound audible to a person with hearing loss. "hearing aids are classified as medical devices in most countries, and regulated by the respective regulations.
"With a hearing aid, a deaf person would be able to hear better and communicate freely. "Limiting deaf persons is unfair. Just because one cannot hear doesn't mean they are not human, " he said.
He advised the general public to always assist patients with hearing problems and show them love and called on the government to fund health care delivery by providing hearing aids for the deaf in the state.
Experts' review of studies of green tea suggests that daily intake of green tea has significant protective effects against influenza and other upper respiratory tract infections.
Researchers reviewed six random control trials (RCTs) and four prospective cohort studies to evaluate the evidence supporting the effectiveness of tea gargling and tea catechin consumption in preventing viral respiratory infections.
They explain that catechins (or flavanols) present in green tea inhibit the proliferation of viruses in the upper respiratory tract (URT) by forming a protective barrier in the pharynx.
On flavanol, in particular, epigallocatechin gallate (EGCg), has a direct anti-viral effect and physically binds to and flushes out viruses in the URT.
According to them, "EGCg and epigallocatechin (EGC) bind to the hemagglutinin spike on the viral surface and neuraminidase to inhibit attachment of the virus to the cell surface, thereby preventing influenza infection.
"Given the evidence that EGCg, a main component of tea catechins, provides effective protection against influenza virus and adenovirus, it may also protect against respiratory infections caused by other viruses."
Interest in non-pharmaceutical interventions (NPIs) that may slow or prevent the spread of the infectious disease has increased due to recent pandemics involving influenza, severe acute respiratory syndrome-coronavirus (SARS-CoV), and COVID-19.
Measures that can reduce their impact and severity in the early stages is deemed key in the fight against infection. There is considerable research on the efficacy of NPIs, such as hand washing, wearing masks and physical distancing, in reducing the transmission of respiratory infections have been performed, but limited documentary proof supporting the effectiveness of tea gargling and tea catechin, therefore the efficacy of the intervention is "not well accepted".
One study reviewed by the team demonstrated consumption of catechin capsules reduced the incidence of influenza-like symptoms by 32.1 per cent, and another noted "strong effects" following consumption of large amounts of catechins per day.
The cohorts from the four studies were selected from populations with a custom of gurgling black tea and green tea, consumption of black tea and green tea, and those who consumed Goishi tea, a local type of green tea produced in the Kochi prefecture in Japan.
Interventions in the RCTs included data from 3,748 subjections and consumption of either green tea extracts (catechin solution for two RCTs, and catechin-containing capsules for two RCTs) or bottled green tea (two RCTs), with placebo (four RCTs) or water (two RCTs) as the control group.
Culled from Tribuneonline
Family Planning Leads To Healthier Children – Expert
A Professor/Consultant Obstetrician and Gynaecologist, College of Medicine, University College Hospital (UCH), Ibadan, Prof. Christopher Aimakhu says families that use family planning usually have stronger and healthier children, while  young people that embrace family planning have the likelihood of remaining in school longer than those who do not.
Aimakhu in a lecture entitled: "Analysis of Family Planning Budget in Nigeria", at a Rotary Online Training of Journalists explained that family planning is an important tool in the prevention of child and infant deaths, unintended pregnancies, risky births, unsafe abortions, and maternal mortality deaths.
Noting that Nigeria has a population of about 201,000,000 with a modern Contraceptive Prevalence Rate (mCPR) of 12 per cent and a fertility rate of 5.3, he expressed worry that by 2050 Nigeria's estimated  population  would be 543 million if not checked.
He said if all unmet needs for modern contraception in Nigeria were satisfied, unintended pregnancies would drop by 77 per cent from 2.5 million to 555,000
"If a full provision of modern contraception were combined with adequate care for all pregnant women and their newborns, maternal deaths would drop by 68 per cent from 61,000 to 19,000 per year) and newborn deaths would drop by 85 per cent from 255,000 to 38,000 per year.
"As a result, the annual number of unplanned births would decrease from 885,000 to 200,000 and the number of abortions would drop from 1.3 million to 287,000.
Another expert and Consultant Obstetrician/Gynaecologist, Dr Olagunju Ayodele has emphasized that access to contraception will help Nigeria to curb population explosion, reduce its high fertility rate and ultimately balance the country's demography.
Ayodele who spoke in an interview with Good Health Weekly explained that access to family planning means the human resource will become optimal while material resources and human resources will be balanced.
Noting that too many children means much load and burden on the working population, Ayodele who is also the Chef Executive Officer, Purple IVY Medical Consultants Hospital, Ibadan, said the situation will worsen poverty in the environment, especially in a country with one of the highest fertility rate in Africa.
"Imagine our fertility rate as high as 5.6 per woman, meaning that an average Nigerian woman is likely to deliver about 5 to 6 children, which is very high compared to countries like Sweden where their fertility rate is 1.
Ayodele said unchecked fertility rate will lead to population explosion, escalation of crimes, increased poverty, and conditions will get worse while Nigeria will not be able to manage its natural resources that will become too little for the population.
"It will also mean that the little educational packages we have will not be able to take the population, job challenges will increase because more people will not have jobs and more will be searching for jobs if we don't have access to contraception."
He said it was also necessary to pay special attention to the contraception needs of adolescents that will grow into becoming the country's reproductive population.
"It is important for the country to improve adolescents' contraceptive package so that challenges of abortion will go down.  As we speak now, in Sub-Saharan Africa, the top five killers of women is haemorrhage meaning any condition that results in excessive bleeding.
Number two are hypertensive disorders like eclampsia, and the third is unsafe abortion which means that effective contraception will reduce it, and in addition, reduce morbidities from the procedure.
He stressed the need for Nigeria to remove the human interface between contraception and adolescents for effective family planning services.
"The services here in Nigeria are so complicated such that when you go to a facility to buy condoms it is usually kept close to the cashier and they will give them grudgingly with an attitude showing that why are they having sex?   These attitudes discourage people from accessing contraception.
"Contraception will benefit the country because it will reduce maternal mortality if done effectively.  It will give the country better outcomes because in future the adolescents will be the ones that will now grow into the reproductive population of the country.  If  a lot of them come down with sexual dysfunction it will affect the economy of the country.    They will be spending money on treating their sexual dysfunction, dropping from work and will not contribute optimally to the services of the country," he stated.
Vaccination: 25m Children Under Threat – UNICEF
United Nations Children's Emergency Fund (UNICEF), has warned that 25 million children are under threat of different transmittable diseases due to lack of vaccination.
Executive Director of UNICEF, Catherine Rusell, gave the indication in a paper she delivered early this week at an event to mark ending the Covid-19 pandemic equitable access to vaccines.
She observed that upto 21 million children did not receive the vaccine against diphtheria, tetanus, and pertussis —/ a marker for immunization coverage in general.
"This is the largest, sustained drop in the rates of routine childhood vaccinations in a generation — potentially wiping out 30 years of progress if we don't get back on track", she declared.
Data so far released indicate that of late August, 12.4 billion doses of COVID-19 vaccines have been administered globally.
As the world's largest single buyer of vaccines and humanitarian supplies in the world, said stated that UNICEF supply division has been instrumental in this effort – with a focus on reaching underserved communities and strengthening health systems.
"With our COVAX partners, we implemented the largest ultra-cold chain scale-up in history — financing and delivering 800 ultra-cold chain freezers to nearly 70 countries in 2021 alone Rusell stated.
She revealed that," last month, UNICEF shipped more than 20,000 units of the COVID-19 antiviral drug, molnupiravir to Cambodia, which was the first shipment of a novel antiviral by ACT-A partners.
"All these joint efforts to ensure an equitable response to the pandemic are beginning to pay off.
According to her 10 member states have achieved 100 per cent vaccination of health care workers – and coverage for other high-priority groups, including people over 60 and pregnant women, has increased.
While noting that gradually progress is being made to keep up the momentum to protect the world against future surges and new variants,as long coverage continues to be inequitable with communities liable to unprotected and underserved exposure which poses threat to children.
Rusell reasoned that though children may not be the face of the pandemic, but they are certainly among its biggest victims, since the secondary impacts of the pandemic on children's health, education, and well-being have been devastating.