The Lies In Buhari's New Year Address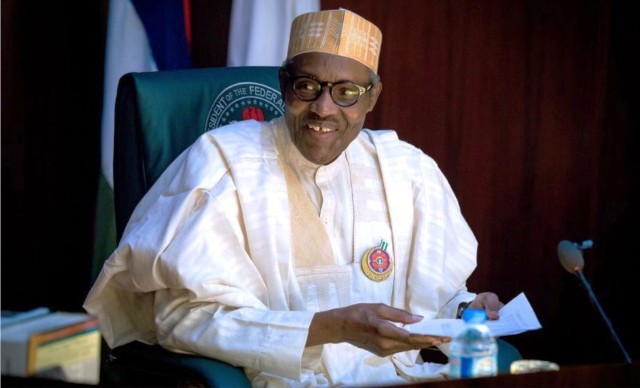 Nigerians woke up this New Year to listen to President Muhammadu Buhari's New Year address to the nation in which he made many promises and undertakings. One of the things he said is as follows:
"My address to fellow Nigerians this morning is devoted mainly to informing you about the intense efforts this administration is putting to address our country's huge infrastructural deficit.
We are going to make significant in-roads in advancing road, rail and power projects across the country."
Buhari has been President for over two and a half years. He has less than one and a half years to go. If by now he is still talking about "we are going to", shouldn't alarm bells ring in your mind?
The man has spent more than half of his term and he is not able to tell us what he has done in tangible terms. Instead, he is still telling us what he plans to do. To paraphrase the Yoruba adage, if you have used two and a half years to prepare for madness, how long would the madness now last?
Then, the President characteristically threatened oil marketers and again blamed them for the fuel scarcity that occurred during the yuletide.
Said the President: "I am determined to get to the root of this collective blackmail of all Nigerians and ensure that whichever groups are behind this manipulated hardship will be prevented from doing so again."
This is so typical of Muhammadu Buhari. Failure to take responsibility. The man is the Minister of Petroleum. The buck should stop at his table.
Nigerians will notice how he failed to address the revelations that he, who had spent years discrediting fuel subsidy and alleging that Jonathan and his government used that policy to scam Nigerians, had been secretly and illegally paying fuel subsidy, currently at ¦ 26.40 per liter.
The Group Managing Director of the Nigerian National Petroleum Corporation, Maikanti Baru, told newsmen that he was instructed by the President to subsidise the cost of petrol. There were no provisions for subsidy in the 2016 and 2017 budgets. So, where has the money been coming from?
The other day, the Minister of State for Petroleum Resources, Ibe Kachikwu, exposed that Baru had awarded $25 billion worth of contracts without due process. Did the money come from there?
And now, the man who should address this unconstitutional appropriation of Nigeria's resources is threatening marketers. The same marketers who have revealed that the NNPC is owing them $1 billion and that under the current policy they can't make a profit! Are they meant to stay in business to make a loss?
And then, the man goes on to lie that power generation has ramped up to 7,000 megawatts (MW) forgetting that previous administrations before him set up the Nigerian Electricity System Operator which is statutorily required to publish the verifiable amount of power generated in Nigeria.
Now, according to the Nigerian Electricity System Operator, the amount of power generated in Nigeria is 4,108MW. I deal in facts and I have an unimpeachable reputation for the facts. If any member of the Buhari administration can contradict the data from their own government agency, Nigerian Electricity System Operator, I make a public vow to apologise to President Buhari in a full page advertisement in a nationally read newspaper.
The fact is that President Buhari lied!
But the greatest insult from President Buhari's New Year address was when he said "The government is slowly stabilising the economy."
Really? No other administration has destabilised Nigeria's economy as the Buhari administration.
Under Buhari, the nation's currency shed 75% of its value and moved from N199 to $1 on the day he took over to N365 to $1 today. We had the unenviable record of being named the fourth worst performing currency in the world by Bloomberg in 2017.
Inflation, which was at single digit rate on the unfortunate day Buhari was sworn in on May 29, 2015, is now at 15.91%.
According to Debt Management Office, the total external debt of the federal and state governments on the day Buhari was sworn in stood at $9.464 billion. In two years time, the Buhari administration has increased that debt by 50% to $15.047 billion as at September of 2017. And if the 2018 budget is anything to go by, then this amount will double this year.
Taking everything he said during the broadcast, the least you could say is that the President engaged in lying on a mass scale. Lying and responsibility avoidance.
The conclusion is that Nigeria is going to see the same old order under Buhari in 2018. If problems arise, he will look for who to blame rather than look for a solution.
The best thing this nation can do is to pray that this nightmare comes to an end in 2019 and the President can go to his 150 cows that somehow never increase in number. At least, they have fared better than the Nigerian economy under Buhari.
Omokri is the author of Facts Versus Fiction: The True Story of the Jonathan Years: Chibok, 2015 and Other Conspiracies.
Reno Omokri
The Oxford Dictionary defines a patriot as someone who vigorously supports his country and is prepared to defend it against enemies or detractors. A patriot is he, who is interested in the unity, progress and development of the country and will not keep quiet and watch things go wrong in the country. On the other hand, the National Ethics and Integrity Policy refers to patriotism as love of one's country and willingness to defend it. This means, that one who truly loves the country should be ready to fight or speak up against corruption, tribalism, nepotism, injustice, selfishness, lack of productivity in the public service, marginalisation in the public and private sectors, poor governance and other dysfunctional attitudes of Nigerians, both the leaders and the led, which are destroying the nation.
This topic has become important because of the way the word "patriot" is being branded lately in our society. Some people now regard anyone who criticises the government or the leaders as being unpatriotic. Citizens asking questions of their leaders is interpreted as unpatriotic. You call government's attention to the on-going industrial action by members of the Academic Staff Union of Universities (ASUU), which has kept the students of public universities at home for almost half a year, and someone terms you "unpatriotic". Two days ago, someone called during a radio programme, complaining of the hike in airfares and the difficulties the citizens are facing in moving from place to place – bad roads, kidnappings and killings on the road. As a matter of fact, he said he just returned from Kaduna to Abuja on road and needed to go and check his blood pressure because of the soaked tension and fear he was in throughout the journey. Behold, he could hardly finish talking when another person called, accusing him of being unpatriotic and creating unnecessary tension in the land.
Any report that puts the government in bad light on account of its numerous failures is frowned at and the reporter is seen as being anti-government and unpatriotic. The Minister of Information and Culture, Lai Mohammed, displayed a similar attitude  last week when he threatened that the federal government will sanction Trust TV, a television owned by Media Trust Group, and the BBC over their stories on bandits in the North. The minister termed the separate documentaries, by the two media organisations, which exposed the activities of the gangs making life difficult for Nigerians, as glorification of terrorism and banditry in Nigeria. And the media he called "oxygen that terrorists and bandits use to breathe".
For Mohammed and his fellow regime apologists or rather "patriots", helpless Nigerians, the victims of insecurity, economic hardship, misrule that have become the lot of the country for several years,  should not even groan. Everybody should pretend that all is well. Everyone should join him in telling foreign investors to discountenance the reports on insecurity in Nigeria and come and invest their money in the country, even when he knows that the lives of these investors may be at stake. Is Lai telling the media to  turn the other way when they see things going wrong in the country, when they see the citizens being slaughtered daily like chickens, so they will be good, patriotic citizens.?
Mohammed Lai's "patriotic"Nigerians are those who never condemn the evil ways of their principals and associates. They are bystanders to the anomalies in the land, always call white black. If you have them on any social platform, the platform will continually be in turmoil because they are ever ready to lash out on any one who criticises their principal and their preferred political party. They do not want to engage and possibly allow triumph of superior argument, opinions and facts. Neither do they want their official propaganda lines to be questioned.
Someone should please call these "patriots" to order,   tell them that they are far from being true patriots because a true patriot does not consider his personal comfort and wellbeing above the good of the generality of the people. A true patriot defends the nation against misrule, high cost of governance, insensitivity of those in authority to the plights of the citizens. A patriot worth his salt will not be comfortable when a few selfish, elected politicians at local, state and federal levels are pushing our fatherland to the cliff, and are bent on tripping it over in 2023. A true patriot considers any bystander, who watches the Nigerian ship sinking without doing anything as a traitor. He calls a spade a spade and does not support evil for a pot of porridge.
It is therefore high time we did something to salvage the current poor state of the nation. We may all not be the president, governors, lawmakers or what have you. but at least, we can quit condoning, supporting the flawed leadership in the country. The truth is that we have no other country than Nigeria. Yes, some may have dual citizenship but definitely, there is no country like your country of origin. So, if we fold our hands and watch the country sink, we shall all bear the brunt. Someone recently wrote concerning the insecurity in the country, "If you think they are not here, that's a gaffe. And if you price your personal comfort at your "dinning table", amidst the frustration and impoverishing of many, and above societal wellbeing, too selfish, too bad".
Another general election is around the corner, will you rather sit on the fence and allow others to decide the future of the country or you will prepare to participate in the election? Sacrifice your time, comfort and if possible, your resources to see to the emergence of the right persons at all levels of government, who mean well for the country and are ready to pay the price to make Nigeria a better nation. That is the mark of a true patriotic citizen. In the words of an American Political Activist, Thomas Paine, " The duty of a true patriot is to protect his country from its government". And for the government and its threat on the media organisations, the comment of the renowned Islamic cleric, Sheikh Ahmad Gumi, is very instructive. He said "FG's attempt in trying to find a scapegoat to justify its glaring failure after wasting over $16 billion in the last seven years without any commensurate result on security and efforts to blackmail certain media organisations for their patriotism in reporting the crisis is unfortunate and should be resisted by all responsible media organisations.
"When a Commander-in-Chief rewards failure with ambassadorial appointments in a system and a society that records increased attacks, when security agencies cannot even protect Abuja and especially when the Guards Brigade cannot even protect themselves not to talk of the President, then why blame the media for such failure and ineptitude for reporting it?" What Nigerians need now is urgent solutions to the numerous problems in the country, not insincerity, falsehood and covering up of obvious truths and unending blame games. Patriotism is not demanded of the led alone. The leaders should also show that they love the country by displaying a high level of integrity, honesty and sincerity in handling the affairs of the nation.
By: Calista Ezeaku
Idiom Of The Rejected Stone
This article is dedicated to the memory of one of the best intelligence officers that Nigeria ever had; whose cold blooded murder by his friends facilitated the death of General Aguiyi Ironsi. For refusing to be an accomplice in a plot to kill his boss, that young man died, telling his treacherous colleagues that: "Dead bones shall rise again and the rejected stone shall…" He did not complete the sentence before he was shot dead by those he ate and drank with not long ago. It is 56 years ago that this tale took place.
The treacherous deed was not done by Fulani herdsmen or terrorists, neither would the whole story of how a patriotic adventure of 1966, was turned into an ignominy, be known. Rather, the genesis of "unknown gun men" began with the installation of a hit squad by fifth-columnists who would eat with you in the day, but attack you at night. The death of General Aguiyi Ironsi, like that of Mamman Vatsa, may be attributed to destiny, but in the Nigerian context, the hand of treachery as an instrument of power, would not be ruled out.
It is gladdening that a few of those who allowed themselves to be deceived by ill-disposed foreign advisers are still alive today, to talk about ethnic cleansing and Islamisation agenda. The idiom about dead bone rising again and a rejected stone becoming a cornerstone, was used for the purpose of mockery by federal soldiers during the Nigerian Civil War. Fleeing persons had to be shot and burnt and then asked to rise again!
It is a pity that those who knew the possible consequences of their actions between July and December, 1966, succeeded in preventing public inquires into their dark deeds. Emphasis had to be focused elsewhere, rather than the issues which gave rise to vexations. That singular intrigue or shenanigans of evading issues of relevance, in favour of chasing irrelevances, has been a major feature of Nigerian politics. It was a part of the inheritance or legacy from master-strategists of past military era. Nigerians should be weary of that strategy by now, and know what it is meant to cover up.
In Shakespeare's 'All's Well That End Well' we have much to learn, namely: "Often expectation fails, and most oft there where most it promises; and oft it hits where hope is coldest and despair most fits". Is there any wise person who would not agree that "Our remedies often in ourselves do lie, which we ascribe to heaven"? Religion is such a volatile issue in Nigeria, yet we fail to know that "You go so much backward when you fight". More so when we fight over time-limited and irrelevant issues, but ignore vital ones. We blunt the sword, hitting wrong targets!
When we are told that "The merit of service is seldom attributed to the true and exact performer", should that not remind us that politics is a system of cryptocracy? Someone described cryptocracy as a voodoo system of management of public affairs, where bamboozlement, treachery and deceit are the orders of the day. You rarely know who is calling the shots or pulling the trigger!
Rarely would Nigerians or history know the three treacherous gun men who killed their unyielding colleague, to make it possible for General Aguiyi Ironsi to be killed. Neither would the full and true story of what transpired then be known, but what should be of relevance here is the idiom of the rejected stone which can become a vital cornerstone. That young intelligence officer, not more than 26 years of age, neither had a wife nor a child, but his last and uncompleted message can be a lesson for Nigeria.
Much of what is happening in Nigeria currently can be traced to the shenanigans and treachery connected with the aftermath of the January 15, 1966 military coup. Hitherto, the worst victims of the tragedy are the Igbo-speaking groups of Nigerians, neither would how "the Igbo-man became the fall guy" in the whole episode, become known. For the benefit of the naïve ones who rarely know the truth, it was considered expedient to "Portray the Ibo-man as the spoiler of Nigeria". The person who made that statement was a hired consultant, now late. But the prejudice lives on. Scapegoat!
Nigerian leaders may continue to shy away from creating a forum for honest dialogue and restructuring agenda, yet, a voice of oracle predicted in July 1966 that "Salvation Comes from the East". Those who knew about that prediction were bitter and would not want to admit that there was such a prediction. Rather, everything was done, and consultants hired to see that the "East remains in darkness". That sad agendum should be brought to an end, neither should it be denied.
Without revealing what may be termed as "hate speech", what is being said here is coming from a "seeing one", a patriotic senior citizen. When the conscience of the three gun men who killed their colleague for wanting to save General Aguiyi Ironsi, began to trouble them, one of them said: "by the way, he was an Ibo man". Was it a crime to be an Ibo man? Plots and conspiracies are parts of the strategies of power hustling, and the issue of "custody of power" has been a vital project in Nigeria. May that project not plunge Nigeria into more serious disasters. Truly, power belongs to God!
Let us not shy away from the hidden truth that the politics of oil and gas has been at the heart of the Nigerian political economy, whose intrigues fuel the intractable crises in Nigeria. Has anyone denied the fact that over 80 per cent of oil blocks allocations are in the hands of certain groups of Nigerians? One activist, Uthman Umar Sokoto, in a trending video film can afford to tell Nigerians that the oil and gas resources in Nigeria are under the total control of the Fulanis. Has anything been done by security agencies to verify or curtail the claims of Uthman Umar Sokoto?
Idiom of the rejected stone should be seen as a reminder that human institutions and power are not always the final arbiters or determinants of what happens on earth or any nation. An old monk of Kempis would say that: "Man proposes but God disposes". From activities of a cabal in the Presidency, to terrorists and bandits, surprises usually come from sources we rarely expect.
By: Bright Amirize
Dr Amirize is a retired lecturer from the Rivers State University, Port Harcourt.
Hauling Propaganda For Rivers APC Corpses
I have read David Oguzierem's hollow tale of agony in yet another attempt at smearing the reputation and political integrity of Governor Nyesom Wike and the outstanding pedigree of Sir Siminalayi Fubara, the gubernatorial candidate of the Peoples Democratic Party (PDP) in Rivers State.
Rather than writing with facts, he has descended into hauling unproven allegations and peddling tell-tale falsehoods as the common gossip and propagandist that he is. My view on the matter is that fools, often detesting the truth, constantly wallow in ignorance, no matter the effort to educate them to the contrary.
From his assertions, it is obvious he is truly ignorant of how government operates and how government offices function. Although it is incumbent on him to prove his allegation of the breaching of official protocol, the onus is on us to school him a bit on the facts.
Despite the coming into law of the Freedom of Information Act (FoIA, 2011), the Official Secret Act still holds sway in the public service. So, as an integral part of the test of integrity, every civil servant who desires career  growth,  subscribes to it. It therefore becomes part of the routine ethical conduct to secure government information, especially when one is already rising to the pinnacle of one's career. This explains why gossips, backbiters, fraudsters and flippant characters hardly rise to such sensitive positions of leadership.
So, no government entrusts sensitive positions such as cashier, assistant to the Accountant-General, Director of Finance and Administration or Accountant-General to unserious and unstable characters. It is certain that Emperor Amaechi also knew this and never doubted the competence and professional capacity of Amaopu Siminalayi Fubara while he served as Cashier and later Assistant to the Accountant-General during his tenure as governor.
To therefore insinuate or allege such service misdemeanor against Sir Siminalayi Fubara is far beyond laughable and wicked. Perhaps, David has forgotten that Gov. Wike was part and parcel of Emperor Amaechi's first tenure as Chief of Staff in Government House and that he is quite abreast with the transactional procedures of Amaechi. Would he, therefore, need anybody to leak any document to him?
If we agree, but not conceding to David's delusion on the imaginary leakage of official documents, he has technically indicted his masters, Emperor Amaechi and Tonye Cole, to have engaged in unholy acts, thus confirming all their humongous looting of the state treasury and appropriating the state's assets to themselves in a criminal manner. What exactly does he take Rivers people for?
David, while asserting that Fubara is not a known politician in the state, in the same breadth proceeds to allege Fubara's leaking of official information to the opposition PDP during Amaechi's tenure. I then ask: "In what capacity"? And at what time did he and his masters realise that Siminalayi Fubara was leaking official information to the opposition and what was their immediate reaction? Was their discovery or complaint an after-thought?
It is pertinent to inform David and his masters that in Nigeria of today, the career path of a civil servant becomes political even from the position of Director; as the individual would be critically observed and evaluated before ascending to the next level. That observation and evaluation subsequently lead to appointment as Permanent Secretary.
So, Siminalayi Fubara has been in grassroots politics for a long while from the background. He is very much abreast with the state to the point that he cannot call any local government Isiokpo Local Government as his principal Tonye Cole did recently during a condolence visit to Isiokpo in  Ikwerre Local Government Area. Before David reads me out of context, there is nothing wrong for any civil servant to participate in politics in Nigeria as already cleared by the Supreme Court pronouncement in the case of Independent National Electoral Commission (INEC) v Balarabe Musa &Ors (2003) 10 WRN 1.
May I also inform David that before 2022, Amaopu Sim Fubara took charge as the leader of PDP in Opobo/Nkoro LGA with great followership that has culminated in depleting the APC to the tatters in that local government. In 2021, when PDP held its Elective National Convention that saw the emergence of Dr Iyorcha Ayu as National Chairman  and others, SimFubara was conspicuously there as one of the delegates. That has further put David's challenge to lie.
Talking about grassroots and imposition, who then is Tonye Cole in Rivers politics before 2019 and even now? In reality, can David prove that Tonye Cole emerged as a very formidable politician in APC amongst other political heavyweights that contested in the party?
Can David tell Rivers people that Tonye Cole is not an imposition by Emperor Amaechi? Then, let him ask his masters why all the political heavyweights are leaving Rivers APC in droves. He knows the truth, but would continue to live in self denial and in pretence.
Tonye Cole is an alien and a stranger to Rivers politics. I am very sure he does not know his APC unit leader; simply because he is not on ground. If he is, why the slip of calling an LGA Isiokpo Local Government. Is there anything like that? He is an imposition of Emperor Amaechi for the business of coveting Rivers assets and patrimony for their self-aggrandizement. Nothing more, nothing less! He is a complete political neophyte who does not even know his roots properly.
Now, David should know that it is in public space that Emperor Amaechi and Tonye Cole are on trial for criminal diversion of state resources and assets. But it becomes amusing for David to chant ignorantly that an individual can withdraw N117 billion across the counter, which he knows is absolutely impossible. To garnish his propaganda, he said further that such sum was also withdrawn without approval. Does he expect people to believe such tall-tales? We certainly know that David is drumming for the corpses who are bent on capturing Rivers state, but God will disappoint them.
My candid advice to David is to focus on marketing and selling his candidate to Rivers people, rather than resorting to futile campaign of calumny. The more he tries, the more he opens up a can of worms in his camp. Instead of promoting negative propaganda, let him tell Rivers people what Tonye Cole will do differently in Rivers State. A word, they say, is enough for the wise.
Onyedi, deputy media assistant to Rivers State PDP Governorship Candidate, writes from Port Harcourt.