Best Reporter Gets DEVCOMS Award
Development Communications (DEVCOMS) network, winner ONE Africa Award 2008 and a pace setter in awareness on maternal and child health issues in Nigeria, is set to provide grants to best investigative reports on Maternal Newborn and Child Health (MNCH). The initiative is in collaboration with Well Being Foundation (WBF), who will give awards to the most outstanding sets of stories on MNCH.
The grants for journalists is a N75, 000 field trip funding for unreported or on-going investigative stories on MNCH in Nigeria. All entries sent in will be collated and duly screened, while the best ones are selected and then given the grants for the field trip. Also, past outstanding stories on MNCH could be submitted as entries for the award which will hold in Ilorin, Kwara State later in the year.
This project is part of DEVCOMS efforts at raising national consciousness and mobilising commitments for reducing the extremely high spate of maternal mortality in Nigeria. Akin Jimoh, Programme Director at DEVCOMS Network says 'the grant is a way of encouraging journalists reporting health related issues, especially maternal and child mortality stories, to keep addressing themselves to the critical health challenges and concerns, as they use their reports to create more awareness and education.'
Speaking on the participation of The Well Being Foundation in the competition, Founder of the NGO, Her Excellency, Mrs Toyin Saraki, explains that 'dissemination of empirical and factual information is paramount to the improvement of the health of women, newborns and children and that journalists needed to be encouraged in this bid.'
It is believed that the grant will help in curbing the alarming rate of maternal, newborn and child mortality in Nigeria as the nation matches forward to achieving the 2015 target of MDGs 4 and 5
The entry, which opened on the 31st of July, 2009 and was meant to close on the 14th of August, 2009, has been extended by one week. Hence its closing date is now 31st of August, 2009. For further details and the application form, please.
Utilise Free HIV Services, Banigo Tells Rivers People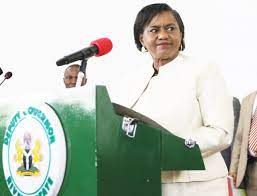 Rivers State Deputy Governor, Dr. Ipalibo Harry Banigo has urged People Living with HIV/AIDS to avail themselves of the free HIV/AIDS services in all 23 LGAs of the state.
Banigo stated this in her goodwill message in Government House, Port Harcourt, yesterday, to mark World AIDS Day.
According to the deputy governor, the call became necessary in view of the fact that the AIDS control programme has achieved 96% viral suppression for people currently on treatment, adding that Governor Nyesom Wike's decision to abolish user fees for PLWAs has given succour to both the infected and affected.
The public health physician, who said about 177,524 number of people were on treatment in 116 Anti-Retroviral Treatment Sites, revealed that Anti Retro Viral Drugs are available and free in the state, including Community Testing Services.
The deputy governor, who insisted that HIV/AIDs was not a death sentence, frowned against discrimination and stigmatisation of people living with the virus, stressing that all they need is our love and support.
December 1 has been set aside to mark the World AIDS Day each year.
The theme for 2021 celebration is: "Ending the HIV Epidemic: Equitable Access, Every One's Voice".
Meanwhile, as the world commemorates the 2021 World AIDS Day (WAD), today, the Rivers State Commissioner for Health, Prof. Princewill Chike, has called on Rivers people to support efforts being made by the state government towards checking the HIV/AIDS pandemic in the state.
Making the call in his WAD message, the commissioner emphasised on the need for everyone to be involved at their various levels.
"I urge you to be an advocate of HIV preventive behaviour in your respective communities and institutions: avoid risky sexual behaviour and encourage pregnant women to register at the health facility nearest to them for antenatal care.
"I call on all citizens of Rivers State to rally in confronting the inequalities that drive AIDS and to reach people who are currently not receiving essential HIV services. Let us all support government efforts to achieve an epidemic control of HIV in our state and the world at large", he said.
He noted that like the Federal Government, the Rivers State Government has recorded notable progress in checking the pandemic.
"Over the last few years, Nigeria in general, and Rivers State, in particular, has recorded significant progress in the war against HIV/AIDS. A recalibration of the HIV epidemic showed a significant decline in the HIV prevalence from 5.8% in 2001 to 1.3% in 2018.
"Presently in Nigeria, it is estimated that 1.7 million people live with HIV in Nigeria of which 90% are aware of their HIV status, 96% are on treatment, and 84% are virally suppressed.
"Despite the challenges and impact of the COVID-19 pandemic, the HIV programme in Rivers State continued to record greater successes in identification, diagnosis, treatment, care and support for those in need of these services.
The state health boss used the opportunity to highlight some of the efforts of the state government to strengthen the health sector.
"As we mark this day here in Rivers State, it is pertinent to underscore the huge efforts by government to strengthen health care delivery frameworks for better service delivery.
"His Excellency, Nyesom Ezenwo Wike, has shown tremendous commitment in actualising the NEW Rivers Vision of repositioning health sector to meet international best standards.
"The establishment of the state-owned Medical School at the Rivers State University, completion of the Mother and Child Hospital, ongoing Renal Centre and the Peter Odili Cancer and Cardiovascular Disease Diagnostic and Treatment Centre in Port Harcourt are eloquent testimonies of the giant strides of the governor of Rivers State in raising the standards of health service delivery".
According to the commissioner, the state has made significant progress in confronting HIV/AIDS epidemic in the state by identifying people living with HIV/AIDS, putting them on treatment and ensuring that they are able to live normal lives by achieving viral suppression.
"This has been made possible through innovative user-fee waiver by His Excellency, the acquisition of multiple diagnostic and monitoring equipment, community models of HIV service delivery and differentiated model of care that enables the tailoring of treatment services to patient's convenience", he said.
Also, as part of on-going programmes and highlights for the World AIDS Day commemoration, he explained, the State AIDS & STIs Control Programme in collaboration with its supporting partners have already embarked on massive case finding and linkage to care for identified positive persons in all the local government areas of the state.
"Achieving an HIV free generation is a task that this administration is proud to pursue. Working together in solidarity, we are right on track to ending the HIV/ AIDS epidemic, and building a healthier, safer world for all of us", he concluded.
The theme for this year's commemoration of WAD is: "End Inequality, End AIDS Through Sustainable HIV Financing".
By: Sogbeba Dokubo
EDOSACA Boss Calls For Renewed Fight Against HIV/AIDS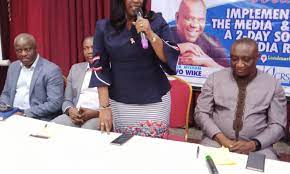 Executive Director of the Edo State Agency for the Control of AIDS (EDOSACA), Mrs Flora Edemode Oyakhilome, has called on stakeholders to show more commitment to the prevention of HIV/AIDS, if the 2030 target of eliminating the epidemic can be achieved.
This is in the light of seeming less attention given to the HIV/AIDS pandemic since the emergence of the Covid-19 pandemic in Nigeria.
Making the call recently in Port Harcourt, while fielding questions from journalists shortly after the two-day South-South HIV media roundtable, the EDOSACA boss said the 38th International AIDS Candlelights Memorial was implemented in Edo State.
According to her, the commemoration should serve as a reminder for both those infected and affected, as well as the vulnerable in our society of those who have died as a result of the pandemic.
She stated that the theme for this year's commemoration, "One Big Fight for Health and Rights of People Living with HIV", is apt.
"With just  nine years to go in the UNAIDS ambitious targets of eliminating HIV/AIDS by the year 2030 through the 95:95:95 strategy aimed at achieving zero new infection by 2030, the well chosen theme for this year's memorial, which is  'One Big Fight for Health and Rights of People Living with HIV', is nothing but a renewed call for girding our loins and redoubling our efforts towards the achievement of this target, especially with globally increasing rates of societal and workplace stigma and discrimination, and domestic gender-based violence, as well other acts of rights denial against People Living with HIV/AIDS (PLWHIV).
"The right time is  now or never for all soldiers and gatekeepers in the global war against this most lingered pandemic to join efforts, time and resources towards greater outcomes and dividends from this year's theme, which encapsulates in one dose the non-pharmaceutical panecea against HIV/AIDS", she said.
Towards this renewed fight, the EDOSACA boss urged stakeholders to turn a new leaf.
"As the event is marked today, all should go into sober reflection over the plight of those infected and affected by HIV/AIDS, as well as the vulnerable one not yet infected and work towards the  mitigation of their sufferings and plan for greater improvement in their living standards through economic and academic empowerment, capacity  building, skills aqusition and skills improvement, nutritional support, access to quality health services, free prevention of Mother-To-Child Transmission (PMTCT) services, free legal aids, etc., especially for Adolescents and Young People (AYP), widows and orphans," he said.
By: Sogbeba Dokubo
Seven Effective Home Remedies For Low Blood Pressure
Many people do not know that low blood pressure is dangerous, perhaps more fatal than high blood pressure. An optimal blood pressure reading is less than 120mm Hg and above 80 mm Hg.  The first number indicates the systolic pressure or the pressure in the arteries when the heart beats and fills with them with blood. The second number represents the diastolic pressure which is the pressure in the arteries when the heart rests between beats. Low blood pressure or hypotension may cause inadequate blood flow to the heart, brain, and other vital organs. A sudden drop in blood pressure often occurs when someone suddenly rises from a lying down or sitting position. This is called postural hypo-tension and may cause light-headedness and dizziness. There are some home remedies for low blood pressure that you can employ in order to deal with the symptoms of erratic blood pressure. But if you've been feeling the following symptoms fatigue, light-headedness, dizziness, nausea, clammy skin, loss of consciousness, blurry vision. for a while, consult your doctor and get your blood pressure measured.
Once your doctor confirms that your blood pressure is low, follow his advice and take medication, if required. A healthy low blood pressure diet is important for low blood pressure treatment. Along with that, here's a more homely help. Your diet plays a crucial role in maintaining your blood pressure.
1. Eat small portions frequently: Healthy snacking sessions in-between the major meals of the day to avoid long gaps. Eating small portions several times of the day helps in preventing the sudden drop in blood pressure that one may experience after meals. So, if you are eating three full meals a day, it would be better to rather have them distributed in to five small meals a day. This one's a great home remedy for also people who have diabetes.
2. Have adequate salt: Excess salt is bad, but on the other hand it is required by your body in moderate quantities. According to the World Health Organisation, your daily diet must contain at least one teaspoon of added salt besides what you derive from native fruits and vegetables. In summers or if you exercise daily, keep some lime water with a pinch of salt handy. Salt works like an instant pick-me-up. Make sure you do not have too much salt too that may lead to problems like water retention along with high blood pressure.
3. Drink more fluids: Drink at least two to three litres of water every day. Besides this, include drinks like coconut water, in your low blood pressure diet. These will give you the necessary electrolytes required to maintain the fluids in your body. Dehydration is a common cause of low blood pressure. Pomegranate juice is rich in antioxidants called polyphenols and may help you lower your blood pressure. One of the best ways to fight dehydration is water; so, do not forget to load up enough water for the day.
4. Caffeine helps: Caffeinated beverages like tea or coffee may help boost your blood pressure temporarily.  When your blood pressure dips suddenly, a cup of coffee or tea can get your circulation going. It causes short, but dramatic increase in your blood pressure. Although nobody knows why this happens, but it is believed to help you improve your blood pressure.
5. Scent Leaves:  "A home remedy from our granny's treasure trove. Chew, five to six tulsi leaves every morning," suggests Dr Rupali. Tulsi leaves have high levels of potassium, magnesium and vitamin c which can help in regulating your blood pressure. It is also loaded with an antioxidant called Eugenol, which keeps the blood pressure under control and lowers cholesterol levels.
6. Almond Milk: Soak 5 to 6 almonds overnight, peel them in the morning, make a paste and boil them into a drink. Drink this every day to prevent your blood pressure from falling. There is no cholesterol or saturated fat in almond milk. In fact, it is rich in healthy fats like Omega-3 fatty acids; Include this milk in your low blood pressure diet; basically, you can add it to your cereals, smoothies, et al and enjoy the goodness of the almond milk.
Adapted from NDTV Food online