'Women Own 41% Micro-Businesses In Nigeria'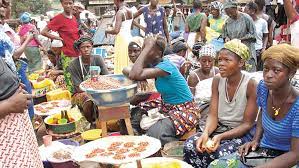 Development Research and Projects Centre (dRPC), has said that women own 41 per cent micro-businesses in Nigeria with over 23 million female entrepreneurs.
This puts Nigeria  among the highest entrepreneurs globally, still there is insufficient real economic empowerment and inclusion for women across the real economic sectors.
According to the Executive Director, dRPC, Judith-Ann Walker, represented by the Director Projects , Stanley Ukpai, the group is worried that despite several policies and plans from 1999 to date, these policies have not been able to address and incorporate the needs of women economic empowerment.
Walker, who spoke at a three-dayworkshop organised with Partnership For Advancing Women EconomicDevelopment (PAWED), and funded by the Bill and Melinda Gates Foundation (BMGF), said  the capacity building workshop was necessary in view of the significant contribution of women in the nation's economy, but despite that, they still constitute a meagre percentage in real economic spaces in the country.
The event was also supported by EpiAfric, Yellow Brick Road, Albright Stonebridge Group, and the HIVE.
"Although Nigerian women account for 41% ownership of micro-businesses in Nigeria with over 23 million female entrepreneurs, making Nigeria among the highest entrepreneurs globally, there is insufficient real economic empowerment and inclusion for women across the real economic sectors," she said.
She added that there is increasing global awareness that empowering women yields a high return on investment, this is because women are integral part of the nation's work force and are present at all along any upstream economic chain either formally or informally.
She added that between 1999 and 2020, the Nigerian government developed several national development plans, and these include, the National Economic Directions, The National Economic and Development Strategy, Vision 202020, Seven Points Agenda, Transformation Agenda, Economic Recovery Growth Plan, and the Economic Sustainability plan. All these, she said, have not addressed women's economic empowerment needs.
The training, she added, is therefore, organised and funded by the Bill and Melinda Gates Foundation to provide skills on techniques, and strategies needed to advocate for improved inclusion of women in real economic opportunities.
Entrepreneur Charges Corps Members On Entrepreneurial Skills
An entrepreneur, Mr Emmanuel Aondoakaa has advised youth corps members to strive to acquire entrepreneurial skills in order to be self-reliant instead of waiting for white-collar jobs.
Aondoakaa, the Chief Executive Officer of Own Your Enterprise Campaign (OYEC), gave the advice when he delivered a lecture held for 2021 Batch 'B' Stream 2 corps members posted to Wanune in Tarka Local Government Area of Benue State.
According to him, there are no jobs in Nigeria to fall back to after the service year, as business is the key to financial independence.
"Unemployment rate is increasing among Nigerian graduates every year and the only panacea is business, so that you can be financially independent and even become employers of labour,'' he said.
Aondoakaa pointed out that the best time to venture into business was at this period of insecurity, saying that all they needed to do was to look for the needs of their environments and venture into it.
Fielding questions from youth corps members after the lecture, he noted that the capital to kick start a business had always been the discouraging factor among young graduates.
However, he said there were many foundations such as Tony Elumelu Foundation and the likes giving grants to young entrepreneurs to encourage self-reliance in Nigeria.
He noted that applying and getting the grant might be difficult but promised to train interested persons on how to apply and get it.
Also speaking, Mrs Ann Adogah, one of the resource persons, advised the Youth Corps members to take the entrepreneurship development lecture seriously, as it would be "Plan B'' for self-reliance after their service year.
Rivers Farmers Hail Wike On Anti-Grazing Law
All Farmers Association of Nigeria (AFAN), Rivers State branch has hailed Governor Ezenwo Nyesom Wike for the signing of the anti-open grazing bill into law.
State chairman of the association, Comrade Ofimaobari Igwe who said this in an interview with newsmen in port Harcourt said the law will ensure peace in the state.
Igwe said the development will also lead to massive food production in the state.
According to him, the law will boost the confidence of Rivers farmers as their security is now guaranteed.
He also stressed the need for the government to set up a committee to ensure the implementation of the law. 
Comrade Igwe also called on the government to look at the possibility of assisting farmers who lost their crops to flooding last year in the state.
He said farmers in the state will continue to support all efforts by government to restore security to the state.
The Afan boss also called on farmers to take advantage of the gesture by the government to improve their farming activities.
Igwe also called on them to visit the association office for registration.
Open grazing of cattle has been a source of conflict between herders and farmers across the country.
It was against this backdrop that governors of the 17 Southern States met at Asaba, Delta State to unanimously banned open grazing in the zone.
The anti-grazing law in Rivers State was a follow-up to the Asaba meeting.
The AFAN chairman said the situation would bring peace and boost food production in the state.
By: John Bibor
FCMB's CEO Advises SMEs On Corporate Governance
The Managing Director of First City Monument Bank, Mrs Yemisi Edun, has advised corporate organisations, particularly micro-businesses, to adopt sound corporate governance practices in order to stand the test of time.
A statement from the bank, titled 'Adopt Corporate Governance, Yemisi Edun charges SMEs', said she made the call as the guest speaker at the inaugural corporate governance and enterprise development conference organised by H. Michael & Co in Lagos, with the theme 'Corporate governance best practices: Imperatives for business sustainability'.
Addressing the conference's physical and online audience, the bank's chief noted that no business could stand the test of time without sound corporate governance practices.
She said that micro-businesses also required the same to achieve optimum performance and sustainable growth, urging small businesses to imbibe corporate governance practices.
Edun listed the long-term benefits of sound corporate governance practice as strong brand equity, decreasing risks, reducing capital cost, and enhanced performance.
She added that only businesses with solid corporate governance practices could stimulate economic growth and enhance innovation while protecting communities and the environment in their daily activities.
In his keynote address, a former Deputy Vice-Chancellor, Babcock University, Prof. Sunday Owolabi, described corporate governance as "doing the right when no one is looking".
Owolabi urged businesses to self-regulate and embrace full disclosure and accountability.
He also advised the Financial Reporting Council of Nigeria to consolidate the country's multi-sector codes of corporate governance into a single omnibus document for corporations in the country.
The conference convener, Dr Adeyinka Hassan, a notable enterprise governance advocate, noted that more than 100 companies in Nigeria had fizzled out due to corporate failure