Co-Operatives Join Forces, Partner Bank To Empower SMEs – Target 37,000 Entrepreneurs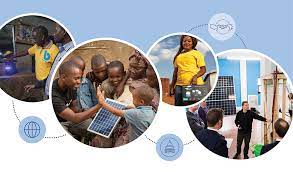 As the challenges of Covid-19 eat deep into the economy and businesses of entrepreneurs, three co-operatives societies, iEBS Matrixx, Amazing Grace and Victorious Flourish have joined forces to empower Small and Medium Enterprises (SMEs).
This was made known during the launching of "Quartragon 8x", a loan facility programme in Port Harcourt.
Speaking during the launching programme, the President/Chairman of iEBS Matrixx, Dr. Larry-Goodwill Ajiola who is the Quartragon 8x programme director, said the joint co-operative is partnering with Sterling bank to empower SMEs. 
Dr. Ajiola who is also a United Nations (UN) Eminent peace ambassador said that the new programme targets to empower up to 37,000 entrepreneurs.
iEBS Matrixx Chairman said the programme is already registered with UN, adding that the co-operatives have organised the investment and repayment of the loan for her members.
He reiterated that the loan of N300,000 would help the members in their business, as well as alleviate poverty, saying, "growth and repayment plan is through crowd funding in the informal sector".
In her contribution, the President of Amazing Grace Co-operative, Dr. (Mrs) Apollonia O. Eke said that, "an entrepreneur is the oxygen of the economy.
"The three co-operatives decided to come together, partner with Sterling bank to enable us empower as many Nigerians as we can".
Dr. Eke noted that the problem of loan repayment was responsible for the difficulty experienced by SMEs in accessing bank loans, noting that the co-operatives have taken a proactive measure and plans in ensuring that the six months loan is repayed within two months.
The Director of co-operatives, Rivers State, Dr. Elizabeth Chidi-Wike said "co-operative remains one of the vehicles used to create wealt in the atmosphere where there are setbacks and poverty".
The Director who was represented by Mr Charles Nwabuike, commended iEBS Matrixx co-operative for the new programme which he would go a long way in helping the members.
"Co-operatives coming together to work as a team to improve their social economic life is a step in the right direction", he said.
The zonal head Sterling bank, Port Harcourt, Madam Ogechi Gab-Anukam reiterated the preparedness of the bank to continue the partnership for the success of SMEs.
The highlights of the programme include, hand over of loan cheques to members, ATM cards among others.
By: Lilian Peters
Google Targets Africa's Retail Businesses In New Initiatives
Google has announced new initiatives to support small retail businesses in African countries, Nigeria inclusive.
The initiative is part of a month-long commemoration of International Micro, Small, and Medium-sized Businesses Day.
This, according to reports made available to The Tide's source, includes a one-hour virtual training event, Shopping Small Business Summit, aimed at helping SMB owners develop skills and tools to compete online.
Topics,  the report say, will include e-commerce trends and digital marketing, and are open to all who register at g.co/events/shopping mall.
Google has also partnered with an open online course provider, Coursera, to develop an online career certificate course in digital marketing and e-commerce for small and medium-sized enterprises (SMEs), and is offering 1000 scholarships to Africans who wish to attend.
The certificate course is the latest in a series of initiatives aimed at preparing participants for entry-level jobs.
Google's Country Director for West Africa, Juliet Ehimuan, said: "E-commerce presents an opportunity for small businesses in Africa to reach new customers and grow.
"Through the digital marketing and e-commerce career certificates and specialised training and 1000 scholarships, we want to assist small businesses in Africa to gain the expertise to connect online, expand their customer base and scale up.
"This month also sees the debut of Local Opportunity.  Finder is a new tool that evaluates a Google Business Profile and makes personalised recommendations for changes that a business owner may make to enhance how their business profile looks to consumers in Google Search.
"Also, the free, one-week-long Hustle Academy will this month  focus on essential skills that will help small and medium-sized retail businesses (SMBs) and  build the skills they need to grow", she said.
Africa's growing young population and urbanisation present huge expansion opportunities for small retail businesses.
South Africa has almost 2,000 shopping malls covering over 24 million square metres. Wholesale and retail are the third-largest contributors to Nigeria's GDP, with more than 90 per cent of the industry made up of informal merchants, while Kenya, with an e-commerce market growth rate of 44 per cent in 2021, has seen a steady rise in the number of outlets over the last five years.
E-commerce markets in Kenya and Nigeria increased by 40 per cent and 30 per cent, respectively, in 2021, while online sales in South Africa increased by 66 per cent from 2019 to 2020, reaching more than $1.8 billion.
The report said: "As more consumers on the continent continue to search for goods and services online, it is critical that small retail businesses learn how to better harness online tools for growth.
"Google's ongoing commitment to supporting small businesses in Africa is visible through initiatives such as Google Hustle Academy, Google Business Profile, Market Finder and Market Kit.
"The programmes  commemorating International SMB Day this month reaffirm Google's dedication to ensuring that small retail businesses on the continent acquire the necessary digital technology tools and training to thrive and be more resilient".
Sanwo-Olu Advocates Economic Diversification, Non-Oil Exports 
Lagos State Governor, Babajide Sanwo-Olu, has called for economic diversification in Nigeria, saying that the country should shift from overdependence on oil and gas, to agricultural produce, solid minerals, chemical products, furniture and clothing as well as tourism, among others.
He also stressed the need for Nigeria to discourage over-reliance on mono-economic revenue, which is oil and scale up its exports, noting that a situation in which oil and gas consistently account for the bulk of government revenues and foreign exchange earnings, is not an ideal one.
Sanwo-Olu, who made the call at the Central Bank of Nigeria (CBN) RT 200 Non-oil Export Summit in Lagos, said Nigeria has so much potential to scale up its exports, shifting from over-dependence on oil and gas to agricultural produce, solid minerals, chemical products, furniture and clothing, among others.
Commending  the CBN for organising a summit to promote non-oil exports in Nigeria, he said Lagos State is delighted to host the maiden edition of the strategic meeting.
"Lagos State is home to the biggest and most important sea ports in the country. There cannot, therefore, be any conversations about growing non-oil exports in Nigeria, without bringing Lagos State and our transport and logistics infrastructure into the picture. This is why I am pleased that Lagos is hosting the maiden Summit.
"For us as a government, a lot of the work we have been doing and still doing is aimed at improving the state of transportation infrastructure, to enable imports and exports, and generally bring down the cost of doing business.
"When goods for export get stuck on the roads and can't make it to the ports, we have a big problem on our hands.
"There is a big price that the economy pays for these dysfunctions at all levels – from the small and large businesses whose goods are being exported to the people in the business of exports, to the users of our roads who have to waste valuable time in traffic because of worsening gridlock.
"It is, therefore, our responsibility, as governments, to ensure that we make the business of exporting (and also importing) as seamless as possible. Nigeria has so much potential to scale up its exports, shifting from over-dependence on oil and gas to agricultural produce, solid minerals, chemical products, furniture, clothing, and so on", he said.
While stressing the need for Nigeria to scale up its exports, Sanwo-Olu said, "a country in need of foreign exchange has no business downplaying the importance of exports.
"We can do a lot to strengthen the Naira and our external reserves by focusing on our non-oil exports. This diversification also gives us immunity from the severe shock of depending on a limited pool of exports.
"I commend the Central Bank for making this a priority, through the launch of the Race To US$200 Billion FX Scheme (RT200), among other laudable initiatives.
"The RT200 FX Scheme seeks to generate as much as US$200 Billion in FX earnings, specifically from non-oil sources, over the next few years.
"I am aware that, so far, the Central Bank has approved the payment of billions of Naira to more than 100 exporters who have taken advantage of the scheme and have scaled up their non-oil exports of finished and semi-finished goods in line with it.
"I have no doubt that this scheme will grow from strength to strength, and deliver to an extent beyond the expectations of the Central Bank and the Nigerian economy.
"I urge exporters to readily take advantage of it. I also urge the Central Bank to continue to fine tune and strengthen this process, while also thinking of new and innovative initiatives that will achieve similar outcomes," he stated.
Fuel Hike Hits Agric Value Chain
Chief Executive, Niji Group, Kolawole Adeniji  has said diesel price increase is hitting  the agriculture sector hard, and that fuel price increase is having a negative impact on agricultural production.
Farmers' input costs, according to him, are skyrocketing, while fertiliser, pesticides, and herbicides,  have  seen staggering increases.
Expressing concern that this would impede  farmers' ability to produce more food, he  said the diesel price increase came on the back of a sharp increase in other input costs.
He reiterated that diesel proce hike  has increased agricultural input costs, saying farmers are paying more for fuel.
According to him, consumers would be negatively affected, with the price increases set to drive up food inflation due to the additional transport costs, as well as adding additional strain on consumer spending due to increased personal transport costs.
President, Association of Micro Entrepreneurs of Nigeria (AMEN), Prince Saviour Iche, called on the government to intervene on the diesel price hikes to save jobs.
He said if nothing was done to help the industry, Nigeria  must brace for more job losses.
He noted that  diesel  price increase is putting pressure  on the entire small and medium scale business value chain and could lead to increased job losses.
According to him, profit margins were gradually shrinking, and it would be difficult for them to continue to absorb costs in the medium term if the situation does not improve.
"A lot of entrepreneurs are on life support. Don't be surprised if we start buying a sachet of water for N20″, he said.
A  printer, Pastor Badebo Solomon, said the situation is grievous. According to him, " If we are buying diesel for   N800 per litre and N24,000 for 30  litres, what can we achieve running the generator  for two hours? It is taking away the profit. It is sad the government is not  doing anything about it.''