Edo Poll: INEC Presents Certificates Of Return To Obaseki, Shaibu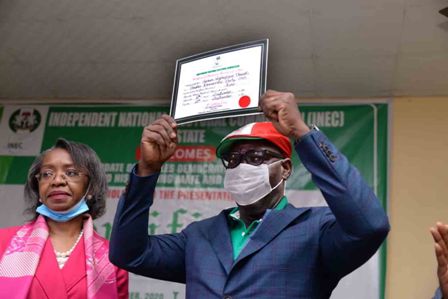 The Independent National Electoral Commission (INEC), yesterday presented Certificates of Return (CoRs) to the winner of last Saturday's governorship election in Edo State, Governor Godwin Obaseki, and his running mate, Mr Philip Shaibu.
The Tide source reports that the ceremony took place at the Collation Centre, at the State headquarters of INEC in Benin.
The Edo governorship election Returning Officer, Prof. Akpofure Rim-Rukeh, had on Sunday declared Obaseki of the Peoples Democratic Party (PDP) winner of the governorship election in the state.
Rim-Rukeh had declared Obaseki winner after polling 307,955 votes to defeat his closest opponent, Pastor Osagie Ize-Iyamu, of the All Progressives Congress (APC) who garnered 223,619 votes and 12 other candidates.
The INEC National Commissioner in charge of Edo, Bayelsa and Rivers, Mrs May Agbamuche-Mbu, presented the certificates of return to both the governor-elect and the deputy governor-elect.
Agbamuche-Mbu said that the presentation of the CoRs was a statutory obligation of the commission which must be carried out within seven days after its declaration of a winner.
"This occasion is only made possible because of the successful conduct of the governorship election last Saturday, September 19.
"INEC, I believe, has played its humble part but we have always maintained that a successfully conducted election is a collective effort, and so it has proven to be," she said.
In his acceptance speech, Obaseki thanked God and Edo people for a peaceful election, adding that history had been made in the state.
Obaseki said INEC's National Chairman, Prof. Mahmood Yakubu, should receive most of the accolades for his steadfastness and ability to withstand pressure, adding that using his intellect in introducing technology for the election should be hailed by all.
"Despite all the criticisms, the ability of INEC to view results as the counting is taking place in polling units is one innovation we will implore INEC to maintain and improve on", he said.
"Because it has introduced different element of transparency in the way we conduct election in Nigeria
"I am using this opportunity to extend a hand of fellowship to my brother, Osagie Ize-iyamu, and other colleagues in the APC to work with us to move Edo forward.
"On a specific note, I want to use this occasion to call on former National chairman of the APC Adams Oshiomhole that the fight is over, to come and join in building the house where he was part of laying the foundation.
"We have no malice; the only thing we disagreed on is on the approach in moving Edo forward.''
Obaseki, who also commended President Muhammadu Buhari, said the president would be remembered as the father of democracy in Nigeria.
"This is because he had a choice to ensure and insist that his party wins in the state but he rose above partisan politics, and insisted the right be done," he said.
According to him, I want to finally thank his royal majesty, Oba of Benin, Oba Ewuare II, for his fatherly role, for the prayers for peace, and for being that symbol we all look up to.
Earlier in his address, the state Resident Electoral Commissioner of INEC, Mr Johnson Alalibo, said the ceremony was just another fulfilment of the provisions of the law.
"My joy knows no bound as I am standing here to present this welcome address, having conducted an election without any loss of life," he said.
Alalibo commended the candidates, security personnel and the entire people of Edo for their display of professionalism and maturity during the election.
According to him, this election has already been adjudged as one of the best and it shall so remain in the annals of our history.
Taking The War To The Enemy
Heat not a furnace for your foe so hot that it do singe yourself – King Henry VIII.
On July 30, 1966, a message intercepted in some monitoring quarters read as follows: "It is not over yet. Battle will be taken to the enemy's home camp". Without giving away further details, any serious investigator can find out what happened in Nigeria between July and December 1966, commonly called counter or second military coup in Nigeria.
When the current Inspector General of Police came to Rivers State recently to flag off a security outfit, there was a statement about taking the war to the camp of the enemy, rather than wait to be attacked first. Without revisiting the Nigerian Civil War, what gave rise to it and matters arising from it, there is a need that we be honest with ourselves. Being honest with ourselves would include admitting that the intercepted "top secret" message of 1966 was a clarion call in some quarters. In a similar way, it would be naïve to ignore certain utterances and actions coming from some quarters since 1966.
A hackneyed idiom that "Rome was not built in one day" is a reminder that the task of nation-building takes quite some time, patience, honest collaboration and patriotism. Yes, mistakes had been made in the past which included tolerating and pampering wrongs that were swept under the carpet. Similarly, we did not have the courage to tell ourselves that a war indemnity was cleverly imposed on a certain section of the country, since 1970.
Let us admit that what was known colloquially as the "Kaduna Mafia" came into existence and in connection with the intercepted security message of July 30, 1966. What became alarming to the few people privy to that message was a threat that "future generations will continue to pay for this audacious assault". What was the audacious assault? That would be revisiting the military coup of January 15, 1966, which had been interpreted in some quarters as an assault on the North, by Igbo Army officers. Was it?
Let us admit that despite the "revenge coup" of July 1966 and the Nigerian Civil War (1967-1970), that threat about future generations continuing to pay some price was neither empty nor is it over yet. The tag of hate speech would definitely not include saying the truth, so long as the way the truth is revealed does not jeopardise national security or unity. The purpose of what is being said here is to admonish that when vengeance is taken too far, it can become counterproductive. That is the essence of the quotation at the beginning of this article, coming from Shakespeare's King Henry VIII.
Those who have taken the pains to study the trends of the decline of various powers and regimes in history, would have cause to express some fears about the future of Nigeria. The habit of showering praises and flatteries on rulers and leaders rarely demonstrates utmost good faith or patriotism. Rather, any leadership that thrives on and encourages such practices rarely hears the footprints of the ants. It takes deep introspection to be able to explore the "grapevine" in any system of management.
To say that security is a major challenge in the country currently is correct to the extent that prejudices can be kept aside in any effort to explore what brought us to where we are now. Surely, every country has its peculiar challenges which also include security. In every genuine effort to address security issues, it is expedient to look inwards in an honest self-examination. While it is easier and more common to blame everyone else when things begin to fall apart, wisdom would demand that we search ourselves first before pointing fingers at others, using the language they understand.
For quite a long time, a few honest Nigerians have been pointing out where things are going wrong in the country, with nothing serious being done to look into them. The most current is the Petroleum Industry Bill about to be signed into law. One Rev. Canon Chuka Opara, apart from pointing out how Southern lawmakers allowed themselves to be outwitted by their more alert Northern counterparts, said something revealing: "never you be eager to befriend anyone whose desire is always to cheat you" – ref. The Tide newspaper: Monday 12/7/2021.
To put the matter bluntly, there is a growing awareness in Southern Nigeria that there is a cheating game going on in the country. Was Femi Fani-Kayode wrong to say that "President Buhari's Fulani cabal has conquered Nigeria?" After an unguarded statement by one Badu Salisu Ahmadu that there is a standing Fulani Strike Force ready to take over Nigeria, was he arrested or interrogated by security agencies? Neither did Dr. Obadiah Mailafia cry wolf when there are none.
It was late Senator Francis Ellah who raised the issue of a clever imposition of some penalty on South-Eastern Nigerians arising from the Biafra issue. But rather than address the issue with honesty, there have been series of acts of subterfuge and intimidation, making the people feel more bitter and estranged. Neither do we have the honesty to admit that the rising agitations from that part of the country has to do with disenfranchisement of the people of their natural resources. The issue of resource control is obviously dead now.
The more brazen acts of disrespect for the rights of South-Easterners include the invasion of their farmlands by marauding cattle, with no visible action seen to be taken by the Federal Government to check the impunity of herdsmen. Rather, there were appeals for Southern states to provide lands for Ruga and ranching, as if cattle business is state business rather than a private one. Even with a belligerent attitude of the organised body of cattle dealers, Miyetti Allah, the impression Southerners get is that they are being treated like a conquered people.
Partisan politics apart, the impression must not be given that the APC-led Federal Government is out to intimidate or oppress South-Easterners. Currently, the Ijaw ethnic nationality is holding consultations on how to leave Nigeria, quite apart from the Sunday Igboho issue. The time has come to ask if a section of the country is not unwittingly creating or heating the furnace so hot for us to bear. We were told that there was no victor, no vanquished in 1970, but there are overlords.
By: Bright Amirize
Dr Amirize is a retired lecturer from the Rivers State University, Port Harcourt.
The Sierra Leonean High Commissioner to Nigeria, Dr Solomon Gembeh, was recently reported as saying that Nigeria spent over $13 billion on the liberation of his nation and Liberia. According to him, Sierra Leone would remain ever grateful for Nigeria's 'big brother' interventions in the fratricidal wars that were launched by rebel groups in the two contiguous West African neighbours.
Gembeh emphasised that Nigeria's assistance came out of goodwill, with nothing demanded in return, unlike a situation where such help (especially from Western nations) was paid for through the staking of national assets. He said that funds from Nigeria and the African Development Bank (AfDB) were efficiently being used to train Sierra Leonean children, particularly the girls.
"We provide what we enjoyed when we were in primary school, we enjoyed lunch served; you have free buses to take you to school; you eat there; and there are teachers everywhere.
"People are beginning to get computers, trying to get Internet services all over the schools; places that are hard to reach you make sure that they don't walk so many miles to get to school," said the diplomat.
Gembeh used the opportunity to remind the Nigerian government of its unfulfilled funding pledges to his country and hoped that such friendly aid would help restore the education system for a generation of Sierra Leonean children who lost a decade of proper schooling as a result of the civil war.
It would be recalled that the Liberian and Sierra Leonean Civil Wars were fought mainly between militia groups which craved to control the rich diamond mines in these countries. It actually started in December 1989 when Charles Taylor's National Patriotic Front of Liberia (NPFL) attempted to oust the military government of Sergeant Samuel Doe.
The internal struggle spilled over to Sierra Leone when a splinter gang of the NPFL, known by the ULIMO acronym, which occupied Liberia's western region crossed the border into Sierra Leone to fight Taylor's forces from there. The Sierra Leonean Army would have none of that in their country. But ULIMO was too hot to handle. So, Guinea and Nigeria had to ship in military supplies to help Freetown chase out the intruders. While this lasted, an indigenous rebel group, the Revolutionary United Front (RUF) led by Foday Sankoh and suspected to be supported by Taylor, sprang up in 1991 to take up territory of its own. And that was how a brutal civil war ensued in the once tranquil former British colony.
A multinational force was raised by the Economic Community of West African States (ECOWAS), named as ECOWAS Monitoring Group (ECOMOG), to restore and monitor peace in both countries.
In her usual character to always play the big brother in Africa, it was reported that Nigeria had readily opted to contribute the bulk of the troops and materiel that went into the regional peacekeeping effort. This obviously accounted for her anger and immediate takeover of the ECOMOG high command when President Doe was captured, brutally tortured and killed under the nose of a Ghanaian commander, Lt. Gen Arnold Quainoo.
One is not averse to Nigeria playing major roles in regional and global affairs. After all, isn't that the dream of every patriotic citizen of any country? I still remember a CNN footage of troops of the Nigerian ECOMOG contingent fanning out in the Liberian capital as they were ferried ashore from a warship and under heavy attack by Taylor's men. Honestly, I had never felt prouder of our soldiers as they moved quickly to liberate Monrovia and save people from further anguish. It reminded me of those pictures of World War II Normandy Landing in 1944.
If indeed Sierra Leonean primary school kids are beginning to be bused to school where they eat free lunch, have access to good teachers and Internet facilities as claimed by Gembeh, then they can be said to be already ahead of their Nigerian contemporaries.
Down here, reliable statistics have always placed the number of our out-of-school children at a conservative 10 million. Some of those considered lucky to attend school do so trekking long distances or paying their ways to and from school. Save for the few states where a federal government-sponsored school-feeding scheme has been introduced, Nigerian kids mostly fend for themselves while in school. As for Internet access, many rural kids may not even have seen a computer since registering at school.
Liberia, Sierra Leone and other beneficiary countries should please make do with whatever helps that came from Nigeria in their most trying times. They should forget any outstanding pledges because the so-called big brother is now in some dire straits of his own and wishes that those beneficiary nations begin to act as big uncles to him. And who said Nigeria is not at war right now; what with al-Qaeda's Boko Haram/ISWAP insurgents in the north east and the itinerant bandits elsewhere in the land? Surely, Abuja will greatly appreciate a return of any previous favours and goodwill at this time.
What's more, during our major bloodlettings in the 1960s only Ghana's General Joseph Ankrah made any serious attempt to try to mediate between Colonels Yakubu Gowon and Emeka Odumegwu-Ojukwu in order to avert the kind of carnage that was witnessed in the Nigerian Civil War. The rest of Africa took sides on the sticking points at Aburi or were simply not interested; including the then Liberian President William Tubman and Prime Minister Siaka Steven of Sierra Leone who were not moved by pictures of gravely kwashiorkored Biafran kids.
Enough of this African big brother histrionics, please. Even the US is rethinking her global big brother posturing.
By: Ibelema Jumbo
For A Stronger Opposition Party In Nigeria
For want of a better phrase, I will describe this week as a period of "push me, I push you" for the ruling All Progressives Congress (APC) and the main opposition party in the country, the People's Democratic Party (PDP).
It started with the PDP Governors in a communiqué at the end of their 11th meeting in Bauchi State on Monday, accusing the President Muhammadu Buhari-led administration and the APC of turning the Presidential Villa to the new APC headquarters and using underhand tactics to arm-twist some PDP governors and other stakeholders to join the ruling party.
Then the Presidency which in its usual manner cannot take such allegation lying low, through the Special Adviser to the President on Media and Publicity, Femi Adesina, lampooned the opposition party, boasting that "between now and 2023, there would be more confusion in their ranks and there would be more depletions in their ranks, so that is why they say anything," he said.
According to him, "We were in this country when President Obasanjo was in power and the BOT meeting of the PDP used to hold at the Presidential Villa.
"We were here when President Yar'Adua, and President Jonathan was there, they held meetings at the Presidential Villa. What are they talking about really? Meaning, yes, we (the APC) are using the villa as a party office today because you (the PDP) used it in the past.
 So we are still where we were in 2015 when PDP left office. Nothing has changed? The wrongs of the now opposing party are still being perpetrated despite all the promises to bring about change? Maybe this mentality of "business as usual" is the reason the three major campaign promises of the ruling power tackling insecurity, improving the economy and fighting corruption are yet to be realized.
From the realities on the ground, it is obvious that the country is not any better today than it was six years ago. We have seen a complex form of insecurity threatening to tear the country apart. Many citizens have been sacked from their ancestral homes by bandits, herdsmen or whatever they are called; hundreds of people are being killed every day, kidnapping for ransom has become a lucrative business; many farmers can no longer go to their farms for fear of being raped, maimed, kidnapped or killed.
 Economically, there is little or no visible improvement. Currently, Nigeria is topping the list of countries with the most people living in extreme poverty in the world. Unemployment rate is on the increase and the value of the Naira continues to depreciate. Corruption is now the order of the day. Some people liken corruption in the country to cancer that has destroyed every part of the body.
Yet, all we hear is that the government is doing a lot for the country. The Presidential spokesman, Adesina, announced a few days ago that the Buhari government will unveil massive infrastructure in the country by 2022. Let's keep our fingers crossed and see what they have in stock and what impact it will make in the lives of the numerous poor citizens.
But the desired change is not the responsibility of the APC alone. Put differently, the blame for the lack of change should not go to only the ruling party.  Has the PDP as the main opposition party been able to put enough pressure on the APC to bring about change? By this, I do not mean the frequent press releases and communiqués whose impact is hardly felt.
Has the PDP demonstrated good governance styles in the state they control which can put pressure on the APC to sit up?  In the aforementioned communiqué the PDP governors supported the need for a free, fair and credible election in the country and asked the National Assembly to entrench electronic transmission of results of elections in the nation's electoral jurisprudence.
The big question is, have these governors done the same in their various states?  Have they given free hand to their respective State Independent Electoral Commissions (SIECs) to conduct free, fair and credible elections that will be acceptable by all or they have made their state electoral umpire an extension of their political party? 
Yes, it is good to criticise the federal government and the party in power when things are not going as expected or when their actions and inactions are causing untold hardship and pain to the citizens, but as leaders of government in opposition party controlled states, the governors need to go beyond criticisms and attacks.  A lot of Nigerians will like to see them exemplify their own alternative good governance style so convincingly that people in states controlled by other parties will want to support or vote for PDP candidates in their areas so as to be able to enjoy good governance.
Again, the PDP governors demanded Electronic Transmission of 2023 Election Results and many have been wondering why, as a party, they can support such a course while some senators elected on the platform of the party voted against it and some stayed away on the day the Senate voted to decide the inclusion of electronic transmission of election results in the proposed amendments to the Electoral Act.
It is, therefore, time for the leaders and members of the PDP to come together and think of a better, more effective way to play their opposition role if they must effectively challenge the APC in the next election. The ongoing zonal congress of the party should be free and fair, devoid of imposition of candidates or overbearing influence of the party heads so that the party will be united and not fractionalised, going into the 2023 General Election.
By: Calista Ezeaku