Edo Poll: INEC Presents Certificates Of Return To Obaseki, Shaibu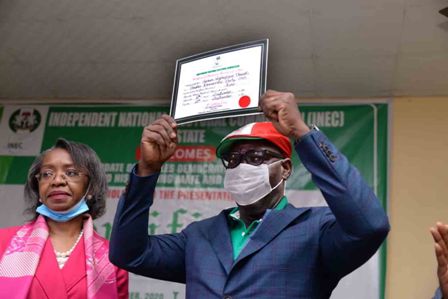 The Independent National Electoral Commission (INEC), yesterday presented Certificates of Return (CoRs) to the winner of last Saturday's governorship election in Edo State, Governor Godwin Obaseki, and his running mate, Mr Philip Shaibu.
The Tide source reports that the ceremony took place at the Collation Centre, at the State headquarters of INEC in Benin.
The Edo governorship election Returning Officer, Prof. Akpofure Rim-Rukeh, had on Sunday declared Obaseki of the Peoples Democratic Party (PDP) winner of the governorship election in the state.
Rim-Rukeh had declared Obaseki winner after polling 307,955 votes to defeat his closest opponent, Pastor Osagie Ize-Iyamu, of the All Progressives Congress (APC) who garnered 223,619 votes and 12 other candidates.
The INEC National Commissioner in charge of Edo, Bayelsa and Rivers, Mrs May Agbamuche-Mbu, presented the certificates of return to both the governor-elect and the deputy governor-elect.
Agbamuche-Mbu said that the presentation of the CoRs was a statutory obligation of the commission which must be carried out within seven days after its declaration of a winner.
"This occasion is only made possible because of the successful conduct of the governorship election last Saturday, September 19.
"INEC, I believe, has played its humble part but we have always maintained that a successfully conducted election is a collective effort, and so it has proven to be," she said.
In his acceptance speech, Obaseki thanked God and Edo people for a peaceful election, adding that history had been made in the state.
Obaseki said INEC's National Chairman, Prof. Mahmood Yakubu, should receive most of the accolades for his steadfastness and ability to withstand pressure, adding that using his intellect in introducing technology for the election should be hailed by all.
"Despite all the criticisms, the ability of INEC to view results as the counting is taking place in polling units is one innovation we will implore INEC to maintain and improve on", he said.
"Because it has introduced different element of transparency in the way we conduct election in Nigeria
"I am using this opportunity to extend a hand of fellowship to my brother, Osagie Ize-iyamu, and other colleagues in the APC to work with us to move Edo forward.
"On a specific note, I want to use this occasion to call on former National chairman of the APC Adams Oshiomhole that the fight is over, to come and join in building the house where he was part of laying the foundation.
"We have no malice; the only thing we disagreed on is on the approach in moving Edo forward.''
Obaseki, who also commended President Muhammadu Buhari, said the president would be remembered as the father of democracy in Nigeria.
"This is because he had a choice to ensure and insist that his party wins in the state but he rose above partisan politics, and insisted the right be done," he said.
According to him, I want to finally thank his royal majesty, Oba of Benin, Oba Ewuare II, for his fatherly role, for the prayers for peace, and for being that symbol we all look up to.
Earlier in his address, the state Resident Electoral Commissioner of INEC, Mr Johnson Alalibo, said the ceremony was just another fulfilment of the provisions of the law.
"My joy knows no bound as I am standing here to present this welcome address, having conducted an election without any loss of life," he said.
Alalibo commended the candidates, security personnel and the entire people of Edo for their display of professionalism and maturity during the election.
According to him, this election has already been adjudged as one of the best and it shall so remain in the annals of our history.

Even This Pain Shall Pass Away
We shall overcome, we shall overcome, we shall overcome someday, Oh, deep in my heart, I do believe, we shall overcome someday.
The above gospel song which became a protest song and a key anthem of the civil rights movement has been on my lips since Tuesday's killing of innocent, defenseless Nigerian youth by the military at Lekki, Lagos State. There has been justifiable anger in the land since the mowing down of the gallant young citizens of the country, whose only crime was to protest and speak up against police brutality, injustice, corruption, impunity, inept and rudderless leadership in the country.
Many had hoped that considering the genuineness of the reasons for the over two weeks EndSARS protest, the peaceful and organised nature of the exercise, it would not go the way of many protests in recent times which were hijacked by either some selfish individuals or hoodlums. Some prayed that it would not be marred by ethnicity, religion and tribalism as were many previous similar exercises in the country, rather, that Nigerians of all ages would put our ethnic and religious biases behind, and support the youth to fight for the soul of our dear country.
Sadly, that was not to be as the fathers, grand fathers and uncles, who are responsible for the poor state of the nation and do not want it to move forward for their selfish interests, ordered the massacre of their children. They hired hoodlums to disrupt and discredit legitimate civil protests to justify their urging the deployment of troops. Unfortunately, the same overworked, ill-equipped, underpaid uniformed men and women the protest would benefit, were the same people used to maim and kill fellow citizens. Too bad! And why they decided to use live bullets on unarmed citizens who were clinching the national flag, singing the anthem of the nation is still a puzzle.
The so-called leaders (or rulers as some people now prefer to call them), spread false information that the EndSARS protest is a religious fight, thereby carrying on with their age-long practice of sowing seeds of discord among the citizens. Their wicked action is already bearing fruit as there are drums of ethnic war being beaten in many parts of the country – Hausas and Yoruba youths clashing in Lagos, thugs from one part of the country attacking people from another part. Earlier in the week, a paid thug, Yusuf Yunusa, led a group of supposedly Abuja indigenes to Police headquarters to deliver a letter giving the IGP 48hours ultimatum to stop the EndSARS protest failing which he and his group would "go after them". Shortly after that, there was destruction of lives and properties in Apo, Abuja. The violence had since spread to other places including Kubwa, Dutse, Waru and others.
For a people just coming out from a six months lockdown occasioned by Covid-19 pandemic, the pain, sorrow and hardship is unimaginable. But in all these, my appeal is that we should calm down and believe truly that we shall overcome. Though President Muhammadu Buhari has chosen to remain silent despite the appeals from different quarters that he should address the nation and calm frayed nerves, we shall overcome. Though the National Broadcasting Corporation (NBC) had warned broadcast stations and the general media against "embarrassing the Muhammadu Buhari administration with the use of User-Generated Content (UGC) in the coverage on the ongoing #EndSARS protest", stopping us to vent the way we would have wished to, we shall overcome. The imposition of curfew in many states which makes movement difficult may be worsening our pains, just know that we shall certainly overcome someday.
It is said that he who fights and runs away, lives to fight another day. It is also a fact that no war was ever settled on the battlefield. It always ended on a round table. Our youth should, therefore, listen to various voices of reason and give peace a chance. The continued destruction of private and public properties is definitely not the way to go. Those public properties belong to all of us and there is no wisdom in going ahead destroying and looting them because we are enraged.
One indisputable fact is that the youths have succeeded in waking us up to our responsibilities through the protest. It has brought about the rejuvenation we need in the country. And as many people believe, Nigeria will never be the same again. But it's time for the youth to think of the next line of action; which is, coming up with strategies to vote in their own candidates in the 2023 election. Sitting on the fence and allowing other people, especially the older, corrupt generation to determine their future is no longer an option. Let us hope the president will do the needful and sign the Electoral Amendment Bill into law which will make room for a better conduct of elections in the country.
One hopes that the authorities and the citizens will capitalise on the auspicious moment presented by the season to change our value system so as to rebuild our fatherland for a better tomorrow. As a public officer, use your position to serve the people instead of exploiting and oppressing them. As a teacher, doctor, nurse or civil servant, treat your fellow citizens that need your service and your subordinates with respect and dignity. Let accountability and transparency be our watchword in this country. The continuous running of our states, local government councils and other government establishments as private belongings of those put in charge of them will only lead to more anger, frustration and protest.
Lastly and most importantly, our president should listen to the advice of well-meaning people both within and outside the country and address the issues raised by the protesting youth. Disbanding SARS and establishing SWAT in a most suspicious manner cannot be taken as granting their demands. Surely, some of their demands cannot be met overnight, but there must be immediate, medium and long-term plans of getting them done which must be communicated to the children in an open, transparent conversation with a high level of sincerity if the young ones must trust them. Conclusively, the government should always bear it in mind that the country will know no peace until there is justice everywhere and in all cases.
By: Calista Ezeaku

The Colours Of Political Corruption
Etymologically, the word 'corruption' is derived from the Latin world 'corruptus' which means 'to break' or 'destroy'. Ifesinachi (2003:25) sees it as "the breaking of normal or social norms or practices".
The World Bank defines corruption as "the abuse of public office for private gains. Public office is abused for private gain when an official accepts, solicits or extorts a bribe. It is also abused when private agents offer bribes to circumvent public policies and process for competitive advantage and profit. Public offices can also be abused for personal benefit even if no bribery occurs through patronage, nepotism, theft of State assets or the diversion of State revenue".
Corruption is also seen as "the behavior which deviates from the formal duties of a public role (elective or appointed) because of private wealth or status gains." (Nye, 1967).
The Transparency International simply sees corruption as "the dishonest or preferential use of power or position which has the result of one person or organization being advantaged over another," while the Vision 2020 Committee essentially termed corruption to be "all those improper actions or transactions aimed at changing the moral course of events, judgement and position of trust".
However, Section 2 of the Corrupt Practices and Other Related Offences Act, 2000 sees corruption as including "bribery, fraud and other related offences".
From the foregoing, one can deduce that corruption is that which is morally unacceptable; an act intentionally meant to place one or an organization at an advantaged position over others in a system. It is essentially an act that perverts the social norms, laws and moral ethos of a given society.
Based on the above, it is obvious that the monster of corruption pervades every stratum of the Nigerian society. It reveals itself as bribery, tribalism, nepotism, electoral fraud, embezzlement, 'kick-back or ten percent', money laundering and fraud (419), examination malpractice, child abuse, child trafficking, patronage, graft, extortion, tax evasion, perversion of justice among the police, the judiciary etc, and falsification of certificates, just to mention but these.
Corruption in Nigeria is akin to a public liability company, which one may call "Corruption Incorporated," operated by the ruling class and the comprador bourgeoisie. It is a prosperous company where most Nigerians own shares that yield appreciable dividends. In fact, corruption in Nigeria takes various forms which only a specialist in the subject can adequately explain.
However, for the purpose of this discourse, I will dwell on political corruption. According to an author, Adeleye, political corruption is 'corruptocracy', a government of the corrupt by the corrupt and for the corrupt. And in that kind of government, there are no rulers because anything goes".
One can also define political corruption as the abuse of public or governmental power for illegitimate private advantage, or the illegal, unethical and unauthorised exploitation of one's political or official position for personal gain or advantage. Political corruption is, therefore, an effort to secure wealth or power through illegal means for private benefit at public expense".
Political corruption, simply put, is the use of legislative power by politicians or decision i.e. government officials for illegitimate gain. This entails the use of civil servants or bureaucracy to misuse and abuse governmental power that exists in a state for other purposes. It also involves an illegal act by an office holder which is directly related to their official duties.
On the attainment of independence on October 1, 1960, hopes and aspirations were high in the country.
At least, Nigerians were to pilot their own affairs. We were to use our God-given resources to better our lot. In any case, the new Nigerian leaders were to redeem pledges they made to Nigerians to put an end to capitalist exploitation, dehumanisation, degradation, unemployment, the non-guarantee of basic freedom and liberty, and the maintenance of egalitarian principles and sustainable development. What have Nigerians got from our leaders since Independence?
Did Nigerian leaders fulfill the aspirations and expectations of the masses? Have poor Nigerians, who are in the majority, benefited from Nigerian leaders since Independence? The answer to the posers listed above is an emphatic NO. Nigerian masses have now become a metaphorical representation of a woman that was consistently raped, and was crying for help. Behold, a helper came and elbowed out the rapist, but continued the action from where the rapist stopped. Interestingly, history, which is benevolent and generous to a fault, has it that the track record of Nigeria from 1960 has been the accounts of misappropriation of funds, embezzlement or looting of treasury, and "settlements" through graft and contracts, as well as jumbo or fabulous emoluments for lawmakers, among others. Where will this take Nigeria?
Samuel is of Ignatius Ajuru University of Education, Port Harcourt.

Endless Human Trafficking
Another batch of fifty trafficked Nigerian women rescued from Lebanon, were recently returned home. The Ministry of Foreign Affairs and National Agency for the Prohibition of Trafficking in Persons, NAPTIP, under the leadership of Julie Okah-Donli, must be commended for the success of this and similar exercises.
However, it is worrisome that despite the effort of government and other bodies in fighting human trafficking, the number of trafficked citizens never ends in spite of the dehumanizing treatment often meted out to them.
Just a few months ago, a Nigerian woman working as a maid in Lebanon was rescued after being put up for sale on Facebook for $1,000. We also know the story of Temitope Ariwole, a 31-year-old female Nigerian, who was abused by her employers in Lebanon. Fortunately, she was freed and brought back to the country after a save-my -soul video clip of hers went viral on social media.
According to the United Nations, thousands of women and girls from Nigeria and other African countries are trafficked every year. They are often lured away with promises of jobs in Europe or Asia but usually end up being exploited as domestic maids or compelled into prostitution.
Even on the African soil, the modern-day slavery thrives. Recall the CNN footage which showed African illegal migrants and refugees en route Europe being sold at slave markets in Libya. It is horrifying to see the pictures of these young men being treated like animals and to hear the auctioneers auctioning them at prices as low as $300 was very heartrending. And from the accent of a few of these migrants interviewed by the reporter, it was obvious they were Nigerians. Some of them narrated their dreadful ordeals in the hands of Libyan authorities.
Record numbers of migrants are dying in the Mediterranean and in the desert every year.  In 2015, for instance, over a thousand asylum seekers were drowned. The death toll increases exponentially every year.  Recently, 26 bodies of young Nigerians were discovered in the Mediterranean.  The all-female migrants were said to have drowned while crossing the sea to Libya.
Incidentally, the deaths and the inhuman treatments have failed to deter others from risking the same fate. Some of the people in the footage earlier mentioned said they knew the enormity of the danger involved in migrating to Europe illegally through Libya, but they were prepared to take the risks instead of remaining in their countries.  Like many other migrants, their explanations were simple.  The risk of death at sea or desert is no worse than the dire circumstances they find themselves either in their home countries or in Libya.
The big question then is how did Nigeria get to this level where the citizens, especially the youths, would prefer to embark on suicidal missions instead of staying in the country?  Yes, the government has done well in seeing that some trafficked citizens and illegal migrants are rescued from murky waters but what sincere efforts are made to stop them from leaving the country in the first place? What plans do governments at all levels have for the future of the country? With the huge and ever-rising debt profile of many states and the federal government, what hope does the country hold for future generation?
Therefore, to stem the flow of human trafficking and migration, our leaders must begin to make the country conducive for the citizens to dwell.  They should give the people a responsible, quality leadership which will cater to the needs of the citizens.  A situation where those in authority constantly siphon the treasury thereby impoverishing the people, will only make the people see migration to Europe irrespective of the risks therein as their only hope of survival and making it in life.
Young Nigerians depart the country in droves through all kinds of legal and illegal means every day in search of greener pastures. Had there been job opportunities for them, many of them probably would have preferred to remain in the country and contribute to its development.
However, our youths need to be re-orientated on the realities of life. They need to be reminded that there are no beds of roses anywhere in the world, not even Europe or America. Many migrants who could make it to Europe alive have been disappointed with the realities on the ground in these foreign countries.
Some have told tales about how the young Africans arriving in Italy fall into the clutches of prostitution networks and are used for all manners of despicable things. Many of them engage in all kinds of demeaning jobs to eke out a living. Those who visit or live in these oversea countries will usually tell you that to succeed in these countries one needs to work very hard.
The same hard work is the key to success in Africa, Nigeria in particular. Stories abound about how people rose from grass to grace in the country because they utilized the abundant opportunities in Nigeria and through hard work.
Recently, an impressive story was told of a second class upper female Nigerian graduate who after many years of unsuccessful search for a job, decided to learn painting and wall screeding. Today, she is a force to reckon with in that field with an exotic car, a well-furnished apartment and other possessions to show for her hard work.
So, instead of risking their lives in the desert and the Mediterranean, instead of being treated and sold as slaves, Nigerian youths should think of how to maximize the opportunities they have in the country and use their talents to develop their nation.
It is also imperative that parents should stop pushing their children to travel abroad to make money.  Some parents even go to the extent of selling their properties for their children to embark on the nightmarish journey. Many people who yielded to such pressure are not alive today.
Most importantly, one would like to see the travel agents in Nigeria and other individuals involved in recruiting unsuspecting boys and girls for sex and labour trafficking punished. As long as those enriching themselves from these illicit trades go unpunished, as long as we all – government, parents, law enforcement agencies, youths and others – don't take the right steps expected of us, the crime against humanity will not end. "The only thing necessary for the triumph of evil is for good men to do nothing". – Edmund Burke.
By: Calista Ezeaku