A classic and well-researched newspaper opinion article titled: "The Geography Of Illiteracy", written by Babatunde Ahonsi, and published in The Guardian of June 2011, unearthed the worrisome figures that should keep every good Nigerian busy with a thought on where we went amiss in our education sector. The figures Dr Ahonsi released were chilling, to say the least. They show how depleted our education had gone.
Thank you Dr Ahonsi. I believe and accept every part of your work and research. It can even be worse. Your article was balanced – problem stated and solutions proffered. This piece is to sound the warning louder, state where we got it wrong and highlight some other solutions with examples to the ones you proffered.
Illiteracy must occur in a place where parents, students and the society alike do not give a hoot on how academic success came about but concentrate more on the 'success' itself. They will always quote the clandestine adage, "the end justifies the means". Yes, the end has not only killed our education but is also killing our society. The break down will lend credence to this assertion.
The North East and North West as well as South South are the worst hit, and that answers the mayhem that has characterised those places. But this is just the secondary cause. The family is failing as an agent of socialisation in Nigeria, and this failure cum corruption in our society is the bane of our education system.
Academic success in our country now is not viewed in the number of work put in, but seen from the paper a child presents to their parents. The parents are far too busy with wealth accumulation or trying to survive in a harsh economic environment. They forgo salient aspects of their duty in the child's life like helping out in homework, teaching the child the rudiments of hard work. The lack of moral upbringing that is evident in our generation is contributing too.
So, like opportunity cost in economics, the parents search for money and forgo knowledge and morality. Can we eat our cake and have it? Geography of illiteracy is what we ask for! Abraham Lincoln was not a fool when he pleaded with his son's teacher to "teach him that a dollar earned is far more valuable than five pounds I had not earned." Morality is what he was advocating.
This to swell their number – runaway, that is the economics of private schools in Nigeria. The policy makers draw up mediocre education policy. I will visit that later!
Our learning and evaluation modes are chaotic to say the least. Pupils are taught from September to December, only to be given hordes of tests a week before examinations. For instance, a child covers all the chapters for test and examinations. How bizarre!
This is because the time the teacher was supposed to use for the test must have been used for farming (in the rural areas), and trading (in the urban centres) by the teacher to augment his pay for enhanced living condition. This has a distance relation – poor pay. But the world standard is for homework to be given to a student from every topic and quiz as well as test to be administered at the end of every chapter.
In fact, in countries like the United States, South Korea, and England, the pupil might not write an examination since they must have been tested in all chapters, and to me, that is thorough compared to the kangaroo examinations we conduct here. That is the true test of knowledge! If the child did not do well – a euphemism for failure – they will enroll for summer school, and it is only when the child fails again that they repeat the class. Compare this to our education system, and you will see that our education policies are flawed.
Teachers' remuneration is another issue. The teachers are so poorly paid that they look for other things to do in order to supplement. Do I blame them? They have a reason! "Man must whack", some of them are owed tons of salaries and allowances. The effect is beyond this. Poor pay has driven away intelligent people from teaching. Go to a school, and ask the top 15 students what career choice they would like to pursue after school and you will understand the danger facing education: You will hear medicine, law, journalism, accountancy, petrochemical and petroleum engineering, mechanical engineering, among others. Teaching will rarely or never be mentioned.
So, who are the teachers in the making, the academically unstable students who cannot compete in that "hot terrain" of the good head? Dullards are being trained as manpower trainers, pathetic. Teachers indeed! So, government must boost the education sector through high pay to make it look lucrative. This will bring good heads and safe hands in the sector.
Reading materials are of immense contribution to teaching and learning. Our textbooks should always be critically examined before it is recommended. What we see are watery texts that are not helpful. Most of the books are not explanatory; they smack of carelessness, and lack detailed analysis.
For instance, what kind of Mathematics textbook will just state a ten-step solving problem, only to scribble it down as a four-step? Some English textbooks draw sketches in a writing topic without scripting an example. Does that not smack of misinformation? They are part of the geography of illiteracy!
Scholarships and educational aids like free books and good laboratory equipment are necessary but they are neglected in our country. The oil companies give pseudo scholarships, schools and churches do not deem that necessary, federal, state and local governments have since forgotten about it. Our order of priority or scale of preference is highly faulty. Scholarships and educational aids serve as motivation to students.
In other countries, scholarships are used to horn for talents and breed them to be loyal to the cause of the school, and country. Geography of illiteracy starts here, and must be combated from all fronts.
Ahonsi, in his closing paragraph posited thus: "for so many children to be illiterates and innumerable in a state is nothing short of structural violence perpetrated by the state since basic education in today's world is every child's right, and is extremely beneficial to the larger society.
Yes, a society that is occupied by ill iterates and innumerable youths will lack manpower amidst avalanche of able-bodied men and women. That kind of society is as good as doomed. If education is the bedrock of the society as we always eulogise, a serious task is then in our hands. Let us all put hands together to pull out our beloved country from this avoidable doom. That way, we must have squashed this geography of illiteracy. Governments at all levels in Nigeria, wake up!
Temple, a public affairs analyst, writes from Port Harcourt.
Uwalaka Temple

Africa And Protection Of Children's Rights
Africa's foremost sage and rights activist, Nelson Rolihlahla Mandela, on 2nd August, 1996 groaningly emphasized, "Africa is renowned for its beauty, its natural heritage and prolific resources – but equally, the image of its suffering children haunts the conscience of our Continent and the world". Similarly, at the launch of the Blue Train, Worcester Station, South Africa on 27th September, 1997, Mandela ardently expressed, "The true character of a society is revealed in how it treats its children". Yet again, at a luncheon hosted by the then United Nations Secretary General, Kofi Annan, another pride to the Continent at the Special Session of the UN for Children, New York City on 9th May, 2002, Mandela exploded, "History will judge us by the difference we make in the everyday lives of children".
From these remarks, Mandela aristocratically, foresightedly fixated his eyes on the future of the society considering children as the leaders of tomorrow. Orchestrating the garbage-in, garbage-out recipe, invariably – whatever investment made in a child today extensively determines the society's future. Unfortunately, the wellbeing of children particularly in African countries leaves much to be desired. The pertinent question precisely to leaders is; what future is in view vis-à-vis investment in children in the society outside their own?
To lend a hand, the pathetic conditions children in most public schools find themselves cannot be overemphasized. The psychological effects alone are awful. Some pupils even sit on bare floors owing to shortage of chairs. That's where there are actually classrooms. Above all, children's hawking defiantly to Article 28 of United Nations Convention on Child's Rights (CRC) particularly during school sessions poses another question for parents, guardians and governments. Calculably, the Convention hit thirty years this year, 2019.
For emphasis, Article 28 states, "All children have the right to a primary education, which should be free, and different forms of secondary education must be available to every child. Discipline in schools should respect children's dignity. For children to benefit from education, schools must be run in an orderly way – without the use of violence. Any form of school discipline should take into account the child's human dignity".
Correspondingly, an Italian renowned educationalist, Maria Montessori (1870-1952) remarkably avowed, "Early childhood education is the key to the betterment of society". Could this consequently imply the society is deservedly reaping what it sowed by oversights of some fundamentals in the past? For example, the number of children and teenagers consistently participating in protests in the recent times in Nigeria's federal capital is worrisomely, a pointer to out-of-school large population. The ugly situation unconsciously presents a clue of high numbers of supposed pupils and secondary school students roving the streets. Concisely, this is abysmal failure on the system.
By Article 1 of the CRC, "Everyone under the age of eighteen has all the rights in the Convention". Article 2 elaborately provides, "The Convention applies to every child without discrimination, whatever their ethnicity, gender, religion, language, abilities or any other status, whatever they think or say, whatever their family background".
The CRC is the first legally-binding international agreement setting out the civil, cultural, economic, political and social rights of every child, regardless of their race, religion or abilities. The provisions and principles of the CRC guide UNICEF in its operations with 54 Articles and three Optional Protocols. Equally, the Convention spells out the basic human rights that children everywhere have: the right to survival; to develop to the fullest; to protection from harmful influences, abuse and exploitation; and to participate fully in family, cultural and social life.
An Optional Protocol on the other hand, is an accord that complements and adds to an existing human rights treaty. For this reason, only States that have already agreed to be bound by a parent treaty may choose to be parties to optional protocols. However, it is fundamentally pertinent to note that whilst the Convention protects children from harmful and exploitative works, it doesn't prohibit them from helping out at home in ways that are safe and commensurate to their age. Notwithstanding, under no circumstances would children's work jeopardize any of their other rights, particularly the right to education.
The Unitarian Universalist – United Nations Office (UU-UNO) through its "Every Child is Our Child" (ECOC) programme has supposedly recorded laudable feats in ensuring that vulnerable children reach their full potential by providing them with opportunities to attend school and receive all necessary medical attention.
Splendidly, UNICEF–Nigeria has been in the lead of avid crusades on the protection of children's rights in the country especially through public enlightenment programmes. Similarly, President Muhammadu Buhari's Primary School Pupils' Feeding Programme; a policy for promoting child-education is a booster. From investigations, the feeding-programme has remarkably, strategically increased the population of pupils in schools it is operative. Nonetheless, a lot still needs to be done. Government at all levels should make it a priority to provide standard learning environments alongside competent teachers and teaching materials.
Commendably, the Inner City Mission; an arm of Christ Embassy Church, established and efficiently manages a standard school – The Inner City Schools for indigent children in the society. Other corporate organizations can considerately join forces as a social responsibility. The bad news – any untrained child may turn into a terror later against the entire society including the trained ones, thus, an undesirable convergence point.
Permit me to sum up with Nelson Mandela's remarks in 2003 at the University of Witwatersrand, South Africa. The noble said, "Education is the most powerful weapon which you can use to change the world". Conceivably, the Boko-Haram and other deadly sects in Nigeria may not have come into existence if past leaders did the needful by making child-education appealing in the society. Possibly, amongst the sects today could have been scores of eminent medical doctors, lawyers, scientists, professors and other professionals had the governments avidly promoted child-education accordingly.
Umegboro is a public affairs analyst.

Barring any last minute intervention, members of the organized labour will on Monday, September 28, commence an indefinite strike action over the recent adjustment in prices of Premium Motor Spirit (PMS) and electricity tariff.
The workers under the umbrella of Nigeria Labour Congress (NLC) and the Trade Union Congress (TUC) faulted the increase of the price of PMS from the official N145 per litre to N151.56 and almost a 100 per cent increase of electricity tariff, saying it will add to the excruciating hardship in the country. The labour unions further argued that the hike, coming in the midst of the COVID-19 pandemic, was not only ill-timed but also counterproductive.
Knowing how our life in Nigeria revolves around these two key items, one can imagine the ripple effect the price adjustments will have on virtually every aspect of our economy. Some prices of food items and other commodities have already skyrocketed, transporters have increased their fares, property owners will definitely increase their rents. School owners will also take a cue and ambush parents with adjusted fees when schools eventually resume. Of course, all these make nonsense of the paltry N30, 000 recently added to workers' salary which some state governments are still finding it difficult to pay.
However, given the federal government's reasons for the latest price increases, it will be advisable the leaders of the labour unions reconsider their decisions to down tools as the government seems to mean well for the nation this time. According to President Muhammadu Buhari, the COVID-19 pandemic which had affected economies globally, compelled his administration to make some necessary far-reaching adjustments for long-term gains.
He said government's fixing or subsidizing PMS prices, would mean a return to the costly subsidy regime with the potential return of fuel queues, adding that there was no provision for fuel subsidy in the revised 2020 budget and assured citizens of the government's determination to remain alert to its responsibilities by preventing marketers from raising prices arbitrarily or exploiting them.
The Minister of State for Petroleum Resources, Timipre Sylva, had earlier explained that removal of subsidy was not a political decision but had become inevitable, especially with the effect of the COVID-19 pandemic, the low crude oil prices and curtailing of Nigeria's production output by OPEC, which had constrained government's revenue. "We have cut production to 1.412 million barrels, which has halved our earnings," he disclosed.
These are convincing, cogent reasons for the price adjustment if you ask me. Nigeria does not exist in isolation and so is bound to be affected by global occurrences, particularly in the oil sector which is the mainstay of our economy. It has been severally argued that as long as the nation continues to export its crude oil only to import the refined oil for our huge local consumption, we shall continue to leave at the mercy of international oil price determinants. Meaning that the current N151.56 per litre might not be the last price increase because if crude oil price goes up or down, it will reflect at the pumps.
Indeed, it's baffling how an oil producing nation like Nigeria, Africa's largest oil producer with about 200 million population and an estimated 12.8% annual demand and consumption of petroleum cannot boast of a single functional refinery.  Records have it that the country has spent about $25 billion in turnaround maintenance of the existing major refineries vis-à-vis Warri, Port Harcourt and Kaduna refineries in the past 25 years, yet the facilities are still moribund. Thousands of workers at these refineries go to work, earn salaries and allowances and are duly promoted for doing nothing; not because they do not want to work but because the plants are down.
Over the years back, the Federal Government has issued 45 licenses to private companies for the construction of refineries, including modular refineries. All the licenses issued till date have a combined capacity to refine 2.15million barrels of crude oil a day and we were told that the refineries, when completed, will turn Nigeria into West Africa's refining hub and cut billions of naira spent yearly in importing refined products. Apart from Dangote refinery, said to be coming on stream soon, not much has been heard about others.
Rather, we continue to thrive in the business of exporting our God-given crude oil to other countries that may not be blessed with the natural resource, but have patriotic, selfless leaders, who consider the good of their countries above every other thing and have invested enormously on infrastructures like refineries to make lives better for their citizens. An analyst once likened what happens in Nigeria's oil sector to a farmer who after planting, nurturing and harvesting his yams, takes them to a faraway community to sell at a giveaway price. He later goes back to the same buyer who has cooked and pounded the yam to buy food to feed his family at an exorbitant price. Can this farmer be considered to be wise?
So instead of embarking on strike just for the sake of it and making the already bad situation worse for the citizens, labour leaders  should come up with ideas on how to  have functional refineries in the country, dialogue with the government on best ways to implement those plans. They should constantly engage the authorities on this. They can give the government an ultimatum on when to get the agreed plans executed so that the issue of fuel importation will be a bygone in the country. Failure of the government to keep to the bargain, labour can take whatever legal action to press home their demands and they will definitely have the support of many Nigerians.
So instead of insisting on reversal of the petrol pump price which might not be in the best interest of the citizens and the nation, the labour unions should see to it that all governments' plans to cushion the effect of the subsidy removal are carried out. They should ensure that the nationwide roll-out of cleaner and cheaper alternative to petrol; the introduction of new funds for Nigerians at cheaper rates by the Central Bank of Nigeria; the adequate monitoring of the prices to ensure that marketers do not reap off the populace and other palliative measures promised by the government should be effectively implemented.
By: Calista Ezeaku

Edo Poll: INEC Presents Certificates Of Return To Obaseki, Shaibu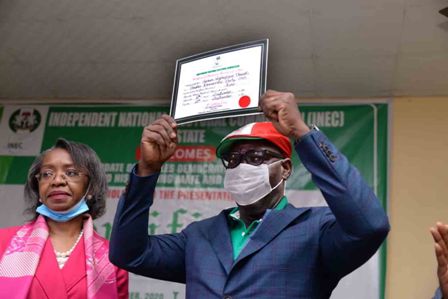 The Independent National Electoral Commission (INEC), yesterday presented Certificates of Return (CoRs) to the winner of last Saturday's governorship election in Edo State, Governor Godwin Obaseki, and his running mate, Mr Philip Shaibu.
The Tide source reports that the ceremony took place at the Collation Centre, at the State headquarters of INEC in Benin.
The Edo governorship election Returning Officer, Prof. Akpofure Rim-Rukeh, had on Sunday declared Obaseki of the Peoples Democratic Party (PDP) winner of the governorship election in the state.
Rim-Rukeh had declared Obaseki winner after polling 307,955 votes to defeat his closest opponent, Pastor Osagie Ize-Iyamu, of the All Progressives Congress (APC) who garnered 223,619 votes and 12 other candidates.
The INEC National Commissioner in charge of Edo, Bayelsa and Rivers, Mrs May Agbamuche-Mbu, presented the certificates of return to both the governor-elect and the deputy governor-elect.
Agbamuche-Mbu said that the presentation of the CoRs was a statutory obligation of the commission which must be carried out within seven days after its declaration of a winner.
"This occasion is only made possible because of the successful conduct of the governorship election last Saturday, September 19.
"INEC, I believe, has played its humble part but we have always maintained that a successfully conducted election is a collective effort, and so it has proven to be," she said.
In his acceptance speech, Obaseki thanked God and Edo people for a peaceful election, adding that history had been made in the state.
Obaseki said INEC's National Chairman, Prof. Mahmood Yakubu, should receive most of the accolades for his steadfastness and ability to withstand pressure, adding that using his intellect in introducing technology for the election should be hailed by all.
"Despite all the criticisms, the ability of INEC to view results as the counting is taking place in polling units is one innovation we will implore INEC to maintain and improve on", he said.
"Because it has introduced different element of transparency in the way we conduct election in Nigeria
"I am using this opportunity to extend a hand of fellowship to my brother, Osagie Ize-iyamu, and other colleagues in the APC to work with us to move Edo forward.
"On a specific note, I want to use this occasion to call on former National chairman of the APC Adams Oshiomhole that the fight is over, to come and join in building the house where he was part of laying the foundation.
"We have no malice; the only thing we disagreed on is on the approach in moving Edo forward.''
Obaseki, who also commended President Muhammadu Buhari, said the president would be remembered as the father of democracy in Nigeria.
"This is because he had a choice to ensure and insist that his party wins in the state but he rose above partisan politics, and insisted the right be done," he said.
According to him, I want to finally thank his royal majesty, Oba of Benin, Oba Ewuare II, for his fatherly role, for the prayers for peace, and for being that symbol we all look up to.
Earlier in his address, the state Resident Electoral Commissioner of INEC, Mr Johnson Alalibo, said the ceremony was just another fulfilment of the provisions of the law.
"My joy knows no bound as I am standing here to present this welcome address, having conducted an election without any loss of life," he said.
Alalibo commended the candidates, security personnel and the entire people of Edo for their display of professionalism and maturity during the election.
According to him, this election has already been adjudged as one of the best and it shall so remain in the annals of our history.