Sokonte Davies And The Folly Of Speaking When Silence Is Better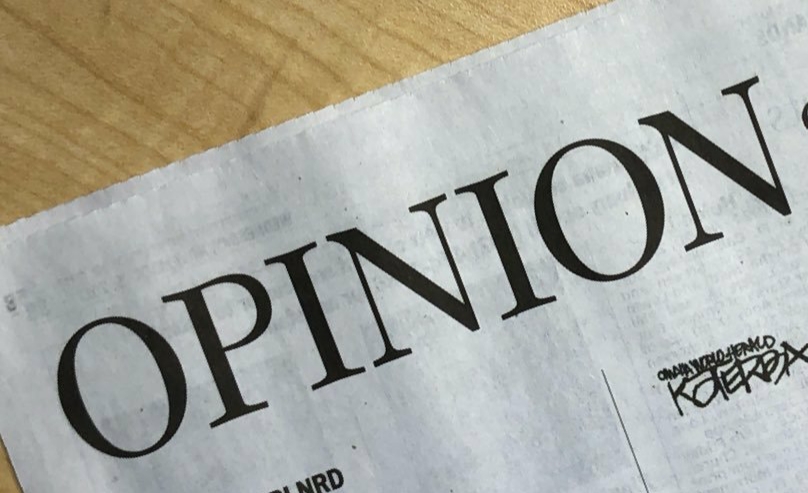 There are some people who really have nothing meaningful to say, but finding themselves in the perculiar situation where they must say something, they end up sounding like a tired, irrelevant ventriloquist, straining his falsetto vocal chords to mouth some overflogged, outdated criticism.
Dr. Sokonte Davies is one of such persons and his populist echo, calling on Governor Nyesom Wike to, according to him, "reopen markets which have remained securely locked in the overall interest of the people," which was reported in some media platforms, is the very epitome of ventriloquy at it's worst.
According to several reports, Dr. Sokonte Davies made this call, while receiving a delegation of market women in the State who paid him a visit at their Port Harcourt Party Secretariat, in his capacity as APC's Caretaker Committee Chairman in Rivers State.
He also echoed other irrelevant comments to justify the visit of the market women including the obvious white lie that the APC had a complete understanding of the situation, and a rejuvenated party which is currently engaged in internal efforts at reconciliation, would defend the interests of Rivers people and those who
reside in the State. What a joke!
But the part which really raised a huge laugh was when he was described as the "APC's Caretaker Committee Chairman in Rivers State". Against this backdrop therefore, it becomes quite obvious why Dr. Sokonte Davies must be compelled to say something, even when he has absolutely nothing to say, but must talk in other people's voices, like a Ventriloquist's dummy.
It is important to state here that there is absolutely nothing wrong with the appeal by the market women for the markets to be reopened and the Rivers State government also feels the pains which affects not just the market women alone, but indeed, what majority of the populace is going through, as a result of the Corona virus pandemic, which has completely dislocated and rearranged all our lives, from the normal way we used to do things, to the new normal.
Without mincing words, the Rivers State Government, ably marshalled by Governor Nyesom Ezenwo Wike, can beat it's chest proudly and claim that it has done excellently well in the proactive efforts and strategic initiatives which have been deployed so far, to contain and curtail the  spread of Covid-19 in Rivers State.
The unfortunate irony of such calls by Dr. Sokonte Davies for all precautionary restrictions to be lifted, is reflected in the fact that, even as the leader he claim to be, he still wallows in the tragically naive ignorance that Covid-19 is just a hype and not as dangerous as it is made to appear. And that is why for example, he and his ilk can deceive market traders, who they are supposed to be educating, with statements like finding "creative ways of getting their people to maintain social distancing and encouraging them to have access to the marketplace".
The question to ask Dr. Sokonte Davies is this: "Has he actually been studying the figures released everyday by the Nigeria Centre for Disease Control, NCDC and has he also noticed that the states with the highest number of confirmed positive cases and recently recorded spikes in numbers, are those states that have lifted precautionary restrictions and relaxed Covid-19 advisories and directives? Does Dr. Sokonte Davies even realize that there is no "creative way" of getting people to wear face masks and observe social distancing, except to enforce it, and in the process, protect and secure their lives?
Covid-19 is not a child's play or a tea party. Global economies are struggling for survival and
tottering on the edge of recession. Some have even collapsed right now and looking for aid, so when Dr. Sokonte Davies rants that: "The continued lockdown of the markets, has become an impediment to the expansion of commerce and trade, both of which have clear impacts on the health of the Rivers economy", one begins to wonder which economy he wants to expand and which Commerce an trade he is talking about, in a Coronavirus pandemic afflicted world, or is he actually living in another world different from ours?
Indeed, if Dr. Sokonte Davies has been living in Rivers State, he would confirm that the efforts of Governor Nyesom Ezenwo Wike to address, contain and curtail the spread of Covid-19 in Rivers State have been robust, bold, pragmatic and implemented with both legitimate and humane considerations.
From the periodic lockdowns of specific communities, to the provision of comprehensive palliatives to every local government area, to the free bus service scheme and the on-going decontamination of  markets, schools, churches and other settings that accommodate large crowds, even the most unrepentant critic will applaud the structured and strategic manner through which the Rivers State Government has
been responding and  forestalling the community spread of the Coronavirus pandemic in the state.
It is little wonder therefore, that the confirmed cases in Rivers State, which rose disturbingly for a couple of days, have now been decreasing rapidly with each passing day, with recoveries and discharges on the rise and reported cases confined mostly to those with underlying health issues or those exposed to cross border, imported carriers. This reduction in cases is the result of the bold and stringent enforcement of the directives and precautionary measures mandated by the state government and medical authorities, with Governor Nyesom Wike himself leading from the front and ensuring that impressive compliance is observed.
The fact remains that Covid 19 is not only real and dangerous, it has now become a fluid, unpredictable condition, which may not even manifest the symptoms earlier associated with it before striking it's victim and it has no respect for anybody. But the most worrisome realization is that till date, a cure or vacinne that can be easily accessed by everybody, has still not been developed for it and the best prevention is to observe precautions and advisories.
So, when people like Dr. Sokonte Davies talk about opening markets and advocate other glib and flippant suggestions, because they want to sound politically correct and play politics with Covid-19, without considering the dangerous implcactions of their reckless suggestions to the lives of our people, they deliberately coerce and deceive people into endangering themselves and when the inevitable happens, they will be the first to turn around and accuse government of not enforcing precautionary measures.
Of course, it is understandable that his new elevation to the dodgy position and status of APC Rivers State Caretaker Committee Chairman, could be responsible for this urge to speak up and be heard when silence could have been wiser, but one can only sympathize with Dr. Sokonte Davies for the simple reason that his amateur strategy of trying to divert attention from the many troubles of his fractured party, as well as carrying the monumental responsibilities he did not bargain for on his weak shoulders, may have compelled him to the desperation of leaning on the old and tired crutches of criticising Governor Wike, which sadly has failed in the past and will continue to fail.
Let us remind Dr. Sokonte Davies that he has bigger things to battle with and more important
things to say in his factional and fractured party. We also want to assure him that Governor Wike is not all disturbed by this unnecessary noise and distraction, because he is fully committed in his effort to secure and protect the lives of Rivers people from the devastating Covid-19 pandemic.
Rivers lives matter and Governor Nyesom Ezenwo Wike will continue to do what is right for Rivers people. Covid-19 is real, but together we can outlast and overcome the pandemic by the Grace of God. Amen.
Soibi Max-Alalibo
SA on Media to the Hon Commissioner
Ministry of Information and Communications
Rivers State
July 8, 2020.

Checking High Bride Price
Marriage is a sacrament which every couple is expected to obey as instituted by God. But today the reverse is the case, especially in African societies where most people violate this sacrament due to their selfish desires and sometimes, pressure from parents.
It is no longer news that in most African societies today, bride prices have gone so high that marriage ceremonies have become an economically viable venture. As such, most poor young men have remained unmarried  until they get so old. Yet, the rich young ones easily get wives to marry because they are buoyant enough to lavish money.
Although many leaders recognise this in Nigeria, especially in the southern part of the country, they are afraid to talk about it. This is mainly because they fear how the society would react. The fact is that whether high dowries are paid on brides or not, there is no marriage all over the world that would enjoy stability if Christ is not its pillar, and the anchor that those who make the contract rely on. Those who have accepted Jesus as their personal saviour also enjoy His spirit of love in their marriages. And there are a lot of testimonies to this effect. This is why most couples are able to stay till death do them part.
Talking about high bride prices in this society, the ability to haggle and bargain has an unhappy angle associated with the process itself. You can agree with me that in every marriage, there is some selfish human heart that comes into play. If not, how can a man pay well over N100,000 for a lady, and another pays as little as N200 and sometimes, no cash deposit to bring a wife under his roof?
However, because the game has become an expensive and dicey one, many young men have been frustrated and defeated, and most end up eloping with their heartthrobs as wives. But as long as the customs of the land remain, eloping with a lady boils down to  immorality, which may not be the direct sin of the man  in question.
In fact, numerous cases abound where men eloped  with their girlfriends, and began to live together as  husband and wife. They are, in most cases, blessed  with children, even in the midst of illegality. They ignore the parents of the woman or man, and go into their  own procreation process.
But the unfortunate thing is that sometimes the  problem associated with that strategy is that if the woman dies in the man's house, the parents of the  deceased are likely to demand that the man marries the woman even in death, sometimes at very exorbitant prices. In fact, a lot of things may be lined up as  requirements for the marriage of the dead woman. In  some other cases, the children produced in that marriage are classified as bastards or children of the woman's father until the man does the right thing, that is to pay her bride price.
I think as long as mankind lives on earth,  high bride prices never make husbands price their wives (like property) better. Instead, there are reported cases of men who have treated their wives as slaves because  of the huge sum of money spent as bride price. Methinks that if young men are able to prove to their supposed parents in-law that they can love and hold their daughters, this should be enough dowry than paying fabulous amounts of money that do not equate true love.
The high dowry on women has disadvantages on the bride too. Many women have confessed openly that high bride prices have compelled their real husbands out of the work contest, leaving unlovable wealthy men available in the market. The result is an unnecessary joining of  incompatible couples because money has become the  name of the game.
High dowries make women slaves as most of them  remain unhappy in their marriages. Perhaps, they just stay to satisfy the man who has spent so much on  them. The consequence of this is that a wide gap exists for infidelity, and a display of fake and smokescreen love, which is far from being genuine.
This is not to say that those with low income have not  married wives. No! On the contrary, some have actually found themselves wives, and they lived as happy couples  for decades. But we have also heard stories where men  go on to borrow huge amounts of money just to get  married. In a situation like this, such couples are forced  to go through terrible and agonising marriages.
In perspective, it has been imperative that high bride prices are no guarantees to long, stable and well-enjoyed   marriages. High bride prices only help to force men who are not rich into borrowing, thereby putting men with such financial crisis into slavery while the women are boxed into a corner, with little or no choice than to settle for men with the money. In the end, such women  look more like the men's personal properties.
It is high time the state government or better still, local  government councils fixed equal amount to be paid as dowry for all women. Although this suggestion may sound primitive, I think it is workable and the right path to toe. This can be done by encouraging would-be husbands to go to their local governments to pay for their wives. This action should attract receipts, and such monies should later be handed over to parents of the  brides.
If all Nigerians go to the same markets, schools, workplaces, among others, then I do not see any reason why bride prices should vary. And until this is done,  women will ever suffer, and men without money will remain unmarried.
Etim writes from Port Harcourt.
Sintrials Etim

Nigeria: Can We Be Hopeful?
Not a few times have we heard citizens express displeasure about how things are going on in the country. To many, there is no hope for a better Nigeria. Try all they can, with all the tales of how government in power has worked wonders and has surpassed all previous administrations, government functionaries cannot convince this set of people to think otherwise. And woe betide you if you hold a contrary opinion and want to persuade to believe that all hope is not lost.
A scene played out at a computer/phone repair centre otherwise called GSM village, in the nation's capital. Some young men were lamenting how those in government (both past and present) had milked the nation dry and made life hellish for many Nigerians. One of them narrated how despite having graduated with Second Class Upper from the university nine years ago, he had been unable to secure a job.
Another recounted how terrible the nation's roads were which makes road travels a nightmare in spite of the billions of naira budgeted annually for road construction and repairs.  "Since l was born, l have been hearing that Nigeria will be better, yet things keep getting worse every year. There are no good government hospitals, no water, no electricity, Nigerians are being killed by armed bandits daily yet our leaders are getting richer with the money meant to furnish these amenities, infrastructure and security. As far as l am concerned, there is no hope for this country", he insisted.
Hearing all these tales of woes, a middle aged man in an opposite stall, who apparently was there to fix his device joined the discussion.  He told them that their line of thought was wrong, that Nigeria was a blessed country, which would be better in the nearest future through the joint effort of every citizen. Certainly, that man will not forget in a hurry the invectives and insults he got for saying that.
Indeed, it is very patriotic to think good of our beloved country and to believe that no matter how heavy the storm may be, the sun will rise one day; that the issues of corruption, bad governance, selfish leadership at all levels and many others, which have held the nation spellbound and stagnant for decades will one day be a thing of the past and Nigerians will have reasons to rejoice in the land that God has placed them. However, truth must be told that should the recklessness, embezzlement of public funds, seeming lack of direction, and other forms of impunity that have characterised governance across board in Nigeria are not checked, the better days hoped for might just be a mirage.
In the past few days, we watched the scandalous drama at the National Assembly during the probe into the alleged financial improprieties in the Niger Delta Development Commission (NDDC). Those entrusted with the responsibility of developing the impoverished area couldn't account for how about N40 billion was spent in a few years. Members of the commission were rather enriching themselves at the detriment of their fellow Niger Deltans who have suffered the devastating effects of oil explorations in the region for many years.
Painfully, that may be all we can hear about the case just as similar probes yielded little or no results. Already, the Senate has recommended that the Interim Management Committee (IMC) of the NDDC be made to refund the N4.923 billion alleged illegal payments made to staff of the commission and contractors in breach of the procurement process among other soft landing recommendations and that might be the end of the story. Nobody gets punished for the great crime.
Ours has become a country where the "connected", those who can fake fainting , those who can mesmerize the lawmakers, the highly placed ones, are given a part on the back and told to go that their sins are forgiven while the poor and the less-privileged, people not in government, are punished for even the slightest offences. Consider the recent disclosure by the Defense Headquarters (DHQ) that 603 repentant former Boko Haram members would be re-integrated into society next month.
During a media briefing on the operations of the Armed Forces of Nigeria on Thursday, penultimate week, DHQ spokesperson, Major General John Enenche, said the 603 former combatants had completed the De-radicalisation, Rehabilitation and Re-Integration (DRR) programme of Operation Safe Corridor and would be pushed into the society.
Reports have it that the "repentant" terrorists would be provided with psyche-social supports and continued religious admonitions in order to make them good citizens of the country and of course starter packs to help them practice the skills they acquired in the camp.
Does one have issues with the authorities being magnanimous to forgive criminals who have killed over 30,000 people in the country, rendered thousands homeless and caused many people grievous pains?  Not at all.  But the worry is how will such a generous act aid the fight against insurgency and give hope that the nation will be victorious in her war against Boko Haram and other insurgents? What hope do we have that the senseless killings in southern Kaduna and other parts of the country, the kidnappings, banditry and other forms of criminalities going on across the land will abate when the culprits are not tried and punished in accordance with the law?
A great concern has also been raised about the consequences of such reintegration on those affected in one way or the other by the dastardly acts of the insurgents and what plans to ensure that such act does not lead to breakdown of fragile peace in the recovering communities and cities mostly in the North East.
What about the morale of the military men and women that have been risking their lives in the fight for many years? Again, what incentives are given to the law-abiding citizens to encourage them to remain on the right path? As Martin Luther King Jnr puts it, "True peace is not merely the absence of tension. It is the presence of justice". Again, in the words of the American Writer, Terry Goodkind, "Pity for the guilty is treason to the innocent".
It therefore behoves on those in authority to inspire hope in the millions of hopeless Nigerians through words and actions. Many of us have no other country but Nigeria and to make it better for us and the future generation, we must all resolve to play our roles efficaciously.
Calista Ezeaku

Mass Communication As Unbundled
With the recent happenings in Nigeria's education sector, the Nigerian Universities Commission (NUC) cannot be said to be living below its vision of being a dynamic regulatory agency acting as a catalyst for positive change and innovation for the delivery of quality university education in Nigeria.
Created in Nigeria, to enable the attainment of stable and crisis-free university system, work with Nigerian universities to achieve full accreditation status for, at least, 80% of the academic programmes, NUC was also to initiate and promote proficiency in the use of ICT for service delivery within the commission and the Nigerian university system, as well as upgrade and maintain physical facilities in the Nigerian university system for delivery of quality university education.
However, while the commission is still on a mandate to foster partnership between the Nigerian university system and the private sector, the need to match Nigerian university graduate output with national manpower needs, seems to have gained top priority in its scheme of things.
This is evident on the recent visible reforms in the country's tertiary education which have birthed the federal government's approval of the establishment and immediate take-off of six new federal colleges of education in each of the geo-political zones in the country, as well as the unbundling of mass communication programme in Nigerian universities
This resolve, which experts have applauded and described as a step in a right direction, is the commission's way of guiding Nigerian universities to be in line with 21st Century requirements; most importantly, the establishment of additional colleges of education.
More institutions for teacher education will not only increase the number of quality teachers in the country, it would create more job opportunities for Nigerians, and also improve standard of education. Of course, with an improved teacher education, the system is sure to turn out products that can compete globally with their counterparts.
The unbundling of mass communication programme in Nigerian universities into seven separate degree programmes, thereby, making Mass Communication to be a full faculty, happens to be another landmark achievement.
The seven new programmes or departments to be domiciled in a Faculty, School or College of Communication and Media Studies are: Journalism & Media Studies, Public Relations, Advertising, Broadcasting, Film & Multi-Media Studies, Development Communication Studies, Information & Media Studies.
Recall that the executive secretary of the commission, Professor Abubakar Adamu Rasheed, on assumption of office in 2018, said during a workshop in Abuja on the proposed Higher Education Reform and Africa Centres of Excellence (ACE), that getting it right at the higher education level would proffer solutions to the socio-economic and political problems facing the country.
Needless to argue, the original mass communication degree curriculum was too packed, didn't have much on visual images and films, not even much attention was given to development communications. Above all, it has become obsolete and so cannot accommodate the new developments in the media trends, particularly the changing landscape of politics and economy.
The unbundling, no doubt, would allow lecturers to go into the newsroom to practice and journalists to go into the classroom to teach. By the segmentation, one can be allowed to focus on skill cultivation. In the long run, it is hoped that the practical will be balanced with the theory.
This invariably makes the university more responsive to the dynamics of the labour market by ensuring that the right curriculum is put in place to ensure that quality graduates are turned out at the end of the day to meet the demand of industries.
By so doing, the university community moves from theoretical to the practical aspect of science and technology thereby increasing graduate employability skills.
From the foregoing, graduates of a media studies bachelor's degree programme would be prepared for both traditional and non-traditional media careers. Some graduates will find work as news journalists, film editors and communication specialists. Other job titles might include public relations specialist, advertising account manager, marketing analyst, newsroom coordinator, broadcast journalist, photojournalist and a range of other exciting career options.
Sylvia ThankGod-Amadi