Governor Wike: A Leader With A Heart Of Gold
Thursday, May 25, 2020, was a historic day not only in the lives of the people of Abonnema kingdom, in Akuku-Toru Local Government Area (AKULGA) of Rivers State, but indeed in the annals of our emerging democratic nation.
On that day, the Rivers State Governor, Nyesom Ezenwo Wike fulfilled the promise he had made to the good people of Abonnema on Wednesday, March 6, 2019, during a memorial service at St Pauls Nyemoni Church, in honour of Abonnema people who had been killed and had sustained injuries from the attacks of the Nigerian Army on the community, during the Presidential election of 23rd February 2019.
Represented by the Secretary to the State Government, Dr Tammy Wenike Danagogo, Governor Wike redeemed his pledge by releasing N 450 million (Four hundred and fifty million naira) to the victims of the 2019 Presidential election violence in Abonnema.
While some other leaders in the opposition, in their justification of the Army invasion and  killings in the community, had described Abonnema as a 'hideout for criminals and militants', Governor Wike like a true leader, had promptly inaugurated a committee headed by the the Deputy Governor, Dr Ipalibo Harry Banigo, with the main responsibility of identifying the bereaved families and also identify damaged properties affected by the election crisis, so that the Rivers State Government will offer the required assistance and support to the families and the community.
Governor Wike subsequently inaugurated two more committees on Thursday, March 28, 2019; a Judicial Commission of Inquiry to investigate the violence, killings and other related matters that occurred during the February 23 and March 9, 2019 general elections in the State, headed by Justice Monima Danagogo, and a Panel of Inquiry into the violent invasion and attack on the Rivers State Judiciary and destruction of public properties, which occurred at the state judiciary complex in Port Harcourt on May 11, 2018, chaired by Justice Simeon Amadi.
Dr Tammy Wenike Danagogo, speaking on behalf of Governor Nyesom Wike, during the brief ceremony to present the N 450 million to the beneficiaries in Abonnema, told the select audience that no amount of money could adequately compensate the people for the harrowing experience they suffered at the hands of the Nigerian Army, even as he stressed the Governor's appreciation of the support and commitment of the People of Akuku Toru Local Government Area before, during and after the elections, adding that the State Government had insisted on seeking the consent of the Amanyanabo, the traditional institution and the community in order to establish and ensure the transparency of the ceremony and the presentation.
He also assured the people that the comprehensive documentation of the names of bereaved persons had been compiled by the Deputy Governor's verification committee and that the administration of Governor Nyesom Wike would continue to execute programmes that would positively impact on the lives of the people of the area, even as he confirmed that the second phase of the Abonnema ring road, which had been abandoned since 2006, was virtually completed and would be commissioned soon.
The Secretary to the State Government then reassured them that Governor Wike was ever reliable, courageous and caring. Adding that even in the face of the Covid-19 Pandemic, he has continued to exhibit these enduring qualities and attributes and would stand by the people of Abonnema and Rivers State, through thick and thin, by taking practical steps not only to protect Rivers People but to also provide palliatives to bring succour to the vulnerable and less privileged unlike the selfish politicians in other political  parties who only visit the people to solicit for votes during elections but do not have the interest of the people at heart.
The Amayanabo of Abonnema, King Disrael Gbobo Bobmanuel in full regal splendour but visibly subdued in Majestic mien by the solemnity of the moment, thanked  Governor Wike for fulfilling his promise to the Abonnema People and while confirming that the Governor has proven over the years that his word is his bond, described him as a man worthy of trust and support because he has fulfilled all his promises to the Abonnema People and advised beneficiaries to make judicious use of the Money the Governor has graciously given to them.
The Chairman of Akuku-Toru Local Government Area Hon. Roland Sekibo said he is still traumatized by the events that took place during the Presidential election in 2019 and expressed gratitude to Governor Wike for his kind gesture, stressing that the People of his Local Government Area would continue to support the Governor in his quest to improve the lives of Rivers People.
One of the beneficiaries Mr. Minamiango Romeo, nursing a limp and trotting along with trouser legs folded up to reveal darkened scars from sustained gunshot injuries on the fateful day, expressed gratitude to Governor Wike for not abandoning them in their time of need and promised to continue to support his Administration and the leaders of the Local Government Area.
The ceremony in Abonnema to present the N 450 million to the bereaved families, was brief and precise, conducted in full compliance with the mandated social gathering guidelines and hallmarked by the new reality of wearing face masks even by royalty, and social distancing. The poignancy of the event was underscored by the fact that it was devoid of the usual publicity razzmatazz and political mileage often associated with such events, mainly in recognition of the gravitas of the occasion and also in silent acknowledgement of the pall of Covid-19 fatalities that hung ominously, with dark, sinister uncertainty in the air.
The grave and subdued nature of the event, captured by the memorial essence of a dark episode in the history of Abonnema kingdom, also attained historic significance on two levels.
Those who remembered, recall the gory and clinical military offensive in Abonnema on February 23, 2019 and likened it as akin to the invasion of Abonnema on 21 June 1968, a date people of Nyemoni community in Abonnema, Akuku-toru Local Government Area of Rivers state have not forgotten and still serves as a day and memorial still commemorated till date by the proud, cosmopolitan and culturally flamboyant people of the great and ancient Abonnema kingdom.
The second is that for probably the first time in the history of our political trajectory as a democracy, this was arguably the first time a leader and politician, Governor Nyesom Ezenwo Wike, had exbited great courage, sincere empathy and a historic recognition and penitence to the existential and collateral damage which election violence has unleashed on our people, our communities, our psyche and indeed our evolution as a nation.
For so long and indeed in every  democratic dispensation, nascent or otherwise, periodically enacted in the civil space of the country, political actors have not only embraced the unleashing of mayhem and procurement of violence as a sine qua non in the operational guidelines of electoral competition, but have glorified damage and destruction, disruptions and dislocations, abduction and hostage taking and most brazenly, the totting up of casualty head-counts as the ultimate yardsticks for measuring their victories.
But for arguably the very first time in the history of our political narrative, a man and political leader, Governor Nyesom Ezenwo Wike has recognized and established the sacred fact that the lives of our people matter. Those who know Governor Wike will remember his clarion cry to the opposition in the heat of the elections when he asked them passionately: "If you kill everybody then who will you govern?"
By setting up a committee with the sole mandate of identifying the bereaved, the injured, the damaged and dislocated occasioned by election violence in a once peaceful community, Governor Wike has not only put a name and face to the malevolent masquerade of electoral violence, he has also identified completely with the people and bravely called out political actors whose magnum opus is the deployment of violence and stockpiling of casualties as the ultimate end game in political contests.
Like the SSG, Dr Tammy Danagogo said, echoing Governor Nyesom Wike in very clear terms, the N 450 million was but a mere token, which can never equate or sufficiently replace or compensate for the lives lost because of the quest of some power mongers to seize power at all cost.
Sadly however, those who inspired, sponsored and delivered the violence openly gloated in bizarre triumph when the final result that was declared showed a drastic drop in the votes cast during the presidential election considered against previous elections, where Rivers State used to account for one of the highest votes in Nigerias general elections.
Governor Nyesom Wike by identifying with the people of Abonnema who lost their loved ones as a result of the presidential election violence of February 23, 2019, has also put political actors in Rivers State on notice that there is no place anymore for election violence in the State, under his watch.
The token to the people of Abonnema can never compensate or replace the lives lost or even wipe away the memorial scars of that gory day in February 2019. But Governor Nyesom Wike, by his singular courageous act of great leadership responsibility has shown the people that Rivers lives matter and he is ever ready to stand by them and with them always.
May the souls of the departed continue to rest in peace and may the good Lord continue to protect the living from the evil machinations of those who seek political power at all cost in Rivers State.
Paulinus Nsirim is the Commissioner for Information and Communications, Rivers State.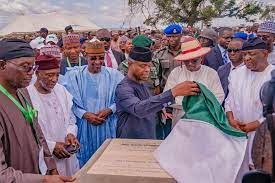 It was reported recently that the Federal Government had mapped out 30 grazing reserves for the implementation of a National Livestock Transformation Plan (NLTP) under its Green Initiative project.
According to the report, the Senior Special Assistant to the President on Agriculture, Dr Andrew Kwasari, disclosed this while addressing journalists on the move by the government to resolve the persistent conflict between herders and farmers over land, water and pastures.
"The 19 Northern States have grazing reserves. So far, we have mapped out over 30 grazing reserves and on paper, we have over 400 grazing reserves.
"So, the northern governors have to be committed to working with the Federal Government, Federal Ministry of Agriculture and Rural Development, supervision of the NEC, to make sure that wherever those grazing reserves are found that we are able to convert them into lush green models specifically for pastoralists, and pastoralists will not migrate anymore…" Kwasari said.
He further disclosed that traditional rulers like the Gbom-Gbom Jos had been consulted and they suggested that the low hanging fruit for federal and state governments was to ensure that pastoralists were settled in gazette grazing reserves.
The presidential aide also said that this would take away any notion of land grabbing or taking of land from communities and giving to herders as was feared with the government's stillborn Rural Grazing Areas (RUGA) programme.
It would be recalled that the NLTP was launched by Vice President Yemi Osinbajo in the Gongoshi Grazing Reserve, Mayo-Belwa LGA of Adamawa State, in September 2019. The plan was to run from 2019 to 2028 as part of the federal government's Green Initiative in collaboration with states, farmers, pastoralists and private sector investors under the auspices of the National Economic Council (NEC).
NLTP has a budget of N100 billion for the breeding of cattle and other types of livestock. Of this amount, the federal government would contribute 80% as grant only, while the participating states were expected to raise the remaining 20%, donate land, draw up the project implementation structure, and provide workers.
Besides Adamawa, the programme has also taken off in six other pilot states; namely Benue, Kaduna, Nasarawa, Plateau, Taraba and Zamfara. Others which were reported to have voluntarily joined the initiative include Anambra, Ebonyi, Edo, Ekiti and Ondo States.
Given the foregoing, any peace-loving Nigerian would be tempted to assume that a viable solution has finally been figured out for the perennial herders-farmers crisis in the country. But President Muhammadu Buhari's recent charge to his Attorney General and Minister of Justice, Abubakar Malami (SAN), to identify the country's gazetted grazing routes leaves one wondering if, indeed, he was acting from the same script as Osinbajo and Kwasari.
If there ever was any doubt as to the Presidency's rejection of the collective decision of the southern governors to outlaw open grazing in their respective states, such was cleared by the President himself in his recent exclusive interview on Arise TV.
"What I did was ask him (Malami) to go and dig the gazette of the First Republic when people were obeying laws. There were cattle routes and grazing areas…
"I asked for the gazette to make sure that those who encroached on these cattle routes and grazing areas will be dispossessed in law and try to bring some order back into cattle grazing," Buhari emphasised.
Honestly, I had wished that the President's directive to the nation's chief law officer was aimed at recovering only grazing reserves for the NLTP scheme as Kwasari did announce. But his inclusion of cattle routes suggests that Buhari is still not considering letting go of the now outdated nomadic grazing practice in Nigeria.
And just as the Miyetti Allah Cattle Breeders Association of Nigeria (MACBAN) wasted no time in rallying behind the man, so also was his position quick in drawing flaks from socio-cultural bodies like Afenifere, Ohaneze Ndigbo and the Pan-Niger Delta Forum (PANDEF) all of which insisted that the power to allocate land rested with the state governors and not the President.
Of particular interest was the reaction of Afenifere's publicity secretary, Jare Ajayi: "Who designated specific routes as exclusively belonging to those who would be grazing cows? If you are doing this kind of thing in their own area, it is understandable (because) that is in their own area.
"I have not read anywhere that our forefathers sat down and agreed that these particular routes, maybe from Ogbomosho to Saki or Badagry, are for grazing…"
Again, some analysts have expressed the fear that if Buhari insisted on pursuing the recovery of grazing routes, prominent buildings in many parts of the country, including the Federal Capital Territory (FCT), would be pulled down.
I still don't get why Mr. President is seriously reaching for the list of cattle routes in First Republic Nigeria even when the 1979 Land Use Act entrusted governors with the control of their states' lands years after the now sought-after gazette was published. With such power, can't a state chief executive reapportion any previously gazetted grazing route or reserve located in his domain?
Buhari should please focus on promoting sedentary animal husbandry through the NLTP scheme in order to reduce the existing tension in the land. A good leader should be able to ensure peace in his domain even if he has to bend over backward to achieve it.
By: Ibelema Jumbo
Short, Sharp, Shock-Treatment
There was a recent allusion from the Nigerian President, or the Presidency, about the possibility of some impending shock, meant to restore sanity in the country. It came as a warning to those who were alleged to be intent on destroying or destabilising Nigeria via insurgency, agitation and causing mayhem. Therefore, it has become needful to alert Nigerians about Nature's Standing Order of Short, sharp, shock treatment (SSST), as a mechanism of restoring order when humans allow disorder to grow too high. In truth, there is such mechanism in the scheme of things.
Those who are familiar with Jewish cosmogony via the Kabbalah, would know that there is a flow of Divine influx, also known as Zazahot or lighting flash, which is an up-building and a restorative system. The 5th anchorage of that Divine Circuit system known as Geburah or Judgement has the duty or responsibility of restoring order and bringing about a balance, when disorder and imbalance become overwhelming in creation or a section thereof. Disorder and imbalances usually come from humans.
Being endowed with a free will and the freedom to make personal decisions and choices, which are often mis-used, humans bring about disorders and imbalances which distort the beauty and harmony of creation. Accumulation of massive impurities would necessitate a cleansing process to reduce the results of human engagements in acts of impunity, shamelessness and irresponsibility. Before catastrophies come there are usually warnings.
In the case of Nigeria, the warning signals have been persistent and loud enough even for obtuse persons to be aroused to a state of alertness. Nature has a process of educating human beings through bitter personal and collective experiences. No one can say that such warning signals and bitter experiences have not been there for quite some time. As a process of ensuring justice, there are watchers and weavers whose activities in the 100m of destiny entail monitoring the deeds of everyone with utmost accuracy. There are also provisions for deep reflections and possible redressing of imbalances.
Nigeria has been brought to its current sad state of affairs through many follies and deliberate acts of mischief. From Ngozi Okonjo-Iweala's book Reforming The Unreformable, we are told that more than 5,000 board seats existed as sinecure, with political leaders having enormous patronage powers. We are told that a bad public service is certain to produce bad governance, even if the right accountability and other mechanisms are in place. Thus, there is a spiral of malfeasance.
From public service system, to tertiary education, we are told that "a systemic rot has befallen Nigeria", apart from "inflating the budget by doubling or tripling the allocations…" Even with the Nigeria Extractive Industries Transparency Initiative (NEITI) bill which was approved in May 2007, there was no transparency or accountability in Nigeria's oil and gas sector. In both physical and process audit there are deficiencies in management and utility.
Okonjo-Iweala advised that "special care be taken to ensure that oil revenues are spent wisely to build up durable long-term assets whose benefits can be shared with future generations". Nigeria's great dependence on oil and gas whose vulnerability to global volatility of commodity market are important factors in the country's need to reshape its economic structure and growth based on diversification. With regards to corruption, Okonjo-Iweala said that "cynicism about the fight against is greatest when allegations of corrupt acts on the part of the elite are not investigated with any vigour even when investigated …"
If human verdict is reflected in the dismal and sad score card available in the public domain, then the verdict of the watchers and weavers of human destinies must also be far worse. There are indications globally that visibly gathering dark storms would surely result in some catastrophes whose true nature no one can tell accurately. For Nigeria as an individual nation in the global family, it is obvious that the shock alluded to by the President is an omen of things to come.
However, no one is in a position to predict exactly the nature and intensity of the shock the president had in mind. Reacting to the President's statement, a number of Nigerians expressed sadness that it was a warning to agitators who allegedly are trying to destabilise and disunite Nigeria. But the situation obviously goes beyond current activities of political agitators and bandits.
Normally it takes a long time for storms to amass such power that would result in a destructive shock. Therefore, it would be myopic and wrong to judge the Nigerian situation from a one-sided perspective. Across the globe, Nigeria features as one of the delicate zones where some shocks are most likely to arise. Already harbingers of warning signals include activities of Boko Haran and other agitators for Islamic states and sharia laws, spate of kidnappings and demand for ransom, etc. The commando-rescue-style of an American farmer held hostage in Northern Nigeria placed Nigeria as a vulnerable nation.
Prelude to any coming shock usually includes complacence arising from gluttony over loots. The fact that a few highly-placed Nigerians tried to exonerate late General Sani Abacha of accusations of looting, despite exposures of such deeds, is another evidence of a nation which needs a shock to regain sanity. It takes the collaboration of humans through various activities, to serve as agents in the fulfillment of the mechanism of destiny. Such human agents rarely know that they are serving the course of Nemesis.
Unlike the Nigerian Civil War (1967-1970) with its attendant miseries and woes, SSST comes as mechanism of Divine intervention, to ensure that those who deserve to die, die the death they deserve. It is fast and thorough, with long-lasting effect. It is a weapon of sective elimination.
Dr Amirize is a retired lecturer from the Rivers State University, Port Harcourt.
Corporate Begging In Nigeria
I went to an office two days ago for a business transaction and at the gate was a well-dressed, cheerful security guard who zealously ushered me into the compound. I wanted to park my car at one end of the compound and he insisted that I should go another direction which truly was more spacious. And in my mind l was like, "what a dutiful staff".
He was not done yet.  As soon as I switched off my car ignition and was about to open the door to come out, he rushed and did it, smiling from one side of his mouth to another, offering unsolicited information and a guide on my whereabouts in the facility. I sincerely thanked him, hoping all the VIP treatment will not be a subtle way of begging for gratuity.
Behold, I was wrong. As l made to step into the building, he whispered "Madam, no forget the favour way l do you oo".  I had just encountered another corporate beggar. A day before, l had a bitter encounter with one, a pump attendant, at a petrol station who called me names for refusing to part with my hard-earned money. Having inquired about the well being of my family, admired my car and showered all unasked encomium on me, he expected a monetary appreciation which was not forthcoming and the next thing I heard was "stingy woman".
They are everywhere. At petrol stations, banks, offices, both public and private hotels, you see a lot of people begging while on duty. At the airport, train station and in practically all-important offices in the country, "anything for the boys, your boys dey loyal oo", seems to have become part of the official language.
Of course, this shameful attitude did not start today but it has taken a more serious, disturbing dimension in recent times. Many people, particularly the security personnel, front desk officers, customer relations officers have turned their duty posts to begging offices. They would always blame the current economic downturn for their unbecoming attitude which cannot be totally true because, at least, they are working and earning salaries no matter how little.
What about the millions of people who are jobless and have no means of livelihood? Have they all taken to the streets to beg?
One thinks it is a social malaise which has a lot to do with our ethical values. A lot of people in the country value money and other material things far and above integrity, self-respect and self-dignity and so, they will do anything, no matter how shameful, to acquire them.
A teacher once made an analysis of two families, one has four members and the other was a family of 11 people. Both families were given N200,000 each to spend for a month. According to her, half way into the month, the family of four almost exhausted their money and could hardly pull through till the end while the other family of nine comfortably made do with the amount they had and even had some balance. What was their secret? Prioritisation and prudent management.
Therefore, it is not so much about how much we make through our salaries, begging and other means but how we manage the money. There is hardly anybody in the country today that is not feeling the economic bite and the only thing that will help everybody both the low- and high-income earners is to set their priorities right and learn how to live within their income instead of hoping on tips from some "big men and women" and doing all kinds of ridiculous thing to attract their attention and the crumb. And we forget that the so-called big men most times also have loads of financial responsibilities.
On the national level, we also have to consider the damaging impact of officials begging and do something about it. Obviously, taking little tips from people would make officials skimp on their responsibilities, thereby making some unscrupulous elements have their way, exposing the country to avoidable vulnerability.
It is, therefore, imperative we must begin to build a new ethos that places emphasis on self-respect and dignity of labour. As part of the country's 60th Independence celebration, the National Ethics and Integrity Policy was launched. It contains the nation's core values of Human Dignity, Voice and Participation, Patriotism, Personal Responsibilities, Integrity, National Unity and Professionalism. All these values and how they will be practised to make for a better country and more cordial relationship among the citizens are thoroughly spelt out.
For instance, section 4.5.2.5, talking about Honour under Integrity states, "We shall at all times maintain uprightness of character, personal integrity and pride in ourselves as individuals, as one community, and as one nation. Therefore, in all spheres of life, we shall do what is demanded by our common values and laws that we hold to be true, in accordance with our national identity and in accordance with the values enshrined in our national laws and practices as one country. As Nigerians, we shall stand up to challenge those vices that impede the pursuit of our existence with uprightness. We shall celebrate those Nigerians who are upright".
But then the big questions are, how many Nigerians are aware of this policy? What efforts are being made to educate the citizens on these core values? We  have the National Orientation Agency, the Ministry of Information at various tiers of government, what are they doing to educate people about these code of conduct so that the people internalise it and it becomes a true guide for the citizens,
It is not enough that time, energy and resources were spent in packaging the booklet, let adequate sensitisation be carried out, using the media, both conventional and social media and other means of communication to reach to people at every nooks and crannies of the country because many Nigerians are losing it when it comes to integrity and the time to get them back on the right track is now.
By: Calista Ezeaku