Biafra Agitation: Need For A Referendum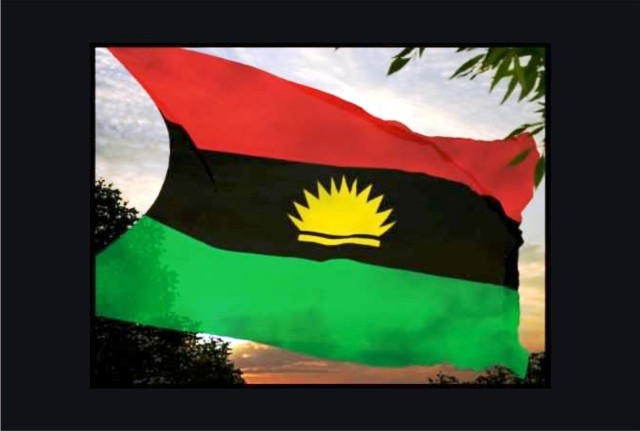 Referendum is an occasion when all the people of a country can vote on an important issue. Many democracies restrict their citizens' involvement in the affairs of state to a vote that expresses their choice among potential political leaders. The state or country's policies are then set by the elected leaders, without any direct input from the voters.
Some democracies, however, allow voters under some circumstances, to choose directly, in an election. Such an electoral choice or process is called referendum. Any important changes or decisions must be approved by referendum.
This is why I see the decision by the Indigenous People of Biafra (IPOB) to call for a referendum on the way to liberate Biafra as a wise one.
IPOB reportedly advised all Biafran agitators at home and in the Diaspora to be prepared for a referendum to decide whether to be an independent sovereign entity from Nigeria or not.
According to a statement by IPOB's Media and Publicity Secretary, Emma Powerful, Biafrans have the right under international law to decide their fate through a referendum, the same way Britain exercised its right to leave the European Parliament or European Council.
In actual fact, the agitation for a Biafra independent nation is normal but the manner in which it was earlier approached is wrong. The path to independence is not easily achieved through war or series of protests but by mutual negotiation.
According to Nobel Laureate, Professor Wole Soyinka who declared his support for Biafran agitators, the Igbo people have been so wronged that they have no choice than to consider opting out of Nigeria.
"I am very much pro-Biafra because I recognize that the Igbo have been wronged desperately," he said, adding "they have been brutalised in a way that justifies their feeling that they were not part of the nation."
An issue such as self-determination must be decided under a referendum with the participation of all residents of the land and stakeholders so as to reach a careful consideration after careful examination of all issues involved. Referendum is very crucial at this period that the Igbos want independence. It is not a matter that would be handled by the government.
In well organized countries, matters of this magnitude are discussed through national referendum. For instance, the United States does not have any provision for national referendums, but many localities and states do provide for them. Outside the United States, a few democracies provide for the regular use of national referendums. France and Switzerland are examples of countries relying heavily on referendums.
When Spain initiated its new democratic constitution in 1978, it held a referendum so that the constitution could be ratified by the people. Similarly when the powers of the European Union were to be expanded in the 1993 Maastricht Treaty, France, Ireland and Denmark held referendums to allow their people to decide whether they should sign the treaty. At that time, France and Ireland voted yes; the Danes voted no, but the treaty as re-written to accommodate them, and on a second attempt, they voted yes.
So, for the fact that the Biafran agitation is a national question, which involves various ethnic groups of the country, there is the need for a national referendum. Although the agitators are not entirely innocent in this affairs, their demand is based on alleged injustice unleashed on them, which they feel is sufficient to justify their decision not to be part of Nigeria again.
It is the view of many Nigerians that the country should remain as one and indivisible entity but few others like the Igbos feel marginalised and want an independent state. Whatever the outcome of those feelings will be, time shall tell.
It is, however, important that Nigerians recognize the plurality of the country, how it came together and begins to devise and adopt a new method of governance which should centre around true federalism. As Professor Soyinka rightly said, if we continue to have a centralised government, the country might be heading for a brink.
Meanwhile, in a bid to achieve their aim, Biafran agitators should tread with caution by ensuring that the referendum is held peacefully and made acceptable to all.
The IPOB, in a statement, said the United Nations (UN) and the international community would monitor the referendum processes and ensure compliance with the will expressed.
That sounds like a good decision. But like I said earlier, the agitators must carry out their activities within the ambit of the laws of Nigeria which they currently belong to. In as much as they are still members of the Nigerian Federation, any of their actions that goes contrary to the constitutional provisions of the Federal Republic of Nigeria may be tantamount to a breach of the law.
Shedie Okpara

Nigeria And Alternative Energy Source
To promote commercial viability and further investment in the power sector, the Nigerian Electricity Regulatory Commission (NERC), in 2015, announced a 45 per cent tariff increase, designed to come into effect on February 01, 2016, which was nullified by a decision of a federal high court.
Although the organized labourhailed the decision of the court, others, mostly energy industry practitioners, criticized it. To the former, the Nigerian Electricity Supply Industry (NESI) should improve its performance before considering a tariff increase. And to the later, an improved electricity supply hinges on the implementation of cost-reflective tariffs.
After about five days, NERC approved increase in electricity tariff by the 11 Electricity Distribution Companies (DISCOs) in the country. "The new tariff regime takes effect from January 1, 2020".
This time consumers may have appeared to be silent, yet asking a loudly quiet question; "is it about tariff increase or quality service delivery?". Consumers no doubt appreciate the challenges of the power generators and distributors, but those challenges would go noticed when no quality service is dispensed to the consumers at the end of the day.
The consequences of this abysmal service delivery for Nigeria's economic development are well-understood, and the causes of the deplorable situation are laid bare, it is still not certain which way to take, out of the problem.
Everyone knows that shortages in electricity supply, are significantly impeding Nigeria's economic growth. OlayinkaOyedepo (2012), in his work on "Energy, Sustainability and Society", stated that about 60 to 70 percent of the Nigerian population does not have access to electricity.
Suffice it to say that while some parts of the country have little or no access to the national grid, in other areas, electricity is only available for short and varying periods of the day.
This ongoing failure of the Nigerian power sector to provide adequate electricity supply to domestic households and industrial producers has not only contributed in crippling the agricultural, industrial and mining sectors, it daily impedes the country's economic development.
There is no doubt that the present power crisis afflicting Nigeria will persist unless the government diversifies the energy sources in domestic, commercial and industrial sectors and adopts new available technologies to reduce energy wastage and to save cost.
The writer is of the view that given the fundamental nature of electricity to the socio-economic development of Nigeria and poverty eradication, nothing short of access to modern energy services which though had remained an enormous challenge facing the African continent, can suffix.
Although from an economic point of view, implementing the country's renewable energy target will have significant costs, nevertheless, its contribution to the sustainability of economic, environmental and social development of our country; Nigeria, far outweighs its cost.
Recall that way back in 2005, the Energy Commission of Nigeria developed a Renewable Energy Master Plan (REMP) which suggested ideas for renewable energy policies, as well as possible technologies that could be used to fulfill their goals. Nigeria's target, at that point, was to expand her energy access to 90 percent of the population by the year 2030.
With the above projection, the expectation was that 30 percent of the total energy generation would be solely from renewable sources, a course which, if well executed, will not only regularise power supply in the country, but will reduce significantly the energy bills for poor households.
Since 2005, Nigerian power reforms have focused on privatizing the generation and distribution assets as well as encouraging private investments in the power sector generally, while government retained the power to control transmission assets and creating a regulatory environment attractive to foreign investors.
This conscious effort in this direction actually robbed off on Nigeria's primary energy consumption which came up to about 108 MW in 2011. According to official report, most of the energy came from traditional biomass and waste, which accounted for 83 percent of total primary production. The rest was from fossil fuels (16 percent) and hydropower (1 percent).
Midway into the projected year 2030, renewable energy penetration in Nigeria is still in its nascent stage. Until late, Nigeria generates a small amount of energy from renewable sources. The only source of renewable energy in the country is hydro-power and biomass; wind and solar energy have only been deployed in a minuscule amount.
However, with emerging energy policies and initiatives, wind and solar energy generation projects are gradually being planned throughout the country. With the discovery of their high potentials and benefits for Nigeria's environment and society, developments in solar and wind energy are gradually increasing.
In February 2018, Nigeria completed the Renewable Energy and Energy Efficiency Project, which supplied about 261,938 citizens with clean renewable energy. This project was in partnership with USAID, private donors, government agencies, financial institutions and non-governmental organizations. The goal of the project was to build connections to 2.5 MW of power through off and on grid sources, which will reduce carbon dioxide emissions by 4.5 million metric tons.
Nigeria no doubt, has the potential to generate most of its energy through solar. After all, most of the big cities in Nigeria (Lagos, Abuja, Benin City, Port Harcourt, Kaduna and Kano) now power their street lighting with solar energy through state beautification projects.
Two years ago, the Lagos State Government signed a contract with UK- based Low Energy Designs for the supply and installation of energy efficient streetlights. The project covered about 300 km of road. The $6.9 million contract included the provision of an intelligent control system for real time operation of the LED streetlights.
The World Bank's loan to Nigeria to build a solar power grid by 2023 that will help generate power for hospitals, rural areas, schools and households, should be a stepping stone for the government to diversify its energy source for other sectors.
Apart from reducing overall energy consumption, lowering carbon emissions, solar lighting technology allows the customer to be in control of light intensity. Moreso, the ability to remotely monitor operations is expected to reduce maintenance costs.
With lighting manufacturers virtually non-existent in Nigeria, we can still push to the next level, revolutionize the energy market and increase sustainability for the future in Nigeria by partnering with recognized established local companies to manufacture low energy design lighting's.
By: Sylvia ThankGod-Amadi

Why Youth Restiveness Thrives 
The words 'youth restiveness' have become a cliché to Nigerians over the years. This epidemic which has undoubtedly become endemic has been given different colourations. However, I view it as the uncontrolled, violent and unpleasant ways by which youth communicate their dissatisfaction to the government or people in authority over a perceived neglect of their demands and expectations.
The origin of this menace could be traced to the oil-rich Niger Delta region of Nigeria, where the youths felt that the government of the day was not living up to their expectations and yearning and, as a result, took to arms, vandalisation of oil pipelines and kidnapping of expatriates just to drive home their points. This strategy, however, took a negative turn on the economy as oil companies have relocated their headquarters to Lagos and other parts of the country while expatriates ran for their lives, thereby crippling growth and development in the region and the country at large because the Niger Delta region is the region that generates the largest revenue for the Federal Government.
Today, we have experienced the proliferation of many restive groups in the country. Apart from the Niger Delta militant groups, there exist MASSOB, OPC, OMBATSE, Boko Haram and many more groups expressing one grievance or the other. Granted, these restive groups had or are still perpetrating unwholesome acts and gaining government's attention wrongly, one cannot pretend not to agree with the fact that life is all about cause and effect and to every inaction, there is an action; to every reaction, there is a responsive reaction.
This then brings us to the big question; 'what could be the causes of these unwarranted restiveness or are they actually warranted? After much pondering and wondering, the following factors were deduced as the possible causes of youth restiveness.
Unemployment: This factor has become a protracted ailment in Nigeria. There are over 20 million unemployed youths ranging from graduates, skilled to unskilled teeming youths who have been denied the opportunity to make a meaning out of their lives.
Since the government always acknowledges this factor to the point that they reflect it in their manifestos, they should rise up to the occasion and do the needful to create job opportunities. Although the Federal Government is gradually stepping on the pedal, the state governments are expected to synergise.
Arming of youths by politicians: For some years now, power tussle in Nigeria has become a do-or-die affair, a battle for only the strong hearted, politicians now distribute arms to the youths for electioneering purposes, political assassination, ballot box snatching,etc and, thereafter, abandon them without engaging them in meaningful enterprises or retrieving the weapons they gave to them. These weapons are later used to terrorise the populace through robbery, kidnapping, cultism etc.
When this act of restiveness has fully heated the polity to the point of explosion, even the pot-bellied politicians run abroad for safety, thereby turning the hunter to the hunted.
Corruption: The fact that Nigeria is corrupt is now stale news. Nigeria is now globally renowned for corruption to the point that a search for the word 'corruption' on the Internet will likely pop up the suggestion 'corruption in Nigeria'. That Nigerians are a striking example of the paradox of poverty in the midst of plenty is now a cliché.
Although, some patriotic Nigerians may be in a haste to point out that Nigeria is not a lone ranger in this wilderness of corruption. But unlike in other countries where corruption is peculiar to the ruling class and high ranking public officials, corruption in Nigeria is a horizontal cankerworm that is clinging to the fabric of all, from the ruling class to the ordinary Nigerian. Corruption is everywhere in Nigeria, even in the air we breathe. Who will bell the cat?
However, I think there is still hope for Nigeria, especially now that the current administration has made fighting corruption its major agenda. Nevertheless, I urge the government to look into the following suggestions for possible solutions to this menace.
First is the value reorientation of the youths. The National Orientation Agency (NOA) should embark on massive sensitization and re-orientation of the youth, acquainting them with their rights and responsibilities as citizens of this great country.
Secondly, the government should continue to show serious commitment to the eradication of corruption by ensuring speedy trial and punishment of corrupt persons to serve as deterrent. Nigeria today is fighting to survive from the clutches of economic recession or retrogression as I choose to call it. This economic downturn, from all indications, was occasioned by the way and manner previous administrations, starting from the days of tyranny under the reckless regime of late Gen. Sani Abacha to the present administration mismanaged the country's fund with reckless abandon.
It is a paradox that a country so blessed by God with resources is now in a precarious situation, looking for help from within and outside to survive.
I, however, applaud the efforts the current administration is making to bring corrupt public servants to book. It will be more rewarding if this fight against corruption is holistic enough and not targeted at the opposition alone. It should not be used as a tool to silence the opposition. This sanitization should cut across all and sundry who wear any label of corruption. Only then would Nigerians beat their chest and say 'freedom at last'.
The government should also make serious efforts to create jobs to reduce the high level of youth unemployment which has been pushing the youths into crime.
Mgboh wrote from Port Harcourt.

Nigeria's Survival Lies In Children
It can be said that there are four basic and primary things that the mass of people in a society wish for: to live in a safe environment, to be able to work and provide for themselves, to have access to good public health and to have sound educational opportunities for their children," later Nelson Mandela, Africa's role model, in sober reflection on the continent's over 1 billion population.
Demographically, Africa recorded a critical increase in last few decades. Its current population is five times its size in 1950. According to UNICEF analysis based on United Nations, Department of Economic and Social Affairs, Population Division, World Population Prospects: The 2012 Revision (UN-WPP), United Nations, New York, 2013, the continent's population increase will likely continue, with its inhabitants doubling from 1.2 billion to 2.4 billion between 2015 and 2050, and eventually reaching 4.2 billion by 2100.
It is also believed that more than half the projected 2.2 billion growth in the world population from 2015-2050 is expected to take place in Africa, thus, the future of humanity is largely African. By this tendency, in about 35 years time, one in every four people will be African, rising to four in ten people by the end of the century. Comparatively, back in 1950, only nine among 100 of the world's number of inhabitants were African. These trends have potential implications vis-à-vis future economic growth.
A research has equally shown that in 2050, approximately 41 percent of the world's births, 40 percent of all under-fives, 37 percent of all children under 18 and 35 percent of all adolescents will be African; far above previous projections. From record, in 1950, only about 10 percent of the world's births, under-fives, under-18s and adolescents were African.
Furthermore, research shows the population of Africa's under-fives will rise by 51 percent from 179 million in 2015 to 271 million in 2050 and its overall child population (under-18s) will increase by two thirds from 547 million in 2015 to almost 1 billion by mid-century. Predictably, about 1.1 billion children under 18 will be living in Africa by 2100, making up almost half (47 percent) of the world population of children at that time.
Thus, considering that almost 2 billion babies will be born in Africa within 35 years and almost one billion children, nearly 40 percent of the world's total, will live in Africa by mid-century, investing in children sensitively becomes paramount for Africa to realize the rights of its burgeoning child population and benefit from a potential demographic dividend. If judiciously invested in through quality education, improved healthcare, protection and participation mechanisms, these 1 billion children and their predecessors, the children of today and tomorrow, have the potential to transform the continent, breaking centuries old cycles of poverty and inequity.
For Nigeria as the arrowhead; with the largest increase in absolute numbers of births and child population in Africa, incontrovertibly, extraordinary attention is germane. From data, the greatest number of births in the continent takes place in Nigeria. From 2015 to 2030, about 136 million births is expected to take place in Nigeria — 19 percent of all African babies and 6 percent of the global figure. By 2050, Nigeria alone will account for almost one tenth of all births in the world. In absolute terms, Nigeria is projected to add from 2031 to 2050 an additional 224 million babies (21 percent of the births in Africa and 8 percent of all births in the world).
Optimally, tackling abject poverty and investing in nation's poor children, regrettably many in number will be critical to providing better and more sustainable future living standards for all, and to permanently reduce future poverty and inequity.
If the current demographic trend is unabated, there is a strong possibility that millions of more children will grow up in severe poverty. For instance, World Bank data for sub-Saharan Africa in 26 countries including Nigeria shows that more than half of children under 18 are living in extremely poverty on less than US$1.25 per day. This scenario may be upturned, particularly through sustained investments in children's welfares.
The Universal Basic Education Commission (UBEC) report shows that the country presently has about 10.5 million out-of-school children. In UNICEF statistics, about 69 percent of the figure is in the northern region. These records in practical terms oppose United Nations Conventions on the Rights of the Child (CRC) which Nigeria is a signatory to, and which broadly centres on best Interests of the child. Emphatically, to directly or otherwise subject children to be roaming the streets, begging for food and necessaries, especially deprivation of quality education amount to infringement on children's rights.
Article 3 of CRC provides, "In all actions concerning children, whether undertaken by public or private social welfare institutions, courts of law, administrative authorities or legislative bodies, the best interests of the child shall be a primary consideration".
Thus, prioritizing child education especially for girls and ensuring quality education for all will be imperative to slow adolescent fertility rates, and build a society fit for all. Expanded programmes to end child-marriage prevalent in the north, must be fervently confronted towards addressing the demographic calamity. Child-marriage is a major factor in adolescent pregnancy and high lifetime fertility rates for women. Studies show that educated women control their pregnancy, and space their births more widely than women who lack education.
Above all, providing quality education for children will ultimately, positively affect the entire society knowing that in addition to population control, it instinctively empowers women to be economically, active players beyond baby-making at homes. For example, most men seemingly age faster and even pass on before women possibly due to excessive stress and worries. An economically empowered, trained woman in most cases becomes a support base for family's sustainability. Thus, investing in children and empowering girls and young women are requisite long-term panaceas or remedies.
Umegboro, a public affairs analyst, wrote from Abuja.
Carl Umegboro