That Controvesy Over Port Harcourt Polytechnic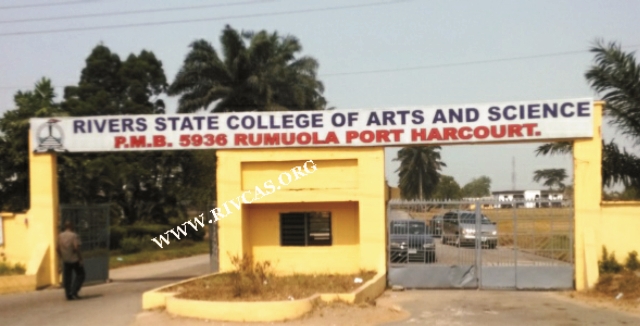 The tantrums and recrimination that trailed the re
cent move by the Rivers State Government to rename the Rivers State College of Arts and Science (RIVCAS), a second level terrtiary institution in the state has attracted several commentaries in the public domain, ranging from acceptance to rejection, as "well as outright scepticism. Suffice it to state that this laudable development is part of the building blocks of Governor Wike's monumental NEW vision for Rivers state.
This recognises the spirit of the first development plan put together by the founding fathers of the state.
The First Post-Civil War Development Plan of Rivers State 1970-1974 had declared that education is a right which the Rivers State guarantees its citizens irrespective of tribe or religion". The plan was an eloquent testimony of the faith of government in education as a vehicle for development. This testament was given greater impetus when the Federal Government of Nigeria established the School of Basic Studies with elaborate collaboration of the Rivers State Government which later took up the funding between 1975 and 1977.
The Rivers State School of Basic Studies was among ten of such institutions established in states that were designated as educationally less developed states and was affiliated to Ahmadu Bello University, Zaria. The law establishing the institution was signed in 1984 with retroactive effect from 1977 by the Fidelis Oyakhilome administration.
The institution has since enjoyed seveal metamorphosis and transformation like its counterparts in the country. It was renamed RIVCAS through edit number 12 of 1991 and became a diploma awarding institution in addition to its traditional remedial and pre-degree programmes.
It is interesting to note that eight of the old Schools of Basic Studies which became Colleges of Arts and Science are among the 40 state owned full-fledged polytechnics in the country.
Happily, Rivers State College of Arts and Science has now joined this league of tertiary institutions as a polytechnic through the instrumentality of the National Board for Technical Education which granted accreditation to some of its programmes in 2006 and 2010 for the award of National Diploma and Higher National Diploma. The college gained institutional accreditation in 2012 and was listed in the Directory of Accredited Polytechnics in Nigeria as the 64th institution among 74 accredited polytechnics in Nigeria. Already, five sets of its H.N.D graduates are either participating or have completed the National Youth Service Corp (NYSC) programme.
It follows therefore; that the Rivers State Government and its state legislative organ are merely fulfilling all righteousness by striving to give the institution the appropriate name that will reflect its polytechnic status.
All well-meaning people of Rivers State should, therefore, welcome the birth of the first urban, non-residential polytechnic in the state, The Port Harcourt City Polytechnic has come to stay at no extra cost to the state government. The merit of this grand development for the institution.and by extension Rivers people -are legion.
Undoubtedlv, a change of name will reflect the true identity of the institution as a polytechnic. This will in turn, attract the necessary funding from relevant intervention agencies such as Tertiary Education Trust Fund (TETFUND), IndustrialTraining Fund and the Petroleum Technology Development Fund.
It will be recalled that the college in 2012 accessed the TETFUND with which it completed a two storey 18 block classroom building. Unfortunatelv, the name- Rivers State College of Arts and Science seems to have become an albatross which has denied the college further luck of accessing the funds.
A polytechnic is a business, vocational and technological citadel, so the name, College of Arts and Science is anathema to its mission. A change of name therefore, is not an option but a necessity. There is a great need to give the college an unambiguous identity to achieve the vision of its founders; "to be a leading urban polytechnic that provides quality and functional skills in science, technology and commerce, education, for national development".
Consequently, the mission statement of the college which includes "the provision of technical, vocational, scientific and entrepreneurial needs of individuals, industry aad community" charts a progressive map for the institution which will add value to the educational quest of citizens of the state irrespective of ethnic affiliation.
The Port Harcourt City Polytechnic is carving out a niche for itself as it has proposed additional novel academlc programmes that are non-existent at the Ken Saro-Wiwa Polytechnic, Bori. Courses like welding fabrication technology, textile technology, fashion-design and clothing technology, as well as boat building technology will create a niche market and new vista in vocational education and employment in the state. These courses and more will complement the traditional polytechnic courses run by the two sister institutions.
The Rector of the College of Arts and Science Dr.Samuel Kalagbor has put up a very strong argument that sustaining a second polytechnic in the state is healthy considering the population of the state and the attendant rush for admission placements into the Ken Saro- Wiwa Polytechnic.
That the polytechnic can no longer cope with the taU responsibility of absorbing a large number of applicants seeking admission is obvious, considering the fact that in 2010, out of seven thousand, four hundred and fifty two qualified students sent to it by JAMB to study Management Sciences less than a hundred students were absorbed. This disparity was also witnessed in other  courses and has continued to be. The college, therefore, is expected to continually mop up the excess candidates in addition to its own exclusive students and progressivelv produce technically and scientific manpower needs of various levels of development in the state.
The envisaged benefits of providing technical training opportunities for the teaming urban population in Port Harcourt must not be swept aside by the sentiments of those who have misunderstood the intention of government.
A tertiary institution is an international citadel that must not be seen within the narrow vision of its locale, but must be seen as a global player for development, no matter where it is sited. This should be the case of our emerging Port Harcourt City Polytechnic.
Woke is of the Radio Rivers, Port Harcourt.
Bon Woke
In Nigeria of today change and public expectations have become conflicting dialectics. Hallowed societal values are built on positives with respect to the term change.
However, governments after government in Nigeria have come and gone without berthing the desired changes and change has become a contradiction that needs to be changed.
The problem with Nigeria lies in the philosophy of Leo Tolstoy when he said "Everyone thinks of changing the system but no one thinks of changing himself".
This explains why political parties come out with one manifesto or the other but end up without implementing what ought to be a social contract with the people that gave them the mandate.
Most politicians and political parties have continued to pay lip service to their sworn promises to the people and democratic principles. This is because individual politicians are not sincere to themselves and to the people they represent. Their tactics and bad behaviour have remained the same.
The ruling political party A.P.C. swore to change what they perceived as wrongs in the political structure and administration when they came up with their change mantra.
In a face book post in 2017, I had observed as follows; "APC means different things to different Nigerians; Armored personnel carrier, which is a metaphor for impunity. All people confused. All promises cancelled. All plans changed. All people chained."
The above is a reflection of frustration, disappointment, a feeling of betrayal which an average Nigerian has experienced since 2015, the inception of the present dispensation at the centre.
At the core of this frustration is the fact that the ruling party had promised to revamp the economy, curb insecurity and create jobs for the growing army of unemployed Nigerians.
Nigerians know better today as the change they promised needs an aggressive revolution for a sustainable change.
The country has become more divided than before as ethnic militias and secessionists have been further emboldened because of the absence of leadership, irresponsible management of information and unbridled insensitivity in the handling and sharing of national wealth.
It is unfortunate however that many Nigerians have been hiding under the cover of political parties to unleash their personal unethical dispositions in politics.
This can be seen in the way they respond to burning national issues with irresponsible diatribes and rampant throwing of tantrums in the name of defending party positions.
We can see this unfortunate scenario in Rivers State where politicians attack just government policies unjustly. They have refused to see the magic wand of Governor Wike in project execution. Nigerian politicians should begin to take individual responsibility for their actions without hiding under political party cover to display unpatriotic tactics to the detriment of the people.
According to the first black American President Barrack Obama; "Change will not come if we wait for some other person or some other time. We are the ones we have been waiting for, we are the change we seek". Indeed, every one, political parties, individual politicians, N.G.O, the people who deliver their mandate on the basis of sentiment to politicians are the change we seek. We as Nigerians are all caught in this contradiction of change.
Nigerians have been clamouring for restructuring; yes we need to restructure the system, the governance structure, distribution of wealth, everything, but first we must restructure ourselves. That is the change that is most desirable.
Watching the drama of absurd on National television one could only see badly brought adults hiding under the umbrella of politics to display their primordial sentiments.
The recent debates on the petroleum industry bill brought out the worst from the average Nigerian Legislator in the two chamber legislature in Abuja ."Statesmen" were separated from state plunderers.
A political analyst, Festus Oguche once queried their actions, wanting to know whose interest they represent in some of their crude display on the floor of the hallowed chambers. The petroleum industry bill has suffered undue delay because of certain interests in and out of the National Assembly who misunderstand the intentions of the law. Other interests are simply mischievous over the benefits such a law would confer on the oil bearing communities of the Niger Delta.
A responsible nation should be built on equity and justice for all.
There is the dire need at this time of our existence as a nation to have laws that would sanitize the negatives in the oil and gas sector to the benefit of all stake holders.
The maxim, "The majority have their way and the minority have their say ", has become a call for mediocre legislation. What on earth would make 21st century legislators in Nigeria vote against transmission of votes via electronic means? E-governance in Nigeria is as old as two decades or more, why should the electoral system be an exception to the rule?
If a legislator could accept huge sums sent to him by electronic means, why can't he accept results transmitted through the same means?
INEC has the statutory mandate to conduct elections, in line with the laws and constitution of Nigeria. Common sense demands that they should be allowed to exercise their discretion in the exercise of such functions without any supper impositions from law makers.
What are the law makers afraid of? They want to rig the next elections? The greatest challenge in our politics is the electoral process which recruits some persons that have no business in governance.
The wrong persons are those who renege on their promises to change the system or add value to what is good.
By: Bon Woke
Growing Menace Of Campus Prostitution
The increasing rate of campus prostitution in Nigeria's tertiary institutions today is alarming and gradually growing into a cancer that may be difficult to manage. And unless something is urgently done to nip it in the bud, it may one day consume our society.
Honestly speaking, the rate at which many female students prostitute on campuses has always given me thought.
That many female students now use their bodies as a means of getting money is abhoring. Just like campus cultism, the menace is festering and thriving menacingly on campuses. 
It is appalling when some of them have parents to cater for their education and well-being. They combine their studies with sex work, all in a bid to get money for cosmetic things like makeup kits and good clothes, just because they want to look good and be noticed. 
One needs to see most of these indulgent students returning to campus after sexual transactions with wads of cash, glitzy clothes and other gifts. With regular money coming from the illicit trade, it is pretty easy for them to juggle academic pursuit and prostitution because they have everything needed to settle academic failure standing on their way. This makes the resistance of many innocent students to begin to wear thin.
Virtually all campuses of tertiary institutions are guilty of this. They now have spots where girls can be picked up and dropped at any time after sexual transaction. This is nauseating. 
It is often said that "children are the future of tomorrow", but can this crop of students guarantee a good and prospective future? I doubt. 
To be honest, studying in Nigerian universities can  be daunting; it takes only students with determination to scale through the hurdles. In spite of this, there is no good justification for campus prostitution. 
It is worth knowing that campus prostitution took several years to seep into tertiary institutions. As the vice evolved and began to consume our young girls, people chose to ignore it as a mere fad that would soon go away. It was largely left unchecked and so took hold of our society. Now, it has become a way of life in Nigeria's supposed citadels of learning. 
Before now, prostitution was restricted to only female folks who see selling of their bodies as the fastest way of getting income for their upkeeps. Now, young girls in their teens have also caught the bug.
More astonishing is the entrance of young men into the menace. Men now trade their bodies for various reasons, including securing jobs or contracts from rich women with good connection, who are old enough to be their mothers. I learnt similar things are now in vogue on campuses where male students have sexual relationship with their female lecturers, just to secure good grades.
What is our society turning into? 
 My worry is that despite the high spread of deadly sexually transmitted diseases like HIV, Acquired Immune Deficiency, Syndromes (AIDS), prostitution does not abate. Many women are currently undergoing serious trauma and pelvic pains as a result of unprotected sex arising from prostitution. This is dangerous to our society. 
Studies have shown that those who engage in prostitution do not have proper parental upbringing or are under bad peer influence. Studies have also shown that most women prostitutes indulge in heavy drinking and smoking, another habit that is inimical to health. No wonder the rate of cancer and mortality in the country is on the increase. 
I think parental ignorance and wickedness contribute to this menace on our campuses. Many parents prefer lavishing their money on unnecessary things than to cater for the education of their female children, while those who do so fail to inculcate good morals on their children. 
It is, therefore, imperative for parents to give their children proper upbringing at home before despatching them to school, in addition to see their children's schooling as their responsibility. An untrained child always ends up as a liability. 
Meanwhile, other major stakeholders in the education sector, including religious organisations and Non-Governmental Organisations (NGOs), should intensify campaign against campus prostitution. In particular, all tertiary institutions should have stringent codes of conduct for both the students and their lecturers.
 Just as schools frown at campus cultism, all illicit affairs involving students should be met with severe punishment. Any student caught trading his or her body for money or marks either within or outside the campus should be expelled to avoid corrupting innocent ones. 
I also recommend that any lecturer who is found to be after money or sex should  be sacked outright to serve as a deterrent to others.
By: Favour Ekeke
Ekeke is of Abia State University, Uturu.
Nigeria's election seasons now seem to bear a special flavour for some of her most thriving men of God. At such periods, these privileged clerics gear up to outdo themselves while trying to demonstrate their individual capabilities to hear directly from God regarding our political gladiators.
The practice is fast gaining favour among our pastors to the extent that politicians now visit churches and other worship centres to make pledges and solicit spiritual endorsements.
In return, successful predictions often guarantee unfettered access to the state house for the priest while his station becomes the unofficial worship temple for top members of the new government. For example, when in 1992, Chief Rufus Ada-George filed out with the likes of Chiefs Zebulon Abule, Sergeant Awuse and Pere Ajuwa to vie for the governor of old Rivers State, Pastor Elkanah Hanson of El-Shaddai Bible Church in Port Harcourt was said to have prophesied victory for the Peripelebo of Wakrike Clan. This was even as Abule and Awuse stood out as the clear frontrunners in the race. The duo was later disqualified, though. And that paved way for the eventual emergence of Ada-George and his running mate, Dr Peter Odili.
Bishop David Oyedepo is the president and founder of Living Faith Church International, aka Winners Chapel. He was recently said to have described the President Muhammadu Buhari-led administration as an evil filled with wickedness.
The world's second richest pastor reportedly made the remark, penultimate Sunday, during a sermon at the church's headquarters in Ota, Ogun State.
Speaking on the power of prophecy, Oyedepo said he warned Nigerians in 2015 prior to Buhari's victory but some people were rather angered by his prophecy until they are now faced with this sordid reality.
About the same period Oyedepo claimed to have warned Nigerians against voting for Buhari, a Catholic cleric, Rev Father Ejike Mbaka of Adoration Ministry, Enugu, Nigeria (AMEN) was prophesying God's favouring of the former military Head of State. Added to the lot was Pastor Tunde Bakare of Latter Rain Ministries who, as a presidential candidate, claimed to have been told by God that he would be Nigeria's next head of government in 2015.
Going by these apparently incongruent prophecies, we may be deceived to think that God had engaged in a doublespeak. Of course Buhari did not only win the 2015 election but was also returned in 2019. Mbaka was also correct in his prophecy of Senator Hope Uzodimma becoming Imo State Governor through a Supreme Court verdict that sacked Hon. Emeka Ihedioha. Also, judging by recent events across the country, an increasing number of people (including Mbaka) now seem to agree with Oyedepo's injunction that retired General Buhari did not deserve their votes in 2015.
Besides prophesying on election outcomes in Nigeria, some of our holy men had also tested their skills with events in foreign lands. Prophet Temitope Joshua of the Synagogue Church of All Nations (SCOAN) in Lagos, who died in June and was buried early this month, clearly stood out here. Among his many such prophecies, he had correctly predicted the victory of late President John Atta Mills of Ghana and the ascension to power of Mrs. Joyce Kamuzu Banda in Malawi but only to misfire in that of Senator Hillary Clinton during the 2016 US Presidential Election, even though she received more popular votes than Mr. Donald Trump.
Honestly, I worry when our spiritual leaders abandon what they are most suited to accomplish and begin to play God. Yes, I could understand it when the late Argentinean football legend, Diego Maradona, or the eccentric Uruguayan international, Luis Suarez, palmed the ball into their opponent's net and turned round to claim that it was the 'hand of God'. But certainly not when a pastor makes his own personal permutation based on the pattern of unfolding events and then mounts the pulpit to announce such as a prophecy from God. No, sir!
For a start, God will surely not wait for political candidates to commit murder, arson, abductions, adultery, vote buying, ballot snatching and other crimes that often characterise our elections to enable them become party standard-bearers before He reveals to any prophet which one of such evil men and women would emerge victorious on Election Day.
God will always side with the suffering masses in any nation. If He chooses to get involved in their elections, then one can bet that He will go for a God-fearing candidate; or even encourage a relatively humble, if unpopular, messiah to join the race. As for prophecy, He may wish to reveal this special purpose vehicle to more than one pastor such that two or more pastors from distant places would prophesy the same message.
To be sure, it is not the nature of God to direct people on who not to vote for instead of revealing His preferred contestant; or how else are the people expected to know God's preference in a multiparty system? Again, if indeed God had been speaking through our clerics, how come none of His previously 'anointed candidates' has been able to so much as redirect our dangerously drifting ship of state? How come there is no noticeable improvement in the circumstances of the masses of this country? And why is there this prolonged state of insecurity in the land? Is it not said that when the righteous rule the people rejoice? Or had God always suffered us to elect those who would damage Nigeria irreparably? No, I refuse to believe so. In fact, I reject this thought, IJN!
I love our men of God. Father Mbaka's musical videos are part of my religious ensemble. I tune in to SCOAN's Emmanuel TV and Omega Power Ministry's televised testimonies whenever I want to drop one or two tears. Frankly, their miracle healings and selfless gestures toward the obviously needy in society always touch me so deeply.
Our pastors are doing great, no doubt. Imagine the extent to which T B Joshua boosted religious tourism in Nigeria and for which late President Umar Yar'Adua honoured him with an OFR award in 2008. If only they will steer clear of induced political prophecies!
By: Ibelema Jumbo