Our Communities Should Empower Women – Manjor
History was made in the state on the 27th of last month, when an illustrious daughter of the state, Lydia Ikunga-Manjor, was coronated the Eze Omehia Eli I of Evekwu, Odegu Community, Emohua Local Government Area, by the Evekwu Community Council of Chiefs led by His Royal Highness, Ohama Odudu Dimkpa Nweeli.
Manjor, a renown journalist and lawyer merited the exalted position through her immense contribution to the human and physical development of her community.
In this interview with our Deputy Editor (features), the Eze Omehia Eli I (the pioneer of good things) gives us an insight into the journey of her becoming  a Chief, what that means to her, and how she will use her enviable position to better the lots of her community and many more.
Excerpts.
Can I meet you?
My name is Lydia Ikunga Manjor. I came from Evekwu, in Odegu Community, Emohua Local Government Area. I attended University of Port Harcourt where a baged a degree in Theartre Arts. I have a diploma in Journalism  from IIJ. Later I went to Rivers State University of Science and Technology to obtain LLB.
Last December a personal Assistant to the Paramount ruler of Evekwu Community met me and told me that my community would be interested to give me a chieftaincy title. Prior to this, other people specifically some youths in the community had also discussed the same issue with me. I never took it serious .
When they said that I would just say please you people should leave me along. Do they make a  woman titled chief", and they would laugh. Until that day in December when the PA, who is also a chief came and in the course of our discussion he said, "We want to make you a titled chief. You have worked so much for this community. I asked do they crown a woman  chief? He said yes we want to do it, go and think about it. Later he called me and said," Our Royal Highness, Oha Dimkpa Odudu and the elders of the community are serious about giving you a chieftaincy title. So I accepted. He conveyed my position to the Paramount Ruler and His council of Chiefs to tell them that I had accepted. Later he called me back to tell me that the entire council was interested in me becoming a chief. He told me things to do. That was the first stage. I did it. I also finished the second stage. He now went to the village square in the presence of the entire community to inform the people of what they intended doing and asked if there was any opposition. Nobody said no. everybody accepted.
He then later informed me that everybody had accepted, that I should get ready to finish what was remaining. I asked him that being a woman, were they not going to wave certain things for me. They said no, I will do every thing that it takes to be a chief. And that I did.
You said one reason given by the chiefs for conferring you with the title was that you have done so much for your community. May I know some of these things you did?
I contributed in building health centre in my community. I was instrumental to the registration of the community's youth football club being registered with Rivers State Government Sports Council. I also coordinated a Women's group called the Rumuihuordu daughters and registered them with the Corporate Affairs Commission. In short, there is nothing that my community does that I don't contribute to when called upon-both the ones propounded and the unpronounced ones. I do it my little way.
Being a woman and well educated, some people may wonder why you accepted to take chieftaincy title?
It was not a mere title that was given to me. They wanted me to be among the policy making body of the community, to represent the female folk. And I feel that it is a responsibility being given to me and I accepted it. I see it as an opportunity to further contribute to the development of my community and to ensure that women's voice is heard.
Could you please explain to me the type of title given to you and the responsibilities attached to it?
I was given the title of Eze Omehia Eli I of Evekwu, Odegu Community. That means the pioneer of good things. They feel that I do good things in the community.
Is it like something you can hand over to a member of your family when you are gone?
No, it is a chieftaincy title. It cannot be handed over to another person.
But you were given a stool. What happens to the stool after you and does it mean people will be coming to you with cases?
Yes, that was why I was called upon. They want my contribution to the peace and development of the community.
I suppose you are the only woman in the council of chiefs, how do you feel about that and how are you going to cope?
I will just be myself.
Don't you think they will intimidate you?
They cannot I will be myself.
I will tell them what I know is right. If I see that there will be controversy. I will drop the matter and take it up next time until I buy over their hearts. It is not a matter of struggling. It is a matter of subtle  persuasion.
How are you going to use this your position to better the lots of women in your community?
We will organise programmes for them, teaching them the norms of the society. most times when a man dies, the wife is accused of killing him, but no man is ever accused of killing his wife. So if we should start having programmes sensitising men and women about it, I think such things will be reduced. I will also work to see that more women get educated.
As a Christian, don't you think it is not proper to take such a title that will see you mingling with "unbelievers" and engaging in ungodly' activities?
It is good for a Christian to take such title so that if the other members of the council are doing what is contrary to the word of God you will correct them and say "No, this thing is not good". But if you are out there an say you are a Christian and you don't want to participate, how will they know that what they are doing is wrong. They wouldn't know.
What if they want you to take part in some fetish, traditional that might not be in accordance with your faith as a Christian?
You will tell them politely that this is not good and give them reasons why such act is not good. A day before I was coronated, they told me that there were things and things and things that they would do. I told them no, this is a civilized time, such things shouldn't be done and they did not do it.
I know some people will frown at a woman being given such exalted position. What can you say to that?
That's their own mentality. If I should go school and sit down with a man in the same class room, a woman will make first class, woman will go to school and obtain first degree, second degree, what is wrong with the woman taking a title? There is nothing wrong with a woman taking a title.
You know we belong to a society where many believe women should only be seen and not heard!
We are not dragging anything with men. All we ask is that they should give us chance for our voice to be heard. It's just a matter of allowing women give them opinions on issues that concern them and everything in the community. Even in your house you give opinion, then what will make you not to give opinion outside?
What do you stand to gain as Eze Omehieli I of Evekwu Odegu Community?
What I stand to gain is to see that my women are  carried along.
There is no material gain?
Nothing! Nothing! But if that should come in a right way, I will take.
How do you hope to marry your duties as a chief and your official duties?
All that is required is proper time management. I will plan my self very well, hoping that the time they sit doesn't coincide with my work.
How often do they sit?
They sit ones every week.
What do you have to tell other communities?
What I have to tell other communities is that they should take a lead from Evekwu, Odegu community. They should know that women also have something to contribute. Women also have the ability to build the nation. They should recognise and empower women just as my community did.
Calista Ezeaku
Media Women Tasked On Journalism Of Responsibility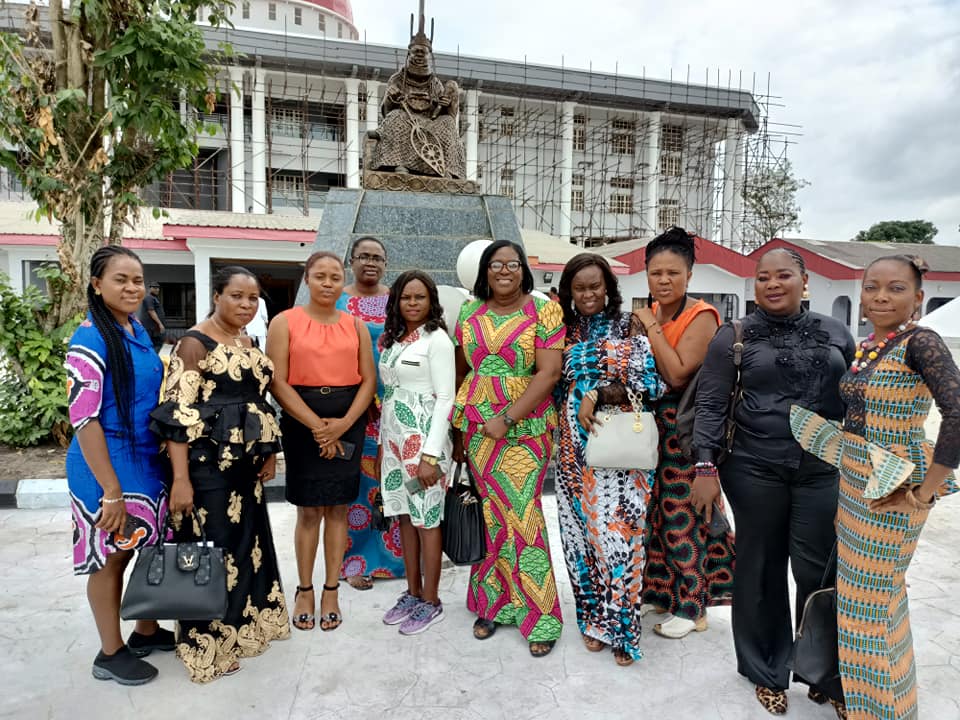 Members of the Nigeria Association of Women Journalists, NAWOJ, Rivers State Chapter, have been charged to practise " journalism of responsibility ". The chairperson of the association, Mrs Susan Serekara Nwikhana, gave the charge two days ago in a one day capacity building workshop organized for members in collaboration with West African Network for Peace Building (WANEP) in Port Harcourt.
Mrs Nwikhana noted that journalism of responsibility which according to her, can only be achieved by presenting the facts to the audience to hold their opinion on the presented facts, remains a sure way to gaining the public's credibility as well as enhancing the media's reputation to the public.
She maintained that such could go a long way to debunk the age long myth that complete objectivity is not obtainable in journalism practice, as journalists are said to lack the will to be entirely separated from their personal view points despite their averred claims to objectivity.
Commenting on the topic of the event, ' the role of the media in the implementation of the Rivers State action plan on 1325, and, identifying fake news, facts and the journalist', Mrs Nwikhana noted that the topic could not have come at a better time than now, considering the importance of information dissemination to peace building or escalation of conflicts in the society.
Corroborating the stand of the media women's boss on factual presentation of information, a guest speaker in the workshop, the south-south zonal director of Business Day Newspaper, Mr Ignatius Chukwu, the principal responsibility of every journalist is to report the fact notwithstanding the resultant effect.
Oba Extols The virtues Of Women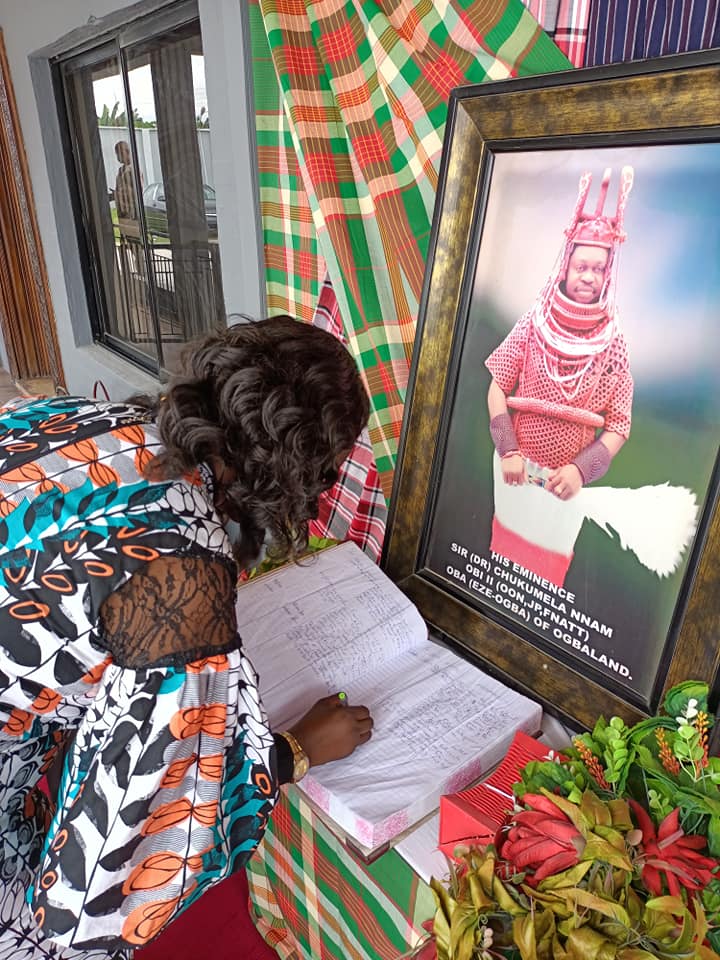 The new Oba of Ogba Land, His Eminence, Barrister Nwachukwu Nnam Obi (111), has expressed great value and respect for the women folk.
This happened last week as a delegation of members of the Association of Women Journalists, NAWOJ, Rivers State chapter, visited the palace of the late Oba, His Eminence, Sir (Dr) Chukwumela Nnam Obi (11) OON, JP, FNATT, Oba (Eze Ogba) of Ogba Land on a condolence visit to his family.
The royal father who spoke lovely of his mother, sisters and wife, recognized and acknowledged in no mean measure, the value of women to the development of the society.
He confessed a high indebtedness to the effort of women around his life for successes he ever achieved in life.
His words; " whatever I have become today, women contributed so much to it hence I hold them so close to my heart", were clear demonstration of the extent to which he appreciates the immeasurable role of women in societal development.
Relating his resolve to keep to the later, the legacies, wishes and aspirations of his late father, he said " my father had longed to have a woman serve in the capacity of the vice president of Nigeria. It had also been his dream to have some obnoxious traditional rules within our domain amended in favour of women, especially as it partains to sharing of family inheritance "
He thus promised that his kingdom would continue to ensure that women are put in their right place, while issues that bothers on their well being would always be given a priority consideration.
In her response, the Chairman of NAWOJ, Mrs Susan Serekara-Nwikhana, appreciated the gesture, especially his resolve to carry on the existing relationship between his late father and the body of women journalists in the state.
250,000 Women Suffering From VVF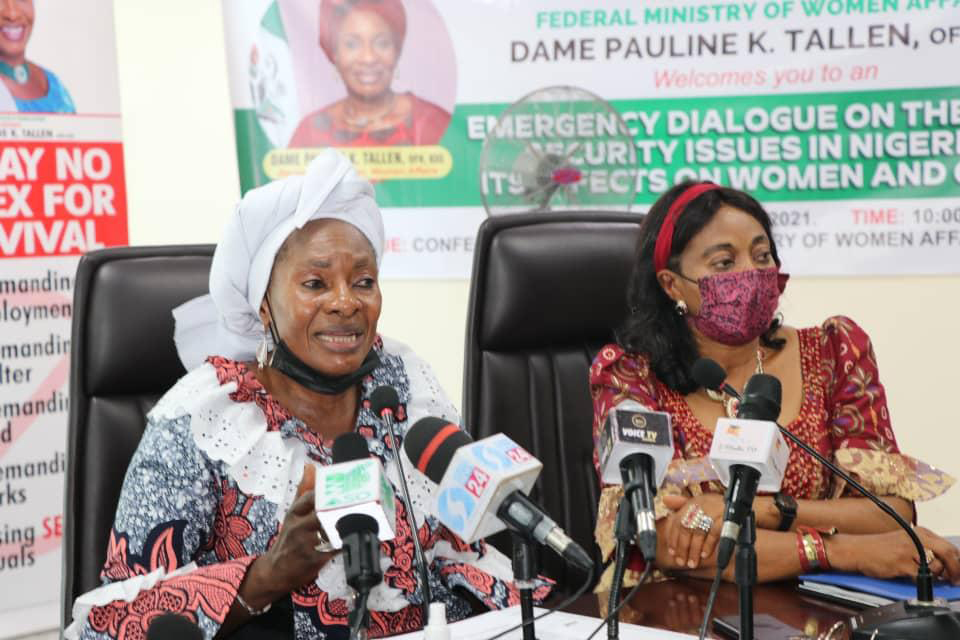 No fewer 250,000 women are battling Vesico Vaginal Fistula (VVF) in the country.
However, only 3,000 of that number are fortunate enough to be attended to annually.
This was revealed by Board Chairman, North-East Development Commission (NEDC), Maj-Gen Paul Tarfa, during the flag-off of Free Fistula Repair Campaign Project (FFRCP) by the commission in collaboration with the Borno State Government, yesterday.
VVF is an abnormal fistulous tract extending between the bladder and the vagina that allows the continuous involuntary discharge of urine into the vaginal vault.
VVF patients are usually underage/child-brides, who develop the condition mostly after childbirth.
However, experts list the causes of VVF to include abdominal surgery (hysterectomy or caesarean section); pelvic, cervical, or colon cancer; radiation treatment; bowel disease like Crohn's or diverticulitis; infection (including after an episiotomy or a tear you had when you gave birth) and traumatic injury, such as from a car accident.
Meanwhile, in his goodwill message at the ceremony, the NEDC Board Chairman, Maj-Gen Paul Tarfa, represented by the Board member North-West zone, Hajiya Asmau Mai-Eka Muhammadu, said only 3,000 of the 250,000 VVF victims get attended to.
According to Tarfa, "Statistics indicate that there are about 250,000 women awaiting repair in Nigeria, out of which only 3,000 are fortunate to be attended to annually.
"12,000 new cases develop every year with large numbers coming from the North-East due to the insecurity and increased poverty, which further hindered access to health care.
"It is, therefore, important that all efforts are made to bring succour to this vulnerable group of women to enable them pick the pieces of their lives, by offering them a new lease for meaningful existence within their respective communities."
The wife of the governor, Dr. Falmata Zulum, flagged off the fistula repair project (FFRCP) at the Conference Hall, State Specialist Hospital in Maiduguri.
It was also revealed that 100 women victims have undergone successful corrective surgery at the hospital.