World Bank Tasks State Agencies On Water Supply
The World Bank has
urged state water agencies to put measures in place to meet expectations toward providing potable water for all Nigerians.
This was the major recommendation of participants at the ongoing Workshop on State Water Agencies Performance Assessment and Benchmarking in Abuja last Thursday.
Mr Glenn Pearce-Oros, Regional Team Leader, World Bank's Water and Sanitation Programme, said although water is free, services provided towards accessing water was not free.
He said it was a matter for regret that poor cost recovery to water was high, as majority of Nigerians do not want to pay for water consumed.
Pearce-Oros stressed the need for all tiers of government to scale up access to water through deliberate funding, institutional strengthening and financial reorientation to recover cost.
He said non-revenue water through leaks, theft and inaccurate metering should be tackled, pointing out that this would enhance state water agencies' contributions towards internally generated revenue.
Regional Team Leader said there was the need for deliberate policy directions towards effective water sector reform, saying with the increasing population, Nigeria must do more to ensure water for all.
"As cities continue to grow at historic rates, basic services like water supply and sanitation are struggling to keep up.
"That is why many urban dwellers are forced to rely on more expensive alternatives such as water vendors, wells or bore holes.
"The ripple effect is that there are shallow wells all around the country and indiscriminate drilling of bore holes; this is affecting the surface and underground water resources, " he said.
Pearce-Oros said with an effective water management system, pipeline damages, sanitation and drainage challenges would be tackled.
The World Bank Task Team Leader, Mr Pier Mantorani, said the group would continue to support and facilitate infrastructural reforms that would make developing nations be at par with developed ones.
"The World Bank cannot finance political will, commitment of state actors,but can finance institutional reforms for sustainable water services for all Nigerians."
He said there was need for culture shift and believe nationwide that water should not be paid for, stressing that although water is free, the processes to making it available for all is not free.
Mr Benson Ajisegiri, Director, Water Sector Reform, Federal Ministry of Water Resources, said the ministry had created a data bank and census for water supply and sanitation for all water infrastructures in the country.
He said the ministry had embarked on capacity building and training at the local, state and federal government levels for water engineers and their stakeholders.
Ajisegiri said the ministry has also created monitoring and evaluation desks in all states' water agencies to access activities carried out with the aim of finding out what intervention is needed.
The News Agency of Nigeria reports that the International Energy Agency, said globally an average of 34 per cent of water produced ends up as non-revenue water.
Geoscientists Make Case For Clean Energy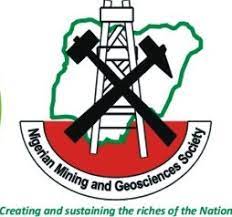 The Nigerian Mining and Geosciences Society (NMGS), has called on Nigeria and other African nations to focus on minerals that are critical to transition to clean and green energy.
Newly inducted President of the society, Alabo Charlesye David Charles said this in Port Harcourt shortly after his induction as the 31st President of the society.
Charles also stressed the need for further linkages between the mining sector and the economy through the development and implementation of the local content policies that promote domestic production of inputs as well as value addition through manufacturing skills building, domestic job creation and participation of small and medium enterprises within the value chain.
According to him, "value addition is pivotal to lifting a good percentage of our people from poverty through the activities of the extractive sector.
Charles said multinational mining companies should be encouraged to engage more closely with local small and medium enterprises (SMEs), as well as micro businesses as suppliers in the mines value chain.
He said the Mining and Geosciences Society (NMGS) is ready to partner the stakeholders in the development of the upstream sector of the industry by providing a specialized pool of professionals that policy makers in both the public and private sectors can rely on for quality interventions and delivery.
The NMGS 31st President also called for continuous massive investment in the mining sector
"In Nigeria, from statistics obtained from NAPIMS show already declining investment. So if there is no fresh capital for either brown field or Greenfield investment, we cannot grow production
"If we don't grow production, the consequence is that we are building a short supply for tomorrow" he said.
Out-gone president of the society, Engr. Simon O. Nkom thanked members for the confidence reposed on the out-gone executive.
Nkom said the NMGS has come of age and calls on members to support the new executive to enable it execute more programmes for the society.
Earlier, Chairman of the occasion, Chief Ferdinand Alabraba said the ceremony will usher in a new era as far as the society is concerned.
Alabraba who was represented by Engr. Main David West said Geoscientists and civil engineers have a lot in common, adding that they must work together to develop the society.
Also speaking, Chairman local organizing committee of the ceremony, Prof. Winston Belgam said the ceremony was a big success.
He said the vision of the new president will transform the society and the mining industry in Nigeria.
By: John Bibor
A'Ibom Spends N10bn On Erosion Control – Commissioner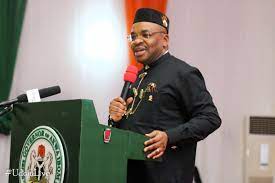 The Akwa Ibom State Government has spent N10 billion on erosion control projects in the state in the last nine months, the Commissioner for Environment, Mr Charles Udoh has said.
Udoh told The Tide source in Eket that the money was spent on two major sites – Etim Umana erosion and St. Luke Hospital control projects.
"In the last nine months or so, we have spent close to N10 billion on erosion and the two major sites are Etim Umana Erosion and St. Luke Hospital erosion control projects,'' he said.
The commissioner noted that businesses, houses and critical infrastructure had been displaced by erosion and flood in the areas.
According to him, more cities in Akwa Ibom are prone to gully erosion due of the natural topography and soil texture in those locations.
"This automatically means that whenever there is down pour, we are in the rain belt, gully erosion will become a problem,'' he said.
He said building of houses on the right of way and farming on the slope of gully were some causes of gully erosion.
Udoh said the IBB Avenue flood control project, if not checked, could have a spill effect on erosion control.
"We are receiving a major drain to evacuate flood water because if you allow flood water to be there (IBB avenue) for a long time, it will begin to heat the crux of the earth surface.
"Then erosion will begin to prick in, especially in a place like Uyo that the soil texture is loose,'' Udoh said.
The commissioner said the state government had rescued more than 100 houses, entire St. Luke and School of Nursing in Etim Umana from erosion.
On ecological issue, he noted that the state government alone could not solve the state's erosion problem, adding that it was seeking for intervention (ecological funds) to do that.
World Desertification Day: FG Restates Commitment To Tackle Environmental Challenges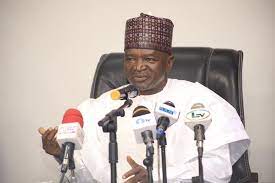 The Federal Government has reiterated its commitment to ensuring lasting solution to environmental challenges by adopting a sustainable land management practices across the country.
Minister of Environment, Dr Mohammad Abubakar, spoke at the commemoration of 2021 World Desertification and Drought Day, organised by his ministry in Abuja.
Abubakar said the government had developed policies, plans building institutional and legislative capacities to enhance effective and far-reaching actions to reduce the impacts of desertification and drought on the citizenry.
According to him, government recognises the importance of partnership in tackling desertification and it has facilitated the involvement of other actors, including the private sectors as well as donor organisations.
Abubakar said the government was concerned about the disruption of ecological system caused by poor land use, population pressure and the devastating activities of insurgents in the North-Eastern part of the country.
He said that the government was also worried about the dire consequences of land degradation, loss of lives and means of livelihood and had put in place the North-East Development Commission.
Abubakar added that the effort was to restore human dignity and bring succour to the people living in the area.
He urged Nigerians to cultivate the culture of planting trees as well as ensuring that any tree cut down was replaced, as this would serve as protection from windstorm and erosion.
 
Matazu said that the effort would help to protect fragile ecosystem and ensure sustainable environmental development of the country.
The theme of the 2021 World Desertification and Drought Day is: 'Restoration, Land, Recovery', "We Build Better with Healthy Land''.