INEC Announces National Assembly Election Winners In Rivers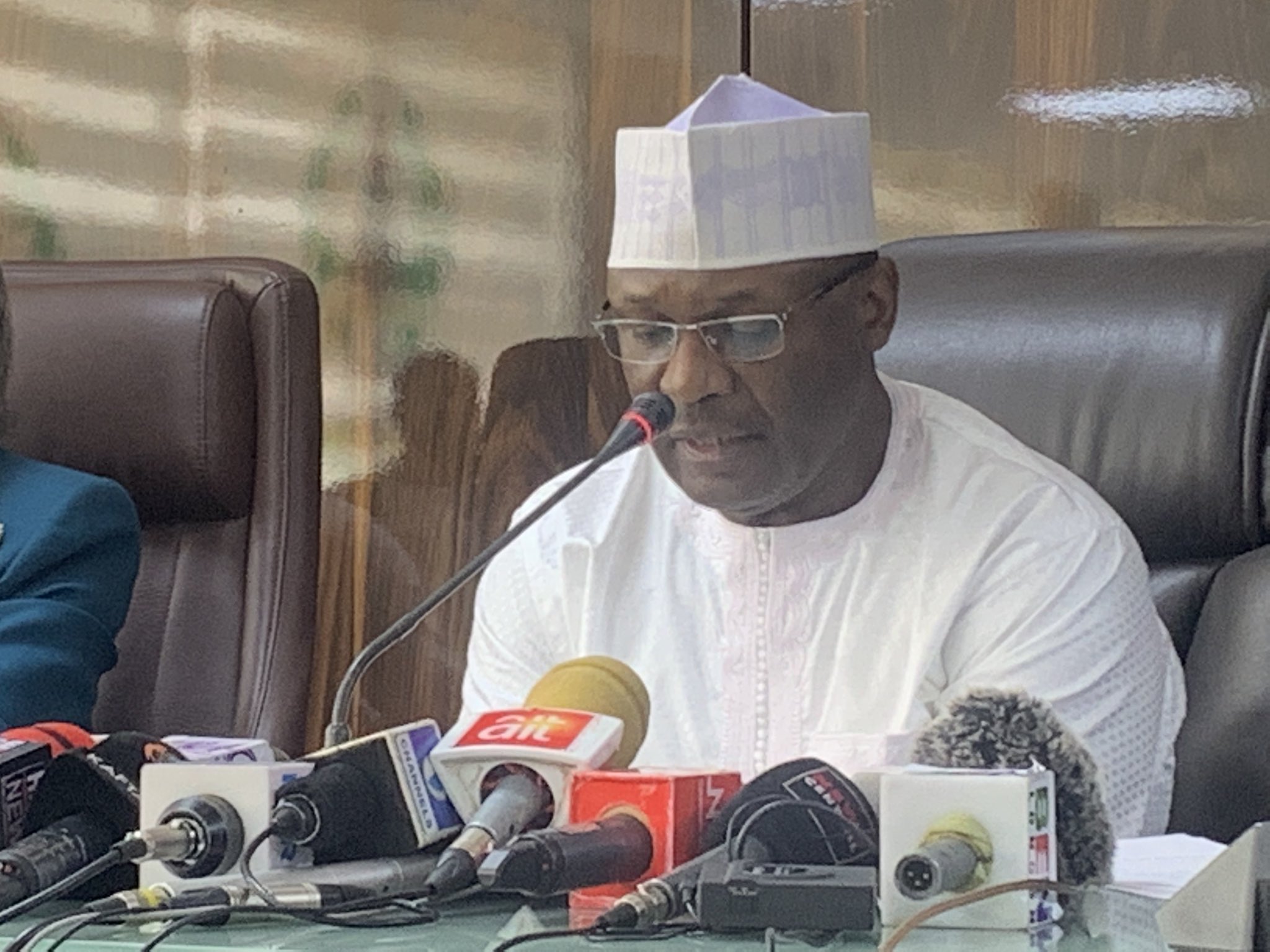 The Independent National Electoral Commission (INEC) in Rivers State has released winners of the National Assembly election conducted on February 25 in the State.
INEC announced the results in a statement issued to newsmen by the commission's Public Affairs Officer, Mrs Geraldine Ekelemu, in Port Harcourt.
The commission announced the winner of the Rivers South-East Senatorial District as Mpigi Barinada of Peoples Democratic Party (PDP), with 53,734 votes to defeat his closest All Progressives Congress (APC) rival, Ngofa Nyimenuate, who polled 24,123 votes.
It stated that Rivers West Senatorial District was won by PDP's Ipalibo Banigo Harry, who scored 67,668 votes to beat APC's Asita Asita who netted 32,572 votes.
The commission also announced that PDP's Onyesoh Allwell clinched  Rivers East Senatorial seat with 134,283 votes to floor LP's Benjamin Okwuwolu who scored 74,725 votes.
Similarly, INEC released the list of the House of Representatives members from Okrika/Ogubuolo, Etche/Omuma, Ikwere/Emohua, Ahoada West/Ogba/Egbema/Ndoni, Akuku-Toru/Asari-Toru, Eleme/Tai/Oyibo, Abua-Uduah/Ahoada East, Andoni-Opobo/Nkuru, Degema/Bonny, Obio/Akpor, and Port Harcourt 1, while the result of Port Harcourt 2 is suspended.
The results showed that the All Progressives Congress (APC) won only Okrika/Ogubuolo seat, while Peoples Democratic Party (PDP) won nine seats and Labour Party also won only one seat for Port Harcourt 1 federal constituency.
The Tide's source  reports that Rivers has 12 members in the Green Chamber of the National Assembly.
The source recalls that the state Resident Electoral Commissioner (REC), Dr Johnson Alalibo, had earlier told newsmen that the results of Port Harcourt 2 federal constituency would be suspended and reviewed due to reports of irregularity.
Monarch Tasks Newly Government Recognized Traditional Rulers On Peace, Integrity
The Eze Oha Evo III, His Majesty, King Leslie Nyebuchi Eke, Eze Gbakagbaka, has called on the newly recognised Traditional Rulers by the Governor Nyesom Ezenwo Wike-led administration to ensure that they use their offices to support the peace initiative in the state as created by the Governor.
Eze Eke made the appeal while addressing newsmen in his palace in Woji in Obio/Akpor Local Government Area during the week.
He said as paramount rulers, their major stake was to maintain peace and integrity and not a double standard life.
According to him, Governor Nyesom Wike's plans to have a peaceful state should be complemented at various levels including the traditional institutions.
The Evo King noted that if all communities in the state are peaceful, the state at large will live harmoniously.
He expressed hope that the upgrade/classification of additional traditional stools across the state was a pointer to the fact that Governor Wike has every sector at heart.
"I hail and thank His Excellency, Chief Nyesom Ezenwo Wike, Mr. Quality Projects, Life Bencher, for the classification/upgrade of traditional stools across the state. Indeed, the Governor is doing well", he said.
He also called on his new colleagues to see the opportunity as a call to duty wherein, the people's challenges will supercede their personal interest.
He sued for uprightness among the traditional rulers and their immediate communities, saying that "a house divided against itself cannot stand".
He prayed that God Almighty would continue to bless and keep them in good health and sound mind as they have attained another height of greatness in life.
The Tide learnt that the Governor's action was from the strength of Section 13, Subsection 1 of the Rivers State Traditional Rulers Law No. 4 of 2015.
By: King Onunwor
Stakeholders Task Govt On Special Fund For Host Communities
Some stakeholders in the Niger Delta are calling on governments in the region to set aside special percentages from the 13percent derivation fund for the development of oil producing communities.
This was part of a resolution at a town hall meeting organised by Connect Development (CODE), a non- governmental organisation in Port Harcourt.
The stakeholders who were drawn from Akwa Ibom, Rivers and Cross River States, particularly lamented general backwardness of host communities in the region.
They urged the government to set aside certain percentages for the host communities.
Speaking with newsmen, the Akwa Ibom State lead coordinator, Ubong Ekpe, said oil producing communities should not be denied of their fair share of development.
Ekpe said the implementation of the 13 percent derivation which has brought in trillions of Naira has not had any positive impact on the host communities.
He said the town hall meeting was to dialogue with major stakeholders, including host communities, with a view to ensuring that host communities benefit from natural resources from their Land.
Ekpe noted host communities, particularly in Akwa Ibom State, are yet to feel the impact of their resources.
Also speaking, the Cross River State Coordinator, Connecting Development (CODE), Effang Etim, said the meeting will share ideas between the organisation and community leaders , civil societies and government officials to create an action plan.
He said investigation revealed that most host communities in the region are not benefitting from resources being exploited from their areas.
"We had a survey across the State on host communities in which we made some findings that we'll share to government personnel to enable them see what people in the communities are going through", he said.
According to him, most host communities lack the basic necessities of life such as health centres, schools water and others.
A cross section of other participants who spoke were unanimous that host communities deserve better living conditions.
By: John Bibor
Community Laments Neglect Despite Hosting 48 Oil Wells
Resident of Joinkrama community in Ahoada West Council of Rivers State have expressed worries over the level of environmental degradation, poverty, and neglect in the area, despite having 48 oil wells, operated by multinational companies.
The community plays host to Adibawa Oilfield, operated by Shell Petroleum Development Company of Nigeria Limited. The community is ravaged by poverty, environmental degradation and neglect, with inaccessible roads, cut off by flood and erosion.
Some residents, who spoke with The Tide source during Community Diagnostic Dialogue on the issues of oil pollution, organised by Health of Mother Earth Foundation (HOMEF), lamented that Orashi River, which serves as their major source of water, is highly polluted with crude.
A member of the community, Azaga Ovie-Oniso Kelvin, said: "Our rivers are highly polluted and the river crosses from one community to another. The roofing sheets are all brownish. What we want is the oil company operating here to mitigate the effects of their operations in the community.
"We have written letters to Shell, Agip and others, including their local contractors but unfortunately, they do not listen. They only listen to violence and because we are peaceful people, they keep taking us for granted," he said.
Another resident, Mrs. Avigien Ubileoniso Goodwill, said poverty is clearly written on the faces of Joinkrama residents.
"The 2022 flood really dealt with us, our crops were all destroyed and we all were rendered homeless. The oil companies are not helping matters, even the access road is completely broken.
"The oil company should repair our only access road because the road is very important. Our graduates have been reduced to peasant farmers because there is no employment. There are no benefits at all from the oil company, we are still drinking from Orashi River."
Environmentalist and Director of HOMEF, Dr. Nnimmo Bassey, described Joinkrama as a geographical laboratory for the study of environmental problems, ranging from flood, gas flaring and oil spills.