Court To Rule Today On Obi, INEC's BVAS Case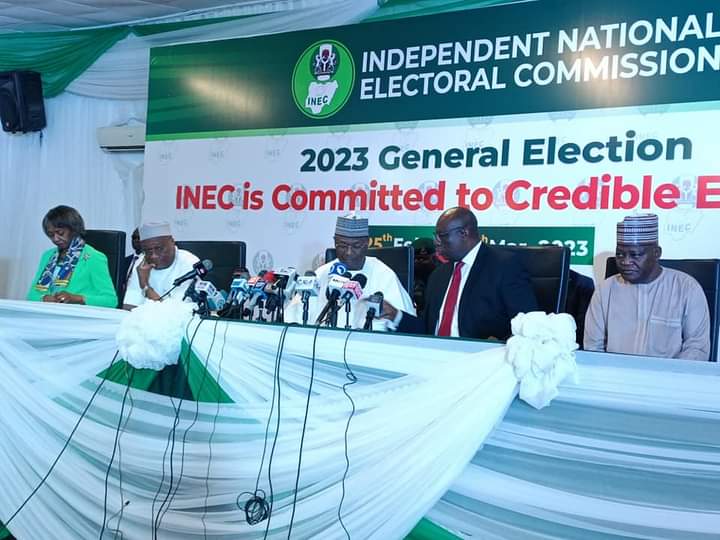 The Court of Appeal, Abuja has fixed today, to consider the merit of the application the Independent National Electoral Commission filed to be allowed to reconfigure the Bimodal Voter Accreditation System, used for the just concluded presidential election.
After the three-man panel of the court had listened to the parties, Justice Joseph High adjourned ruling on the matter till Wednesday.
Obi and LP, through their team of lawyers led by Onyechi Ikpeazu, SAN, said the essence of the application was to enable them to extract data embedded in the BVAS, "which represent the actual results from Polling Units."
They equally applied to obtain the Certified True Copy of all the data in the BVAS.
My lords, this is to ensure that the evidence is preserved before the BVAS are reconfigured by INEC. This is because if they are wiped out, it will affect the substance of the case," Ikpeazu, SAN, added.
However, INEC, through its team of lawyers comprising four Senior Advocates of Nigeria, SAN led by Mr Tanimu Inuwa, urged the court to refuse the application.
INEC insisted that granting the request by Obi and LP would affect its preparations for the impending governorship and state assembly elections.
It told the court that there are about 176, 000 BVAS that were deployed to polling units during the presidential election.
"Each polling unit has its own particular BVAS machine which we need to configure for the forthcoming elections.
"It will be very difficult for us, within the period, to reconfigure the 176, 000 BVAS.
"We have already stated in our affidavit that no information in the BVAS will be lost as we will transfer all the data in the BVAS to our backend server
"We need the BVAS configured. So, granting this application will be a clog in the process and may delay the conduct of the elections," INEC's lawyer, Inuwa, SAN, pleaded.
Army To Review Troops' Conduct During Elections, Other Operations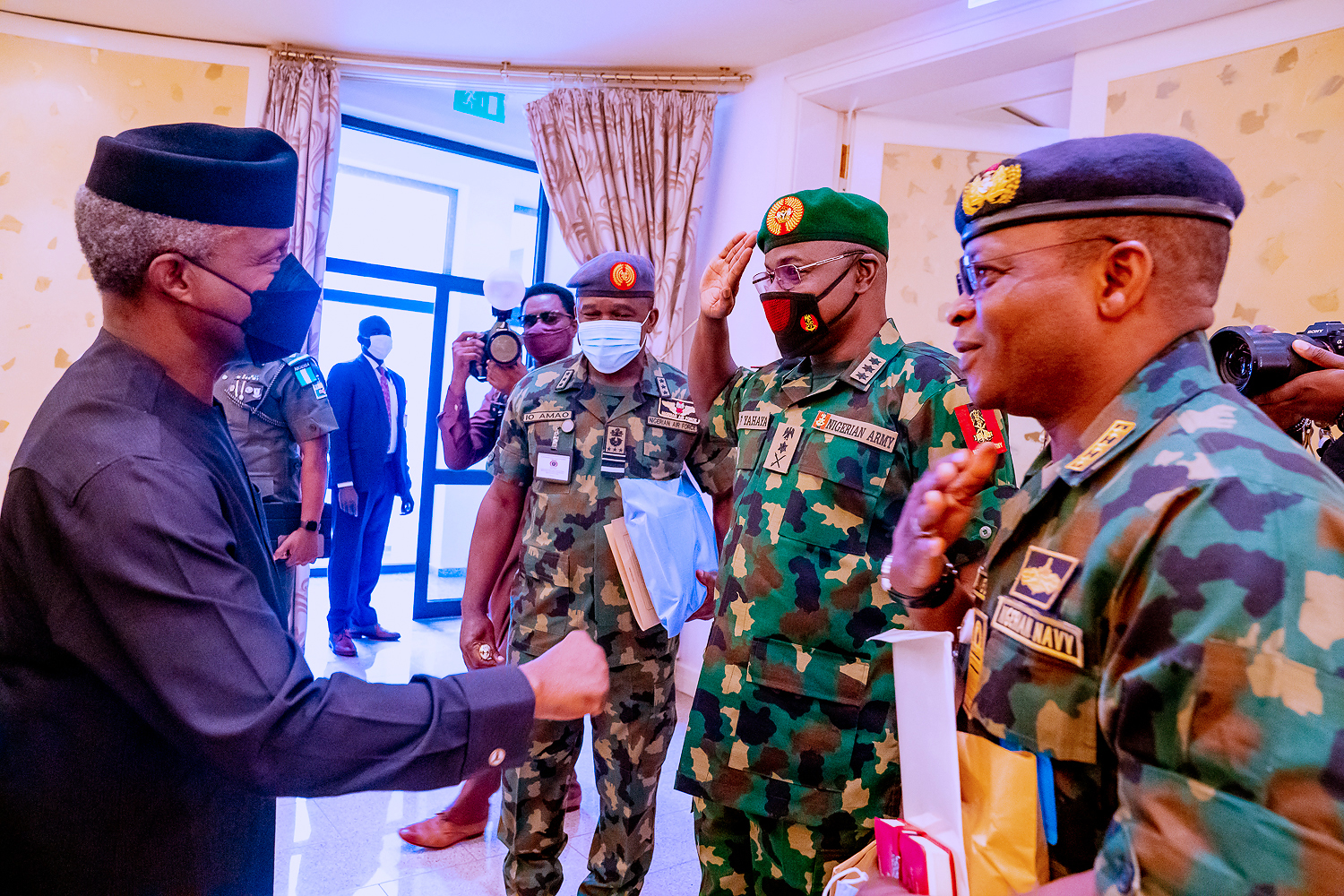 The Nigerian Army is set to review the conduct of troops in Operation Safe Conduct during the just concluded 2023 general elections across the country.
The review is expected to take place during the forthcoming Chief of Army Staff First Quarter 2023 Conference.
This is contained in a statement by the Director of Army Public Relations, Brig.-Gen. Onyema Nwachukwu, yesterday in Abuja.
Nwachukwu said that the Chief of Army Staff (COAS), Lt.-Gen. Faruk Yahaya, would interact with the General Officers Commanding (GOC), field commanders and other senior officers.
He said that the interaction would help to provide possible guidance towards enhancing army operations and other activities.
He said the conference, which would hold from April 3 to April 6 would offer an avenue for reappraisal of the administrative affairs of the Nigerian army.
He added that it would also help in evaluation and comprehensive review of ongoing operational engagements within the first quarter.
According to him, this will provide the army an in-depth insight to enable far reaching decisions towards achieving its set objective of addressing the multifaceted security challenges confronting the country.
Nwachukwu said that the COAS would present a new Toyota Hilux vehicles each to 14 Army Warrant Officers who had attained the peak of their soldiering career.
"Similarly, the COAS will commission the newly constructed Faruk Yahaya Historical Park located at Asokoro Abuja.
"The conference will also showcase some research and development effort of the Nigerian Army in an exhibition.
"The three days conference promises to be very eventful, as it will witness a review of the conduct of troops during the recently concluded Operation SAFE CONDUCT 2023 and other operations across the country," he said.
Nwachukwu reaffirmed the commitment and resolve of the Nigerian army to discharging its constitutional mandate professionally.
"We will also be resolute in upholding our values of courage, selfless sacrifice, respect, discipline and unalloyed loyalty to constituted authority," he added.
PDP Without Ayu Will Be Stronger -Wike …Says He's Not Scared Of EFCC After Office
Rivers State governor, Chief Nyesom Wike, has declared his belief in a strong leadership for the Peoples Democratic Party (PDP), which cannot be actualised with Dr. Iyorchia Ayu, the embattled national chairman still on the saddle.
The governor maintained that under Dr. Ayu, PDP became weak, lacking that kind of leadership that should make it a strong political force to reckon with, because embattled national chairman was busy with personal gains he could grab.
Governor Wike made the accusation when he spoke at the Rumuigbo Civic Centre, venue of the inauguration of Rumuigbo Internal Roads in Obio-Akpor Local Government Area, last Wednesday.
The governor said he cannot support Dr Ayu, who instead of providing strong national leadership to the PDP, was busy building private university in Benue State from the money realised from the party's congresses
"I believe that we should have a strong leadership. I can't support people whose interest is only to amass money.
"I can't support people where we did congresses and raised about N12.5billion and within two months, that money was gone. And somebody has stayed in office for one year, he is building university, I won't support such."
Governor Wike explained that it is because of such unproductive leadership style to the party that he is supporting the removal of Dr. Ayu from office.
"That is why I am in support that that bloody criminal must leave office if we want PDP to be strengthened. I owe no apology to anybody. I said it before, this is the final fight we will fight and we are going to win this fight."
Commenting on the internal roads project, governor Wike said in December 2022 when it was flagged-off, he promised that it will be completed and inaugurated by him, which has been fulfilled.
Governor Wike told them that he feels satisfied to have performed well in office and declared in good authority that he served Rivers people credibly without also disappointing or embarrassing his kinsmen.
He assured of inaugurating more projects until the midnight of 28th May 2023 without any project already ongoing abandoned.
Governor Wike informed that he is not afraid of any visit from the Economic and Financial Crime Commission (EFCC) when he leaves office, because there is nothing to hide and the numerous projects are evidences of how resources of the State have been used.
Inaugurating the project, Governor Bala Mohammed of Bauchi State commended governor Wike for achieving more projects for Rivers people. He attributed this not entirely to too much money at the disposal of governor Wike, but his commitment to providing better living condition for Rivers people.
Governor Mohammed also acknowledged the political sagacity of governor Wike demonstrated in ensuring PDP in the State won the governorship, all State Assembly and three senatorial seats, and delivering votes that contributed to his preferred southern president.
Providing description of the project, Rivers State Commissioner for Works Dr George -Kelly Dakorinima Alabo said the roads are scattered in 17 streets of different sizes.
According to him, they measures 8.5 kilometres in length, and were delivered within 5 months without disruption from the host community.
In his welcome address, Chairman of Obio-Akpor Local Government Area, George Ariolu noted the internal roads being inaugurated in Rumuigbo as evidence of the urban renewal programme of the Wike's administration.
He thanked governor Wike for being a rare politicians who has sustained delivery of projects that have impacted the life of Rivers people positively.
Ayu, You Are Gone -Wike …Says Those Plotting Against Them Are Now Victims …You've Done Well For Rivers People -Makinde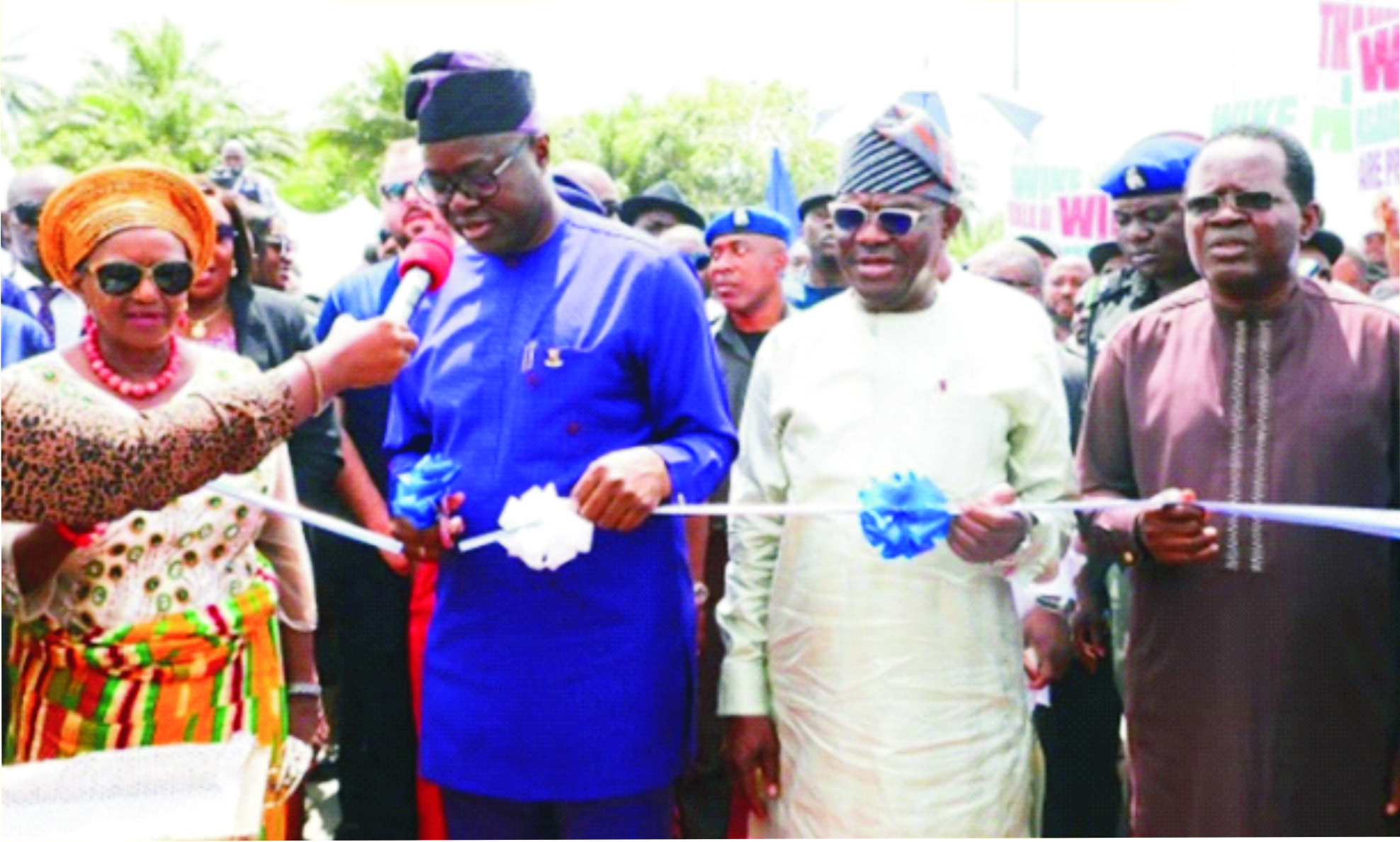 Rivers State Governor, Chief Nyesom Wike, yesterday celebrated the ouster of the National Chairman of the Peoples Democratic Party (PDP), Iyorchia Ayu.
The National Deputy Chairman of the party, (North), Umar Damagum, was announced yesterday as Ayu's replacement in an acting capacity.
Ayu's exit comes barely two days after the Executive Committee of the PDP in Igyorov Ward, Gboko Local Government Area (LGA) of Benue State suspended the former chairman with immediate effect.
Ayu had been embroiled in a bitter feud with some high-ranking PDP members led by five governors identified as the G5: Wike, Samuel Ortom (Benue), Seyi Makinde (Oyo), Okezie Ikpeazu (Abia) and Ifeanyi Ugwuanyi (Enugu).
With the emergence of PDP presidential candidate, Atiku Abubakar, in the party's May 2022 primary, the G5 refused to join the campaign unless Ayu resigned.
The face-off culminated in the party's defeat at the February 25 presidential election.
Moments after Ayu's removal was made public yesterday, Wike celebrated the defeat at the commissioning of the Trans-Kalabari Road Phase 1, Degema Local Government Area of Rivers State.
"You see how God works? All those people who were plotting evil against us, they are now the ones suffering it," he said.
Wike further mocked the former PDP National Chairman: "Ayu said nobody can suspend him but today, he has packed out from the national office. We have an acting chairman. I told him he will go whether he likes it or not, he will go."
"Those lawyers telling you that the ward has no power to suspend you, that it's only National Executive Council (NEC), then you don't understand what is happening. When you came, it was the ward that suspended (Uche) Secondus, and you went and took office, is it not?"
"So, is it now that you know that it is only NEC that can suspend you? Let me tell you, since they've not told you, the court has struck off that section of our constitution that says it's only NEC can suspend (chairman). PDP did not even appeal the judgement.
"So, forget it, you are gone. You are wasting your time. We are ready for the battle. I am not from Benue, but I have interest and that interest is that Ayu must go".
He advised Ayu to come to terms with the reality that his calamitous reign has come to an end.
The governor said Ayu's claim that only the National Executive Committee (NEC) can suspend him was a pointer that he was suffering from delusion of grandeur.
He declared that Ayu cannot reap from a party by presiding over its affairs, where he has not sown or secured any electoral victory for it.
Wike pointed out that Ayu's suspension by his ward executive shows that he is not a formidable force and respected political leader who commands loyal followers.
"Look at it, a national chairman, your own ward will be suspending you. Does it not tell you that you are not on ground? Your own ward will be suspending you and you go to television to say only NEC can suspend you. Stay, wait for NEC, but then know that you're gone", he asserted
The governor noted that Ayu could not secure winning votes for his preferred candidate in the February 25 presidential election, in addition to electoral failure that greeted him because he lost his unit, ward, local government and the state to the opposition party.
"Ayu, the man you supported for president you didn't give him the vote, he lost. We supported a southern president and we won in our states for equity, justice and fairness.
"A man who lost his unit, a man who lost his ward, a man who lost his local government, a man who lost his state and he is coming to preside over us who won our units, won our wards, won our local governments, won our state, something must be wrong", he said.
Wike also told Ayu: "You cannot reap where you never sowed. If all of us have lost our states, what will you be chairing.
"You want to use Rivers State to be chairman, we are not party to that. Go and bring your own local government. Here (in Rivers), we won 32 over 32 seats for House of Assembly; Ayu, how many did you win? Here, we won the three seats for Senate too; Ayu, how many did you win? We won 11 out of the 13 seats for House of representatives; Ayu, how many did you win?"
Commenting on the Trans-Kalabari Road project, Wike dismissed sceptics who had assumed he won't complete the project.
According to him, despite the kidnap of Lubrik Construction Company staff for five months in a bid to disrupt the project, he pressed on and ensured its completion in his tenure.
The governor commended Kalabari people for supporting the PDP and delivering winning votes in the three local government areas for Sir Siminialayi Fubara to emerge the governor-elect.
Performing the inauguration of the project, Governor Seyi Makinde of Oyo State noted that Wike has done so well for Rivers people because of the spread of his development projects in virtually every community.
Makinde said he is following in the footstep of Wike to sustain the pace of delivery of democratic dividends to people of Oyo State who have graciously re-elected him for a second tenure.
Rivers State Commissioner for Works, Dr. Dakorinima Alabo George-Kelly, said the Trans-Kalabari Road that is 13. 545 kilometers long linking six Kalabari communities to mainland, was awarded on March 23, 2021, and completed on schedule.
"Several governments in the past had made futile attempts to commence this project, but they were all efforts in futilities. You came, you awarded and in no time we are here for the commissioning of the project. Your Excellency, you have put your name in the sands of time so far the Kalabari ethnicity is concerned.
"Before now, out of the 33 towns and villages of the Kalabari ethnic nationality, only 12 were linked up to the mainland. Your Excellency, Nyesom Wike has linked up extra six to the mainland."
In his goodwill message, Chairman of Rivers State Elders Forum, Chief Ferdinand Alabraba, noted that 18 months after he was privileged to perform the flag-off of the Trans-Kalabari Road, against the expectation of sceptics, it has been inaugurated.
According to him, it shows that Wike was not like other politicians who promise what they cannot fulfill, adding that Kalabari people were eternally grateful to him.
In his welcome address, Chairman of Degema Local Government Area, Michael Williams, flanked by his counterparts of Asari-Toru and Akuku-Toru, expressed the appreciation of Kalabari people to Wike for fulfilling his promise of delivering the phase one of the Trans-Kalabari Road within his tenure.