Customs Nets N199.46bn In 10 Months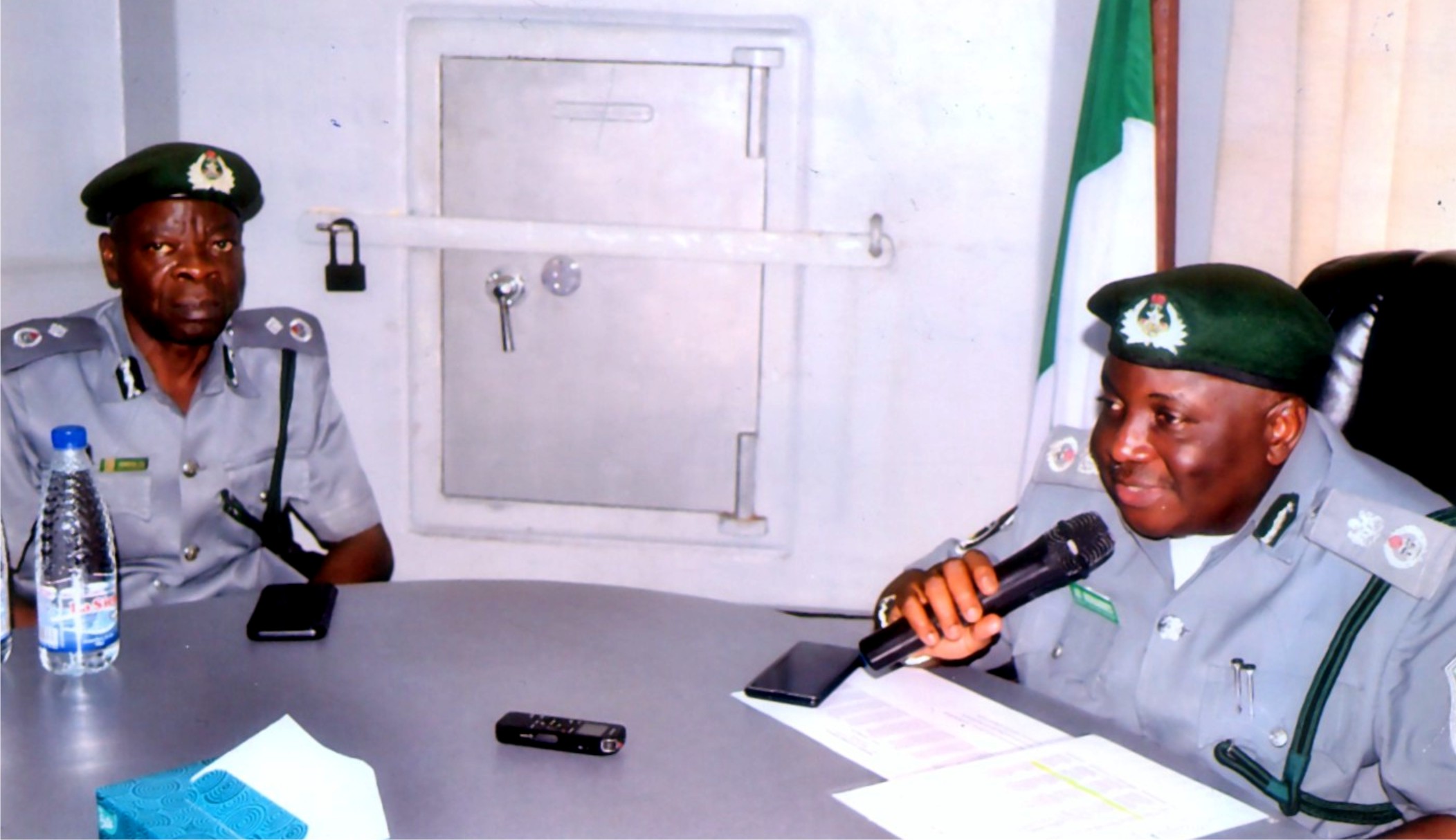 The PTML Command of the Nigeria Customs Service (NCS) said it generated the sum of N199,468,482,842.00 as revenue between January and October, 2022.
The figures, provided by Muhammad Yakubu, Customs Public Relations Officer, disclosed that the total amount collected  translates to a 7.7 per cent increase, which is an appreciation of N14,247,021,754.00 from the N185,221,461,088.00 generated during the same period in 2021.
Yakubu, who made this known in a comparative analysis of revenue collected for 2021 and 2022, disclosed that the highest revenue collections this year were recorded in June and July.
According to a breakdown for the periods under review, the Command made N15,205,823,545 in January 2021 and N15,713,776,798 in January 2022, indicating a 3.3% increase.
It recorded a 20% increase after raking in N14,075,386,963 in February 2022, as against N11,706,947,150 in 2021, while March 2022 saw a 9.5% rise with N21,840,828,908:00 collected, compared to N19,937,869,175 in the previous year.
In April 2022, the command's performance of N16,357,509,497 did not surpass that of the previous year of N17,938,794,417, which it however made up for in May, following a 28% boost with N22,550,759,092 collected as against N17,606,073,741 made in 2021.
For June 2022, it collected N27,029,957,255, showing a 21.5% appreciation from N22,253,694,223 made in 2021, while July 2022 saw it record 29.9% increase with N25,389,607,638 collection, when compared to the N19,532,512,815 generated in 2021.
In August and September 2022, the command generated N21,766,390,771(-0.3.1%) and N17,379,074,244.30 (-8.5%), as against N21,835,143,596 and N19,004,755,983 respectively, for the same months in 2021.
For October 2022, the command raked in N17,365,191,676.00, falling -14.0% short, when compared to the N20,199,846,443.00 made in the same month of the previous year.
The Customs Area Controller of the Command, Comptroller Bomai said, "As a Command, we stand to achieve more for our great country when we are compliant with all our books of instructions like the Customs and Excise Management Act (CEMA), Updated Import and Export Prohibition Lists, Circulars and other documents of instruction.
"As a Command dealing mostly on automobile cargoes, l urge our officers , new and old to remain uncompromising in the implementation of extant directives like the Vehicle Identification Number (VIN) valuation and other innovations that align with customs modernisation
"The task of facilitating trade concerning importers, agents, terminal operators, shipping companies and others is critical to our national economic growth. Let's keep on facilitating trade for national interest and ensure strict lawfully approved sanctions on law breakers", he urged.
By: Nkemenyie Mcdominic Lagos
Redeployed Customs Officers Assume Office At New Posts
Redeployed Zonal coordinators and controllers affected by the recent swapping exercise in the Nigeria Customs Service (NCS) have since taken over their new posts.
Assistant Comptroller General and Comptrollers affected by the change of batons have gone into action in the respective Zones and Area Commands respectively.
As at Press time, ACG Bello Jibo, the new Coordinator, Zone A, has begun to hold forth at the Harvey Road Zonal Headquarters in Yaba, Lagos.
Comptroller Dera Nnadi, Jaiyeoba, and Shuaibu have resumed their duties as Customs Area Controllers of Tincan Island Port, Apapa and Idiroko Commands respectively.
Comptroller Timi Bomodi has also begun overseeing customs activities at Seme-Krake Border Command.
In an exclusive chat with The Tide, Chairman, Seme Chapter of the Association of Nigeria Licensed Clearing Agent (ANLCA), Chief Oyekachukwu Ojinma (aka Sule) described the outgoing Controller of the Command, Comptroller Dera Nnadi, as a very hard-working and dedicated man, while welcoming the new Customs Area Controller to the border post.
The ANLCA Chairman expressed his wish for a successful tenure of office for Compt. Timi Bomodi.
By: Nkpemenyie Mcdominic, Lagos
'Electricity Act Will Transform Power Sector'
Minister of Power, Adebayo Adelabu, has stated that the recently signed Nigerian Electricity Act, 2023, will play a fundamental role in transforming the power sector.
According to him, it will unlock the potential of the energy mix and promote the integration of renewable energy technologies into the grid system.
Speaking at the ongoing Nigeria Energy Conference and exhibition in Lagos, Adelabu said the Act aims to create an environment that supports sustainable growth and investment in the power industry by focusing on accelerated private investment and the promotion of renewable energy sources.
"As a game-changer that reformed the NESI, the Electricity Act will, undoubtedly, engender increased access to electricity and regulatory oversight, clean energy transition, improved service delivery, and infrastructural developments.
"In particular, the act will stimulate economic growth by creating a conducive environment for investment and competition. It will generate job opportunities, encourage entrepreneurship, and attract foreign direct investments", he said.
The Minister called on operators in the power sector to intensify their efforts towards improving communication with the general public, emphasising that the Nigerian masses have a lot of roles to play in safeguarding power infrastructure.
He said issues such as vandalism, passing of meters, and damage to TCN and DisCo infrastructure must be addressed holistically to make significant gains in the power sector.
Adelabu emphasised that the power sector is a cornerstone for economic growth in the country and that the gains made over the years in the power sector can only be consolidated by unlocking equity investments and funds for power development.
He said: "Of course, a lot of investment is required in the power sector. In three weeks, I've seen humongous investments that have come into this sector.
"But what are the steps that are required for those investment opportunities to reap the benefit of those investments, additional investments in the form of equity and capex need to come into this industry.
"The power sector is not an industry for short-term players to invest in less than two to three years and expect to make maximum benefits.
"The industry requires medium to long-term investments. Investors must understand that the moment we can break even, we will start making profits in the power sector.
Adelabu also urged operators in the NESI value chain to improve their service delivery, adding that Nigeria's energy expansion plan of 60,000 Megawatts by 2060 is an achievable target.
He, therefore, called on gas companies, GenCos, TCN, and DIScO to showcase their success stories in generating and transmitting power to the last mile that pays for all the segments of operators in the value chain.
'Nigeria Loses $1.5bn Annually To Malnutrition'
Minister for Budget and Economic Planning, Abubakar Bagudu, has said Nigeria loses $1.5 billion of its Gross Domestic Product (GDP) annually due to micronutrient deficiencies.
Bagudu therefore called for coordinated efforts to ensure a swift response with expected positive outcomes.
A statement released by the Ministry said the Minister disclosed this, last Tuesday, while speaking at the 53rd Annual General Meeting and Scientific Conference of the Nutrition Society of Nigeria in Abuja.
In the statement, Bagudu noted that the government was determined to tackle malnutrition through the inclusion of nutrition in the National Development Plan, and the Nigeria Agenda 2050.
"It is also a commitment to achieving optimal nutrition status for all Nigerians with particular attention to the vulnerable group as highlighted in the National Multisectoral Plan of Action for Food and Nutrition", he said.
Bagudu, who urged experts in nutrition in the country to research and develop innovations that will boost nutrition, explained that doing this "would contribute towards achieving Sustainable Development Goals (SDGs), ensuring Universal Health Coverage, and bringing about significant positive changes in the nutrition sector in Nigeria".
He told members of the Nutrition Society of Nigeria "to prioritise innovation and research in the field of nutrition towards the attainment of Sustainable Development Goals, Universal Health Coverage and transformation of the landscape of nutrition in Nigeria.
"Nigeria currently requires nutrition professionals who have extensive knowledge, good communication skills to address nutrition education, emotional intelligence as well and a good understanding of self-motivation and drive to address nutrition dynamics".
The Minister urged the NSN to embrace technology, leverage digital solutions, and invest in research and development to find sustainable and scalable solutions to Nigeria's nutrition challenges.
He assured members of the NSN that his ministry would strengthen coordination and provide the required leadership for the nutrition sector.
The Kwara State Governor, AbdulRahman AbdulRasaq, in his goodwill message, said the Nigerian Governors' Forum (NGF) had identified areas of key commitments for the realisation of a healthier citizen and country, including increasing budgetary spending on nutrition and strengthening the nutrition profile.