Vote Buying: INEC Tasks NASS On Speedy Passage Of Electoral Offences Commission Bill
The Independent National Electoral Commission (INEC), says speedy passage of the National Electoral Offences Commission and Tribunal Bill by the National Assembly  will checkmate vote buying.
The News Agency of Nigeria (NAN) recalls that the bill, meant to provide the legal framework for  investigation and prosecution of electoral offences for the general improvement of the electoral process in Nigeria, on June 30,  passed second reading in the House of Representatives.
The Senate had in July 2021, passed a similar bill, which had seven parts and 48 sections, and sought to take the "burden" of prosecuting electoral offenders off INEC.
INEC Resident Electoral Commissioner (REC) in Lagos State, Mr Olusegun Agbaje, told NAN on Sunday that   if passed, the bill would ensure speedy trial of electoral offenders.
He said that if electoral offenders, including vote buyers and voter sellers were arrested and quickly prosecuted, there would be more sanity in the 2023 general elections.
Agbaje, however, said that the battle against vote buying in whatever shapes or forms, must be fought to a  standstill by all stakeholders in Nigeria.
"There are so many issues to this matter. The judicial aspect  is there, security agencies are there.  INEC cannot monitor all these offenders.
"There is no way we can be conducting elections and at the same time, watching people that are buying the conscience of voters with money, food or other things.
"That is why the commission has been asking the national assembly regularly to finish its work on the  electoral offences commission and tribunal bill to become law.
"When we have this, it will be just like the Economic and Financial Crimes Commission, to monitor and investigate the menace of vote buying and other offences.
"It will be like security agency for INEC. Their job will be purposely for this and they will be all out on election day.
"The vote buyers and sellers are giving INEC a bad name, however,  it is not the duty of INEC to monitor this," he said.
Agbaje advised that all stakeholders should engage politicians on vote buying ahead of the  2023 general  elections, and talk to them as actors sponsoring and encouraging this menace.
The REC decried the delay in prosecuting    electoral offences  in Nigeria, describing it as frustrating.
"When we see this kind of thing, we get frustrated. The judiciary also has to do something. What is the court waiting for in some of these electoral offences?
"In fact, in Kenya and other countries , within two hours, an electoral case will be judged.
"If people are jailed for  electoral offences, I am sure by 2023,  everybody will be careful; but because there is no punishment, people just feel they can do anything.
"So, it is not just between INEC and political parties, judiciary also has a role to play. They must assist us to ensure that whatever case is brought is promptly judged to serve as deterrent ," the INEC boss said.
According to him, if a case that is simple and can be judged within two weeks is left for three years, and people do not see any action, they feel that if they do it again, nothing will happen to them and that their godfathers will also protect them.
He explained that the security, judiciary, INEC, national assembly, political parties, NGOs and other critical stakeholders had roles to play in fighting vote buying and vote selling.
Agbaje said that it remained  an offence for any voter to display his or her ballot after casting vote for anyone to see, saying:  " If we have that agency we are talking about, that is their job to position officers to monitor all these."
The INEC chief added that even before elections, every illegal transfer of money to thousands of voters would be monitored and investigated by the agency.
According to him, INEC will intensify efforts in situating polling booths in such a way that it will not allow voters to display their  ballot paper after voting to  vote buyers, so as to get paid for voting their party.
He, however,  pointed out that in the 2023 general elections, INEC would discuss with members of the Inter Agency Consultative Committee on Election Security (ICCES) on ways to fight the menace.
Agbaje, however, urged Nigerians and politicians to change their orientation about elections, saying in countries like Republic of Ireland, elections were not monitored by policemen or party agents at the polling booths on election day.
He said that with the Bimodal Voter Accreditation System (BVAS), the 2023 elections will be better and more credible, adding that votes would count in Lagos.
NGO Tasks NASS On Fiscal Responsibility Law Amendment
The Growth Initiative for Fiscal Transparency (GIFT) Nigeria says there is an urgent need for the national assembly to pass the Fiscal Responsibility Act (FRA) amendment bill into law.
The executive director, Order Paper, Oke Epia,said this on Saturday at a media briefing in Abuja.
The Fiscal Responsibility Act 2007 is primarily designed to checkmate wastage and corruption.
Epia said the financial crisis faced by the country is as a result of corruption in the oil sector, which could be resolved through the passage of the amendment of the Act.
"Nigeria is in a fiscal crisis because certain things are not being done right, especially in the petroleum sector which accounts for over 60 percent of revenue earnings and over 90 percent of foreign exchange due to the country," he said.
"It is the mainstay of the economy and that is where you have the poster child of corruption in this country."
He said the slow amendment of the fiscal responsibility act gives room for the non-remittance of revenue by the Nigerian National Petroleum Company (NNPC) and other ministries, departments and agencies (MDAs).
"On the side of public finance management, that is what we want to alert your consciousness to, so that we can mount pressure on the national assembly to pass this fiscal responsibility amendment bill, so it will help get monies that are due to government paid to the government without much ado," he added.
Alleged 2019 Guber Poll Rigging: Ogun APC To Probe Amosun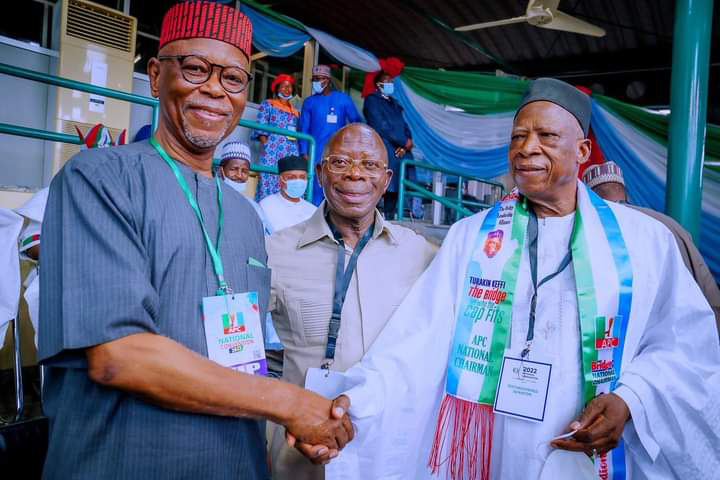 The state leadership of All Progressives Congress (APC) in Ogun State may likely quiz the immediate past Governor of the state, Senator Ibikunle Amosun, over his claim that the 2019 governorship election in the state was rigged in favour of the incumbent Governor, Dapo Abiodun.
There were indications that the party's leadership may take a hard step on the Senator's claim when the party's leaders from the 20 local government areas of the state had a closed-door meeting in Abeokuta on Saturday and expressed their displeasure over the allegation.
The state Chairman of the party, Yemi Sanusi, who berated Amosun over his claim, described such outburst as  un-senatorial and unbecoming of a supposed statesman.
It was learnt that after the meeting, the party's leaders called for disciplinary measures against such anti-party acts, which they likened to the ex-governor's support for All Progressives Movement's governorship candidate in 2019, resulting in his suspension.
Sanusi declared that, being the acting chairman of the party in 2019, he observed that the election that produced the incumbent governor was the most credible in the history of the state.
He said the electorate trooped out and overwhelmingly voted for Governor Abiodun and protected their votes from being overturned by riggers.
Sanusi, therefore, called on the party's leaders and members to reciprocate the kind gesture of Governor  Abiodun by working hard to ensure  his re-election in 2023.
Meanwhile, in preparation for the general election, Governor Abiodun donated a bus to the party's state executive council with a view to enhancing their operations ahead of the 2023 poll and in appreciation of their contributions towards the growth of democracy in the state.
He described the party's state executive as a partner in progress, commending them for their sterling leadership which made it possible for them to keep the party united.
The governor, therefore, promised support for the party to sustain its membership drive, emphasising that all hands mist be on deck as the party gets prepared for the forthcoming general elections.
APC's Case Challenging My Victory, Waste Of Time – Adeleke
The Governor- elect of Osun State, Senator Ademola Adeleke, on Saturday disclosed that the case filed by the All Progressives Congress APC, challenging his victory in the July 16 election is dead on arrival and a mere waste of time.
According to Adeleke, the people of Osun state have spoken and no amount of court cases can overturn his election as governor.
Adeleke, speaking at Ijebu-Jesa, headquarters of Oriade local government, where a former commissioner for finance under the administration of Aregbesola, Dr Wale Bolorunduro officially decamped to the PDP, said his major focus is how to move Osun forward, promising a massive impact in his first 100 days in office.
"The whole world knew that the election was free and fair. APC are just wasting there time. They have the right to go to court but I can tell you, it is dead on arrival.
"Osun people who have voted massively for us should keep calm and not worry. This time around, the people of Osun have spoken and it is the will of God.
"The only thing I'm concerned with now is how to make Osun great and I'm promising that in my first 100 days in office , Osun State will witness a massive change," he said.
Speaking on why he defected, Bolorunduro said he left APC because the party is full of deceit and lack ethos of Obafemi Awolowo.
His words: "I and my followers are decamping today to PDP because it is the party for the progressive. It is a party that is transparent and not deceitful as the former party I was.
"I left APC because my glory was being covered and my contributions trampled upon. APC is full of deceit. There is nothing called progressivesm in that party.
"The party lack fairness, justice, transparency and the ethos of our avatar, Obafemi Awolowo. I had no choice than to leave APC and come to the party of light".