Customs Foils Smuggling Attempt Seizes Goods Worth N1.48bn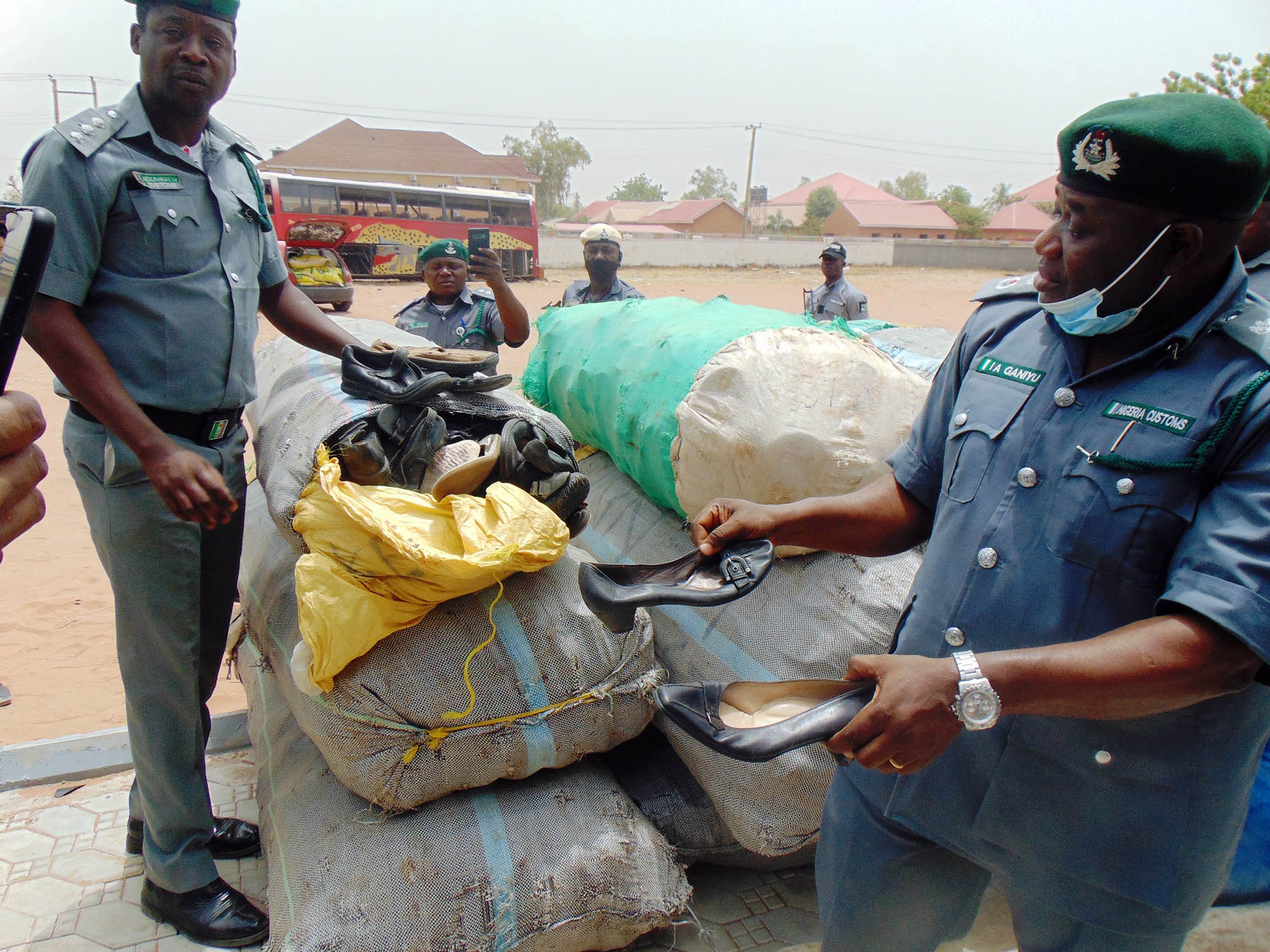 Seme Command of the Nigeria Customs Service (NCS), says it has intercepted a total of139 cartons of expired soft drinks the command also stated that it intercepted a total of 325,950 litres of Premium Motor Spirit (PMS), otherwise locally known as petrol, estimated at over 10 tankers of 33,000 litres each.
The Customs Area Controller, Compt. Mohammed Jibo, during a press conference on Friday, said aside the 139 cartons of expired soft drinks intercepted, it also impounded some consignments of illicit and restricted medicaments.
Speaking on the war against smuggling of petroleum products, with respect to a recent offensive by his officers and men, Jibo said, "The continuous surveillance of the beaches and creeks by our men has yet recorded another huge interception of 1,600 jerry cans of petroleum product of 30 litres each.
"The arrest was made at the late hours of Tuesday, 7 June, 2022, along Seme- Badagry waterways".
He listed the illicit drugs to include 100 cartons of gabadol/tramadol, 120 milligrams, 2.8 kilograms, 306 parcels of cannabis sativa and 132 packets of tramadol capsules; with a combined Duty Paid Value (DPV) of N1, 481,107,671.00.
He explained that the seized petrol alone intercepted along the Badagry and Seme creeks has DPV of N65.6million.
The customs boss said other items seized are 86 pieces of Apetamin syrup; 302 prices of Dynewell Syrup; 50 pieces of Baba Yellow Syrup; three sachets of Rofhymol, 32 bottles of Cough Syrup; 99 cartons of fearless Energy Drinks and 139 cartons of Soft Drinks with a DPV of N1.48billion.
Jibo further disclosed that two suspects were arrested in connection with some of the seizures, adding that the seized petroleum products would be auctioned in line with Standard Operating Procedure (SOP) relating to seized perishable items.
He attributed the impressive performance of the Command, officers and men to renewed strategies and the uncommon support of the CGC's led management.
"Professionalism, discipline, good working relationship with our stakeholders, cordial relationship with the host communities, and collaboration with other security agencies, were part of strategies responsible for this scorecard" he said.
By: Nkpemenyie Micdominic, Lagos
Redeployed Customs Officers Assume Office At New Posts
Redeployed Zonal coordinators and controllers affected by the recent swapping exercise in the Nigeria Customs Service (NCS) have since taken over their new posts.
Assistant Comptroller General and Comptrollers affected by the change of batons have gone into action in the respective Zones and Area Commands respectively.
As at Press time, ACG Bello Jibo, the new Coordinator, Zone A, has begun to hold forth at the Harvey Road Zonal Headquarters in Yaba, Lagos.
Comptroller Dera Nnadi, Jaiyeoba, and Shuaibu have resumed their duties as Customs Area Controllers of Tincan Island Port, Apapa and Idiroko Commands respectively.
Comptroller Timi Bomodi has also begun overseeing customs activities at Seme-Krake Border Command.
In an exclusive chat with The Tide, Chairman, Seme Chapter of the Association of Nigeria Licensed Clearing Agent (ANLCA), Chief Oyekachukwu Ojinma (aka Sule) described the outgoing Controller of the Command, Comptroller Dera Nnadi, as a very hard-working and dedicated man, while welcoming the new Customs Area Controller to the border post.
The ANLCA Chairman expressed his wish for a successful tenure of office for Compt. Timi Bomodi.
By: Nkpemenyie Mcdominic, Lagos
'Electricity Act Will Transform Power Sector'
Minister of Power, Adebayo Adelabu, has stated that the recently signed Nigerian Electricity Act, 2023, will play a fundamental role in transforming the power sector.
According to him, it will unlock the potential of the energy mix and promote the integration of renewable energy technologies into the grid system.
Speaking at the ongoing Nigeria Energy Conference and exhibition in Lagos, Adelabu said the Act aims to create an environment that supports sustainable growth and investment in the power industry by focusing on accelerated private investment and the promotion of renewable energy sources.
"As a game-changer that reformed the NESI, the Electricity Act will, undoubtedly, engender increased access to electricity and regulatory oversight, clean energy transition, improved service delivery, and infrastructural developments.
"In particular, the act will stimulate economic growth by creating a conducive environment for investment and competition. It will generate job opportunities, encourage entrepreneurship, and attract foreign direct investments", he said.
The Minister called on operators in the power sector to intensify their efforts towards improving communication with the general public, emphasising that the Nigerian masses have a lot of roles to play in safeguarding power infrastructure.
He said issues such as vandalism, passing of meters, and damage to TCN and DisCo infrastructure must be addressed holistically to make significant gains in the power sector.
Adelabu emphasised that the power sector is a cornerstone for economic growth in the country and that the gains made over the years in the power sector can only be consolidated by unlocking equity investments and funds for power development.
He said: "Of course, a lot of investment is required in the power sector. In three weeks, I've seen humongous investments that have come into this sector.
"But what are the steps that are required for those investment opportunities to reap the benefit of those investments, additional investments in the form of equity and capex need to come into this industry.
"The power sector is not an industry for short-term players to invest in less than two to three years and expect to make maximum benefits.
"The industry requires medium to long-term investments. Investors must understand that the moment we can break even, we will start making profits in the power sector.
Adelabu also urged operators in the NESI value chain to improve their service delivery, adding that Nigeria's energy expansion plan of 60,000 Megawatts by 2060 is an achievable target.
He, therefore, called on gas companies, GenCos, TCN, and DIScO to showcase their success stories in generating and transmitting power to the last mile that pays for all the segments of operators in the value chain.
'Nigeria Loses $1.5bn Annually To Malnutrition'
Minister for Budget and Economic Planning, Abubakar Bagudu, has said Nigeria loses $1.5 billion of its Gross Domestic Product (GDP) annually due to micronutrient deficiencies.
Bagudu therefore called for coordinated efforts to ensure a swift response with expected positive outcomes.
A statement released by the Ministry said the Minister disclosed this, last Tuesday, while speaking at the 53rd Annual General Meeting and Scientific Conference of the Nutrition Society of Nigeria in Abuja.
In the statement, Bagudu noted that the government was determined to tackle malnutrition through the inclusion of nutrition in the National Development Plan, and the Nigeria Agenda 2050.
"It is also a commitment to achieving optimal nutrition status for all Nigerians with particular attention to the vulnerable group as highlighted in the National Multisectoral Plan of Action for Food and Nutrition", he said.
Bagudu, who urged experts in nutrition in the country to research and develop innovations that will boost nutrition, explained that doing this "would contribute towards achieving Sustainable Development Goals (SDGs), ensuring Universal Health Coverage, and bringing about significant positive changes in the nutrition sector in Nigeria".
He told members of the Nutrition Society of Nigeria "to prioritise innovation and research in the field of nutrition towards the attainment of Sustainable Development Goals, Universal Health Coverage and transformation of the landscape of nutrition in Nigeria.
"Nigeria currently requires nutrition professionals who have extensive knowledge, good communication skills to address nutrition education, emotional intelligence as well and a good understanding of self-motivation and drive to address nutrition dynamics".
The Minister urged the NSN to embrace technology, leverage digital solutions, and invest in research and development to find sustainable and scalable solutions to Nigeria's nutrition challenges.
He assured members of the NSN that his ministry would strengthen coordination and provide the required leadership for the nutrition sector.
The Kwara State Governor, AbdulRahman AbdulRasaq, in his goodwill message, said the Nigerian Governors' Forum (NGF) had identified areas of key commitments for the realisation of a healthier citizen and country, including increasing budgetary spending on nutrition and strengthening the nutrition profile.