NCC Begins Campaign For Girls', Safety, Security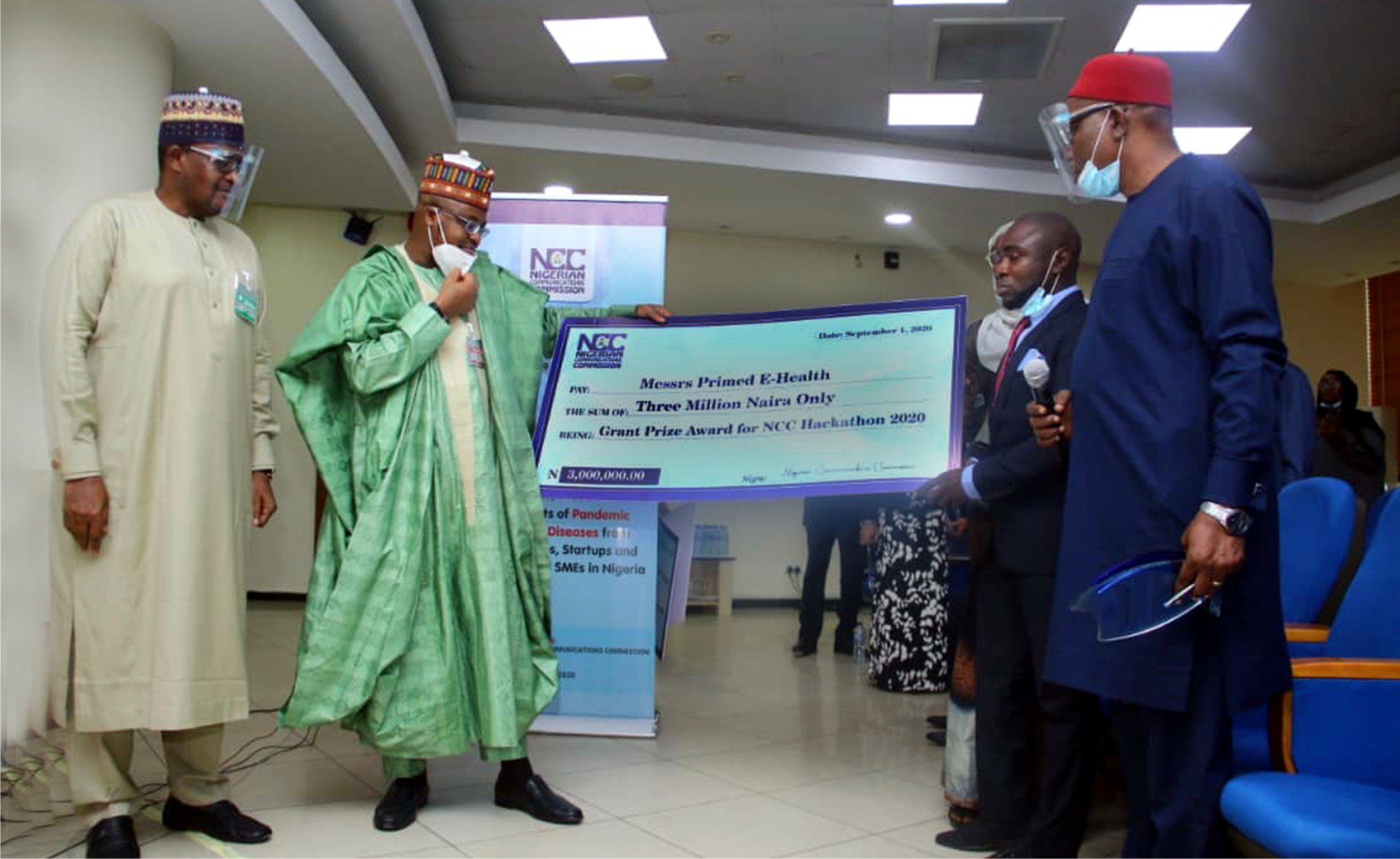 The Nigerian Communications Commission (NCC) has begun  awareness campaign for creation that would promote safety and security amongst girls in Information and Communication Technology (ICT) in the country.
The commission held an awareness event at the Government Science Technical College (GSTC), Area 3, Garki,  recently in Abuja, to commemorate the Girls in ICT Day.
The Tide's source reports that Girls in ICT is an initiative of the International Telecommunications Union (ITU), the global body responsible for setting telecommunications standard.
Deputy Director, New Media and Information Security Department,  NCC, Mrs Tokunbo Oyeleye,  said the event is aimed at encouraging girls to pursue careers in Science, Techology, Engineering and Mathematics (STEM).
Oyeleye said this year's theme,  "Access and Safety", was meant to create discussions on access and safety barriers girls faced when they pursued STEM studies and careers.
She, however, said the main focus for this year are: equal access, accessibility, gender stereotypes, and workplace environment and safety online.
"There is a need to promote opportunities for girls in STEM and educate them on the benefits they can gain from it.
"There is a need to make classes and materials in STEM more inclusive and easily understandable for people with disabilities, especially women.
"These stereotypes increase a sense to girls that they are not capable of pursuing ICT careers and are not supposed to be in it.
"To ensure girls are safe online, they need to be educated and empowered with the appropriate knowledge and tools to be used online," she explained.
Also speaking, Mr Ebuka Nkoro, an Early Career Fellowship facilitator of Internet Society (ISOC) and partner to the Commission on Child Online Protection, said the girls should beware of their digital footprints.
Nkoro advised the students to use some tips for online safety, which were the use of very strong passwords, eight to 10 digits password, use of password managers and installation of good antivirus accordingly.
He urged girls to avoid online bullies, phishing and online gaming attacks and online swindlers.
"Do not share or post unnecessary things, especially nude pictures of yourself.
"These are social engineering attacks generated by a hacker to gain access to your personal data," he said.
On er part, the Matron, ICT Club, GSTC, Mrs Nusirat Atoyebi, called for a better relationship between NCC and the school, adding that it needed more equipment to empower the girls.
Atoyebi said this was an eye-opener to greater opportunities in the ICT sector and the students were ready to learn, unlearn and relearn at all costs.
Thanking the NCC for the gesture and expressing hope for supply of more computers to the school, she noted that one of the technical trades in the school being computer craft, the infrastructure was not enough.
"As government school, the population is high and the infrastructure is not enough. We will be happy if NCC will help us with computers as one of the technical trades is computer craft.
"We have students that have been thought computer programming, computer electronics, computer repairs as their core subjects. So, to be able to do more, we need more equipment," she said.
Responding, a student of the GSTC, Ms Emmanuella Freshman, said the programme had imparted knowledge into her, such that it improved her thinking and learning on online bullying.
Freshman said she had an online application called "Things Vibe", which deals with teenagers that have no time to express themselves.
"I made this app in such a way that teenagers can express themselves.
"There is entertainment, learning, talent, quotes and mentors that can encourage and motivate you, using the App. My ICT teachers have been helpful in the success of this project," she said.
Ekiti Poll: Improve On BVAS Innovation, Group Urges INEC
A socio-cultural group, the Ladies of Substance, has urged the Independent National Electoral Commission (INEC) to improve on the innovation of Bimodal Voter Accreditation System (BVAS) to ensure it performs optimally during the 2023 elections.
The group's Team Lead, Mrs Mojisola Akinbohun, told The Tide's source in Ado-Ekiti recently that it would make future elections in Nigeria to be credible.
Akinbohun said the use of BVAS for Ekiti election showed a significant improvement over the previous elections.
"This is a great opportunity for INEC to showcase its preparedness for the 2023 general elections with the test of functionality and effectiveness of the BVAS. I commend INEC for its quick response to resolving all challenges observed during the election in Ekiti," she said.
Akinbohun disclosed that the group had deployed its members to monitor the election across some loycal Government Areas for independent monitoring.
She said that there were tremendous improvements in the timely arrival of election materials to the polling units as well as responses to any issue raised by the electorate.
The team lead said the group, however, observed cases of vote buying during the election, adding that it remains a monster in the electoral system in the country, which must be checked.
Akinbohun also commended the electorate that shunned and resisted attempts and temptations to sell their votes to political agents during the election in the state, and lauded the security for their presence, which ensured utmost calm and peace within and around the polling units and some local governments visited by the group.
The Team Lead said the group observed that there was an impressive turnout across the council areas the group monitored.
She commended the people of Ekiti for their maturity, especially for putting behind the string of violence and not entertaining fears against early predictions that the election might be marred by violence.
Firm  Wants Blockchain For Dispute Resolution
A Fintech Software Engineer ing  Firm, Appzone, has called on banks to adopt blockchain technology  for increased visibility and transparency to resolve dispute claims between customers  and financial  institutions.
Co-founder of Appzone, Mr Uche Elendu, said in a statement that it was needed, with the increased rate of fraud and dispute claims between customers and financial institutions across Nigeria.
Elendu noted  that the adoption of blockchain technology was not only to decentralise the process of moving money from one bank to the other .
According to him,  it would help to  increase the level of visibility and transparency of the procedure.
"As more Nigerians get financially included, customers have continued to move away from cash and checks toward electronic payments," he said.
This trend, he said, is a positive development for banks and the Central Bank of Nigeria (CBN).
According to him, card and online transactions grow as well as  the number of disputable transactions and the incidence of fraud, putting pressure on dispute processes.
"Financial institutions across the continent have continued to evolve, leveraging technology.They have metamorphosed from the days of a heavy analogue process to a more digitised era.
"With the continuous increase in the volume of banking transactions, it remains pertinent to continuously adopt newer and more sophisticated technology infrastructure to remain dependable, especially with payment settlements.
"For us at Appzone, we are firm believers in blockchain technology," he said.
He continued that its decentralised nature not only made it faster, cheaper, and transparent, but also makes it sophisticated enough to enable real-time settlement.
Elendu said having rolled out Zone – Africa's first blockchain platform for payment processing in 2021, partner banks that had onboarded have seen a drastic change in their payment settlement process.
He said that Zone's innovative architecture would reduce complaints from customers and provide banks with an opportunity to deliver delightful experiences on payment channels while also driving down costs.
He further stated that it developed in line with Appzone's recent evolution into a payment infrastructure company.
Noting that Zone is Africa's first decentralised payment network.he said t allows inter-bank transactions to be processed directly between banks on the vlockchain without the involvement of any intermediary.
According to him, with Zone, players in the industry should expect a reliable and scalable payment network that enables frictionless and instant payments, within and between every African country.
The Tide's source reports that Appzone Layer-1 Blockchain network digitises Fiat payments, and enables the transition to digital currencies while connecting previously excluded financial institutions into an all-inclusive payment ecosystem.
'FinTechs  Important In Ecosystem Growth In Africa'
A financial expert, Dr Segun Aina, says policy makers and financial regulators need to evolve with the growth in financial technology companies  (FinTechs) space to establish a sustainable ecosystem and financial inclusion in African countries.
Aina said this at a two-day virtual forum of the 2022 Maiden CABS FinTech, organised by the Community of African Banking Supervisors (CABS) in partnership with Africa Fintech Network (AFN).
The forum had the theme: "Opportunities and Challenges of FinTech Development in Africa."
Aina, former President, Chartered Institute of Bankers of Nigeria (CIBN), said the future was bright for the continent, especially for the growth of FinTechs.
The banker said the AFN was committed to making contributions that would positively impact the growth of the ecosystem.
He noted that there was need to work directly with the Association of African Central Banks, particularly the committee of African banking supervisors to achieve such impact.
Aina said the financial subsector had recorded an unprecedented growth with huge investment, mostly by foreign investors.
He said FinTechs were trending with presence in different countries and also contributing to their Gross Domestic Product (GDP).
"As people continue to embrace digital banking, FinTech startup became bigger in terms of valuation (market value) amid challenges of corporate governance", he said.
According to him, this is evolving despite the opportunities that abound across the entire FinTech ecosystem in Africa.
Aina, however, noted that regulators were attempting to catch up to FinTech as they had realised the need to play in the digital innovation space.
He also said FinTechs and startups in the same space had gained prominence in the last 10 years, which was driven by advancement, enabled by internet and mobile phones.
This development, he said, had made banks to set up FinTech subsidiaries, while their former senior regulators serve on the boards of fintech companies.
The former CIBN boss said mobile money indicator showed that 500 million people subscribed to mobile phones in Africa and 245 million use mobile internet.
Aina also said the continent continued to record the highest year-on-year growth in internet penetration and with the support of funding from outside Africa.