HIV/AIDS:  We Prefer TBAs To Healthcare Providers -Pregnant Women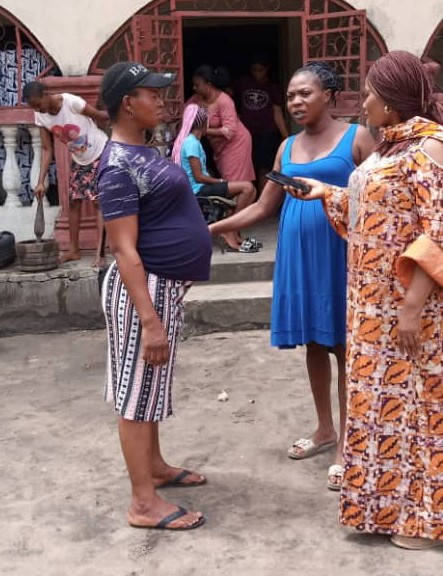 In the face of growing low coverage in pediatric HIV in Rivers State, some pregnant women have explained why they prefer Traditional Birth Attendants (TBAs).
The Tide's investigation during a recent monitoring visit to recognised TBAs in the State by a tripartite breakthrough partnership project comprising UNICEF, Society for Family Health (SFH), and Elizabeth Pediatrics AIDS Foundation (EPAF), revealed that most HIV positive pregnant women opt to patronise the TBAs rather than the orthodox health care providers due to issues relating to stigma and ill-treatment.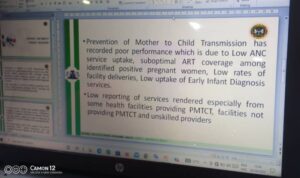 One of such women, who spoke on condition of anonymity, said while the orthodox healthcare providers treat them with contempt, the TBAs treat them with love and care.
According to her, she opted for the "Apostolic Church Assembly Home" in Bodo, Gokhana Local Government Area because their attendants at the TBA home are more accommodative.
"When I visited the hospital to register for Ante-Natal Care (ANC), I was diagnosed of HIV. Immediately the nurses saw that the result was positive, their attitude towards me became negative.
"They started treating me as if I was a prostitute (sex worker). So, after my second visit, when I knew I was positive, I was treated disrespectfully, I decided to patronize a TBA. That's how I came to this home", she stated.
At the "Mama Comfort Umuwaria Home", in Oyigbo LGA, another HIV positive pregnant woman simply said she prefers the home to the hospital because it is cheaper, and she gets the best of attention from the attendants.
"When the owner of this place referred me to the hospital for enrollment for Prevention of Mother-To-Child Transmission (PMTCT) of HIV/AIDS, I did as instructed.
"But after my first visit, I stopped going because of the bills I was asked to pay, nonchalance and degrading treatment from healthcare providers.
"Here, I'm charged #5,000, out of which I've only paid #1,500, but they treat me  as a human being anytime I come, and allow me to pay the balance at my pace, but before I deliver", she said.
At the "Confidence Maternity Favour Home" in ONELGA, Mrs. Faith Eke, who is not HIV positive, said she prefers the TBAs because they make her more comfortable in general terms.
This, she said, include cheaper charge, homeliness, attention, mutual relationship, with attendance an regular communication, even during irregular hours of the day outside the home, and as situation warrants.
Explaining the reason for the monitoring visits to TBAs to ascertain how they relate with pregnant women in terms of sensitization on HIV, Aisha Dadi of the SFH, stated that it is as a result of low viral load coverage for children in Rivers State.
Dadi, who also said Nigeria has a low PMTCT coverage, stated that Rivers State had about 18% low viral load coverage in 2021.
"So, we felt that we need to move focus in finding children who are HIV positive, and also pregnant women, who are HIV positive, so that we can prevent the unborn child from contracting HIV", she said.
Explaining further, an expert in PMTCT with UNICEF, Dr. Abiola Davies, said the essence of monitoring visits to TBA homes in Rivers State is based on the revelation that a lot of pregnant women patronize TBAs more than health facilities, thus making it difficult to have accurate data on pediatric HIV and positive mothers.
"We know that one of the major challenges we have is that a lot of our women do not go to health facilities, and that they mainly patronize the TBAs.
"Why we need to reach out to the TBAs is that the women go there, and because they go there, they are not coming to the health facilities.
"So, we must go and find them. Every single woman is important, every single pregnancy is important for us to get to the point that no child in Nigeria is born with HIV", she stated.
By: Sogbeba Dokubo
RSG Earmarks Health Facilities To Cater For Sexual Violence Victims
The Rivers State Government has vowed to tackle all forms of sexual violence, as it earmarks health facilities to care for victims.
It made the resolve public as part of this year's International Day for the Elimination of Sexual Violence with the theme: Prevention as Protection Enhancing Structural and Operational Prevention of Conflict Related Sexual Violence.
While listing conflict and war as major causes of sexual violence, it says the best form of prevention is to avert conflict in the first place.
In a special message to mark the day, Permanent Secretary, Ministry of Health, Dr. Ndidi Utchay said there is need to do away with cultural practices that deny women and girls their right to equality and justice, while upholding the right of survivors.
She urged citizens who are victims of sexual violence to seek medical care services early.
Against this backdrop, she revealed that the Rivers State Government has earmarked eight health facilites to take care of victims.
The medical facilities include Orogbum Health Centre, Zonal, Zonal Hospital Bori,, Zonal Hospital Ahoada, Zonal Hospital Isiokpo, Zonal Health Centre Nchia-Eleme, Zonal Hospital Degema and Abua Primary Health Centre.
In addition to that, she disclosed that the Ministry has equally trained health care workers on the management of sexual violence.
Warning on the consequences of sexial violence, Dr Utchay said it can lead to sexually transmitted diseases,abnormal behaviours, stigma and in extreme cases suicide.
The day was set aside by the United Nations towards the eradicatiom of sexual crimes, while at the same time paying tribute to those fighting against it.
How Bitter Leaf Helps Curb Weight
Daily intake of bitter leaf has been found to help check weight gain.
Bitter leaf is a common Nigeria's indigenous staples as it is used as spice in food and vegetable in soups. Recent discovery by researchers say it may help to promote weight loss and lower bad cholesterol levels in the blood by decreasing the amount of dietary fat that is absorbed in the intestines.
In a new study, adding bitter leaf to the diet had a lowering effect on bad and total cholesterol concentration at both 5% and 10% dietary incorporation levels under laboratory conditions in animals.
Administration of methanol extract of Vernonia colorata at 1000mg/kg and 200mg/kg significantly downregulated weight gain in animals fed a high-fat diet relative to the untreated group that was fed a high-fat diet only.
Experts, in the study, said bitter leaf may be useful in weight loss regimen, reducing dietary obesity and also serve as a potential drug lead in the search for natural products for the treatment of diseases associated with dyslipidemia, a condition in which there is abnormally high cholesterol or fat in the blood.
The study assessed the effect of feeding both a high-fat diet (HFD) and methanol extracts of Vernonia colorata (MEVC) on lipid profile (amount of cholesterol and fat in the blood) and body weight changes in 30 Wistar albino male rats aged between 10 and 12 weeks.
It was in the 2021 edition of the journal, Biokemistri. It involved Ijeoma Nina Eke-Ogaranya and Anthony Chibuzor Nnamudi at the PAMO University of Medical Sciences, Port Harcourt, Rivers State, in collaboration with Ifeoma Irene Ijeh at the Michael Okpara University of Agriculture, Umudike, Abia.
Different amounts of the extract of Vernonia colorata were administered orally on a daily basis. Body weight was measured weekly while the amount of cholesterol and fat in the blood was measured at the end of the study which lasted for 10 weeks.
The study found that the bad cholesterol and fat lowering effects of extracts of Vernonia colorata were similar to Orlistat, the drug designed to treat obesity. It also resulted in a dose-dependent decrease of 22.2% and 15.8% in body weight of animals that were administered 1000mg/kg and 200mg/kg of methanol extract relative to a 12.5% decrease in the Orlistat group.
There was a significant decrease in LDL cholesterol concentration upon concomitant feeding of a high-fat diet and administration of methanol extract of Vernonia colorata relative to the high-fat diet control group.
Obesity is a complex disease involving an excessive amount of body fat. Obesity is not just a cosmetic concern; it is a medical problem that increases the risk of other diseases and health problems, such as heart disease, diabetes, high blood pressure and certain cancers. High-fat foods rich in cholesterol and triacylglycerols have been implicated in these conditions.
Although there are genetic, behavioural, metabolic and hormonal influences on body weight, obesity occurs when there is overeating, especially in high-fat foods and physical inactivity. So, many therapies, therefore, target achieving weight reduction through dietary modulation.
Vernonia colorata is a perennial shrub that is found throughout Central and West Africa. It has broader, wildly hairy leaves and it is less bitter-tasting than Vernonia amygdalina. Hence, it can be described as a sweet-bitter leaf due to its characteristic non-bitter taste.
Vernonia colorata is similar to Vernonia amygdalina (commonly referred to bitter leaf, onugbu or ewuro), in appearance and nutrient content. They share many of the vernacular names and uses are the same.
Bitter leaf is commonly used in traditional medicine. Leaf decoctions are used to treat fever, malaria, diarrhoea, dysentery, hepatitis and cough as a laxative and as a fertility inducer. They are also used as medicine for scabies, headache and stomach-ache. In Nigeria, its leaves are placed on a wound as a substitute for iodine.
Lemon Juice and Diabetes — Experts
It is not easy to control blood sugar. Many diabetics have difficulty regulating the amount of sugar in their blood, leaving them at greater risk of headaches and lethargy as well as future heart attacks and nerve damage. But a new study found that lemon juice, not tea, can help to modify how food is digested and to reduce sugar spikes after meals.
In the study, the researchers tested the impact of black tea and lemon juice on the glycemic response to bread and subsequent energy intake in healthy adults. They gave equal portions of bread (100 g) and 250 ml of water, black tea or lemon juice and later measured their blood glucose concentrations.
The researchers noted that tea had no effect on the glycemic response but lemon juice significantly lowered the mean blood glucose concentration peak by 30 per cent. It delayed more than 35 minutes. None of the tested beverages had an effect on the energy available for the body to use all the time as reported in the European Journal of Nutrition.
The researchers stated: "the effect of lemon juice was similar to what has been repeatedly observed with vinegar and other acidic foods. Including acidic beverages or foods in starchy meals thus appears to be a simple and effective strategy to reduce their glycemic impact."
The researchers stated in the European Journal of Nutrition that "the effect of lemon juice was similar to what has been repeatedly observed with vinegar and other acidic foods. Including acidic beverages or foods in starchy meals thus appears to be a simple and effective strategy to reduce their glycemic impact."
To fuel the body, starch in food is broken down into sugars by enzymes in saliva, first in the mouth and then the stomach. Further conversion happens in the intestine and liver to produce glucose that is transported around the body via the bloodstream.
The hormone insulin plays a vital role in helping cells refuel with sugar. Blood sugar levels rise in diabetics when the body either does not produce enough insulin or if it is overwhelmed with large amounts of glucose.  An unruly blood sugar levels set the stage for a host of complications if left untreated.
Diet plays a role in managing blood sugar levels. There is increasing evidence, however, that certain foods can help lower glucose.
The inhibition of enzymes that breaks down the starch in food during digestion could constitute an opportunity to slow down the release, and ultimately the uptake, of starch-derived glucose in the stomach, hence preventing a spike in blood sugar level.
Lemon juice, which is packed with polyphenols, is often mixed with water to help flush toxins out of the body. It is a miracle potion for those looking to shed some extra pounds and a go-to drink after a nasty hangover.
Also in another study, researchers from Université Paris-Saclay discovered that lemon juice slows the body's digestion system, suppressing the conversion of carbohydrates into sugar and therefore suggested that by adding lemon juice to their mealtimes, diabetics could help level off the spikes in blood sugar that affect their daily lives. It was published in the journal Food Chemistry.
According to them, "lemon juice had a remarkable effect. The results provide a strong biochemical rationale for the development of dietary strategies to improve the glycaemic impact of starch-rich diet."
The research had assessed how different drinks influence the actions of the salivary enzymes in breaking down starch at the start of that chain. Laboratory experiments recreated conditions in the stomach with bread digested in the presence of black tea, green tea, coffee, wine, vinegar and lemon juice.
The enzymes were seen to slow down markedly in the acidic conditions provided by teas, wine and vinegar, but tended to recover their efficacy over the subsequent 30 to 60 minutes.
However, when pH levels dropped below 2.5, as with lemon juice, there was a "complete interruption of starch hydrolysis during the gastric phase of digestion."
Researchers believe that lemon juice intake may reduce blood sugar levels spikes in a small time frame of 45 minutes. They stated that those who drank lower amounts of lemon juice also had lower blood glucose than those who drank none. The difference, however, was not significant.
They recruited 12 subjects, all aged between 20 to 30 years, who were divided into three different groups.
The first control group ate 200 grammes of cooked rice, while a second group was given 15 grammes of lemon juice, followed by 200 grammes of cooked rice.  The third group of participants was given 30 grammes of lemon juice followed by 200 grammes of cooked rice.
Lemon juice was mixed with water, and all subjects were instructed to eat food within 10 minutes of drinking their beverage. They all had their blood sugar levels measured at zero, 15, 30, 45, 60, 90 and 120 minutes after consumption.
Lemon water may not directly impact the blood sugar levels, causing it to come down, but it is packed with soluble fibres, which also help keep the heart healthy by regulating cholesterol and stabilising blood pressure.
Squeezing lemon juice and drinking it with water may not amount to your daily recommended intake of fibre or vitamin C. But it is dubbed by American Diabetes Association as "Diabetes Superfood" because it is full of fibre, vitamin C, folate and potassium, which would help benefit a healthy diabetic diet.
Adapted from the Nigerian Tribune
By Kevin Nengia
Albinism: Lack Of Medical Checks May Lead To Cancer -Experts
As the world celebrates World Albinism Day last, Monday, experts have warned that lack of medical help and checks may make patients prone to cancer.
According to the health warning those between 30-40 years are prone to develop skin cancer if they fail to follow up regular health checks and protection.
The report said, Studies " that people with albinism are likely to get affected by many biological, mental and social issues. These people are prone to undergo drastic differences in skin pigmentation. Moreover, a lot of people with albinism often have permanent visual impairment due to a lack of melanin in their eyes.
" majority of individuals with albinism develop skin cancer between the ages of 30 and 40. But skin cancer is preventable among albinism patients with regular health checks, sunscreen, sunglasses, and sun-protective clothing. However, people of low-income countries might have to suffer due to a lack of facilities", it added.
The theme for this year's International Albinism Awareness Day is "United in making our voices heard."
The United Nations chose the theme with an aim to include the voices of persons with albinism since it is essential to ensure equality #Inclusion4equality, to celebrate the people suffering from albinism, and increase the visibility of persons with albinism in all domains of life.
This day also encourages and celebrates unity among the support groups of albinism and highlights the work being done by albinism groups around the world.
In North America and Europe, one in every 20,000 people has some form of albinism, and around 1,400 people in Sub-Saharan Africa suffer from the same condition.
It was on 18 December 2014 that the General Assembly adopted a resolution to celebrate 13 June as International Albinism Awareness Day. This resolution came into effect in 2015.
This action was taken as a response to the call from civil society organisations advocating to consider albinism patients as a specific group that has certain needs and requires special attention. The council created the mandate of Independent Expert on the enjoyment of human rights by persons with albinism on 26 March 2015
By: Kevin Nengia