Aviation Unions To Embark On Two Days Warning Strike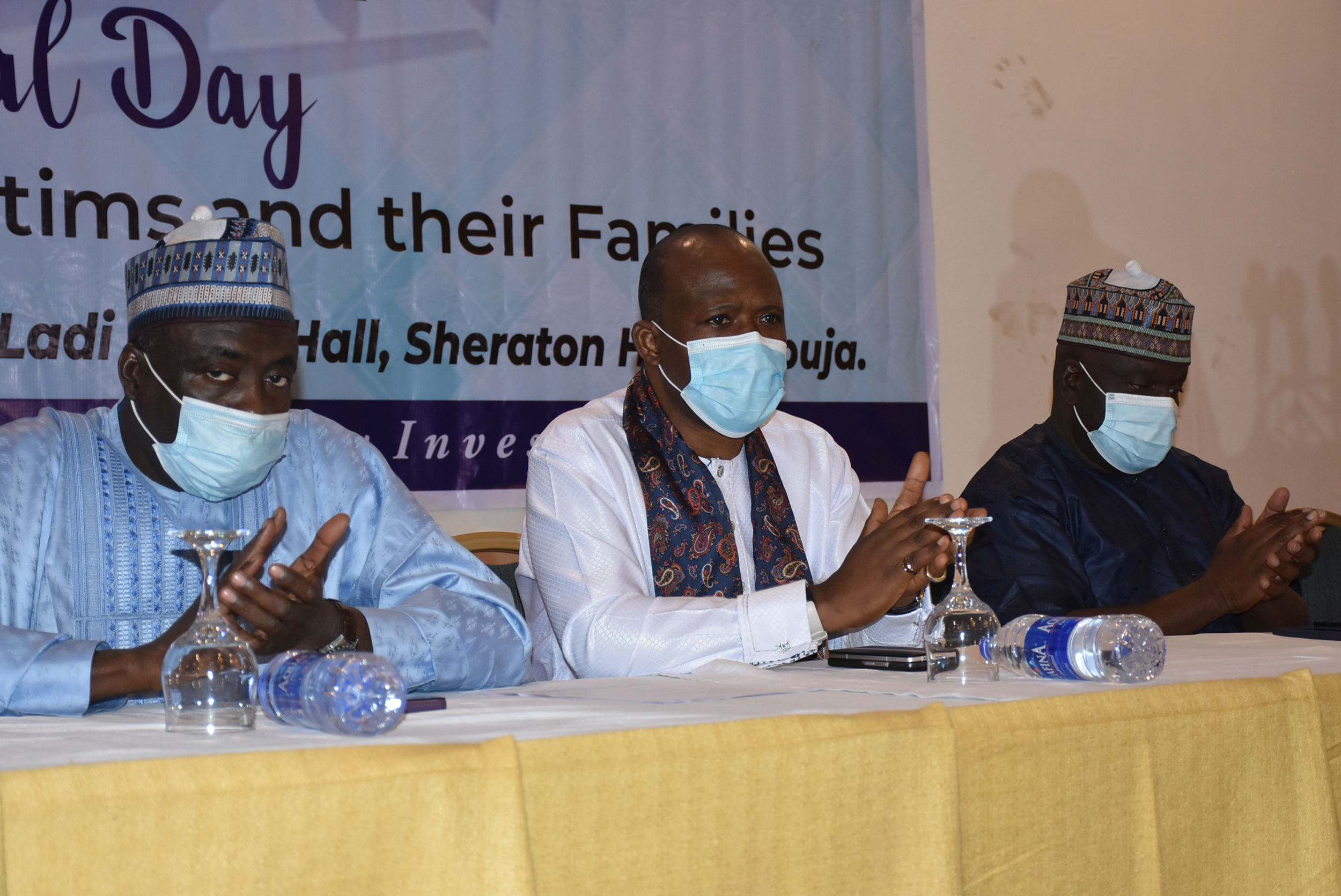 Aviation workers' unions, namely, the National Union of Air Transport Employees (NUATE), Association of Nigeria Aviation Professionals (ANAP), Amalgamated Union of Public Corporation Civil Service Technical and Recreational Services Employees (AUPCCSTRSE), are to commence a two-day warning strike, today, over "workers' negotiated conditions of service and other sundry issues that have been neglected for nine years."
Speaking on the planned strike, the General Secretary of NUATE, Ocheme Aba, said all operations at the Nigerian Airspace Management Agency (NAMA), Nigerian Meteorological Agency (NiMet), as well as the Nigerian Civil Aviation Authority (NCAA), would be grounded along with that of the Nigerian College of Aviation Technology (NCAT).
In a notice to the staff of these agencies signed jointly by General Secretary, NUATE, Comrade Ocheme Aba, Secretary-General, ANAP, Comrade Abdul Rasaq Saidu; and General Secretary AUPCTRE, Comrade Sikiru Waheed; read that despite best efforts, the issues concerning Conditions of Service of NAMA, NCAA, NiMeT, and NCAT as negotiated with agencies for upwards of seven years remain with the National Salaries Income and Wages Commission (NSIWC), and the Minimum Wage Consequential Adjustment and remain unimplemented since 2019.
The statement read: "Consequently, our unions have no alternative than to embark on an industrial action to press home our demand for justice and equity, especially considering the long-suffering, patience and forbearance on the part of our members which has now reached yield point.
"Accordingly, all workers in NAMA, NCAA, NiMeT and NCAT are hereby directed to embark on a 2-day warning strike on the 9th and 10th of May, 2022. Should the warning go unheeded, an indefinite strike shall be called soon after."
Aba, NUATE General Secretary who gave further details said, "The patience of the workers in the aviation agencies have since run out and we have passed yield point, we have not yielded and the system has not broken down and that remains a miracle but our unions have run out of excuses for our members as to why workers are denied these benefits they have earned, some for up to nine years.
"Our demand is simple, we have negotiated conditions of service since 2013 and up till now, they have not been released. We have the 2019 National Minimum Act that is yet to impact on nation workers.
"Recently, the Wages Commission approved 10percent across board increment as a Consequential Adjustment to agencies it remains unimplemented.
"We have two problems with that flat 10percent approval. A percentage increase is grossly inevitable, if a person earns N1million, 10percent of that is N100,000 and if someone earns N70,000 10percent is N 7000, this is grossly inequitable. We have insisted there has to be a graduated percentage increase as a flat increase cannot work for us," he explained.
Meanwhile, passengers who will be directly affected by the union's strike action have called on the unions to shelve their action since the domestic airlines are also threatening to suspend flight operations.
A passenger, Mr John Odu, today, that the unions should not join airlines to cripple the economy.
"How can the aviation unions be talking about strike now when the government is pleading with airlines not to suspend flight operations? Government should be given time to solve these aviation problems one after the other."
"Aviation should not kill the economy. Unions know the strategic importance of aviation in the economy. Businesses and critical meetings will be put on hold when there are no flights".
Another passenger who was visibly angry with the union's decision and refused to disclose his name that "this is the wrong time to disrupt flight operations. The economy is trying to recover and prevent free movement of goods and services at this critical time is most unpatriotic.
"Can these agencies afford to meet all these demands the workers are asking for ", he asked.
RSHA: Amaewhule-Led Lawmakers Defy Court Order, Elect New Leaders
The crisis rocking the Rivers State House of Assembly took a new twist on Wednesday as lawmakers loyal to the former Speaker, Martin Amaewhule, sat under tight security in the complex.
This is contrary to the court order asking the two factions of the State House of Assembly to maintain the status quo pending the determination of a suit filed by the Edison Ehie faction.
Recall that Ehie faction had obtained a court order that parties should maintain the status quo pending the determination of a suit seeking to sack Amaewhule as the House Speaker.
The Rivers Assembly had become factionalised following an unsuccessful move to impeach Governor Siminialayi Fubara.
The Amaewhule-led lawmakers are believed to be loyal to Fubara's predecessor and political godfather, Nyesom Wike.
It was learnt that ahead of Wednesday's sitting, cleaners had on Tuesday been deployed to clean up the Assembly complex, which had been under locks, since October 29, following an explosion in the complex the night before.
One of the cleaners said they were instructed to tidy up the complex ahead of a sitting on Wednesday.
It was gathered that the Wednesday sitting was held for about two hours as a team of riot policemen and security vans were stationed in front of the House to prevent any breaches.
It was gathered that the lawmakers elected a former Chief Whip as the new Majority Leader of the Assembly.
The member, representing Ogba/Egbema/Ndoni Constituency 1, Frankline Nwabochi, was named the new Chief Whip.
An unsigned statement sent to the Assembly Press Corps obtained by The Tide said the two new principal officers accordingly took their oath of office.
Amaewhule congratulated them, charging them to be committed to their new responsibilities.
According to the statement, the lawmakers also passed the first reading of a Bill seeking to amend the Rivers State Local Government Law, No. 5 of 2018.
They also debated on the Rivers State House of Assembly Funds Management (Financial Autonomy) Bill, 2023, which passed second reading on Wednesday.
Amaewhule who described the Bill as important, expressed his conviction that Governor Fubara would assent to it after the lawmakers finally pass it.
He hinted that the governor had withheld funds meant for the Assembly for the month of November.
He said the lawmakers were determined to perform their constitutional duties despite the distractions.
He thereafter referred the Bill to the House Committee on Public Accounts for public hearing and further legislative scrutiny.
The other faction of the Assembly led by Ehie, and loyal to Fubara, had yet to react to the Wednesday development as of the time of filing this report.
Ogoni Group Mulls Recall Of Lawmakers Over Foiled Fubara's Impeachment
An Advocacy group in Rivers State, Ogoni Development Drive (ODD), says it has begun the process to recall four Ogoni lawmakers from the Rivers House of Assembly over their alleged roles in the botched impeachment of Governor Similanayi Fubara.
The lawmakers are Dumle Maol (PDP, Gokana constituency), Barile Nwakoh (PDP, Khana), Aforji Igwe (PDP, Eleme) and Bernard Ngba (PDP, Tai).
The group's Convener, Comrade Solomon Lenu, made this known at a news conference in Port Harcourt, yesterday.
Recall that Fubara survived an alleged impeachment plot on October 30.
ODD said it had on November 10 issued a seven-day ultimatum to the four Ogoni lawmakers who partook in the plot that attempted to serve an impeachment notice to Governor Fubara.
The four lawmakers, now suspended, were asked to apologise to the Ogoni people whom they represent and to Gov. Fubara for denigrating his exalted office or risk being recalled.
"Instead of heeding this advice and embracing the olive branch extended to them, they rather embarked on an egocentric escapade," the group said.
Lenu further said the lawmakers rather than heed to the advice by ODD, engaged in various meetings that purportedly plotted to unseat the governor.
"Governor Fubara was collectively voted for by the entire Rivers people, and as such, the action by the lawmakers has not gone well with all men and women of conscience.
"It is illogical for the erring assembly members to think it is right to impeach an innocent governor for no just cause but wrong to recall them for erring against their constituents.
"The suspended lawmakers called a bluff of ODD ultimatum, and so, we have decided to carry out this recall process in earnest, to put our democracy aright," he said.
Lenu said the group had already reached an advanced level in sensitising and mobilising the lawmaker's constituents to recall them.
He said that ODD had also obtained the comprehensive voters' register of all voters in the four local government areas and constituencies.
According to him, an electronic capture form has also been created to make the petition process easier for students at various tertiary school campuses and those on holiday to sign the petition.
"So far, the response from the aggrieved constituents has been very impressive, and we shall in a few weeks' time complete the compilation of the required signatures.
"The signatures are required for INEC to call for a referendum, which shall be carried out in branches with strict security guidance, to abort any sinister counterplot against democracy.
"We know this process is not going to be easy, but we are ready to go all the way, to create a sense of responsibility in our elected leaders," he said.
Lenu said instilling a sense of responsibility in politicians and elected leaders would further entrench democratic tenets in the country.
The ODD convener called on the people of Ogoni to come forward and sign the petition, to end political "jamboree and illicit godfatherism" in the state.
The Tide reports that 26 lawmakers on Oct. 30 proceeded to impeach Fubara but were stopped by four pro-Fubara lawmakers led by Ehie Edison (PDP-Ahoada East II).
Mr Martins Amaewhule (Obio Akpor constituency), a close ally of a former governor, was later ousted as Speaker and Ehie sworn in as the new Speaker.
However, Amaewhule insists that he is still the Speaker of the House of Assembly, resulting in some form of confusion over the office of the Speaker.
FRSC Commander Faces Sanction Over Unauthorised Comments
The Federal Road Safety Corps (FRSC), yesterday, disowned the Unit Commander, Central Business District Unit Command, Assistant Corps Commander IL Ibrahim, over his recent statement on Vehicle Inspection Officers, otherwise known as Directorate of Road Traffic Services.
Ibrahim was quoted to have said that VIO officials did not have the right to arrest road traffic violators, including overloaded vehicles and motorists caught using phones while driving.
But Deputy Corps Marshal, Bisi Kazeem, in a statement, yesterday, said Ibrahim's comment was not the position of the Corps.
Kazeem added that the concerned official had been recalled to the national headquarters for necessary disciplinary action.
The statement read, "The Federal Road Safety Corps wishes to make a pertinent clarification regarding the pronouncement by the Unit Commander, Central Business District Unit Command, Assistant Corps Commander IL Ibrahim, that Vehicle Inspection Officers, otherwise known as Directorate of Road Traffic Services, do not have the right to arrest road traffic violators, including overloaded vehicles and motorists caught using phones while driving.
"The general public is advised to disregard the statement as it had no approval of the Corps Marshal, Dauda Ali Biu, and does not in anyway reflect the corporate or general position of the Corps.
"It is important for the public know that the laws establishing VIOs/State Traffic Management Agencies give them the statutory mandate to make arrests on different offences depending on the state within which they operate. As such, the agencies should be given the maximum cooperation for the enhancement of safety on our roads.
"On this note and in line with sustaining the Corps' resolve that road safety is a collective responsibility, and in acknowledgement of the roles the State Traffic Management Agencies like the Vehicle Inspection Officers play in complementing the statutory responsibilities of the FRSC through enforcement of traffic laws, the Corps Marshal has ordered the immediate withdrawal of the Unit Commander to the national headquarters for necessary administrative and disciplinary actions.
"The public is admonished to always comply with all established traffic regulations and cooperate with security agencies deployed to maintain law and order on the highways, irrespective of their corporate mandate."