2023: Wike Pledges End To Banditry In Katsina, Others … Slams APC Aspirants Wanting To Consolidate Buhari's Legacy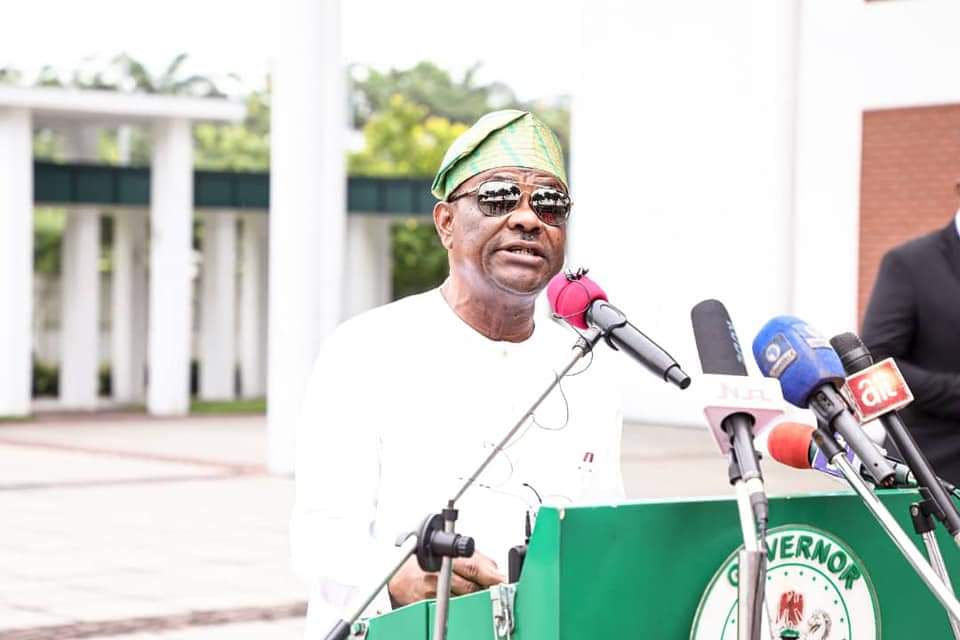 Peoples Democratic Party (PDP) presidential aspirant and Rivers State Governor, Chief Nyesom Wike, has disclosed that he has a clear plan to counter activities of marauding bandits in Katsina State and other parts of the country, if elected president of Nigeria.
The presidential aspirant has also promised that he would produce real and rapid improvements in the lives of Nigerians, particularly by aggressively resolving insecurity and creating a conductive environment for economic activities to thrive.
This is even as Wike wondered what good jobs President Muhammadu Buhari has done that presidential aspirants on the platform of the All Progressives Congress (APC) were promising to consolidate.
Wike gave hint of his clear blueprint to tackle insecurity while addressing Katsina State PDP leaders and delegates at the party's secretariat in Katsina, the state capital, last Saturday.
The Rivers State governor regretted that President Muhammadu Buhari, who hails from Katsina State has failed to stem the activities of marauding bandits responsible for the wanton destruction of lives and property in the state.
The governor assured the delegates that if elected as president in the 2023 presidential election, he would expeditiously resolve the nagging issue of insecurity and implement economic programmes that would enhance the quality of lives of Nigerians.
"You require somebody who will give you security in Katsina State. You require somebody who will bring projects to Katsina State. You require somebody who will appreciate the people of Katsina State."
Wike reiterated that the PDP requires a presidential candidate who is courageous, firm and with capacity to defeat the failed All Progressives Congress (APC) government in the 2023 general election.
"APC will not give you power. We will take this power back from APC and give it back to PDP on behalf of Nigeria. I am that person who can withstand APC and win them. I am not going to run election to bear former presidential candidate. I came out because I know I would win the election."
Wike urged the delegates not to vote for any aspirant on the basis of ethno-religious sentiment.
He asserted that they will be making informed choice by voting for him based on his the track records and commitment to the PDP.
The governor, who described himself as the most prepared aspirant, however, maintained that if someone else emerges as the PDP's presidential candidate, he would support the person to defeat the APC.
"If I don't get the ticket, I will still work for anybody who emerges as the candidate of the party, because what we are talking about is how PDP will take back power, how we can solve the problem of insecurity, how we can solve the problem of hunger.
"You cannot go to farm, again, your wives cannot go to farm. When they go to farm they will be kidnapped, they will be raped. Can we continue to live in fear? Can we continue to leave this country with these people that have failed us?"
In his remarks, former Katsina State Governor, Ibrahim Shehu Shema, said that Wike has demonstrated in course of his nationwide campaign that he has the capacity to lead Nigeria and resolve the issues of insecurity, poverty, hunger, illiteracy and unemployment.
"Anybody, who is not willing to take up this challenge, and look at the populace and address what their true and genuine concerns are, will only be interested in power for himself.
"I am glad we share the same vision. We are thinking in the same direction and we hope Nigeria after 2023 will be a better, more prosperous, more focus and more and more leader of Africa and the black world."
Katsina State PDP Chairman, Salius Yusuf Majigiri, said party faithful are excited to receive Wike and his campaign team and do identify with his aspiration to become the president of Nigeria.
Similarly, the Rivers State Governor, Chief Nyesom Wike, has wondered what good jobs President Muhammadu Buhari has done that presidential aspirants of the All Progressives Congress (APC) were promising to consolidate.
Wike, who is a Peoples Democratic Party (PDP) presidential aspirant, said Nigerians are under the yoke of APC maladministration with intractable insecurity situation that has crippled the economy and increased hunger.
Speaking in Yenagoa, the capital of Bayelsa State, last Friday, when he met with Governor Douye Diri at the Government House, Wike said God and Nigerians would forbid such successor to emerge, because the country must be freed from the festering insecurity, hunger, poverty and dwindling economic fortunes of Nigeria and its people.
"It is most unfortunate when I hear people declaring (intention to be president) under APC and saying they want to continue the good job of Mr President: The good job of people dying every day? Or the good job of Naira falling every day?
"I feel so ashamed that we have gotten to the level of sycophancy where people will come and say 'I want to continue the good job of Buhari'. What is the good job of Buhari? Hunger, poverty, insecurity, economy falling?
"I can't believe that somebody will come out in today's Nigeria and say I want to continue where Mr Buhari has stopped. May God never allowed that evil to continue."
Wike described himself as the most courageous leader who can lead Nigeria out of its presents woes and has, therefore, urged delegates of the PDP in Bayelsa State to support his presidential bid.
The Rivers State governor urged his Bayelsa State counterpart to support his presidential bid because he was contesting on behalf of the two sister states.
Wike said he understands the peculiar problems of the two states, the Niger Delta region and is in a position to sufficiently address them as president of Nigeria.
In his response, Bayelsa State Governor, Senator Douye Diri, noted that PDP constitution provided for the rotation of the position of presidential candidate between the North and South.
He reiterated that it was expedient that it is enforced within the principle of fairness, justice and fair play.
Diri described his Rivers State counterpart as a homegrown politician who understands the contending issues both in the South-South region, and Nigeria as a whole.
"The challenges of the South-South, the challenges of the Niger Delta, the challenges of Rivers and Bayelsa, you have worn the shoe, and it is only those who wear the shoe that knows where it is pinching. And so, there is no other aspirant that understands our challenges and problems other than you.
"You could have as well said this is our state I don't need to come and campaign in Bayelsa, I don't even need to come and see the delegates in Bayelsa, my brother governor is there, he will do it for me. And if you had called me on phone, I would have said 'don't come, stay back in Port Harcourt, we will do it for you'."
He noted the need for a courageous leader like Wike to reverse the top-bottom administrative modus operandi of APC that has plunged Nigeria into dire economic situation.
Diri assured his brother governor that the people of Bayelsa State would support him to actualise his presidential ambition.
Wike, who later met with PDP delegates at the party's secretariat in Yenagoa, reminded them of how he stood firm and never betrayed former President Goodluck Jonathan.
The Rivers State governor said he was handing himself over to Bayelsa people to consider him as their son, who is requiring their support so that he could clinch the PDP presidential ticket.
Wike described himself as complete PDP member who has never left the party, and remains the only courageous and fearless person who can confront APC in the 2023 presidential election, and win it.
The Rivers State governor expressed regret that the APC-led Federal Government has been unable to crush activities of bandits in parts of the country.
He, however, stated that bandits would naturally run away when they know that he has emerged as the next president of Nigeria.
Also speaking, the former Gombe State Governor, Dr Hassan Dakwambo, said Wike requires their support to actualise his presidential bid.
According to him, Wike was not only one of their own, but a trusted, tested leader who was psychologically prepared, and has the courage to provide the needed leadership that Nigeria yearns for.
In his remarks, PDP Chairman in Bayelsa State, Mr Solomon Agwana, said the country needs a visionary leader like Wike to put out of the brinks.
2023: I'm Only PDP Presidential Aspirant To Defeat APC–Wike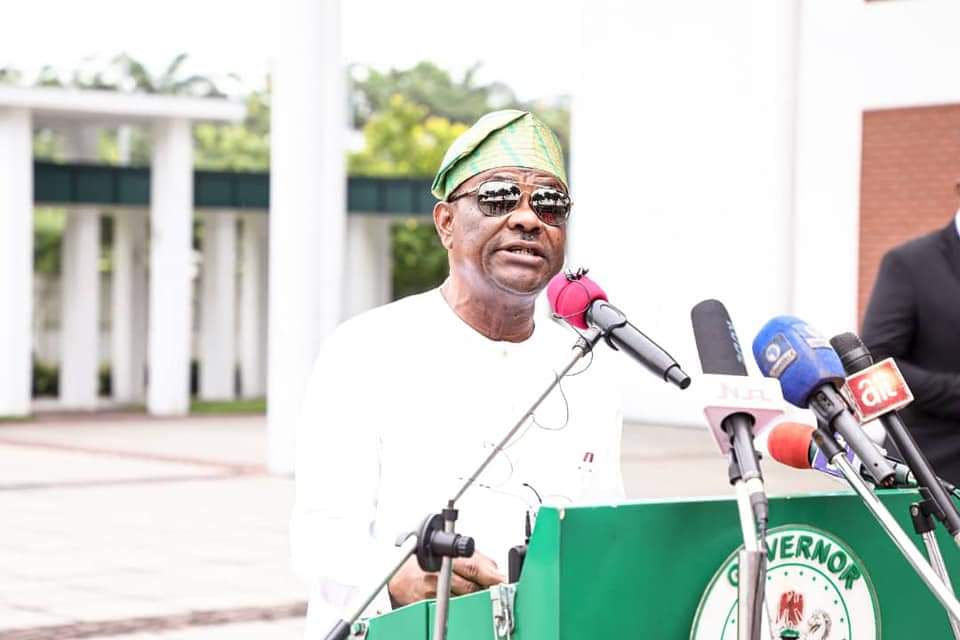 Rivers State Governor and leading presidential aspirant on the platform of the Peoples Democratic Party (PDP), Chief Nyesom Wike,has said that he remained the only PDP aspirant that could win election against the ruling All Progressives Congress (APC).
Wike, in company of some PDP chieftains, made this remark when he met national delegates of the Lagos chapter of PDP in Ikeja, last Saturday.
The aspirant, who noted that he was not running to be vice president to anybody, said that if elected, peace, security of lives and property would be prioritised to strengthen the nation's sustainable infrastructure, food security, prosperity and economic turnaround.
He said the nation needed a strong and courageous leader like him now, adding that with a courageous leader, difficult decisions would be taken to tackle the nation's challenges.
"The issue now is who can win election for PDP. Who has the capacity to face the APC? Who will win election for PDP? That is me here.
"I will face APC squarely. If you give me this ticket on May 28 and May 29, go home and sleep with your two eyes closed," Wike said.
The governor said that PDP must do everything possible not to lose the 2023 presidential election.
"If we lose the presidential election in 2023, we can as well forget PDP.
"I have been tested in terms of performance. Mine is 'talk and do'," he added.
Wike, who promised to replicate his outstanding performance in Rivers State across Nigeria, said that he would provide a leadership every Nigerian would be proud of, home and abroad.
The aspirant pleaded with the Lagos delegates and leaders to be united and work for his emergence at the primaries.
"I know APC very well, allow me to face them. I am begging you, delegates, allow me. Support me to take the power from APC and bring back to PDP.
"I depend on the South-West, if the South-West gives me the votes, I have won the election. Donate all your votes to me," he said."
The PDP chieftain lamented that some party leaders aspiring to contest for PDP presidential ticket now, were the ones that threw the former ruling party into being opposition when they left the party in 2015.
Wike, who noted that he had been with PDP since 1998, said: "I will never leave this party. Whatever I am today, by the grace of God, God used PDP for me".
He, however, said that he would never leave PDP even if he did not win the primaries, pledging to support whoever won.
The governor, who appealed to the Lagos PDP to end all infighting and division, said that if the party was not united, it would not win in the state.
In his remark, former Governor of Gombe State, Dr Ibrahim Dankwambo, who led Wike's delegation, described the presidential aspirant as a fearless and courageous leader, with strong capacity to drive Nigeria forward.
Army Bombs B'Haram Commander's Convoy, Kills Scores, Destroys Gun Trucks
Troops of the Nigerian Army under the auspices of Operation Hadin Kai have bombed a convoy of a Commander of Boko Haram in Sambisa forest, Abubakar Sarki, killing scores of terrorists who were with him.
Sources said the offensive was coordinated by the General Officer Commanding 7 Division, Nigerian Army and Commander Sector 1 North East Operation Hadin Kai (OPHK), Maj-Gen Waidi Shaibu on Saturday, May 14, 2022, at Yuwe location, within the Konduga Local Government Area of Borno State.
The Army was said to have deployed a massive artillery gun after sighting eight moving convoys conveying Abubakar Sarki and unconfirmed numbers of fighters in devastating hits.
The source said that based on intelligence information, Abubakar Sarki and his team were heading toward Abu-Ubaida's camp to engage its rival fighters from the Islamic State of the West African Province (ISWAP), in a battle of supremacy.
Counter Intelligence expert with knowledge of terrorists activities in Lake Chad, Zagazola Makama confirmed the artillery bombing of the BH Commander's convoy.
"A ground assessment confirmed that three guntrucks with all its occupants were completely destroyed, while the remaining five vehicles, including Abubakar Sarki escaped" the source said.
The source added that the terrorists, however, aborted the mission and evacuated the dead and wounded fighters towards the axis between Pulka and Banki.
The sources said that the troops were mandated to go after the fleeing terrorists and eliminate them completely.
The infighting between the two terrorists groups had intensified with the ISWAP hunting Boko Haram during the day time while the Boko Haram are coordinating reprisal attacks at night because of their knowledge of the terrain.
NDDC Fund, Account For Alleged N700b, Inaugurate Board, Monarch Tasks FG
Barely three days after some ministers resigned, including Minister of the Niger Delta Affairs, Sen. Godswill Akpabio, the Paramount Ruler of Idjerhe Kingdom of Delta State, King Obukowho Monday Whiskey, yesterday, called for urgent inauguration of the already screened and confirmed board of the Niger Delta Development Commission (NDDC) just as he called on the Federal Government to the over N700billion he alleged has been allocated to investigate the commission in the last three years.
He said these steps by the government would help resuscitate the agency and rekindle hope of the people whose regional resources, he alleged, were criminally plundered by the leadership of Federal Ministry of Niger Delta Affairs.
In a press statement personally issued by the monarch and made available to journalists in Benin City, Whiskey said, "Having voluntarily resigned as Minister of the Niger Delta Affairs, our beloved son, Obong Godswill Obot Akpabio, should come out clean to explain to fellow Niger Deltans the whereabouts of the three years running budgetary allocations of the NDDC which inside sources claimed were more than N700billion.
"For presiding over the ongoing illegality in NDDC, Akpabio is not fit to be president.
"The Federal Government and Akpabio, who held the region perpetually captive and denied her of her developmental agenda because of an inglorious forensic audit that never brought out anything should now explain to our people of our collective regional wealth.
"The father of the nation, Mr. President must have seen now that those he entrusted with the developmental agenda of the oil and gas bearing communities of Nigeria had their own nefarious intentions to swindle and cause more havoc and deny the people their collective dreams of development.
"It is instructive to note, Mr. President, that three options are still available to the Federal Government of Nigeria. The first being the immediate inauguration of the screened and confirmed board of the NDDC under the Chairmanship of Dr. Pius Egberavwe Odubu, and Olorogun Bernard Okumagba as managing director. Secondly, immediate dissolution of the illegally constituted sole administrator that is alien to the NDDC Act 2000, and thirdly, every of the allocation to the NDDC from 2019 to 2022 except for those used for staff salaries and sundry expenses, every other monies of the over N700billion be recovered from whoever were part of the Macabre dance of shame in the past four years."
The traditional ruler stressed that the inauguration of the already screened and confirmed board would rekindle hope and restore the Federal Government's integrity before Nigerians and the international community.