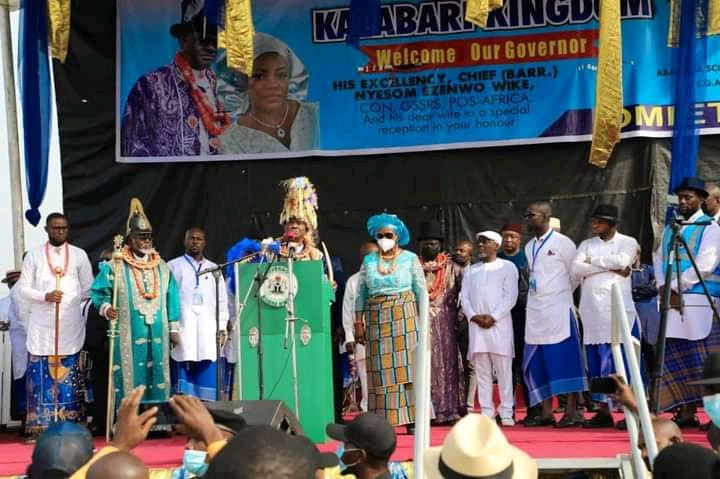 Last Saturday, the Kalabari ethnic nationality conferred on Governor. Nyesom Wike the chieftaincy title of Se- Ibidokubo of Kalabari (meaning a champion of development of the Kalabari ethnic nation).
The event which took place at the school field, Abalama in Asari-Toru Local Government Area was the high point of the civic reception held in honour and appreciation of the Rivers State Governor by the traditional institution, governments and people of Kalabari Kingdom.
In all its form and content, the occasion could not have been better organised. Traditional rulers and chiefs from all three local government areas of Degema, Asari-Toru and Akuku-Toru turned out in their gorgeous regal best. The famous traditional iria dance and token masquerade displays spiced up the occasion with the brief appearances of top Nigerian entertainers like Flavor and Gordons as icing on the cake.
Perhaps to emphasise the point that the occasion was mainly organised to express gratitude to the state chief executive for his developmental footprints in Kalabari land, only banners and billboards with messages welcoming the governor were erected. There were indeed none promoting any aspirants to any political office
No speeches were also entertained from government or political party functionaries. In fact, only four good will messages were taken from Prof. Nimi Briggs, former Vice Chancellor of the University of Port Harcourt, Ms Ann Kio-Brisggs, Niger Delta environmental activist, Chief Dumo LuLu-Briggs, businessman, politician and philanthropist and Engr. Dagogo Jack.
As if forbidden to speak pointedly, all of them spoke in inuendos and euphernisms in reference to the one central issue preoccupying the minds, hearts and souls of every bonafide Kalabari son and daughter (at home or in the diaspora; in APC or PDP or any other political party; politically active or passive).
Prof Briggs broached it when he said that the Kalabari man had well paid his dues in the overall development effort of Rivers State and therefore is well deserving of his reward come 2023.
His submission drew cheers and applause of affirmation from the crowd as did the petition of Chief Dumo Briggs that Governor Wike use his good office to take the Kalabaris out of the political wilderness in 2023.
In his reponse, Governor Wike was true to type as he did not make any commitments but categorically told his hosts (and indeed other Rivers people) what they must do if they desired to produce the next governor of Rivers State.
According to him, the Kalabari people needed the strength of unity and the power of single mindedness in order to achieve their dreams while advising them to love themselves more and refrain from in-dividualism and selfishness.
He said he would not commit himself with a promise to hand over power to a Kalabari son or daughter but urged them to prepare to show themselves worthy of the coveted seat in an all comers' open contest.
" If you are waiting for me to say that I will give power to Kalabari, you're wasting your time because I will not say it,'' Governor Wike said, emphasising that '' I have not promised anybody that he will be governor after me''.
He said he maintains his position that Rivers people don't have to destroy themselves over the governorship of the state, adding that he had the same message for the Kalabaris as he had for the Ogonis and indeed all Rivers people.
''Like I told the Ogoni people when they honoured me, you must stop destroying each other because of the governorship of Rivers State .
" Kalabari people, you must put yourselves together and stop bringing yourselves down. You have been aspiring to be governor since 1999 but you can't get it by fighting yourselves.
''Anybody that wants to be governor should prepare himself for it, you must stop being selfish about it. It can be anybody,'' he admonished.
Governor Wike affirmed that the governorship of Rivers State come 2023 will go to any Rivers man who demonstrates capacity to fight and win the office just as he did in 2015 and 2019 against a host of stiff and intimidating opposition forces from within and outside.
'' Everybody has the chance of becoming the Governor of Rivers State, but you must have the capacity to stand to fight for it,'' he said, averring that the next governor of Rivers State requires a personality who would not dither in his convictions but be bold, courageous and resolute to withstand invading and marauding forces aiming at the soul of the state and its people.
'' When I wanted to be governor, I came out and fought for it. I fought a sitting governor and I said let heaven fall, I will be governor and I am governor today with your support.
" Anybody that will be governor of Rivers State must be prepared to face the army and police.
''You remember when they brought military to fight us, did I run and leave you? I didn't.
I stood my ground. I stood firm, and with your support, we defeated them. So anybody that wants to be governor must stand firm,'' he said.
Of course, going by the last two experiences, Rivers people and those resident in the state have cause to be apprehenive and jiteryjittery elections next year. Especially, with the opposition party in the state still in shreds, it is difficult for anyone to see how fast they could organise themselves to engage in a serious electoral contest with decency if they desire to win.
Be that as it may, there are many who believe that beyond the federal security aparati, the invading and marauding forces that need to be kept at bay would include economic and social enemies of the people.
To this end, therefore, the next governor of Rivers State, many expect, must show capacity to take Rivers people to a whole new level of economic prosperity and social wellbeing.
They say that the next governor should be one that will be a worthy successor to Governor Wike who has worked tirelessly to build a strong foundation for sustainable growth and development of all sectors of the society. He or she must therefore show a workable concrete economic blueprint and clear roadmap to building a yet further united and stronger Rivers State.
He must possess the drive and the zeal to improve the lot of the common people. Surely, not just a politician will do.
By: Opaka Dokubo
2023: Southern PDP Leaders Consider Fresh Option
Leaders of the Peoples Democratic Party (PDP) in the Southern 17 states have begun move to ensure that the presidential ticket is secured by an aspirant from one of the three geo-political zones.
In the alternative, they are also looking at a northerner with strong roots in the South.
The plan, according to sources, is to have a second strategy or an Option B, as it has become obvious that the party leadership will not yield to the demand for the presidential ticket to be specifically zoned to the South.
The Southern leaders are moving to ensure that their delegates vote only for either a particular southern aspirant or to adopt a northern candidate, who is not from the far North.
The strategy of the southern PDP leaders behind this plot is to ensure that the outcome of the PDP primary produces a win-win situation for the South, irrespective of where the candidates come from.
A chieftain, who spoke on phone, said: "We want to ensure that the South converts the disadvantage of the PDP refusing to zone the presidential position to the South in line with the rotation arrangement in the party's constitution becomes a benefit to us.
"We will work to ensure that the South decides who the presidential candidate is, even if he is not from our zone.
"Southern delegates may come together and choose a northern candidate who has strong roots in the South. He must be somebody who has a close affinity and filial relationship with us. He must be somebody who understands the challenges facing the South and can run a government that is based on equity, justice and inclusiveness, and knows what it is to suffer injustice or the pains of the minority."
"It is the reason why we will not support aspirants from the far North. We will rather support an aspirant whose zone has not produced any of the two positions in the Presidency. An ideal candidate for the PDP is somebody from either the South or the Northern minority.
"It is the only way we can show that without having a southern candidate; we can have a president who believes he owes the South and that the support of the southern delegates is instrumental to his victory. That means that if the South plays its card very well, it can produce a southern candidate from the North."
Buhari To Determine Malami,Other Returning Ministers' Fate – Lai Mohammed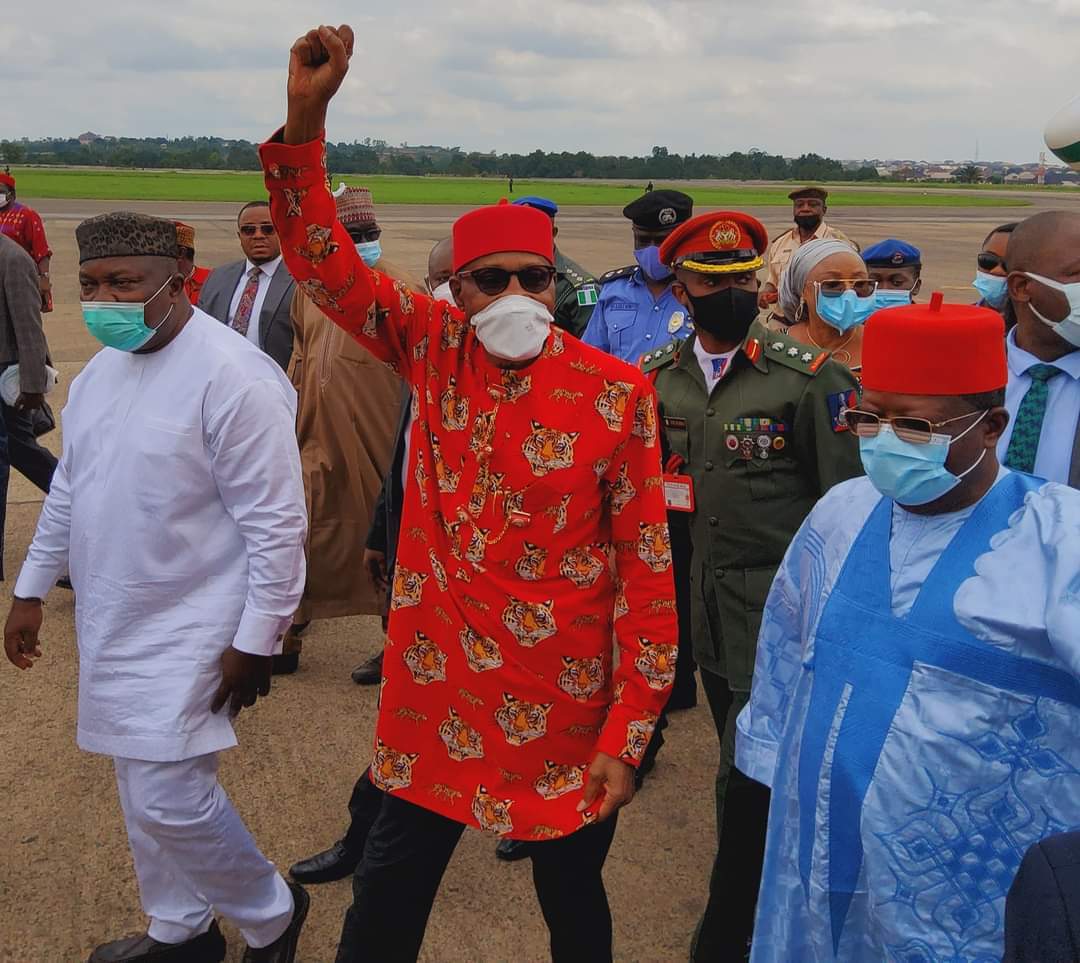 President Muhammadu Buhari will decide the fate of those members of the Federal Executive Council (FEC) who made a u-turn on their political ambitions and continue to serve in the current administration.
Information and Culture Minister, Alhaji Lai Mohammed, who disclosed this Wednesday to newsmen after the FEC meeting at the State House, Abuja, said he will need to confirm from the president the status of the returning ministers on whether or not they have been reabsorbed into the cabinet.
He said: "The  question about ministers returning or not going, I think you need to give me more time so that I can tell you exactly what the situation is. Right now, I need to cross check. I need to confirm again from Mr President what the situation is. You see the final decision on who is going, who's coming back, who's not going lies with Mr. President."
The Minister of Labour and Employment, Dr Chris Ngige; his Women Affairs counterpart, Dame Pauline Tallen; Attorney General of the Federation (AGF) and Minister of Justice, Abubakar Malami; and Minister of State for Petroleum Resources, Timpre Sylva, had earlier rescinded their decision to contest for elective offices in 2023.
Malami was physically present at Wednesday's Council meeting, while Tallen and Sylva attended the meeting virtually from their various offices in Abuja.
Ngige is said to be away on official engagement in Durban, South Africa, where he is attending the International Labour Organization's (ILO) global conference on Child Labour.
2023: Ganduje Refuses To Endorse Amaechi For Presidency
Governor Abdullahi Ganduje of Kano State has refused to endorse the former Minister of Transport, Rotimi Amaechi, for the presidency come 2023.
Amaechi visited Kano on Wednesday as part of his consultations ahead of the All Progressives Congress' presidential primary.
The former minister had resigned from President Muhammadu Buhari's cabinet to pursue his presidential ambition under the platform of the APC.
At the meeting, with other APC stakeholders present, Ganduje said Kano as a "swing state, will continue to swing."
He added that Amaechi would know where the state eventually swung to at the right time.
TheTide source gathered that Amaechi, who had told the governor that the people in the APC already knew where Ganduje's loyalty was, added that he was in Kano to convince him that he was the most qualified among the aspirants.
Our source recalled that when Amaechi visited the Governor of Lagos State, Babajide Sanwo-Olu, he was equally not endorsed as the governor told him former Governor Bola Tinubu was their rallying point.
Ganduje is also known to be an ally of Tinubu, who is also aspiring for the Presidency.
Meanwhile, Amaechi said he was more qualified than Tinubu, noting that the former Lagos governor had never been a minister, and even as a lawmaker, Tinubu only served for a few months.
He equally noted that he was more qualified than Vice President Yemi Osinbajo, adding that while Osinbajo was a commissioner in Lagos, he was already a Speaker of Rivers State House of Assembly.