FG Has Met Its Debt Servicing Commitments -Buhari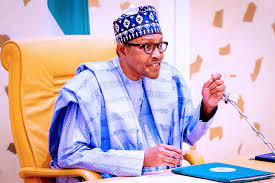 Being the text of a speech delivered by President Muhammadu Buhari at the joint session of the National Assembly, Abuja on Thursday, October 7, 2021.
Excerpts.
Protocols
It is my great pleasure to be
here once again to present the 2022 Federal Budget Proposals to this distinguished Joint Session of the National Assembly.
Distinguished and Honourable leaders, and members of the National Assembly, let me start by commending you for the expeditious consideration and passage of the Supplementary Appropriation Bill 2021. This further underscores your commitment to our collective efforts to contain the Covid-19 Pandemic and address the various security challenges facing our country.
I will also take this opportunity to thank you for the quick consideration and approval of the 2022-2024 Medium-term Expenditure Framework and Fiscal Strategy Paper. Our hope is that National Assembly will continue to partner with the Executive by ensuring that deliberations on the 2022 Budget are completed before the end of this year so that the Appropriation Act can come into effect by the first of January 2022.
The 2022 Budget will be the last full year budget to be implemented by this administration. We designed it to build on the achievements of previous budgets and to deliver on our goals and aspirations as will be reflected in our soon-to-be launched National Development Plan of 2021 to 2025.
Distinguished Senators and Honourable Members, in normal times, I make use of this opportunity to provide an overview of global and domestic developments in the current year, a summary of our achievements, and our plans for the next fiscal year.
However, these are exceptional times. The grim realities of Covid-19 and its lethal variants are still upon us. From President to Pauper, the virus does not discriminate.
This is why our country still maintains its Covid-19 guidelines and protocols in place to protect its citizens and stop the spread of this disease.
Over the past few days, we have consulted with the Presidential Steering Committee on Covid-19 and the leadership of the National Assembly on how best to present the 2022 budget proposal keeping in mind the deep-rooted traditions in place and the guidelines for safe mass gatherings.
We ultimately decided that the most responsible and respectful approach was to hold a shorter than usual gathering while allowing the Honourable Minister of Finance, Budget and National Planning to provide fuller details of our proposals in a smaller event.
I am sure many of you will be relieved as my last budget speech in October 2020 lasted over fifty minutes.
Still, over the next few minutes, I will provide key highlights of our 2021 performance as well as our proposals for 2022.
Performance Of The 2021 Budget
The 2021 'Budget of Economic Recovery and Resilience' is based on a benchmark oil price of 40 US Dollars per barrel, oil production of 1.6m b/d, and exchange rate of 379 Naira to US Dollar. Furthermore, a Supplementary budget of 982.73 billion Naira was recently enacted to address exigent issues in the Security and Health sectors.
Based on the 2021 Fiscal Framework, total revenue of 8.12 trillion Naira was projected to fund aggregate federal expenditure of 14.57 trillion Naira (inclusive of the supplementary budget). The projected fiscal deficit of 6.45 trillion Naira, or 4.52 percent of GDP, is expected to be financed mainly by domestic and external borrowings.
By July 2021, Nigeria's daily oil production averaged one 1.70million barrels (inclusive of condensates) and the market price of Bonny Light crude averaged 68.53 US Dollars per barrel.
Accordingly, actual revenues were 34 percent below target as of July 2021, mainly due to the underperformance of oil and gas revenue sources. Federal Government's retained revenues (excluding Government Owned Enterprises) amounted to 2.61 trillion Naira against the proportionate target of 3.95 trillion Naira for the period.
The Federal Government's share of Oil revenue totalled 570.23 billion Naira as of July 2021, which was 51 percent below target, while non-oil tax revenues totalled 964.13 billion Naira. The poor performance of oil revenue relative to the budget was largely due to the shortfall in production as well as significant cost recovery by NNPC to cover the shortfall between its cost of importing petrol and the pump price.
The National Assembly will recall that in March 2020 the Petroleum Products Pricing Regulatory Agency announced that the price of petrol would henceforth be determined by market forces.
However, as the combination of rising crude oil prices and exchange rate combined to push the price above the hitherto regulated price of 145 Naira per litre, opposition against the policy of price deregulation hardened on the part of Labour Unions in particular.
Government had to suspend further upward price adjustments while engaging Labour on the subject. This petrol subsidy significantly eroded revenues that should have been available to fund the budget.
On a positive note, we surpassed the non-oil taxes target by eleven (11) percent in aggregate. The sustained improvement in non-oil taxes indicates that some of our revenue reforms are yielding positive results. We expect further improvement in revenue collections later in the year as more corporate entities file their tax returns and we accelerate the implementation of our revenue reforms.
Improving Revenue Generation and Administration
We have stepped up implementation of the strengthened framework for performance management of government owned enterprises (GOEs), with a view to improve their operational efficiencies, revenue generation and accountability. The 50% cost-to-income ratio imposed on the GOEs in the Finance Act 2020 has contributed significantly to rationalizing wasteful expenditures by several GOEs and enhanced the level of operating surpluses to be transferred to the Consolidated Revenue Fund (CRF). I solicit the cooperation of the National Assembly in enforcing the cost-to-income ratio and other prudential guidelines during your consideration of the budget proposals of the GOEs, which I am also laying before you today.
On the expenditure side, as at end of July 2021, a total of six point seven-nine (6.79) trillion Naira had been spent as against the pro-rated expenditure of seven point nine-one (7.91) trillion Naira. Accordingly, a deficit of four point one-seven (4.17) trillion Naira was recorded as at end of July 2021. The deficit was financed through domestic borrowing.
Despite our revenue challenges, we have consistently met our debt service commitments. We are also up to date on the payment of staff salaries, statutory transfers, and overhead costs. As at (4th of October 2021, a total of 1.732 trillion Naira had been released for capital expenditure.
I am pleased to inform you that we expect to fund MDAs' capital budget fully by the end of the fiscal year 2021.
Capital releases thus far have been prioritised in favour of critical ongoing infrastructural projects in the power, roads, rail, agriculture, health and education sectors.
We have made progress on the railway projects connecting different parts of the country. I am glad to report that the Lagos-Ibadan Line is now completed and operational. The Abuja-Kaduna Line is running efficiently. The Itakpe-Ajaokuta rail Line was finally completed and commissioned over thirty (30) years after its initiation.
Arrangements are underway to complete the Ibadan-Kano Line. Also, work will soon commence on the Port Harcourt-Maiduguri Line and Calabar-Lagos Coastal Line, which will connect the Southern and Eastern States to themselves and to the North.
Progress is also being made on several power generation, transmission, and distribution projects, as well as off-grid solutions, all aimed towards achieving the national goal of optimizing power supply by 2025.
I am again happy to report that we continue to make visible progress in our strategic road construction projects like the Lagos – Ibadan expressway, Apapa – Oworonsoki expressway, Abuja – Kano expressway, East-West Road and the second Niger bridge. We hope to commission most of these projects before the end of our tenure in 2023.
The Pandemic revealed the urgent need to strengthen our health system. Towards this end, we constructed 52 Molecular labs, 520 bed intensive care units, 52 Isolation centres and provision of Personal Protective equipment across 52 Federal Medical Centres and Teaching Hospitals.
We continue to push our expenditure rationalization initiatives which we commenced in 2016. For example, on personnel costs, the number of MDAs captured on the Integrated Payroll and Personnel Information System increased from 459 in 2017 to 711 to date.
The recent passage of the Petroleum Industry Act 2021, and consequent incorporation of the Nigeria National Petroleum Corporation should also result in rationalisation of expenditure, as well as increased investments and improved output in the oil and gas industry.
Distinguished Senators and Honourable Members, you will agree with me that a lot has been accomplished over the last year but there is still much to be done. I will now proceed with a review of the 2022 Budget proposal.
Theme And Priorities Of The 2022 Budget
The allocations to MDAs were guided by the strategic objectives of the National Development Plan of 2021 to 2025, which are:
a.Diversifying the economy, with robust MSME growth;
b. Investing in critical infrastructure;
c. Strengthening security and ensuring good governance;
d. Enabling a vibrant, educated and healthy populace;
e. Reducing poverty; and
f. Minimizing regional, economic and social disparities.
The 2022 Appropriation therefore is a Budget of Economic Growth and Sustainability.
Defence and internal security will continue to be our top priority. We remain firmly committed to the security of life, property and investment nationwide. We will continue to ensure that our gallant men and women in the armed forces, police and paramilitary units are properly equipped, remunerated and well-motivated.
The 2022 budget is also the first in our history, where MDAs were clearly advised on gender responsive budgeting. These are part of critical steps in our efforts to distribute resources fairly and reach vulnerable groups of our society.
Parameters And Fiscal Assumptions
Distinguished Members of the National Assembly, the 2022 to 2024 Medium Term Expenditure Framework and Fiscal Strategy Paper sets out the parameters for the 2022 Budget as follows:
a. Conservative oil price benchmark of 57 US Dollars per barrel;
b. Daily oil production estimate of 1.88 million barrels (inclusive of Condensates of 300,000 to 400,000 barrels per day);
c. Exchange rate of four 410.15 per US Dollar; and
d. Projected GDP growth rate of 4.2 percent and 13 percent inflation rate.
2022 Revenue Estimates
Based on these fiscal assumptions and parameters, total federally-collectible revenue is estimated at 17.70 trillion Naira in 2022.
Total federally distributable revenue is estimated at 12.72 trillion Naira in 2022 while total revenue available to fund the 2022 Federal Budget is estimated at 10.13 trillion Naira. This includes Grants and Aid of 63.38 billion Naira, as well as the revenues of 63 Government-Owned Enterprises.
Oil revenue is projected at 3.16 trillion, Non-oil taxes are estimated at 2.13 trillion Naira and FGN Independent revenues are projected to be 1.82 trillion Naira.
Planned 2022 Expenditure
A total expenditure of sixteen point three-nine (16.39) trillion Naira is proposed for the Federal Government in 2022. The proposed expenditure comprises:
a. Statutory Transfers of 768.28 billion Naira;
b. Non-debt Recurrent Costs of 6.83 trillion;
c. Personnel Costs of 4.11 trillion Naira;
d. Pensions, Gratuities and Retirees' Benefits 577.0 billion Naira;
e. Overheads of 792.39 billion Naira;
f. Capital Expenditure of 5.35 trillion Naira, including the capital component of Statutory Transfers;
g. Debt Service of 3.61 trillion Naira; and
h. Sinking Fund of 292.71 billion Naira to retire certain maturing bonds.
Fiscal Balance
We expect the total fiscal operations of the Federal Government to result in a deficit of 6.26 trillion Naira. This represents 3.39 percent of estimated GDP, slightly above the 3 percent threshold set by the Fiscal Responsibility Act 2007. Countries around the world have to of necessity over-shoot their fiscal thresholds for the economies to survive and thrive
We need to exceed this threshold considering our collective desire to continue tackling the existential security challenges facing our country.
We plan to finance the deficit mainly by new borrowings totalling 5.01 trillion Naira, 90.73 billion Naira from Privatization Proceeds and 1.16 trillion Naira drawdowns on loans secured for specific development projects.
Some have expressed concern over our resort to borrowing to finance our fiscal gaps. They are right to be concerned. However, we believe that the debt level of the Federal Government is still within sustainable limits. Borrowings are to specific strategic projects and can be verified publicly.
As you are aware, we have witnessed two economic recessions within the period of this Administration. In both cases, we had to spend our way out of recession, which necessitated a resort to growing the public debt. It is unlikely that our recovery from each of the two recessions would have grown as fast without the sustained government expenditure funded by debt.
Our target over the medium term is to grow our Revenue-to-GDP ratio from about 8 percent currently to 15 percent by 2025. At that level of revenues, the Debt-Service-to-Revenue ratio will cease to be worrying. Put simply, we do not have a debt sustainability problem, but a revenue challenge which we are determined to tackle to ensure our debts remain sustainable.
Very importantly, we have endeavoured to use the loans to finance critical development projects and programmes aimed at improving our economic environment and ensuring effective delivery of public services to our people. We focused on;
a.the completion of major road and rail projects;
b. the effective implementation of Power sector projects;
c. the provision of potable water;
d. construction of irrigation infrastructure and dams across the country; and
e. critical health projects such as the strengthening of national emergency medical services and ambulance system, procurement of vaccines, polio eradication and upgrading Primary Health Care Centres across the six geopolitical zones.
Innovations in Infrastructure Financing
In 2022, Government will further strengthen the frameworks for concessions and public private partnerships (PPPs). Capital projects that are good candidates for PPP by their nature will be developed for private sector participation.
We will also explore available opportunities in the existing ecosystem of green finance including the implementation of our Sovereign Green Bond Programme and leveraging debt-for-climate swap mechanisms.
Enhancing Revenue Mobilisation
Our strategies to improve revenue mobilisation will be sustained in 2022 with the goal of achieving the following objectives:
a. Enhance tax and excise revenues through policy reforms and tax administration measures;
b. Review the policy effectiveness of tax waivers and concessions;
c. Boost customs revenue through the e-Customs and Single Window initiatives; and
d. Safeguard revenues from the oil and gas sector.
Distinguished Senators and Honourable Members, I commend you for the passage of the Petroleum Industry Act 2021. It is my hope that the implementation of the law will boost confidence in our economy and attract substantial investments in the sector.
Finance Bill 2022
In line with our plan to accompany annual budgets with Finance Bills, partly to support the realization of fiscal projections, current tax and fiscal laws are being reviewed to produce a draft Finance Bill 2022.
It is our intention that once ongoing consultations are completed, the Finance Bill would be submitted to the National Assembly to be considered alongside the 2022 Appropriation Bill.
Conclusion
Mr. Senate President, Mr. Speaker, Distinguished and Honourable Members of the National Assembly, this speech would be incomplete without commending the immense, patriotic, and collaborative support of the National Assembly in the effort to deliver socio-economic development and democracy dividends for our people.
I wish to assure you of the strong commitment of the Executive to strengthen the relationship with the National Assembly.
Nigeria is currently emerging from a very difficult economic challenge. We must continue to cooperate and ensure that our actions are aimed at accelerating the pace of economic recovery so that we can achieve economic prosperity and deliver on our promises to the Nigerian people.
The fiscal year 2022 is very crucial in our efforts to ensure that critical projects are completed, put to use and improve the general living conditions of our people.
It is with great pleasure therefore, that I lay before this distinguished Joint Session of the National Assembly, the 2022 Budget Proposals of the Federal Government of Nigeria.
I thank you most sincerely for your attention.
May God bless the Federal Republic of Nigeria.
17 Oil Wells: We Hope Uzodinma'll Accept S'Court Judgment In Good Faith -Wike
Being a text of a state broadcast by Rivers State Governor, Chief Nyesom Wike on Friday, May 6, 2022 following the Supreme Court judgment on the disputed 17 oil wells between Rivers State and Imo State. Excerpts.
My dear people of Rivers State, today, 6th May 2022, the Supreme Court of Nigeria has delivered its judgment on the subsisting boundary dispute between Imo State and Rivers State over the ownership of some oil wells at the Akiri and Mbede oil fields.
Let us recall that following the disputed claims to the location and ownership of some oil wells at the Akiri and Mbede oilfields between Imo and Rivers States in 1999, the Governors, Their Excellencies, Achike Udenwa and Dr. Peter Odili respectively, worked out a political settlement and mutually settled for a 50:50 percent beneficial sharing of the derivation proceeds accruing from these wells pending the proper demarcation of the boundaries between the two States by the National Boundary Commission (NBC).
While the dispute lingered, nothing was done by the NBC to demarcate the boundaries of the two States and establish the proper location and title to the disputed oil wells.
However, instead of instigating the NBC to do the right thing, Governor Emeka Ihedioha of Imo State, shortly after assuming office, repudiated the subsisting 50:50 percent sharing formula and made provocative claims to the exclusive ownership of the entire Akiri and Mbede oil wells.
In order to actualise this spurious claims, he stealthily wrote a letter dated 9th August, 2019 to President Muhammadu Buhari and requested for the refund of the sum of N15, 000,000.00 (fifteen billion naira) from Rivers State to Imo State as backlog of accrued proceeds from the 13% derivation revenue of the said oil wells.
Acting on Governor Ihedioha's letter, Mr. President warranted a letter to be written to the Revenue Mobilisation, Allocation and Fiscal Commission (RMFAC) through his late Chief of State, Mr. Abba Kyari, to alter the status quo in favour of Imo State without reference to the subsisting dispute and agreement between the two States.
Surprised by the surreptitious plots and collusive actions of the Government of Imo State and the NBC to overreach the legal interest of Rivers State in the disputed oil wells, the Rivers State Government opted to approach the Court for a just and lasting resolution.
Accordingly, we first applied to the Federal High Court, Abuja and among other reliefs, successfully challenged the powers and authority of Mr. President to give directives to the RMFAC and or interfere in any manner whatsoever with the distribution of public revenues from the distributable pool account, including the Federation Account.
Not satisfied with the positive ruling of the Federal High Court, the Imo State Government appealed to the Court of Appeal and lost. We then proceeded against the Government of Imo State at the Supreme Court in a fresh suit for a final and conclusive determination of the boundary dispute between our two States.
In approaching the Supreme Court in this matter, we believed that the dispute between the two States and the contentious issues are such that the Court can judicially, justly and expeditiously determine with the available facts and supporting evidence, including valid administrative maps, subsisting judgments, and other relevant documents.
And so, the Supreme Court has finally and conclusively resolved the dispute and granted full and exclusive ownership of all the disputed oil wells in Akiri and Mbede oilfields, to Rivers State much to everyone's relief.
Although Governor Hope Uzodinma was not the mastermind of the impulsive trajectory that compelled us to seek the intervention and protection of the Courts, he nevertheless participated fully in the litigation process to the end without engaging the Rivers State Government for a possible political solution.
However, his reactions to the judgments of the lower courts on this matter were clearly uncalled for.
Indeed, itwas rather unfortunate that for someone who became Governor through the instrumentality of the judiciary could turnaround to castigate the very institution that made him ruler over the good, peaceful and progressive people of Imo State.
Now that the Supreme Court has spoken, we hope Governor Hope Uzodinma will accept the outcome in good faith, refrain from his usual diatribes against the judiciary and explore possible pathways to accommodation and compromise from the Rivers State Government.
This, we may readily oblige, despite the betrayals and back-stabbing by Emeka Ihedioha, who in spite of the extensive support and goodwill he received from the Government and people of Rivers State to become Governor, led the onslaught and created a wedge between two brotherly States that have been living at peace and in friendship with each other.
We also deplore the collusive actions of the NBC, which unfortunately, has become notorious as one of the most corrupt national agency, which has functioned more in causing confusion than resolving boundary disputes.
It bears repeating that the quest to defend our ownership rights through the courts over the Akiri and Mbede oil wells was not intended to claim victory over Imo or any other State.
We are therefore open to further discussions with the Government of Imo State on the best way forward without prejudice to the outcome of today's judgment.
We appreciate the lawyers that prosecuted and secured this landmark success for Rivers State, and for their efforts, it is my pleasure to announce the conferment of State Honours on every one of them as the Distinguished Service Star of Rivers State (DSSRS).
Finally, I wish to reiterate our resolve to continue to fight for, advance and protect the best interest of Rivers State at all times and under any circumstances up to the end of our Government, and we hope our successor would likewise continue in this courageous spirit and determination to make the desired positive difference for our State and our people.
Thank you and may God bless you all!
'We Are Working To Leave Rivers Better Than We Met It'
Being a text of a statewide broadcast by Rivers State Governor, Chief Nyesom Wike on January 1, 2022 to mark the New Year.
Excerpts.
My dear people of Rivers State
As the clock ticks down and as we look forward to
ushering-in the New Year 2022, this is the time to give thanks to the Almighty God for his blessings and the opportunity to look into the future with greater hope and optimism.
On behalf of my wife and the government, let me thank all Rivers State citizens in particular, and Nigerians in general, for your continued love and support to our administration throughout the year 2021.
Indeed, we cannot thank you enough for the trust, the solidarity, the cooperation and above all, your prayers for the success of our government and the peace and progress of our state.
We also thank the police, the Department of State Security, the armed forces and the para military services for working round the clock to make and keep our dear state peaceful, safe and secure, not only in this festive season but throughout the outgoing year.
Indeed, there is no denying the fact that crime and criminality have been at very low rates in Rivers State and citizens felt safer and more secure in 2021 than the previous years.
With the cooperation of the security agencies, we identified and destroyed most of the shanties that hitherto served as safe havens and hideouts for criminals, who have now been dislodged and dislocated from the state having lost the space and capacity from which they could operate with ease.
To consolidate on the gains of the dislodgement and dislocation exercises, and make the state even safer and more secure, we have decided to demolish all shanties and makeshift structures in identified crime hotspots in Port Harcourt Township and the Illaobuchi areas of Diobu from the second week of January, 2022.
Those rebuilding the shanties we had demolished at Eleme or attempting to resume illegal trading activities at the closed Oginigba slaughter have one week to vacate or be arrested and charged to court.
Additionally, we have discovered that most vacant plots or uncompleted buildings in the Old and New Government Reservation Areas (GRAs) and some other parts of Port Harcourt City and Obio/Akpor local government areas have been hijacked and are now inhabited by criminal elements who are daily constituting menace to public safety.
We have therefore decided to end this danger by taking over all such abandoned plots and uncompleted buildings and re-allocate them to citizens who are ready to develop and put them into effective occupancy.
In a similar vein, we have revoked the certificates of occupancy of several undeveloped plots of land in old GRA, Port Harcourt, for breaching the covenants attached thereto, which we would also re-allocate to interested members of the public for immediate development as part of the ongoing efforts to restore the entire old GRA to its pristine state of development, beauty and serenity.
We will also not spare those contributing to the perennial flooding challenge in parts of Port Harcourt city and Obio/Akpor Local Government Area by blocking natural water and drainage channels with illegal landfilling, reclamation of wetlands or the construction of concrete structures.
Consequently, we shall recover and restore all landfilled or reclaimed wetlands and demolish all structures erected on natural water channels spanning from the Eastern Bypass area up to Abana and Eleme streets in Old GRA, Port Harcourt. Only those with genuine government permits and allocation papers will be duly compensated.
Again, it is important to appreciate what we have done to successfully transform our capital city, Port Harcourt, to one of the most beautiful cities in Nigeria with well-paved streets, pedestrian walkways, dual carriage roads and flyovers.
However, the beauty of the city is being defaced by illegal and indiscriminate trading on our streets, under flyovers and other unauthorised open spaces as well as the challenges with the current largely inefficient refuse disposal system.
I wish to, therefore, remind citizens that the ban on street trading and commuting on motor cycles in Port Harcourt City and Obio/Akpor local government areas is still in force.
Consequently, I hereby direct the Task Force on Illegal Street Trading to arrest and prosecute all those: (i) shuttling with their motorcycles and or hawking foreign exchange along Birabi Street, Hotel Presidential, GRA Junction by Zenith Bank up to Tombia Street; and (ii) trading on, under and around the Rumuola Junction and flyover; Rumuogba Junction and flyover; as well as Rumuokoro Junction and flyover.
Security personnel abetting illegal street trading by collecting bribes and offering protection to street vendors are advised to desist forthwith or they would equally be made to face the wrath of the law.
Furthermore, we have decided to end the menace of cart-pushers who have become notorious for indiscriminate scavenging and littering of wastes on street corners and the medians of major roads and highways across the state.
These cart pushers and their unknown collaborators are also responsible for the recurring stealing of manhole covers, an act which endangers peoples' lives and public safety on our roads.
Consequently, the state government has placed an immediate ban on the activities of cart pushers and directs law enforcement agencies to arrest and prosecute anyone who attempts to violate this ban.
In addition, a task force would be put in place to enforce this ban while we plead with the courts, in the interest of public safety and security, to impose the severest of punishment under the law on any convicted manhole vandal.
The indiscriminate and prolonged parking of trailers and other articulated vehicles along our streets is another environmental menace we must tackle to bring sanity to our cities and living environment.
Consequently, I hereby direct the chairmen of Port Harcourt City, Ikwerre, Obio/Akpor, and Oyigbo local government councils to within three weeks from today impound and or remove any trailer, trucks or articulated vehicle packed on the streets beyond 48 hours in their respective administrative jurisdictions.
As we all know, achieving effective environmental sanitation in cities and urban centres is a global challenge, and ours is not an exception.
However, we are determined to improve on our refuse disposal system by reviewing, overhauling and strengthening the legal, institutional and economic framework for a more effective delivery of sanitation services to residents.
I urge that you bear with us for a while and things will certainly change for the better in our refuse disposal system.
As an initial step towards achieving this objective, we have placed an immediate ban on the disposal of refuse on the streets or open spaces in both the old and new GRAs of Port Harcourt and Obio/Akpor local government areas.
Every household in both old and new GRAs must therefore procure and keep approved refuse disposal bins in the front of their houses to facilitate the door-to-door collection of the wastes they generate by designated contractors.
We will not hesitate to revoke the certificate of occupancy of any house in these areas without a refuse disposal bin or whose occupants are caught disposing refuse on the streets or open spaces.
We have also banned the posting of advert materials of any kind, including posters, fliers, pictures, artworks, placards or inscriptions on or under our flyovers, bridges, concrete walls and the safety barricades along the roads.
We will establish environmental marshals to enforce compliance with our sanitation laws, including this ban, by arresting and prosecuting both the person who places the advert and the person and institution on whose behalf it is placed.
Fellow citizens, we also have reason to be concerned about the operations and socially harmful activities of nightclubs within residential areas of our state.
Apart from the noise and traffic nuisances suffered by innocent residents, no responsible government should continue to tolerate the open display and solicitation of sexual services, drug abuse and public intoxication that takes place along the streets and public areas abutting some of these nightclubs, lounges and bars by the youths, some, as young as under 14 years.
Consequently, the state government has placed an immediate ban on all nightclub activities, including night-time trading and street prostitution along SaniAbacha Road and surrounding streets to stop the harmful effect of these depraved activities on the moral development of our children and society at large.
Let me also reiterate that we are as overly concerned as the public over the black soot environmental disaster that has continued to envelope Port Harcourt and upsetting residents for quite some time.
As a state government, we have drawn the attention of the Federal Government to this problem and requested for its intervention to stop the activities of illegal bunkering and artisanal crude oil refiners, which have been identified as the main sources of the soot pandemic.
Unfortunately, the Federal Government has remained inexplicably silent over our request and even complicit to a large extent with the security agencies actively aiding, encouraging and protecting the artisanal refiners to continue with their harmful activities unabated.
We have equally appealed without success to our people engaging in this illegal business to consider its negative effects on our economy, environment, public safety and public health and disengage from it.
We will continue to engage and plead with the Federal Government to intervene and save our people from this serious environmental and health emergency.
However, since the federal security agencies have largely refused to stop the illegal crude oil refining activities in the state, we have no option than to take necessary measures to tackle this particular and direct challenge to our collective health and survival by ourselves.
Consequently, I have directed the chairman of Port Harcourt City Local Government Council to go after all the illegal crude oil refining sites along Creek Road and adjourning areas of the city and shut them down with immediate effect.
Furthermore, all local government chairmen are directed to work with community leaders to locate and identify those behind all illegal bunkering and crude oil refining sites in their localities and report to my office for further action.
Once again, we express our sympathies to the victims of the recent fire incidences in the state, especially those who lost loved ones and valuable property.
As a government we will continue to do our best to strengthen the State Fire Service to effectively intervene to mitigate the damage during fire incidents.
However, members of the public also have the responsibility to do the right thing to prevent or avoid some of these fire incidents from happening and those who deliberately bury fuel and gas tanks in residential areas are certainly not doing the right thing, and should therefore relocate their precarious businesses to more convenient and less risky places.
We wish to also express our concern over the poor compliance with the existing COVID-19 protocols by citizens and the effect on the transmission of the disease in the state.
Believe it or not, COVID-19 is a reality that has already taken the lives of hundreds of thousands of people and disrupted economic activities across the world.
Here in Rivers State the transmission of the virus continues to surge daily and we all need to act together to stop the diseases from further ravaging our state.
We, therefore, appeal to all residents to make themselves available for testing and vaccination whether it is for your first, second or booster jab in addition to observing the existing preventive protocols, including social distancing and wearing of face masks to reduce the level of transmission.
Let me also remind all government recognized traditional rulers that they are, at all times, subject to the authority and directives of the state government and not to other allegiances, culture or otherwise.
Therefore, the consistent absence of some first class traditional rulers, especially the Amanyanabo of Okrika, the Amanyanabo of Ogu, the Amanyanabo of Kalabari and the GbenemeneNyo-Khana from participating in state functions is unacceptable and will no longer be tolerated.
Should they, therefore, continue to absent themselves from state functions or in the regular meetings and activities of the Rivers State Traditional Rulers Council, we would have no option than to direct their immediate replacement.
Finally, as the New Year 2022 inevitably beckons, we wish to assure you that we will continue to do our best to meet the aspirations of our citizens for a more peaceful, safe and secure society throughout the Year 2022.
We will continue to pursue our objectives for a stronger and more sustainable economy centred on fiscal discipline, revenue growth, job creation, and improved standard of living for all residents.
We will continue to accelerate our development with the sustainable delivery of quality roads, bridges, schools, hospitals and other socio-economic infrastructure and complete all ongoing development projects across the state.
I wish to, once again, thank our leaders, traditional rulers, elder statesmen, party chieftains, our women, our youths and the press for the warmth and support we have received throughout 2021.
We wish to specially thank our religious leaders for their prayers for peace and progress as well as for their continuous support to our government in the primary task of building the Rivers State of our collective dream.
We remain grateful to God for the unprecedented peace, security and transformational strides the state is enjoying under our administration.
But we must also be vigilant because our enemies, especially, members of the opposition, are not happy with the prevailing peace, security and the unprecedented achievements we have recorded; and are therefore determined to cause crisis and disturb our peace and joy if they have the opportunity.
Let us therefore prayerfully continue to place our dear state and everyone in the safe and protective hands of God Almighty through our Lord Jesus Christ.
I wish each and every one a happy and prosperous New Year!
May God continue to bless our dear Rivers State.
2022: FG'll Leverage ICT Platforms To Create Jobs-Buhari
Being a text of President Muhammadu Buhari's broadcast to the nation on January 1, 2022 to mark the New Year.
Excerpts.
We remain grateful to the Almighty God for yet an
other year attained as a country, united by a common destiny and resolute in our determination to overcome the several challenges along the path to build the great and prosperous nation of our dream.
I salute the courage and resilience of all Nigerians, which was evident in 2021 as this nation, like other countries of the world, faced significant challenges that occurred as a consequence of the COVID-19 pandemic and the efforts to restore the global economy and social order.
The persistent insecurity in certain parts of the country may have threatened to unravel the incremental gains achieved in the real sectors of the economy and in the administration's overall objective to position the nation on the irreversible trajectory of sustainable growth and progress, but I assure you that we will remain resolute in our commitments and shall continue to press ahead with our programmes and plans.
The path to nationhood is often fraught with unpredictable difficulties and challenges, and most tried and tested nations have often prevailed through dogged determination, resilience, concerted commitment to unity, and the conviction that the whole of the nation, standing together against all odds, is by far greater and would ultimately be more prosperous and viable than the sum of its distinguishable parts.
There is no doubt that the issue of Security remains at the front burner of priority areas that this administration has given utmost attention to. As a follow up to our promise to re-energize and reorganize the security apparatus and personnel of the armed forces and the police, it is on record that this Administration has invested heavily in re-equipping our military in line with upgrading the platforms and firepower required to tackle the current challenges being faced in the country.
The net results of these efforts have been the number of insurgents and bandits who have willingly surrendered to our Security Forces and continue to do so through various channels and the Safe Corridor created for that purpose.
Government, however, realises that victory on the battlefield is just one aspect of sustainable victory. We know that to fully win this war, we must also win the peace and real security lies in winning the hearts and minds of the affected citizens. To this end, working with our international partners and neighbouring countries, we would be deploying multi-faceted solutions that will be targeted at addressing human security at the grassroots, before it leads to insecurity.
Once again I would like to take a moment to remember and honour the gallant military, police officers, and other security agents who have lost their lives in the cause of protecting the territorial integrity of this nation against both internal and external aggressors, assuring their families that their sacrifices would not be in vain.
We equally remember and commiserate with Nigerians who have lost loved ones as a result of insecurity in different parts of the country. Every life matters and every single death caused by any form of insecurity is a matter of personal concern to me both as a citizen and as the President of this great country.
We remain fully committed to upholding the constitutional provisions that protect all Nigerians from any form of internal and external aggression.
On the economy, we have shown a high level of resilience to record some significant achievements despite the turbulence that has characterised our economy and indeed the global economy. The lessons we have learned and keep learning from COVID-19 have encouraged us to intensify efforts to mitigate its socio-economic effects on our nation.
The major wins we have recorded can be clearly seen in Nigeria's most recent Gross Domestic Product (GDP) figures released by the National Bureau of Statistics (NBS). The 4.03% growth recorded in the third quarter of 2021 is indicative of the recovery being recorded in our economy and the confidence that is being shown through the policies that our administration has put in place after the outbreak of the pandemic.
We may also recall that this recent growth is closely followed by the 5.1% (year-on-year) growth in real terms recorded by Nigeria in Quarter 2 of 2021. This growth was one of the best recorded by any nation across Sub-Saharan Africa. The 5.1% growth at that time was and remains the highest growth recorded by the Nigerian economy since 2014.
Despite the challenges we have faced as a nation, the good news is that we have so far recorded four consecutive quarters of growth after the negative growth rates recorded in Quarter 2 and Quarter 3 of 2020 due to the effect of the COVID-19 pandemic.
On August 16, 2021, I signed the landmark Petroleum Industry Act into law. The signing of this legacy legislation is a watershed moment in the history of our nation, considering the massive positive impact the new Act would have on the economy. I would like to sincerely commend the 9th Assembly for the grit they demonstrated, succeeding where others have failed, and the cooperation that led to the completion of this process after almost two decades.
Just like I stated during the investment trips and fora that I have attended recently, the legislation is expected to serve as a liberalising force in the energy industry, and we are optimistic that this law will provide the much-needed legal, governance, regulatory and fiscal framework for the development of the energy sector, the host communities, and Nigeria as a Nation. Our objective to increase liquefied natural gas exports and expand our domestic market is still very much at the forefront of some of the policies we would be pushing in the New Year.
In year 2022 and going forward, our administration would intentionally leverage ICT platforms to create jobs, while ensuring that the diversification of our economy creates more support to other emerging sectors. I am proud to announce that several foreign investors are taking advantage of our ranking as one of the leading start-up ecosystems in Africa to invest in our digital economy.
We have given the utmost priority to fighting corruption and other related offenses which have been a bane to the growth and prosperity of our dear nation. We have made major strides and breakthroughs through the innovative use of technology and forensics in the investigative and prosecutorial procedures with commendable results to show that the anti-corruption drive of our administration is succeeding.
In the meantime, the accomplishments that have been recorded so far can be traced to the dedication of the nation's anti-corruption agencies who have received the necessary support needed to effectively prosecute their duties.
Despite our challenges in 2021, it was also a year in which the administration executed successfully, key projects, programmes, and initiatives to fulfil the promises made under the Security, Economy Anti-corruption (SEA) agenda.
As we welcome 2022, let us, with hope; envision a year of continued progress against our combined challenges arising from security and socio-economic issues.
As it is said, the past is but a story told, the future will still be written in gold. Let us be united in our fight to keep our Nation united against all odds and with gratitude, celebrate life in this new epoch.
I wish you a very happy and prosperous New Year.