Let's Build Egalitarian Nigeria-Wike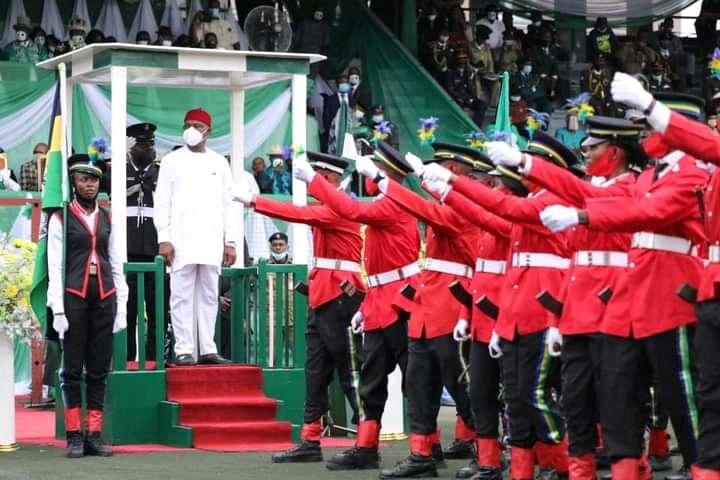 Being a text of the speech by Rivers State Governor, Chief Nyesom Wike, on the occasion of Nigeria's independence Anniversary celebration on Friday, October 1, 2021 in Port Harcourt. Excerpts.
My dear people of Rivers
State; fellow Nigerians
Today, we have gathered to celebrate the 61st independence anniversary of our beloved nation, Nigeria. For 61 years we have existed and lived together as one independent nation with our destiny in our own hands.
But at 61, it does not seem to me that there is anything worthy of our celebrating except, perhaps, the fact that we have remained independent and managed to struggle with our existence for all these years.
At independence, we were not only and still the most popular black nation on earth; we have been the most influential country in Africa, our proud and beautiful heritage, and where we have made tremendous and immeasurable impact as the big brother.
At independence, we were and still a rich nation, the largest economy and market in Africa; notably wealthy in human and natural resources, with immense agrarian lands and related endowments that are more than adequate to feed ourselves and the rest of Africa, if properly harnessed.
At independence, we were at par and even better in resource endowments and potential for development with our contemporaries like Malaysia, Singapore and several other countries.
At independence and even now we are a nation blessed with very hardworking and resourceful people. Our youths are some of the smartest people in the world, doing great exploits, flying our flag and making us proud across the world in music, dance, acting, culture, arts, sports, academics and our unique expressions and community ways of live.
At independence, our universities were among the best in the world; our public institutions were strong, effective and accountable to the people in service delivery.
At independence, our judicial system was not just efficient and effective; it served justice to the common man, and our judges and judgments were recognised, respected and adopted internationally.
Our part to independence was charted by great, patriotic, visionary, knowledgeable, compassionate, caring and inspirational leaders.
Our founding leaders not only loved Nigeria and worked hard for its independence; their singular vision and commitment was to build a united, peaceful and prosperous black nation that would lead Africa to stand shoulder to shoulder with the rest of the civilised world within the shortest possible period.
They embraced and worked for the entrenchment of democracy, the rule of law, judicial independence and true federalism, where the constituent sub-nations will be free and independent over their affairs with their own constitution.
Yes, we had Dr Nnamdi Azikiwe, the great Zik of Africa; we had Chief Obafami Awolowo, the sage and unmatched transformational pace-setter, and we had Sir Ahmadu Bello, the Sardauna of Sokoto – a consummate transformer and manager of peoples and resources.
Individually and collectively, they all laboured and led to their last days and laid the foundations for the progress of their respective regions and the development of Nigeria.
Indeed, there was a country, respected and admired the world over for its enormous natural endowments, quality of leadership, great potential and acknowledged as the undisputable leader of Africa.
Suddenly, the military intervened and the country not only snapped; it was set on a reverse course from the pressure and frustrations of military adventurism.
The interventionists not only dismantled our democracy and distorted our federal system by balkanising the country into politically inspired, inequitable and unviable and dependent states and local government areas; they also succeeded in creating so many fault lines and ocean of injustices, which have continued to blunt, hunt and debunk the basis of the nation's existence as one indivisible country with one destiny.
However, the restoration of democracy in 1999, after a protracted and bloody struggle and sacrifice, again, raised so much hope about the future of Nigeria and the aspirations of our people for a better deal from the government.
With democracy, Nigerians expected the timeless values of the rule of law, judicial independence, inclusiveness, social justice, transparency and accountability to be the basis of governance and transformation.
With democracy, Nigerians expected its political leadership to harness the country's resources to drive economic growth, manage our diversity, promote national unity, provide basic infrastructure, protect lives and property and advance well-being of everyone, including the less privileged and vulnerable ones.
With democracy, Nigerians expected a National Assembly that would be loyal to the people, make good laws and render strong and effective oversight over the executive, devoid of ethnic, regional, party or political sentiments.
With democracy, Nigerians expected a judiciary with capacity, strength, and courage to protect its independence against executive intimidation and effectively use its powers to be the bastion of democracy, the rule of law, and social justice as the last hope of the common man.
With democracy, Nigerians expected strong national institutions, the bureaucracy, the security institutions and the Independent National Electoral Commission INEC to be loyal only to the constitution, the law and the people.
But today, after 61 years of independence and 22 years of unbroken democracy, it only seems there's not much to be excited about Nigeria except our notional sense of independence and unity that had endured this long in the face of sustained fratricidal assaults to its existence.
Let us make a candid assessment of the situation of our country, especially in the last six years, and tell ourselves some hard, undiluted truths.
First of all, we cannot deny that most of the countries that started with us 61 years ago are far more advanced and developed with superlative standards of living for their people than Nigeria.
Our democracy is being weakened and put to enormous stress and jeopardy with the continuous violation of our constitution by the Federal Government and other public institutions.
The National Assembly has literarily abandoned its constitutional checks and balance role over the executive arm of government and become a slavish appendage to the Federal Government as rubberstamp assembly.
Neither is the situation and postures of the nation's judiciary any better, where only a few judicial officers can stand the test of judicial courage, integrity and commitment to substantial justice in the performance of their constitutional responsibilities, while the entire judiciary, especially at the national level, has been bullied to nervousness to the detriment of our democracy, the rule of law and social justice.
The federal government claimed to be fighting corruption but public corruption has amplified out of control before their very eyes; while bigotry, hypocrisy, abuse and misuse of public office and power and the manipulation and politicisation of everything, including ethnicity is now the hallmark of governance at the centre so much so that Nigeria is more divided today than ever.
In the last six years, our economy has been in tatters and gasping without any realistic hopes for meaningful recovery in the nearest future as high inflation rates and massive unemployment continue to push more and more people into dehumanising misery and abject poverty.
They therefore tell lies when they say that our economy is growing and doing well when no one is feeling the benefits of an improving economy, if any.
Unable to mobilise sufficient domestic revenues, Nigeria is now one of the most indebted countries in the world, yet the federal government's appetite for more loans remains high even as we are approaching the twilight of its tenure. The effect of this is to mortgage the progress and wellbeing of future generations of Nigerians with billions of debts burden in hard currencies.
We know and we agree that there is no country without one form of security challenges or the other. But truth be told, despite repeated assurances, nothing has demonstrated in the last six years that Nigerians can enjoy improved security of lives and property any time soon.
Rather, the facts continue to show that no one or nowhere in Nigeria, including educational institutions, worship places, women and children, is safe anymore with the unending Boko Haram insurgency, the rapid killing instincts of bandits, herdsmen and kidnappers and the apparent lack of will and wits on the part of the federal government to protect Nigerians from becoming almost daily prey to destruction, killings and gender-based violence.
As we therefore celebrate our independence today, we must both reflect on the state of our country and the direction it is wrongly headed and move more quickly with all seriousness and sense of responsibility to rescue this nation of ours before it becomes too late.
There is no doubt that we are greater and better together as one indivisible nation than going our separate ways.
And although our challenges are multiple and varied, they are not beyond redemption. What is needed is the courage and commitment of our leaders and everyone to find sustainable solutions to these challenges and lay the groundwork for a new, peaceful, united and prosperous Nigeria, through national dialogue and on the basis of justice, equity and accommodation.
Above all, we must defend the basic structures of democracy and good governance by rising up to protect our right to free, fair and credible elections by demanding for the immediate incorporation of electronic voting and simultaneous transmission of results into our electoral system, which the nation's electoral management body has repeatedly said, it has both the capacity, commitment and infrastructure to effect, if only the national assembly would allow.
The national assembly stands condemned before God and the people of Nigeria should they fail to yield to this overwhelming demand by Nigerians for electronic transmission of election results. This is not a matter of politics of sentiments; it is a matter of the survival of our nation, which is superior to all other considerations.
For us in Rivers State, our commitment to one Nigeria is irrevocable but we will never cease to demand the remaking of the country to reflect true and fiscal federalism, devolution of more powers and resources to States and local governments and the total reformation of the repressive police system to allow for effective governor's oversight, control and funding at the State level.
Ladies and gentlemen, as I had repeatedly said, Rivers State belongs to Nigeria and all those who live in it. We therefore have no reason to discriminate against any person or deny any resident the benefits of our services and good governance.
We have spent the last six years in laying the most concrete foundations for rapid economic growth and put the entire State on the path to a prosperous future.
Our economy has grown far beyond the national average and is expected to accelerate even further in the coming years with the measures we have put in place, including fiscal discipline, improved revenue generation and massive provision of infrastructure as long as the nation maintains appreciable level of macro-economic stability.
It is not by chance that Rivers State is today ranked as the most fiscally improved and responsible State in Nigeria that can survive independently on its own internally generated revenues. This is as a result of the fiscal discipline, reduction of corruption in the procurement process and our expanding capacity to mobilise funds from domestic sources to fund our development agenda.
We concede that there is still more to do across the State in the provision of all-season roads, bridges, quality healthcare, education, water, electricity, housing, food security, full employment and social security for citizens.
But one thing we do have is the will and commitment to serve our State and deliver quality socio-economic infrastructure to better living conditions and wellbeing of everyone.
This, we have evidently demonstrated with the construction of over 700 kilometers of roads in the last six years, including over 20 dual-carriage express ways and nine flyovers to ease the movement of goods and services and drive socio-economic development.
Our commitment to the development of the State is also evident in the sheer number and quality of basic primary and secondary schools we have reconstructed and equipped, the quality of hospitals, including the Rivers State University Teaching Hospital, the multi-billion-naira Dr Peter Odili Cancer and Cardiovascular diseases centre, we have either delivered or under construction and the outstanding turnaround of the entire judicial infrastructures and other public institutions, including our tertiary institutions, abandoned public buildings and other assets.
Days ago, we approved funding for the execution of several more projects, including the dualisation of the 27 kilometers Chokocho-Igbodo road, the Oyigbo – Afam road, the Rumuokurusi – Elimgbu flyover, the Nabo Graham-Douglas campus of the Nigerian Law School, the new Magistrates' Court Complex, and the Rivers State Judicial Institute to further consolidate on our development agenda for the State.
We are building the Rivers State Judicial Institute to complement the services of the National Judicial Institute in providing regular training and retraining of our judicial officers, magistrates and other senior judicial staff to advance effective and efficient administration of justice in the State, which as you know, is pivotal to peace, security and socio-economic development.
Also, we have been able to transform several of our rural communities with improved infrastructure, including internal roads, water, while many more communities are due to be similarly provided with in the coming months and years to improve rural economic activities and better conditions of living.
Our commitment to protecting lives and property remains strong. For us, the provision of security, despite the federally imposed challenges, is our primary duty and we are happy with the success we have recorded so far to ensure the security and safety of citizens across the State.
We assure you that we will not give any breathing space to criminals to freely operate in the State, hence will continue with the demolition of shanties and other hideouts used by criminals to terrorise the State, businesses and our people.
As you know, we now live in a digital world and Rivers State cannot remain indifferent to the digital revolution, if we must accelerate our development.
Accordingly, we have since started the digitisation of the State with the Rivers State Internal Revenue Service, the State's Judiciary and some public institutions, including the Ministries of Commerce, Justice as well as Lands already operating on the digital platforms.
We are going to also digitalise other important ministries and public services to expand our tax base, e-commerce and the provision of education and healthcare services to remote areas, reduce corruption and increase internal resource mobilisation to fund government development projects.
We have implicit faith in the youth of Rivers State and their capacity to achieve whatever they set out to achieve with quality education and economic opportunities and support. That is why in addition to advancing access to quality education at all levels, we have provided the Real Madrid Football Academy and other platforms for them to acquire live skills to create wealth, live a responsible life and contribute to the development of our State and the nation.
We know that entrepreneurship is key to achieving sustainable prosperity. We will therefore continue to support the development of small and medium business as well as partner with the private sector to set up agriculture and manufacturing clusters to advance economic growth, create jobs and eliminate poverty among our people.
Fellow Nigerians, at this time and on this occasion of the nation's 61st independence, we commit to the service and development of Rivers State with new pledges and aspirations, which no challenge or obstacle can prevent us from fulfilling.
We believe in the prevailing unity of purpose and the strength of our resources, capabilities, skills and talents to effectively defend our rights and freedoms and advance our collective peace, progress and prosperity within a united and just Nigeria. So, help us God.
May God bless our country, Nigeria
May God bless our dear Rivers State.
I wish Mr. President and all Nigerians happy 61st independence!
17 Oil Wells: We Hope Uzodinma'll Accept S'Court Judgment In Good Faith -Wike
Being a text of a state broadcast by Rivers State Governor, Chief Nyesom Wike on Friday, May 6, 2022 following the Supreme Court judgment on the disputed 17 oil wells between Rivers State and Imo State. Excerpts.
My dear people of Rivers State, today, 6th May 2022, the Supreme Court of Nigeria has delivered its judgment on the subsisting boundary dispute between Imo State and Rivers State over the ownership of some oil wells at the Akiri and Mbede oil fields.
Let us recall that following the disputed claims to the location and ownership of some oil wells at the Akiri and Mbede oilfields between Imo and Rivers States in 1999, the Governors, Their Excellencies, Achike Udenwa and Dr. Peter Odili respectively, worked out a political settlement and mutually settled for a 50:50 percent beneficial sharing of the derivation proceeds accruing from these wells pending the proper demarcation of the boundaries between the two States by the National Boundary Commission (NBC).
While the dispute lingered, nothing was done by the NBC to demarcate the boundaries of the two States and establish the proper location and title to the disputed oil wells.
However, instead of instigating the NBC to do the right thing, Governor Emeka Ihedioha of Imo State, shortly after assuming office, repudiated the subsisting 50:50 percent sharing formula and made provocative claims to the exclusive ownership of the entire Akiri and Mbede oil wells.
In order to actualise this spurious claims, he stealthily wrote a letter dated 9th August, 2019 to President Muhammadu Buhari and requested for the refund of the sum of N15, 000,000.00 (fifteen billion naira) from Rivers State to Imo State as backlog of accrued proceeds from the 13% derivation revenue of the said oil wells.
Acting on Governor Ihedioha's letter, Mr. President warranted a letter to be written to the Revenue Mobilisation, Allocation and Fiscal Commission (RMFAC) through his late Chief of State, Mr. Abba Kyari, to alter the status quo in favour of Imo State without reference to the subsisting dispute and agreement between the two States.
Surprised by the surreptitious plots and collusive actions of the Government of Imo State and the NBC to overreach the legal interest of Rivers State in the disputed oil wells, the Rivers State Government opted to approach the Court for a just and lasting resolution.
Accordingly, we first applied to the Federal High Court, Abuja and among other reliefs, successfully challenged the powers and authority of Mr. President to give directives to the RMFAC and or interfere in any manner whatsoever with the distribution of public revenues from the distributable pool account, including the Federation Account.
Not satisfied with the positive ruling of the Federal High Court, the Imo State Government appealed to the Court of Appeal and lost. We then proceeded against the Government of Imo State at the Supreme Court in a fresh suit for a final and conclusive determination of the boundary dispute between our two States.
In approaching the Supreme Court in this matter, we believed that the dispute between the two States and the contentious issues are such that the Court can judicially, justly and expeditiously determine with the available facts and supporting evidence, including valid administrative maps, subsisting judgments, and other relevant documents.
And so, the Supreme Court has finally and conclusively resolved the dispute and granted full and exclusive ownership of all the disputed oil wells in Akiri and Mbede oilfields, to Rivers State much to everyone's relief.
Although Governor Hope Uzodinma was not the mastermind of the impulsive trajectory that compelled us to seek the intervention and protection of the Courts, he nevertheless participated fully in the litigation process to the end without engaging the Rivers State Government for a possible political solution.
However, his reactions to the judgments of the lower courts on this matter were clearly uncalled for.
Indeed, itwas rather unfortunate that for someone who became Governor through the instrumentality of the judiciary could turnaround to castigate the very institution that made him ruler over the good, peaceful and progressive people of Imo State.
Now that the Supreme Court has spoken, we hope Governor Hope Uzodinma will accept the outcome in good faith, refrain from his usual diatribes against the judiciary and explore possible pathways to accommodation and compromise from the Rivers State Government.
This, we may readily oblige, despite the betrayals and back-stabbing by Emeka Ihedioha, who in spite of the extensive support and goodwill he received from the Government and people of Rivers State to become Governor, led the onslaught and created a wedge between two brotherly States that have been living at peace and in friendship with each other.
We also deplore the collusive actions of the NBC, which unfortunately, has become notorious as one of the most corrupt national agency, which has functioned more in causing confusion than resolving boundary disputes.
It bears repeating that the quest to defend our ownership rights through the courts over the Akiri and Mbede oil wells was not intended to claim victory over Imo or any other State.
We are therefore open to further discussions with the Government of Imo State on the best way forward without prejudice to the outcome of today's judgment.
We appreciate the lawyers that prosecuted and secured this landmark success for Rivers State, and for their efforts, it is my pleasure to announce the conferment of State Honours on every one of them as the Distinguished Service Star of Rivers State (DSSRS).
Finally, I wish to reiterate our resolve to continue to fight for, advance and protect the best interest of Rivers State at all times and under any circumstances up to the end of our Government, and we hope our successor would likewise continue in this courageous spirit and determination to make the desired positive difference for our State and our people.
Thank you and may God bless you all!
'We Are Working To Leave Rivers Better Than We Met It'
Being a text of a statewide broadcast by Rivers State Governor, Chief Nyesom Wike on January 1, 2022 to mark the New Year.
Excerpts.
My dear people of Rivers State
As the clock ticks down and as we look forward to
ushering-in the New Year 2022, this is the time to give thanks to the Almighty God for his blessings and the opportunity to look into the future with greater hope and optimism.
On behalf of my wife and the government, let me thank all Rivers State citizens in particular, and Nigerians in general, for your continued love and support to our administration throughout the year 2021.
Indeed, we cannot thank you enough for the trust, the solidarity, the cooperation and above all, your prayers for the success of our government and the peace and progress of our state.
We also thank the police, the Department of State Security, the armed forces and the para military services for working round the clock to make and keep our dear state peaceful, safe and secure, not only in this festive season but throughout the outgoing year.
Indeed, there is no denying the fact that crime and criminality have been at very low rates in Rivers State and citizens felt safer and more secure in 2021 than the previous years.
With the cooperation of the security agencies, we identified and destroyed most of the shanties that hitherto served as safe havens and hideouts for criminals, who have now been dislodged and dislocated from the state having lost the space and capacity from which they could operate with ease.
To consolidate on the gains of the dislodgement and dislocation exercises, and make the state even safer and more secure, we have decided to demolish all shanties and makeshift structures in identified crime hotspots in Port Harcourt Township and the Illaobuchi areas of Diobu from the second week of January, 2022.
Those rebuilding the shanties we had demolished at Eleme or attempting to resume illegal trading activities at the closed Oginigba slaughter have one week to vacate or be arrested and charged to court.
Additionally, we have discovered that most vacant plots or uncompleted buildings in the Old and New Government Reservation Areas (GRAs) and some other parts of Port Harcourt City and Obio/Akpor local government areas have been hijacked and are now inhabited by criminal elements who are daily constituting menace to public safety.
We have therefore decided to end this danger by taking over all such abandoned plots and uncompleted buildings and re-allocate them to citizens who are ready to develop and put them into effective occupancy.
In a similar vein, we have revoked the certificates of occupancy of several undeveloped plots of land in old GRA, Port Harcourt, for breaching the covenants attached thereto, which we would also re-allocate to interested members of the public for immediate development as part of the ongoing efforts to restore the entire old GRA to its pristine state of development, beauty and serenity.
We will also not spare those contributing to the perennial flooding challenge in parts of Port Harcourt city and Obio/Akpor Local Government Area by blocking natural water and drainage channels with illegal landfilling, reclamation of wetlands or the construction of concrete structures.
Consequently, we shall recover and restore all landfilled or reclaimed wetlands and demolish all structures erected on natural water channels spanning from the Eastern Bypass area up to Abana and Eleme streets in Old GRA, Port Harcourt. Only those with genuine government permits and allocation papers will be duly compensated.
Again, it is important to appreciate what we have done to successfully transform our capital city, Port Harcourt, to one of the most beautiful cities in Nigeria with well-paved streets, pedestrian walkways, dual carriage roads and flyovers.
However, the beauty of the city is being defaced by illegal and indiscriminate trading on our streets, under flyovers and other unauthorised open spaces as well as the challenges with the current largely inefficient refuse disposal system.
I wish to, therefore, remind citizens that the ban on street trading and commuting on motor cycles in Port Harcourt City and Obio/Akpor local government areas is still in force.
Consequently, I hereby direct the Task Force on Illegal Street Trading to arrest and prosecute all those: (i) shuttling with their motorcycles and or hawking foreign exchange along Birabi Street, Hotel Presidential, GRA Junction by Zenith Bank up to Tombia Street; and (ii) trading on, under and around the Rumuola Junction and flyover; Rumuogba Junction and flyover; as well as Rumuokoro Junction and flyover.
Security personnel abetting illegal street trading by collecting bribes and offering protection to street vendors are advised to desist forthwith or they would equally be made to face the wrath of the law.
Furthermore, we have decided to end the menace of cart-pushers who have become notorious for indiscriminate scavenging and littering of wastes on street corners and the medians of major roads and highways across the state.
These cart pushers and their unknown collaborators are also responsible for the recurring stealing of manhole covers, an act which endangers peoples' lives and public safety on our roads.
Consequently, the state government has placed an immediate ban on the activities of cart pushers and directs law enforcement agencies to arrest and prosecute anyone who attempts to violate this ban.
In addition, a task force would be put in place to enforce this ban while we plead with the courts, in the interest of public safety and security, to impose the severest of punishment under the law on any convicted manhole vandal.
The indiscriminate and prolonged parking of trailers and other articulated vehicles along our streets is another environmental menace we must tackle to bring sanity to our cities and living environment.
Consequently, I hereby direct the chairmen of Port Harcourt City, Ikwerre, Obio/Akpor, and Oyigbo local government councils to within three weeks from today impound and or remove any trailer, trucks or articulated vehicle packed on the streets beyond 48 hours in their respective administrative jurisdictions.
As we all know, achieving effective environmental sanitation in cities and urban centres is a global challenge, and ours is not an exception.
However, we are determined to improve on our refuse disposal system by reviewing, overhauling and strengthening the legal, institutional and economic framework for a more effective delivery of sanitation services to residents.
I urge that you bear with us for a while and things will certainly change for the better in our refuse disposal system.
As an initial step towards achieving this objective, we have placed an immediate ban on the disposal of refuse on the streets or open spaces in both the old and new GRAs of Port Harcourt and Obio/Akpor local government areas.
Every household in both old and new GRAs must therefore procure and keep approved refuse disposal bins in the front of their houses to facilitate the door-to-door collection of the wastes they generate by designated contractors.
We will not hesitate to revoke the certificate of occupancy of any house in these areas without a refuse disposal bin or whose occupants are caught disposing refuse on the streets or open spaces.
We have also banned the posting of advert materials of any kind, including posters, fliers, pictures, artworks, placards or inscriptions on or under our flyovers, bridges, concrete walls and the safety barricades along the roads.
We will establish environmental marshals to enforce compliance with our sanitation laws, including this ban, by arresting and prosecuting both the person who places the advert and the person and institution on whose behalf it is placed.
Fellow citizens, we also have reason to be concerned about the operations and socially harmful activities of nightclubs within residential areas of our state.
Apart from the noise and traffic nuisances suffered by innocent residents, no responsible government should continue to tolerate the open display and solicitation of sexual services, drug abuse and public intoxication that takes place along the streets and public areas abutting some of these nightclubs, lounges and bars by the youths, some, as young as under 14 years.
Consequently, the state government has placed an immediate ban on all nightclub activities, including night-time trading and street prostitution along SaniAbacha Road and surrounding streets to stop the harmful effect of these depraved activities on the moral development of our children and society at large.
Let me also reiterate that we are as overly concerned as the public over the black soot environmental disaster that has continued to envelope Port Harcourt and upsetting residents for quite some time.
As a state government, we have drawn the attention of the Federal Government to this problem and requested for its intervention to stop the activities of illegal bunkering and artisanal crude oil refiners, which have been identified as the main sources of the soot pandemic.
Unfortunately, the Federal Government has remained inexplicably silent over our request and even complicit to a large extent with the security agencies actively aiding, encouraging and protecting the artisanal refiners to continue with their harmful activities unabated.
We have equally appealed without success to our people engaging in this illegal business to consider its negative effects on our economy, environment, public safety and public health and disengage from it.
We will continue to engage and plead with the Federal Government to intervene and save our people from this serious environmental and health emergency.
However, since the federal security agencies have largely refused to stop the illegal crude oil refining activities in the state, we have no option than to take necessary measures to tackle this particular and direct challenge to our collective health and survival by ourselves.
Consequently, I have directed the chairman of Port Harcourt City Local Government Council to go after all the illegal crude oil refining sites along Creek Road and adjourning areas of the city and shut them down with immediate effect.
Furthermore, all local government chairmen are directed to work with community leaders to locate and identify those behind all illegal bunkering and crude oil refining sites in their localities and report to my office for further action.
Once again, we express our sympathies to the victims of the recent fire incidences in the state, especially those who lost loved ones and valuable property.
As a government we will continue to do our best to strengthen the State Fire Service to effectively intervene to mitigate the damage during fire incidents.
However, members of the public also have the responsibility to do the right thing to prevent or avoid some of these fire incidents from happening and those who deliberately bury fuel and gas tanks in residential areas are certainly not doing the right thing, and should therefore relocate their precarious businesses to more convenient and less risky places.
We wish to also express our concern over the poor compliance with the existing COVID-19 protocols by citizens and the effect on the transmission of the disease in the state.
Believe it or not, COVID-19 is a reality that has already taken the lives of hundreds of thousands of people and disrupted economic activities across the world.
Here in Rivers State the transmission of the virus continues to surge daily and we all need to act together to stop the diseases from further ravaging our state.
We, therefore, appeal to all residents to make themselves available for testing and vaccination whether it is for your first, second or booster jab in addition to observing the existing preventive protocols, including social distancing and wearing of face masks to reduce the level of transmission.
Let me also remind all government recognized traditional rulers that they are, at all times, subject to the authority and directives of the state government and not to other allegiances, culture or otherwise.
Therefore, the consistent absence of some first class traditional rulers, especially the Amanyanabo of Okrika, the Amanyanabo of Ogu, the Amanyanabo of Kalabari and the GbenemeneNyo-Khana from participating in state functions is unacceptable and will no longer be tolerated.
Should they, therefore, continue to absent themselves from state functions or in the regular meetings and activities of the Rivers State Traditional Rulers Council, we would have no option than to direct their immediate replacement.
Finally, as the New Year 2022 inevitably beckons, we wish to assure you that we will continue to do our best to meet the aspirations of our citizens for a more peaceful, safe and secure society throughout the Year 2022.
We will continue to pursue our objectives for a stronger and more sustainable economy centred on fiscal discipline, revenue growth, job creation, and improved standard of living for all residents.
We will continue to accelerate our development with the sustainable delivery of quality roads, bridges, schools, hospitals and other socio-economic infrastructure and complete all ongoing development projects across the state.
I wish to, once again, thank our leaders, traditional rulers, elder statesmen, party chieftains, our women, our youths and the press for the warmth and support we have received throughout 2021.
We wish to specially thank our religious leaders for their prayers for peace and progress as well as for their continuous support to our government in the primary task of building the Rivers State of our collective dream.
We remain grateful to God for the unprecedented peace, security and transformational strides the state is enjoying under our administration.
But we must also be vigilant because our enemies, especially, members of the opposition, are not happy with the prevailing peace, security and the unprecedented achievements we have recorded; and are therefore determined to cause crisis and disturb our peace and joy if they have the opportunity.
Let us therefore prayerfully continue to place our dear state and everyone in the safe and protective hands of God Almighty through our Lord Jesus Christ.
I wish each and every one a happy and prosperous New Year!
May God continue to bless our dear Rivers State.
2022: FG'll Leverage ICT Platforms To Create Jobs-Buhari
Being a text of President Muhammadu Buhari's broadcast to the nation on January 1, 2022 to mark the New Year.
Excerpts.
We remain grateful to the Almighty God for yet an
other year attained as a country, united by a common destiny and resolute in our determination to overcome the several challenges along the path to build the great and prosperous nation of our dream.
I salute the courage and resilience of all Nigerians, which was evident in 2021 as this nation, like other countries of the world, faced significant challenges that occurred as a consequence of the COVID-19 pandemic and the efforts to restore the global economy and social order.
The persistent insecurity in certain parts of the country may have threatened to unravel the incremental gains achieved in the real sectors of the economy and in the administration's overall objective to position the nation on the irreversible trajectory of sustainable growth and progress, but I assure you that we will remain resolute in our commitments and shall continue to press ahead with our programmes and plans.
The path to nationhood is often fraught with unpredictable difficulties and challenges, and most tried and tested nations have often prevailed through dogged determination, resilience, concerted commitment to unity, and the conviction that the whole of the nation, standing together against all odds, is by far greater and would ultimately be more prosperous and viable than the sum of its distinguishable parts.
There is no doubt that the issue of Security remains at the front burner of priority areas that this administration has given utmost attention to. As a follow up to our promise to re-energize and reorganize the security apparatus and personnel of the armed forces and the police, it is on record that this Administration has invested heavily in re-equipping our military in line with upgrading the platforms and firepower required to tackle the current challenges being faced in the country.
The net results of these efforts have been the number of insurgents and bandits who have willingly surrendered to our Security Forces and continue to do so through various channels and the Safe Corridor created for that purpose.
Government, however, realises that victory on the battlefield is just one aspect of sustainable victory. We know that to fully win this war, we must also win the peace and real security lies in winning the hearts and minds of the affected citizens. To this end, working with our international partners and neighbouring countries, we would be deploying multi-faceted solutions that will be targeted at addressing human security at the grassroots, before it leads to insecurity.
Once again I would like to take a moment to remember and honour the gallant military, police officers, and other security agents who have lost their lives in the cause of protecting the territorial integrity of this nation against both internal and external aggressors, assuring their families that their sacrifices would not be in vain.
We equally remember and commiserate with Nigerians who have lost loved ones as a result of insecurity in different parts of the country. Every life matters and every single death caused by any form of insecurity is a matter of personal concern to me both as a citizen and as the President of this great country.
We remain fully committed to upholding the constitutional provisions that protect all Nigerians from any form of internal and external aggression.
On the economy, we have shown a high level of resilience to record some significant achievements despite the turbulence that has characterised our economy and indeed the global economy. The lessons we have learned and keep learning from COVID-19 have encouraged us to intensify efforts to mitigate its socio-economic effects on our nation.
The major wins we have recorded can be clearly seen in Nigeria's most recent Gross Domestic Product (GDP) figures released by the National Bureau of Statistics (NBS). The 4.03% growth recorded in the third quarter of 2021 is indicative of the recovery being recorded in our economy and the confidence that is being shown through the policies that our administration has put in place after the outbreak of the pandemic.
We may also recall that this recent growth is closely followed by the 5.1% (year-on-year) growth in real terms recorded by Nigeria in Quarter 2 of 2021. This growth was one of the best recorded by any nation across Sub-Saharan Africa. The 5.1% growth at that time was and remains the highest growth recorded by the Nigerian economy since 2014.
Despite the challenges we have faced as a nation, the good news is that we have so far recorded four consecutive quarters of growth after the negative growth rates recorded in Quarter 2 and Quarter 3 of 2020 due to the effect of the COVID-19 pandemic.
On August 16, 2021, I signed the landmark Petroleum Industry Act into law. The signing of this legacy legislation is a watershed moment in the history of our nation, considering the massive positive impact the new Act would have on the economy. I would like to sincerely commend the 9th Assembly for the grit they demonstrated, succeeding where others have failed, and the cooperation that led to the completion of this process after almost two decades.
Just like I stated during the investment trips and fora that I have attended recently, the legislation is expected to serve as a liberalising force in the energy industry, and we are optimistic that this law will provide the much-needed legal, governance, regulatory and fiscal framework for the development of the energy sector, the host communities, and Nigeria as a Nation. Our objective to increase liquefied natural gas exports and expand our domestic market is still very much at the forefront of some of the policies we would be pushing in the New Year.
In year 2022 and going forward, our administration would intentionally leverage ICT platforms to create jobs, while ensuring that the diversification of our economy creates more support to other emerging sectors. I am proud to announce that several foreign investors are taking advantage of our ranking as one of the leading start-up ecosystems in Africa to invest in our digital economy.
We have given the utmost priority to fighting corruption and other related offenses which have been a bane to the growth and prosperity of our dear nation. We have made major strides and breakthroughs through the innovative use of technology and forensics in the investigative and prosecutorial procedures with commendable results to show that the anti-corruption drive of our administration is succeeding.
In the meantime, the accomplishments that have been recorded so far can be traced to the dedication of the nation's anti-corruption agencies who have received the necessary support needed to effectively prosecute their duties.
Despite our challenges in 2021, it was also a year in which the administration executed successfully, key projects, programmes, and initiatives to fulfil the promises made under the Security, Economy Anti-corruption (SEA) agenda.
As we welcome 2022, let us, with hope; envision a year of continued progress against our combined challenges arising from security and socio-economic issues.
As it is said, the past is but a story told, the future will still be written in gold. Let us be united in our fight to keep our Nation united against all odds and with gratitude, celebrate life in this new epoch.
I wish you a very happy and prosperous New Year.