Tackling Nigeria's Refugee Crisis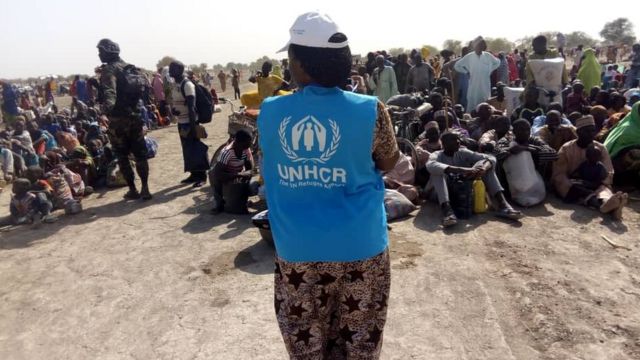 Even as the world marked the 70th anniversary of the adoption of the 1951 Geneva Refugee Convention this year, there have been increasing attempts lately by some governments to disregard or circumvent the principles of the Convention.
The UN adopted the convention establishing the rights of people forced to flee their home countries following the creation of UN High Commissioner for Refugees (UNHCR) the previous year shortly after World War II.
However, there has been rising need for the international community to uphold the key principles of refugee protection as laid out in the Convention, including the right of someone fleeing persecution not to be sent back into the path of harm or danger, especially now that the world refugee crisis caused by conflict, poverty, war, violence, mis-governance and climate change has continued to drive more people out of their homes.
This is as some governments attempt disregarding or circumventing the Convention's principles, through expulsions and pushbacks of refugees and asylum seekers at land and sea borders, to the proposals to forcibly transfer them to third states for processing without proper protection safeguards.
According to Article 1 of the Convention, a refugee is a person who is outside his/her country of nationality or habitual residence; has a well-founded fear of persecution because of his/her race, religion, nationality, membership in a particular social group or political opinion; and is unable or unwilling to avail himself/herself of the protection of that country, or to return there, for fear of persecution.
The Convention not only ensures that refugees get another chance at living through the recognition of their human rights, but also stresses the importance of international cooperation in tackling the problem.
Filippo Grandi, the UN High Commissioner for Refugees, said that the treaty is a crucial component of international human rights law and remains as relevant now as it was when it was drafted and agreed.
 "The language of the Convention is clear as to the rights of refugees and remains applicable in the context of contemporary and unprecedented challenges and emergencies – such as the Covid-19 pandemic," Grandi said.
Globally, over 82.4 million people have been forced to flee their homes and among them are about 26.4 million refugees, half of whom are under the age of 18.
According to the UNHCR flagship report for 2020, Turkey continues to host the largest number of refugees with about 4 million people, 92 percent of whom are Syrian refugees.
Mr John Mckissick, UNHCR Deputy Country Representative in Nigeria, said that one out of 95 people on Earth today had been forced to flee his or her home to either become internally displaced or crossed the border to become a refugee.
According to him, Nigerians have become refugees abroad as a result of insurgents actions, non-state armed groups and organised criminal gangs.
Violent conflicts in some regions continue to increase the occurrences of displacements, leaving citizens with no option but to become refugees or settle in Internally Displaced Persons(IDPs) camps.
Over the last decade, violent attacks of bandits and the Islamist group Boko Haram as well as communal clashes have continued to escalate in Nigeria's North-East, North-Central and North-West regions, according to UNHCR.
To help, UNHCR says it is providing 'protection-by-presence, in the field through strategic protection monitoring, vulnerability screening, provision of material assistance and subsequent individual protection referrals to service providers.
The Agency is also advocating for increased access to social and basic services for displaced persons, respect for the Civilian and Humanitarian character of IDPs camps and a better protection environment overall.
Dr Wole Kuniji, an international law expert, said that to combat the refugee crisis in Nigeria, there should be a focus on the "root cause approach."
Kunuji, a lecturer in the Department of Jurisprudence and International Law, University of Lagos, emphasised that the root cause approach addresses the foundational causes of the increase in refugees.
"The refugee crisis currently all over the world is caused by conflict, poverty, war, violence, mis-governance, climate change, among others.
"Let us figure out solutions to these causes and implement them before the situation escalates," he said.
Suffice to say that all hands must be on deck to tackle and eliminate these root causes if Nigeria will be free from the menace", Kunuji said.
According to him, the provision of Article 33 of the Refugee Convention on  the principle of 'non-refoulement' was the most significant and constitutes the cornerstone of the international refugee protection.
The provision refers to the practice of not forcing refugees or asylum seekers to return to a country in which they are liable to be subjected to persecution.
It asserts that a refugee should not be returned to a country where they face serious threats to their life or freedom and is now considered a rule of customary international law.
Kunuji said that the principle of non-refoulement was also the anchor of the Nigerian Refugees Act, adding that it must be appropriately followed.
Speaking on consequences for the violation of the provisions, Kunuji added that there should be an accountability and monitoring mechanism in the act.
This, he said, would mandate the National Refugees Commission to report to a relevant committee on what has been done regarding the provision.
"It's one thing to have provisions in place and it's another thing to have the political will.
"One way to ensure that there is a process of accountability is for the refugees commission to present a report every year on how they've helped or enhanced the implementation of rights of refugees.
"The UNHCR has a duty to continue to supervise and monitor the  implementation of the provision under the Convention and the Nigerian act," he said.
On the other hand, Mrs Toyin Saraki, Founder, Wellbeing Foundation, said that research and development approach needed to be employed to tackle the refugee crisis.
Saraki, an advocate for refugees, said this could be driven by the philanthropic community in Nigeria.
According to Saraki, the philanthropic sector in Nigeria is ready and would happily partner the government in a more meaningful way, to make the lives of refugees better.
 "This will allow the philanthropic sector help the government not just with funds but also at the frontline with key knowledge that can drive impact."
She added that her foundation believed in the need to make optimum health and social care outcomes a reality for the refugee population.
"We know that every  refuge deserves the right to health guaranteed in any host location, powered by health enhanced certifiable identities.
"Every refugee should have a health record and. We need the government to be able to plan to look after the health, education and care of refugees in our national budget.
"We cannot close our eyes to the infringement of the rights of refugees because any of us can be in such position tomorrow."
"I believe that the community approach is where we need investment to be increased so that we can lift the host community and prepare for the refugee community that keeps increasing."
"It is quite clear that every sector in Nigeria is going to have to come together to prepare for this emergency," she said. 
By: Busayo Onijala
Onijala writes for the News Agency of Nigeria.
…Creates Two New Offices In Govt House
The Rivers State Governor, Chief Nyesom Wike has announced the creation of two new executive offices to guarantee efficiency and effectiveness of activities at the Government House, in Port Harcourt.
The governor's action was made known in a statement signed by the Special Assistant on Media to the Rivers State Governor, Kelvin Ebiri in Government House, Port Harcourt, last Monday.
The terse statement reads, "To ensure activities are functioning efficiently and effectively, the Rivers State Governor, Chief Nyesom Wike has announced the creation of the Office of the Deputy Chief of Staff, Government House, Port Harcourt.
"The Deputy Chief of Staff will be in charge of the Logistics, Correspondence of the Governor and Legal Matters.
"Similarly, he has also announced the creation of the Office of the Special Adviser on Aviation".
Accelerating Gender Parity In Nigeria
In virtually all societies, women are in an inferior position to men. Sex or gender determines  more rights and dignity for men in legal, social and cultural situations, These are reflected on unequal access to or enjoyment of rights in favour of men.
There are also the assumption of stereotype social and cultural roles.
In Nigeria, gender inequality has been for decades in spite of modernization and the fact that many females have done better than men in many spheres.
Analysts are convinced that gender inequality is largely influenced by religious and cultural beliefs, as some cultures and religions still hold strongly that women are the weaker vessels created mainly to be home keepers and child bearers.
Analysts are also worried that gender inequality negatively affects status in all areas of life in society, whether public or private, in the family or labour market.
Although the Global Gender Gap Report 2018 by the World Economic Forum (WEF) shows some progress amongst the 149 countries that were indexed, the progress toward closing the gender gap is slow, because it will take 108 years to close the gender gap and another 202 years to achieve parity in the workforce, according to the report.
The report benchmarks the 149 countries on their progress toward gender parity across four dimensions – economic participation and opportunity, educational attainment, health and survival, and political empowerment.
A number of initiatives have been made by corporate organisations and governmental and non-governmental organisations  to address gender imbalance in Nigeria.
One of the latest is the launch of First Women Network  (FWN) by the First Bank of Nigeria Ltd., in commemoration of the 2019 International Women's Day (IWD).
IWD is celebrated globally every March 8 to recognise social, economic, cultural and political achievements of women.
The celebration is also a call to action for accelerating gender parity.
The global theme for the 2019 celebration is "Think Equal, Build Smart, Innovate for Change" while the theme for the social media campaign is "#BalanceforBetter".
According to the bank, the FWN initiative is an avenue for career management and mentoring for women to enable them to balance their career with private endeavours.
The aim,  according to the bank, is to address gender gap and increase women representation in its senior and executive levels, as well as encourage women to tap into opportunities and contribute to nation-building.
The bank's Chief Executive Officer (CEO), Dr Adesola Adeduntan,  explains that First Women Network is targeted at the banks' staff and customers, among others.
He believes that women can achieve more if given the necessary strategic support, hoping that the initiative
will increase the bank's productivity and profitability.
Adeduntan notes that the initiative is  also a demonstration of First Bank's adherence to the Central Bank of Nigeria's Sustainable Development Goals which mandate increased women representation in all banks.
The sustainable goals require that the financial services sector should adopt a quota system to increase women representation on boards to 30 per cent and that of senior management level to 40 per cent by 2014.
Adeduntan is optimistic that the FWN will address six key area –  career management, personal branding, mentoring, welfare, financial planning and empowerment.
He is convinced that the initiative will address gender disparity at the workplace.
"It is commonly agreed that gender parity is an essential factor influencing the advancement of institutions, economies and societies.
"Studies have shown that gender parity in corporations promotes increased performance and returns on investment.
"The need to invest in composite women empowerment and enhance their contributions at senior management levels to achieve organisational goals cannot be over-emphasised," the CEO says.
For him,  it is paradoxical that the presence of women in paid employments continues to increase, yet the progression of professional women to positions of leadership and management remains slow.
"Gender gaps persist in economic opportunities and political participation in many countries.
"This is part of the reasons for this women network initiative," he notes.
The chief executive officer wants employers of labour and the entire society to encourage women to advance, excel and contribute optimally in  workplaces and communities.
Mr Abiodun  Famuyiwa, group head, Products and Marketing Support, promises that First Bank  will continue to promote female entrepreneurship for national growth and development.
"We recognise that promoting female entrepreneurship and independence is key to economic viability of every home in the country," he says.
 According to him, FWN is a further demonstration of the bank's commitment to women empowerment after the launch  of FirstGem in 2016.
He is satisfied that FirstGem is providing opportunities for women to achieve their financial goals and aspirations through with access to support funds, free business advice, specialised trainings on business development and insight on business development.
For Mr Lampe Omoyele, managing director, Nitro 121, an integrated marketing communications agency,  points out that courage is important in addressing gender imbalance.
"For gender imbalance to be resolved, there has to be courage, vision, values and character," he says.
He is convinced that women should  have courage and confidence in taking risks within  organisations.
Omoyele advises that women must not play the victims.
"Ultimately, whether you are a female or male, what is going to sustain you is your character and values.
"You need to have values; character is important in the balance that we live to, and it sustains you as you move into the future," he adds.
The Chief Executive Officer,  Standard  Chartered Bank, Mrs Bola Adesola, wants women to take advantage of FWN to make their lives better.
 She urges women to aspire to grow in their endeavours and refuse be limited because of their gender, stressing that they should use all resources at their disposal to grow.
 For the bank chief, FWN is not a silver bullet to creating the first female chief executive officer of First Bank, but  about opportunity.
"So, it is important that as women, we take advantage of it," she urges.
 Ms Cecilia Akintomide, independent non-executive director, FBN Holdings Plc, is dissatisfied that Nigeria is still far in gender balancing.
Akintomide says Nigerian  women are still being restricted from working in some places and owning some property.
According to her, restrictions are rendering 50 per cent of Nigeria's population –  mainly women –  economically unviable.
 A First Bank customer,  Mrs Ifeyinwa Okoye, lauds the FWN, and urges the bank to ensure that its customers – the secondary target of FWN –  benefit from it.
Okoye describes women as critical to economic growth and development but regrets that many women were lagging behind in their endeavours because of gender inequality.
She wants the banks to enlighten its customers on FWN for maximum results.
 "If you empower a woman, you empower a nation.
"Empowering women is especially effective because the benefits are felt throughout the whole community," she argues.
Analysts call for more strategic support for Nigerian women to  enhance gender parity.

By: Chinyere Joel-Nwokeoma
Joel-Nwokeoma is of the News Agency of Nigeria.
Covid-19 Vaccination: Role Of Local Leaders
It was a matter of time, but Covid-19 vaccination has already started to generate heated arguments following a hint that the Federal Government could start sanctioning anybody who refused to be vaccinated.
Dr Faisal Shuaib, Executive Director,  National Primary Health Care Development Agency, NPHCDA, disclosed this at a recent press conference in Abuja. He, however, said that implementation was dependent on availability of the vaccines.
"The Presidential Steering Committee and the Federal Ministry of Health are exploring ways of making vaccines more available to all Nigerians, including federal civil servants and corporate entities.
"Once these vaccines are made equitably available to all Nigerians, then we will need to have a frank discussion about justice, fairness and liberty that exist around vaccine hesitancy.
"So, you have a right to refuse vaccines, but you do not have the right to endanger the health of others," he said.
Already, attempts have been made by two states – Ondo and Edo – to make Covid-19 vaccination compulsory, especially for public servants and members of the public who wish to gain access to certain places.
These places include religious worship centres, banks and public buildings.
However, those attempts and the suggestion that the Federal Government might sanction those who refuse vaccination have been criticised by some trade, professional and religious associations.
 The Nigeria Medical Association (NMA) and Joint Health Sector Union (JOHESU) that kicked against the compulsory vaccination, said that government should rather embark on advocacy and persuasion, than coerce citizens into getting vaccinated.
The spokesman for JOHESU, Mr Olumide Akintayo, said the policy would only be sensible if there were enough vaccines to inoculate eligible citizens.
Akintayo stated: "If you are thinking of it in terms of responsibility, it makes sense; but practically, we all know it is an impossible task.
" If all the doses that have been sent to Nigeria since this outbreak is less than 10 million, how do you enforce that kind of policy in a country of over 200 million people?
"You don't just come up with policies that are not backed by common sense; you don't just say things because you want to talk. It would have made some sense if the vaccines are available for everyone."
The General Secretary of the NMA, Philips Ekpe, said citizens could not be forced to be vaccinated against Covid-19 the same way they had the right to reject medical treatment.
Rather than being forced, he said Nigerians should be made to understand the need to be vaccinated. 
According to him, although they cannot be forced, citizens who refuse vaccination should stay in their houses so that they don't endanger others.
He said: "The Federal Government needs to make people understand the reason why they need to be vaccinated. They have the right to say no. You cannot force people. People have the right to say no to medical treatment.
"But you should let them understand the dangers of not getting vaccinated.
"For example, if you want to travel out of the country, if you are not vaccinated, you will not be let in. The reason is because the other country you are going to won't want to endanger the lives of its citizens.
"Let them understand the importance, but then if they refuse, they should stay in their houses and not go out and endanger others."
Experts believe that properly communicating the advantages of being vaccinated, through the use of existing structures, such as religious and cultural institutions, would yield better results than subtle threats.
Communication connotes persuasion, even on occasions when the purpose of a piece of communication is not to persuade, there is still the need to win over the audience to accept the message.
In this era of fake news, and when the social media is awash with conspiracy theories against vaccination, persuasion must first be deployed to get the attention of citizens.
The burden increases tremendously when there are cultural and religious stereotypes which could prevent many adherents from accepting that being vaccinated is safe.
This challenge is not peculiar to Nigeria. In the U.S. for instance, vaccine hesitancy is responsible for over 90 per cent of all Covid-19 related hospitalisation.
Getting some Americans vaccinated has been so challenging that many people have been offered monetary incentives to convince them to get vaccinated in an unusual case of persuasion.
In Nigeria, where religious and traditional leaders are custodians of faith and culture respectively, they wield great influence on devotees and those institutions can be deployed to boost vaccination drive.
Historically, religious and traditional rulers often employ the cognitive process of persuasive communication to change an entrenched social perception or public opinion hindering required public support for relevant people-oriented policies.
Leaders have the influence to subtly appeal to the target to listen, accept, comprehend and act.
Therefore, before considering the stick, government should first explore the use of carrot.
Religious and traditional leaders can help in giving correct messages on vaccination as well as being role models, making sure that they and their loved ones too are vaccinated.
Faith-based and culture-based organisations can also collaborate with other leaders to sensitise communities on the benefits of vaccination and to also dispel the many myths and disinformation about it.
King Bubaraye Dakolo of Epetiama Kingdom in Bayelsa has been putting this practice to use, since vaccination was first rolled out in Nigeria in March.
"The arrival of the vaccine brought a huge relief to our kingdom. I mobilised my people to carry out awareness campaigns in the various communities to guard against apathy.
"My council chiefs and I led by example in being vaccinated early. When the people saw that, they were fully convinced that the vaccine is not harmful.
"We made it clear to our people through town hall meetings that the vaccine is safe and is designed to save humanity.
"We equally reminded them how some persons who refused to be vaccinated for poliomyelitis in the past are suffering the consequences of their actions today," the traditional ruler said. 
According to the WHO Covid-19 Dashboard, Nigeria had administered 4.4 million Covid-19 vaccine doses as at Aug. 31, 2021. Out of that number, 2.9 million Nigerians have been fully vaccinated, according to the NPHCDA.
With a fairly efficient vaccination structure, owing to many years of immunisation against polio, the Nigerian government should activate collaboration with religious and traditional bodies in its vaccination drive.
Experts, including health professionals and public administrators, believe that involving these leaders in advocacy and public enlightenment will lead to more people accepting to voluntarily get Covid-19 vaccination.
Of course, with just a paltry 0.7 per cent of the population vaccinated, the key indicator for any punitive measure for avoiding vaccination will be subject to availability of the vaccines.
However, to achieve the goal of vaccinating 40 per cent of its 200 million population before the end of 2021 and 70 per cent by the end of 2022, Nigeria will need more than availability of vaccines.
There has to be the acceptance and willingness of the majority of its population to be vaccinated.
One of the crucial and effective way to achieve that is to work with religious and traditional leaders.
By: Kayode Adebiyi
Adebiyi writes for News Agency of Nigeria.