Health Benefits Of Eating Apples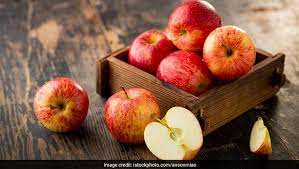 Apples are quite expensive in the African Clime. Except in South Africa, where it is grown commercially, in other parts apples come in varieties.
 Naturally, apple is one of nature's richest fruits in terms of nutrient and usage. It is best consumed raw, so one can enjoy the huge antioxidants and other flavonoids that help build the body. Below are its many uses:
Tackles High Blood Pressure:
Savour a juicy apple and you may help keep your ticker healthy in the process. "Studies have linked apple consumption with reduced risk of cardiovascular disease, which may be related to the cholesterol-lowering benefits of the soluble fibre found in apples," say researchers.
Soluble fibre dissolves in water to form a gellike material, according to the Mayo Clinic. According to the University of Illinois, soluble fibre helps prevent cholesterol buildup in the lining of blood vessel walls, therefore lowering the incidence of atherosclerosis (restricted blood flow in the arteries due to plaque buildup) and heart disease. It can also help lower blood pressure levels. A study found that a higher intake of soluble fibre was associated with a decreased cardiovascular disease risk.
Research shows that eating apples (or pears) regularly was associated with a 52 percent lower stroke risk. Furthermore, a study published in February 2020 in The American Journal of Clinical Nutrition found that eating two apples a day helped study participants lower both their LDL ("bad") cholesterol and triglyceride levels.
2. Eating Foods With Fibre, Including Apples, Can Aid Digestion
You've likely heard that fibre is good for digestion — and what you've heard is true! According to Harvard Health Publishing, both types of fibre (soluble and insoluble, which means it can't be absorbed in water) are important for digestion. And you're in luck — apples have both types, according to the University of Illinois.
Soluble fibre helps slow down digestion, allowing you to feel full, and also slows the digestion of glucose, which helps control your blood sugar. Meanwhile, insoluble fibre can help move food through your system and aid with constipation and regularity, per Harvard.
Just be sure to eat the apple skin, which contains much of the apple's insoluble fiber, according to the University of Illinois in the USA.
Apples Can Support a Healthy Immune System
Who doesn't want a stronger immune system going into autumn? Apples might be an important tool in your immune-supporting tool kit.
According to research in animals, a diet filled with soluble fibre helped convert immune cells that were pro-inflammatory into anti-inflammatory and immune-supporting ones. Another animal study, published in May 2018 in the journal Immunity, found that a diet high in dietary fibre protected mice against the flu. Whether those effects would be seen in humans is unclear until there are more studies.
Still, there's reason to believe that apples may bolster immunity, in part because they contain immune-boosting vitamin C. A review published in November 2017 in the journal Nutrients found that vitamin C plays many roles in helping the immune system function, such as by strengthening the epithelial (a type of tissue) barrier against pathogens and guarding against environmental oxidative stress, such as pollution to radiation, according to research.
It's Diabetic-Friendly Fruit
If you have type 2 diabetes, consider adding apples to your diet. Sure, they're a fruit, but it's a common misconception that people with diabetes can't eat fruit.
In this case, apples' soluble fibre can help slow the absorption of sugar into the bloodstream and may improve blood sugar levels, the Mayo Clinic notes. Plus, per Mayo, a healthy diet that includes insoluble fibre can lower your odds of developing type 2 diabetes in the first place.
Furthermore, a study of people with type 2 diabetes published in August 2016 in Experimental and Therapeutic Medicine found that regularly consuming soluble fibre helped reduce insulin resistance and improved blood sugar and triglyceride levels.
The Antioxidants in Apples May Play a Role in Cancer Prevention
While there's no one surefire way to prevent cancer, apples could help play a role. "Apples may reduce the risk of certain cancers, which researchers speculate is related to the antioxidants found in apples," says Anzlovar. Research suggests that apples have a very high level of antioxidants, and in laboratory studies, these antioxidants have been shown to limit cancer cell growth.
A review published in October 2016 in Public Health Nutrition found that eating apples regularly is associated with a reduced risk of certain cancers, including colorectal, oral cavity, esophageal, and breast cancers.
The fiber in apples may provide cancer-preventing perks. A study published in March 2016 in the journal Pediatrics found that women who ate more high-fiber foods during adolescence and young adulthood (especially lots of fruits and vegetables) had a lower breast cancer risk later in life.
And another study, published in January 2019 in the journal The Lancet, found that a diet high in dietary fiber could protect against colorectal cancer and breast cancer, as well as type 2 diabetes and cardiovascular disease.
6. Apples Can Support Healthy Weight Loss
A diet rich in fruit (and vegetables) can help you maintain a healthy weight — or shed pounds — according to the Centers for Disease Control and Prevention.
Because apples are filled with dietary fiber, they are high on this list. "Fiber slows digestion and the rise of blood sugar, keeping you satiated and less likely to overeat," says Levinson.
According to that study in The Lancet, people who ate the most fiber had a significantly lower body weight. Research shows that overweight women who ate three apples a day lost 1.22 kg (2.7 pounds) after 12 weeks.
At only 95 calories for a medium-sized apple, this fruit is one you'll want to keep on hand when sweet cravings strike.
Apples May Help Prevent Alzheimer's Disease
Time to start eating more apples and other flavonoid-rich foods like berries and tea. Research published in August 2020 in The American Journal of Clinical Nutrition found that adults age 50 and older who included only a small amount of flavonoid-rich foods like berries, apples, and tea in their diet were a whopping 2 to 4 times more likely to develop Alzheimer's disease and related types of dementia over 20 years compared with people who ate more flavonoid-rich foods.
On top of that, a review published in January 2020 in the journal Biomolecules found that quercetin, a flavonoid found in apples, protects neurons from oxidative damage and contains other anti-Alzheimer's disease properties, too. 
By: Kevin Nengia
Gender Violence Increases HIV/AIDS,RSG Warns
The Rivers State Government has warned that gender-based violence increases incidence of HIV/AIDs, unwanted pregnancies among other health ailments.
The state Commissioner for Health ,Dr. Adaeze Oreh made the disclosure during the kick-off of the 16-days statewide campaign against gender-based violence.
"She also listed other health problems associated with gender based-violence that include sexually transmitted diseases (STDS), rectal incontinence and addictive behaviours.
"The commissioner used the occasion to enlist the support of individuals, organisations, government around the world to eliminate gender -based violence."
"Dr. Oreh in a broadcast last weekend to commence the campaign against gender-based violence stressed the need to check the menace which she believed affects families and the society.
"According to her, all forms of anti-social behaviours like rape, sexual and child slavery, forced prostitution, forced abortion and pregnancy perpetrated against the girl child and women should be eliminated.
Said she, the concern of the Rivers State Government is the health implications of gender-based violence which includes increased HIV and sexually transmitted diseases.
She reiterated that the citizens have key role to play to prevent gender- based violence and its consequences by reporting cases promptly to health facilities in the state.
By: Kevin Nengia
Getting Trimmed Naturally
There are a lot of misconceptions about weight gain. The first is that weight gain comes from extra calories we do consume that we do not expend. Experts say we eat too much and exercise little. So if one gets fatter, then, surely he or she must be eating too much.
The other misconception is that once we cut our food, then, we will naturally become trimmed. All these are hinged on the diet theory, which only works for some time.
Over the past 40 years, studies have shown that you can not get clinically significant effect from cutting down on your calories. Even though experts are saying that sloth is responsible for weight gains- they overlook one basic truth that dieting only works for a short period.
The new study that seems to break those myths about body fat is now revealing some stunning facts. The kind of food we eat makes us fat. Two scientists at University of Pennsylvania, Mitchell Lazar and Cardiologist Allan Sniderman at McGill University, all in the United States have shown that food that we eat often makes us pack in flesh. These include bread, plain baked potatoes, and plain pasta, rice, sweet corn. They confirmed that fatty foods are not the enemy but easily digested carbohydrates, while steak, burgers, cheese or sour cream help us lose weight and keep our heart healthy.
This sounds ironical, but it has been discovered that those who do diet and avoid those foods end up getting hungry. What happens is that when you conserve energy or burn less energy, you are bound to add more flesh. Many public health authorities want us to practise energy balance, which is a new way to say that you should not take more calories than one expends.
No matter how one counts what he or she eats, it is impossible to determine calories and know when we are over board. No matter how good you are at counting calories, you can't do it. So its couple of sips of soft drinks and few bites of humburger that can make you add weight. That means it at the point when we eat extra than the body want that the body store excess as fat.
The myth of exercising to reduce weight is really making waves. Exercise is helpful but it is not the main ingredient for fat burning. The funny truth is that the two things we tell people to do in order to lose weight-eat less and exercise more- are the exact two things that make one more hungry. Thus, there is need for balance. If one must exercise, then it should be done moderately so as to allow the body to recover the strenght.
The reality is that insulin is the primary hormone that makes one to add weight, especially one eats food that spikes insulin like bread, biscuits, sweets, soft drinks. It is refined carbohydrates that raise insulin levels in the body. Explained in simple terms, your fat tissue is more like your wallet, and your meals are like going to the ATM. You know how you use the ATM: You put the cash in your wallet and gradually spend it, and when you get too low on cash, you go back to the ATM. It is the insulin that locks the money in your wallet, so you keep going to the ATM, and your fat cells are getting fatter and fatter. More often, you become hungry and you eat again because the insulin can not get at the fatty acids leading to weight gain.
Low carb diet is key if you are to get trimmed. In Africa where stables are more of carbohydrate it is best to choose those with fibre. It is difficult to follow the Atkins diet like eating skinless chicken and green salad, melted mozzarella cheese and all those western diet.
An example of a workable diet is to include eggs more often and cut down on processed foods, especially processed carbohydrate. Complex carbohydrate, and vegetables have more fibre and make you get filled quickly. Instead of Irish potato, go for sweet potatoes, oats that have more fibre. I advise people to eat garri than processed plantain and wheat meals. By the way, processed wheat can worsen the body ails.
By: Kelvin Nengia
Who Formulates New Drug Treatment For Children
The World Health Organisation(WHO) has disclosed plans for new child care  formulations.
The new programme if approved will drive innovations for better paediatric medicines.
The world health apex body since 2015 has reported decline in infant and child mortality but observed that there is a lack of research into new life-saving tools targeted at children.
This  it said is partly due to the complexity of conducting studies including the youngest age groups.
"Children cannot swallow tablets or capsules, often cannot bear the taste of liquid medicines and metabolise drugs differently as they develop and grow."
New drugs formulations is aimed at making  medicines palatable, scored, crushable, dispersible (i.e. disintegrates quickly in water), chewable, sprinkled on food orr mixed with breast milk.
Stressing the need to  improve the lives of infants and children , WHO stated that most drugs are not quality assured, especiallyin low income countries.
Once this is acheived it noted that it will help drive Sustainable Development Goals (SDG), particularly SDG 3, for good health and wellbeing, and the related target to achieve Universal Health Coverage (UHC) by 2030.
Already, GAP-f network partners are working together to remove barriers to developing and delivering appropriate, quality, affordable and accessible medicines for children.