Group Raise Alarm Over Herdsmen's Invasion Of Ogoni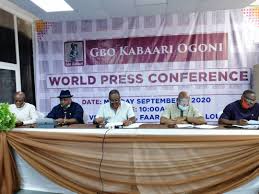 The Ogoni Elders Forum under the aegis of 'Gbokabaari' has raised alarm over the invasion of farmlands in some Ogoni communities by armed herdsmen who brazenly graze cows on cultivated crops.
The position of the forum was contained in a statement signed by the Chairman, Elder Monday Abue. and Secretary, Desmond Nbete, and made available to newsmen, yesterday.
The statement declared that the invaders, armed with AK-47, some of which are strapped to cows, have driven away farmers from their farmlands.
It further called for the immediate evacuation of the herders and their cows from the farms,stressing that the encroachment of the affected farmlands in communities of Baaluekun, Kpaa, Semeluekun, Daen in Khana Local Government Area; and Eteo in Eleme Local Government; did not only constitute a threat to public peace but undermines the livelihood of the people.
The statement, which read in part, stated that, "We want to raise this alarm to the authorities that be, and alert all lovers of justice in the world that our people cannot afford to be victims of another pogrom. We have had pitiably sad history in recent times of being massively killed, as well as having the very basis of our livelihoods devastated by decades of wanton environmental pollution. Our people mainly depend on subsistence farming as their source of livelihood, and do not want any further attempt of herdsmen invasion to the toxic mix".
The forum recalled an earlier premonition of the militarisation of Ogoniland through the drafting of soldiers to the area in the guise of providing security services for the Ogoni clean-up exercise by the Hydrocarbon Pollution Remediation Project (HYPREP), to which protest was made by Ogoni stakeholders to the Vice President, Prof Yemi Osinbajo, and the Ministry of Environment.
By:  Taneh Beemene
'139 Clerics, Worshippers Killed, 394 Kidnapped In 18 Months'
No fewer than 139 clerics and worshipers have been killed in various attacks across the country between January 1, 2021, and July 4, 2022, figures collated from media reports of targeted attacks on mosques and churches have revealed.
The  media reports also revealed that at least 394 religious faithful were kidnapped during the period under review.
A breakdown of the incidents showed that 53 Islamic clerics and worshipers were killed and 165 abducted while 229 Christians were kidnapped and 86 were murdered.
The prominent attacks include the killing of a Catholic priest and three parishioners in Benue on March 30, 2021.
On April 13, a pastor was killed in an Abuja Church, while bandits reportedly murdered one person and abducted four others during an attack on a Church on April 25.
Gunmen also kidnapped eight members of the Redeemed Christian Church of God In Kaduna on March 26.
Also, suspected bandits kidnapped 50 Muslims on a Maulud procession in Katsina on March 11.
On May 10, gunmen stormed a Katsina Mosque and reportedly abducted 40 worshipers. In September, one person was killed and three parishioners were abducted from a Church in Kogi.
Furthermore, armed hoodlums also reportedly shot 17 people dead and abducted 18 others from a Mosque in Niger State on October 25.
Similarly, bandits were said to have attacked a mosque in Kaduna where they abducted 24 persons on March 10, 2022, while a police inspector and two others were kidnapped from an Ogun Mosque on April 3.
On  June 4,  armed herdsmen struck Abia, abducted a pastor and his wife and also stabbed another person while 40 persons were reportedly killed during the attack on St Xavier Francis Catholic Church Owo, Ondo state, on June 6.
Also,  on  June 19,  gunmen were said to have attacked Catholic and Baptist churches, killed four and abducted 44, while 21 Muslim pilgrims were abducted in Sokoto on June 22.
In the latest attacks, gunmen abducted two Catholic priests in Edo on July 3 while on July 4, suspected bandits kidnapped another Catholic priest in Kaduna.
The Chief Missioner of Nasrul-Lahi-l-Fatih Society, Onike Abdul-Azeez, urged the government to protect worship centres and also advised the religious faithful to be responsible for their security by deploying security cameras, metal detectors and other security measures.
A former Imam, Apo legislative mosque, Abuja, Sheikh Nuru Khalid said the attacks on the worship centres were a pointer that nowhere was safe in the country.
"According to the scriptures, people who run from war saw worship centres as a place of refuge. If Nigeria now have the various places of worship being attacked, then we are all in danger", said.
In his reaction, the Christian Association of Nigeria spokesman, Pastor Adebayo Oladeji, stated, "The church is helpless, and only praying to God that whoever succeeds President Buhari will not continue what he is doing and that is the more reason why we are against the Muslim-Muslim ticket".
15m Nigerians Are Into Drugs  -NDLEA …Secures 984 Convictions In Six Months 
No fewer than 15 out of the 200 million Nigerians have been said to be into hard drugs with many others addicted.
Chairman and Chief Executive Officer, National Drug Law Enforcement Agency (NDLEA), Col. Mohammed Buba Marwa (retd), revealed this while receiving the newly elected executives of the Adamawa State Council of the Nigerian Union of Journalists (NUJ) at his residence in Yola, on Monday.
Marwa lamented that the Nigerian nation still has a good percentage of its population depending on hard drugs.
He said the agency had secured 984 convictions on drug related offences since January this year.
The NDLEA boss said President Muhammadu Buhari has launched the War Against Drug Abuse (WADA) to reinvigorate the fight against hard drugs.
According to him, more rehabilitation centres are on the way across the nation.
He advocated collective efforts with the media playing a vital part in safeguarding the nation against hard drugs.
Marwa congratulated his visitors over their victory at the recent NUJ council election and charged them to champion the fight against drug abuse.
Speaking earlier, the state Chairman of the NUJ, Comrade Ishaka Dedan, pledged the union's cooperation towards enlightening the public on the scourge of hard drugs.
Owo Massacre: Akeredolu Faults FG, Backs Matawalle On Self Defence
The Governor of Ondo State, Rotimi Akeredolu (SAN), has faulted the Federal Government on the claim that the Islamic State West African Province (ISWAP) was responsible for the last month's massacre of worshippers in Owo, a town in the state.
Akeredolu also backed the call by Governor Bello Matawalle of Zamfara State for residents to arm and defend themselves against terrorists.
The governor made the remarks while speaking  on Politics Today, a current affairs programme on Channels Television, on Monday.
Responding to a question on the reported arrest of the Owo attackers, Akeredolu said, "We are still on the track of the perpetrators and we are yet to make a serious headway and that is for many reasons.
"These people usually disappear into our forests and from there migrate to other states".
The governor, while criticising the centralised police system in the country, stated that the Nigeria Police Force cannot effectively secure the country.
The Minister of Interior, Rauf Aregbesola, had on June 9, 2022, disclosed that ISWAP masterminded the June 5 attack on St. Francis Catholic Church, Owo, Ondo State, which claimed 40 lives.
Akeredolu added that the vehicle and mobile gadgets suspected to have been used by the terrorists had been handed over to the Department of State Services for forensic analysis.
Akeredolu asked the people of the state to fight back when attacked.
He said, "We have called on our traditional rulers that we must all be ready to rise up to defend our land and defend our people. What I really mean by that is that, you can't fold your hands and say people (attackers) are coming and you are running away.
"No. If they bring a fight to you, fight them back. There is no room to run away from it. That was why when I heard my brother in Zamfara, who said people should carry arms and license people to carry arms, it might be to some a bit of extreme measure, but when you are pushed to the wall, there is nothing else you can say.
"So, what we have learnt is that our people cannot afford to stay back or lay back as if you are lazy people. We are not lazy; we are indomitable people in spirit and everything and nobody can dominate us. So, when we believe that and strongly act that, fight these people back. If they come, push them (back) inside the forest and leave. Whosoever has the higher (sic) arm will survive".
On the claim by the Federal Government that the attack was carried out by ISWAP, Akeredolu said, "We are not people who will buy the idea that it is ISWAP or bandits or terrorists or Fulani herdsmen. We have been facing, at least in Ondo State, terrorism from the three, whether they are bandits or Fulani herdsmen or ISWAP; they work together. I don't know how you want to separate them, except you have concrete evidence.
"Our contention is that ISWAP, most times, if not all the time, take responsibility for their actions. So, when they do things, they say 'we have done it.' They take pride in this heinous crime. So, I expect that if ISWAP had done this, all this while, they would have come up and own up (to it). But some of us have our fears that it cannot be ISWAP and we do not agree with that position because the security agencies were just too quick".
The Ondo governor noted that the Owo attack was about one month ago and the people had learnt to take security more seriously, which led to his order on security guards and installation of Closed Circuit Television cameras in public places.