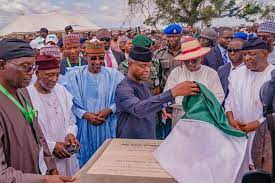 It was reported recently that the Federal Government had mapped out 30 grazing reserves for the implementation of a National Livestock Transformation Plan (NLTP) under its Green Initiative project.
According to the report, the Senior Special Assistant to the President on Agriculture, Dr Andrew Kwasari, disclosed this while addressing journalists on the move by the government to resolve the persistent conflict between herders and farmers over land, water and pastures.
"The 19 Northern States have grazing reserves. So far, we have mapped out over 30 grazing reserves and on paper, we have over 400 grazing reserves.
"So, the northern governors have to be committed to working with the Federal Government, Federal Ministry of Agriculture and Rural Development, supervision of the NEC, to make sure that wherever those grazing reserves are found that we are able to convert them into lush green models specifically for pastoralists, and pastoralists will not migrate anymore…" Kwasari said.
He further disclosed that traditional rulers like the Gbom-Gbom Jos had been consulted and they suggested that the low hanging fruit for federal and state governments was to ensure that pastoralists were settled in gazette grazing reserves.
The presidential aide also said that this would take away any notion of land grabbing or taking of land from communities and giving to herders as was feared with the government's stillborn Rural Grazing Areas (RUGA) programme.
It would be recalled that the NLTP was launched by Vice President Yemi Osinbajo in the Gongoshi Grazing Reserve, Mayo-Belwa LGA of Adamawa State, in September 2019. The plan was to run from 2019 to 2028 as part of the federal government's Green Initiative in collaboration with states, farmers, pastoralists and private sector investors under the auspices of the National Economic Council (NEC).
NLTP has a budget of N100 billion for the breeding of cattle and other types of livestock. Of this amount, the federal government would contribute 80% as grant only, while the participating states were expected to raise the remaining 20%, donate land, draw up the project implementation structure, and provide workers.
Besides Adamawa, the programme has also taken off in six other pilot states; namely Benue, Kaduna, Nasarawa, Plateau, Taraba and Zamfara. Others which were reported to have voluntarily joined the initiative include Anambra, Ebonyi, Edo, Ekiti and Ondo States.
Given the foregoing, any peace-loving Nigerian would be tempted to assume that a viable solution has finally been figured out for the perennial herders-farmers crisis in the country. But President Muhammadu Buhari's recent charge to his Attorney General and Minister of Justice, Abubakar Malami (SAN), to identify the country's gazetted grazing routes leaves one wondering if, indeed, he was acting from the same script as Osinbajo and Kwasari.
If there ever was any doubt as to the Presidency's rejection of the collective decision of the southern governors to outlaw open grazing in their respective states, such was cleared by the President himself in his recent exclusive interview on Arise TV.
"What I did was ask him (Malami) to go and dig the gazette of the First Republic when people were obeying laws. There were cattle routes and grazing areas…
"I asked for the gazette to make sure that those who encroached on these cattle routes and grazing areas will be dispossessed in law and try to bring some order back into cattle grazing," Buhari emphasised.
Honestly, I had wished that the President's directive to the nation's chief law officer was aimed at recovering only grazing reserves for the NLTP scheme as Kwasari did announce. But his inclusion of cattle routes suggests that Buhari is still not considering letting go of the now outdated nomadic grazing practice in Nigeria.
And just as the Miyetti Allah Cattle Breeders Association of Nigeria (MACBAN) wasted no time in rallying behind the man, so also was his position quick in drawing flaks from socio-cultural bodies like Afenifere, Ohaneze Ndigbo and the Pan-Niger Delta Forum (PANDEF) all of which insisted that the power to allocate land rested with the state governors and not the President.
Of particular interest was the reaction of Afenifere's publicity secretary, Jare Ajayi: "Who designated specific routes as exclusively belonging to those who would be grazing cows? If you are doing this kind of thing in their own area, it is understandable (because) that is in their own area.
"I have not read anywhere that our forefathers sat down and agreed that these particular routes, maybe from Ogbomosho to Saki or Badagry, are for grazing…"
Again, some analysts have expressed the fear that if Buhari insisted on pursuing the recovery of grazing routes, prominent buildings in many parts of the country, including the Federal Capital Territory (FCT), would be pulled down.
I still don't get why Mr. President is seriously reaching for the list of cattle routes in First Republic Nigeria even when the 1979 Land Use Act entrusted governors with the control of their states' lands years after the now sought-after gazette was published. With such power, can't a state chief executive reapportion any previously gazetted grazing route or reserve located in his domain?
Buhari should please focus on promoting sedentary animal husbandry through the NLTP scheme in order to reduce the existing tension in the land. A good leader should be able to ensure peace in his domain even if he has to bend over backward to achieve it.
By: Ibelema Jumbo
Banditry has become such a hypocritical concept that some authorities would utilise it in order to hide away something more sinister than banditry. The uniqueness about banditry as different from other groups of criminals, is that bandits are hooligans who, in their frolicsome engagements, attack travellers to steal away what to eat. Are bandits terrorists? It would require following due process of law to be able to determine that!
From the perspectives of history, there are three species of bandits, namely: attackers of travellers; avengers, and then enigmatic highway men. Two old story books about Robin Hood and Ali Baba and his gang of 40 thieves, provide details about the first species of bandits who engage in frolicsome criminal activities. This first group of bandits often operate with some lighthearted principle of sharing their loots and booties with some needy persons or a patron god-father. For example, in 1961, a British woman married to an Urhobo man wrote an open letter to 'dear thieves of Surulere' who robbed her home, to return her wedding ring, which was among the items stolen. Four days after, the wedding ring was returned.
As part of their frolicsome mischief, the thieves of Surulere addressed a letter to Mrs Urhobo advising her that a wedding ring is meant to be worn on the finger and not kept carelessly. Yes, bandits of the first species can be humorous, capable of advising their victims to learn to lock their doors properly. Recently in Nigeria, this species of bandits who can also be called hungry thieves, specialise in hooking away smartphones and laptops from charging sockets in people's homes. All kinds of devices are used for this nefarious purpose.
The second species of bandits – the avengers – can be vicious, with the purpose of passing a message to individuals and groups that abuse power with impunity and arrogance. Historically, the Red Indians, original owners of the American land and the Aborigines of Australia, suffered unspeakable abuses by early colonialists and armed invaders who dispossessed them of their ancestral lands. African slaves suffered similar acts of inhumanity in the American continent, while the Boer War dealt humiliating blows on the original owners of Transvaal and Orange Free State in South Africa.
The founding of Hispaniola in West Indies by Black slaves who broke free from their slave masters, with Haiti as seat of Black power (misnamed Voodoo) serve as ideal examples that oppressed people can develop some unique power. Similarly, labourers who were used during the construction of Panama and Suez Canals, were not only poorly paid but, like gold miners in South Africa, contracted some ailments that rendered them useless in life. Thus, slave masters, tyrannical labour masters and others who exploit, use and then dump those who worked to build up their economy, can face the wrath of such aggrieved labourers who can be misnamed as bandits.
In more recent times, poor, idle and helpless people have been unjustly exploited, used and then dumped by some political power gamesters to serve their political purposes. Such purposes range from inflating of census figures, rigging of elections, to carrying out of some acts of mayhem in the services of dark ends. It is common that jobless, poor but desperate youths can be hired, fed, trained and sent out to carry out some unethical activities, oftentimes under oath not to reveal their sponsors. Many die in such missions.
Some members of these exploited and abused youths who become aware of the exploitations and abuses that they suffer, turn around to become avengers, who can be misnamed as bandits. Many of such unsuspecting youths often confess that they did not know or bargain for the kind of engagement that they unwittingly found themselves participating in. There are recruiting agents who lure unsuspecting young men and women into various unethical engagements, taking undue advantage of the level of poverty and ignorance in the country. In the 1950s, some Nigerians were lured into job recruitment projects of working in Equatorial Guinea, also known as Panya. Many returned destitute and demented!
The third species of professional bandits, the enigmatic highway men, are not only very dangerous, but they are not themselves. In the psychic sense there are people, men and women, who can be said to have renounced their humanity, arising from various reasons which can hardly be examined here. Such renunciation follows drinking of the 'Water of Usachi', which is like going into a partnership with the forces of darkness. This water, like an aphrodisiac, places those who drink of it in the hands of dark agents, on a warfare with human beings striving for nobility.
Therefore, this species of professional bandits can be rightly called spiritual highway men and women. They include the witches that many weak people fear or talk about, the wizard of the desert and all those who perform various psychic acrobatics which lovers of miracles and wonders patronise. Their principal duty is to waylay and distract those seeking the path of light and truth. Often posing as agents of light and truth, this species of bandits operates largely in ecclesiastical circles.
Can we deny the truth that there are bandits in the ecclesiastical circles? Why should miracles, wonders, acrobatic performances and prosperity antics become ready means to lure seekers into the path of light and truth? Is truth no longer what should lead seekers into freedom? Should freedom not include maturing and growing above being lured away by the antics of spiritual highway men, and attaining the height of being guided intuitively, in the midst of perplexities? Why do many people jump from one belief system to another with little or no deep personal conviction?
Like the politics of stomach infrastructure which has become the order of the day, has religion not degenerated to a similar status, whereby bandits and highway men confuse many unsuspecting ones? Surely, the situation in the country currently demands that individuals should do things out of personal conviction and commitment. Such personal conviction can only come from a free and uninfluenced search and recognition of the truth. Those who float about, capable of being abducted by bandits and highway men, are hardly ready for the task of facing life on its own terms.
Similarly, the politics of banditry should teach discerning Nigerians the antics of surviving in a hostile environment. The inability to differentiate terrorists from bandits is an idiom whose significance would demand reading this article twice. The third species of bandits discussed here are in the league of those who terrorise people for the purpose of confusing and distracting them while something more sinister is being perfected. Many have taken the Water of Usachi!
By: Bright Amirize
Dr Amirize is a retired lecturer in the Rivers State University, Port Harcourt.
Driving Economic Growth Through SMEs
The economy is one of the factors of human development index of a nation. A productive and functional economy is a product of collaborative efforts by stakeholders. The developed and developing economies of the world are private sector, driven. This singular feat makes the private sector of countries like China, the highest employer of labour.
Even with a population of about 1.4 billion people, China,  a nation without mineral resources,  is a leader in the global market of electronics gadgets, handsets and several other technological devices. This most populous nation, closely followed by India, provides succour to financially distressed nations  like Nigeria, the giant of Africa. How many times has Nigeria with a population eight times smaller than China obtained loan facility from China? Nigeria, with abundant human and natural resources are still under the economic tutelage of a nation that is natural resources-barren.
Nigeria is a major consumer of Made-in-China products even as Nigeria remains a commercial rendezvous of China products. While China is a leading giant in construction industry, fabrication, sea bridge and overhead and flyover construction, Nigeria has slipped into a state of comatose, technologically. What could be responsible? The answer is not far-fetched: Bad leadership. It is pertinent to state that every nation or  human organisation rises or falls on leadership. Like the leader, like the nation. No nation rises above her leadership. Thus, leadership constitutes either a springboard or a cog to national development.
To say the present leadership of the country under President Muhammadu Buhari and past civilian and military administrations from 1966 have not done their best to advance the economic fortunes of this country, is uncontestable truism. Since Nigeria's independence in 1960, there have been five military interventions in democratic governance. Between 1966 and 1999, Nigeria was ruled by  military governments uninterrupted apart from a short-lived return to civilian rule under the Second Republic of 1979-1983. However, the military regimes did not contribute substantially to the economic development of the country.
From the early seventies when the naira was at par with the dollar showing Nigeria's healthy and robust economy,  to General Ibrahim Badamosi Babangida's  administration when the nation experienced a boom in oil production and sales that raked in several millions of naira, the country has continued to totter on brink of economic destruct. Painful was the realisation that the accrued oil boom fund was not accounted for by that leadership. It was one of the worst economic woes that Nigerians encountered from an administration that was supposed to be interventionist and remedial to the economically clueless Alhaji Shehu Shagari's Second Republic and General Muhammadu Buhari's administration that succeeded the former in a coup d'etat.
Instead,  corruption was systemic and institutionalised. The subsequent administration of Sani Abacha was not only repressive but was corruption personified. Other administrations, including Chief Olusegun Obasanjo's,  could not right some of the wrongs, inefficiency and failure of their predecessors, especially in the area of power supply.
In fact, the apparent lack of electricity supply translated to the closure of several industries and led to redundancy and many people thrown into labour market, looking for how to eke out a living.
Several billions of naira injected into the power sector and unbundling of the then National Electric Power Authority (NEPA) into Power Generating Companies (GENCos) and Distribution companies (Disco) across the country with a view to restoring sustainable power, have not solved the problem.
No doubt, a nation that has the problem of power supply can not rise to stardom economically.
Production, the wheel of industry revolves around power supply. This is why many companies and industries which could not bear the challenges of the  alternative private fuelling are no more in business. The four refineries in the country: two in Port Harcourt, one in Warri and Kaduna each; are dead. Efforts to make them work are counter-productive.  Today Nigeria refines crude outside at dollar cost for Nigerian citizens to bear the brunt of paying the outrageous difference. This is pathetic, unacceptable and an anomaly.
The Small and Medium Enterprises have the capacity to drive the private sector if a conducive economic development environment is created.  Lack of power supply, unfriendly tax regime and accessorial defects should be corrected. The Federal Government should make reasonable efforts to empower the private enterprises to collaborate in driving the economy of the nation. Loan facilities should be given to entrepreneurs at single digit interest rate.
Power supply should be stabilised. By so doing, the  increasing rate of unemployment with the attendant social ills such as prostitution, banditry, cultism, militancy, robbery etc, will be curbed to an extent and the standard of living  and human development index of the country will be  inevitably improved.
By: Igbiki Benibo
  Exchange And Variety: Vital For Continuity
One William Bolitho, a multi-millionaire entrepreneur, whose leg had to be amputated after a road accident, made an important statement: "The most important thing in life is not to capitalise on your gains. Any fool can do that. The really important thing is to profit from your losses. That requires intelligence, and it makes the difference between a man of sense and a fool". Similarly a woman who was thrown out of her matrimonial home for having extra-marital relationship, but whose second marriage became a great success and joy, said that: "Exchange and variety give joy, fun and longevity to life".
Surely, monotony results in boredom and stand-still, because, sustainability and continuity in life demand regular exchange and variety. Exchange should be understood to mean equity and balance in the process of giving and taking, while variety refers to comprehensive exposures to the issues and vagaries of life. In every interaction or relationship, one-sidedness has always been a major cause of disharmony and breakdown. One-sidedness can arise from a deliberate intent to cheat, or ignorance, which places the burden of giving only on one party, while the other becomes a parasite. Unfair deal!
Among other demands on a living being is the necessity or ability to turn liabilities, handicaps or losses into one form of asset or another. Thus individuals are often laden with burdens and cares which they must strive to resolve diligently, in the process of which they learn vital lessons and advance towards greater successes. So, to develop that tenacity to survive in a hostile environment demands that an individual must learn to take some loading tests and pass them without breaking down.
Not only individuals are exposed to loading tests as a means of capacity building, but nature also forces human environments to bear some stress and strains as the means for renewal of energy and regeneration. What we call natural catastrophes are usually necessary processes of repairs and balancing of wreaks and decrepit situations often brought about by humans. For example, lightning discharges between the clouds and the ground during thunderstorms balance the extreme differences in electrical potential which build up between the ground and higher atmospheric layers. Human activities, including illegal refining of chemical substances, cause such imbalances in the atmosphere.
Climate changes and climatic imbalances result from mining and other industrial activities whose disturbances and waste products pollute and endanger the atmosphere and ecosystem. Can crop yields and food production not be affected adversely in areas where the mining activities take place? Even though the effects may not be immediately visible, is it not likely that human health can suffer some risks arising from economic activities? Nature has a way of using ex-change and variety to maintain balance when human activities tend to throw the ecological system into chaos.
We can apply this Exchange and Variety theory in every human situation as a means of correcting social ills and perplexities. Without malice or favour in its application, exchange demands that value should go for an equal value, and variety based on complementarity. Is the political office holder in Nigeria being paid four times what the President of the USA earns (apology to ASUU) in one year, giving services of equivalent value to Nigeria, or a parasite to the country?
Where there is a mis-match in the blending of a variety of substances, there surely would arise some chaos and discomfort. Be it in food intake or in the amalgamation of chemical substances, conditionality must always prevail. Constipation arises in the human stomach when non-complementary food items are consumed, and, in the blending of a variety of substances a condition of near-homogeneities applies. You do not grind onions, tomatoes and stones together! So, the principle of exchange and variety as vital for continuity and sustainability cannot be applied without conditions; neither does nature apply it in an arbitrary manner.
In the farming system, farmlands get exhausted in terms of soil nutrition if same crops are cultivated repeatedly. So, local farmers resort to shifting cultivation while scientific farming would recommend alternation of crops as a way to guarantee or maintain fertility of the soil. Manure and fertilizers are also used to improve soil fertility. We also observe that natural catastrophes rarely occur without warnings to humans as a means of providing opportunity to avert worst dangers. Medical practitioners would say that pains and fever are signs and symptoms of some ailments trying to build up.
Often human beings in their myopic, indolent or complacent attitude allow signs and symptoms of impending disasters to pass without taking appropriate actions. From stomach discomfort, fever and pains; to increasing cases of banditry and terrorism, there is often the tendency to play down on signs and symptoms that are harbingers of catastrophes. The principle of exchange includes giving up something as a restitution, such as giving up a bad habit as an exchange for good health. In all such transactions there must be equity and justice.
Nature abhors and spurns injustices and inequities, and wherever they occur and persist with recalcitrance, then comes appropriate penalty or restitution. A genuine restitution goes with penitence, apology or compensation for the damage done. Similarly the principle of variety as vital element for longevity and sustainability includes the use of complementary additives to boost the energy and health of anything undermined by decrepitude. Healing by magnetism or by herbs is accomplished by infusing matching substances or radiation to give a boost to an ailing health.
In no way can something capable of aggravating a bad situation be considered as a complementary variety. In medical practice matching tests are conducted to ensure appropriate remedies for specific ailments. Thus the habit of consumption of drugs without diagnostic or matching tests is seriously discouraged. But in human relationships we find the union of people who rarely have complementary dispositions. Where the qualities and endowments of one person in marriage do not match with the other, love alone will not bridge the gap.
The woman quoted as saying that "exchange and variety give joy, fun and longevity to life", after the failure of her first marriage, added that "there is stability and joy when you find a matching partner". Often it takes several bitter personal experiences and perhaps failures, to be able to appreciate the fact that it takes an indomitable spirit to profit from your losses. Exchange and variety must go with willingness to give and interact justly and sensibly. Put everything to test before embracing them.
By: Bright Amirize
Dr Amirize is a retired lecturer from the Rivers State University, Port Harcourt.