South South Women Brainstorm In PH …Set Agenda For NCOWA Meeting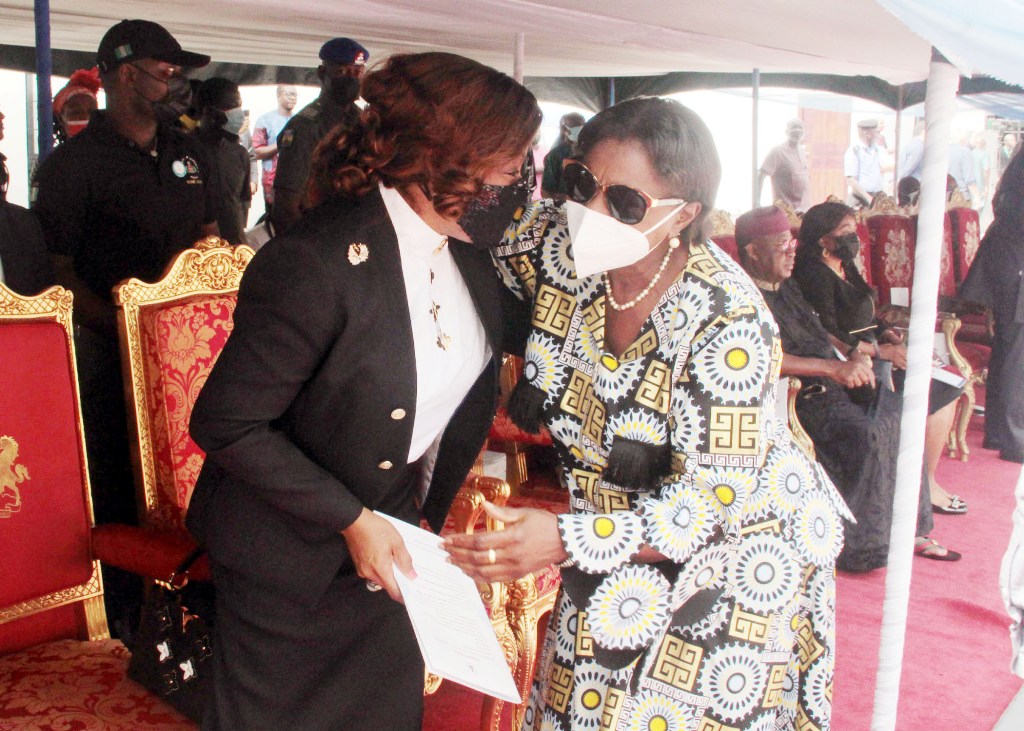 A four-day pre-council zonal workshop by the Ministry of Women Affairs of the South- South region has ended in Port Harcourt, Rivers State capital.
The workshop with the theme:"Gender Equality:A Panacea For Enduring Security And Sustainable Economic Recovery In The Post Covid-19 Era", attended by Directors of the six states that make up South-South ge-opolitical zone of Nigeria took place at the auditorium of Rivers State Ministry of Women Affairs, Eastern By-pass,Port Harcourt.
This is the first time the pre-council zonal meeting is taking place in Port Harcourt.
Declaring the workshop open,the Permanent Secretary, Federal Ministry of Women Affairs,Amb. Anthonia Akpabio Ekpa said the workshop focused on the medium term national development plan and the preparation of council memoranda towards the upcoming 21st National Council on Women Affairs meeting holding later in the year.
The Permanent Secretary, who was represented at the occasion by Lady Ngozi Roseline Obinna commended delegates for the passion,dedication, unity and energy exhibited prior and during the workshop to achieve collective goals.
She enumerated the thematic areas for the memoranda for the 21st National Council of Women Affairs meeting to be "Gender mainstreaming, Empowerment of Women and Protection and Promotion of reproductive health and sexual rights of women.
Other thematic areas are protection and promotion of child participation, survival and welfare, social protection of the vunerable, poverty alleviation and social inclusion amongst others.
Earlier, in her welcome address, the Permanent Secretary of the Rivers State Ministry of Women Affairs, Barr. (Mrs) Uchechukwu Uriri commended delegates for attending the workshop and thanked the Rivers State Governor, Chief Nyesom Wike for his benevolence for ensuring that the workshop took place under a conductive environment.
She noted that it was the hallmark of the administration in providing good leadership and unprecedented display of support to women in the political, economic and social fronts in the state.
She encouraged delegates to rub minds together, put in their best and come up with appropriate decisions that are best for the zone.
Delivering the paper on the Conceptual Analysis of the Federal Ministry of Women Affairs (FMWA's) Mandate in Relation to the Medium Term National Development Plan 2025,Mr Tommy of FMWA, Abuja,said,the Federal Ministry of Women Affairs by its mandate is charged with the responsibility of formulating policies, implementing projects and programmes aimedat improving the lives and livelihood of women, children and other vunerable groups in Nigeria.
Consequently, the Ministry collaborates with relevant stakeholders, MDA's at the national levels and at the 36 states of the federation as well as development partners to achieve these onerous tasks.
He enumerated the strategic policy mandates of the ministry towards the Medium Term National Development Plan 2021-2025 to include most aspects of social development, putting people first and leaving no one behind, removing all barriers towards attaining self sufficiency in an inclusive manner with shared responsibility for poverty reduction, prevention and containment.Mainstreaming gender across all sectors for improved accountability, social system and protection for the vunerable amongst others.
Furthermore,he highlighted the role of the Federal Ministry of Women Affairs in the implementation of the Economic Recovery and Growth Plan (ERGP) of the federal government, which includes the Economic Sustainability Plan as Covid-19 pandemic stimuli which aims at mitigating effects of a deep recession, while ensuring social stability and addressing long standing economic vulnerabilities occasioned by the Covid-19 lockdown.
The federal ministry, he noted is involved in job creation scheme by providing equipment for voational skill training in the six geopolitical zones and being involved in post Covid-19 innovation and empowerment series for women amongst others.
He also disclosed the ministry 's deliverables in the implementation of federal government's nine priority areas aimed at improving health,education and productivity of Nigerians.
The deliverables include collaboration with the Ministry of Education to increase girl-child enrolment, retention and completion of basic education, collaboration with the Ministry of Health to eradicate harmful traditional practices on women and girls including female mutilation and active collaboration with the private sector to create a large number of well paying jobs.
Other deliverables in the federal government nine priority areas which aims at enhancing social inclusion by scaling up social investments include activation of an action plan to promote political, social and economic participation of girls and women in Nigeria, advocate for the domestication of the Child Rights Acts by all states of the federation.
Others include to conduct a review and propose amendments to legislation to ensure gender equality and end all forms of discrimination against girls and women,collaborate with relevant stakeholders to develop and implement economic empowerment programmes for women amongst others deliverables.
Participating states submitted memoranda for dicussion and for onward presentation at the 21st National Council on Women Affairs meeting holding later in the year.
In separate interviews at the end of the workshop, participants expressed optimism that the knowledge gained at the workshop was immeasurable. They promised to utilize the knowledge in enhancing the operations in the various states.
For Mrs Faith Okpohmorho, Diector, Women Affairs in the Delta State Ministry of Women Affairs,Community and Social Development said that "the workshop has enlightened us further to develop our memos in line with what the federal government is doing towards the empowerment of women in Delta State.
Also, Mrs Irenonsen Joy Ikensekhien, Director, Gender Issues in the Edo State Ministry of Social Development and Gender Issues said that the workshop has helped provide tecnical support for her state to ensure that memos are presented in line with the four thematic areas of the Federal Ministry of Women Affairs, Abuja.
In her own view, Mrs Mary Atan,Director, Child Development in the Akwa Ibom Ministry of Women Affairs said the workshop has afforded her the benefit of interacting with other delegates to compare notes on what they are doing concerning women development and empowerment.
By: Ibinabo Ogolo
Should Couples Share Family Responsibilities?
Splitting of expenses in homes has existed since the origin of marriage between man and woman- a situation where a man will contribute and a woman will also contribute her own little way in the home.
In years past, when did not they engage in skilled or professional jobs, mothers used to get crops from the farms and prepare food for their households with the fathers supporting with money to pick others things that cannot be got from farm.
Since the men were more engaged in semi-skilled jobs, they were responsible for children school fees, house rents for those who lived in the urban areas where they do not own houses of their own.
These days, some ladies feel that expenses in the homes should not be shared. They feel they should relax and be taken care of since their husbands are the breadwinners. They feel that men should be the sole providers.
Sometimes, they make comments like, I didn't come to suffer. House responsibilities ranging from school fees, house upkeeps, even a pack of matches and seasoning cubes which are little things a lady should be able to provide in a home are left for the man.
There is this woman who would always wait for her husband to come home and provide every little item in the house, including bills in the neighbourhood.
Some women are in marriage with the mindset that when divorce occurs, they will have to share the property available before she leaves.
Some are lenient in telling their husbands the kind of responsibility they want to take while they claim that they are not ready to take much tasks.
Interestingly, there are men who don't want their wives to work or do business and are ready to provide whatever demands their wives may make. They don't like collecting any kobo from their wives instead they prefer to borrow from outside. Even when bills come, they are ready to pay. There is the ego syndrome in some people. Perhaps they do not want a situation where their wives will boast that when there was no money they took care of the home.
One bad thing about couples not sharing responsibilities is that par adventure, the man is not there, the woman will find it difficult to cope with some of the tasks. It is better for women to get used to some of the tasks while the man is there.
A man who expressed his views about this issue, Mr Amos, said that marriage is spiritual. He said since some people go into marriage for going sake. He said they go into marriage because of money so they are not qualified.
According to him, women who are taking care of their homes should be commended. Some women feel that their husbands money is general while the woman's money is personal.
A banker, Mr Ekong Effiong, said there is no need splitting expenses in home. He is of the opinion that the wife should do what she handle while he takes case of what he can take.
He boasted that he can handle the affairs of his home and will not depend on his wife's income.
A pharmacist, Mrs. Theresa Jacobs, said that the man should be able to cater for the house and to split expenses. If you split the expenses in the house, what about the pains the woman undergoes in the labour room.
A business woman, Mrs Rose Oni, said togetherness in marriage should not be only in the other room. It should be in all affairs in the home. She said since marriage is for togetherness, expenses at home should be handled between husband and wife.
She said this is not the era where one party handles all expenses.
A commercial bus driver, Nkume Ojim said, every woman is supposed to support her husband. Where is her money supposed to be if not in her husband's house, he queried.
He said if the man does not have, the woman should support and vice versa.
A nurse, Agatha Mark said that she does not like to share her money with anybody or do a joint account because according to her, her husband will use it to flex outside home.
She maintained that days are gone when mothers were suffering to fend for the home and said that the men are supposed to take care of all expenses.
No matter how live is in any home, if there is no money, things will definitely flow well. Because of the current realities, many men may not be able to meet up.
Couples should practice what will work for them. If from the beginning, couples have agreed to share bills, so be it.
Some women will vow that no man can eat their money, but you may discover that they do it behind to deceived others in the public.
By: Eunice Choko-Kayode
Nigerian Women And 35% Affirmative Action
The 2023 General Elections have come and gone. Inauguration of elected political officers has also taken place, both at the federal and state levels. Legislative matters have taken off. Appointment of Ministers of the Federal Republic of Nigeria has been concluded and portfolios assigned to them by the Presidency. The Ministers without wasting time have resumed work.
Since the return of democracy two decades ago, women generally have done well wherever they found themselves. At the National Assembly, at the executive, even in the judiciary, they have been showcasing their talents.
When we talk about women's participation in politics, a lot of them have excelled. The wife of the President, Senator Oluremi Tinubu was at the Red chambers recently. Justice Mary Odili became a Justice of the Supreme Court of Nigeria (JSC) before her retirement. The former Deputy Governor of Rivers State, Dr. Ipalibo Harry Banigo was elected into the Senate this year. Prof Ngozi Odu became the Deputy Governor of Rivers State after the 2023 gubernatorial elections.
Our own Dr. Ngozi Okonjo-Iweala is the General Director of the World Trade Organization (WTO). She was a former Minister of Finance and later, Foreign Affairs. Mrs. Blessing Nsiegbe was a member of the House of Representatives, who represented the Port Harcourt Constituency II.
Mrs. Victoria Nyeche is a member of the Rivers State House of Assembly. A veteran journalist, Dr. Abike Dabiri Erewa, was a member of the House of Representatives. Later on, she was appointed a presidential aide on diaspora. Senator Betty Apiafi from Rivers State was elected into the House of Representatives, representing Rivers and later became an elected Senator. Only a few can be mentioned due to shortage of time and space.
They are competent, creaative, hard working and innovative.  They are amazons. With such number and others that cannot be mentioned here, women are asking for more elective and appointive positions.  More steps should be taken by all to achieve 35 percent of women participation in politics.  Nigerian women have little space in leadership positions.
It is worrisome to note that out of 48 Ministers that were appointed recently, only nine were women.  This shows a very low percentage at the Federal Executive Council.  The Supreme Court verdict stated that women should be allotted 35percent, but it has not been realised.
The Governor of Kwara State, Abdulrazaak, has tried in the area of empowering women.  If Kwara State can implement that, why would others not follow suit?  There has to be the political will for others to do the needful.
It would interest you to know that the youngest House of Representatives member is from Kwara State.  First,  she was endorsed by her political ward, constituency and State.  If her people did not endorse her, she would not have been there.
Others are disregarding women and relegating them to the background.  States nominate women for the Federal to show action.  Any state that does not do it should be reminded.
Lagos State Governor, Babajide Sanwo-Olu, also has tried to showcase gender equality.  Governor Yahaya Bello of Kogi State as well recognised the importance of women in decision making.  Those are politicians who understand that men and women can work together.
Former Governor Nyesom Wike of Rivers State is also an exemplary person in that respect. His was second to none. In some western states, we have some female deputy governors who have served and are still serving.
Political will is working in Rwanda.  People are going there.  In Namibia, the practice  is 50 men and 50 women in parliament.  All over the world, women are included in politics and those countries which engage women in decision making, their economies are always moving forward.  They  experience improved economies.  In South Africa, it is practised.
Nigeria has never had a female Vice President not to talk about President.  Liberia had Johnson Sirleaf as President.    There has not been a female Governor, except in Anambra State where Mrs Victoria Etiaba was in acting capacity when the then governor, Peter Obi was absent.
Although there have been female deputy governors.   In Rivers State, for example, in the last administration of Governor Nyesom Wike, the slot was for women. Dr. Ipalibo Harry Banigo, was the deputy governor while Prof Ngozi Nma Odu is the deputy governor currently.  This is highly commendable as it shows a women-friendly leadership.
Not just that, the former Governor of Rivers State, Chief Nyesom Wike during his tenure ensured that vice chairpersons of the 23 local government areas were women.
Nigerian women will continue to ask for more.  Let government promote women employment and increase women participation in politics.  Appointment of women as heads of Ministeries,  Departments and Agencies (MDAs) is necessary at this time in the history of Nigeria.
Women should be appointed heads of boards and not just members.  Chairpersons and secretaries of political parties can be left for women.
Nigerian women won the case in court over 35 percent Affirmative Action.  The United Nations (UN) Declaration on 35percent as well as the laws binding it should be implemented by the Nigerian government.  Gender policies should be supported.
If women have to be elected into the parliament, there should be orientation and awareness from the grassroots.  International Federation of Female Lawyers (FIDA), Nigerian Association of Women Journalists (NAWOJ), National Council of Women Societies (NCWS), and others as a matter of fact should begin to sensitise women in the markets,  offices, farms and homes on the need to support their own when elections come. Women in disability need not be left out.  NAWOJ particularly should use the media to increase awareness on women.
Curriculum planners should emphasise the inclusion of gender policies in relation to women.   If it is there,  more emphasis should be made on the teaching.  The women are soliciting from the academia for the teaching and learning of gender equality in schools and the gains associated with it.
Government is for everyone.  Going by the definition of democracy, 'It is government of the people, by the people and for the people', so women should be involved in governance.
There are key areas that should be left for women in terms of ministerial appointments.  Health is one of them.  It is supposed to be manned by  a woman.  At the Senate, Dr. Ipalibo Harry Banigo, representing Rivers West Senatorial District,  is the chairperson, Senate Committee on Health. That is a good one.
One of the female Ministers, Dr Betty Edu from Cross River State, was assigned Minister of Humanitarian Affairs. The  Health Ministry should have been better handled by her as a female medical practitioner.   When you talk about healthcare, women will understand  more because of the rigorous processes they undergo during pregnancies and child bearing.  They are mostly concerned and affected.  The girl child grows into womanhood.  The woman carries pregnancy for nine months and gets the baby delivered either through caesarean operation or normal delivery with pains.    The pains associated with childbirth and other consequences, she alone undergoes.  She nurses and nurtures the baby to adolescence and into adulthood.  All maternal and infant mortality issues rest squarely on the woman.   So, health issues generally from childhood to adulthood are that of women.  Women should man the Health Ministry.
Another area is finance.  This is because women manage little resources they have in homes.  Women will be able to manage the nation's resources to boost the economy better.
With the low enrollment of the girl-child in schools due to unwanted pregnancies, child labour, househelps, underage marriage, etc., a female Minister of Education can tackle the problem.
Government has the powers in their hands so they can do it.  Gender equality is possible.  Men and women can work side by side,  that is what Nigeria needs.
So far, Nigerian women are asking for more.
By: Eunice Choko-Kayode
Factors Couples Should Consider Before Having Children
Lately and sadly, some women have formed the habit of killing and maiming  both their biological and adopted children.  Sometimes, they use rat poisoning and other harmful substances on the children.
Hardly any day passes without hearing that a mother has allegedly carried out such ugly act on a child.  Sometimes they use hot water, grounded hot pepper, mutter pestle and all manner of clubs on children.
Some of the reasons range from psychological, emotional, financial and many other factors.  No matter how difficult family matters can be, they can be sorted out without hurting the children.  It should be condemned that a woman will be so wicked to kill a child she carried for nine months.
This issue concerns women the more so they should have the number of children they can cater for.  They should also ensure that they have children with men who will cater for the same children.   Women should not have children for the fun of it.
In some local villages,  you see a young woman of 20 to 25 years being proud of having even two children outside wedlock.  She will go about boasting when some young women are still preparing to go into marriage even at 30.
It will be surprising to note that she does not have or cannot hold any man responsible for those children.
During solemnization of marriages between couples, one of the issues that is always prayed for is having of children as soon as they are joined in Holy matrimony.  'Your children shall surround your table. You shall see your children's children and so on'.  The church,  family and friends expect that after nine months of marriage, the couple is expected to invite the same people for churching of women and dedication of a baby.
Of course, that's the joy of every family.  Any family that does not get a child after a few years of marriage is not always happy. As a woman after marriage, you get some jokes reminding you that in the next one year, pepper soup and the likes should be expected.  So, its normal.
When children come, should they be punished for any little provocation?  When some women have emotional and psychological problems, they vent their angers on children.
Couples should know the number of children to have.  There should be mental readiness. In the case of single motherhood, the woman should be ready to shoulder such responsibility.  The case of going into the world to multiply should be ruled out.
It is worrisome to hear that a woman killed her two children because her husband refused to keep money for feeding. Definitely she is the one to lose after going through the pains of child birth.
A lot of factors should be considered by couples such as mental health.  The two should be mentally fit before giving birth to children.
Financial capability is very important.  You cannot have children you cannot feed. Money must available to run the affairs of the home especially with the high standard of living. Financial adjustments have to be made for couples to tackle family challenges.
There has to be mutual understanding between the man and wife in things that concern the children.
Couples should be ready to carry the responsibility because children come with a lot of responsibilities and accommodation is very necessary.
Some women give birth and subject their children to child labour and send some out as housemaids.  Before deciding to have children, there should be thorough thinking.  You could have had children when things were going well, but when things begin to go bad, a lot of counselling should come in.
There must be a budget plan for the family. The environment has to be conducive.  The issue of genotype is very important so as to avoid having children with sickle cell anaemia (SS).  This can be so frustrating to parents.  Psychological evaluation must be carried out by couples before marriage.
Economic factors such as Joblessness on one parent to complement each other in contributing to the family.  Educational factors must be considered because the children must go to school.
Women should work on their temperament knowing that children can annoy their parents.  Providing for the child and being there for the child when he or she needs you is very important.  Sometimes when children do not get what want, they tend to be stubborn.  But mothers should know how to handle such situations when they arise.
Let's assume that some factors were considered by couples before marriage on how many children they should have, paradventure things began to go bad, couples can make amendments.
The consideration for support system is a factor that should not be left out in marriage.  If anything happens, who do you leave your child for?
People should not have babies when they are not ready.  Do not  have a child with someone who is not psychologically ready. Women should not endanger the lives of children any longer.  One thing is having children and another is catering for them.
One should not have children because others are having and at the end of the day, in the course of little provocation, the child's life is cut short.
Children did not bring themselves to the planet earth.  They were given birth to by man and woman, whether married or unmarried.  No amount of provocation should make a woman kill either her biological or foster child.
Women should have the number of children they can cater for in case difficult situations arise.
By: Eunice Choko-Kayode