Umoren's Murder: Let Justice Prevail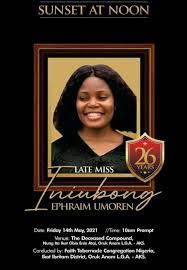 It was shocking last week to hear about the death of a 26-year-old job seeker, late IniubongUmoren. She was said to be a graduate of Philosophy from the University of Uyo, but met her death while seeking for employment.
Reports say that she went for a job interview at an undisclosed location on Airport Road in the outskirts of Uyo, the Akwa Ibom State capital, on April 29, 2021. Unfortunately, the late job seeker was allegedly raped, murdered and buried in a shallow grave in the killer's compound.
Similar cases might have taken place but were not made public due to one reason or the other. From time to time, persons, especially ladies, are declared missing with no proper account of their whereabouts.Some persons movements cannot even be traced as they seek for job opportunities. At the of the day, they fall victim.
Job adverts can be placed on billboards, through personal contacts and in the media for which people can apply but knowing the genuine one is what is worrisome. When one desperately needs a job, one must definitely go for it. But people have to be cautious in search of job.
Some of the jobs advertised through any means could be fake jobs. The environment where you seek for job matters a lot. Let's assume you heard of a job advert through the social media or radio, you get to know the venue of the interview for such jobs and it doesn't seem to be comfortable. This simply shows you have to be smart and leave that area.
When I was seeking for job, I heard of one through a radio announcement. I thought it was going to be one of the best offers I could get, but when I got to the venue, it gave the signal that I was not in the right place. I applied common sense as a young woman.
Some persons get calls where their real names are mentioned correctly asking them to come for jobs they never applied for. Perhaps, claiming that the job attracts high pay, with high hope that you secure the job.
Miss Umoren should have lived to narrate more on her ordeal with the alleged murderer, Uduak Frank Akpan. The 26-year-old was apprehended and detained by the police in Akwa Ibom State.
While he was in detention, there were speculations that he committed suicide by using his trouser to tie his neck.
But last weekend, the Commissioner of Police in Akwa Ibom State, Andrew Amiegheme, debunked the rumour and paraded the alleged murderer before newsmen during a press conference. The CP explained that it was one of the reasons Akpan was brought to the public to show Nigerians that he was alive. He revealed that investigations were still ongoing and expressed optimism that the truth would be made public at the end of the day.
According to the police source, late Umoren's corpse was exhumed and sent for autopsy. Unfortunately, she was finally laid to rest in her home town, Ikot Essien, in Oruk Anam Local Government Area of Akwa Ibom State, last Monday.
Late Iniubong got information about a job offer and went for it. But it was unfortunate that it never existed. In the first place, when she got to the place and viewed the environment, she would have known that such was not the right place.
The suspected killer told the press that Umoren's death was not intentional but an act of self-defence. Who was there to testify whether it was true or not? He would have felt that she would expose his evil act if she had survived. He said: "I invited her for a job and I asked her whether she can work in a farm as secretary. I told her that I wanted to sleep with her first".
This is one of the dangers the girl-child faces in the society. The ladies need to be protected. We've been advocating for girl-child education and women emancipation and somebody is there destroying the few we have empowered in the Niger Delta region. At the point of making demands of sleeping with her, late Umoren would have started making a U-turn, seeing that danger was coming, if it is really true that she agreed to sleep with him.
How would she have agreed to sleep with that little boy who later told her the job never existed?  Was she looking for who to sleep with? She was searching for job. In fact, what does he do for a living that will attract a woman to sleep with him?
For me going to sell crayfish or hawk sachet (pure) water would have been better before proceeding for national service. As a graduate of Philosophy with higher grade point of 2.1, her chance of securing a better job after the NYSC would have been higher than that episode.
Now, she is dead. Who knows if she willingly agreed on a condition he gave her or not, as the alleged killer is claiming? A lot of questions begging for answers.
It is high time parents tutored their children about dangers and reward for committing such crimes. Parents need a follow-up on whether males or females. The Uduak's father claimed that he brought up his son in a righteous way, but could not believe what he has done.
If the house where Uduak invited Iniubong to for the fake job offer before it led to another thing was where the family resided, according to the father, how wouldn't anybody notice the incident?
I think there was a gap between them. The time between when he raped her, murdered her, dug the ground before carrying the "dead body" to bury would have been many hours. Did he do it alone?
The security agents should be commended; but they should also put in more efforts to unravel the perpetrators of the dastardly act.
By: Eunice Choko-Kayode
Drug Abuse: Bayelsa State At A Tipping Point? (II)
This is the conclusion of this article first published on Wednesday, May 17.
This is the concluding part of the opinion piece on the ongoing drug-related crisis in the State of Bayelsa. The initial instalments of this article were drawn from news stories in the past few months of 2023 to show that all is not well in the war against drug trafficking, and drug abuse in the state. This huge mortal problem is staring us in the face, such that the average Bayelsan might be compelled to ask if there is any hope. Yes, there is hope, but not with old approaches that have been tried and proven ineffective. Preventing the growth of substance use and dependence in the state, as well as the zone calls for a multi-pronged approach that must entail thinking outside the box.
In my opinion, the major key to tackling the monster of drug addiction in South-South is to set up a special regional task force, drawing men from all the relevant agencies and governments within the zone, and give them resources and clear targets, which must include making it hard to access drugs, reducing the prevalence rate of any drug use in the zone to a single digit. Firstly, it must be made clear from the onset that the purpose of the task force is to save lives. Secondly, since the 2018 report mentioned the paucity of rehabilitation centres, states in the zone must improve existing facilities, or put new ones in place.
Thirdly, two key lessons learnt during the COVID-19 pandemic must be brought to bear. In the first instance, there must be daily state-wide randomised drug testing (using a fingerprinting technology uniquely designed to expose substance abusers using what is called the fluorescence-based lateral flow competition assay) in every local government to constantly track prevalence, and death rates through the duration of the task force.It must be noted that in spite of the losses during the recent global COVID-19 pandemic, the experince was a major teacher in that, it show the world how, and how not to manage a global health crisis. For instance. The Diete- Spiff administration appointed and recruited seasoned academics, administrators and technocrats to join in the task of building the nascent State particularly after the civil war. COVID-19 pandemic, the experience was a major teacher, in that, it showed the world how, and how not to manage a global health crisis. For, instance, with hindsight, medical practitioners and policymakers across the globe can to a reasonable extent agree that lockdowns does not work.
But then, on the other hand, the world saw what difference testing made, especially in isolation and the treatment of the infected. The same can be applied to the ongoing drug abuse crises in the Bayelsa State.The Health and Safety departments of most corporations have been managing alcoholism and drug abuse for decades using on-the-spot testing, during accidents for drivers, and routine and impromptu testing of members of staff. The merit of this approach is that alcoholic beverages like beer remain in the blood for eight hours and spirits, like whisky and brandy, can last up to 20 hours in the bloodstream. Interestingly, this technology is not exclusive to the safety departments of multinational corporations.
Currently, a fingerprinting technology uniquely designed to expose substance abusers has been developed. The system is designed to work with the process by which the human body metabolises substances to generate a plethora of metabolites, some of which are excreted through the sweat glands. Currently, the system is only able to capture amphetamines, cannabis, cocaine, and opiates.Like alcohol, different drugs are metabolised by the body in a variety of ways, generating a myriad of metabolites, some of which are excreted through the sweat glands. For instance, Tetrahydrocannabinol, the primary psychoactive component in cannabis can be detectable in the sweat of an individual following consumption for up to a week in most cases; while cocaine can passively diffuse through capillaries into sweat glands in its non-ionised form and can diffuse directly through the skin.
Similarly, opiates such as heroin produce the major metabolite 6-acetylmorphine, which is the main indicator in the sweat that confirms opioid use. Opiates too are generally detectable within two hours and up to a week in the sweat following consumption. Cocaine and ethyl methyl ecgonine are detectable in the sweat as soon as two hours following consumption, whereas benzoylecgonine is detectable in four to eight hours. The metabolites are detected by performing a lateral flow assay, utilising fluorescent tagged probes to indicate that particular complementary molecules are present in a sweat sample. In plain language, this test is akin to the instant pregnancy test available at pharmacies.
The taskforce must also work in collaboration with telecommunication companies and every media house in the zone to keep the public informed on daily basis. To achieve a downward trend in the prevalence rate quickly, every state governor must use this daily information to put their local government chairmen to work. They must be held accountable for using this information in driving awareness at every level in their various local governments, including churches, mosques, and markets.  Since most of the victims are from institutions of higher learning in the states within the zone, they should be viewed as epicenters that merit extra attention. Consequently, that taskforce should work with the management of these institutions to make one random testing mandatory for every student, at least once every semester.
On the face alone, since the students might be invited for drug tests without prior information, it would serve as a major deterrent. Beyond that, because of the consequences tied to it, truant students might also rethink their movements, especially if reporting to parents, guardians, or scholarship bodies happens to be one of the consequences.The testing is not an end in itself; rather, it is also a means to apprehend the dealers on the street. Therefore, for everyone who tests positive for any drug, the intention is to extract actionable information to arrest his/her dealer with confidentiality guaranteed. Just imagine that 100 tests reported a positive result, across various local governments within a state, and the users volunteer valuable information about their dealers, this war can easily be won in six months.
But then, the fourth term of reference for the taskforce is most critical, because it deals with those who are already vulnerable, or dying due to the miseries of extended drug abuse or substance dependence. It is very important that each state within the zone puts in place an emergency medical unit ready to move at a moment's notice in every Senatorial District at least. The purpose of this team is primarily to save lives, and they should be given all they need to enable them to save lives.Furthermore, Local Government Areas must regularly hold seminars in schools, churches, mosques, and markets to educate their people on the current drug epidemic ravaging our region.
It is in the general interest of parents, Pastors, Imams, and community leaders to be fully aware of how far this cancer has eaten into the fabric of society. It is also very important for leaders to understand what is about to happen to our common way of life if the average youth on the street is a druggy. Clearly, Bayelsa State is at a tipping point, but almost all other states within the zone are more or less next-door neighbours to each other, therefore is safe to assume that other states are not faring better. This is more reason all the states in the region must work together to end the menace of drug trafficking and drug addiction. Lastly, the National Drug Law Enforcement Agency (NDLEA) and other security agencies should take the war against drugs personal, because the next victim might just be a member of their family.
By: Raphael Pepple
Rivers At 56: Journey So Far (1)
According to the Bible Book of Exodus Chapter 19:4, it is written "Remember how I bore you on "Eagles Wing".
This scriptural verse is instructive as it calls for sober reflection and thanksgiving.
The expression, Eagles Wing is a metaphor calling for remembrance of the blessings of God with respect to God's protection, provision and grace.
As Rivers State marks its 56 anniversary, the song that should be on the lips of Rivers people should be the celebration of God's goodness in 56 years inspite of the threat of disunity from diversity and heterogeneous culture. After all, it is pointed out in the Bible Book of Matthew 11:12, that "From the days of John the Baptist till now, the Kingdom of Heaven suffers violence and the violent men take it by force".
This quote clearly explains the circumstances surrounding the creation of Rivers State which is 57 years old today.
Rivers State was created on May 27, 1967 from the genuine agitation of the founding fathers during the reign of General Yakubu Gowon (rtd) as Nigeria's Head of State.
Fear of domination by the so called major tribes ,Hausa/Fulani, Yoruba and Igbo which culminated into regional governance led to state creation movements.
In other words, the creation of Rivers State among the 12 -State- structure took several stages before it was done.
Ben Naanen (2002), pages 340 to 350 in Ebiegbei Joe Alagoa and Abi Derefaka in the book entitled "The Land and People of Rivers State Eastern Niger Delta" sheds more light on how this feat was achieved.
According to him, the struggle for ethnic hegemony has been linked to the formation of Pan Ethnic Union from the 1920s.
Prof Ben Naanen emphasised that ethnic movement took the form of cultural and welfare associations before assuming political status when party politics started in Nigeria.
It is noteworthy that Jamil Mutanen Arewa also known as Northern People's Congress (NPC) was founded in 1949, Egbe Omo Oduduwa was formed in 1951 and constituted the nucleus of Action Group while the National Council of Nigeria and the Cameroon was inaugurated in 1944 and the Igbos in Lagos dominated NCNC party.
It would be recalled that Rivers State was part of Eastern Nigeria.
It is on record that the first attempt to establish Old Rivers State was in 1947 when Rivers Province was created which was to comprise Ahoada, Brass, Degema, Ogoni with Port Harcourt as headquarters.
It is pertinent to list Chief Harold Wilcox who later changed his name to Harold Dappa Briye, Chief D. Davies Manuel and Chief Francis Alagoa, among others.
Those who equally signed Rivers Leaders of Thought document were S.N Dikibo, E.N. Kobani, representing Ogoni Division, Doctor I.J.M Fiberesima (Degema), R.G. Okara representing Brass Division, G.B.C. Otoko, Opobo Division and N. Wonodi, Ahoada and Port Harcourt.
This does not undermine the contributions of Dr Obi Wali and environmentalist, Ken Saro-Wiwa.
These leaders painstakingly underwent shame and insult to negotiate the State creation.
Interestingly, the creation of Rivers State was not an act of benevolence but an act of commitment, dedication and continued genuine agitation.
As the State marks 56 years, Rivers people must salute the courage of the founding fathers who united despite their differences to fight for the state creation.
There were words of discouragement from prominent Igbo leaders including Dr Nnamdi Azikiwe and Akanu Ibiam.
For Odumegu Chukwuemeka Ojukwu, he tasked Rivers leaders to renege on state creation, assuring them that Port Harcourt province would be created in place of Rivers State.
When it was obvious that Igbo leaders, did not support State Creation Movement, Rivers elites switched loyalty and allegiance to the Northern leaders who also displayed double standard but agreed to a-12-State structure to balkanise the defunct Eastern Region ahead of the looming Civil War.
All that is history now, what is necessary is to build on the vision, unity of purpose and the foundation laid by the founding fathers.
As we retrospect Rivers State at 56: the Journey so far, it is also pertinent to reflect on the vision and the sense of mission of the founding fathers and such bond of unity which characterised the struggle.
This is so because lenders of the State seem to have derailed in forgiving love, and commonality of brotherhood which were hallmarks of the struggle.
Without gainsaying, what is happening in recent times is not a true reflection of what the founding fathers of the State stood for, which is why a rethink is necessary.
Fifty-six years of Statehood, Rivers people seem more divided and more ethnocentric than they were during the period under review.
It is therefore apt for leaders to find common grounds and pursue issues of justice equity and fairness which were virtues past leaders fought for in a bid to have all-inclusiveness in leadership and benefits of the State.
Navy Commodore, Alfred Diete Spiff was the pioneer Military Governor of Rivers State who truly resumed duty after an interregnum arising from the Civil War.
The Diete Spiff administration appointed and recruited seasoned academics, administrators and technocrats to join in the task of building the nascent State particularly after the civil war.
Elder Pikibo Daniel Oju Pikibo was appointed Secretary to State Government, while Professor Isaac Denma was appointed Chairman of the Civil Service Commission who was given the liberty to go to any part of the world to interview suitably qualified Rivers professionals for employment.
The crop of the experts employed were engaged as teaching staff of Rivers State College of Science and Technology (RSCST) in 1970 which was used to produce middle manpower and prepare students for the 1970 London GCE, Test of English Language as Foreign Language and other foreign examinations.
Rivers State College of Science and Technology was transformed into Rivers State University of Science and Technology by the administration of Chief Melford Okilo in 1980 while Governor Nyesom Wike amended the Law of RSUST to change it to Rivers State University to offer any course of study it can since 2017.
Similary, there was transparent award of international scholarships based on merit and not favouritism and godfatherism.
The Diete-Spiff regime also embarked on establishment of state media outfits comprising the Nigerian Tide, now The Tide in 1971 followed by the Rivers State Broadcasting Corporation which was originally the umbrella for Rivers State Broadcasting Corporation – TV and Radio Rivers to promote favourable identity of Rivers people, inter-alia.
Among development projects, there is the need to revive Rivers Readers Project which Late Kay Williams and Professor Emeritus E.J. Alagoa introduced to the government of Diete-Spiff as well as resuscitated technical schools in Port Harcourt, Tombia and craft centres for job creation.
Rivers State Government should make public secondary schools in the state work for the overall good of all.
Most importantly, government should reward civil servants through the payment of gratuity and pension for them not to regret serving the state. The leaders in positions of trust should be careful with their choice of words and public communication so as not to ignite ethnic crises.
By: Baridorn Sika
Sika, is a Port Harcourt-based journalist and public affairs analyst.
·Darwin's Doctrine On Mental Hygiene
British biologist and author of Origin of Species; an apostle of the theory of organic evolution by natural selection, Charles Robert Darwin (1809-82),was also a thought management therapist. Not many people placed much value on his doctrine of mental hygiene, but everybody associated him with the theory of evolution and natural selection. His doctrine of mental hygiene hinges on his statement that "the highest possible stage in moral culture is when we recognise that we ought to control our thoughts". For us in Nigeria in 2023, it would not be enough to have a new government and swear in a new set of lawmakers and members of a national assembly.
The current state of the nation demands some serious paradym changes and new orientations, whereby our leaders and political elites would become real role models and the impetus that would spur the masses towards nobler ideals and aspirations. So far they are seen largely as opportunists, predators and oppressors by the masses. Mental hygiene or thought-management process is one area where Nigerian leaders and political elites require serious orientation and education, for the purpose of building a greater Nigeria.
It is obvious that thinking, mindset, attitude and humane ideals and aspirations are prime factors towards building up a better Nigeria; not glib talks and enormous wealth. Some Nigerians have the illusion that unguarded thoughts and careless statements do not produce sad results for the nation, in one form or another. Neither are thoughts as free as some people may think. Darwin's doctrine entails the admonition that individuals and nations can build up or destroy themselves by their thinking, mindset and attitude.
Relating this doctrine to the theory of organic evolution by natural selection, we find that the "highest possible stage in moral culture" determines the "natural selection" process; namely: Not might or wealth, but control of thoughts. This is in line with an ancient admonition to guard our thoughts with utmost diligence, for out of it are the issues of life. Very simple, but a factual truth! There is, indeed, a world of thought-forms whose energy and pressure represent categories of various thoughts, emotions, utterances and attitudes of human beings.
They coalesce and form into magnetic centres of energy according to their nature and contents. Such centres of thought-energy are kept alive and functional through constant reinforcement or supply of fresh thoughts by millions of people whose thoughts are of like nature. Sadly, there are more of sordid and destructive thought- energy centres in our environment, than good and up-building ones, arising from unguarded thoughts and careless talks.Darwin's doctrine is an explanation of the link and interactive process between visible human environment and a non-visible one which harbours all thoughts that humans generate daily. Artificially created energy-centres, especially destructive ones, have the tendency of infecting the minds of the masses whose power of resistance is weak.
Wide-spread use of narcotics and other such substances make it possible for a large number of unsuspecting people to serve as out-lets for thought-centres pressing for release. Many factors account for the pollution and degradation of the Nigerian environment, both in the physical and psychic sense. Deadly and choking psychic pollutants spread fast and are responsible for increasing acts of violence and gangsterism. While legislations can be made for the preservation of a healthy ecology, the issue of thought-control of mental hygiene is more of the concern of individuals, everyone for himself. The cultivation of a sound and positive attitude is as important as legislations made for a sustainable ecology. Little attention is paid to thought-control!
Thoughts may be private, personal and non-visible, but their effects soon become public and visible in the actions and behaviours of individuals as well as conditions of the society. The consequences of what we think and plan privately manifest sooner or later in the forms of what we say, do or experience. Degrading pollutants in our environment consist of thoughts of bitterness, greed, lust, envy, tension and other nasty emotions. Hardly can any law be made to regulate the thinking of individuals, but everyone has a responsibility to control what and how he or she thinks, which would reflect in deeds, utterances and choices.
Through the nature of the thoughts and ideas that individuals cultivate and harbour, we also attract similar thoughts and ideas, thereby reaping the harvests accruing there from. We  do much harms to ourselves and others when we engage in unpleasant thoughts. Thus, when a particular kind of attitude or aspiration predominates in a country this can determine the collective orientation and experiences of the people generally. The tasks of leadership and nation-building are noble and serious undertakings, demanding the steering of the life-chances, collective well-being of the masses and the pattern of the development of the nation.
Development is far from involving physical infrastructure alone, but entails raising the collective consciousness and humanity of the masses. The content of human development has more to do with the quality of thinking, orientation and aspirations of the masses. Usually, leadership of a nation, along with the orientation of enlightened class, determine the direction which a nation goes. From the perspective of Darwin's doctrine of natural selection, via the quality of predominant thoughts, it becomes obvious that nation-building is the task of steering the consciousness of the people towards "the highest possible stage in moral culture". A nation cannot be different from what its leaders, senators and the elite harbour as regular thoughts, aspirations and values. With good leadership and governance the Nigerian masses can imbibe and reflect the values and ethos of those who set the pace or the direction the nation must go.
Unfortunately, what the Nigerian masses see in their leaders include self-serving programmes, policies, projects, etc. whose end-results are tailored to maintain the existing status-quo. Is it wrong to say that "plenty construction projects and contracts translate into plenty 'gifts' from contractors?" Nigerians are aware of the shenanigans involved in governance, whereby politics is a big business venture, involving determining who gets what, from available "national cake". What is the most biting challenge in Nigeria today? – Unemployment!
By; Bright Amirize
Dr Amirize is a retired lecturer from the Rivers State University, Port Harcourt.