Win Over Vandrezzer ,Turning Point For Go Round – Elechi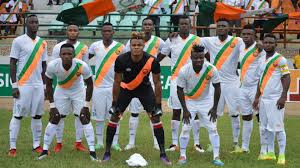 Go Round FC Coach, Ngozi Elechi, believes a win over Vandrezzer FC in the League on Wednesday will be a turning point for this team this season.
Both sides are tied on points in second place and Elechi believes his players can do what it takes to win.
"Definitely, we are here to see how this game pans out. We are tied on points and we need a victory to go back to second on the log and push ahead with our promotion chase.
"The boys know the importance of the game and the riot act is that we go for nothing short of victory," Elechi said.
Since he took over as head coach of the team, Go Round FC has won at home, 1-0 against FC Nilayo and drawn on the road 1-1 against Nnewi United. Ngozi Elechi explains what changes he has made in the team.
"It is just to psyche the players. The boys were low in morale, so I had to talk to them, change the training regime and let them know the importance of raising their game.
"I believe it has paid off well after one win at home and a draw on the road. We are getting it right and today I am confident that the boys will be victorious and will not let the team down."
Elechi insists that neither he, nor his team is under pressure, but he knows that fans of the club want them to win the game by all means.
"There is not much pressure except that the fans are expecting us to win so I have told the boys to just play their game. Every match is important and we must win every game. That is the only way we can gain promotion to the NPFL. They have some top players, but we are set for them. This is how important this game is," Elechi insists.
Go Round FC was up against Vandrezzer FC at the Krisdera Hotel Stadium, Omoku on Wednesday, March 24, 2021.
2022 NPFL: Nasarawa United Unveils  New  Players
Nasarawa United Football Club, Lafia, has unveiled eight new players for the remainder of the 2022/23 league calendar
The newly acquired players comprise one goalkeeper, four defenders and three attackers.
A release signed by the Media Officer of the Club, Eche Amos and made available to Tidesports yesterday, said Goalkeeper, Mohammed Galadima and central defender, Victor Collins both returned to the club after spells at Wikki Tourists FC of Bauchi and Amanat Baghdad FC of Iraq, respectively.
Right full-backs, Samson Vandi Drambi and Nelson Abiam joined from 2nd division side, EFCC FC of Abuja, while Nelson Abiam joined from premier league side Wikki Tourists FC, Bauchi. Full-back, Aminu Yusuf joined from neighbouring Lobi Stars FC, Makurdi.
The trio of centre forwards, Kazeem Abdulrafiu, Isaac James Ogiri and Kolawole Daniel inked the contract papers from Ruqayya Football Academy of Kaduna, ABS FC of Ilorin, and Gombe United FC, Gombe, in that order.
The unveiling ceremony took place last Wednesday in Lafia.
Each of the players is expected to bring his wealth of experience to bear as the Solid Miners prepare to overturn their current position on the league standings.
In another development, Nasarawa United yesterday defeated border neighbours, Lobi Stars FC of Makurdi, in an explosive friendly game decided at the Sports Complex of Federal University, Lafia, to fine-tune both teams ahead of the resumption of the second phase of the 2022/23 Nigeria Premier Football League.
Corruption, Bane of Nigeria Football Dev – Peterside
If not for the high level of corruption in Nigeria football administration, the country would have produced lots of football stars, former Super Eagles goalkeeper Idah Peterside said.
According to him, the country has a bunch of good and talented players like Victor Osimhem, but because of corrupt  administration, many young players were deprived to get national call up.
Idah made the assertion last Wednesday in an interview with sports journalists shortly after Rivers United FC defeated Rangers FC 1-0 in the Nigeria Professional Football League (NPFL) at the Adokiye Amiesimaka Stadium in Port Harcourt.
He revealed that he will come back to Nigeria with the view to  promote and develop football, following the experiences gained outside the country.
"If I was elected as the President of Nigeria Football Federation (NFF) a lot of things would have changed in the football administration.
" I have come  back to Nigeria, Port Harcourt, my base with all the experiences I had gained  around the world to see how  one can be  involved in the development of the game.
" Football is my game, I have sacrificed a lot for the development of the game" Idah said.
He congratulates Osimhen for his impressive performances in the Italian League, adding that what he expected Osimhen to do was to win World best or Africa footballer of the year.
By: Kiadum Edookor
MFN Lauds Rivers Governor- Elect …Wants Holistic Sports Dev
The Muaythai Federation of Nigeria (MFN) has hailed the emergence of Sir Siminialayi Fubara as Rivers State governor-elect and appealled to him to look into sports development holistically in his administration.
The Federation also used the forum to also congratulate him, over his landslide victory at the just concluded governorship elections in the State.
President of MFN, Comrade Paul Egonu, said this in an exclusive interview with Tidesports, yesterday shortly after he came back from Lagos on national assignment of the federation.
According to him, he has confidence that sporting activities will strive more in the next administration.
"We are appealing to the incoming Governor, Sir. Siminialayi Fubara to holistically develop sports in the State. We are aware that the present administration- led by Chief Nyesom Wike but there is need to do more.
'The Federation and Rivers State Mauythai association join other good people of the State to congratulate Sir. Fubara for his landslide victory at the just concluded governorship elections.
"We are also aware  that Governor Nyesom Wike, has invested in sports by building sports facilities in the State, but we urge the incoming Governor to surpass what he will meet on ground", Comrade Egonu said.
He explained that investing and developing sports is a way of investing in youths because through sports many youths have become wealthy and responsible, besides it will also boost the economy of the State.
"Honestly, the benefits of sports development and promotion is enormous, through sports many people have become wealthy. It will also, to a large extend boost the economy of the State.
"Consequently, I appeal to the incoming Governor to set up a sports commission and appoint professionals. sports administrators to pilot its affairs", he stated.
By: Tonye Orabere