Teenagers And Mobile Phones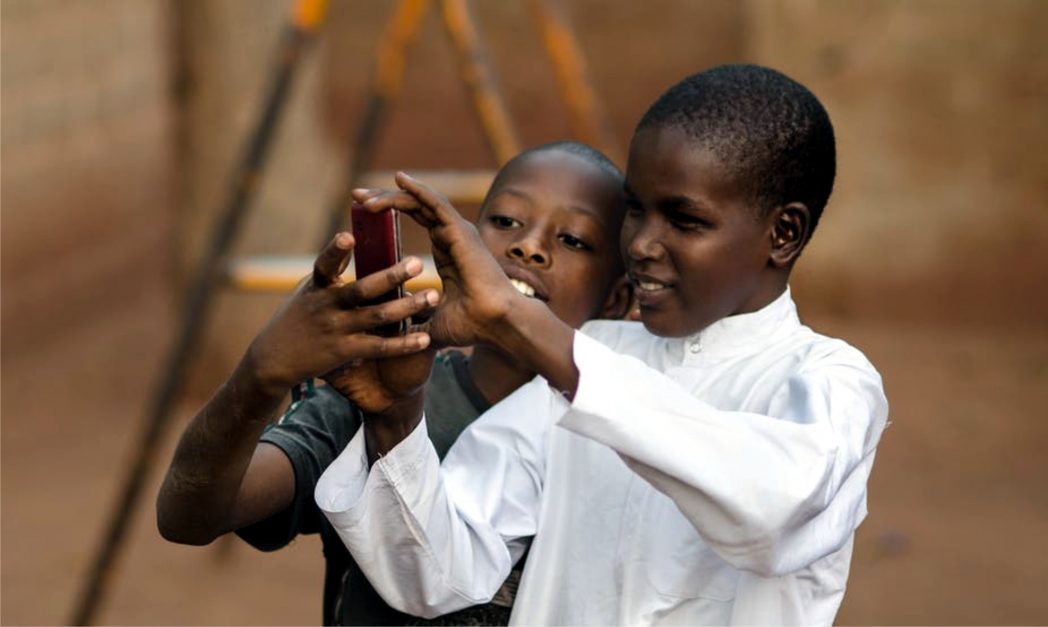 An empirical study about uses and abuses of mobile phones has revealed that teenagers are the most affected among mobile phones users. According to a 2007 study by a research firm, 50-70% of 12-14 years teenagers make use of mobile phones and the number is higher among 15-17 years old. It has also been observed that one in three teens sends more than 100 text messages a day or 300 texts in a month or less.
The possession of mobile phones by young people has been a global phenomenon in recent years and indeed, an integral part of teenagers' daily lives. It is even the most popular form of electronic communication and undoubtedly the most beneficiary interactive hub for most teens around the globe.
Do these teenagers really need mobile phone? They would undoubtedly say that mobile phone is essential to their happiness and social standing.
Mobile phone which is firstly known for reaching out to families and friends through phone calls and text messages, now with the development of technologies performs multipurpose tasks and functions with the aid of in-built applications like games, cameras, videos, music, internet access and social networking sites like Facebook, Twitter, Wechat, Skype, whatsApp and so on. It has, whatsoever, re-shaped, reorganized and altered several social facets particularly on teenagers.
Mobile phone usage among teenagers has both positive and negative impacts in their lives. Some of the advantages include, having information at their fingertips. With the rise of smart phones and internet access, information or ideas are guaranteed; they source for information and familiarise themselves with things around them. Homeworks and general studies are no longer as daunting and challenging as before.
Moreso, with the help of some useful applications and search engines like Dichongries, Wikchonaries, Google, Bing,Yahoo etc, they search and research, gathering information and at the same time gaining more ideas on multiple issues and knowing what goes in the wider society, hence, improving their knowledge.
Mobile phones also enable them to develop their skills, become creative by having the chance to practise creative thinking with the use of digital contents.
Meanwhile, in abundance of skills opportunities, they avail themselves at that tender age to new opportunities like making stories out of pictures, creating movies, documentaries and also ameliorate their reading and writing skills using mobile phones.
Mobile phones have also improved connection and networking among teenagers in reaching their families and friends with the availability of social networking sites on mobile phones like Facebook, Twitter, whatsApp, Skype and others. They communicate andinteract with their loved ones through chatting, exchange of pictures and video calls without missing a moment especially when distance is a barrier.
It also enhances their living and provides them with security like being able to reach out for help while in dangerous situations or getting directions in an unfamiliar terrains and also their parents being able to trace their whereabouts.
Mobile phones usage among teenagers acquaint them with so many things in the absence of their parents or caregivers. They are no longer ignorant of things around them, they read widely and explore by themselves, become knowledgeable on the difficulties formerly encountered. With internet access, they clear their doubts.
Nevertheless, mobile phone usage among teenagers has been one of the problems seen in the society today. Its negative impact has deluded the mind, behaviour, attitudes of many young people today. In schools where mobile phones are allowed to be used by students in classrooms, they get easily distracted while lessons are going on, because instead of encoding what is being taught, they rather engage themselves in-chat with friends, visiting one website and another. They no longer give proper time to their studies; rather, they spend much time playing games, listening to music, watching videos, surfing the internet and texting with their mobile phones.
These tenagers collect money from their parents for purchase of textbooks and other learning materials but rather use the money for recharge cards and mobile subscription which will enable them gain access to internet where they download games, music, videos of all sorts which could be explicit in nature.
Due to over-exposure to the internet, teens who are more vulnerable become victims of online bullying, intimidation and all forms of harassment by online preys. Sex predators trail minors who stay alone and try to take advantage of their innocence. Often, we hear or read of teenagers whose lives are endangered after chatting with "innocent strangers" who turn out to have diabolic motives.
Moreso, teenagers are easily impressionable. The pressure to feel at par with their peers who use expensive mobile phones, irrespective of whether their parents can afford it or not can cause self esteem issues in such easily impressionable teens. These may resort to stealing, lying and extortion of money to be able to afford such.
They are so attached to their phones especially at home that they no longer know their responsibilities. They rather spend much time texting, chatting, playing games, watching videos or surfing the internet and this addiction can cause danger to their health like brain tumour due to the phone radiation, lack of concentration or sleep deprivation.
As vulnerable and impressionable as these teens could be from exchange of phone numbers, the female ones begin to develop feelings towards the male counterparts and can be lured into deceitful act like sex, exchange of explicit photograph; hence, at that tender age, they become exposed to sexual activities.
Due to over exposure to internet activities, as they visit one website or another, downloading all sorts of applications, games, videos, irrespective of age restriction, they become victims of harmful contents online. Sometimes, they are misled by the information seen online and begin to see the world from another perspective.
I think that the technology behind the invention of mobile phone actually meant well for humanity, for which teenagers are inclusive. However, while we explore the goodness of this all-important communication gadget, we must not feign ignorance of the evil tendencies of every technological breakthrough for which the mobile phone is one.
This makes it imperative for parents, teachers and caregivers in general to pay greater attention on the teenagers' use of the mobile phone and ensure that they are not ruined by that which is intended to enhance their status.
Chisom resides in Port Harcourt.
Onyia Chisom
Since the end of the ruling party's presidential primaries, and the selection of a Muslim running mate by the party's standard bearer, Bola Ahmed Tinubu, the voice of the former Speaker of the House of Representatives, the Rt Hon Yakubu Dogara, has been the loudest and the most critical, even though he is a member of the ruling party. He has posited that fielding a Muslim – Muslim ticket is an anathema in a multi-religious country like ours and a marked departure from nation-building. The former speaker is fully aware of the delicate balancing of geopolitical, tribal, and religious interests for the purpose of national cohesion and unity.
Dogara's position is right on point, and he continues to espouse it boldly, even to the vitiation of his political capital. Unfortunately, Tinubu's decision to choose a fellow Muslim was nothing new, rather it was a reenactment of what President Buhari started in 2015.
Since May 29, 2015, Nigeria as a country stopped making any significant effort toward nation-building. He might have exuded a frail visage, but his appointments were bold and telling. From the outset, his policies clearly signalled a Northern agenda. In hindsight, it is clear that President Buhari was lying in his inauguration speech, when he said, "I belong to no one, I belong to everyone".
We know better today.  At no time in our history has this country been so close to the precipice. Armed men with more sophisticated weapons than the Nigerian Army have flooded our country, ravaging lives, destroying farmlands, raping our women, kidnapping for ransom, and impoverishing our people. As if that was not enough, we were recently ranked as the second most terrorised country in the world. Buhari's government has repeatedly told Nigerians that Boko Haram has been technically defeated. They have been lying all along, and they know it. They also know that we know that they are lying. Sadly, that is the ministry of Lai Muhammed. Even the Nigerian economy is on the brink of collapse, and the exchange rate of $1 for N1000 is at hand.
Nigerians already know that we are operating phony federalism system. They are aware that our oneness as a nation has a certain uniqueness to it. For instance, the penal code is the judicial system in the North, while the South operates the criminal code. It is so seamless that most Nigerians are unaware of it. Is it bad? No. In fact, it makes for inclusivity, and it accommodates our diversity. However, the issue of insecurity, terrorism, and banditry is an entirely different kettle of fish. Since 2015, the clamour for state police has increased tremendously, sadly, the North heavy (borrowing the words of Governor Wike) National Assembly had hindered the debate from gaining traction. Even President Buhari's comments and body language on the issue have not helped matters. Fortunately, on January 9, 2020, the governors of the South West forced the issue by setting up a regional security outfit tagged the Amotekun Corps to develop indigenous solutions to local security challenges. However, Amotekun Corps was denied the licence to carry arms.
Interestingly, the viral training video of a similar outfit set up by the home state of the president is about to change all that. In the video, Kastina State Vigilante recruits were seen parading the same AK-47 rifles that the federal government has refused Amotekun, even though the North West and the South West are facing the same existential threats. In his response to the viral video, Governor Rotimi Akeredulo of Ondo State accused Buhari's administration of running one country with two systems. According to him "the video making the rounds showing the equivalence of the Western Nigeria Security Network (Amotekun Corps) in Katsina obtaining Federal Government approval to bear arms is fraught with great dangers," "Denying Amotekun the urgently needed rights to legitimately bear arms is a repudiation of the basis of true federalism, which we have been clamouring for. That Katsina was able to arm its state security force with the display of an AK-47 means we are pursuing a one-country, two-system solution to the national question.
In his effort to extricate the police from any connections with the State Vigilante outfit, Isah unwittingly confirmed the obvious, because he said the vigilante in the state was not licensed to carry AK-47s, but they were only trained to use them. The follow-up question should have been, trained by who? Who has been licensed by the federal government to train people in the use of such sophisticated weapons? Further comments by the spokesperson made it difficult to believe neither the police IG, nor the federal government was not involved.  In his words, "The Vigilantes were trained on other arms and combat maneuvers. It is not that they were given a licence or that the federal government has approved that they should use AK-47 Riffles. They were just trained on how to defend themselves. And to be categorically clear, there is no member of vigilante in Katsina that is using that kind of weapon. It wasn't issued to them by the Federal Government or State Government. They were just trained on how to defend themselves.
"It wasn't the police that trained them, the police were not there when they were trained, we didn't participate in the training, but what I know is what I am telling you. They were not issued with AK-47 riffles, but they were trained on how to defend themselves because bandits and terrorists are using AK-47 riffles."
There was another viral video last week, this time from the terrorist group known as ISWAP. The content of the video portends danger for the people of the South West. The video showed ISWAP celebrating the attack on a police vehicle at Ipele in Owo Local Government Area of Ondo State. The video was in fact a statement by ISWAP signalling their presence in the South West. The video has given credence, and urgency to the demands of the Governor of Ondo State to arm the Amotekun Corps. As a governor, his first primary duty is the protection of lives and property; and with the freshness of the Owo massacre of June 5, 2022, in our memory, no one can question the audacity of his next line of action. We are in cusps of a showdown between Ondo State Government and the FG, and the fallout might answer the state police question once and for all.
By: Raphael Pepple
Towards Improved Education For Nigerian Children
There is no gainsaying, education is vital to the development of any nation. It is a process through which individuals are made functional members of their society.
It is also a process through which the young acquire knowledge, realise their potentials and use them for self-actualisation to be useful to themselves and others. In every society, education connotes acquisition of  worthwhile knowledge.  That is the reason different countries of the world invest in qualitative education of the entire populace, especially the younger ones. Nigerian government is not left behind in the effort towards the attainment of Education for All. Recall that ten years ago,  the federal government constituted a 17 – member committee for integration of the out-of-school children from the South-South and South-East into the basic education system. Inaugurating the committee in Abuja, the then Minister of State for Education, who is now the Executive Governor of Rivers State, Chief Nyesom Wike, decried the low number of enrolment for boys in the South-South and South-East. In his words, "In spite of the collective efforts of governments at all levels, we know that we are still far from our destination as far as the Millennium Development Goals (MDGs) and Education for All (EFA) are concerned. We know that we have made tremendous improvement in access and national enrolment but millions of our children particularly boys in South-South and South-East states are out of school".
I think such commitment to addressing basic education challenges should be commended and encouraged for better result. In the South-eastern states,  the increasing boy-child dropout rate is a serious concern and one which will have a detrimental impact on the future of the region and the nation. In many families in this region, boys no longer have interest in education. This is basically because school graduates find it difficult to secure jobs that match their education. Thus, tthe younger generation see little practical value in staying in school beyond a few primary grades. Some parents equally see investment in the education of their children as a useless venture as such children often come back to them after graduation, failing to secure meaningful employment, when their counterparts in business have become, "millionaires". So, the fundamental problem is our value system. The emphasis on wealth accumulation has trumped-up the core value of education. The family, society and even the education system teach our children to value wealth accumulation than the acquisition of knowledge and problem solving skills. A man's worth is measured by his material acquisition, not minding how he got it.
This wrong value system, some people argue, is the reason for high rate of kidnapping, armed robbery and other social-vices prevalent in the country, particularly in South-East and South-South regions. Our youths are pre-occupied with an elusive chase for wealth which has prompted them to engage in unbecoming acts. Education experts also attribute the increasing number of out-of-school children in these states to poverty and poor quality of education leading to dissatisfaction from parents and opportunity cost as parents would rather have their children make extra money through hawking than going to schools.
This problem can be solved by governors of the South-South and South-East states declaring 'total'  free education for primary and secondary school children. Adequate funding of the education system should be the priority of these governors, coupled with proper remuneration, training and discipline of teachers. Governments should ensure that funds allocated for out-of-school children are used for the slated purpose, ensuring that they carry out quality infrastructural works that would stand the test of time. There is need for Nigeria to emulate  other countries that provide for children who are not financially strong. Many of these children have talents within them that can facilitate a better Nigeria someday.
On the other hand, parents should also contribute to reducing the number of out-of-school children by ensuring that their children are planned for, so as to make it easier for them to be properly cared for. Parents should also be sensitised on the importance of education. They should be made to realise that no other investment has such a lasting effect as the education of children. Well-to-do citizens in the south-south and South-East states should support government programmes that will lift children out of poverty and ignorance and be of lasting benefit to future generations.
By: Calista Ezeaku
The race is on for 2023 elections. The Independent National Electoral Commission (INEC) has published  names of the candidates sent by the political parties.  The candidates of the major political parties are sensitising and orientating the public about the importance of the 2023 general elections. The masses are not left out as they have vowed to vote in 2023 elections embarked on voters registrations which was a success in many parts of the country.  As it is now, the beam light is on the following presidential candidates; Senator Asiwaju Ahmed Tinubu of APC, Atiku Abubakar of PDP, Dr Peter Obi of Labour Party and Rabiu  Kwankwaso of NNPP.
According to online report by republic. com, INEC made a case for the creation of a new commission to deal with electoral offences. The proposed commission was first mentioned as a recommendation from a committee to look into electoral reforms following the controversial 2007 elections. It was published by Late President Umaru Musa Yar'Adua and led by former Chief Justice of the Supreme Court, Muhammadu Uwais.
The Independent National Electoral Commission's Chairman, Mahmoud Yakubu, stated that the commission's efforts to improve the country's electoral process would be ineffective unless electoral offenders were effectively prosecuted. He also asserted that INEC's current mandate was exhaustive and made it difficult for it to effectively prosecute and litigate electoral offenders. He cited that, since 2015, only 60 of 125 cases of electoral offences filed in various courts have resulted in convictions. Indeed, politicians are  mending fences and some who were not favoured are defecting to new political parties. Serious political consultations are going on in the country. Former President, Olusegun Obasanjo,  has denied endorsing the presidential flag bearer of the All Progressives Congress.  In a statement, Obasanjo's Special Assistant on Media, Kehinde Akinyemi, said the news  of the endorsement by Obasanjo making the rounds, especially from supporters of Tlnubu, is unhelpful to 2023 general elections. In anticipation of public presidential campaigns (or rallies) candidates are beginning to pay more visits to key national and state stake-holders, or mobilisers. These visits also include traditional rulers as well as former national and political leaders, for what many of them describe as 'seek their blessing'. Thus, to boost their political ambitions for 2023 elections, Atiku Abubakar, Dr Peter Obi and the Vice Presidential candidate of APC, Shetima, attended the Nigeria Bar Association 2023 conference in Lagos.  Indeed, the frontline presidential candidates for the 2023 elections were invited to address a plenary, general conference of the Nigerian Bar Association (NBA), which was held in Eko Atlantic  City, Lagos.  Atiku Abubakar, of the Peoples Democratic and Peter Obi, of the Labour Party attended and addressed the delegates present. Rabiu Kwankwaso, of the New Nigerian Peoples Party, was also invited but did not participate, while Bola Ahmed Tinubu of the All Progressives Congress was represented by his running mate, Kashim Shettima.
Candidates who attended used the opportunity to assess their popularity with members of the NBA. Atiku touched on his plans for devolution, Obi discussed his proposals to address employment, while Shettima said he would be responsible for the security affairs under a Tinubu presidency.  Supporters of Obi and Atiku have held forte for their candidates on social media with clips from the events.  The public space is charged with electoral discussions. Meanwhile, INEC has set September 28 as the date for political parties to begin public presidential campaigns (or rallies) across all the states in Nigeria. According to INEC, campaigns will last until 24 hours before the election. With the development, the spokespersons would sell their candidates within 150 days to the public before elections. The Nigerian electorate are anxious to participate in the 2023 elections. Do not sit on the fence, be part of the project 2023.
By: Frank Ogwuonuonu
Ogwuonuonu resides in Port Harcourt.