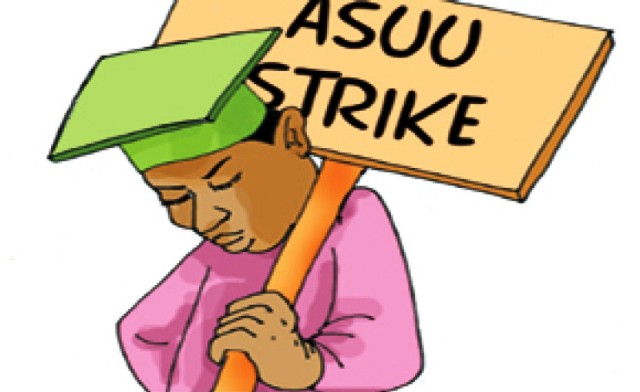 Penultimate Sunday, the Academic Staff Union of Universities (ASUU) threatened to call its members out on industrial action if the Federal Government failed to rescind its decision to stop salaries of any erring Ministry, Department or Agency (MDA) that does not comply with President Muhammadu Buhari's directive to enroll into the Integrated Payroll and Personnel Information System (IPPIS) by end of October, 2019.
The union described the directive, as it affects universities, as "illegal, unconstitutional and fraudulent".
While rejecting the government's stance at a press conference, ASUU Coordinator, Ibadan Zone, Dr Ade Adejumo, in company of other officers, claimed that the government's position violated extant laws, statutes, and regulations establishing and guiding the universities as well as subsisting agreements between ASUU and the government since 1992.
They specifically alleged violations of Section 2A (a) of Universities Miscellaneous Provisions (Amendment) Act 2003 which reviewed the 1992 Act; and the ASUU-FGN Agreements of 1992, 2001, and 2009; and claimed that IPPIS, if implemented in the universities without adjusting the platform, would undermine the system's financial autonomy and independence.
According to ASUU, "IPPIS is too rigid a platform that discountenances the peculiarities of the university system in the sacred areas of replacement or recruitment of academics, mobility of academic staff for visiting, adjunct, part-time, and sabbatical offers", and further listed the 70 years retirement age of lecturers which is above the 60 years for normal civil servants and Earned Academic Allowances as some of the issues in dispute.
The Tide completely disagrees with ASUU's argument on IPPIS. In fact, the union's peculiarities are in a way different from those of MDAs such as the Central Bank of Nigeria (CBN), military, police, para-military agencies, Nigerian National Petroleum Corporation (NNPC), Federal Inland Revenue Service (FIRS), among others, with the Constitution and special laws providing for their autonomy, which had since enrolled into IPPIS.
We are, indeed, aware that IPPIS, a World Bank recommended tool, took off in 2007 with key goals to ensure effective and efficient management of Federal Government staff records; timely and accurate payment of salaries and wages of employees; deduction of taxes and other third-party dues, remittance of payroll deductions to third parties; and the enrolment of employees into IPPIS database; in addition to helping government in development planning; management of payroll budget and appropriate control of personnel cost.
Its features include the Treasury Single Account (TSA), Presidential Initiative on Continuous Audit (PICA), Contributory Pension Scheme (CPS), among others.
We reckon that the first phase of implementation of TSA in 217 MDAs in 2012 helped government save about N500 billion, thus, encouraging its implementation across board. And between 2015 and July, 2019, about N10 trillion has been saved through the blockage of leakages in government finances; more than 20, 000 unnecessary bank accounts operated by MDAs closed; over N45 billion in monthly interest on borrowings from banks saved; and about N50 billion revenue stranded in different accounts mopped up.
Also, CPS has reformed pension administration and made it more transparent and efficient, with over N5 trillion in capital base.
We are surprised that ASUU, which had hitherto bandied itself as an advocate for good governance, transparency and accountability in the management of public funds, is kicking against a system designed to guarantee just that. We like to remind ASUU that even at state levels, most governments across the country have been conducting biometric exercises since 2007; and between 2015 and now, some governors have implemented more than three biometric exercises for all government workers, including academic staff of state universities to facilitate a state-wide database of government workers for effective budgeting and development planning. And we are not aware that such biometric exercises have affected their ability to receive salaries, Earned Academic Allowances, or access to retirement benefits, among others.
Perhaps, ASUU should know that the government needs to have a database of all its employees for adequate budgeting and future development plans, including infrastructure projects across the education sector, the universities inclusive.
ASUU should also know that for government to guarantee regular flow of funds and adequate personnel management while at the same time meeting other ancillary commitments, it needs to have a clear understanding of what is on the ground, challenges facing them and prospects, going forward. IPPIS provides the launch pad for that while checking corruption and sharp practices in the system.
This is why we consider as baseless ASUU President, Prof Biodun Ogunyemi's claim during a meeting with the Senate President, Dr Ahmad Lawan, last Friday, that the introduction of IPPIS is not backed by law, just as its introduction into federal universities will only compound the problem of regular flow of fund and personnel management.
If ASUU believes that IPPIS' "objectives include centralisation of payroll systems of the government, facilitating easy storage, updating and retrieval of personnel records for administrative purposes and pension processing", then, it should have no problem with the initiative.
We, therefore, advise ASUU to be wise and heed the Senate President's suggestions that "We are all in this together, and we believe that the Nigerian education sector, especially the tertiary, needs serious support… When you say government will fund universities, government will have to check how these funds are utilised but then, there have to be a mutual understanding that when they provide funds, the funds are properly channelled and the tertiary institutions can account for the funds."
For us, IPPIS provides that meeting point! This is why we say 'No' to another ASUU strike this time around, and urge it not to walk back its suspension of any industrial action over IPPIS.
Ridding The World Of Nuclear Weapons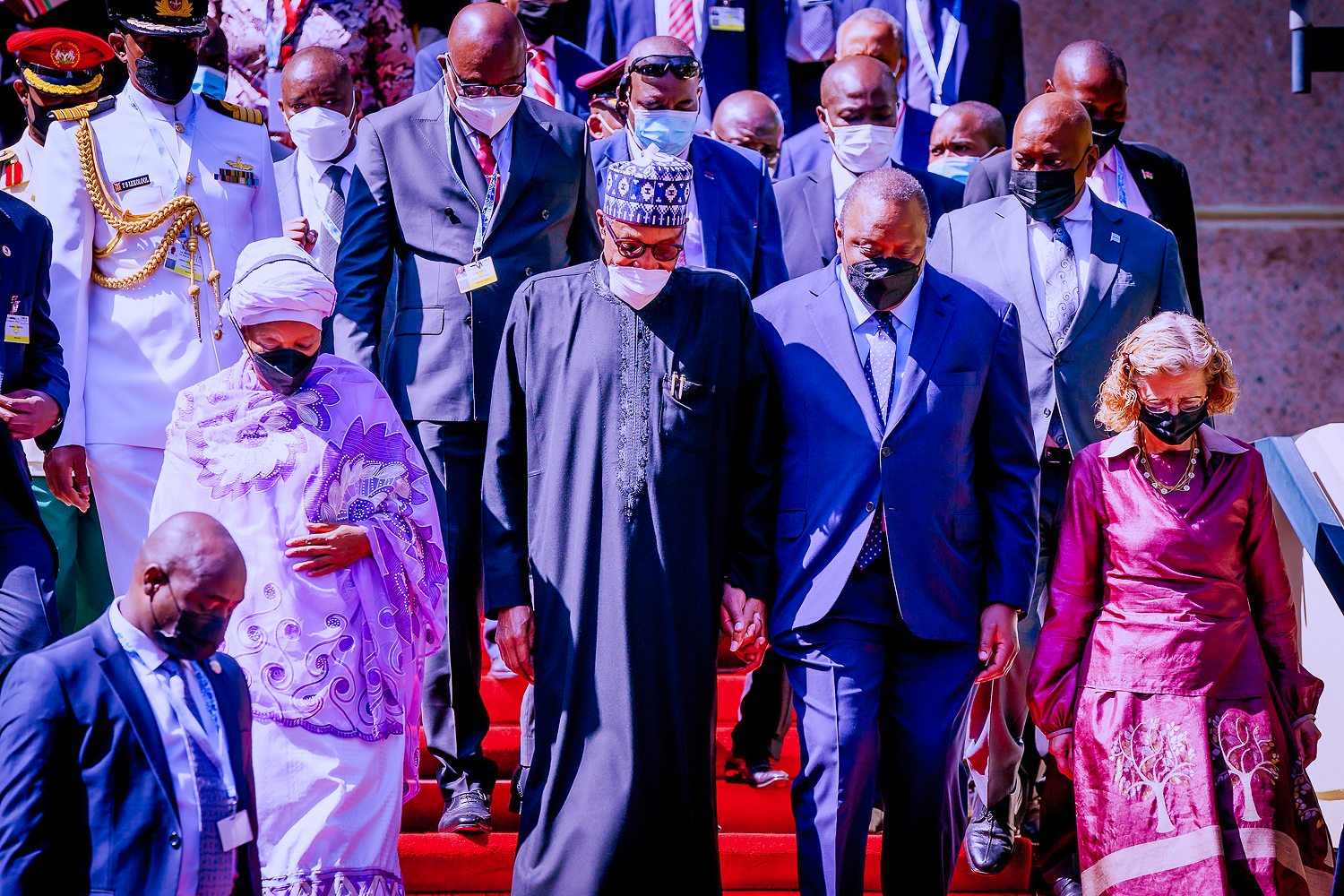 After a high-level meeting on nuclear disarmament on September 26, 2013, the United Nations General
Assembly (UNGA) designated September 26 as the International Day for the Total Elimination of Nuclear Weapons. This Day provides an opportunity to highlight the need to eliminate nuclear weapons and the social and economic costs of perpetuating them.
The United Nations has commemorated the Day each year since 2014, providing an opportunity for governments and some civil society groups to discuss progress and priorities for nuclear disarmament. One of the oldest goals of the United Nations is achieving global nuclear disarmament. But today, around 13,080 nuclear weapons remain. Countries possessing such weapons have well-funded, long-term plans to modernise their nuclear arsenals.
In 1946, the General Assembly's first resolution established that the Atomic Energy Commission had the mandate to make specific proposals for the control of nuclear energy and the elimination of not only atomic weapons but also all other major weapons adaptable to mass destruction. UNGA endorsed the objective of general and complete disarmament in 1959. The first Special Session of the General Assembly Devoted to Disarmament, held in 1978, further recognised that nuclear disarmament should be the priority objective.
The United States, the former Soviet Union and the United Kingdom signed the Nuclear Non-Proliferation Treaty (NPT), which limits the spread of military nuclear technology by the recognised nuclear-weapon States to non-nuclear nations wishing to build or acquire atomic weapons. The NPT is uniquely unequal and ineffective, as it obliges non-nuclear States to forgo the development of nuclear weapons while allowing the established nuclear States to keep theirs.
On July 7, 2017, the Treaty on the Prohibition of Nuclear Weapons (TPNW) was adopted. This Treaty is significant because it is the first multilateral legally-binding instrument for nuclear disarmament and elimination to have been negotiated in 20 years. The treaty was subsequently adopted by a vote with 122 States in favour. While this is commendable on its own, the efficacy of the treaty is questionable because none of the current nuclear-armed States supports the treaty or has signed it.
As the world grapples with new security challenges, it is pertinent now more than ever for global leaders to uphold the rules and principles of international humanitarian law in ensuring that weapons with catastrophic humanitarian outcomes, such as nuclear weapons, are eliminated from the earth. The 2017 TPNW presents an opportunity to achieve that goal. Accordingly, we call on all States to fulfil their commitment to nuclear disarmament by becoming parties to the treaty.
The beginning point in any discussion about nuclear weapons should be their terrifying explosive yield. Historical records of the disastrous impacts of the detonation of atomic bombs on the Japanese cities of Hiroshima and Nagasaki in August and September 1945 reveal horrid facts about the devastation caused by weapons of much lesser effects than the ones harboured in the military arsenals of some nuclear weapons' possessors today.
The devastation of Hiroshima and Nagasaki raised the consciousness of the international community about the dangers of nuclear weapons. The ensuing clamour to regulate nuclear weapons jump-started the development of an international legal framework to prevent the proliferation of deadly weapons. Regrettably, the nuclear weapons question is embroiled in the politics of power and dominance, causing nuclear-possessing States to drive deliberations on nuclear weapons with a focus on the control of proliferation rather than on total elimination.
The real focus of the major treaties on nuclear weapons is either to prevent proliferation or elimination of nuclear ammunition. However, it is sad that the nuclear-possessing States have wavered in their commitment to complete disarmament. The International Campaign for the Abolition of Nuclear Weapons (ICAN) has engaged to name and shame States that are not a party to TPNW, but how effective that effort will be remains to be seen. Their refusal to adhere to the treaty undermines its effectiveness, and there has been little pressure on these States to change their minds.
It seems superfluous to point out that for the treaty to be successfully and comprehensively implemented, Nuclear Weapons States have to cooperate, be parties to it and proactively implement it, as a large part of it addresses them. The treaty has an embedded acknowledgement that it would have opposition, hence Article 12 enjoins each State party to encourage others to sign, ratify, approve or accede to it, with the motive of universal adherence of all nations, eventually.
Undoubtedly, any use of nuclear weapons in the war between States or indiscriminate attacks by non-State actors would create catastrophic situations for humankind and the natural environment. The possibilities of nuclear accidents also remain, and every day that nuclear weapons remain on earth, someone is suffering from health degradation as a result. As long as some countries continue to have nuclear weapons, others will feel entitled to them as well.
The Russia–Ukraine war has raised the spectre of a nuclear disaster. The recent Russia's missile attack on Ukraine's Zaporizhzhia atomic plant points to that. This should attract more severe global sanctions on Russia, as the act represents a dire threat to the world. It was the first time that a nation has attacked a fuelled and functioning nuclear power plant. The unprovoked attack could endanger the safety of entire Europe. Russia must be stopped from carrying out military activities around the site.
Every drop of energy exerted in fighting for a world free of nuclear weapons is crucial. World leaders and policy-makers, non-governmental activists; all have a role to play in their circle of influence, from the diligent ratification of the relevant treaties to a march to raise awareness and spread the word. The Chernobyl disaster in former Soviet Ukraine in 1986 stands as a lasting example of why it is vital to ensure all nuclear power plants are dismantled or at worst have the highest standards of safety and security.
With the looming threat of a new Cold War, it is expedient for all nations, particularly countries in possession of nuclear weapons, to consider the tragic humanitarian consequences of the use of these weapons on human health, the environment, and vital economic resources, among others. Everyone has a role to play in building a future without nuclear weapons. There is no alternative to eliminating these horrible projectiles and creating a sustainable global peace based on common security.
Enough Of Killings In Anambra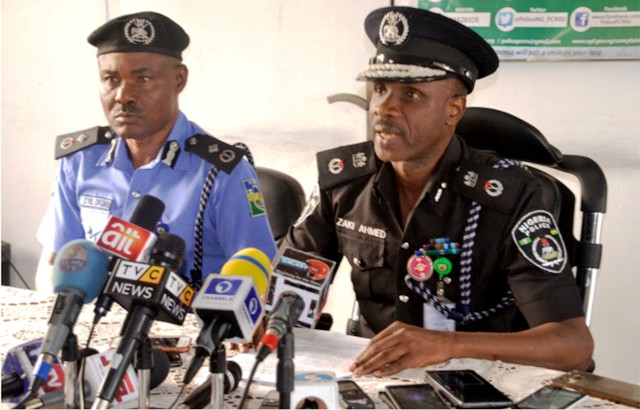 Tragedy struck again in Anambra State just at a time the people of the state were hilariously heaving a sigh of relief that normalcy was gradually returning after over one year of living in deep-seated fear, following the activities of "unknown gunmen" that killed and maimed several people.
This time around, the victims were Senator Ifeanyi Ubah representing Anambra South Senatorial Zone in the country's upper legislative chambers and his aides, who were returning to the Senator's hometown, Nnewi, from a function. The September 11 assault on the convoy of Senator Ubah in Enugu-Ukwu, Anambra State, draws attention to the dire security situation in the South East.
Two police officers, two Ubah's aides and a Department of State Services (DSS) operative were among the dead. Also among the dead was a businessman from Nri, Anaocha Local Government Area. It was reported that the businessman was based in Lagos but relocated to his hometown, following alleged attempts on his life after a failed business deal. The attackers were after him, only for the Senator's convoy to arrive at the scene when the gunmen had ambushed their target.
Another version indicated that it was a targeted assassination attempt on Ubah. According to reports, the foray on the Senator had a link with the sacked Chairman of Nnewi North Local Government Council, whose wife died mysteriously. It was gathered that the man was Ubah's boy, whom the Senator brought to political limelight. The source added that another businessman allegedly having issues with Ubah influenced the man's political predicament.
Recall that some parts of the South-East, especially Imo State and Anambra State, have been reeling from incessant attacks by "unknown gunmen". The situation worsened following the April 5, 2021 blitzkrieg on the Imo police headquarters and the correctional centre. About 1,844 inmates were freed, some of them hardened criminals. Since then, police stations have been assailed and arms carted away.
Ahead of the attack on Ubah and his convoy, prominent South Easterners had been gruesomely murdered in the region. Dr Chike Akunyili, husband of the late Minister of Information, Prof Dora Akunyili, was killed along with eight others at Nkpor in the Idemili North Local Government Area of Anambra. Director-General, Scientific Equipment Development Institute (SEDI), Enugu, Prof Samuel Ndubuisi, and a police officer attached to him were shot dead in Enugu.
Also, the member representing Aguata State Constituency in the Anambra State House of Assembly, Okechukwu Okoye, and a former member of the State House of Assembly, Nelson Achukwu, were beheaded by unknown persons. Traditional rulers and religious leaders were equally not left out. Some were kidnapped and never seen again. Many security operatives, remarkably policemen at checkpoints, have been brutally murdered in the region.
Most villagers have fled their homes, while those living in cities have ceased from travelling home. Many who journey home hardly use their vehicles for fear of being identified, abducted or even killed. Although security agents may be doing their best to bring the violence to a halt, they have also been accused of engaging in extrajudicial activities. Some, especially young men, have had to flee for fear of arrest and detention.
The recent bloody incident in Anambra is deeply regrettable. It is wicked, barbaric, senseless and knavish. We condemn the savage attacks on Ubah and his aides and call for the strengthening and overhauling of the security architecture of the state in particular and the nation at large. Law enforcement agents should work harder to fish out the perpetrators and prosecute them. It should matter less what organisation such criminals are representing.
One worrisome development for us is the continuous attacks despite repeated government assurances to address the ubiquitous security crisis. But even more discommoding is the fact that the perpetrators remain unknown, while their grouse and motive are unspecified. The Federal Government should intervene urgently, failure of which the heinous and barbaric killings may continue unabated, subjecting Anambra people to untold apprehension and suffering.
We think that the failed assassination attempt on Ubah and the killing of others, just like many other attacks across the South-East geopolitical zone, are perpetrated by implacable enemies of Ndigbo. We maintain that the provocative action signposts the collapse of the country's security architecture, which, in turn, has rubbed off on the capacity of security operatives to tackle crime and criminality frontally.
The apparent dilemma in the South-East is an obvious pointer that the elite and political leaders have completely lost touch with the people. The widening gap between the rich and the aggrieved poor in the country is rearing its ugly head in the type of violence that society is exposed to in recent times. Therefore, political leaders have to rise above mischief and find a way to calm down the youths.
Leadership in the embattled zone has taken a nosedive and the people are more divided than ever. The governors, including Soludo, need immediate assistance and full support from traditional rulers and other stakeholders to stop the violence in the region. It is not enough for both the state and central governments to express alarms about the killings or offer a huge amount of money to unravel the killers. They must find a lasting solution and end the appalling massacres.
The Anambra people want to see what the government is doing to arrest the lingering insecurity before the situation gets out of hand. It is all about the safety and welfare of the people, which is the primary purpose of government. The "unknown gunmen" should not be more powerful than the state apparatus.
For Sustainable Global Peace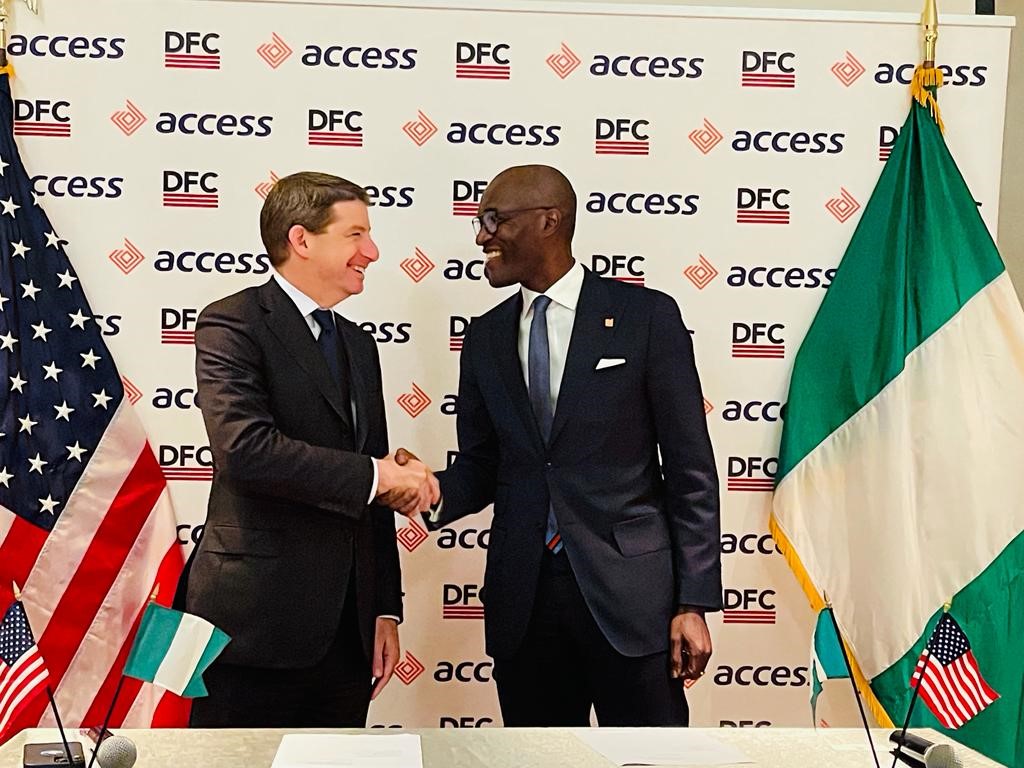 In recent times, world peace has come under distinct threats of natural disaster, war, poverty and hunger, un
evenness and climate change, among others. These perils have been the norm in some parts of the world. Other areas of the world have discovered diverse ways to co-exist despite the raging challenges. To live above the global vicious realities faced by many, the United Nations in September 1981 proclaimed that September 21 every year be set aside to celebrate International Day of Peace.
The International Day of Peace aims at facilitating global peace among countries and combating hostility and all forms of threats to peace. It encircles a broad range of issues including poverty, health, education, climate change, hunger, gender equality, water, sanitation, environment, racism and social justice. Its objective is to provide globally shared date for all humanity to commit to peace above all dissimilarities and to contribute to building a culture of peace.
Each event has a different theme. For example, in 2020, the theme was 'Shaping Peace Together', while in 2021, it was 'Recovering Better for an Equitable and Sustainable World'. For this year, the theme is 'End Racism. Build Peace'. The UN has earmarked today to strengthen the ideals of peace through a non-violent permanent cease-fire. It also aims to address hate speech and violence against racial minorities through anti-racism messages and education.
The central theme is imperative as the time to end racism is now. The UN Secretary-General, António Guterrez, declares that, "Racism continues to poison institutions, social structures, and everyday life in every society. It continues to be a driver of persistent inequality. And it continues to deny people their fundamental human rights. It destabilises societies, undermines democracies, erodes the legitimacy of governments, and … the linkages between racism and gender inequality are unmistakable."
Peace, an integral portion of human daily life, is not only germane to growth but also serves as the bedrock upon which development and other strides, tailored for humanity, are hinged. This informs why it has always been a major subject of discourse across regional, national and international bodies such as the African Union, European Union and other blocs. These coalitions have expended so much of their budgets to ensure that peace is imbibed across religious, cultural, ethnic and political divides globally.
But achieving true peace entails much more than laying down arms. It requires the building of societies where all members feel that they can flourish. It involves creating a world in which all are treated equally, regardless of their race. The 16th edition of the annual Global Peace Index (GPI) report, the world's leading measure of peacefulness, reveals that the average level of global peacefulness eroded by 0.3 per cent in 2021. This is the 11th deterioration in peacefulness in the last 14 years, highlighting that countries degenerate much faster than they improve.
Iceland remains the most peaceful country, a position it has held since 2008. It is joined at the top of the Index by New Zealand, Ireland, Denmark, and Austria. For the fifth consecutive year, Afghanistan is the least peaceful country, followed by Yemen, Syria, Russia, and South Sudan. Two of the five countries with the largest deterioration in peacefulness were Russia and Ukraine. They were joined by Guinea, Burkina Faso and Haiti. All this deterioration was due to ongoing conflicts.
As 2022 drags to an exhausting end, the international strategic outlook remains bleak. Authoritarian regimes are threatening conflicts in Europe, the Middle East and Asia. The pivotal democracies look distracted, internally riven and unwilling to defend the global order they originally designed. It was not meant to be this way. The formal dissolution of the Soviet Union on 26 December 1991 was supposed to usher in an era where liberal democracies would flourish. Instead, this year faces its toughest test.
About seven months into the Russian war against Ukraine, there seems to be no end in sight and Russia's most recent actions even point to an intensification of the fight. The world must compel President Vladimir Putin to terminate the aggression and reconsider the unacceptable path he has chosen. Russia's invasion of Ukraine is a threat to global peace and a just world order. It contradicts the core principles of international coexistence as reflected in the UN Charter.
Continued fighting in some countries jeopardizes world peace. The Syrian civil war, regarded as the second-deadliest in the 21st century, is still ongoing. Since 2014, Yemen has been going through a civil war that claimed over 20,000 deaths in 2019 alone. Somalia remains at war since the 1980s while Libya has been unstable since 2011 when its leader, Muammar Gaddafi, was killed. The recent escalation of tensions between Armenia and Azerbaijan has the potential to further destabilise the region. The UN has to perform its task of maintaining peace in these countries and others experiencing fighting.
It is time all nations and people lived up to the words of the Universal Declaration of Human Rights, which recognises the inherent dignity, equality and inalienable rights of all members of humanity. This year's celebration inevitably presupposes that the UN frowns on all forms of racial and inhuman treatment and as such member-states should replicate and imbibe this campaign.
Today, Africa is laced with some of the most obstinate conflicts, most of them constructed from disagreements in religious and ethnic identities. Religious and ethnic nationalism has led to unnecessary conflicts about control of state power, unequal allocation of resources, citizenship issues, state collapse, economic decline and ethno-religious clashes. Nigeria is known for such intense divisions which cause major gaps along ethnic, religious and regional lines.
In defiance of the current realities in the country which include calls and agitations for secession, communal clashes, Fulani-herder crises, terrorism, perceived superiority of one ethnic group against another, banditry, kidnapping, sexual violence, among other heinous crimes against humanity, Nigerians have to unite to build a strong and inclusive nation.
We hope that the government will utilise the occasion to deal with the many salient challenges confronting the country, as peace cannot be substituted with any other variables. This is quite pertinent because for decades the nation has had a large spectrum of repulsive events, making peace an illusion. Peace is crucial, as practically no part of the country is completely free from ethnic or religious feuds, endangering and setting most of the people against themselves.
Nigerians have to shun divisive comments and embrace stability for the country's progress. We must jettison violence and conflict for dialogue and harmony. The Peace Day is a reminder to governments at all levels to put more efforts into battling insecurity and creating enabling environments through good governance for socio-economic growth, economic opportunities and poverty alleviation. This will ensure a lasting cordiality and peaceful cohabitation among all tribes in the country.