Eagles Coach Drops Five Foreign-Based Players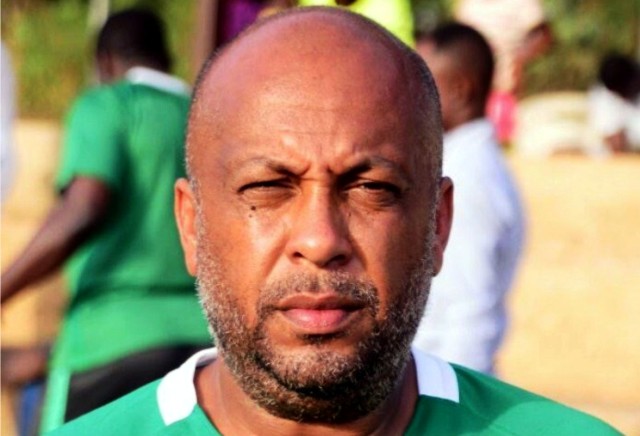 Paul Aigbogun, Flying Eagles coach has dropped five foreign-based players from his pre-FIFA U-20 World Cup training camp in Germany, with as many as 12 invitees dropped overall, as he plans to make his 22 man list for the tournament official at the start of this week.
Five players who represented other nations before switching allegiance to Nigeria were affected by Aigbogun's purge, while six who were part of his team at the Africa U-20 Cup of Nations were also affected.
Aigbogun is now set to name 12 new players for the Poland 2019 campaign later this month, with many of those who did not play at the African championship set to get spots in the final roster, as part of his efforts at beefing up of the squad to win Nigeria's first Under-20 title.
Among those who were sent packing were Everton winger, Korede Adedoyin, Manchester City midfielder, Fisayo Dele-Bashiru, Shelley Community FC teenager, Mashkur Tagwai and Watford winger, Jayden Bennetts.
West Ham United Academy, Daniel Toma also left early Friday, alongside Bournemouth's Nnamdi Ofoborh, who however, said he is committed to the team's FIFA U-20 World Cup programme if included by Aigbogun.
It would be recalled that Nigeria is in Group D of the championship alongside Qatar, Ukraine and United States.
The championship will run from May 23 to June 15 with Nigeria taking on Qatar in the first Group's match on May 24 and United States on May 27 before ending the group's stage with a match against Ukraine on May 30.
'Nigerian Football Suffering From Eight Years Of Neglect'
The President-General of the Nigeria Football Supporters Club, Dr Rafiu Ladipo, has strongly lamented the low state of Nigeria football. The man who has led Nigerian football supporters to different countries in the last two decades says the drop in overall performance is a result of the ground the country lost in the last eight years.
Ladipo said, "We actually had eight underutilized years with the last administration. We achieved far less than we should have done because the man who was in charge focused more on himself and aesthetics than proper development of football in Nigeria. Rather than build up the system we focused too much on elections and people getting into international offices."
Ladipo who lamented on the backdrop of the Flying Eagles performance in Egypt said the lack of growth pattern is now showing in our teams and clubs on the continent.
"Did you see how we lost to The Gambians? That is just a sign. Are we ever sure of the Super Falcons anymore? Did the Super Eagles qualify for the last World Cup? No is the answer."
"I am not saying that a country like Gambia cannot beat Nigeria but it did not bring shock this time because the slide has been steady.
We have declined so much. How many games have the Falcons won of their last 10 matches? Did we qualify for CHAN? How many of our clubs can stand firm on the continent today like Enyimba used to do not too long ago? Now compare our performance in the last four years with countries like Senegal and Morocco. We are running in the opposite direction. We are dropping while they are going up. What did we get other than dividing the supporters club instead of facing football development?
Amusan Clinches Silverbird Sports Personality Award
World record holder and Adidas track athlete, Tobi Amusan has emerged the winner of the Silverbird TV 2022 Sports Personality of the Year.
The world champion clinched the award at the 2022 Silverbird Man of The Year which held at the Eko Hotel and suits, Lagos.
Lanre Vigo, the co-founder of Plug Sports, the sporting division of The Plug Entertainment, who received the award on her behalf, shared the news via his Instagram handle.
"Congratulations @ihurdle_33.0inches on being awarded as the @silverbirdtv sports personality of the year," he wrote on Instagram.
"I'm honoured to receive this award on your behalf and to say a few words. Honestly @ihurdle_33.0inches I wish you were here to receive all these awards in person and feel the love Nigerians have for you," he added.
Vigo, in his acceptance speech at the event noted that his key resolve was to encourage both the private sector and the government to invest more in athletes as there are many Tobi Amusan's out there waiting to be discovered.
"There are a lot of talented sports people in Nigeria, and I feel like if the government and private sector invests more in these people, we will have more superstars in Nigeria.
"So I'm encouraging everyone to please support Tobi Amusan on this quest or possibly find the next Tobi Amusan," Vigo said.
Amusan became Nigeria's first World champion and World Record holder at the World Championships in Oregon, where she won the 100m Hurdles titles in WR times of 12.12s in the semifinals and a wind-assisted 12.06s in the final.
She also successfully defended her Commonwealth Games and Diamond League titles, clocking record-breaking times of 12.30s and 12.29s respectively.
Her 12.30s time was also a new record at the Games.
With this accomplishment, the 25 year-old Amusan is the first World Champion to win Gold in the event and the first Nigerian athlete to be crowned champion at all levels of athletics in the same year.
She beat Jamaican duo Danielle Williams, Megan Tapper, England's Cindy Sembre, Michelle Jenneke of Australia, and Devynne Charlton of the Bahamas.
Betking Partner Ikorodu City Football
Betking has signed a partnership agreement with Ikorodu City Football Club (FC) as a way to encourage sports development at the grassroots level.
The leading sports betting and digital entertainment firm, which made the announcement at a media briefing in Lagos, said the partnership is an effort to reaffirm the brand's commitment to supporting the growth and development of local sports in communities within Nigeria.
It said that the collaboration would support the club's plans to become the leading team and compete with their peers nationally, added that it will also provide capacity building for the players and an opportunity for them to reach their full potential, thereby contributing to the advancement of grassroots sports in the country.
Commenting on the alliance, Managing Director, King Makers, Gossy Ukanwoke, said: "We are committed to sports development and driving the growth of grassroots football here in Nigeria. Our commitment is expressed in this partnership with Ikorodu City FC.
"We're happy to be backing a team that wins, which is one of our ethos as a company, we are winners and kings and hope that Ikorodu City FC will also become kings. With this partnership, we will work closely together to build future stars and create opportunities to grow and make a difference."
He added: "By extension, the company will continue to invest in local sports development, youth empowerment, health, education, and other initiatives that improve the socio-economic well-being of individuals and communities."
Also speaking on the teamwork, Vice President, Ikorodu CityFC, Adeyemi Doherty, said, "I want to sincerely thank BetKing for partnering with us. What they have done is laudable, and we hope other organisations take a cue from them.
"This partnership will not only contribute to sports talent development, but open doors for national exposure. As you invest and build confidence in us, we will be as transparent and honest as possible. We are pleased with this partnership and look forward to its continuity."