NGO Gives Reasons For Prison Congestion …Says FG Unable To Fund Pro Bono Lawyers
A non-governmental organization, Good Leadership and Peace Advocates of Nigeria, GOLEPAN, weekend, stated that the inability of the Nigeria Police to exercise discretion as to which case should be charged to court and limited sponsorship of Pro Bono lawyers by the Federal Government were some of the factors responsible for Prisons congestion in the country.
It further decried the low access to justice in Nigeria especially among the indigent citizens adding that most prison inmates are individuals who cannot afford legal fees and representation in court.
Founder of the group and Principal partner of ZEADA Attorneys, Barr. Adaeze Nwaji who expressed concerns over the situation said justice in Nigeria is now basically reserved for the rich.
Nwaji, a Brithish trained Lawyer, spoke at a one-day workshop on pro bono legal service delivery organized by Ebonyi State University Law Clinic in partnership with GOLEPAN, ZEADA Attorneys & Lead Trust as well as Network of University Legal Aid Institutions.
With the theme: "the role of pro bono Lawyers in our criminal legal system, legal aid council guidelines for pro bono lawyers professional ethics and skills needed for effective pro bono service delivery", Barr. Nwaji advocated for funding of pro bono lawyers to offer legal services to indigent citizens.
She explained that due to limited lawyers willing to undertake pro bono services for indigent citizens, the issue of congestion in Nigeria prisons has continued to persist.
She added: The police have a big role to play in prisons decongestion by exercising its discretion in determining whether a case is serious for prosecution or not.
"Justice in Nigeria is basically reserved for the rich. But there supposed to be legal aids from ministry of Justice for the indigent's citizens. Regrettably, to get Justice in Nigeria, you must have money to get lawyers to represent you which supposed not to be so. Nigeria Police said bail is free but is never free.
"Some of these inmates have been there for years and they have not been tried. And because we have limited lawyers that are ready to represent these people they are not getting representation; because they don't have money.
"One of the ways to actually decongest our prisons is to get Nigeria Police to know that they have the powers to determine whether a case is a serious one that requires prosecution or not as it is done in other countries.
"So, if police will begin to exercise the discretion they have, it will decongest the prisons. And if we have more legal aid lawyers and they are funded there will be better representation for every citizen.
"It should not be when you have money before you can get one. And because some of the lawyers don't have money and they are busy with other things they cannot afford to do free work.
"So, there is need to fund pro bono lawyers. Justice system starts with fair hearing but when you are not represented, you are denied Justice."
Also speaking, the representative of Legal Aid Council of Nigeria, Barr.Nwokpoku Nathaniel, while alluding to the problem of prisons congestion in Nigeria, noted that the council was doing its best to offer pro bono services to indigent citizens in Nigeria.
Unvaccinated Civil Servants Rush To Beat Dec 1 Deadline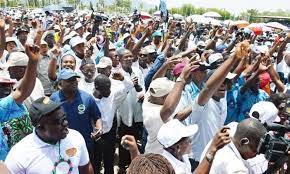 Effective today, Federal Government workers who are unvaccinated against COVID-19 would be denied access to their offices as directed by the Secretary to Government of the Federation.
The Federal Government through the Secretary to Government of the Federation, Boss Mustapha, few weeks ago advised civil servants to get vaccinated against COVID-19 or they would be denied access to public offices effective December 1, 2021.
To avoid that, Federal Government workers, yesterday, rushed to different COVID-19 vaccination centres in Abuja as early as possible to get vaccinated in order to beat the deadline given by the Federal Government for its workers to get vaccinated or risk unfriendly actions which could include temporary suspension from work.
The workers, as observed, besieged various vaccination centres within and around the Federal Secretariat, Abuja, to get vaccinated.
Some took advantage of the mobile vaccination centres that were set up across Abuja to help the civil servants get vaccinated.
At the mobile vaccination centre located close to the federal secretariat car park, officials of the National Orientation Agency (NOA) were deployed to sensitize the people on the need to take the vaccine, not because a deadline was set for Federal Government workers but for their own health.
Adorned in branded T-shirt with inscription, "get vaccinated", the NOA officials were sharing information and encouraging workers and other people to come get vaccinated.
One of the NOA officials, who pleaded anonymity, said that turnout was impressive.
"Our strategy yielded result. We used open vehicles with sound systems and public address system to invite the people to come get vaccinated. We assured the people that the vaccine is safe, and urged them to disregard the misinformation circulating in the social media.
"As many that turned up, we attended to them. We politely demanded for their details, and give them the vaccine, and advised them on what next to come take their second jab."
The NOA official confirmed that there was sufficient COVID-19 vaccine, and advised unvaccinated persons to take advantage of that and get immunized against COVID-19 and avoid unfriendly actions from the Federal Government enforcement team.
Similarly, at the National Hospital, Abuja, a staff engaged in the vaccination exercise confirmed that there was increased turn out of masses in the past few days, perhaps, in response to the advice of the Federal Government for its workers to get vaccinated.
Meanwhile, a civil servant who preferred to be identified as Ishaku, said he took the vaccine at the mobile vaccination centres at the Federal Secretariat.
He said he was reluctant to get vaccinated because of the false information he was fed with.
"But I know better now, and that was why I came out to take the vaccine willingly.
"It wasn't because of the deadline by the Federal Government but because of my health and safety. I have come to realize that the vaccine is safe for human use as against what we were told."
Another civil servant, Precious Okhai, said she took the vaccine against her will.
"I was forced to take this vaccine. I read in the newspapers days ago where Federal Government advised workers to get vaccinated if they love their jobs.
"I yielded to that pressure because of the place I work. I don't believe in COVID-19 and the vaccine neither do I have confidence in the efficacy of the vaccine. I was just forced to take the vaccine because it's totally against my will.
"At least, I won't be denied access to my office from tomorrow because I didn't take COVID-19 vaccine. However, taking the second jab of the vaccine will be dependent on the kind of reaction I get from this first dose, because I have heard several things about the side effects of the vaccine."
Also, Wasiu Jegede, said he took the vaccine last week, even though he's not a civil servant neither was he a diplomat.
"I took the vaccine for my own sake and health after being convinced beyond measures that the vaccine is safe.
Few days ago, the Minister of Health, Dr. Enahire Osagie, advised the workers, particularly those who are yet to get vaccinated to go for their vaccines if they love their job.
He said that vaccination against COVID-19 has become a global phenomenon and Nigeria cannot afford to be left behind in the fight against the dreaded COVID-19.
He said: "There's a deadline already set and we are hoping that it will encourage those civil servants who love their jobs and are yet to take the COVID-19 vaccine to take the vaccine for their own good.
"The reason is that there's evidence that supports the fact that if you are fully vaccinated, the effect of COVID-19 won't be much on you. But that is not the same with unvaccinated people. There are higher chances of survival in case fully vaccinated person comes down with COVID-19.
"However, those who have not taken the vaccine are threat to the safety of other people who have been fully vaccinated and possibly share same public places with them by virtue of being colleagues. There's higher risk of them infecting other people, and that's what we want to avoid. In addition to that, we want to secure the health of others who share same public spaces.
"Evidently, most countries now insist on presenting evidence of full vaccination before someone is being allowed into public places including restaurants, airplanes and others."
Senate Probes Spate Of Jailbreaks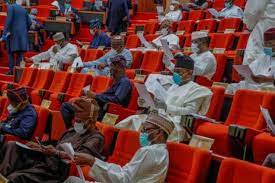 The Senate, yesterday, mandated its Committee on Interior to carry out a full-scale investigation into the causes of jailbreaks across the country.
This is as it resolved to summon the Minister of Interior, Ogbeni Rauf Aregbesola; the Attorney General of the Federation, Abubakar Malami, SAN, and the Comptroller-General of the Nigerian Correctional Service, Haliru Nababa, to determine the status of correctional centres nationwide, with a view to finding out the challenges in order to prevent future recurrence.
This was after a motion titled, 'Terror Attacks on two Communities in Plateau North and Jail Break at the Jos Medium Security Correctional Centre Jos,' was brought to the floor by Senator Istifanus Gyang representing Plateau North Senatorial District.
The Special Assistant to President of the Senate, Ezrel Tabiowo, yesterday, disclosed this in a statement titled, 'Senate probes jailbreaks across Nigeria.'
According to the statement, "Gyang, while coming under order 42 and 52 of the Senate Rules to present his motion, noted with grief the multiple terror attacks on two communities of Ta'egbe, Rigwe land and Durbi, Sheri District in a Bassa and Jos East local governments, leading to the death of over ten persons over the weekend.
"According to the lawmaker, the attacks caused by a security breach of the Jos Medium Security Correctional Centre, was a setback to the relative and much-desired peace in Plateau North.
"He disclosed that nine inmates, including an officer identified as Umar A. Mohammed, were also killed, while 252 inmates escaped during the jailbreak.
"He said among the inmates at large, six were fatally injured, 10 of the escapees re-arrested, 63 sentenced to death, 27 convicted, and 181 awaiting trials.
"Gyang said that the invaders responsible for the break 'walked through a security zone and broke through to have over 200 inmates escape from the Centre'.
"He added that the wardens who put up a fight against the invaders were overwhelmed during a gun battle against the attackers.
"Contributing, Senator Ahmad Babba Kaita (Katsina North) blamed the spate of insecurity in Nigeria on the inadequate number of personnel across the various security agencies in the country.
"He, therefore, called on the National Assembly to rise to the occasion by appropriating more funds to security agencies to enable them to undertake recruitment of more personnel.
"The Senate Leader, Yahaya Abdullahi (Kebbi North), attributed the recent jailbreak in the country to what he described as a 'porous prisons system'.
"He lamented that jailbreaks have become a recurring decimal which, in recent times have exposed the lives of Nigerians to harm, as a result of prisoners on the rampage to avenge their conviction.
"On his part, the Deputy Whip, Senator Aliyu Sabi Abdullahi (Niger North), described the string of jailbreaks across the country as 'unfortunate'.
"He said the development which must be tackled headlong was fallout of correctional services being the weakest link in Nigeria's criminal justice system."
The Deputy Senate President, Ovie Omo-Agege, who presided over plenary, yesterday, described the security breaches at correctional facilities as a "serious issue" that must be looked into.
He called for more funding of the office of the National Security Adviser to facilitate intelligence gathering.
Omo-Agege said, "Having given all the requisite funding to the security agencies, why are we still having these challenges? I think it is something we need to sleep over.
"But in the interim, it is clear that we have a serious intelligence gathering gap, there's no debate about that.
"I think the Department of State Services (DSS) and most especially the office of the NSA have not been given the kind of funding that is required for this fight, because they are the ones that are in charge of intelligence gathering.
"I've always taken the position that the office of the NSA, most especially, has been underfunded.
"He is supposed to be the one coordinating intelligence gathering and providing such intelligence to the other agencies for them to give requisite protection.
"If the office of the NSA is not properly funded, then, of course, it means that we are all in trouble.
"I think this is something that we must appeal to Mr. President, and even here in the leadership of the National Assembly, to look into for additional funding for the office of the NSA and, possibly, that of the DSS before the budget is finally tabled for consideration."
The Senate in its resolutions called for a reinforcement of physical protection system and mechanism at correctional centres across the nation by the Ministry of Interior to forestall further attempts at jailbreaks.
By: Nneka Amadi-Nnaji, Abuja
Ortom, Tiv Youths Spa Over Drunken Comment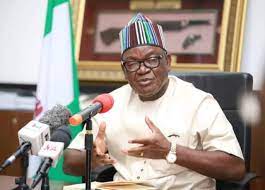 Tiv Youth Council Worldwide (TYCW) is at loggerheads with Benue State Governor, Samuel Ortom, over the widely circulated claim that the governor referred to the people of his state as 'drunkards'.
TYCW had, yesterday, demanded an apology from Ortom, for allegedly referring to Benue indigenes as drunks.
But Ortom said he would not give any apology as he reiterated his stance that he was misquoted and did not call the people of Benue 'drunkards'.
While asking for the apology, TYCW, in a statement issued in Abuja by its President, Mr Mike Msuaan, yesterday, said it was regrettable that the governor made such derogatory remarks on a people surviving on self-help.
It noted that it was disheartening that Ortom, who had neither been able to initiate any development project nor pay basic salaries and pensions and gratuities of retirees, could make such remark.
"While inaugurating the new building of RCN Embassy Church in Makurdi, the governor was quoted to have accused his critics of `drinking beer from 9 a.m. and sleeping all-day long,'' it stated.
According to TYCW, the governor has consistently ignored counsel to partner with relevant Federal Government agencies to attract development to the state rather than dishing out verbal insults to perceived enemies.
"We have appealed to Governor Ortom several times to please concentrate on governance and entrench good governance and responsible leadership in the state.
"We have wondered why development has continued to elude us under his leadership, especially at a time states created several years after Benue has moved with the speed of light.
"Today, we are sad that the governor has moved from lack of development to verbally dish out insults.
"We have listened to an audio recording in some national dailies and online media that while inaugurating a church building recently, the governor said his people drank from 9a.m.
"He said in the audio recording that Tiv people and went to bed from beer parlours only to wake and insult the governor.
"So far, there has been no rebuttal from the government.
"The response from the Chief Press Secretary, Mr Nathaniel Kyur, was a face-saving and damage control blunder in which he accepted that Governor Ortom made the comment but it was targeted at APC members.
"We join well-meaning Nigerians to strongly condemn such use of derogatory words on the good people of Benue and demand an immediate and unreserved apology from the governor,'' the group stressed.
It maintained that such demeaning reference to a people should be condemned by all well-meaning people, and called on the Benue Traditional Council and religious institutions to call the governor to order.
"We have consistently tasked Governor Ortom to develop the state and to create an enabling environment for the people of Benue to excel.
"The governor's comment is very painful because he has not conducted any employment exercise since he came to office in 2015.
"In 2019, he promised to employ 5,000 teachers; lately, he reduced the number to 2,000, but this has remained in the realm of wishful thinking.
"The governor has refused to pay workers and pensioners in the state for several months,'' the TYCW added.
It stated also that since he was elected governor, Ortom had not built any industry to meaningfully employ the people of Benue.
"We have continuously appealed to him, to liaise with relevant Federal Government institutions to rebuild, resettle and return Internally-Displaced People to their ancestral homes.
"This appeal fell on deaf ears. We have consistently reminded him that even in Borno which is almost a war zone, Governor Babagana Zulum has been resettling his people,'' Tiv Youth Council Worldwide added.
Reacting to the demand for an apology, the Chief Press Secretary to the Governor, Mr Nathaniel Kyur, said Ortom would not apologise over statements that were products of mischief by a newshound.
Kyur said that the reporter who wrote the "mischievous story has already tendered an apology to the governor, hence there was no point demanding an apology from Ortom.
"Our earlier statement on the matter suffices.
"If anybody has an audio clip of the message, let him tender it and he will be made to present the original in court.
"Ortom will not apologise for what he did not say,'' Kyur insisted.