MLSCN Inducts Three First Class Graduates, Others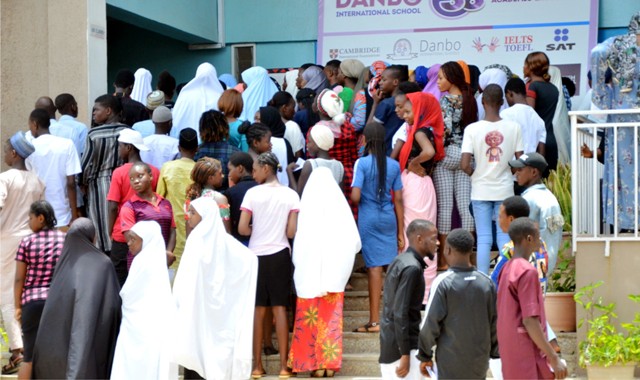 Three  students with first class honours were among the 129 graduates   of the Department of Medical Laboratory Science, Rivers State University that were inducted by the Medical Laboratory Science Council of Nigeria (MLSCN) in Port Harcourt, last Thursday.
The students who made the first class honours include,  Violet Muosanya  who had CGPA of (4.80), Chialuka Chidubem Akuta (4.56), and Nzochi Anthony (4.51).
Speaking at the  induction/oath taking ceremony held at the University Amphitheater in Port Harcourt,Thursday the Acting Registrar and CEO of the Medical Laboratory Science Council of Nigeria (MLSCN), Sir Tosan Erhabour, commended the newly inducted graduates for their excellent performances, noting that their determination and hard work contributed to the completion of their studies.
Sir Erhaour charged them to protect the image of the profession and their institution, adding that they should avoid unethical practice that may lead to professional misconduct and withdrawal of their licence, even as he congratulated them for the academic feats achieved
Earlier in his remarks, the Vice-Chancellor of the University, Prof Blessing C. Didia commended the Dean of the Faculty of Science and the Head, Department of Medical Laboratory Science for ensuring that the students of the department were prepared yearly for induction into the MLSCN.
Represented at the ceremony by the Deputy Vice Chancellor, Prof. Boma Magnus Oruwari, the Vice Chancellor commended the inductees and charged them to do their analysis properly as they begin their internship, warning that they should not indulge in activities that may disgrace their families and the university.
Also speaking, the Dean of the Faculty of Science, Prof. Valentine Omubo Pepple assured the leadership of MLSCN that the 129 graduands were tutored  by experienced lecturers and  were now fit to join the Council as Medical Laboratory Scientists
.On her part, the Head of Department of Medical Laboratory, Dr. Edna Ibegbulem noted that the Department which is the first to start a Bachelor's degree programme in Medical Laboratory Science in the country has maintained academic/professional leadership and excellence, adding that the undergraduate programme has received full accreditation from both the MLSCN and the National Universities Commission, NUC.
TETFund Wants More Research Investments In Varsities
The Executive Secretary, Tertiary Education Trust Fund (TETFund), Prof. Suleiman Bogoro, has called for more investments in research in the country's universities.
Bogoro made the call while delivering a lecture marking the 12th Founder's Day and 9th Convocation ceremonies of Afe Babalola University (ABUAD) in Ado-Ekiti on Saturday.
He spoke on: "University As Catalyst for Regional Economic Development,".
Bogoro said investment in research was the best way to actualise radical development in the nation.
According to him, no country can develop or make headway in innovation without adequate investment and exploration in research.
Bogoro advised university administrators to place high premium on research to make the desired difference.
"Endowment, research foundations are the DNA of Ivory towers over time.
"Sadly we are treating universities as if they are political enclaves, rather than enclaves or platform for deepening knowledge, creating knowledge and innovation.
"Sometimes, you see square pegs not being placed in square holes, even within the university system and these are areas that bother us.
"If you do not have somebody that believes, promotes, encourages and supports problem-solving research presiding over a university, then that university is destroyed," he said.
The TETFund boss said that the organisation had been striving to make Nigerian universities gain recognition globally.
He said TETFund had signed Memoranda of Understanding (MoU) with foreign universities as a way of promoting Nigerian universities to attain global reckoning.
"As part of the new paradigm at TETFund, we are committed to the internationalisation of our tertiary institutions, especially our universities.
"We are conversant with the ranking indices, metrics and parameters of universities globally.
"We are equally aware of the present status and positions of our universities on the parametric tables of global ranking of universities.
"TETfund under my leadership is committed to ensuring improvement and we are indeed changing the narratives in our universities," Bogoro said.
He said the improved ranking status of University of Lagos and University of Ibadan globally had been linked to the new research and development vigour of TETFund and prioritisation of content development in universities.
Varsity Education Without Interpreter, My Most Challenging Experience-Deaf Graduate
A 26-year-old graduate, Mr Yusuf Yahaya, has said his four years in the university without a sign language interpreter, as a deaf student, were the most challenging period of his life.
Yahaya, a graduate of political science from Gombe State University, said this through an interpreter in an interview with newsmen on Saturday in Gombe.
He said the society had not been fair to persons with disabilities, especially students like himself.
He said he was the only deaf student in his class and his biggest challenge was not having an interpreter in spite of his effort at getting the school management to employ one.
"Lack of interpreter is a big problem for the deaf and only God knows how I felt, not to be heard or given the opportunity to effectively contribute my ideas for four years in the university," he said.
He said he had to study on his own, rely on friends to compile his notes, make researches on the internet and do his best to ensure that he was not left behind.
Yahaya, who graduated with a second class lower degree said his determination to become a graduate made him to push harder until he graduated in 2018.
He said not having a sign language interpreter made it "extremely difficult" for him to effectively participate in class.
This, he said, affected his performance, and that he would have done better with an interpreter.
"I missed classes and even tests because of lack of interpreters to relate the lecturers' messages appropriately.
"Well, I gave my best and I graduated with a second class lower," he said smiling.
Yahaya, while pleading on behalf of persons with Disabilities in his local council, Akko, said without interpreters in schools it would be challenging for them to access education.
"Our representatives should establish special schools for younger ones to get education because it is very difficult to go through a normal school with no interpreters.
WAEC, Lagos Celebrate 2020 Best Students In WASSCE
The West African Examinations Council on Thursday at its 59th annual council meeting celebrated the best students in the 2020 West African Senior School Certificate Examination with the presentation of prizes.
A student of Princeton College, Surulere, Lagos, Morenike Yinka-Banjo, with No 4252067/039 came first. She scored A1 in her subjects and her total score is 606.3196.
Ayooluwa Adebowale of Emerald Laurel Comprehensive College, Ibadan came second. She also had A1 in all her subjects with a total score of 601.2198. Nwaozuzu Chinaza of Total Education Development Academy, Eke-Owerri, Abia State came third. She also scored distinctions in all her subjects with a total score of 599.605.
The mother of the first prize winner, Dr Chika Yinka-Banjo, said in an interview with journalists that her daughter was unable to attend the event because she is presently studying Computational Biology at Massachusetts Institute of Technology, United States of America.
She said the girl won 19 full scholarships abroad and had to choose one.
Adebowale and Nwaozuzu attributed their good performance to hard work and thanked their teachers, parents and God for given them the opportunity to excel.
The Chairman, Nigeria National Committee of WAEC, Mrs Binta Abdulkadir, said in her address that the best students in the 2020 WASSCE were all females, saying this showed that 'what a man can do, a woman can do better.'
She said the council was exploring the opportunities in Information and Computer Technology to improve its services and to make it impossible for unscrupulous persons to falsify its certificates.
Abdukadir said despite the disruptions caused by COVID-19 and insecurity in the country, the council was able to conduct examinations, adding that the council was doing everything possible to curb examination malpractices.
Oyo State Governor, Seyi Makinde, who was represented by his Deputy Chief of Staff, Olawale Abdulmojeed, said his administration would continue to support every effort of the council to curb malpractices.
Makinde said, "I wish to assure you that my administration will support any initiative embarked upon by Council, which is aimed at improving its services and maintaining the integrity of the certificates it awards to candidates.