Wike's Housing Initiative In Rivers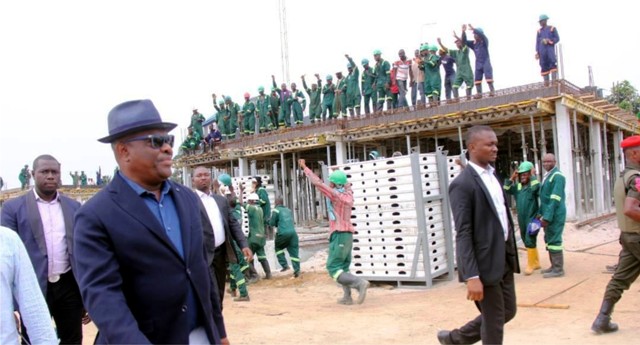 Housing is an important infrastructural requirement in a rapidly growing economy and society like Rivers State. This is perhaps why Governor Nyesom Wike makes housing one of the topmost priorities of his administration. The governor, however, chooses to provide this service to the people through an entirely different approach.
The administration has a unique policy thrust of not just embarking on major housing projects with public funds, but also to drive housing scheme through mouth-watering incentives to the growing private sector in the state. The challenge still remains, and there is room for massive housing development in the state. The private sector is yet to hit the ground running with the opportunity the partnership avails to such investors in the housing sector.
Despite the lack of a vibrant private sector participation in this sector, the Wike led administration is not totally neglecting the housing sector, as quite a few outstanding achievements have been recorded in this sector in the last two years plus.
The first 100 days of this administration saw the Iriebe low cost housing estate being initiated and completed. The estate, which is located at Iriebe satellite town, consists of 50 units of two bedroom apartments for the medium and low income earners in the state and its environs. These houses have since been put up for sale though the State Ministry of Housing to interested buyers including civil servants and members of the public. It is especially designed to alleviate the housing situation of civil servants. The project is in phases as more houses will be built.
The administration does not take care of the State civil servants and indigenes alone, but also caters for the need of federal workers posted to Rivers State. One of such federal agencies that enjoy the state government's intervention projects is the Department of State Services (DSS). Fifty units of one bedroom and self-contained apartments have so far been completed and handed over to the DSS operating in the State. It is known as the Port Harcourt Garden Estate.
Also enjoying the kind gesture of this administration is the Nigerian Airforce, for whom the administration funded the construction of staff quarters in Port Harcourt. This project was designed to alleviate accommodation inconveniences experienced by members of this arm of the forces and to give them a sense of belonging in the state, and also strengthen the working relationship between the state and the Airforce. Work on this project site is progressing rapidly and would soon be completed. The project contains twenty four units of two bedroom flats.
Besides building new structures, the Governor Wike administration is also embarking on massive renovation and reconstruction of dilapidated buildings and civil servants quarters and offices. One of such renovation is currently on-going at the Doctors quarters of Braithwaite Memorial Hospital. The buildings are at the roofing stage right now. When completed, they would accommodate quite a large number of doctors and other medical personnel. This is a three storey, three building structure.
Also under renovation is the official residence of the Secretary to the State Government, while that of the Attorney-General and Commissioner for Justice has been completed and put to use. Ditto for the official residence of the Commissioner for Works. And then, there is the official residence of the Head of Service which was totally brought down and rebuilt. Work at this site is currently at an advanced stage.
Meanwhile, the former multi-storey produce House, strategically located between the state secretariat and screne roads like the Moscow and William Jumbo and the court complex is also under renovation. The structure, before now, was quite an embarrassing site to behold.
The present administration has done wonders with the renovation of the produce House as the transformation is unbelievable, and quite a sight to behold; so also is the renovation of the former Waterlines Building which has also been positively transformed, thus added some form of aesthetics to the two locations.
Two buildings at the Port Harcourt Park, which had trees growing on them and colours all washed out, and not a good sight to behold, went under the hammer of renovation and came out brand new and far better than it previously was.
If this pattern of renovating and rebuilding dilapidated buildings along Aba Road continues, then we will have a befitting major highway we can boast and be proud of.
The foundation laying ceremony of the Judges quarters was laid last year by the Vice President, Prof Yemi Osinbajo who, in the course of inspecting other laudable projects, christened Governor Wike "Mr Projects".
The accommodation, designed to befit learned judges, is currently under construction at Elelenwo street in new GRA. The governor recently paid a visit to the site and was obviously satisfied with the level of work on the project so far.
The Rivers State Government House is not left out of the quest to give the State befitting structures.
Two new buildings have been completed in the Government House. The buildings housing the banquet hall, the governor's office and his official residence as well as the new presidential lodge, had been neglected before now. They were not just renovated, but have been furnished and effectively put to good use. So also, the old Government House known as the Brick House also went under the surgical blade of renovation, restoration and expansion. This was pragmatically carried out, while still retaining its original brick features and structures. It was expanded to accommodate a non-denominational Christian worship chapel. Not only is the building renovated, but the surrounding area is beautifully and artistically landscaped with trees, exotic flowers, lush grasses, water fountains and molded art works.
The renovation work extends to other government guest houses such as the one within the Government House premises, government guest house at Ernest Ikoli Street and the old presidential lodge, just to mention a few. The official residence of the Chief of Staff to the state government has also been renovated and is wearing a new look.
There is also construction of offices for ministries and extra ministerial departments such as the construction of Greater Port Harcourt Development Authority office. The agency, since its creation in 2008, was operating from a rented apartment, but that is a thing of the past now
The primary health care unit can also boast of a befitting accommodation. The once shabby and dilapidated waterlines building has been renovated to house them. The Seefor office that was hitherto accommodated in a rented apartment is now relocated to Odi Street in Old GRA. This is obviously not a rented accommodation.
Since these renovations are going to be taken in phases, there is no doubt that the State would continue to wear new and better looks. This policy thrust of the Wike led administration to develop the state and bring it to the level where it will be at par with other well developed states if not even higher, should be entrenched and sustained by successive governments.
Juliet Njiowhor
Flooding: Task Before Incoming Government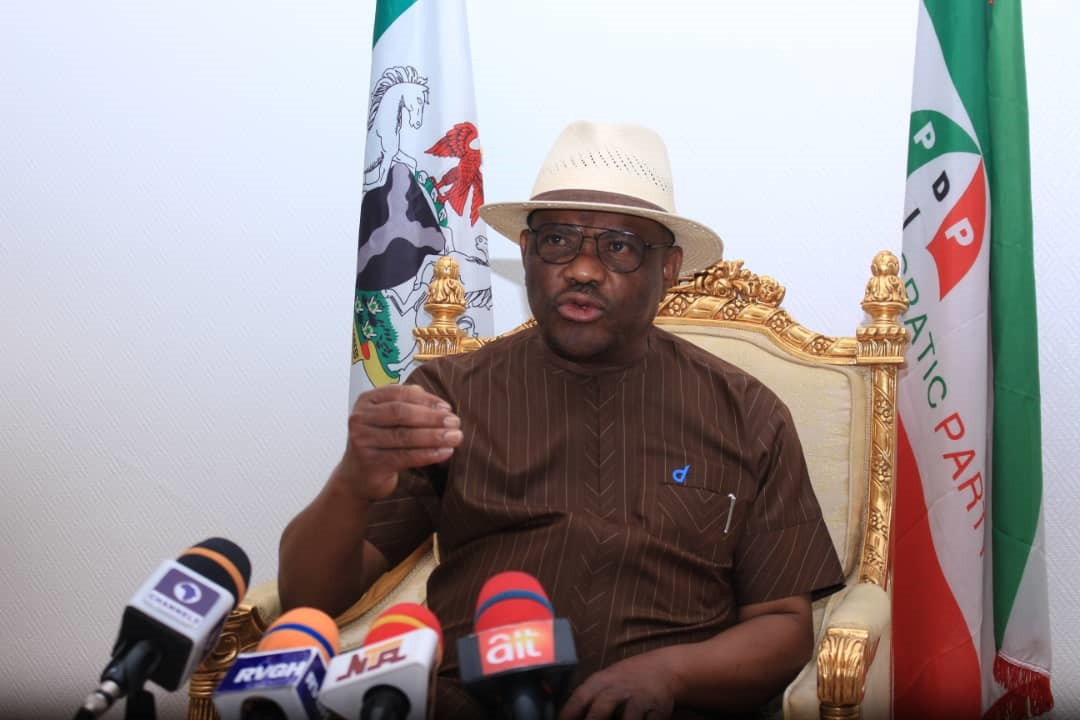 If for nothing else, Governor Ezenwo Nyesom Wike clearly demonstrated an unparalleled leadership qualities when in the heat of the flood disaster last year the governor quickly responded to the needs of flood ravaged communities by approving a whopping one billion naira to ameliorate their sufferings.
It would be recalled that the Flood Management Committee headed by a seasoned technocrat, Dr George Nwaeke, was in every community ravaged by the disaster. Relief materials including cash were given to affected communities across the State.
The 2022 flood was described as a major disaster not only by Nigerians but the international community also. The incident affected over 16 states in the country.
In Rivers State for instance, the entire Orashi region was sacked by the incident.
There was complete dislocation of families. Schools turned to refugee camps and even in Abua/Odual, the council hall was turned to a refugee camp.
Farming activities were grounded in Local Government Areas such as Ogba/Egbema/Ndoni, Ahoada West and East, and Abua/Odual.
In far away Soku and Rundele in Akuku Toru and Emohua Local Government Areas respectively, the impact of the disaster was felt.
Neighbouring states of Bayelsa, Delta, Cross River, Anambra and even parts of the North felt the impact of the disaster.
The Government of Cameroun was blamed for the disaster.
According to various opinions across the country, the disaster was caused by the opening of the Lagdo Dam by the Cameroonian authorities.
The critics also blamed the government of Nigeria for refusing to build a dam along the River Niger and Benue to contain water from Lagdo dam.
It would be noted that communities affected by the disaster are still counting their loses till today.
In some of the communities visited by the reporter, they complained about the destruction of their farmlands, high rate of malarial infestations and the fact that some of them still live as refugees.
Meanwhile, some Nigerians have been speaking on the impact of the disaster and the role of government in combating future flooding in the country.
A cross section of Nigerians who spoke on the issue said government should start an intensive preparations towards checking perennial flooding in the country..
In a post disaster interview, a native of Joinkrama, Engenni, Prince Sodin Akiagba, lamented the destructive impact of the disaster on his community.
He said since the abatement of the incident, no government across the country is giving due attention to flood ravaged communities.
According to him, what is dominating discourse is politics, adding that none of the aspirants is even talking about environmental issues.
Akiagba expressed fears that his people may suffer another disaster this year, if nothing is done about it.
He called on government to dredge the Orashi river,while the dam to contain water from Cameroun should be constructed.
Akiagba also called for post flood support for his people.
Speaking last year in an interview, South-South Zonal Director of the National Emergency Management Agency (NEMA), Mr Godwin Tepikor, said the impact of flood disaster can be minimised if Internally Displaced Persons' (IDP) camps are provided across the zone.
He said communities should take annual flood predictions seriously for early preparations for it.
Tepikor also proposed regular desilting of gutters and drainage, noting that the culture of indiscriminate dumping of refuse into drainage be discouraged.
He said NEMA will collaborate with governments across the region with a view to alleviating the impact of flood disaster on the people.
Also speaking, the President General of Ogbakor Egbema Aninso, Mr Ify Francis Igwebuike, told The Tide that his people were abandoned to their fate
He lamented the impact on food security in his kingdom,the loss of lives and property by his people and the fact that there has not been any post flood support for the people.
According to him, some rivers and creeks crisscrossing Egbema could be dredged to facilitate movement of water to the River Niger.
He said rivers such as the Nkisa and other rivulets can be dredged to ensure runoff to river Niger at Ndoni.
According to Igwebuike, these proposals were made a long time ago but successive governments in Nigeria refused to implement them.
The Eze Igbu Ubie of Ubie Kingdom, Ahoada West Local Government Area, HRM Eze Maxwell Augustine Okpokiri, called for a permanent solution to the problem of flooding in the country.
He said his kingdom has always suffered impact of every flood disaster in the country.
Also speaking, a Port Harcourt based environmental activist, Prince William Chinwo, said both state and federal governments should do something urgently to check future flood disasters in the country.
According to him, measure should also be taken to support communities ravaged by the incident.
Other activists also said measures be taken to check future occurrence of flooding in the country.
It would be noted that by May 2023 a new democratic government shall be installed across the country.
The outgoing administrations may have done their best which to some Nigerians, their best as far as flooding was concerned is not good enough for the country.
The onus lies on the incoming administrations both at the local government, state and federal governments to think of something new in the area of flood control and mitigation.
By: John Bibor
Lagos Seeks Partnership With Developers To Bridge Housing Deficit … As Eximia Realty Unfolds Fiona Lawton Apartments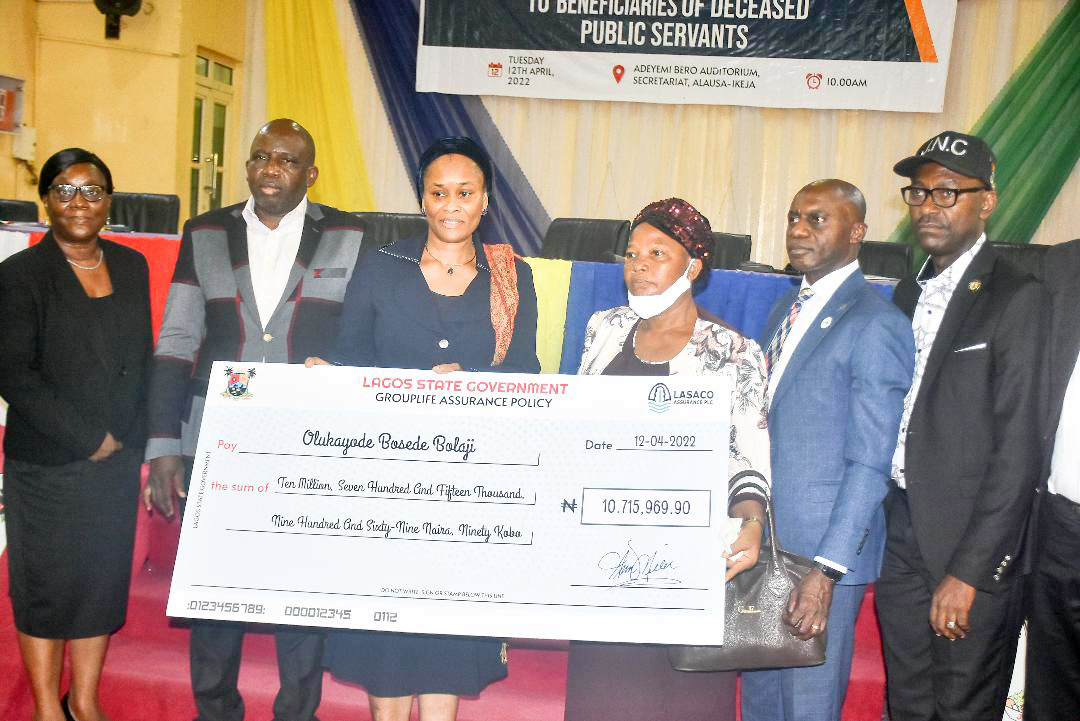 Given the increasing population and demand for decent and affordable shelter, Lagos State government has called for partnership with the private sector to bridge housing deficit in the state.
The Chief of Staff to the governor of Lagos State, Mr. Tayo Ayinde, made the call at the commissioning of Fiona Lawton Apartments, built by Eximia Realty Company Limited to boost the mid-tier segment of the housing market in the country.
He commended the firm for taking advantage of the opportunities and conducive environment provided by Babajide Sanwo-Olu-led administration for private enterprises to thrive, especially in the real estate sector.
Ayinde said government alone could not meet all the housing needs of the citizens. "This is why the administration has embraced a global housing policy that, among other objectives, seeks to explore innovation and partnership with the private sector to bridge the housing deficit in the state," he said.
According to him, the strategy has yielded the completion and commissioning of 16 housing projects in different parts of the state, adding that the provision of decent, safe and affordable shelter remains a key goal for governments including that of the current administration.
Ayinde emphasised the need for all players in the built industry to avoid undermining established rules, processes and procedures to prevent incidents of collapsed buildings and resultant loss of lives and property.
He also commended the company for ensuring strict compliance with relevant laws and guidelines, which is attested to by the certificate of fitness for habitation issued by state's building control agency for the estate.
The Founder/Chief Executive Officer, Eximia Realty Company Limited, Hakeem Ogunniran, said in-spite of the acute macro-economic headwinds occasioned by the odds and COVID- 19 pandemic, devaluation of the naira and general instability in the polity, the company delivered on its promise to customers.
"In consonance with our strategic positioning, we conceived of this project as a unique offering for the mid-tier segment of the housing ecosystem, with a target market comprising of young families, first time home buyers, millennials and empty nesters.
"We were convinced, based on our empirical studies and consistent with the global real estate trends that 'the era of mac-mansion' is gone, of the robust opportunities in this uncharted 'territory' of the market," he said
Ogunniran said their 48-unit environment-friendly estate, comprising special design of studios, one and two-bedroom apartments, which resonated with the market is duly completed and fully sold.
He stated that the company has developed a robust pipeline of projects including Eaglecreek, which is currently ongoing, Maestroville and Lakecity at pre-development stages, as well as undertaken elaborate land assembly at Yaba, Gbagada and Maryland to launch projects.
The Managing Director of the company, Fred Akhigbe, said the development was done with sustainability effort, customer focus and quality delivery in mind. "These qualities engendered the design and construction methodology from inception to completion.
"We paid particular attention to the structural stability of the development. Each of the blocks sits on 80 piles at a depth of 18 metres – about 240 piles in all. All the materials used were duly tested and certified by appropriate regulatory agencies at every stage of the development."
Mobilising Citizens For Sustainable Democracy In Nigeria: The Power Of Editors (II)
United States America has also advanced drone technology with the capacity to go to war and shoot from self-driven drones and kill decisively without risking any human life in the field. Recently this technology was used to exterminate an Iranian General considered a huge security threat to the United States.
These discoveries underline the importance of education in National Development.
According to UNICEF, one in every five of the World's out of school children is in Nigeria. Even though primary education is officially free and compulsory, about 10.5 million of Nigeria's children aged 5 – 14 years are out of school.
In 1970 when the war ended and I gained admission into University of Ibadan to study economics, studying in a Nigerian University was such a pleasure. To begin with, my roommate then, Okey Ezeokeke and I lived in a two in one room apartment. The university laundered 8 clothes per week for us (trousers and shirts). In addition, two sets of bed sheets were laundered for us weekly. Our shower ran twenty four hours, our toilets flushed always. In each hall of residence we had a bar and buttery where you could have cold drinks and confectionaries at affordable prices directly from breweries and the university catering department. You were also allowed to entertain your guests at these air-conditioned lounges.
Each faculty had a library apart from the central university library. Every journal published in the world was available in our libraries within two weeks of publication. We had a university press which made publication of books by our lecturers easier and the books affordable. The university had a busy bookshop which sold text books, journals, magazines and novels. Accessibility to knowledge was guaranteed even without digital technology. Lecturers were encouraged to publish.
Because of their scholarly publications, they were demanded globally. Every year so many lecturers were engaged inprominent universities all over the world. Every year several lecturers served out their sabbatical and returned with new knowledge, new exposure, modern cars and a global and cosmopolitan saga. Many students developed ambitions to become lecturers. The first class graduates were retained as assistant lecturers to take us in tutorial classes. The tutorial classes explained the lectures, deepened our knowledge of the subject matter and took us through past question papers in order to widen our comprehension and prepare us for examinations. Suddenly all these have disappeared. Instead, handouts have taken over because they are sold for extra cash by lecturers even when they contain very little or represent copying or plagiarism!!
When you don't buy them, class reps note you and report you to the lecturer and in some cases it is counted against you in the exams. Vice Chancellor after Vice Chancellor fight this menace but they persist because the bench mark has fallen, the incomes have fallen, the foreign lure no longer exists because our degrees have become worthless. Businessmen and Politicians as well as pretty female students get degrees without attending lectures!! If the source of knowledge is contaminated, like a contaminated water reservoir, can you get clean water? Once upon a time, a seating Governor was admitted as a student in one of our universities, he pretended to attend lectures inspite of his busy schedules, which made it impossible for him to attend all his lectures, but he was awarded a degree. Is such a degree respectable? Does this kind of practice recommend such a University as credible?
This brings me to the question of what form Nigeria will assume under a restructured arrangement and how its restructuring can be brought about. Two basic models have been canvassed for restructuring in Nigeria. A conservative model aimed at maintaining the status quo has been proposed to mean simply a shedding of some of the exclusive powers of the Federal Government, like issuing of mining licenses, permission for constructing of Federal roads and shedding of regulatory powers over investments in critical sectors of the economy like power and mineral resources. This model merely scratches the surface of the problem. It avoids the fundamental issue of devolution of powers.
The second model calls for a fundamental devolution of powers to the States as federating units and a lean Federal Government with exclusive powers for external defence, customs, immigration, foreign relations and a Federal legislature and judiciary to make and interpret laws in these exclusive areas.
This second model proposes states as the federating units with two different approaches. The first approach simply wants the States as the Federating units and a Federal Government with limited powers. It wants the states to control a percentage of revenue accruing from their areas and contribute an agreed percentage of such revenue to the federal government.
The second approach proposes the states as the federating units with a Region at each of the six geopolitical units whose constitution will be agreed to and adopted by the states in the geopolitical region. The regions will have the powers to merge existing states or create new ones. There will be regional and state legislatures and judiciary dealing with making and interpreting laws made in the respective political entities. This approach proposes a revenue sharing formulae of 15% to the Federal Government, 35% to the regional government and 50% to the State Governments.
To achieve a national consensus on this subject requires a national discussion. Regrettably, the ruling party, APC which promised restructuring in its manifesto after two years and four months in office appointed a committee to define what sort of restructuring it wants for Nigeria. The matter ended there. The Committee report after being adopted by its National Executive Committee was never implemented by the Government. To make matters worse, none of the other political parties have come up with any clear-cut route for achieving a consensus on this matter.
The National Assembly itself is a reflection of the deep ethnic divisions in the country and the Northern majority conferred on it by the military makes it highly unacceptable to Southern Nigeria. Recent resolutions made by it on devolution of powers have not helped the situation.
In the recent past, following massive disenchantment by our youths, self-determination groups have sprung up in Nigeria. The self-determination groups include IPOB, Boko Haram MASSOB, YELICOM, Arewa Youths, Niger Delta Republic and Republic of the Middle Belt.
Of all these groups IPOB and Boko Haram have been designated as terrorist organizations by the Federal Government. This development in relation to IPOB is unfortunate. Book Haram is an armed organization which has attacked and occupied Nigerian territory hoisted its flag and appointed local authority governments
It has abducted and abused Nigerian women kidnapped and imprisoned many and killed over two hundred thousand people. It is still involved in guerilla warfare against Nigeria yet the Federal Government is negotiating with them. No member of Boko Haram captured by the military is under trial, as far as I know. Members of this Federal Government are on record for condemning the previous Government for brutal murder of Boko Haram members and condemning the retired Chief of Army Staff for zealous prosecution of the anti-terror campaign. Members of the sect who confess to a change of mind have been received along with their abducted female partners in the Presidency and rehabilitated even by recruitment into the army. Today, the country is threatened by a new rise of Islamic insurgents.
The declaration of IPOB as a terrorist organization is in my view hurried, unfair, and not in conformity with the intendment of the law. Whereas I am not completely in agreement with some of the methods of IPOB like it's inappropriate and divisive broadcast, the uncontested evidence given by the Attorney General of the Federation in an interlocutory action claiming that IPOB attempted and/or actually snatched guns from law enforcement agents are, if proven, merely criminal offences. They do not constitute enough evidence to meet international law definitions of a terrorist organization. Happily, the United States Embassy in Nigeria, sometimes ago, shared this conclusion and asserted that the United States Government does not recognize IPOB as a terrorist organization. This same unarmed IPOB that is being stigmatized by the Nigerian government had its members murdered in Asaba, Nkpor, Aba and Port Harcourt simply for having public demonstrations without the Federal Government ordering a judicial inquiry. Instead, after I called for one and Amnesty International provided evidence that 150 of them were killed, the Chief of Army Staff then, set up an inquiry composed of serving and retired army officers thus abandoning the rules of natural justice which prescribes that you cannot be a judge in your own court. The Nigerian Press should investigate these assertions and bring a peaceful resolution to this impasse.
The Igbos in Nigeria see the treatment of IPOB as unfair, discriminatory and overhanded. They see the move as an attempt to encourage a profiling of Igbos in the international security arena.
We know of other self-determination groups in Nigeria that are armed and have destroyed government and private sector installations and wells and have taken several Nigerians hostage that government prefers to negotiate with rather than label them as terrorist organizations.
Fulani Herdsmen otherwise called the Fulani militants have ravaged farms in Middle belt, South West, and South Eastern Nigerian killing several farmers in the process. In January 2016 they killed 500 farmers and their families in Agatu in Benue State. In Enugu State, they murdered more than 100 farmers in Ukpabi Nimbo in April 2016. Photographs depicting them with automatic rifles trend in the entire world media, yet not one of them is facing criminal charges, nor is Operation Python Dance being conducted in the areas where they ravage and kill, and the Federal Government describes them as criminals and treat them with levity notwithstanding their classification by the Global Terrorist Index as the fourth deadliest terrorist group in the world (see British Independence Newspaper, 18th November 2015). The London Guardian Newspaper of 12th July 2016 indicated that Fulani Herdsmen killed one thousand people in 2014. Today the numbers reached five hundred thousand. A medium security prison was invaded in Abuja and detained terrorists allowed to escape without any resistance from our security forces.
Apart from domestic security, our economy is bleeding due to several other reasons.
On 23rd October 2022, Nduka Orjinmo writing for BBC News, Abuja reported that "In Delta State, thieves built their own 4km (2.5miles) of long pipeline through the heavily guarded creeks to the Atlantic Ocean. These barges and vessels blatantly loaded the stolen oil from a 24 feet oil pipe visible from miles on the open waters. "Crude oil is Nigeria's main export but production and revenue, has been dwindling for years because of thieves. Authorities say, "oil production fell from 2.5 million barrels per day in 2011 to just over 1 million in July 2022, according to the regulator (making it impossible for us to meet our OPEC production quota).
Authorities also say that more than $3.3bn dollars (£2.9bn) has been lost to crude oil theft since last year and at a time when other oil producers are having a petro dollars splurge, Nigeriacan't even meet its OPEC production quota. And it is not that the country can afford to lose money to thieves as it is gripped by widespread poverty and heavily indebted.
Nigerian's oil industry has a documented history of corruption, from an unending fuel subsidy scheme where no one actually knows how much is imported, to the shadowy allotment of oil exploration blocks. Chief Ekpemupolo known as Tompolo is the security contractor with the responsibility of unearthing this large scale crude oil theft. Commenting on the thieves, he said in Channels TV that"many of the security people are involved because there is no way you can load a vessel without settling (bribing) the security people in that region".(3)
Carl Milton Bernstein, an American investigative Journalist and author while a young reporter for Washington Post teamed up with Bob woodward and both of them uncovered the crimes which led to the congressional investigation of Watergate scandal that ultimately led to the resignation of Richard Nixonas President of the United States of America. This is the power of Journalists or dare I say of editors. Why have the Nigerian editors been unable to unravel the massive robbery of our oil reserves or the subsidy looters?
Nigeria's present problems are worse than Watergate scandal. We have a total collapse of confidence in our government. When a Federal Accountant Generalis facing charges of acting in cohort of other Federal Civil Servants, consultants and representatives of the Federal Government for stealing Government funds and the case is going through such a sluggish delay but Nnamdi Kanu's acquittal can in a few days bereversed by the Federal Court of Appeal, it simply means that ridding our country of corruption is not a priority.
Dr. Nnamdi Azikiwe and Chief Anthony Enaharo as journalists stood their grounds in fighting colonial rule. A fight to defend our hallowed values and the soul of our nation is the greatest act of patriotism. Your pen is of inestimable value when you use it patriotically to salvage our value slide and the rudderless movement of our state vessel. The Nigerian editor has enormous power in exercising his freedom of expression as enshrined in our constitution.
You must set the agenda for this coming election. That agenda must require our candidates to speak up on their policies regarding:-
(i) Fighting corruption
(ii) Restructuring
(iii) Transiting our country from a consumption economy to a production economy.
(iv) Stopping the brain drain occasioned by the exodus of our best brains to more promising climes
(v) The overthrow of merit, prudent management and accountability in the public services
(vi) Our overblown and over financed legislatures
(vii) A scrutiny of our Judiciary which exposes corruption and several other negative tendencies that compromise justice
(viii) The incapacity of our armed forces, previously respected in international peace-keeping operations in the Congo, Liberia and lately Gambia but now appearing to be completely overcome by Boko Haram to the extent that our School Of Infantry can be easily invaded by terrorists not to talk of our farmlands in Katsina, Kaduna and several other states
(ix) You must interrogate the failure of the Nigerian Police Force leading to the ENDSARS riots.
(x) We must interrogate the Arab Spring and its aftermath in order to avert its occurrence here.
(xi) We must examine stories of nations like Israel and USA
(xii) We must thoroughly investigate the readiness of INEC to conduct a free and fair election. Will the servers breakdown again?
Nwodo a former Minister of Information and President General of Ohanaeze Ndigbo Worldwide presented this paper during the 2022 All Nigerian Editors Conference in Owerri, Imo State on November 9-13, 2022.
Any leading Presidential candidate who doesn't have well thought out policies on these issues is not fit to lead Nigeria.
We hear today of speculation regarding the health condition of our Presidential Aspirants. We have a President who has spent so many days out of his eight year tenure in foreign hospitals not to talk about the cost of treatment. This makes it a national imperative to investigate the health of Aspirants to that office.
Tobi Aworinde of the Punch Newspaper told us on August 1st, 2021 that our current President has spent a total of 201 days on foreign medical trips since his assumption of office seven years and seven months ago.(4) This figure will be updated when he returns from his present trip. In any other clime, the National Assembly would have amended the electoral laws to provide for independent medical examination for all Presidential Aspirants. It is not yet late for such an amendment to be made.
As editors, you are the authors of reforms on national values, ethics and conduct of aspirants and holders of public office. Your power is coterminous with the nature of your work. In a way you wield and sustain the conscience of the nation. You help, on the basis of your informed editorials to cultivate our values and standards for public office holders. I believe that if you conducted a careful inventory of properties of some past and present public office holders including civil servants and members of the judiciary, you would expose so much as to provoke an inquiry into how some of those assets were acquired.
To who much is given, much is expected. As editors in the public and private media you have a pivotal influence in the affairs of this country, you have the wherewithal to progressively reform our values. You can stop the disdain with which our children hold us, for destroying their collective patrimony and heritage by acts of omission or commission. You can help to rebuild their confidence in our country. Already they are in a rage which can consume us if we don't act fast.
Remember Harold Macmillan's words to the British in the wake of Nationalists movements in Africa. He said, on a visit to South Africa on February 3rd, 1960, in a speech to the South Africa Parliament, "We have seen the awakening of national consciousness in peoples who have for centuries lived in dependence upon some other powers… The wind of change is blowing through this continent and whether we like it or not, this growth of national consciousness is a political fact. We must accept it as a fact and our national policies must take account of it" (5)
I like to end this speech by quoting William Shakespeare, in Julius Caesar, where he said "There is a tide in the affairs of men, which taken at the flood leads to fortune. Omitted, all the voyage of their life is bound in shallows and in miseries. On such a full sea are we now afloat. And we must take the current when it serves, or lose our ventures."
Nigerian editors, arise and defend our country
Arise and interrogate our politicians and businessmen.
Arise and define our politics
Hesitate and be defined by history
I thank you for your kind attention.
JOHN NNIA NWODO
OWERRI, IMO STATE NOVEMBER 2022