A Vote For Peace, Stability In Ogoni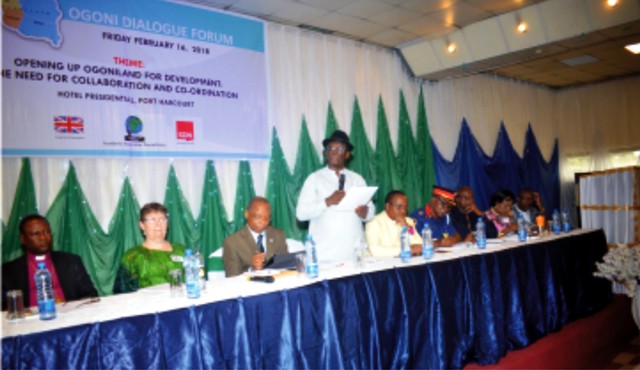 The need for sustainable peace and development in Ogoni has remained a major concern to critical stakeholders. The twist of events in Ogoni in recent time no doubt reveals the imminent collapse of the vestiges of communal bond that once defined the collective existence of the people.
Renowned for its foremost role in environmental rights advocacy, Ogoni land, like most Niger Delta communities, has over the years received its fair share of conflicts and growing agitations with grave implication for sustainable peace and development in the area.
A cursory look at recent event in Ogoni indicated that various communities were wedged under the yoke of unbridled violence and dehumanising human security situation, with untold consequence of wanton killings, population displacement and gross underdevelopment.
However, the prime objective of Ogoni in the Niger Delta struggle for political, economic and environmental justice in the Nigerian state has continued to place Ogoni on the centre stage of global discourse. As such, various stakeholders are seeking collaborations and measures of averting further crisis in Ogoni and opening out the area for development.
One of such concerned stakeholders is an international Non Governmental Organisation, NGO, known as the Academic Associates Peace Works. (AA Peace Works). The NGO, last December, organised the first Ogoni Dialogue Forum in Port Harcourt to discuss the way forward for sustainable peace and development in Ogoni. The forum recorded a huge turn-out of participants from Ogoni and far-reaching decisions were reached.
As a follow-up to the event, the A.A. Peace Works recently organised the second Ogoni Dialogue Forum to consolidate on the gains of the first meeting.
Held at the Atlantic Hall of the Hotel Presidential in Port Harcourt, under the theme; "Opening up Ogoniland for development, the need for collaboration and coordination", the forum, which was funded by the United Kingdom (UK) Government's Niger Delta Stability Programme and administered by the Stakeholders Democracy Network (SDN), was attended by stakeholders from the six kingdoms and two special areas in Ogoni, cutting across four local government areas of Tai, Eleme, Gokana and Khana.
In her remark at the event, the Executive Director of A.A. Peace Works, Dr Judith Asuni, said the forum was a platform for Ogoni stakeholders to discuss issues relating to peace and stability in Ogoniland.
"We in the A.A. Peace Works are concerned about the peace and development of the Niger Delta Region, particularly Ogoni. This forum is organised to avail the Ogoni stakeholders the opportunity to proffer solutions to the challenges of insecurity, instability and under-development in Ogoni".
She commended the Ogoni stakeholders for turning up for the event and urged them to make meaningful contributions and recommendations that will bring lasting peace, stability and development in Ogoni.
In his key note presentation, a lead discussant at the forum, Dr Nuka Gwara, noted that the crisis in Ogoni were instigated from "without and within". He listed some of the major causes of conflict in Ogoni to include attitude of political elites, divide and rule tactics, weak traditional institutions and their selection mode, intra communal conflicts, unhealthy competitions, loss of love among Ogoni communities and get-rich-quick syndrome among youths.
Dr Gwara noted that the engulfing conflicts in Ogoniland had impacted negatively on the lives of the people.
"When conflict engulfs a community, there is always a dislocation of the people. People run away from the area of conflict or where they do not feel safe enough. People abandon their sources of livelihood and live as refugees, deprived of their communal comfort. The general standard of living of the people is destabilised", he said.
He emphasised the need for social re-engineering and sensitisation of the people on the importance of peaceful co-existence, and urged the participants to see themselves as peace agents by spreading the peace gospel in their respective communities.
Dr Gwara also identified the need to deploy collective mechanisms to fight poverty in Ogoni land, which he described as a "formidable foe".
Speaking at the event, the President of the Movement for the Survival of Ogoni People (MOSOP), Mr Legborsi Pyagbara, raised an alarm over a plot by some oil companies to cause crisis in Ogoni, by resuming oil exploration in the area through the back door.
He said MOSOP and the Ogoni people have not given consent to any oil firm to resume oil exploration in the area, noting that major issue of concern now was the "remediation of the Ogoni environment through the proper implementation of the UNEP report on Ogoni environmental clean-up".
Also speaking, the chairman of the forum, Prof. Barineme Fakae, commended the A.A. Peace Works for their concern towards promoting peace and development in Ogoni.
Prof. Fakae, a former Vice Chancellor of the Rivers State University, Port Harcourt, urged all Ogoni stakeholders to key into the process of peace building and remodeling Ogoniland for development.
The forum ended with a resolute commitment on the part of all Ogoni stakeholders to embrace peace and save Ogoniland from slipping into further chaos, anarchy and desolation.
Some of the far-reaching decisions included the need to "shun all acts capable of distorting peace and escalating violence in the six kingdoms and two special centres, namely Ban Ogoi and Bori; to work with relevant stakeholders towards disarming, demobilising, rehabilitating and reintegrating our youths who may have been involved in cultism and militancy".
The forum also resolved to "carry out electioneering campaigns, voting and participate in the electoral processes in a peaceful manner in accordance with the provision of the Electoral Act of Nigeria and guidelines issued by the Independent National Electoral Commission (INEC); and shall not finance, arm, support, or affiliate with any group that has the intent to instill fear and cause violence in any part of Ogoni".
Other resolutions were: "To create an enabling environment for smooth implementation of the Ogoni clean-up and other recommendations of UNEP Report; to continue to engage government at all levels, multinational corporations, civil society groups, philanthropic organisations, financial institutions, academia and technocrats towards the development of our local economy to create jobs and income for our people".
The forum also resolved to strengthen the Ogoni conflict early warning and early response system and work closely with security agents and key community stakeholders to ensure peace in Ogoni, as well as strengthen the traditional institutions and values in order to respond to contemporary conflicts in the oil rich area.
Taneh Beemene
Embracing Non-Oil Exports As Viable Means Of Economic Growth
One of the greatest desires of any nation is the need to build a resilient economic system that is self-sustaining, highly competitive, and externally visible. Citizens of every nation too desire a strong and reliable economy and a conducive environment where they could live and operate satisfactorily. To this end, nature endowed nations of the world with natural and human (intellectual) resources through which they could develop economically and sustain her citizens. However, no country of the world, Nigeria inclusive, could grow or develop effectively despite her natural endowments without depending on another country. This growth is mostly enhanced through trade and export. Before Nigeria gained independence in 1960, her economy was dominated by trade and export and the non-oil sector (agricultural and solid mineral sub-sector) was the mainstay of her economy and the greatest foreign exchange earner contributing about 65 per cent of her (Nigeria) aggregate income.
The non-oil economy can be defined as economic activities that are not directly or indirectly related to the petroleum and gas industries. These are the manufacturing, agriculture, services, telecommunications, the financial sector (banking and insurance) activities and tour operator (hotel, restaurant, park) aside others. According to a recent research, seven non-oil activities in percentages contributed to the Nigeria Economy in Q2 of 2022 and they include Agriculture – 23.2 %, Trade- 16.8 %, Telecoms -15.0%, Manufacturing- 8.65 %, Crude oil and Gas -6.33 %, Real Estate -5.33% while Financial and Insurance contributed 4.25%.On August 23, 2022, the Nigerian Export Promotion Council (NEPC) announced that Nigeria exported over 4.146 million metric tons of non-oil products worth $2.593 billion from January to June 2022. According to Dr Ezra Yakusak , the Executive Director of NEPC, the progress report of $2.593 billion represents a 62.37 per cent increase in non-oil export recorded in the year as against the $1.59 billion and $981.44 million recorded in the first half of 2021 and 2020 respectively.Yakusak said that the report was also the highest half year non-oil export performance since 2018 which contributed significantly to the nation's economy growth in the face of a global economic recession that affected most businesses in 2021.
He said it also contributed to poverty alleviation, industrial development and foreign exchange employment earnings for the country. "The figures of 4.146 million metric tons of product worth $2.593 billion exported between January and June 2022 culled from the non-oil export performance reports of various pre-shipment inspection agents, reinforces NEPC's campaign to embrace non-oil export trade as a viable means of economic growth," he said. The NEPC Executive Director equally hinted that over 200 different products, ranging from manufactured, semi-processed, solid minerals to raw agricultural products, were reportedly exported in the period under review. He said that unlike what was applicable in the past, products exported from the country were gradually shifting from the traditional agricultural products to semi-processed/manufactured goods. Yakusak equally said that during the period under review there was no incidence of export rejections while different Nigerian products were exported to 112 countries including America, Asia, Europe, Oceania regions and some Africa countries adding that of this number Brazil, US and India were the top three export destinations based on the value of imports.
"With 572 companies reportedly participating in exporting products, analysts' belief it is an indication that Nigerian businesses are gradually embracing the diversification campaign of the NEPC by venturing into non-oil exports," he said. Also worthy of note is the fact that the Federal Ministry of Industry, Trade and Investment (FMITI) is working assiduously with other Ministries, Departments and Agencies to end the rejection of Nigeria's products in the international market. To this end, the Minister of FMITI, Otumba Adeniyi Adebayo, inaugurated a Technical Committee on Export Rejects charged with the responsibility of identifying the major causes of the rejection of the agro produce and proffering appropriate recommendations. The committee headed by the Director, Commodities and Export Department, Mr Suleiman Audu, is expected to make recommendations that would assist the promotion of non-oil commodity exports which had led to farmers and product aggregators partnering to explore the export market for their products.
Reacting to the above Chief Chidike Okoh, Secretary, National Fish Association of Nigeria (NFAN) is of the view that Nigeria non-exports especially agro-products should not be allowed to suffer rejection. "If Nigeria agro-products continue to suffer from export rejections by most countries of Asia, Europe and America, it will lead to huge financial loss with its attendant negative impact on the supply value chain and job creation. "The global market is competitive and welcomes products of high quality with relevant certifications and quality packaging that are environmentally friendly,'' Okoh said. Mrs Adaku Chidume-Okoro, the Group Managing Director, Gum Arabic Company Nigeria (GACON), and an exporter also emphasised the need for the Federal Government to scale up efforts in encouraging non-oil export activities.
She urged the Federal Government to look beyond dependence on crude oil as a major income earner for Nigeria but optimise the full potentials in the non-oil export sector. Chidume-Okoro is also of the view that government and stakeholders should equally begin to identify emerging issues that disrupt the non-oil sector. She listed the war in Ukraine, food safety and traceability issues, organic foods, certification, digital world and COVID-19 as some of the global factors disrupting the activities of the non-oil sector. "On the other hand, weakening of the Naira is a major domestic factor adversely affecting Nigeria's non-oil export sector. "These disruptive events both at the global and domestic levels have unsettled the status quo in the traditional Nigerian non-oil export sector. "A good strategist sees great opportunities in disruptions. It is time to think outside the box and come up with innovative solutions that will skyrocket the Nigerian non-oil export to an all-time high performance," she said.
She also solicited FG's intervention on international trade barriers. "For example gum arabic from Sudan and Chad are duty exempt in China and India, whereas the same product from Nigeria is under heavy duty. "This makes Nigerian gum arabic unattractive to China and India markets. Our government will need to intervene in this matter by discussing with the governments of India and China,'' she said. The GMD of GACON in addition advocated for more support to the Small and Medium Enterprises (SMEs) which she said would serve as an innovative solution for enhanced non-oil export growth. According to her, SMEs are catalyst for the desired non-oil export boom and so should be encouraged. "Government should go out of its way to encourage non-oil exports activities that guarantee job security and boost employment for bottom of the pyramid members of the value chain,'' she said.
On his part, Mr Sam Agbe, Director of Performing Arts, National Council for Arts and Culture (NCAC) stressed the need for Nigerians to embrace the creative industry and export talents. According to him, it is not only goods and services that are exported, one can export one's talent so that individuals and the country can benefit economically. 'You don't need to have a doctorate degree before you can strive in the creative industry. "What the country needs at this time is to get everybody involved in the creative economy. NCAC has been keen in exporting talents," Agbe said. Conclusively, before Nigeria gained her independence in 1960, her economy was mainly dominated by trade and export of non-oil producing products. With the discovery of crude oil, the country's economic dependence shifted from non- oil products to crude oil. Today, the near negligence of non-oil products seems to be having its toll on the nation's economy, reason some analysts had advocated the return back to agriculture and other non-oil products.Since countries are endowed with natural resources and export is important for the survival of every economy even when other activities fail, there is therefore need for Nigeria to heed the call for an attention shift to non-oil exports through more support and empowerments to SMEs and other players in the non-oil industry.
By: Calista Ezeaku
BBNaija And The Ongoing Culture War
We are in a culture war. A war between African traditional values, and Western liberal values. The intent of this war is to destroy the mores of the African society; to uproot the foundations laid by our forbears in our African core values system, which was amplified by Judeo-Christian values for Christians and Islamic moral ethics, for Muslims. Truth be told, the current values being imported from the West today are somewhat opposite to the values brought by the first European visitors to the African shores. These are the values of Western society without any moral compass. This war has been ongoing, albeit under the radar, but the advent of social media has opened Pandora's Box. Social media (Facebook, Instagram, YouTube, Telegram, TikTok, Twitter, WhatsApp), in spite of all its benefits, has opened the door to any, and everything inimical to the wellbeing of society.  This is the oxygen of the 'Big Brother' reality franchise.
The Big Brother reality show was created by John de Mol Jr. and the first broadcast was in the Netherlands in 1999, and subsequently syndicated in more than 62 countries. As of August 2021, there have been 504 seasons of Big Brother across more than 62 franchise countries and regions. Unfortunately, millions of viewers across the world are unaware that the catchphrase in the show was aped from a 1949 dystopian novel Penned by English author George Orwell, titled "1984". The idea that 'Big Brother is watching you was the actual experience of many people across many nations during the Covid-19 pandemic. The reception of Big Brother Nigeria (BBNaija) was overwhelming when it debuted in 2006. However, the second season aired in 2017, and since then it has taken the form of an annual national ritual. The 2021 edition of BBNaija cost a whooping N4.3 billion according to the CEO of DSTV in Nigeria, Mr John Ugbe, but the price money was N90 million.
Speaking on the level of damage the Big Brother Naija reality show is wrecking on societal values in the country, Dr Sofiri Peterside, a social scientist, and lecturer at the University of Port Harcourt,  lamented that the programme deeply worries him. He said that "the kind of obscene dressing and of course the sexual content, sociologically speaking, is not very good for society, particularly for the younger generation." "I think that societal values ought to be very seriously respected, but that programme, seems, from my own perspective, to have thrown all that to the wind. And that's my worry." "It has implications for the breakdown of families. It has implications for juvenile kind of delinquency, particularly for younger people. The tendency to mimic without knowing the consequences for them, and for society is what is worrying me?" "For the family because the family is a very key institution to society, because whatever we are, and whatever we become is a consequence of the kind of socialization we get from the home." He is not impressed by the actions of relevant agencies.
He opined that, even though there are ratings for those who might watch this genre of programme,  "in our country, even though that exists,  the extent to which  families play the role of policing and controlling what children watch is also problematic." Since the programme is organized by a private business, it may not be stopped; however, he suggested that the programme content requires attention, particularly for professionals  to control certain aspects. He is especially saddened by the idea of people having sex on the show. In his words, "people come to national television to have sex, and people are not seeing anything wrong with that, people are voting that those kinds of things can continue." "l think that the government's  regulatory agencies need to actually take responsibility, in terms of controlling the programme's content and insisting that certain requirements be met if  that programme must continue". In his opinion, a Clergy, Umaromi Sunday Azery, noted that Big Brother Naija is a show of sexual immorality. Ordinarily, for him, reality shows should deal with the character of the participants. According to him, "this one is out of it, just immorality, and I don't like it."
"The origin is another matter because if you look at the symbol, it is Iris, it is the Illuminati symbol, which has to do with occult people". "Most people may not know, the truth is the Nigerian culture, we don't believe in reading to find out facts. We believe in what we think is trending. So whether it is good or bad, they feel that is the in- thing." "Look at the issue of twerking, a girl wakes up in the morning, the only thing she thinks to do is to wear something that will expose her body, then twerks for someone to video her and put online, and they say that is what is trending."   He further lamented the fact that even the elderly who ought to know better are patronising the BBN. The painful part, according to him was that the church has not seen it as a priority, and neither has he seen a strong religious voice addressing the issue.  On how to change the narrative, and create much-needed awareness, he suggested three levels of communication.
"Share the same message, get people to realize and reason with you. Talk to the people who are elites, religious leaders, teachers, influencers and others, to reason with them. Then mass mobilization, through seminars, workshops, and from the pulpit". He also added that the government should be spoken to whenever there is an avenue. On his part, a legal practitioner, Bar. Grateful T. G. Pepple, averred that the show provides content that is majorly unhealthy for Nigerians. He says, "I don't see it helping to build the nation." He however noted that it is a private business and that they are entitled to do whatever they want to do. Nigerians on the other hand, are also entitled to watch, or not to watch.  According to him, "it is a private programme, it is not forced on Nigerians. It's just that because of the publicity, and how it is being  spoken of on social media, and everywhere, you see that those who are not supposed to be talking about it, or watching it, are doing so, and it's not helpful."
"I just wish that, probably, it could have more enlightening, more educative, more creative programmes that would lead to the development of minds, rather than watching people lazing around, and doing all sorts of things." "Yes they do some educational stuff. You see all sorts of things, all sorts of bad behaviour that are not something you want a younger to watch." "I don't think religious organisations are doing enough if in churches we still have not been able to teach people in such a way that they begin to imbibe righteousness and good moral behaviours into what they do, and then there are churches that allow people to come anyhow they like" . The way the Church is run now, everybody wants to make it, everybody wants to do what feels good to them, not what is actually right." Similarly, a retired naval officer, Capt. Ambie Barango commented that he has never liked the programme from the outset. In his words, "it only  teaches immorality. People just go there and mess up."
He wondered if the government's censoring agencies are active, "because the programme is not teaching anybody anything good and any boy or girl who goes there has declared independence for themselves. Both of them are looking for money; but what is it teaching?" "They are given cars and money. Is that all? What of the process of arriving there? If it is money they are looking for, then it is not teaching anything, and it is not the process of making money."He further questioned the rationale for the age barrier if the programme has wholesome content. "If we have something bothering on morals, we should stop. We are already having problems with these children because of social media, and we shouldn't work towards worsening it. We are talking of exam malpractice, and all of them are getting iPhones and android phones."
In the view of Dr Mene Kpoghi, a lecturer at Ken Saro Wiwa Polytechnic, Bori, the programme should be stopped immediately because of the obscene things people  do on television. According to her, "the impact it is making on the life of the young ones is not really the positive one, they are not learning anything good from it. "Sometimes they say they are censoring it, as in, parents can guide what  they watch. But that is not true. It is not all parents that have the time to do that. Secondly, not all parents are educated to follow the steps to lock the channel." "The programme is creating nonsense in the minds of the young ones because they learn faster, and they are prone to learn the negative ones even more." Mrs Ndot Ibisiki, a public servant, observes that the reality show encourages promiscuity. She said,, "Somebody you just met on national television show, you feel free to be kissing, and doing all sorts of rubbish."
"I don't see what it teaches, and I don't see how that benefit people.
I don't think the censoring  board is doing the much it should do ". "It is not helping our children. See the kind of attention and strength the thing is pulling. But when children are doing well academically they are not celebrated. We like to celebrate the wrong things, and we put our values in the wrong places. If not, for me, what does it teach?"  "They call it entertainment; it is wearing off our morals. But you cannot be the only one shouting. I don't like it, I don't watch it; I'm not a fan." She further noted that religious organisations are not doing what they should do. However, she advised that the government should look at the reality show with the intent of building talents especially using the task that they are given in the house, and forget the immoral things. But it has to be strategically planned in such a manner that it can be beneficial.
Unlike other reality shows that have been aired in the past, the BBNaija reality show seems deliberately designed to target the moral pillars of society. It is unfortunate that leaders of thought, agencies of government, and other key influencers, like religious leaders are either asleep or blind to the layer-by-layer dislocation of moral values. Some have tabled the argument of entertainment, but Reuben Abatti, the spokesperson for former President Goodluck Jonathan, calls it crass capitalism. Sharing his opinion after the 2021 edition, he said, "I was relieved because, for about 70 days, the show was a big distraction, crass capitalism at its most cynical edge, a source of unmanageable madness in homes and on the streets. "MultiChoice, through its Big Brother Naija and Big Brother Africa franchises, seems committed to the promotion of base values, chiefly adultery, prostitution, love of money, nudity and sex.
"What just ended as Big Brother Naija 2017 was nothing other than the corralling of some human beings into a zoo, pressured to behave like nothing but animals.
The organisers made money devaluing other human beings; the sponsors turned alcohol and pornography into legitimate sport." Since 2017 it has been worse, especially with millions of Nigerians on social media. Ironically, only the Nigerian Tobacco Control Alliance, and the Campaign for Tobacco-Free – Kids, a civil society organization have called the National Broadcasting Commission to be alive to their responsibilities, particularly regarding the use of tobacco in the house. In summary, it is evident to every well-meaning Nigerian that BBNaija is a slow poison designed to ravage our society. It is also apparent that those whose responsibility it is to act, are missing in action; civil society organizations and even religious leaders are mute.
Consequently, the only immediate remedy is to take personal responsibility. Parents can start by temporarily suspending the DSTV subscription till the show is over. Also, Christians and Muslims alike should encourage their leaders to openly discuss, and discourage BBNaija.  Finally, since we are in a democracy, everyone concerned about the destruction of societal values, and the future of the next generation should call their Senators, and Representatives to bring the BBNaija reality show for debate on the floor of both Chambers of the National Assembly. Maybe a bill might be sponsored to this effect that might disallow all unwholesome elements of the show.
By:  Pepple Raphael
Introspecting Father's Roles In Societal  Dev
The Father's Day observance and celebration  have become a universal phenomenon. In some climes,  it is observed  in June every year, to honour fatherhood and parental bonds. It is also designed to honour the influence of fathers in society. In Catholic countries of Europe, Father's Day is celebrated on 19th March as Saint Joseph Day, since the Middle Ages. In the United States, Father's Day was founded by Sonora Smart Dodd, and celebrated on the third Sunday of June for the first time in 1910. The Day is held on various dates across the world and different regions maintain their own traditions of honouring fatherhood according to when they deemed it necessary. Thus,  Father's Day is a recognised public holiday in Lithuania and some parts of Spain and was regarded as such in Italy until 1977. It is a national holiday in Estonia, Samoa, and equivalently in South Korea, where it is celebrated as "Parents' Day". The holiday complements similar celebrations honouring family members, such as Mother's Day, Siblings' Day and Grandparents' Day.
However, in Nigeria and some other African countries, public holiday is yet to be granted by the Federal Government to mark the event. According to Aurelia Scott, Father's Day was not immediately accepted when it was proposed and it did not become a national holiday even in the United States until 1972 during President Richard Nixon's administration. With the history of America as a developed economy and a civilised democracy one might assume that a holiday recognising the invaluable roles of men in societal development will be seamlessly and perfectly acceptable. Afterall, men dominated American society in the early 20th Century. In addition, a "Father's Day" or a day that recognises the role of a father in the family is an ancient tradition in history books; there is mention of a southern European tradition dating back to 1508. Perhaps, Nigeria will soon see the need to declare a public holiday to mark the day even as there is a strong advocacy for "Paternity Leave" for husband whose wife is delivered of a child.
Certainly, in modern days, people do not give Father's Day a second thought. In America, for instance, it has been about 50 years since President Richard Nixon's administration declared the third Sunday in June a day to recognise and honour the role of fathers in society- that took place in 1972. Interestingly, Father's Day was not immediately acceptable when it was proposed. One would wonder why the apathy that characterised the acceptance of the Father's Day initiative. Mother's Day came first. It was officially recognised in 1914. So, men in the early 1900s associated such a tribute to women and found the idea too effeminate or womanly to their liking. It is essential to state that Mother's Day was couched in terms of femininity.
In 1914, President Woodrow Wilson called Mother's Day a way to recognise "the tender, gentle army – the Mothers of America". Men viewed the idea of Father's Day like that of Mother's Day, which was popular with flowers. For fathers, it did not have the same sentimental appeal. According to Lawrence R. Samuel, the author of American Fatherhood: A Cultural History, men had a different role in the family during the first half of the century. It was patriarchal, so they felt a special day to exalt fatherhood was a rather silly idea when it was mothers who were underappreciated. However, that sentiment changed over time for several reasons.
The first known Father's Day service was held in Fairmont, West Virginia on July 5, 1908 after hundreds of men died in the worst mining accident in the United States' history. According to information accessed on the new age media,  Grace Golden Clayton, the daughter of a dedicated minister proposed a service to honour all fathers, especially those who had died. However, the observance did not become an annual event and it was not promoted; very few people outside of the local area knew about it. Meanwhile, across the U.S. another woman was inspired and burdened to honour fathers. In 1909, Sonora Smart Dodd of Spokane, Washington was inspired by Anna Jarvis and the idea of Mother's Day. Her father, William Jackson Smart, a farmer and Civil War Veteran, was also a single parent, who raised Sonora and her five brothers by himself, after his wife Ellen, died giving birth to their younger child in 1898. While attending a Mother's Day Church Service in 1909, Sonora, then 27 years old, came up with the idea. Within a few months she had convinced the Spokane Ministerial Association and YMCA to set aside a Sunday in June to celebrate fathers. She proposed June 5, her father's birthday, but the ministers chose the third Sunday in June so that they would have more time after Mother's Day (the second Sunday in May) to prepare their sermons. Thus, on June 19, 1970, the first Father's Day event commenced.
Sonora presented gifts to the physically challenged fathers, boys from YMCA, decorated their lapels with fresh cut roses (Red for living fathers, white for the dead fathers) and the city ministers devoted their homilies to fatherhood. Governments of independent nations and various Christian organisations in the world in consultation with stakeholders and members however, schedule the Father's Day celebration on dates that vary from that of the Catholics' stipulated 19th March and the United States' third Sunday of June. Some Christian denominations, such as the General Council of Assemblies of God Nigeria, have since decades ago established the Men's Day patterned after the Father's Day. It has also earmarked  the second Sunday of September every year, to honour the roles of men and fathers in the building of society and as agents of socialisation and positive changes.
Consequently, last Sunday, September 11, 2022, the about 18,000 churches of Assemblies of God Nigeria with a population of over 2.4 million members marked their traditional Men's Day with the theme, 'Stand in the Gap'. The District Superintendent of Assemblies of God Nigeria, Rivers District, Rev. Dr Daddy Ibulubo, gave the biblical definition of a father as beyond mere headship of a family. According to Dr Ibulubo, a father is a carrier of God's mandate concerning the family that consists of husband, wife and children in the nuclear setting, and stated that the roles of a father are, "to protect, provide for the family and discipline the child when necessary". However, some Christians and religious leaders see a father from the perspective of the divine mandate on the man, to be the head as the first human to be created. From the biblical account of Abraham's encounter with God, God attested to the spiritual credentials of Abraham as a man who is in control of his family and who will intentionally disciple his household on the laws and statutes of God.
This Abraham did. Not only to his immediate family but to the 318 servants and their families, he trained. This is the testimony of God concerning Abraham, "For I know him, that he will command his children and his household after him and they shall keep the way of the LORD, to do Justice and Judgement, that the LORD may bring upon Abraham that which he hath spoken of him." (Genesis 18:19) Today, the primordial sentiment that beclouded the noble idea of fatherhood has changed for the better. It is now innovative to celebrate the fathers who actually bear the brunt of the family upkeep and value orientation. The fatherhood or Father's Day concept is no more viewed as a 'feminine model', with flowers. It is now a universal event of giving honour and recognition to men or fathers for their invaluable roles in family and societal development.
The change from the feministic view of Father's Day is partly due to the way society has evolved. The modern roles of fathers have now changed so that mothers and fathers are seen as partners, each taking more responsibility within family life. Fathers are now seen as significant influences on children. We know from many studies what happens when a father figure is lacking in a family. In a sense today, Father's Day helps to demonstrate the importance and value of fatherhood – and the gifts beyond material goods that a father bestows on his children and family. Today, Father's Day concept is also christian denomination and Pastors' affairs. Christians  now deem it necessary to celebrate their men, Pastors, Founders and Spiritual heads/leaders, who in their judgement have positively impacted their lives, society and the work of the Kingdom of God.
It is in this perspective that the Presbytery, Pastors and entire membership of the Rivers District of Assemblies of God Nigeria, rolled out the drums, in pomp and pageantry,  celebrated their spiritual father, District Superintendent and the administrative head of the unit, the Rev. Dr Daddy Ibulubo on his Diamond birthday Jubilee.
Speaking on the occasion, Bishop Daka of the Likemind Christian Centre, who extolled the leadership qualities of Dr Ibulubo said Ibulubo is a gifted father to the household of the Christian faith. He urged Christian faithful  to celebrate fathers and leaders while they still live.
For Barr Reginald Ukwuoma, a former Chairman of Etche Local Government Area and chairman of the occasion, the celebration of Dr Ibulubo, who is also a leader in the Christian Association of Nigeria (CAN) and Pentecostal Fellowship of Nigeria (PFN), Rivers State Chapter, could not have come at a more auspicious time, stating that the accolades bestowed on the celebrant were not out of place and commended him for his meritorious services to affect society positively.
In his goodwill message the General Superintendent of Assemblies of God Nigeria, the Rev. Pastor Ejikeme Ejim,  said of Dr Ibulubo, "You have been an outstanding vessel in His (God's) hands; you piloted the affairs of the church in various leadership capacities over the years. You started from a local church, pastored and served meritoriously through the ranks until you became the Rivers District Superintendent. Rivers District has remained stable under your leadership, cooperating fully with the General Council of the Assemblies of God Nigeria". To Rev. Isaac B. Ekookoh, Chairman of the Board of Governors, Pentecostal Theological Seminary, Eleme, Dr Ibulubo is not only "a man of God but a child of God pragmatically". According to him, the celebrant's "serving two tenures as the chairman of the Board was a result of his faithful and sincere leadership."
In the view of Rev. Dr Gift Asuru, Ikwerre District Superintendent of Assemblies of God, Nigeria, Dr Ibulubo is "a great Icon, a Rare Gem", who deserves to be celebrated.The Rev. Dr Isaac D. Abraham, Assistant District, Superintendent of Rivers District, Assemblies of God Nigeria eulogised the contributions of the Rev. Dr Ibulubo, whom he described as "Father". The District Treasurer, Rev. Dr Samuel Onyegbu, was particularly endeared to the Dr Ibulubo by his (Ibulubo's) "patience, honesty, integrity, transparency and trustworthiness". In his contributions, a Presbyter in the Rivers District, the Rev. Wilcox Ubulom, celebrated the "quintessential and visionary peculiarity", adding that the celebrant's "life, messages, administrative prowess have transmogrified a lot of minds and lives and have given us transpicuous templates to follow".
For Rev. Eli Amamina, and Rev. I. M. Braide ; presbyters, the life of Dr Ibulubo is "a legacy in service to the Lord Jesus Christ and the building of the Saints". "You are a father, mentor, leader, administrator and a role model par excellence", they said. A biographical book was published in honour of the administrative Father of Rivers District. In his comments on the book titled, "Daddy Ibulubo", the author said the publication of the book was his modest way to celebrate and give flower to the father of the District to smell while he still lives, describing posthumous awards, encomiums, delicacies and funs as exercises in futility as the dead has no knowledge of what was done on  his behalf.
No doubt, celebrating Fathers who have distinguished themselves in the responsibilities of fatherhood to the family and society is an event worth holding and spending on every year to spur fathers who are the 'bark' breakers of domestic responsibilities, to do more and live more years. By now those caught in the web of celebrating the dead shall have seen the need to celebrate living legends, heroes and heroines for another milestone in life.
By: Igbiki Benibo