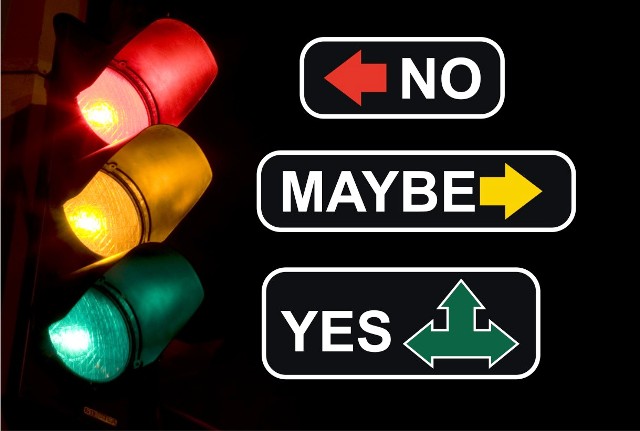 Are there people who are not worried about the drums of war being beaten at different parts of the country? Perhaps, there are. But the truth is that there is fear and tension in the land.
The rumours of war and disaster  circulating everywhere, especially on the social media, the hate and divisive speeches of people from the North, East, West and South and the constant agitations of various ethnic and religious groups  are clear indications that all is not well with the country.
At a women's meeting the other day, members were advised to start buying bags of salt and sending to their villages in readiness for an inevitable war. They were told stories of how salt prevented many people from going down with some deadly deceases during the Nigerian Civil War. Those that can afford it were asked to get their international passports and visas ready to enable them escape the looming and imminent danger.  Obviously, many of the women were panicky. They wished something could be done by the government urgently to avert the calamity.
Fortunately,  in  what seemed to be an answer to desperate prayer of many helpless citizens,  the Acting President, Prof Yemi Osinbajo, after  a meeting with Northern elders on Tuesday,  warned that the Federal Government would deal with individuals or groups spreading hate speeches capable of affecting the unity of the country. Osinbajo who stressed the determination of government to foster the unity of  the country, said the Federal Government would not allow such persons get away with their action.
Following that was a meeting between Osinbajo and South East leaders on Wednesday.  The aim was to sue for peace and  nip in the bud any crisis arising from the threat by Arewa youths that Igbos should leave the North before October 1, among other threats and counter threats.  The Acting President assured Nigerians that the Federal Government was handling the issue holistically and that there was no cause for alarm.
Osinbajo's action is indeed commendable. Disintegration cannot be the solution to the nation's problem. As many notable people, both Nigerians and foreigners have stated, there is enormous gain in our togetherness as a nation. Our numerical strength is a great advantage.
All tribes whether major or minor are stakeholders in the Nigerian project. Therefore, we all stand to gain a lot as a united entity rather than breaking into minor entities. It is true that we have several issues to resolve as a nation but a  working federation still remains our best bet.
Incidentally, what we practise in Nigeria today can hardly be termed a true, working federation. A situation where the Federal Government wields overwhelming power,  controls the entire resources of the country and only dishes out crumbs to the states at its will looks more like a unitary government than a federal system.
Yes, we must remain as one indivisible entity but in doing so, the appropriate things need to be done. Regions or zones as they are called now, should be allowed to control their resources and pay royalty to the Federal Government as it is the practice in other countries.
In 2014, the then President, Goodluck Jonathan spent billions of Naira to organize a national constitutional conference. All the who is who in the country, the young , the old and people from all walks of life were part of that conference After months of deliberations, they came up with a report which was sent to the National Assembly to work on. Sadly, the report has not seen the light of the day.
One of the recommendations of the confab was restructuring which is believed to be a panacea to the barrage of problems facing the country.  There have been calls from many prominent Nigerians and groups for the implementation of, at least, that portion of the report, all to no avail.
Is it not high time the Federal Government paid attention to these calls in the interest of the nation?
One will also suggest that apart from the meetings and consultations with leaders of various geo-political zones, government should also look into the root cause(s) of all the agitations. Many have blamed them on injustice, inequity and unfairness. Lack of these fundamental human principles is a crying evil which must be adequately addressed for peace to reign.
As it is said, injustice anywhere is a threat to justice everywhere. Indeed, there is no perfect country or perfect person, but we can work hard to build a decent society where justice reigns.
Our leaders should  listen to demands peacefully and not wait until those agitations resort to violence before attention is given to them.  There is no doubt that  if our leaders  had adopted this method,  many problems would have been avoided. A stitch in time, they say, saves nine.
Calista Ezeaku
The issue of open defecation was once again brought to the fore at last Tuesday's inauguration of the 2021 Water, Sanitation and Hygiene National Outcome Routine Mapping (WASH-NORM) III Report in Abuja. The report puts the number of people that still practise open defecation in Nigeria at not less than 48million.
Commenting on the report, the Minister of Water Resources, Mr. Suleiman Adamu, said, "The results show clearly that access to basic water supply services is available to 67 per cent of the population, at 92 per cent access levels, the richest households are twice more likely to use basic water supply services than the poorest households with 46 per cent.
"Disparities also exist between urban areas and rural areas, the most common sources of drinking water recorded by households were boreholes/tube wells, and only 11 per cent of the household population use pipe-borne water", adding that the slow progress being made in improving water and sanitation services was due to population expansion, low commitments from states and impact of COVID-19.
That this huge number of Nigerians still defecate in the open is very disturbing, especially going by the government's claim at tackling the menace.
Recall that in 2019, President Muhammadu Buhari signed Executive Order 009 to end open defecation in the country by 2025 titled "The Open Defecation-Free Nigeria by 2025 and Other Related Matters Order 2019."  The order aimed at changing the embarrassing record of the country being the second country with the highest number of people practising open defecation, next to India. Part of the executive order says, "there is a National Secretariat called 'Clean Nigeria Campaign established in the Federal Ministry of Water Resources Secretariat. The secretariat is authorised on behalf of the President to implement this Order by ensuring that all public places including schools, hotels, filling stations, places of worship, market places, hospitals and offices have accessible toilets and latrines within their premises."
Three years down the line, has anything changed? How many of these public facilities now have toilets and latrines? At the coming into being of the Order many questions were asked by some Nigerians which are still relevant today – How realistic is it for the nation to eradicate this problem in the next three years as the federal government targets? What plans are there to adequately provide these facilities before 2025? What are the established mechanisms of monitoring the use of existing public toilets and the ones yet to be established?
Again, many people resort to open defecation due to lack of water for flushing. Should we therefore not make water available to the citizens first of all, for our dream of ending open defecation to be a reality? There is also the issue of unstable water tables which makes digging of toilets in some places very difficult and expensive. Was this factored into the plan to rid the nation of open defecation in the next couple of years?
The minister was blaming the inability of the government to provide water on population expansion and others. Shouldn't this have been factored into the development plan of the country? Year 2025 is just three years away and we are still being given excuses? It's quite unfortunate. Going by the devastating impact of open defecation on the environment and health of the citizens, shouldn't more sincere efforts be made by both federal, state and local governments towards reducing its prevalence in the country? Almost every year, the nation battles the outbreak of water-borne diseases like cholera, diarrhea, hepatitis and others. Last year, the outbreak of cholera in some parts of the country caused no less than 816 deaths according to the Nigeria Center for Disease Control (NCDC). Experts have described cholera as a preventable and treatable epidemic -prone disease which is transmitted by eating or drinking contaminated food or water. One major cause of water contamination in Nigeria is open defecation. The huge human wastes that daily go into the seas, rivers and lagoons going by reports, is quite alarming. Little wonder in October 2019, Nigeria became the number one open defecation nation globally, passing India. In bushes, in schools, fields and classrooms, in uncompleted buildings, at dumps, walkways, under bridges, excreta are a common sight. It is not unusual to see someone hawking food item drop the item at a corner of the road or close to drainage, bend down, and pull down his underwear to answer the call of nature; neither is it strange to see a commuter bus pull out from the highway for the passengers to excrete at a nearby bush.
Let's not talk about what obtains in some of our higher institutions of learning and public secondary schools where open defecation is almost a norm. Students are compelled to excrete in polythene bags and dispose off   on the streets or  in the bush either due to lack of water supply, poorly managed toilet facilities or outright non availability of toilet facilities.
At the airports, markets, motor parks and other public places, the situation is not too different. Although, most times, there are public toilets in these places, some people still prefer excreting in the open, thereby polluting the entire environment.  A typical example is the "prestigious" Nnamdi Azikiwe International Airport, Abuja.  This is arguably one of the best airports in the country. In terms of neatness, especially inside and at the tarmac, it is next to none.
Move towards the car park,  the whole place reeks of urine and decaying faecal matters. This abysmal attitude obviously, is not peculiar to rural or urban dwellers nor can it be attributed solely to poverty or lack of toilet facilities. I have not forgotten an experience at a workshop some years ago, where all the participants made up of top civil servants, media executives, heads of schools, and other top people in the society gave affirmative responses to the moderator's question of if there were any of the participants who had not defecated openly before. Some even narrated how they enjoy the natural breeze that caresses them while defecating in the open.
It is therefore,  imperative that Nigerians be educated and sensitized regularly on the dangers of open defecation and importance of proper hygiene because apparently, many do not know and some who are aware, prefer the unwholesome attitude.
Without these challenges being addressed, the idea of eradicating open defecation in the country in 2025 might just go the way of other unrealistic national campaigns. State governments should also toe the line of the federal government by prioritizing the issues surrounding water, sanitation and hygiene which will ultimately make the drive for no open defecation smooth and fruitful. Authorities at all levels should play down on politics which has taken center stage in Nigeria right now and pay more attention on tackling the mounting challenges in the country which are affecting the quality of lives of the citizens.
Meanwhile, as the government is expected to intensify efforts in their role towards solving the problem of open defecation in the country, we as the citizens should complement the government's effort by dropping our primitive lifestyles that make us defecate anyhow, anywhere.   We should be more committed in taking care of the few available toilet facilities in our offices, worship centers, shopping malls and other public places.  It is indeed  time we improved on our personal hygiene and good sanitation habits.
By: Calista Ezeaku
Triple "R" Formula In Effective Development
It was resolved at the end of a conference not long ago, that a candle should not be lit and then kept in a refrigerator, but on a candle-stand, so that the light can serve general benefit. Triple "R" formula refers to: Rest, Recreation and Regeneration, meant to facilitate Re-examination, Re-invention and Re-branding of individuals and projects in development agenda. While conferences may attract fees for those who would attend, benefits arising from ideas disseminated should serve public interest, without a fee, but willingness to learn.
A learning society is one where individuals see the need to learn from every experience, however bitter it may be. A life-style of continuing learning is usually a solitary engagement, largely because the majority of individuals consider learning as an arduous activity. The journey of life can be lonely even in the midst of a large crowd of fellow travellers. This is largely because same thing is perceived and interpreted in diverse ways by different persons. Each person lives and experiences absolutely according to his own nature.
For every adult there comes a time when one discovers one's individuality, as unique and different from anyone else. The temptation to copy, imitate or mimic the lifestyle of someone else can be tamed or conquered, whereby one becomes natural and simple. This means to become oneself, for better or worse; a situation which becomes the driving force in one's search for meaning in life. There comes a time when it dawns on an individual that it is futile and helpless to ask and seek among humans or knock on another person's door for any succor.
Like lonely travellers in a desolate wilderness, people who are serious and resolute in the search for true meaning and development, experience deep joy when they meet matching companions on their paths. Numerous as people are on earth, it is not always easy to find from among the crowd a "matching companion" that one can call a true friend. A true friend or companion is one who shares similar values and aspiration, whereby a basis for harmony and complementarily comes about. Application of the Triple R formula for effective development demands, firstly, union of like-minded individuals.
The more distinct and pronounced the personality of an individual and the more one appreciates such distinctiveness, the less one is inclined to go along with the crowd. Without being a recluse, serious seekers for true and effective development, do not surrender to the opinions and assertions of the masses. Rather they go quietly but with a resolute determination to find what is true and effective for their development purposes, without the need for a large company. People who aspire towards higher values are often lonely, in view of the level of emptiness and narrow-mindedness common among humans.
A value-driven life searches for values rather than a large crowd. Great and up-building ideas are usually nursed and consolidated in solitary silence rather than in noisy environments or through fun-loving lifestyle. A solitary lifestyle is not an end in itself but a means to tap into the intuitively perceptive part of the brain. For individuals and corporate bodies, privacy and solitude are necessary for reception of inspirations for effective development purposes. Such period of privacy for rest, recreation and regeneration may be described as retreat, whose purpose is to commune with higher channels of consciousness.
Theories of motivation agree that ability, working capacity and energy can be richly enhanced if a team share a common vision or ideals whose joyful accomplishment provides a common focus. So it is also with having effective development through application of the triple R formula. According to Eastern philosophy, there can be activity in a state of rest, as well as rest in a state of activity. This means that the issue of rest goes beyond a state of non-activity even when the body is lying still. Genuine rest involves placing the body and mind in a state of harmony, which includes absence of any distraction.
Solitary moment of rest provides opportunity to purge one's emotions, re-examine and possibly reinvent and rebrand oneself, which demands privacy. Real change or transformation usually takes place in privacy and silence. When Nigeria embarked upon a rebranding project a longtime ago, the purpose was to build up confidence, trust and change unpleasant image of the nation. It is usually in privacy and solitude that people can tell themselves the truth about their deficiencies or show some penitence.
Recreation provides opportunity to invigorate the body and bring about a state of harmony between body and mind, through such exercises which can facilitate such a state of synergy. Every individual is meant to find such regular activity which can re-create body and mind in a joyful way, away from money-induced engagements. The life of any individual becomes happier, more meaningful and useful when there are value-added recreational activities which one does with zeal and commitment. There is more to life than merely earning a living.
Rest, recreation and solitary privacy are moments of self-communion, providing opportunity for individuals to discover their unique strengths, weaknesses, deficiencies which can be exploited and addressed. Such moments must be accompanied by a frame of mind devoid of unpleasant emotions such as anxiety, worry, fear etc. Self-examination and revaluation are requirements for effective development. It is better to recognize and correct personal deficiencies and mistakes, than to ignore such lapses under the cover of self conceit.
Regeneration as a third aspect of the formula for effective development, has to do with renewal of energy and impetus. Energy renewal is a combination of physical and spiritual process whereby the cells in the body are recharged via radiation from beyond the earth. Not only are the cells in human body constantly replaced every seven years, but they can also be recharged daily through what we eat, how we breathe and the observance of solitary privacy. To "wait upon the Lord" would include a life devoid of anxieties and other energy-sapping emotion, thereby enhancing the connection with regenerative radiations floating in space.
A lifestyle devoted to rest and recreation, in the right sense, would enhance contacts with regenerative radiations whose first point of impact is the blood, and then the brain. Under the ray of such radiation, an individual can draw inspirations from higher realms of consciousness, which can be translated into effective development channels. Joseph Henry would tell us that: "The seeds of great discoveries are constantly floating around us, but they only take root in minds well prepared to receive them". It does not require stress or strain, but rest, recreation and regeneration.
By: Bright Amirize
Dr Amirize is a retired lecturer in the Rivers State University, Port Harcourt.
Dealing With Earth-Bound Phenomenon
William Blake, in The Marriage of Heaven and Hell, says,  "without contraries is no progression" . An irrepressible energy of life urges everything in creation to manifest, show its true nature and choose towards progression or retrogression. Species which do not possess a free will, fare better in this process than humans do. Progression or retrogression stipulates the exercise of personal volition in the process of the urge to advance from infancy to maturity, wherein the nature of choices made among contraries becomes a decisive factor. For purposes of guidance and avoidance of pitfalls, humans are endowed with appropriate facilities.
Unfortunately, agents of human socialisation and education, including parents and states as well as the "tortuousness of the human brain", confound the simplicity of life, by various means. Thus in the process of growth from infancy to adulthood and maturity, humans encounter snares, doctrines and rules in which individuals get entangled, as in a spiders web of prohibitions and hypocrisy. Natural facilities for the education and guidance of man became distorted.
Earthbound phenomenon is one of the results that arise from human failures and non-diligent utilisation of the natural facilities provided for the guidance and education of every human being. For example, earthbound phenomenon can arise from a preacher telling a large congregation that "there is nothing like reincarnation". It is better for parents, teachers and preachers to leave those who long for true knowledge alone than to give them information that are not true.
To say that "the sins of the fathers revenge themselves unto the third and fourth generation", means that the wrong information or education given by fathers, guardians, teachers, etc, can take up to three or four generations to be corrected. A child misled by a father through some wrong information or an unguarded statement, would remain chained to such a father until opportunity to correct such error comes, which can take up to three or four generations. As it is with passing on of wrong information to a young person who reposes trust in a guardian or teacher, so also it is with a person doing a deliberate wrong or injury to another.
Therefore, earthbound phenomenon has to do with the irrepressible energy of life urging that imbalances caused anywhere by anyone, must be atoned for and balanced, which demands being held down in the environment of the act. To block or undermine the life chances of individuals through malicious or wrong advice, teaching or information, carries a burden which can endure for several generations with the people so connected being bound together even when the issues that created such bondage are long forgotten.
Earthbound phenomenon can arise from simple act of negligence such as passing wrong information, and serious acts of criminality such as murder and looting of a nation's wealth. More importantly what binds a human soul to earthly environment is largely refusal to change for the better, from previous state of gross impunity. Such state of gross impunity and heavy yoke always arises from becoming enslaved to some orgies and propensities which engender gross depravity. Seriously aspiring souls soon detach from the earth.
Any society, nation or environment overwhelmed by persistent instability, violence and increasing criminality, is a society where there are large numbers of earthbound souls. Either such souls are longing for opportunities to take some revenge for the wrongs which they had suffered, or are eager to see drastic changes for the better. But in every case,  earthbound souls are usually souls in serious torments. Thus social unrests and political violence can become short cuts to spiritual liberation, for such souls longing for vengeance and for the living who continue to engage in acts of gross irresponsibility. Terrors of hard and distressing times can engender penitence.
In the case of Nigeria at the moment, evidence supports the fact that events and experiences since 1960, have not produced sufficient impetus for really desirable changes. Considering the horrors of the Civil War, 1967-1971 and experience thereafter, not much has changed in the attitude and inner life for collective Nigerians. On the contrary, acts of injustices and impunity have so increased that victims of gross injustices seek for vengeance, rather than continue to endure more acts of injustice.
What many people fail to take into account is the fact that the working of the wheel of nemesis confounds human wisdom and perception. In most cases, the apparent wrong which people suffer in the hands of other people, can arise as a penalty for distant and long-forgotten injuries inflicted on others which demand atonement. Moreover, ignorance about the working of the irrepressible energy and laws of life, make it difficult for people to be able to know when they are forced to make atonements.
The phenomenon of being confined to the earth for many generations as a result of burdens of guilts, arises largely as a result of an individual making no effort to reduce such burdens through penitence and a change for the better. Such situation of being tied and confined to the earth for errors that must be accounted for, arises from many factors, which include a denial of the fact about repeated earth-lives. Earthbound souls take on body of flesh and blood several times, as an opportunity to atone for existing guilts, and then detach themselves from the earth.
Through exposures to various conditions of life on earth and through diligent use of the free will, individuals encounter the contraries necessary for progression. Experiences in life become useful means of progression if individuals are able to absorb and integrate the lessons inherent in every experience, no matter its nature. To describe life on earth as a battle means that progression comes about through individuals grappling with forces of various kinds, including truth and falsehood. It is only through victory in the encounters with contraries, that progression can come about.
Victory in life's battle can only come when individuals are able to develop the ability to make sound and independent personal judgements. This would include the ability to weigh and evaluate issues and challenges so that an independent judgement can arise from such scrutiny. Many people allow themselves to be led astray by glib talkers, even when they have the means of being guided inwardly. Those who seek to inform and teach others should examine themselves seriously first. Willful acts, negligences and indulgences avenge themselves. We must go back to where we had erred and put things right again!
By: Bright Amirize
Dr Amirize is a retired lecturer in the Rivers State University, Port Harcourt.