The Plight OF Early Marriage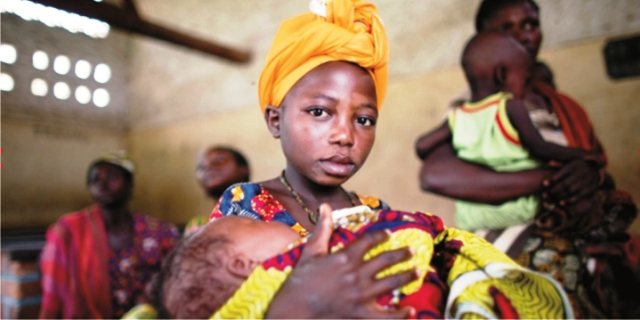 The issue of young girls being forced into early marriage remains a dangerous development. Our young girls in the rural areas suffer the most casualties in this matter. Most of the girls accept to be married off because of the hard economic condition they are faced with.
At the tender ages these girls marry, one wonders what they know about pregnancy and child rearing. Are they mature enough to bathe themselves how much less take care of a husband?
As earlier stated, this issue of early marriage is caused by poverty and illiteracy. Lack of self awareness is an added cause of this social ill. Some parents that give out their daughters in marriage do so because they can hardly feed themselves. That is why they give them out to wealthy men from whom they get what to eat and address their basic problem of hunger. Some of the parents also lack decent accommodation and are unable to send their children to school hence, the decision to give them out early in marriage.
In a recent research that was conducted in a rural community in Ahoada West Local Government Area of Rivers State, it was discovered that 89 per cent of young ones were uncatered for and so could hardly fend for themselves. The result of this is that the girls among them are forced into early marriage by the circumstances they have found themselves. With the discovery made at Ahoada West LGA, it is clear that many victims of child marriage are either forced into it by parents or circumstances.
I do not agree with the view that some of the under-aged girls involved in this practice do so of their own volition. Even if there are cases of such, they are very few compared to the lot. The truth is that these girls are too young to understand the implication of their decision and that is why they jump into it. Some jump out almost immediately while others remain per haps due to threats of being ostracised by their families. Given this type of situation, can we say the under-aged girls who are victims of this practice are exercising their right to choose? Not in the least!
The assumption is made that once a girl is married, then she has attained marriageable age which the constitution puts at 18 years. This section of the constitution has to be amended or expunged else the reverse will also be true of the boys. That is,  if a boy marries while he is under age, then he automatically becomes a man.
While early marriage takes place different forms and shapes, one issue is paramount about it and that is, it is a violation of the right of the victim. I am talking about the right to freely enter into the union without being forced into it. The right to free consent to a marriage is recognised by the 1948 Universal Declaration of Human Rights (UDHR). It is also recognised in other human rights charges. When one partner is so immature, consent cannot be said to be free.
Early marriage had several impacts which are physical, intellectual, psychological and emotional. But an effect stands out clearly. It robs the child the right to at least basic education. For girls, who are always victims of these ills, they face the danger of premature pregnancy and child-bearing. Because of their innocence as a result of their immaturity, some of them are sexually-abused by their so-called husbands while they remain helpless. Also, this type of marriage produces high divorce rate.
Given all that has been said,  I think the government has to act very fast. The first step must be to amend all relevant laws that give impetus to the vice practice. Secondly, awareness has to be created  particularly among young girls (under-aged) of the dangers of early marriage. Then finally, government at different levels have to identify girls that are prone to this practice and provide them assistance such that they can hardly be tempted into early marriage.
Every young person needs education. To this end, free and compulsory education should be made available to our young ones in the country. Since education is an instrument of enlightenment, many of them will be in a position to weigh the pros and cons of early marriage, before deciding on it.
Chizoba is a student of Abia State University.
Igwe Chizoba
What Hope, Oh Super Eagles!
Without doubt, one of the most topical issues in Nigerian football at the moment is the underwhelming performances of the Super Eagles in their most recent 2026 FIFA World Cup qualifiers against the Crocodiles of Lesotho and the Warriors of Zimbabwe. In the opening group match against Lesotho at home, the Super Eagles who many people now prefer to address as 'Super Chickens', had to fight back to draw 1-1 with the lowly rated country. That lethargic performance got tongues wagging as many Nigerians who had expected a whitewash of the 'minnows' descended on the Super Eagles. Three days after, Nigerian football fans had another bitter pill forced down their throats as their expectation that the Super Eagles would make amends in the next match against the Warriors of Zimbabwe was dashed again completely. It was another tame draw. Just as in the first match against Lesotho, the Eagles had to come from behind to pick a point.
To make matters worse, Nigeria's arch rivals, the Bafana Bafana of South Africa started their campaign on a winning note at home against Benin Republic. The Southern African country edged Nigeria's neighbours 2-0 to initially take command of Group C which also includes Rwanda. At the moment, Nigerians are angry with the Super Eagles and such anger is not misplaced or unfounded. Of course, as passionate football fans who like to invest so much time and emotions into the team, Nigerians do not deserve another heartbreak from the team. Those who are calling for the head of the coach and his players are yet to get over the shock of the 2022 FIFA World Cup mishap. When the Eagles failed to qualify for the World Cup in Qatar, it was a major sporting disaster that drained many people emotionally. Therefore, such people never imagined that the Super Eagles would attempt to toy with their emotions so soon.
However, just after two matches into another qualifying campaign, Nigerians have so many reasons to worry about the chances of their team making it to the next World Cup. Already, the permutations have started again. Even though before the race to the 2026 World Cup started, all eyes were on Nigeria and Africa but what has played out so far is entirely different. Rwanda who stunned South Africa 2-0 at home are currently leading the group. They are on four points and are being chased by South Africa who are in second position while the almighty Super Eagles are trailing in third position with two points from a possible six points. Therefore, those who were quick to hand the group to either South Africa or Nigeria soon after the draws were made should have a rethink immediately. It is not going to be a stroll in the park for the favourites as their group opponents who are yet to taste World Cup action must be doing everything possible to break the jinx. Moreover, when pitched against bigger opponents, the smaller teams always go the extra-mile to cause an upset. So, it is the Super Eagles and the Bafana Bafana who should be wary of their less endowed opponents.
It is against this background that Nigerians who know the capacity of the Super Eagles to disappoint them are yelling on top of their voices that another disaster is looming. Those who are still angry over the Eagles failure in 2022 have since called for a complete overhauling of the team. They want the Portuguese coach, Jose Peseiro and the present Eagles to be shown the exit door. However, some are of the opinion that throwing away the baby with the bathe water at this point in time will be more costly. Therefore, they want only those basic changes that would lift the Super Eagles in their remaining eight matches. For many of us, the players are not totally useless but they are like sheep without a shepherd. If a medical doctor suddenly abandons his stethoscope to fly a Boeing 737-800 aircraft, there is bound to be disaster in the air. One can only offer what he has. It is an open secret that Peseiro right from day one has displayed lack of capacity to lead the Super Eagles. Surprisingly, he is the man the Nigeria Football Federation (NFF), both present and past, feels is the one who will lead the team to the promised land. It is not working but many of them seem not to know that the coach is a serial failure. The NFF is presently stuck with the journey man as how to pay him off has become a major problem.
Only recently, a colleague of mine jokingly suggested that Nigerians should donate money for Peseiro to be paid off. Many of us can not wait to see his back. However, even if the coach finally leaves, the problem will persist if there is no players' change of attitude towards national team assignments. The players are oftentimes as unserious minded as their coach. Most of them don't know what it means to put on the green white green jerseys. Since they know they can stray into camp and pick shirts, they do not really care. Once they are invited, the players come to while away time for the international break to be over. It is doubtful, if they are ready to spill blood for the team to win. Therefore, if Peseiro finally leaves, whoever will take over from him should be bold enough to throw the camp open for all Nigerian players who are based at home or abroad. The clamour for the home-based players to be injected into the national team has refused to die down so it is high time someone listened to the clarion call.
If that is done, those foreign based players who have this annoying sense of entitlement will sit up because they will not like to lose their positions to the local boys. And I canot conclude this piece without stating emphatically that the Super Eagles need another goalkeeper. If Francis Uzoho is maintained as the team's number one keeper, Nigerians should forget about the 2026 World Cup ticket. It may not happen because teams succeed or win crucial matches when they have in their squads reliable and dependable goalkeepers. Of course, Lionel Messi inspired Argentina at Qatar 2022 but Emiliano Martinze's heroics in goal contributed significantly to the victory. Without a doubt, his huge last-minute save to deny Randal Kolo Muani kept Argentina in the finals before the eventual triumph over France on penalties.So, the Super Eagles are already walking a tight rope but if those in charge of the team are patriotic and courageous enough to make the necessary changes, they will get their campaign back on track. Personally, I have not given up on the Eagles but I am not expecting anything from them. Blessed are those who do not expect, for they will not be disappointed.
By: James Imagwe
Challenges Of Paediatric Surgery In Nigeria
According to the United Nations Children's Fund (UNICEF), Nigeria is a 'country of the young' with 92 million of its over 200 million population under the age of 15 years. Also, according to Professor of Paediatric Surgery at the University of Lagos, and former Chief Medical Director (CMD) of University of Lagos Teaching Hospital (LUTH), Prof Christopher Bode, the number of children under 5 years old in Nigeria are over 30 million, with about 7 million new babies being born yearly. Prof Bode was the keynote speaker at the second edition of memorial lecture, held last week at the University of Port Harcourt, in honour of one of the pioneers of paediatric surgery practice in Nigeria, late Dr. Melford Graham-Douglas.
According to him, paediatric medicine is the medical care of children, a broad name for treatments for those from zero to 15 years of age, of whom Prof Bode observed are tender and voiceless, because they mostly can't speak for themselves, depending on their parents for important lifecare decisions. Paediatric surgery which deals with surgical cares, mostly of birth defects in babies, demands the utmost skilled personnel, equipment and specialist handling, considering the tenderness of babies. Since the introduction of paediatric surgery in Nigeria, child-care professionals have continued to champion the awareness that children need specialised healthcare and infrastructure more customised to their needs as distinct from general medical practice.
Despite the achievements made so far in Nigeria in reducing infant mortality rates from previously untreatable birth defects, thanks to the foresightedness of pioneer paediatric surgeons like the late Dr Melford Graham-Douglas, enormous challenges still face the discipline from achieving its full objectives.As part of the general challenges of the Nigeria healthcare system, health screenings for disorders are mostly relegated out of ignorance, to the effect that paediatric cases requiring earlier surgeries are presented late, while most children are unable to communicate their health challenges. Where emergencies occur, paediatric surgeons have had to wait endlessly, for the general surgeons to free-up adult theatres before they could exercise efforts to rescew babies in critical conditions.
Considering that children are different in size and physiology, their cases become more delicate. Their body surface to mass ratios are much higher than in adults, that they dissipate body heat faster in normal ambient temperatures, and easily catch cold in the cold conditions of adult surgical theatres. Warmer surgical theatres designed and dedicated for children are always needed or they easily succumb to life-treathening hypothermia. Basic amenities are also needed to transport children in warm ambulances, especially babies, from hospitals of first call, to the centre of definite care.Paediatric surgeons also need to monitor children's blood levels with specialist care because children have very low blood volumes that a minor loss could tip the balance between life and death. Due to anatomic differences from adults, children need special anaesthesia to undergo successful surgeries, and careful drug calculations to cope with their tender metabolic systems, their airways being so narrow, many routine anaestetic steps in adults are unsuitable for newborns and infants.
Drugs and the amount of fluid infusion to be administered to a child must be carefully calculated to conform with body weight, and in isothermic conditions. These are reasons paediatric surgery is such a speciality area that requires the skills set and infrastructure it deserves. It has been a huge challenge to practitioners who have had to work in poorly equipped environments. Paediatric surgery units in Nigeria should therefore be provided with neonatal intensive care units (NICUs) and paediatric intensive care units (PICUs) to ensure adequate post-surgery cares for babies and children, in addition to providing exracorporeal membrane oxygenation (ECMO) machines.Prof Bode however regrets that low man power remains a challenge in the field. According to him, in a survey conducted in Nigeria, about 2.9 million Nigerian children live with surgically correctable conditions, meanwhile there are just 38 treatment centres and only 115 paediatric surgeons in the country, some of whom have left for greener pastures, leaving a workload of about 25,000 patients per surgeon. There are only 22 professors of paediatric surgery to train needed personnel. There is therefore a need to create significant incentives that reverse the exodus of skills.
The labours of specialist surgeons like the late Dr Melford Graham-Douglas, who worked tirelessly to save lives remain commendable and they need being immortalised as an encouragement to others. There is need to celebrate those who served humanity selflessly and bequeathed a legacy of patriotism and hardwork.Late Dr Melford Graham-Douglas was the first African surgeon under the British Technical Assistance Scheme. He was a fellow of the British Association of Paediatric Surgeons, a fellow of the Royal College of Surgeons of Edinburg and England and a fellow of the American College of Surgeons. He was the first registrar of the Nigerian Medical Council, was among the founding fathers of the University of Lagos, as well as being a council member of the universities of Ibadan and Port Harcourt, respectively. Back home, he served the Rivers State Ministry of Health as permanent secretary who laid the foundation of health infrastructure in the state. He was honoured with the Order of the Federal Republic (OFR).
An icon of the Orubibi Group of Houses in Abonnema, the University of Port Harcourt honours late Dr Melford Graham-Douglas with a Professorial Chair in Paediatric Surgery at the university's College of Health Sciences, in recognition of his contributions to humanity. The chair, currently occupied by Prof Amabra Dodiyi-Manuel, is dedicated to research and development in paediatric surgery.Government should build upon the foundations established by men like late Dt Graham-Douglas to equip the College of Health Sciences of the great University of Port Harcourt, with state of the art facilities in paediatric surgery, as a centre of reference within the South-South region. As it stands today, there is no significant paediatric surgery centre in the region. The management of UNIPORT should engage both federal, state and regional stakeholders to ensure this becomes a reality.
By: Joseph Nwankwo
The Church Cannot Stay Out Of Politics
The Independent National Electoral Commission (INEC) once reminded religious leaders of an electoral law that forbids political campaigns in the mosques and churches. That law must have stemmed from stark ignorance and/or complete detachment from reality. Primarily, there is no separation of religion and politics in Islam. The gathering of the faithful in a mosque is essentially the polity at prayer. Therefore, the mosque is a veritable forum for politics. Unavoidably, Imams must preach politics from the mosque dais. Secondly, despite centuries-old determined attempt to separate religion from politics in Christianity, politics and religion remain inseparable, and pastors have to talk politics. Moreover, if every Nigerian generally has political views, and can express them through their different media – singers through their songs, writers through their writings, etc – why are pastors not expected to express their political opinions from the pulpit? Is the pastor's statement of his political opinions from the pulpit tantamount to political campaign in the church? And churches sometimes invite VIPs, including political figures, and yield the pulpit to them. What is expected of such political figures furnished with a church audience and a pulpit? Are they expected to extol the beauty of the weather outside, the resplendence of the congregants or the excellence of the centre of excellence? No, they will talk politics: extol their political candidacy and political party and denounce their political opponents and their political parties. Will these be tantamount to political campaigns, and thus, a breach of the law? Nigeria is in dire straits. It is reeling from the criminality, dereliction of constitutional responsibilities, irresponsible economic policies, disregard for human lives, and ruthless exploitation of the masses by the Buhari administration. The Buhari administration was the face of an iniquitous oligarchy that had, in advancement of its selfish, cliquish and fiendish interests, literally destroyed the country.
In its acquiescence to terrorism and banditry, the Buhari administration relinquished the control of parts of the country to terrorists and bandits, and allowed Fulani herdsmen to range across the country, unchallenged, killing, raping and kidnapping with impunity. Its much vaunted fight against corruption is a colossal farce; official corruption is thriving at hitherto unprecedented heights. The economy wobbles perilously at the brinks of a collapse; poverty became more pervasive and entrenched, with increasing percentage of Nigerians trapped in extreme, raw-dirt poverty. Horror-struck by terrorism, banditry and Fulani herdsmen murderous lunacy, frazzled by official irresponsibility, corruption and brutality and wrenched by poverty and hunger, Nigerians are vegetating in misery, gloom and despondency. It is impossible for any sane Nigerian,to remain ambivalent or indifferent to the country's harrowing dilemma. Moreover, unlike other professionals, pastors are exceptionally empowered as social crusaders because their economic base is not susceptible to government and/or corporate sanctions. A government, corporate or university employee that challenges the status quo can, readily be fired from his job. And for opposing the system, a businessman can have his business interests endangered: contracts and business engagements cancelled, and licenses revoked. In addition, pastors are armed with the sacred word of God and the inviolable moral and spiritual authority of the pulpit.  Not surprisingly, preachers have played pivotal roles in the struggle against bad rulers, social injustice and other societal evils. In the Black American fight for racial justice, pastors featured prominently: Elijah Mohammed, Malcolm X, Louis Farrakhan, etc on the Muslim side; and Martin Luther King Jr., Jesse Jackson, Andrew Young, etc, on the Christian side. Nigerian preachers should be in the lead in the resistance to this evil oligarchy consummate in its corruption, thievery, anti-human policies, and looting and tearing down the country. Any pastor that is not a party to this struggle must be feigning neutrality in a time of a great national crisis. It has been written that, "The hottest places in Hell are reserved for those who, in time of great crisis, maintain their neutrality."
The solution to our festering multifaceted problems lies in a complete rejection of this coldhearted oligarchy in the 2023 presidential election. Atiku Abubakar and Bola Tinubu are inextricable parts of the oligarchy. Atiku Abubakar has demonstrated disquieting sensitivity to the susceptibilities of violent Islamic fundamentalists. He is a Fulani, and like Muhammadu Buhari, he will pander to expansionism and its associated banditry, terrorism and Fulani herdsmen's blood-soaked excesses across southern and north central Nigeria. Perplexingly, although Nigerians are sick and tired of Buharism, Bola Tinubu affirmed that his presidency will be a continuation of Buharism. With the ravages Buharism has wrought on Nigeria, why would any sane individual want to continue with Buharism? It must be due to blind loyalty to the outrageous designs of the oligarchy; senescent disconnect from reality; and sadism that gloats in the increasing economic strangulation of Nigeria.
By: Tochukwu Ezukanma
Ezukanma writes in from Lagos.