Postponing Elections Means Tenure Elongation – Onaiyekan
John Cardinal Onaiyekan is
the Catholic Archbishop of Abuja Diocese. In this exclusive interview, the former President of the Christian Association of Nigeria (CAN) bared his mind on a variety of burning national issues, including his thoughts on the build-up to this year's general elections.
The countdown to this year's general elections has commenced in earnest with the major political parties intensifying their electioneering campaigns. What are your thoughts on the build-up to the elections?
One would have said that by now we should have gotten our acts together and be able to conduct democratic elections as a routine process in our political history, just as it is in most developed and civilized nations.
But I am afraid that, unfortunately, even as we approach the next general elections, there is general air of fear and anxiety in the atmosphere; expressed by the fact that many people are moving their families to where they consider safe havens. Many Nigerians are sending their families back home to their villages, especially southerners living in the far north. They are relocating back home. This is internal movement and I have been told that other Nigerians at the top level are also sending their families abroad until the elections are over.
Some of them are even top level people within the political environment and I think we cannot deny that this is happening. The only thing we can also affirm is that the vast majority of Nigerians are not running away; they have nowhere to run to. This means most of us will all be here in our respective places of domicile and this is a question that concerns all of us, whether this election would be free, fair and non-violent. That does not only depend on the politicians or government alone, but also on all of us.
What I have been preaching all along is for our people, the ordinary Nigerians to reject violence, refuse to be intimidated, stand their ground and perform their civic duty and not to allow anyone to disorganize their mind. Even then, I also still believe that it is the responsibility of government to conduct elections.
But the way our government has always been, the institutions of government that should ensure impartial, independent electioneering have often found it difficult to remain totally neutral in relation to the contending parties. I think we need to admit that it is difficult because by the very nature of things, by the way the INEC is constituted and by extension the kind of control from the government, which makes the ruling party have control over national security agencies, namely the police, army SSS.
Because of that the tendency has always been for the government in power to enjoy undue advantage over the others. As you know, Nigerians can rightly refer to the weight of incumbency; the idea being that it is difficult to dislodge the government in power, almost as if it is only a stupid government in power that allows it to be defeated.
The question is, is this changing? Mr. President has repeatedly vowed and avowed that he will do everything in his power to ensure a free, fair and non-violent election. He also facilitated the famous meeting of all the political parties; particularly the leading presidential candidates on ground, at which meeting they signed an accord to ensure the election is free, fair and nonviolent.
For me that is good news although I am aware there are people who are skeptical. I remember speaking here in my hall with a very prominent opposition politician who said it is a mere ritual that they perform during every election. I can't remember it happening in previous elections and even if it did, it did not get the attention that this one attracted.
Therefore, the message it sent at that level so far is very encouraging that we may indeed have a free and fair election devoid of violence. But that cannot happen only because you signed a piece of paper and I think the government who is largely responsible must take actions that speak louder than words such that the opposition is given a sense of confidence that yes what we signed will be properly implemented.
I really believe that the government in power has to do that and Mr. President, having given his word of honour solemnly, he should do his best. This means he may have people around him who don't believe in the pact or who are already planning strategies. He should find a way of eliminating them from the system and allow the process to go.
There is no doubt that there is a link between the quality of the election and the possibility of post-election violence. Generally, as you have seen post-election violence is often an expression of disappointment or even anger at election results that are perceived to be not in line with the reality of the votes cast.
It means that INEC must go out of its way to be clearly non- partisan and independent; it should be independent as its name says and seen to be independent. The security agents should be for the security of all of us; to protect all political parties without bias.
Talking about the peace pact, are you satisfied with the conduct of the two major parties in their presidential electioneering campaigns so far, in terms of the language and messages they are passing across?
We still have to come back to the point I earlier made that President Jonathan and General Buhari embraced each other warmly with big smiles and that photograph has gone viral. I would like to believe that those smiles were sincere; but they should also realize that there may be others on both sides who may not share the same sentiments.
This is where each of them must demonstrate true leadership to be able to bring in their members to the extent that such smiles, embrace and spirit that we saw on that photograph would be reflected in the conduct of the campaigns. It is not surprising that some persons, here or there, with misguided enthusiasm, may see things and carry out certain acts that are anything but civil.
But what we do expect is that when that happens they would be called to order. It boils down to not using foul language and addressing issues. I wouldn't say we should avoid addressing personalities because personalities are important; we have to address both.
Personalities in the sense that, this guy has the qualities to rule or lacks the qualities to do so. But even when you are discussing personalities during campaigns it should not be insults. It is allowed for politicians to assess the past performance of their opponents as a way to indicate how much they fit power or not and this can be done without insults.
It is up to the electorate who are listening to them to weigh the weight of the argument one way or the other and to decide who to vote for.
What is your personal take on the performance of the current PDP led administration in terms of security, fighting corruption and managing the economy?
Let me say that before the build up to the elections we have been talking, it is not to be unexpected that whatever problem that is on ground we put the responsibility on the government in power; they are the ones who have asked to be our rulers, therefore, if we go into serious issues like that of corruption we must be the ones to say much has been left undone.
Even the government itself admits, though they may give excuses like, for example, saying that every nation is saddled with corruption. They might even say we have set up EFCC, ICPC and so on, but the question is there are too many people who are getting away with corrupt behaviour and there is no point asking me to bring proof of accusation of corruption.
There are agencies that should be able to track how people acquire wealth and how far such wealth can be justified on the basis of their income. It is the job of government agencies to do that, there are obviously a lot of people who have acquired wealth that it is not too difficult to explain how they came about such wealth.
Take the area of security; the Latin people have a proverb which says "you don't argue with a fact before you." For example, that you came to my house today at 5.15pm is a fact that we cannot argue over. In the same way it is obvious that there is insecurity in the land, what is even obvious is that there has been a trend of growing insecurity in respect of Boko Haram.
I don't know whether there is less insecurity in other areas, like kidnapping and armed robbery, or is it that Boko Haram has completely taken our attention. But I am told that kidnapping has not even been arrested, it is still going on. In fact, somebody phoned me last night that her brother was kidnapped in Gboko of all places, which means whatever efforts the government is making to ensure that all of us are safe, those efforts have not achieved adequate success.
The first responsibility of every government is to ensure the security of lives and property of citizens. In a situation like elections, you cannot say since this government has not done XYZ then I am going to the other person or you say this government has not done XYZ, but we have no confidence in this new person. The opposition does not have to prove how much they have done because they have not been in power.
This is why in developed democracies, incumbency is always a liability in elections and generally the opposition is at an advantage because they can always put the blame of everything on the ruling party and claim that if you put them there you will see wonders. This is why in Europe and America you see this ding-dong going on and I think there is something good about that. If you go try your best and people would say let us try some other persons and the next people would come and do their best and by the end of the day the whole society is much better.
Therein lies the strength of democracy; you can always change your mind and you can always bring people back. Why I am going through this is that at this point there is no reason asking me whether Jonathan has performed well enough because that is going to be the major question for the election and I don't want to pre-empt that.
You earlier expressed concern about reports about people moving away from the north and vice versa. Are you particularly afraid?
I am living in Abuja and if I am not particularly afraid, it is not because there is no reason to worry. It is simply that my own emotional make up, especially with regards to the Nigeria project, is such that I am very optimistic.
You are here in my house; did you see any policeman or soldier? But there are people who cannot do without them because they are always afraid. I go around freely without carrying a platoon of soldiers to protect me and there are people who are telling me that I am being very naïve.
Some people have noted that my jeep is clearly inscribed with Cardinal Archbishop of Abuja and they say look, you are advertising yourself for attack. I have been advertising myself for the past many years and no attack has come. Instead I have made myself liable to be recognized and treated very well.
What roles should religious leaders play in times like this? Are they living up to such roles in Nigeria, given our current situation?
In Nigeria today who is a religious leader? So many people claim to be religious leaders and there are many religious leaders who are politicians and who carry on mixing their religion and politics.
It is something you cannot really avoid and that makes your question difficult. I can only talk for myself.
Fortunately, I belong to a church which has rules that we who are clergy abide by. Those of us who have chosen to be clergy cannot be part of any partisan organization. I can't be a card carrying, advertising member of one party.
That doesn't mean that I do not have an obligation to vote, but I cannot go up to the pulpit and say vote for X or vote for Y; that is what my church says. But you know there are other churches which don't have such rules where reverends are themselves strong members of political parties and right now we have it in our hands.
Talking about your church (I believe you are referring to the Catholic Church), one of your reverends, Emmanuel Mbaka, recently came under criticisms for his sermon against President Jonathan's government and you were one of those that criticized him. Why?
I am happy with this opportunity to balance the report that emanated from an interview I had with one of your colleagues.
Assessing the performance of the government is what we do regularly and the reverend father in question was well in order to point out, especially the gap between declarations and real achievements. It is part of our duty to denounce deception and lies and to that extent I have no problem because I have been doing that myself.
But when it reached a stage where he says you have to vote for X and not for Y he has crossed the boundary; he should have left those who were listening to him to make up their minds on that because they have every right to freedom of choice and not to be pressurized with spiritual power to go one way rather than the other.
Of course, it is not every Reverend Father that is like the one you are talking about because in every group there are always those who are on their own.
So has he been punished or sanctioned for violating the rules of the Catholic Church?
I was reported to have said if he were a priest in my diocese I would sanction him, but I would not deny that. But the question is what do I mean by sanction?
Sanction may not necessarily mean punishment; it may not be more than calling him for a discussion to point out to him that what he has done is not in order. That is already a sanction. Has he been punished? I don't know because that is up to his bishop.
Given the concerns you earlier raised over the forthcoming election, do you foresee a situation whereby there would be another post-election violence?
The only thing I foresee is that our next president would either be Jonathan or Buhari; that is all. We are hoping that the conduct of the election would be so transparent that there will be no much room for quarrel when the result is announced.
I think even the mechanism for our election, despite the inadequacies here and there, has been done in such a way that we can really transparently follow the movement of our votes.
From what I understand, the votes are all counted at the polling booths, which are not secret locations. They are open and at each of them there are the agents of the political parties. Even those of us that are ordinary people have the right to stand around and ensure that things are done well.
There should be no difficulty in counting votes. There should be no difficulty in collating votes in these days of advanced technology. Our Catholic Church was involved in election monitoring and we gave all our boys and girls cell phones, and from each polling booths, they were sending us the results as they were being announced.
Somewhere along the line, we went into trouble because the result that was announced from the collating centers did not tally with what we independently collated. We have specific cases where our collations were used in election petitions and we succeeded in getting the elections overturned because it was clear that someone out there decided not to do the right thing.
And this is what we have been saying, namely that if everybody involved with the electoral process is aware that this is a matter that is very important for Nigeria; that we cannot afford to leave ourselves in a situation of anger, frustration; that our votes have been badly handled, then they would do the right thing-transparently.
And if it is clear that I didn't win the election, there is no need to resort to violence. What is not good is to play monkey games, ballot box stuffing/snatching and at the end come up with a result. At the end of the day, you expect those who are declared losers to accept such results? They can't accept it because it is not feasible.
Sometimes the contestants may agree with the bad process, but their followers may not agree and they have every right to protest because at the end of the day it is their votes that are being rubbished.
Should religion be a factor in deciding on choices during elections in Nigeria?
A whole lot of things go into your choice of whom to vote for and what to vote for. Everybody has his or her own convictions and interests. There are people whom the most important factor in election is what religion the contestant belongs to. I have heard people telling me I will never vote for a Muslim and they are entitled to that position and there are those who say they won't vote for a Christian.
But if you ask me I would say you are wrong if you say you are a Christian and won't vote for a Muslim. Supposing you have a rogue as a Christian candidate and a very good Muslim as a candidate, can you still say the same thing? Someone would say yes, but they have every right to their choices. But if you ask me I will say that our job as religious leaders should be to constantly tell people to vote according to their conscience and the person who would do a better job.
Of course, who would do a better job depends on how you see it. There is also the other question of ethnic identity. Some people would say no matter what, I will cast my vote for the man from my area.
But if you continue voting like that you are likely not to be getting the right candidates, because it is not likely that the person from your tribe is the best. Are you interested in the good candidate; the best person who will do the best job? That is the irony that makes elections difficult in Nigeria.
One of the presidential candidates recently went into a church, thereby drawing comments from many people. What is your take on that?
The fact that a Muslim candidate went to a church, there is nothing against that. In my own church I have received many Muslims for various reasons: weddings, funerals, thanksgiving services where you come with your friends including Muslims. So, that a Muslim visited the church there is no problem about that.
The problem will only arise over what role he is given to play, otherwise there might be no difference between him and a Christian politician. If a Christian politician begins to campaign in the church, he is certainly wrong because the church is not a campaign podium.
For the same reason, if a Muslim comes to Church to start campaigning it is wrong. You may say that his very presence there is interpreted to be campaign, but I am afraid that interpretation is uncalled for. Don't forget that whoever will be our president would be the president of all Nigerians and he is going to be either Christian or Muslim.
If my president is a Muslim I will be more comfortable if he is the kind of Muslim who has no difficulty coming to my church. But if I have a Muslim president who is so fanatical to the extent of not being able to stand the Christian faith and cannot enter the church, then there would be problems. Christians, also, go to the mosque when they are invited; you don't pray with them, you just go there as a sign of solidarity.
I can imagine that this politician you are talking about was brought to the church by his friend who happens to be a member of that church.
With barely three weeks before the elections there are fears in the North-East where insurgency persists with many of the people there now living elsewhere as IDPs. This has made others to call for the suspension of elections in those states. What is your take?
Let me tell you frankly, I really do not know what to say. This is a serious problem! It is like whichever way you go you are wrong. Some people have canvassed the idea that we postpone the election until there is calm in the North-East, but as you know postponing election means prolonging tenure, so it is untouchable because a new government is expected to take over on May 29, with a new president.
To that extent, there is no way of postponing election. Even though Mr. President told them in Maiduguri the other day that all the IDPs will soon return to their homes, I think you would need a miracle for that to happen that soon.
From the time he made that statement, I have not seen any action on ground to give even the IDPs the confidence that they would soon go back to their homes for the election. Now, that it is obvious that first of all, you cannot set up polling booths or polling stations in those areas because when you say a place is under Boko Haram insurgency it doesn't necessarily mean their soldiers are stationed all over the place. No.
They can launch attacks from anywhere, so the place is not safe and which means you cannot conduct election in that whole zone. That is not the only problem. They said arrangements would be made for IDPs who are in camps within their own states to vote and I think and hope they would go further on that arrangement for the simple reason that the vast majority of IDPs are not in camps.
We have heard that not more than 10 per cent of them are in camps and to say that because you are not registered in camps you cannot vote is tantamount to deliberately disenfranchising the IDPs. I believe INEC should still put its thinking hat on, go back to the drawing board and open the space as much as possible to permit as many as possible for IDPs to vote.
Are you confident that INEC would deliver in these elections, especially with the problems associated with PVC distribution?
Was it last week or so that a governor , at a rally, was encouraging the people to please go and collect their PVCs. INEC said there were millions of PVCs that were waiting to be collected, but I am seeing the problem from the other hand.
I am not putting the blame on these people who have not collected their PVCs, but I am putting the blame on INEC who has made it rather difficult for them to be collected.
There should be a way of making the PVCs easily accessible and it is up to INEC and I put the blame on them. If you have a situation whereby you have hundreds of thousands of PVCs uncollected, it means that those uncollected PVCs can be put to sinister use on the day of election. The sooner we get done with our national ID cards the better, because most countries that is what they use for elections and in those countries every citizen has an ID card.
What do you make of the controversy generated over the certificate of the APC presidential candidate?
To me, this is an uncivilized attitude towards the election. As you know this whole story of certificate is being blown up as part of electioneering campaign. If you ask me I would say what has secondary school certificate got to do with whether either of the two candidates can rule the nation, especially when you are talking about somebody who has ruled the nation before and had reached the level of a General in the Army?
Are we saying that he has not got the level of education of a secondary school? Those who say so are simply looking for reasons to score political points. It is just like the story about the condition of his health which is very sad. I am 71 years of age and all of us at this age have something in us; one form of terminal disease or the other, which is normal at that age.
The Bible says the sum of our years is 70 and when I marked my 70th birthday, I went to my doctor and told him that I have reached the sum of my years and I am expecting death anytime so he should please help me find out which disease can kill me so that I can prepare. This is normal that anybody at 70 and above has something, but the election law does not say you must bring out all your medical records; everybody keep their medical records.
We have even seen sick presidents who have performed very well; we have even seen blind presidents who have performed very well in their countries, so let us be very serious. I am very sorry that these issues are being raised. Those who are raising these issues are the ones dragging the level of political discourse to the mud and they are getting on our nerves.
Culled from the Sahara Reporter.
Rivers State Has Entered A NEW Realm Of Glory -Nsirim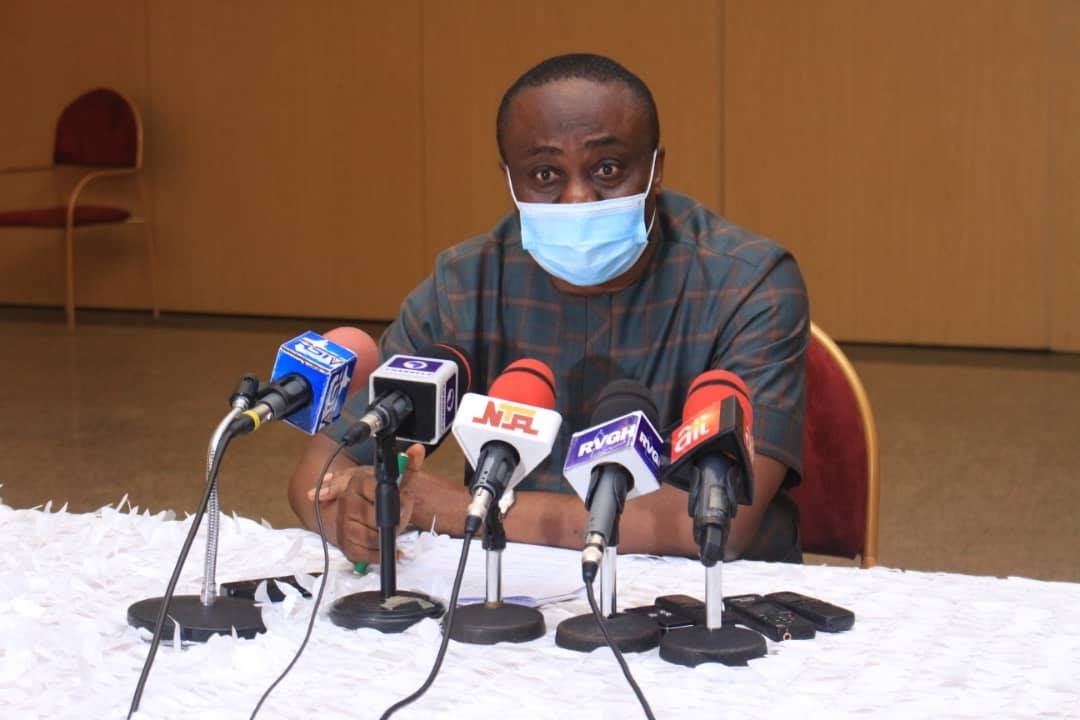 Being a text of press briefing by the Commissioner for Information and Communications, Rivers State, Pastor Paulinus Nsirim on the second leg of the second phase of the advocacy campaign #OurStateOurResponsibility on Monday, November 15, 2021, at the Ministry of Information and Communications Boardroom in Port Harcourt.
Excerpts.
Protocol
Two months ago, I had cause to address you as the Ministry rolled out activities to commence the second phase of our advocacy campaign with the hash tag OurStateOurResponsibility.
It is therefore my pleasure this afternoon to welcome you again, our very esteemed journalists, to keep you abreast of what has happened thus far and what is to come in the next few weeks, as we keep alive the advocacy campaign, which by all parameters has received tremendous buy-in from relevant stakeholders in the State.
Let me use this opportunity to commend you all for the unprecedented support you have shown since we commenced this advocacy campaign two years ago. You have sustained the tempo of the campaign through your reportage and have clearly demonstrated your unflinching belief in the campaign, as it is a win-win situation for all who reside and do business in Rivers State, as we continue to act according to the dictates of the advocacy campaign.
May I request that as we proceed in this second part of the second phase of #OurStateOurResponsibility advocacy campaign, you should increase the tempo of your support as we drive towards engraving the message of the advocacy campaign in the hearts of the people of Rivers State and all who reside and do business here.
As you may be aware, the essay competition among youths of the State which aimed at inculcating in the minds of our young ones the ideas and ideals behind the advocacy campaign, as future drivers of the message, was a huge success. It did not only throw up an amazing and adorable 18-year-old Rivers girl, Sophia Awajibenem E. Oyibo as the winner and hence, our Ambassador for the quarter, it opened a new vista of hope that the advocacy campaign is gaining grounds among our youths.
At this juncture, I wish to publicly acknowledge the rare qualities of this young lady who within the few months of her being the Ambassador of the Ministry of Information and Communications has continued to arouse the interest of the youths in Rivers State to understand and embrace the advocacy campaign championed by the Ministry.
A few days from now, precisely on November 25, 2021, at the Ministry of Women Affairs auditorium, she would be hosting, with the support of the Ministry of Information and Communications, a one-day sensitisation programme titled "The Wind of Change" aimed at promoting and strengthening the advocacy campaign, #OurStateOurResponsibility. She would be interfacing and interacting with youths from the 23 local government areas, youth organizations and people living with disabilities, to further drive the second phase of the advocacy campaign, May I request that you extend your support to this brilliant, eloquent young girl who we are glad to showcase as our Ambassador.
Gentlemen of the press, when we kick-started this second phase of #OurStateOurResponsibility advocacy campaign, we laid out various programmes aimed at driving the message with the overall aim of ensuring that everyone becomes a major stakeholder in the Rivers State project and portraying the State in its true positive image as the most hospitable in Nigeria, is achieved.
Having successfully executed the essay competition, the Ministry is ready to roll the dice for the theme song competition. Therefore, today's briefing is to outline the plans towards achieving a theme song for the advocacy campaign. This, like the essay competition, would involve input from members of the public in line with our philosophy of ensuring a further buy-in from all stakeholders.
To this end, the Ministry of Information and Communications is calling for entries for theme song competition for the advocacy campaign. The entry is open to all persons residing and doing business in the State. Our desire in rolling out this theme song competition is to ensure that our best and brightest creative minds are given the opportunity to be innovative. We want our people to put their creative talents to work by searching for breakthrough ideas through thinking.
It is important to stress that the theme song must align and match the hash tag OurStateOurResponsibility. We expect the theme song to tell the people of Rivers State and others what to expect and what is expected of them. We expect a theme song that people can have in their heads, something that is simple, catchy and easy to remember and establishes a connection with the listeners and should not exceed three minutes. All the entries would be judged equally on four areas, namely: – Content originality, content alignment with theme, production and sound quality (clarity, consistency of audio levels and lack of noise)
The entry for the theme song competition starts today, November 15, 2021. We expect that between today and November 29, 2021, the necessary awareness must have been generated and created by you all, as we expect contestants to download the entry forms, rules and regulations guiding the competition from the advocacy compaign website: www.ourstateourresponsibility.com on or before December 13, 2021, which is the deadline for submission of entries.
The completed entry form and the signed acceptance of the rules and regulations as well as the entry materials should be forwarded to our email address: rsministryofinformationandcoms@gmail.com.
Gentlemen of the press, to ensure professionalism, we have chosen a unique set of judges whom we believe have the required capacity to select the best, knowing the expectations of the Ministry and what the competition aims to address. The three-man panel of judges include Lexy Mueka also known as Lexy M, a versatile musician and former Chairman of Performing Musicians Association of Nigeria (PMAN), Rivers State chapter, Baridam Charles, a.k.a Vitamin C, a well known on Air Personality and Ofori Williams, one of Nigeria's best Disc Jockeys, based in Rivers State.
Let me also state that the theme song competition comes with an incentive. The Ministry of Information and Communications has earmarked cash prizes for the best three entries. The overall best entry would attract a cash prize of Three Hundred Thousand, while the second and third best entries would attract One Hundred and Fifty Thousand Naira and One Hundred Thousand Naira respectively.
But beyond the cash incentive, lies an even greater opportunity. This competition has the potentials of throwing up the winner to the national or global stage as we have seen from little beginnings of this nature. We therefore expect our creative minds to look beyond the cash incentive and think about a legacy that they can be remembered for.
As you are aware, Rivers State has entered into a NEW realm of glory since May 29, 2015, as a result of the achievements of the hardworking Governor of our dear State, His Excellency Nyesom Ezenwo Wike. He has remarkably transformed the State in a manner that has left his critics dumbfounded and bewildered. It is therefore not surprising that all they do now is to clutch on straws and attempt to throw weak punches that cannot hurt a fly.
Through well thought-out and craftily executed projects, Governor Wike has earned the title of Nigeria's Face of Democracy. His projects speak for themselves and the people of Rivers State must remain vigilant to ensure that the forces of darkness and retrogression who see nothing good in the genuine efforts being put in to transform the State, remain where they have been consigned, in the dustbin of history.
Gentlemen of the press, I thank you all for your attention and for honouring our invitation.
God bless you.
FG Has Met Its Debt Servicing Commitments -Buhari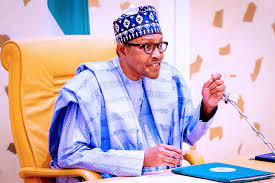 Being the text of a speech delivered by President Muhammadu Buhari at the joint session of the National Assembly, Abuja on Thursday, October 7, 2021.
Excerpts.
Protocols
It is my great pleasure to be
here once again to present the 2022 Federal Budget Proposals to this distinguished Joint Session of the National Assembly.
Distinguished and Honourable leaders, and members of the National Assembly, let me start by commending you for the expeditious consideration and passage of the Supplementary Appropriation Bill 2021. This further underscores your commitment to our collective efforts to contain the Covid-19 Pandemic and address the various security challenges facing our country.
I will also take this opportunity to thank you for the quick consideration and approval of the 2022-2024 Medium-term Expenditure Framework and Fiscal Strategy Paper. Our hope is that National Assembly will continue to partner with the Executive by ensuring that deliberations on the 2022 Budget are completed before the end of this year so that the Appropriation Act can come into effect by the first of January 2022.
The 2022 Budget will be the last full year budget to be implemented by this administration. We designed it to build on the achievements of previous budgets and to deliver on our goals and aspirations as will be reflected in our soon-to-be launched National Development Plan of 2021 to 2025.
Distinguished Senators and Honourable Members, in normal times, I make use of this opportunity to provide an overview of global and domestic developments in the current year, a summary of our achievements, and our plans for the next fiscal year.
However, these are exceptional times. The grim realities of Covid-19 and its lethal variants are still upon us. From President to Pauper, the virus does not discriminate.
This is why our country still maintains its Covid-19 guidelines and protocols in place to protect its citizens and stop the spread of this disease.
Over the past few days, we have consulted with the Presidential Steering Committee on Covid-19 and the leadership of the National Assembly on how best to present the 2022 budget proposal keeping in mind the deep-rooted traditions in place and the guidelines for safe mass gatherings.
We ultimately decided that the most responsible and respectful approach was to hold a shorter than usual gathering while allowing the Honourable Minister of Finance, Budget and National Planning to provide fuller details of our proposals in a smaller event.
I am sure many of you will be relieved as my last budget speech in October 2020 lasted over fifty minutes.
Still, over the next few minutes, I will provide key highlights of our 2021 performance as well as our proposals for 2022.
Performance Of The 2021 Budget
The 2021 'Budget of Economic Recovery and Resilience' is based on a benchmark oil price of 40 US Dollars per barrel, oil production of 1.6m b/d, and exchange rate of 379 Naira to US Dollar. Furthermore, a Supplementary budget of 982.73 billion Naira was recently enacted to address exigent issues in the Security and Health sectors.
Based on the 2021 Fiscal Framework, total revenue of 8.12 trillion Naira was projected to fund aggregate federal expenditure of 14.57 trillion Naira (inclusive of the supplementary budget). The projected fiscal deficit of 6.45 trillion Naira, or 4.52 percent of GDP, is expected to be financed mainly by domestic and external borrowings.
By July 2021, Nigeria's daily oil production averaged one 1.70million barrels (inclusive of condensates) and the market price of Bonny Light crude averaged 68.53 US Dollars per barrel.
Accordingly, actual revenues were 34 percent below target as of July 2021, mainly due to the underperformance of oil and gas revenue sources. Federal Government's retained revenues (excluding Government Owned Enterprises) amounted to 2.61 trillion Naira against the proportionate target of 3.95 trillion Naira for the period.
The Federal Government's share of Oil revenue totalled 570.23 billion Naira as of July 2021, which was 51 percent below target, while non-oil tax revenues totalled 964.13 billion Naira. The poor performance of oil revenue relative to the budget was largely due to the shortfall in production as well as significant cost recovery by NNPC to cover the shortfall between its cost of importing petrol and the pump price.
The National Assembly will recall that in March 2020 the Petroleum Products Pricing Regulatory Agency announced that the price of petrol would henceforth be determined by market forces.
However, as the combination of rising crude oil prices and exchange rate combined to push the price above the hitherto regulated price of 145 Naira per litre, opposition against the policy of price deregulation hardened on the part of Labour Unions in particular.
Government had to suspend further upward price adjustments while engaging Labour on the subject. This petrol subsidy significantly eroded revenues that should have been available to fund the budget.
On a positive note, we surpassed the non-oil taxes target by eleven (11) percent in aggregate. The sustained improvement in non-oil taxes indicates that some of our revenue reforms are yielding positive results. We expect further improvement in revenue collections later in the year as more corporate entities file their tax returns and we accelerate the implementation of our revenue reforms.
Improving Revenue Generation and Administration
We have stepped up implementation of the strengthened framework for performance management of government owned enterprises (GOEs), with a view to improve their operational efficiencies, revenue generation and accountability. The 50% cost-to-income ratio imposed on the GOEs in the Finance Act 2020 has contributed significantly to rationalizing wasteful expenditures by several GOEs and enhanced the level of operating surpluses to be transferred to the Consolidated Revenue Fund (CRF). I solicit the cooperation of the National Assembly in enforcing the cost-to-income ratio and other prudential guidelines during your consideration of the budget proposals of the GOEs, which I am also laying before you today.
On the expenditure side, as at end of July 2021, a total of six point seven-nine (6.79) trillion Naira had been spent as against the pro-rated expenditure of seven point nine-one (7.91) trillion Naira. Accordingly, a deficit of four point one-seven (4.17) trillion Naira was recorded as at end of July 2021. The deficit was financed through domestic borrowing.
Despite our revenue challenges, we have consistently met our debt service commitments. We are also up to date on the payment of staff salaries, statutory transfers, and overhead costs. As at (4th of October 2021, a total of 1.732 trillion Naira had been released for capital expenditure.
I am pleased to inform you that we expect to fund MDAs' capital budget fully by the end of the fiscal year 2021.
Capital releases thus far have been prioritised in favour of critical ongoing infrastructural projects in the power, roads, rail, agriculture, health and education sectors.
We have made progress on the railway projects connecting different parts of the country. I am glad to report that the Lagos-Ibadan Line is now completed and operational. The Abuja-Kaduna Line is running efficiently. The Itakpe-Ajaokuta rail Line was finally completed and commissioned over thirty (30) years after its initiation.
Arrangements are underway to complete the Ibadan-Kano Line. Also, work will soon commence on the Port Harcourt-Maiduguri Line and Calabar-Lagos Coastal Line, which will connect the Southern and Eastern States to themselves and to the North.
Progress is also being made on several power generation, transmission, and distribution projects, as well as off-grid solutions, all aimed towards achieving the national goal of optimizing power supply by 2025.
I am again happy to report that we continue to make visible progress in our strategic road construction projects like the Lagos – Ibadan expressway, Apapa – Oworonsoki expressway, Abuja – Kano expressway, East-West Road and the second Niger bridge. We hope to commission most of these projects before the end of our tenure in 2023.
The Pandemic revealed the urgent need to strengthen our health system. Towards this end, we constructed 52 Molecular labs, 520 bed intensive care units, 52 Isolation centres and provision of Personal Protective equipment across 52 Federal Medical Centres and Teaching Hospitals.
We continue to push our expenditure rationalization initiatives which we commenced in 2016. For example, on personnel costs, the number of MDAs captured on the Integrated Payroll and Personnel Information System increased from 459 in 2017 to 711 to date.
The recent passage of the Petroleum Industry Act 2021, and consequent incorporation of the Nigeria National Petroleum Corporation should also result in rationalisation of expenditure, as well as increased investments and improved output in the oil and gas industry.
Distinguished Senators and Honourable Members, you will agree with me that a lot has been accomplished over the last year but there is still much to be done. I will now proceed with a review of the 2022 Budget proposal.
Theme And Priorities Of The 2022 Budget
The allocations to MDAs were guided by the strategic objectives of the National Development Plan of 2021 to 2025, which are:
a.Diversifying the economy, with robust MSME growth;
b. Investing in critical infrastructure;
c. Strengthening security and ensuring good governance;
d. Enabling a vibrant, educated and healthy populace;
e. Reducing poverty; and
f. Minimizing regional, economic and social disparities.
The 2022 Appropriation therefore is a Budget of Economic Growth and Sustainability.
Defence and internal security will continue to be our top priority. We remain firmly committed to the security of life, property and investment nationwide. We will continue to ensure that our gallant men and women in the armed forces, police and paramilitary units are properly equipped, remunerated and well-motivated.
The 2022 budget is also the first in our history, where MDAs were clearly advised on gender responsive budgeting. These are part of critical steps in our efforts to distribute resources fairly and reach vulnerable groups of our society.
Parameters And Fiscal Assumptions
Distinguished Members of the National Assembly, the 2022 to 2024 Medium Term Expenditure Framework and Fiscal Strategy Paper sets out the parameters for the 2022 Budget as follows:
a. Conservative oil price benchmark of 57 US Dollars per barrel;
b. Daily oil production estimate of 1.88 million barrels (inclusive of Condensates of 300,000 to 400,000 barrels per day);
c. Exchange rate of four 410.15 per US Dollar; and
d. Projected GDP growth rate of 4.2 percent and 13 percent inflation rate.
2022 Revenue Estimates
Based on these fiscal assumptions and parameters, total federally-collectible revenue is estimated at 17.70 trillion Naira in 2022.
Total federally distributable revenue is estimated at 12.72 trillion Naira in 2022 while total revenue available to fund the 2022 Federal Budget is estimated at 10.13 trillion Naira. This includes Grants and Aid of 63.38 billion Naira, as well as the revenues of 63 Government-Owned Enterprises.
Oil revenue is projected at 3.16 trillion, Non-oil taxes are estimated at 2.13 trillion Naira and FGN Independent revenues are projected to be 1.82 trillion Naira.
Planned 2022 Expenditure
A total expenditure of sixteen point three-nine (16.39) trillion Naira is proposed for the Federal Government in 2022. The proposed expenditure comprises:
a. Statutory Transfers of 768.28 billion Naira;
b. Non-debt Recurrent Costs of 6.83 trillion;
c. Personnel Costs of 4.11 trillion Naira;
d. Pensions, Gratuities and Retirees' Benefits 577.0 billion Naira;
e. Overheads of 792.39 billion Naira;
f. Capital Expenditure of 5.35 trillion Naira, including the capital component of Statutory Transfers;
g. Debt Service of 3.61 trillion Naira; and
h. Sinking Fund of 292.71 billion Naira to retire certain maturing bonds.
Fiscal Balance
We expect the total fiscal operations of the Federal Government to result in a deficit of 6.26 trillion Naira. This represents 3.39 percent of estimated GDP, slightly above the 3 percent threshold set by the Fiscal Responsibility Act 2007. Countries around the world have to of necessity over-shoot their fiscal thresholds for the economies to survive and thrive
We need to exceed this threshold considering our collective desire to continue tackling the existential security challenges facing our country.
We plan to finance the deficit mainly by new borrowings totalling 5.01 trillion Naira, 90.73 billion Naira from Privatization Proceeds and 1.16 trillion Naira drawdowns on loans secured for specific development projects.
Some have expressed concern over our resort to borrowing to finance our fiscal gaps. They are right to be concerned. However, we believe that the debt level of the Federal Government is still within sustainable limits. Borrowings are to specific strategic projects and can be verified publicly.
As you are aware, we have witnessed two economic recessions within the period of this Administration. In both cases, we had to spend our way out of recession, which necessitated a resort to growing the public debt. It is unlikely that our recovery from each of the two recessions would have grown as fast without the sustained government expenditure funded by debt.
Our target over the medium term is to grow our Revenue-to-GDP ratio from about 8 percent currently to 15 percent by 2025. At that level of revenues, the Debt-Service-to-Revenue ratio will cease to be worrying. Put simply, we do not have a debt sustainability problem, but a revenue challenge which we are determined to tackle to ensure our debts remain sustainable.
Very importantly, we have endeavoured to use the loans to finance critical development projects and programmes aimed at improving our economic environment and ensuring effective delivery of public services to our people. We focused on;
a.the completion of major road and rail projects;
b. the effective implementation of Power sector projects;
c. the provision of potable water;
d. construction of irrigation infrastructure and dams across the country; and
e. critical health projects such as the strengthening of national emergency medical services and ambulance system, procurement of vaccines, polio eradication and upgrading Primary Health Care Centres across the six geopolitical zones.
Innovations in Infrastructure Financing
In 2022, Government will further strengthen the frameworks for concessions and public private partnerships (PPPs). Capital projects that are good candidates for PPP by their nature will be developed for private sector participation.
We will also explore available opportunities in the existing ecosystem of green finance including the implementation of our Sovereign Green Bond Programme and leveraging debt-for-climate swap mechanisms.
Enhancing Revenue Mobilisation
Our strategies to improve revenue mobilisation will be sustained in 2022 with the goal of achieving the following objectives:
a. Enhance tax and excise revenues through policy reforms and tax administration measures;
b. Review the policy effectiveness of tax waivers and concessions;
c. Boost customs revenue through the e-Customs and Single Window initiatives; and
d. Safeguard revenues from the oil and gas sector.
Distinguished Senators and Honourable Members, I commend you for the passage of the Petroleum Industry Act 2021. It is my hope that the implementation of the law will boost confidence in our economy and attract substantial investments in the sector.
Finance Bill 2022
In line with our plan to accompany annual budgets with Finance Bills, partly to support the realization of fiscal projections, current tax and fiscal laws are being reviewed to produce a draft Finance Bill 2022.
It is our intention that once ongoing consultations are completed, the Finance Bill would be submitted to the National Assembly to be considered alongside the 2022 Appropriation Bill.
Conclusion
Mr. Senate President, Mr. Speaker, Distinguished and Honourable Members of the National Assembly, this speech would be incomplete without commending the immense, patriotic, and collaborative support of the National Assembly in the effort to deliver socio-economic development and democracy dividends for our people.
I wish to assure you of the strong commitment of the Executive to strengthen the relationship with the National Assembly.
Nigeria is currently emerging from a very difficult economic challenge. We must continue to cooperate and ensure that our actions are aimed at accelerating the pace of economic recovery so that we can achieve economic prosperity and deliver on our promises to the Nigerian people.
The fiscal year 2022 is very crucial in our efforts to ensure that critical projects are completed, put to use and improve the general living conditions of our people.
It is with great pleasure therefore, that I lay before this distinguished Joint Session of the National Assembly, the 2022 Budget Proposals of the Federal Government of Nigeria.
I thank you most sincerely for your attention.
May God bless the Federal Republic of Nigeria.
Let's Build Egalitarian Nigeria-Wike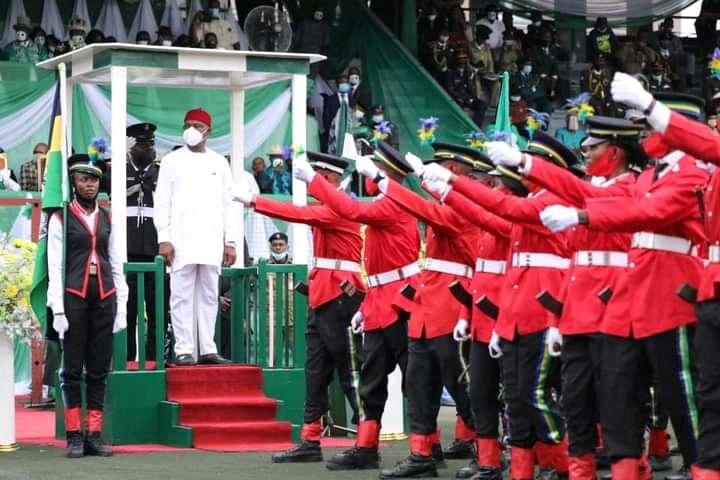 Being a text of the speech by Rivers State Governor, Chief Nyesom Wike, on the occasion of Nigeria's independence Anniversary celebration on Friday, October 1, 2021 in Port Harcourt. Excerpts.
My dear people of Rivers
State; fellow Nigerians
Today, we have gathered to celebrate the 61st independence anniversary of our beloved nation, Nigeria. For 61 years we have existed and lived together as one independent nation with our destiny in our own hands.
But at 61, it does not seem to me that there is anything worthy of our celebrating except, perhaps, the fact that we have remained independent and managed to struggle with our existence for all these years.
At independence, we were not only and still the most popular black nation on earth; we have been the most influential country in Africa, our proud and beautiful heritage, and where we have made tremendous and immeasurable impact as the big brother.
At independence, we were and still a rich nation, the largest economy and market in Africa; notably wealthy in human and natural resources, with immense agrarian lands and related endowments that are more than adequate to feed ourselves and the rest of Africa, if properly harnessed.
At independence, we were at par and even better in resource endowments and potential for development with our contemporaries like Malaysia, Singapore and several other countries.
At independence and even now we are a nation blessed with very hardworking and resourceful people. Our youths are some of the smartest people in the world, doing great exploits, flying our flag and making us proud across the world in music, dance, acting, culture, arts, sports, academics and our unique expressions and community ways of live.
At independence, our universities were among the best in the world; our public institutions were strong, effective and accountable to the people in service delivery.
At independence, our judicial system was not just efficient and effective; it served justice to the common man, and our judges and judgments were recognised, respected and adopted internationally.
Our part to independence was charted by great, patriotic, visionary, knowledgeable, compassionate, caring and inspirational leaders.
Our founding leaders not only loved Nigeria and worked hard for its independence; their singular vision and commitment was to build a united, peaceful and prosperous black nation that would lead Africa to stand shoulder to shoulder with the rest of the civilised world within the shortest possible period.
They embraced and worked for the entrenchment of democracy, the rule of law, judicial independence and true federalism, where the constituent sub-nations will be free and independent over their affairs with their own constitution.
Yes, we had Dr Nnamdi Azikiwe, the great Zik of Africa; we had Chief Obafami Awolowo, the sage and unmatched transformational pace-setter, and we had Sir Ahmadu Bello, the Sardauna of Sokoto – a consummate transformer and manager of peoples and resources.
Individually and collectively, they all laboured and led to their last days and laid the foundations for the progress of their respective regions and the development of Nigeria.
Indeed, there was a country, respected and admired the world over for its enormous natural endowments, quality of leadership, great potential and acknowledged as the undisputable leader of Africa.
Suddenly, the military intervened and the country not only snapped; it was set on a reverse course from the pressure and frustrations of military adventurism.
The interventionists not only dismantled our democracy and distorted our federal system by balkanising the country into politically inspired, inequitable and unviable and dependent states and local government areas; they also succeeded in creating so many fault lines and ocean of injustices, which have continued to blunt, hunt and debunk the basis of the nation's existence as one indivisible country with one destiny.
However, the restoration of democracy in 1999, after a protracted and bloody struggle and sacrifice, again, raised so much hope about the future of Nigeria and the aspirations of our people for a better deal from the government.
With democracy, Nigerians expected the timeless values of the rule of law, judicial independence, inclusiveness, social justice, transparency and accountability to be the basis of governance and transformation.
With democracy, Nigerians expected its political leadership to harness the country's resources to drive economic growth, manage our diversity, promote national unity, provide basic infrastructure, protect lives and property and advance well-being of everyone, including the less privileged and vulnerable ones.
With democracy, Nigerians expected a National Assembly that would be loyal to the people, make good laws and render strong and effective oversight over the executive, devoid of ethnic, regional, party or political sentiments.
With democracy, Nigerians expected a judiciary with capacity, strength, and courage to protect its independence against executive intimidation and effectively use its powers to be the bastion of democracy, the rule of law, and social justice as the last hope of the common man.
With democracy, Nigerians expected strong national institutions, the bureaucracy, the security institutions and the Independent National Electoral Commission INEC to be loyal only to the constitution, the law and the people.
But today, after 61 years of independence and 22 years of unbroken democracy, it only seems there's not much to be excited about Nigeria except our notional sense of independence and unity that had endured this long in the face of sustained fratricidal assaults to its existence.
Let us make a candid assessment of the situation of our country, especially in the last six years, and tell ourselves some hard, undiluted truths.
First of all, we cannot deny that most of the countries that started with us 61 years ago are far more advanced and developed with superlative standards of living for their people than Nigeria.
Our democracy is being weakened and put to enormous stress and jeopardy with the continuous violation of our constitution by the Federal Government and other public institutions.
The National Assembly has literarily abandoned its constitutional checks and balance role over the executive arm of government and become a slavish appendage to the Federal Government as rubberstamp assembly.
Neither is the situation and postures of the nation's judiciary any better, where only a few judicial officers can stand the test of judicial courage, integrity and commitment to substantial justice in the performance of their constitutional responsibilities, while the entire judiciary, especially at the national level, has been bullied to nervousness to the detriment of our democracy, the rule of law and social justice.
The federal government claimed to be fighting corruption but public corruption has amplified out of control before their very eyes; while bigotry, hypocrisy, abuse and misuse of public office and power and the manipulation and politicisation of everything, including ethnicity is now the hallmark of governance at the centre so much so that Nigeria is more divided today than ever.
In the last six years, our economy has been in tatters and gasping without any realistic hopes for meaningful recovery in the nearest future as high inflation rates and massive unemployment continue to push more and more people into dehumanising misery and abject poverty.
They therefore tell lies when they say that our economy is growing and doing well when no one is feeling the benefits of an improving economy, if any.
Unable to mobilise sufficient domestic revenues, Nigeria is now one of the most indebted countries in the world, yet the federal government's appetite for more loans remains high even as we are approaching the twilight of its tenure. The effect of this is to mortgage the progress and wellbeing of future generations of Nigerians with billions of debts burden in hard currencies.
We know and we agree that there is no country without one form of security challenges or the other. But truth be told, despite repeated assurances, nothing has demonstrated in the last six years that Nigerians can enjoy improved security of lives and property any time soon.
Rather, the facts continue to show that no one or nowhere in Nigeria, including educational institutions, worship places, women and children, is safe anymore with the unending Boko Haram insurgency, the rapid killing instincts of bandits, herdsmen and kidnappers and the apparent lack of will and wits on the part of the federal government to protect Nigerians from becoming almost daily prey to destruction, killings and gender-based violence.
As we therefore celebrate our independence today, we must both reflect on the state of our country and the direction it is wrongly headed and move more quickly with all seriousness and sense of responsibility to rescue this nation of ours before it becomes too late.
There is no doubt that we are greater and better together as one indivisible nation than going our separate ways.
And although our challenges are multiple and varied, they are not beyond redemption. What is needed is the courage and commitment of our leaders and everyone to find sustainable solutions to these challenges and lay the groundwork for a new, peaceful, united and prosperous Nigeria, through national dialogue and on the basis of justice, equity and accommodation.
Above all, we must defend the basic structures of democracy and good governance by rising up to protect our right to free, fair and credible elections by demanding for the immediate incorporation of electronic voting and simultaneous transmission of results into our electoral system, which the nation's electoral management body has repeatedly said, it has both the capacity, commitment and infrastructure to effect, if only the national assembly would allow.
The national assembly stands condemned before God and the people of Nigeria should they fail to yield to this overwhelming demand by Nigerians for electronic transmission of election results. This is not a matter of politics of sentiments; it is a matter of the survival of our nation, which is superior to all other considerations.
For us in Rivers State, our commitment to one Nigeria is irrevocable but we will never cease to demand the remaking of the country to reflect true and fiscal federalism, devolution of more powers and resources to States and local governments and the total reformation of the repressive police system to allow for effective governor's oversight, control and funding at the State level.
Ladies and gentlemen, as I had repeatedly said, Rivers State belongs to Nigeria and all those who live in it. We therefore have no reason to discriminate against any person or deny any resident the benefits of our services and good governance.
We have spent the last six years in laying the most concrete foundations for rapid economic growth and put the entire State on the path to a prosperous future.
Our economy has grown far beyond the national average and is expected to accelerate even further in the coming years with the measures we have put in place, including fiscal discipline, improved revenue generation and massive provision of infrastructure as long as the nation maintains appreciable level of macro-economic stability.
It is not by chance that Rivers State is today ranked as the most fiscally improved and responsible State in Nigeria that can survive independently on its own internally generated revenues. This is as a result of the fiscal discipline, reduction of corruption in the procurement process and our expanding capacity to mobilise funds from domestic sources to fund our development agenda.
We concede that there is still more to do across the State in the provision of all-season roads, bridges, quality healthcare, education, water, electricity, housing, food security, full employment and social security for citizens.
But one thing we do have is the will and commitment to serve our State and deliver quality socio-economic infrastructure to better living conditions and wellbeing of everyone.
This, we have evidently demonstrated with the construction of over 700 kilometers of roads in the last six years, including over 20 dual-carriage express ways and nine flyovers to ease the movement of goods and services and drive socio-economic development.
Our commitment to the development of the State is also evident in the sheer number and quality of basic primary and secondary schools we have reconstructed and equipped, the quality of hospitals, including the Rivers State University Teaching Hospital, the multi-billion-naira Dr Peter Odili Cancer and Cardiovascular diseases centre, we have either delivered or under construction and the outstanding turnaround of the entire judicial infrastructures and other public institutions, including our tertiary institutions, abandoned public buildings and other assets.
Days ago, we approved funding for the execution of several more projects, including the dualisation of the 27 kilometers Chokocho-Igbodo road, the Oyigbo – Afam road, the Rumuokurusi – Elimgbu flyover, the Nabo Graham-Douglas campus of the Nigerian Law School, the new Magistrates' Court Complex, and the Rivers State Judicial Institute to further consolidate on our development agenda for the State.
We are building the Rivers State Judicial Institute to complement the services of the National Judicial Institute in providing regular training and retraining of our judicial officers, magistrates and other senior judicial staff to advance effective and efficient administration of justice in the State, which as you know, is pivotal to peace, security and socio-economic development.
Also, we have been able to transform several of our rural communities with improved infrastructure, including internal roads, water, while many more communities are due to be similarly provided with in the coming months and years to improve rural economic activities and better conditions of living.
Our commitment to protecting lives and property remains strong. For us, the provision of security, despite the federally imposed challenges, is our primary duty and we are happy with the success we have recorded so far to ensure the security and safety of citizens across the State.
We assure you that we will not give any breathing space to criminals to freely operate in the State, hence will continue with the demolition of shanties and other hideouts used by criminals to terrorise the State, businesses and our people.
As you know, we now live in a digital world and Rivers State cannot remain indifferent to the digital revolution, if we must accelerate our development.
Accordingly, we have since started the digitisation of the State with the Rivers State Internal Revenue Service, the State's Judiciary and some public institutions, including the Ministries of Commerce, Justice as well as Lands already operating on the digital platforms.
We are going to also digitalise other important ministries and public services to expand our tax base, e-commerce and the provision of education and healthcare services to remote areas, reduce corruption and increase internal resource mobilisation to fund government development projects.
We have implicit faith in the youth of Rivers State and their capacity to achieve whatever they set out to achieve with quality education and economic opportunities and support. That is why in addition to advancing access to quality education at all levels, we have provided the Real Madrid Football Academy and other platforms for them to acquire live skills to create wealth, live a responsible life and contribute to the development of our State and the nation.
We know that entrepreneurship is key to achieving sustainable prosperity. We will therefore continue to support the development of small and medium business as well as partner with the private sector to set up agriculture and manufacturing clusters to advance economic growth, create jobs and eliminate poverty among our people.
Fellow Nigerians, at this time and on this occasion of the nation's 61st independence, we commit to the service and development of Rivers State with new pledges and aspirations, which no challenge or obstacle can prevent us from fulfilling.
We believe in the prevailing unity of purpose and the strength of our resources, capabilities, skills and talents to effectively defend our rights and freedoms and advance our collective peace, progress and prosperity within a united and just Nigeria. So, help us God.
May God bless our country, Nigeria
May God bless our dear Rivers State.
I wish Mr. President and all Nigerians happy 61st independence!