Traders Endorse Peterside
Traders at Slaughter, a
popular market at Trans Amadi area of Port Harcourt last  Friday   9 turned out en masse to welcome Dr. Dakuku Peterside, the All Progressives Congress (APC) candidate and his running mate, Honourable Okorie Asita.
The traders who are mainly non indigenes expressed happiness at the APC's governorship candidate's visit, describing him as a detribalised Nigerian who means well for non indigenes in Rivers State.
One of the spokespersons of the traders Suleman Umar, described Peterside as a stable, humble, visionary and considerate leader whose cosmopolitan background inspires hope.
"In this era of insecurity and lawlessness, it is only natural to trust a man known for his humility and broadmindedness. Peterside is well known as a moderate politician who represents all shades of interest. We trust him and we will vote for him because with him, we are sure of our continued stay here in Port Harcourt".
Responding, the APC candidate assured the traders of their safety and security.
According to Peterside, "Rivers State is for all of us living here. Nobody has any right to intimidate or oppress any of you. All of us are Rivers people. As long as you live here and pay your taxes here, you have the same right as any other person.
"We will work with Obio Akpor Local Government to modernise the Slaughter to a world-class market that will be a hub of commerce. We will create a special fund to support small businesses here so that our business will be strong and provide employment for teeming unemployed youths. Under our watch, nobody will intimidate or harass you because our administration will have zero tolerance for crime.
To enable us protect your interest, you must vote APC. I urge you to live here without any fear of molestation because Rivers State is your home. So stay here and vote for APC in all the elections," he said.
Commissioner Tasks Rivers People On HIV/AIDS Control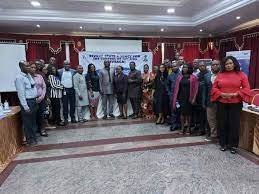 As the world commemorates the 2021 World AIDS Day (WAD) today, the Rivers State Commissioner for Health, Prof. Princewill Chike, has called on Rivers people to support efforts being made by the State Government towards checking the HIV/AIDS pandemic in the State.
Making the call today in his WAD message, the Commissioner emphasized on the need for everyone to be involved at their various levels.
"I urge you to be an advocate of HIV Preventive behaviour in your respective communities and institutions: avoid risky sexual behaviour and encourage pregnant women to register at the health facility nearest to them for antenatal care.
"I call on all citizens of Rivers State to rally in confronting the inequalities that drive AIDS and to reach people who are currently not receiving essential HIV services. Let us all support Government efforts to achieve an epidemic control of HIV in our state and the world at large", he said.
He noted that like the Federal Government, the Rivers State Government has recorded notable progress in checking the pandemic.
"Over the last few years, Nigeria in general, and Rivers State, in particular, has recorded significant progress in the war against HIV/AIDS. A recalibration of the HIV epidemic showed a significant decline in the HIV prevalence from 5.8% in 2001 to 1.3% in 2018.
"Presently in Nigeria, it is estimated that 1.7 million people live with HIV in Nigeria of which 90% are aware of their HIV status, 96% are on treatment, and 84% are virally suppressed.
"Despite the challenges and impact of the Covid-19 pandemic, the HIV program in Rivers State continued to record greater successes in identification, diagnosis, treatment, care and support for those in need of these services.
The State Health Boss used the opportunity to highlight some of the efforts of the State Government to strengthen the health sector.
"As we mark this day here in Rivers State, it is pertinent to underscore the huge efforts by Government to strengthen health care delivery frameworks for better service delivery.
"His Excellency, Nyesom Ezenwo Wike, has shown tremendous commitment in actualizing the NEW Rivers vision of repositioning health sector to meet international best standards.
"The establishment of the State owned Medical School at the Rivers State University, completion of the mother and child hospital, ongoing Renal center and the Peter Odili Cancer and Cardiovascular disease diagnostic and treatment center in Port Harcourt are eloquent testimonies of the giant strides of the Governor of Rivers State in raising the standards of health service delivery".
According to the Commissioner, the State has made significant progress in confronting HIV/AIDS epidemic in the state by identifying people living with HIV/AIDS, putting them on treatment and ensuring that they are able to live normal lives by achieving viral suppression.
"This has been made possible through innovative user-fee waiver by His Excellency, the acquisition of multiple diagnostic and monitoring equipment, community models of HIV service delivery and differentiated model of care that enables the tailoring of treatment services to patient's convenience", he said.
Also, as part of on-going programs and highlights for the World AIDS day commemoration, he explained, the State AIDS & STIs Control Program in collaboration with its supporting partners have already embarked on massive case finding and linkage to care for identified positive persons in all the Local Government areas of the State.
"Achieving an HIV free generation is a task that this administration is proud to pursue. Working together in solidarity, we are right on track to ending the HIV/ AIDS epidemic, and building a healthier, safer world for all of us", he concluded.
The theme for this year's commemoration of WAD is "End Inequality, End AIDS through Sustainable HIV Financing".
By: Sogbeba Dokubo
Hoodlums Burn Shops In PH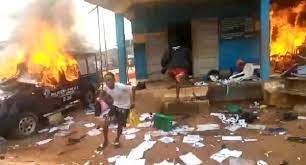 Some shop owners at the JDP Round About at Abuloma community in Port Harcourt City Local Government Area have lost property following attacks by unknown hoodlums.
One of the landlords from Abuloma community, Akpaka Ajimofor alleged that some youths from a neighbouring community invaded the area and demanded money from the shop owners.
Ajimofor said the youths burnt down the shops, and also used bottles and dagger to cut him when he intervened.
Some of the affected shop owners who spoke to newsmen said the hoodlums came in their numbers to their shops demanding money and to know the persons who gave them the shops.
They said bottles were thrown into their shops and that they were beaten by the youths.
"We were in the shop when the youths came, they entered our shop demanding that who authorised us to stay here.
"We told them it was our landlords, they ask for money but we refused to give them.
"In that process they threw bottles into our shop, beat up our master and burnt the shops. We put off the first fire, when they saw that we have put off the fire, they came back the second time with fuel and matches and burnt the shops the second time and they chased us with bottle and dagger.
"We could not put off the fire again, so many things got burnt, my oga's money, the scrap metal he just bought for festive period, and other things from our neighbour", one of the victims said.
Meanwhile, the paramount ruler of Abuloma Community, King Bright Ateke-Fiboinomama has condoled with shop owners affected by the fire incident at Okuru junction by JDP Round About.
The monarch, who visited the site directed the Okuru Youth President and the Divisional Police Officer in the area to arrest and prosecute all the youths involved to avoid further occurrence.
He maintained that Okuru and Abuloma people are brothers as all issues will be resolved.
Also, the Youth President of Abuloma community, Patrick Seminibika said the problem was between the landlords of the shops and Okuru people, not a boundary issue.
Monarch Blames Poor Leadership On Sycophancy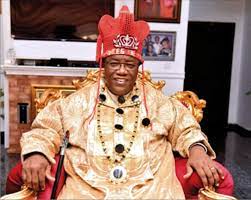 A traditional ruler in the State and Head of Chief Saturday Jaja War Canoe House, in King Jaja Group of Houses, Opobo Town, Chief Reuben Jaja, has condemned those he described as sycophants and greedy who manipulate African leaders into despotism.
Speaking with journalists recently in Port Harcourt, Jaja explained that sycophants deceive totalitarian leaders like the Late Head of State, General Sani Abacha to believe that they were popular instead of notorious.
He quoted the former Prime Minister of Britain, Mrs Margaret Thatcher as having referred to the late Sani Abacha as lunatic following the alleged killing of people during his reign.
Chief Jaja attributed the problem of Africa to poor leadership, greed, incompetence and extra : African problems usually inflicted on Africa by foreign countries
He, however, did not agree that the entire problems of Nigerian economy were based on Sani Abacha's policy of Africanising the nation's economy which sent out over 70,000 foreigners from Nigeria.
Chief Jaja, an international economist, was of the view that the new partnership for african development was the only competent body to properly address African problems.
On the future of Nigeria, Chief Jaja said that peace was beyond the absence of military hostilities to include food security and reconstruction of social institutions that would cater for the interest of the citizenry.
He further called on President Muhammadu Buhari, the 36 state governors, national and state lawmakers, as well as, the entire Nigerins to make the country conducive for development.
According to him, "without genuine leadership mindset of our leaders, it will be difficult to build better bridges of acceptable development in Nigeria for peace, unity and stability to thrive".
Chief Jaja, who doubled as Chairman of BFI Group also admonished Nigerian leaders to create an enabling environment, where the people can be encouraged through employment, skills training and other needed incentives that can quell the current heat of insecurity.
He used the opportunity to enjoin all the warring sections in the country to shelve their agitations and give the government more time to address their grievances for peace to reign.
By: Bethel Toby