We're Building A World Class Garden City – Cookey-Gam
No where is the symbolism of democratic rule which
we mark today and the psychic income and democracy dividends it has offered, more visible than in Rivers State where Governor Chibuike Rotimi Amaechi has striven assiduously to turn his vision of a great Rivers State to reality, especially in the development of infrastructure and physical planning?
The Greater Port Harcourt City Development Authority (GPHCDA), the agency set up to build and develop a new and modern Port Harcourt City, is one of the many efforts of the state government to ensure structured development in the building of our dream city.
In this encounter with The Tide  Op-Ed/Features Editor, Victor Tew and Senior Reporter, Enoch Epelle, both of whom were later led on a tour of some GPH projects, the Authority's Administrator, Dame Aleruchi Cookey-Gam adumbrated GPHCDA's achievements and challenges.
Excerpts:
As pioneer administrator of Greater Port Harcourt City Development Authority, how has it been?
It has been exciting, rewarding and challenging. It is rewarding in the sense that there are things planned that have come to realities.
So you are convinced that you have achieved quite a lot?
Yes. A lot has come to reality. We have achieved quite a lot in terms of development of the new Port Harcourt City and the provision of infrastructure.
You see, over the years, governments have neglected the responsibility of controlling development plan of Port Harcourt. Developmental plan of Port Harcourt City was not regulated until the present administration led by Governor Chibuike Rotimi Amaechi.  With his developmental vision, he mandated us to do so and build a world class Garden City thriving economically, efficiently and prosperously and assuring its residents a quality of life envied for its peacefulness, comfort and sustainability.  We are still in phase one of the development of the new city.
On April 2, 2009, the Greater Port Harcourt City Development law, establishing the Greater PH City Development Authority came into force.  GPH work was commenced with the design and engineering drawing, followed by construction works on some of the projects.
Who are your partners in this developmental task?
We have both public and private investors. We have joint partnership with Rivers State government and the private sector in the area of development plan. We partner with them in different modules, some with money, and some with goods.  Again, the golf course development has commenced under phase 1b, and it is a joint partnership between the state government and a private investor.  We also have an area for educational layout in the new city which would also accommodate a federal government school now in the drawing board.
What are your challenges so far?
We are always faced with some challenges in terms of financing. We also have the challenge of weather.  It has not been easy especially during rainy seasons.
We also have challenges on the part of delay by contractors, in the area of verification and schedules among others.
Your Authority appears to be involved in some sort of urban development. Don't you see your functions clashing with those of Rivers State Ministry of Urban Development?
Urban Development Ministry is in-charge of Development in Port Harcourt and parts of Obio/Akpor while the Greater Port Harcourt City Development,  Authority takes care of the designated areas in the new plan covering parts of Port Harcourt, Obio/Akpor, Ikwerre, Etche, Ogu/Bolo,  Oyigbo and Eleme local government areas.
However, we do collaborate with Ministry the of Urban Development in all our compulsory field works in terms of government control, regulation and planning.
We also work out the professional boundaries with the Ministry, and if your application is in the area that falls in Ministry of Urban Development, we refer to the Ministry, and the Ministry also refers any application that falls in our area to us.
How did you come about the Master Plan?
The Master Plan was prepared by a South-African firm. The idea is to bring back the glory of Port Harcourt as a well planned city where we have infrastructural development growing along with the development of the state in a structured manner.
We haven't planned the city to look like London, Paris or Dubai, but with the vision to build a modern City while controlling the already planned old city for urban growth through strategic planning and de-densification of the old city.
How far has your Authority gone in the implementation of the master plan?
We are in phase 1, the one being implemented now.  But in terms of developmental Control for the GPH areas, we are monitoring and regulating how development would be taking place.  Our staff also work with entire LGAs.
But in terms of new city development area, we are dealing with Phase 1 now.
Also, inspite of what we are doing on phase one 1, we also have some other developing stages like education layout where we are already encouraging development plan.
We have  also mapped out industrial areas to encourage industrial development in Eleme area nearer to the Seaport at Onne.
Only last weekend, we tried to define a big industrial area that can offer opportunity like Trans-Amadi industrial layout in Port Harcourt, along Eleme area.
We have different development plans in different areas, depending on what and how it suits the area for the development plan.
How much has so far been spent on the implementation of the master plan?
In terms of Master Plan, all releases are done on annual basis, and I think up to date, we may have put in about N60 billion.
How has your Authority faired in terms of corporate transparency, especially in compliance with public procurement law?
We, as agency of government, have remained in compliance to public procurement law in all our dealings.
Have land owners in the development areas been compensated?
Most land owners have been compensated for their land, while a few others would soon been compensated. We deal directly with the land owners without going through any agent to avoid any excuses.
On the other hand, we are bringing back Port Harcourt City to its original garden city plan.  We have done a lot of urban renewal; we have opened – up roads to give access to the new areas of development. You can see roads completed and ongoing, linking Elelenwo, Woji and Akpojo areas to the Greater Port Harcourt City area at Eleme and others.
We also have the road that linked the Airport through Obiri-Ikwerre to NTA and Ada George Roads.
We are also developing infrastructure and amenities to tie the new city and old city of Port Harcourt. We also considering traffic in some of the developing areas in the future and we are constructing flyover bridges.
In the past, Port Harcourt was only planned up to GRA and Presidential Hotel, but today Port Harcourt has been expanded to Oyigbo, Etche, Ikwerre, Eleme. But the difference is that the expansions were not planned and there was no consideration on how the city is growing, hence it continued to grow in unstructured manner.
In the new city plan, we have what looks like triangle from the Airport, Refinery Road, Seaport and Old City of Port Harcourt.
Recently, your Authority invited applications from interested members of the public on sale of lands at the greater Port Harcourt area. How are you going to ensure transparency in the process of selecting beneficiaries?
The process of selecting beneficiaries would be very transparent and that would be done in a few weeks time. Honestly the demand is more than the supply.  There are categories of applicants.  And we are going to be fair to all and that is going to be by balloting.
Why can't some of the projects be taken to the hinter land?
We can. If you watch the way Port Harcourt is growing, you will see that the greater Port Harcourt has a purpose. You see a lot of growth in Eleme, Oyigbo and Etche axis, that is why we, in Greater Port Harcourt decided to control development in those areas. Development is a continuous process as long as people are alive.
If you watch around the world now, most people have come to realise that there is need to take control of how development is growing, like Delta, Kaduna, Lagos, Cross- River, Akwa-Ibom. We can see the difference between areas that are developing and areas that are not and therefore most governments are invested heavily in infrastructure. It has nothing to do with colouration of your party, or for the visioner.
The truth of the matter is that the society need to grow and effective administration must continue to ensure that we take control on how development grows.
If you watch what is happening in Abuja now, you will see that the residential area is fast developing without control.
There is no control in the development of infrastructure in Abuja.
Development is growing faster than the infrastructures that have been put in place.
Are you saying that control is the integral part of development?
Exactly, if you do not control how will you ensure there is discipline.
What we are doing is to ensure that there is control of existing master plan and a new city that will stand the test of time with infrastructures growing along with development.
For example Trans-Amadi layout has gas turbine.  Definitely, it is cheaper for companies that are there to get electricity.  So it connects economic growth.
So if you look at our master plan you will observe that in the residential areas, we have facilities and infrastructures that are planned to boost economic activities, like at Eleme area, we designated industries, we do that to connect the seaport at Onne, for economy and logistic  activities.  So these are the kind of things we are trying to do.
It is important to also note that we work in conjunction with all other departments of government to put everything right before the time, and therefore you can see new roads because the master plan has provided roads to run in the same directions.
So, is we see a new road in the area, we ask the commissioner for work to identity the road, and how it fits into the plan.
In the new development area, we also plan for managing the traffic. We are building bridges not because we don't know what to do with money but to avoid the kind of traffic problems we have in the city presently.
If you go to the new Port Harcourt City, you will see what we are doing. We have bridges access roads. Water supply, power supply and other projects going on.  Some are completed, while some yet to be completed. By the time all these developments are okay, and people are there, you will see the difference.
By the time people start living there growth will come and the question is: are you ready for the growth when it comes? We calculating this from the projection of the kind of population we would like to have in future.
We don't want to have the kind problem we are having in Woji area where a lot of people are coming out there.
What about the roads that  are not yet completed, especially the one linking Akpajo?
You should notice what we are doing there.  We are doing bridges there, expanding the roads down to Akpajo. In the next one year, when the road would be completed, houses there would be very expensive.
We plan, we projected, it is not when population has settled, then we now seek for solution, not at all.
We don't want to dislocate people in future.
So I congratulate the Governor of Rivers State for the vision. It takes a lot of courage and money to do what we are doing now.  But I can assure you that he has committed a lot to make sure that we drive the projects.  It is just that.
We are encouraging the next governor that will come to queue behind the plan and vision of Governor Amaechi. Development will continue, but let us do the right things.
Sports: Building On Wike's Footprints
Eight years ago, at the inception of the administration of the just concluded government of Chief Nyesom Wike, the signs were clear that sports was going to be one of the cardinal focus of his tenure. From his inauguration activities to the main business of governance,both in the first and second tenure, sporting programmes were given ample representation.
Thus, the place of sports was clearly visible in the NEW vision of the administration, as it tried to reinvent, restructure,rebrand and thrust the state to the fore and as destination of choice in business, economy, recreation and tourism.
According to one of the Commissioners of Sports, that helped implement Wike's vision in the sector, Hon. Boma Iyaye, the government of Wike saw and tried to use sports as a veritable tool of engagement and empowerment for the teeming youth of the state and beyond, to have the opportunity and platform for livelihood and better life.
That is why the government spared no expenses in providing world class sports infrastructure, promoting and sponsorship of sports competitions and rewarding hardwork and achievement.
It is on record that one of the first critical steps the government took to announce its intention in the sector was the collapsing of the two state owned football clubs, Sharks and Dolphins into one, Rivers United FC for viability and better performance. Since then, Rivers United have gone from strength to strength, winning domestic title and effectively flying the country's flag in continental club competitions.
In doing these, the club enjoyed tremendous financial and moral support from the ebullient governor of the state. Today, Rivers United remains one the top clubs in Nigeria, known for consistency and results.
In addition to the exploits of Rivers United, it is to the credit of government that the state became one of the few in Africa to host the entire continent in wrestling and badminton competitions. For about one week, African wrestlers gathered at the refurbished Alfred Diete-Spiff Sports Complex for the Africa Wrestling Championship, AWC during Wike's first tenure. The venue was to later play host to the creme de la creme of Nigerian badminton players for the National Badminton Championship.
There was also synergy with sports stakeholders, especially, sports journalists, as the Sports Writers Association of Nigeria, SWAN found a willing partner in the state government, holding most of its activities in the state, via government's sponsorship of its events. Worthy of mention was the association's Full Council Meeting of 2015, adjudged to be the best organized in quality and content in the history of the association.
All these commitment and demonstrable interest in sports development earned the Rivers State governor the award of Power of Sports, POS, Africa, the first of its kind in the continent.
Perhaps, the flagship of the administration's sports project bequeathed to the state and posterity is the Real Madrid Football Academy, Port Harcourt, established by the government in consultation with the Real Madrid Football Club, Spain. The academy, conceived and built by Wike did not only try to replicate the structure of its mother institution in Spain, there was deliberate effort to equip the institution with likewise world class facilities that are as good as any in the world. Even would-be handlers, coaches and instructors at the facility were taken to Spain for first-hand training and experience from the mother institution.
Describing the facility, the then Special Adviser, SA to the Governor on Real Madrid Academy, Barr. Christopher Green said that the academy is a world class facility that would produce world class athletes for the state and country. It also demonstrates Governor Wike's vision to providing a platform that would give Rivers youth and indeed Nigerians at the grassroots the opportunity to explore their talents and be the best they can be.
According to Barr. Green, the academy is uniquely set up to provide sports and academic tutorials side by side, so that those who could not make it through sports could toe the academic path and vice versa.
To former Commissioner for Sports, Hon. Iyaye, the academy remains an indelible footprint and an endowment by Wike to the people of the state, which benefit may not be appreciated fully at the moment but in the near future.
Assessing the strides of the immediate past administration in sports, the President of Sports Writers Association of Nigeria, SWAN, Sir Honour Sirawoo noted the governor's deliberate focus in using sports to redirect the energy of the youth to worthwhile venture. He believes that the administration worked consciously to revive the sector, make it attractive and rewarding to the young people, who ordinarily would have been engaged in societal vices.
"I think that Governor Wike really understood the importance of sports, its power and role in changing the society. Indeed, he understood that sports has gone beyond a recreational thing to becoming a huge economic, political and social tool. He worked hard to employ it to maximum effect," he stated.
Speaking with Tidesports in an interview, the Head coach of De Kings International FA of Port Harcourt, Okpaleke King commended Bar Nyesom Wike for his developmental strides in the sporting industry in Rivers State.
According to him, since his assumption of office, he has sponsored numerous sporting activities in the state which earned him world-wide recognition.
" For me, Governor Nyesom Wike tried his best in the development of sports in the state but the incoming governor needs to do more because government is a continuous process.
" Look at the Rivers State Real Madrid football academy.
" Look at the level of Rivers United FC today winning the league and even play up to the quarter final of the CAF Confederation Cup.
" For me I commend his efforts and contribution to the sporting industry for the past eight years" King said.
Also speaking, the Special Adviser to Chairman of Khana Local Government Council, Hon Nekabari Biagbara said that the imparted positively on the sports landscape of the state
" For me today, the governor has done a lot in sports development which led to the success story of Rivers United FC and the Rivers Angles" Biagbara said.
He stated that through the administration of Governor Wike may have ended, the legacies left behind will continue to endure for the growth of sports in the state.
" Governor Nyesom Wike has done a lot for the development of sports in the state for the youth to realisetheir potential".
He described Governor Wike as the best when it comes to contribution to sports and development in the country" he said.
The Head coach of New Gunner FC of Gokana, Legbara Gentle urged the incoming governor of Rivers State His Excellency, Siminialayi Fubara to consolidate on the exploits of his predecessor as a way of engaging the youth in the state.
Unfortunately, however, some of the lofty sports establishments put up by the Wike administration did not fully kick off or become fully functional due to one exigency or another.
The magnificent Real Madrid Football Academy readily comes to mind. The academy, due to some additional developments did not effectively take off before the end of the founding administration.
This is where the incoming administration, according to commentators, should come in and ensure that the vision and dream behind the projects did not suffer still-birth.
Apart from the football academy, the new administration should keep the light shining as far as Rivers United FC, Rivers Angels, Royal Hoopers Basketball club and the Sports Council are concerned. Importantly, it is expected that grassroots sports development, particularly, schools sports and association sports would receive priority attention. These would ensure that the base needed for sustainable talent production, discovery and weaning are kept alive and productive.
It is also important that sporting facilities, such as the Adokiye Amiesimaka Sports Complex, Yakubu Gowon Stadium, and the myriad of Sports Courts and fields constructed by previous administrations are well maintained and put to use. Facilities at the Alfred Diete-Spiff Sports Complex, especially, the swimming pool, needs to be reactivated for swimmers and other athletes to have easy access to modern facilities, towards relaunching the state to the pinnacle of sports where the state should naturally possess comparative advantage.The era of allowing sports centres and infrastructure to rot away must be frowned at and discouraged.
For renowned sports administrator, Pastor Walter Inegbenoise, Wike's administration did well in the sports sector but the incoming administration needs to take a notch more. He believes that sports is a sector with limitless opportunity that can be tapped multi dimensionally.
Pastor Inegbenoise posited that the old days when grassroots sports events and competitions were at the doorstep of average Port Harcourt youngster should be recreated.
It is therefore critical that the private sector should be motivated through tax holidays, exemptions or other special considerations in order for them to play the required roles in sports promotion and development.
For SWAN, Rivers State Chapter, the state boasts the potential to be a leading player in the country's sports sector. And coming from where the past administration has placed it, what is needed to keep the flag flying is ample commitment, dedication and choosing the right lieutenants to pursue and implement his vision and policies, while sustaining the good will and relationship's already established and beyond the country.
By: Gabriel Nwanetanya With Reports From Kiadum Edookor
Wike Out, Fubara In: What Legacies? What Expectations?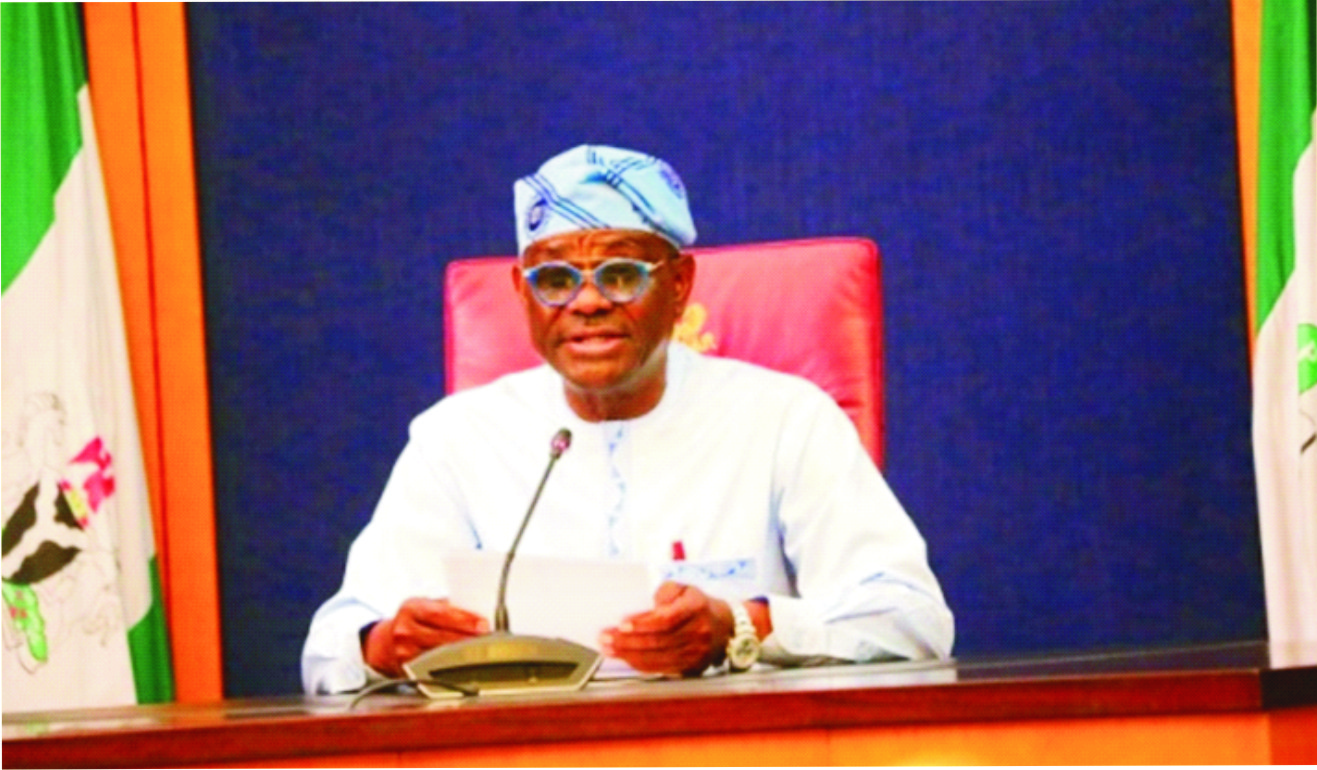 In the next few hours, there would be a change of baton between the outgoing Governor of Rivers State, Chief Nyesom Wike and his successor, Sir Siminilayi Fubara. The change of guard which is expected to take place at the Yakubu Gowon Stadium, Elekahia would be witnessed by dignitaries and political juggernauts across the State.
Amidst this euphoria of a mission fulfilled by the Wike administration, and a new dawn by the incoming governor, The Tide sampled the opinions of some stakeholders in Rivers State on the scorecard of the outgoing governor and what is expected of the Fubara administration.
Although, like any other government, Wike may not have fared well in all sectors of the economy, his government was adjudged the best in terms of infrastructure in the State since the creation of Rivers State.
The outgoing governor was particularly commended for his infrastructural revolution in the state, describing him as a pace setter in the area of infrastructural development.
A university don and HOD, Pharmacology, School of Medicine, Rivers State University (RSU), Dr. Ekene Woke, fired the first salvo. He said Wike did well in terms of infrastructure.
He said, "Yes, Wike has done very well. In terms of infrastructure, for instance, when others are struggling to build culverts, Wike is building mansions and skyscrapers and flyovers making the Port Harcourt city to be a truly cosmopolitan city which no government in this present republic was able to achieve.
"Even his enemies have attested to that so much that the Presidency has to give him an award on infrastructural development. An opposition government in power at the federal to consider an opposition governor who speaks out regularly to be awarded such an award is no mean feat.
"I think anybody having a contrary view to that is not fair to the governor. It takes courage to speak out. People say courage is the father of all virtues and I think Wike has that courage and that virtue so he should be applauded for that.
"A lot of people carry their intentions in their mind and die with them. People also have conviction but do not have the courage to back it up. Wike is among the few Nigerians who speak even in a dangerous and fearless manner. He's a man of courage and conviction. I think he should be recommended for a higher office and I hope the God of Providence will do that for him.
"This is not the time for unnecessary criticisms. We should do a relative assessment using our sister and brother states and then you will know that what you have is the best.
"And for Fubara, I think he is the Joshua that took over from Moses. He should prepare his muscle of governance to deliver to Rivers people.
"He said his government is consolidation. Rivers people are waiting for the manifestation of not just agenda but the concrete implementation of this consolidation agenda. And I know that being an accountant, he will make prudent use of the state's resources to deliver on his mandate and the promises he has made to the rivers people".
Speaking in the same vein, a Post-Graduate student of Medical Laboratory Science, Rivers State University, Mrs Festa ThankGod Jonathan, scored Wike's administration high in the area of education especially at the university level.
"In the area of education especially at the university level, I will say Wike has done well. Also in manpower, there has been a lot of employment more especially in the state university including the building of infrastructures like the New Senate Building, Professor's Quarters and lots of other good buildings in the school. Let's call a spade a spade, in that area, he did well.
"One person can not do everything. Yes, Wike has done his part. Sir Sim (Siminalayi Fubara) should look at the areas that he (Wike) was unable to touch and touch them, particularly in the area of employment. I mean employment generally. Because, to be sincere, Wike's employment was biased and one-sided. Sim should look at it generally. He should carry the whole state along and not just one part. Sim should learn from Wike's mistakes and do better", she said.
An Anglican Priest, Rev. Chukwudi Evans Theophilus, also gave Wike a pass mark in the area of governance.
He said, "I think the Executive Governor of Rivers State, Chief Barr. Nyesom Wike has done quite a lot. If you ask me in the area of infrastructural development, he has done quite a lot. Look at all the flyovers, over head bridges, he was able to start and complete them within a short while.
"Most of his electioneering campaign promises that he made to Rivers people, he has fulfilled them.
"In the area of sanitation, keeping Rivers State clean, he has done fantastically well.
"What about the drastic reduction in kidnapping, crime corruption, other negative verses, among others, the governor has done well.
"But outstandingly, Governor Wike has done very very well in the area of infrastructural development.
"My agenda for the government to be led by Sim Fubara is that he should be visionary, result-oriented and he should try to do better than what the just concluding governor has done.
"He should also look at the areas of lapses, so that he could come up with something better, so that at the end of the day, everybody would have seen that he is actually striving towards perfection".
Another cleric and Executive Secretary, Port Harcourt Conference of Seventh Day Adventist Church, Pastor Echendu Ekezie, agrees no less.
According to him, "We have had government and they come and go. I think this outgoing government led by Nyesom Wike has done tremendous work in Rivers State.
"As a pastor, we move round the State. There is no local government we don't travel to for one programme or the other. And as I move round, I have seen this government touching virtually every local government in the State. He has created an impact through his unprecedented economic developmental projects that you can not compare with past administrations.
"He built roads, linking communities with roads across the state at the Kalabari area, Etche, Omoku, Ahoada, Ogoni, name them. He built ultra-modern hospitals including the Mother And Care Specialist Hospital. Wike tried in projects that will enhance economic growth and development. He did well.
"However, there is a perennial problem. This state among other states in the country has perennial problem, so you don't expect magic overnight. Only he himself can not solve everything at the same time".
The clergy, however, has reservations in the area of human capital development under Wike.
"In the area of employment, not much was done. The truth also remains that there has to be diversification. Again, population explosion is at it. Of a truth, the government alone can not employ everybody.
"Nonetheless, even those in the civil service, how much are they being paid? How about the retirees.? No retirement benefits, no pension and all of that"he said.
He urged the incoming administration led by Fubara to do something about empowerment.
"There should be proactive steps to set up factories/industries that will use local raw materials and content in producing products that will benefit the people within the state, Nigeria and even be exported. We have vast land as well as the resources for this.
"There is also the need to create direct employment to the people. I understand there is a garri factory somewhere in Afam. I don't know how efficient that is. But then, State-owned industries that can provide 5,000, 3,000 etc job opportunities to citizens is what we are hoping for.
"The incoming government also has to pay attention to the welfare of retirees. As a pastor, sometimes I weep for these ones. You put in 35 years in service and you come back home with no benefit, no pension. And then, the next thing you hear of is verification. Meanwhile some of these retirees are dying. Then, who do you pay the benefits to?
"Wike has tried but we still need more connectivity roads. The Bonny project has been on for years now though I hear it's near completion. I pray that it is done (completed) to ease movement and transportation of goods and services
"I pray the Lord to grant Sim (Fubara) the strength to identify those areas that Wike did not pay so much attention to and then do the needful", he said.
In his own view, the Amanyanabo of Minama who is also the Chairman of the Asari Toru Council of Traditional Rulers, HRH King Iboroma Talbot P.K. Owunabi 11, said even the blinds can feel the impact of Wike's administration in infrastructural development.
According to him, "For past eight years, even the blind person would feel the impact of development in Rivers State typically through infrastructural development. The performance even attracted the Federal Government award as the infrastructural governor of Nigeria
"That kind of award has never been done before, so he has set a record in Nigeria in infrastructural development.
The monarch said "Minima people have so much to celebrate because this same infrastructural development was extended also to our community through the first phase of Trans Kalabari Road project which was commissioned in March this year. So, we are also happy about it. It was a dream come true".
The king said the situation has not only put paid to insecurity especially along the waterways but has also hastened the development of Minama and other communities in the Kalabari Central.
According to him, going to Minama now is more secure as nobody goes through boat or canoe again.
Meanwhile, the Eze Mbam Abali Xii, Eze Risiohia Rebisi, HRH Eze Christopher Wonodi, also scored Wike's administration high.
He said the people of Rebisi would always remain grateful to Wike for showing great commitment to the development of Rebisi Kingdom.
"We love him and we will continue to remember him for his passion towards the development of Rebisi Kingdom
"The administration of Governor Ezenwo Nyesom Wike is second to none in infrastructural development.
"He has demonstrated that Rivers State deserves the best. We are praying that his successor will toe the same line and even surpass where he stopped", he said.
In his own assessment, National Coordinator of Professional Forum of Niger Delta, Comrade Owo Udoh, said Wike has done well in all areas of development, especially for providing a conducive environment for both indigenes and non indigenes in the state to live together peacefully.
Also speaking, President, Civil Society Coalition for Good Governance and Accountability, Dr Emmanuel Nkweke, noted that Wike ended the era of abandoned projects in the state.
He said Wike's administration was not only prudent and accountable to the people, but also did more in the areas of rural development.
He, however, noted that Wike concentrated governance in Port Harcourt city by siting major projects in Port Harcourt and Obio/Akpor local government areas in the State.
Nkweke expressed the hope that the incoming administration would not only surpass its predecessor but would shift development to other parts of the State.
Also, former caretaker chairman of Tai Local Government Area, Engr
Gideon Deemor, said Wike has surpassed his predecessors in infrastructural development In the State, expressing joy that the governor ended well.
A Port Harcourt based technologist, Mr Smiles Obiajunwa, also rated Wike's administration high, describing the outgoing governor as a perfect contributor to the society.
He said, "Governor Wike has contributed a lot to the society, especially in the Rivers State University. He has done so well in both infrastructure and human capital development.He started and has completed lots of laudable projects not only in RSU, but across the state as well.
"Governor Wike has employed a lot of people in RSU. Before, the few number of staff were not able to meet up with the school demands and tasks, but today, you will find out that a lot of people have been fully employed to work. So, Wike has done very very well and I would rate him 98 percent.
"On the issue of Sim Fubara coming on board as governor, I pray that he will continue from where Governor Wike has stopped.
"Already, he said he was going to consolidate on whatever Governor Wike has done. He also realised that Governor Wike has done well and that is why he said he will consolidate. If Governor Wike has not done well, there will be no consolidation, so, Fubara should do better than Governor Wike did.
"Sim Fubara is a vibrant youth and has all the energy needed, so we expect that he will adopt more better ways to do things so that he can do better than Governor Wike".
For former PANDEF spokesman and former Adviser to the Rivers State Governor, Chief Anabs Sara-Igbe, agriculture should be exploited, since Wike failed in that area.
He faulted Wike for not giving attention to manpower development, stressing that what Rivers people need now is sustainable growth through job creation and opportunities.
According to him, infrastructure development is not enough to transform the state.
Chief Sara-Igbe urged the incoming administration to revive the moribund agro allied firms like the fish farms and Songhai farms, which went comatose under Wike.
On his part, veteran journalist and expert in business and entrepreneurship, Ignatius Chukwu urged Fubara to exploit opportunities in the oil and gas and ICT to empower the youths.
Chukwu was of the view that proper focus on business and the economy by the incoming administration will drive investment and development. This, he said, can be achieved by setting up a State Economic think-tank.
The immediate past Commissioner for Information and Communication, Chris Finebone, who served under Wike, would also want the incoming governor to concentrate on areas of shortfalls from the previous administration.
These areas, according to Finebone, include equipping the zonal hospitals and agriculture.
He described such projects as low hanging fruits that can earn him applause and people's support for the new administration.
He also said the new governor should rehabilitate the State Secretariat complex which he said is in a state of disrepair.
"Once he revamps the secretariat complex, it is easy to get the support of workers, especially civil servants", he said.
However, for John Kennedy Dede, a student at the Rivers State University (RSU), Governor Wike has really invested much on infrastructure and focused less on human capital development.
"As a student talking from the student perspective, today, what is the hope for Nigerian students if after school there is no job?
"I would want Sim Fubara to focus more on the educational sector and employment generation as there are a lot of unemployed youths who are qualified, have graduated with their certificates, but do not have jobs.
"I really want him to focus on job creation because I wouldn't want to come out of school without getting my required job to do", he said.
Speaking in the same vein, Principal, Community Secondary School, Iriebe, Mabel Godson-Wejimegu, commended Wike's administration for prompt payment of workers' salaries, but expressed sadness that he, like many other civil servants in the State was denied promotion for eight years.
"One thing I can say about Wike in office is that he tried as par payment of salaries of civil servants. He maintained the monthly payment of salaries, not owing anyone or even delaying in the payment unlike some other states.
"But then, there was no promotion and for these years, it has not been easy with civil servants. Wike did not really carry civil servants along in his administration. Even when he finally called for promotion interview at the last minute, everybody was happy but at the end of the day, the promotion was not effected till he left office".
"For the incoming governor, one thing he should know is that everybody cannot go into politics. Fubara should look more into the primary and secondary education. He should not forget us, the teachers, principals, children. Attention should be given to us.
"As they said that education is free, let it be free indeed. Otherwise, let there be a stipulated amount for payment to aid us in the running of the school. Whether it is N5,000, N15,000, or N10,000, let it be made clear because it is not really easy with us.
"Another area is that of health. As a civil servant, you go to the hospital and you pay so much money just as the politicians, yet they said it is subsidized. It should be that as a civil servant, you pay less bills in the hospital. In fact, civil servants should really be considered by the incoming government", the principal said.
A university don and Head, Department Of Communication Studies, RSU, Dr Sarah Chidiebere Joe, preferred not to say much about Wike's administration. He, however, advised the incoming governor to build on the legacies of his predecessor.
"I am generally not happy with the state of the country and by training as both a journalist and researcher, I always stand with the people. I am, therefore, quite careful how much credit I give to our leaders.
"If the governor (Wike) is comfortable with his achievements, that's fine. However, I strongly believe that Rivers State and more generally, Nigeria could be a lot better.
"For the incoming governor, I recommend he focuses primarily on education and jobs. We need more well-trained teachers, who will in turn, help produce well-equipped graduates.
"We need to get our young people off the streets and into job spaces. Good policies and better business environment will be helpful", he said.
In the opinion of Barr. Sunny Igwe, a legal practitioner, there is much to talk about Wike's eight years in office. He faulted those who criticised Wike for concentrating so much energy on building of flyovers, but at the same time scored the outgoing administration low in the area of primary education, agriculture, healthcare and human capital development.
He said, "like I always tell people, let's not be complaining that he is doing flyover, flyover, flyover. Let us hold on to the ones he has done because he could have as well decided not to do anything, embezzle all the money and go away and there's nothing anyone of us can do about it. So, let's applaud him for the once he has done.
"I think on infrastructure, he has done well. Apart from the flyovers in Port Harcourt city, he has also built the Waterlines House and the likes. Those buildings now look good and have brought beauty to the environment they are situated. What about the Law House at Moscow Road and the Rivers State University Satellite Campuses in Etche, Ahoada and others? These are worthy of commendation.
"But then, people need to go to primary school before the university and yet, the primary schools are in the form they are? In fact, all the primary schools in the state need to be revamped. And that is one of the challenges for Sim (Fubara).
"As much as Wike tried in infrastructure, in health, he is zero; in agriculture, he is zero; in primary education, he is zero; in human infrastructure, he is zero.
"Take agriculture for instance, our land is fertile. Let's do something with it. Egg is never sufficient in the world. Chicken is on a high demand with the hotels booking it and all that. Let us do something that will create employment for our young people. Fubara sure has a lot to do".
However, a Supervisory Councillor for Education in Etche Local Government area of the State, Chief Precious Amadi, differed with those who criticised Wike for neglecting primary and secondary education.
He said Wike has left indelible marks in the area of primary and secondary education with the remodeling of schools across the 23 local government areas of the state, describing the feat as a giant stride.
"Today, many local government areas can show one or three schools built furnished or remodeled and this has repositioned the sector for better performance and service delivery. Our students and pupils are doing great in both internal and external examinations", he said.
He called on the incoming administration to improve on the legacies of his predecessor and put the education sector in the State on a higher pedestal.
In the area of entertainment, a Rivers State based gospel artiste, Wilberforce Afriyie, said that the Wike administration did very well, especially in music, having appointed a Sole Administrator to oversee the activities of the Rivers State Chapter of the Performance Musician Association Of Nigeria ( PMAN)
"With the appointment of Ibitoru Green, popularly known as Lady IB, things became different and orderly. She brought unity and sanity to the PMAN. She also made connections between musicians and multinationals for sponsorship. She also tried to initiate the idea of musicians having other sources of income and to be well packaged whenever they are invited for performance.
"The government, in a bid to curb the dispute within Rivers State chapter of the PMAN, through the national body, appointed an administrator to spearhead the chapter till proper election is done for a new executive.
A film producer and owner of Blacky New Generation Film House, Miebaka Aggo, however, disagreed. He scored Wike's administration low in the entertainment industry.
He said, "The outgoing administration didn't do well in Entertainment, especially, in Rivers State. However, I'm hopeful that the new administration will open more doors for our entertainment industry to grow more", he said.
Eze Oha Evo III and Eze Gbakagbaka, King Leslie Nyebuchi Eke, also lauded the achievements of Governor Wike, saying his administration was beneficial to all the citizenry.
He urged the incoming administration to build on the already laid foundation.
For a Port Harcourt based lawyer, Gift O. Nyeche, Wike is "the face of Judiciary" in Rivers State given his achievements.
Nyeche noted that the Judiciary has never had it this well until Wike mounted the saddle of governance in 2015.
Citing the Small Claim Court as one of the Wike's wonders in the Judiciary, he expressed satisfaction over his performance and made case for a higher political position for him in order to enable him explore more.
Geoffrey Wome, a Real Estate Agent, noted that the level of infrastructural development in Rivers State under Wike has put the state ahead of others.
He said that the development, has made Real Estate business in the state to soar.
He, however, appealed to the incoming government to do more in the area of human capital development, promotion of workers, overseas training for Rivers students and revamp of primary and secondary education in the State.
By: Tonye Nria-Dappa, John Bibor, Susan Serekara-Nwikhana, Kelvin Nengia, Lady Ogbulu, Amadi Akujobi, Nancy Briggs & King Onunwor
Goodbye Mr Projects, Welcome Sim
Oh! How time flies. May 29, 2015 remains memorable because it was  a day that  announced the emergence of Governor Ezenwo Nyesom Wike,  an astute politician, into the administrative theatre of Rivers politics. That day reminiscences  the beginning of two distinguishing tenures characterized by unprecedented infrastructural development and urban renewal in Rivers State. At first, Governor Ezenwo Nyesom Wike, was viewed as a neophyte  in handling state matters, but those who knew him  described him as somebody who had a programme in governance, and has got the focus and a vision for the people. Today, the same man's score card is read everywhere so people could see for themselves, how well or poor he fared. Although Rivers State may not have had it all rosy these past eight (8) years, yet it has been lucky to have had a governor who would cower to no one when it comes to satisfying the interest of Rivers people.   Governor Wike  proved  himself a strongman, who came in fighting, and dismantling every landmine on the state's developmental pathway
His inaugural speech on May 29, 2015 revealed the roadmap to kick-start the reconstruction and rehabilitation of Rivers State  as he pledged to leave his footprint in the sands of the  23 local government areas of  the state with at least one legacy project  that must be completed before the expiration of  his administration.  Like  a patriot, as he settled down for work,  he  addressed issues touching the areas that matter most.  He flagged off  zero pothole campaign on his first day in office. To the chagrin of the people, Governor Wike hit the ground running from the first day he assumed office in 2015, fixing roads and bridges, re-organising institutions and establishments, opening up clamped down spaces like the judiciary and courageously mending a broken, dysfunctional system. Governor Wike's  leadership strategy took the  state a notch further,  in terms of the provision of basic infrastructure.  Construction and rehabilitation of roads, too numerous to mention in this limited page took greater percentage of his attention.
Payment of arrears of salaries owed workers in the state including monies owed pensioners as well as the bail-out of students of the state in overseas, among others,  were areas in which the Governor  made tremendous impact within the first 100 days of his first tenure. For the records, Governor Nyesom Wike has impacted every sector of the state, including infrastructure, economy, agriculture, security, health, education, and policy. His unprecedented infrastructural renaissance has indeed set the state on a renewed part of economic boom. His  understanding of  government as a continuum, made him  spend greater portion of his first tenure, tidying up projects  his predecessor could not complete, so long as they had direct bearing on the masses, a feat even his critics failed to applaud him.  His effort at  re-opening law courts which were hitherto locked by his predecessor was a commendable feat that helped to regularize the administration of Justice in the state.
Of course,  the  construction and rehabilitation of roads in various parts of the state, at that time went a long way to reduce the traffic gridlock   in Port Harcourt metropolis and its environs. Today, his scorecard of the last eight (8) years has been replete with outstanding achievements, ground breaking events and the initiation of legacy projects, which have not only transformed the landscape of the state impressively but has attracted an avalanche of awards and chieftaincy titles from home and abroad. Governor Nyesom Wike may not have been without fault, but in spite of his shortcomings, he has written his name in gold. It is in this regard that the President of the Port Harcourt Chamber of Commerce, Industry, Mines, and Agriculture (PHCCIMA), Eze (Sir) Mike Elechi, remarked that "for Wike, these eight years, based on where the state was when he came, he has actually laid the foundation to propel the economy."
To say that Governor Nyesom Wike has turned Rivers State into a development model is an understatement, the state is simply the development index for Nigeria. Little wonder, a former commissioner of information   in the state, Pastor Paulinus Nsirim, once said, "the developmental strides of Governor Nyesom Wike in all sectors of the State's economy are so glaring that nobody can deny the fact that Rivers State, today, is the development index for Nigeria." Wike's commitment  to the rapid development of Rivers State  turned  the state into a huge construction site. A status that  earned the state respect across the world, as  all eyes are turned on Port Harcourt for economic and business activities. His speedy and timely delivery of massive infrastructures was second to none. Suffice it to say that by these achievements, Wike turned around the fortunes of our state. His  potentials and pedigree which speak of him  as an articulated visionary earned him the sobriquet " Mr Projects. Upon  the strength of his delivery of projects that have transformed Rivers State, his foremost outstanding developmental strides, as early as two years in his first tenure, "Leadership Newspaper named him Governor of the Year 2017.
Like Caesar  attested in a report to Amantius, a friend of his in Rome, Governor Ezenwo Nyesom Wike came, saw and conquered. Nevertheless, as imperfect as every mortal being could be, the outgoing governor in all his achievements, never had a sweet romance  with the state civil servants while his reign lasted as  civil servants in the state neither tested promotion, nor had the promoted ones  their financial benefits implemented. Yes, he may have managed to right his wrong at the twilight of his reign by organising an adhoc promotion exercise, but how far will that go in healing the pains and agony of eighth years? Howbeit, Good bye! our governor.
Welcome Sim
On the other hand, today is  the much awaited May 29, 2023, when power is expected to change hands in the country in general, and in the state in particular. Interestingly,  Wike honourably bows out of office to give way to Dr  Siminialayi Fubara,  aka Sim, for short, to enter.
The  expectation of many  Rivers people is that Sim's administration should not only consolidate on the gains of his immediate predecessor, but also bring about a huge turnaround in terms of innovations in  the state. In the first place, our new governor must work hard to prove those   who doubted his capacity to steer the ship of this great state wrong with good governance. This task is only achievable when  right pegs are fixed on  fitted holes irrespective of political leanings. Fubara's inclination towards zero tolerance for corruption in public offices as well as making accountability a watch word, will take our state a step further
As Rivers people look into the future, , there is a palpable desire to be productive, competitive, and self-reliant in the face of global and national uncertainties. Consequently, stakeholders and various interest groups are already advancing their agenda for the next governor. The thoughts of Rivers people, through the voices of interest groups, major stakeholders, and experts in various sectors will be distilled as an agenda for the new governor. However,  in this first installment, an economic agenda is articulated for the next occupant of the Brick House in the hope that all the material and human resources bequeathed to the state by God might be harnessed to create enduring wealth and prosperity, particularly given the foundation laid by Governor Wike. It is in this regard that the President of the Port Harcourt Chamber of Commerce, Industry, Mines, and Agriculture (PHCCIMA), Eze Mike Elechi, remarked that "the economy of a state or nation has to be tackled by first of all laying down foundation – the infrastructure that will propel the economy".
Given the commendable effort of the outgoing governor  at  providing physical infrastructure,  what appears more important now is a  look at the things that can make the economy grow vis a vis the dynamics of it. Modern-day economic booms would take off from industrialisation, agriculture; etc  Electricity stands tall in the hierarchy of the needs of the state. Rivers State can leverage on the bill on electricity generation and power, if assented to,  to have abundant power, enough for distribution. According to the President of PHCCIMA,  almost all the companies in Trans-Amadi Industrial Layout have either moved or are moribund".  Hence, the onus is now on the new administration to focus on cottage industries by creating special loan schemes whereby the private sector can access equipment finance to increase their capacity in order to boost the economy.
Small businesses sure need assistance equivalent to what is offered by the Bank of Industry and Bank of Agriculture.  This makes a critical look at the Rivers State Micro-Finance Agency (RIMA), for the purpose of restructuring it to meet its mandate imperative. In the same spirit of helping small business holders, reasonable consideration can be given to tax holidays to enable existing businesses grow and to attract new businesses to the state. This no doubt, will improve the  Ease of Doing Business (EoDB) in the state. In addition to this,  the impact of community hostilities, and insecurity on the business community in the state has remained a concern to be addressed. Host community interference and disruptions are very low or nonexistent in many parts of Lagos. For example, you will not find individuals visiting companies within the Ikeja environs making demands because they are from Ikeja. You will also not find expatriates using armed policemen or soldiers on every trip because they have kidnapping scare.  Why would  any one consider sighting business in a State notable for host community disturbances, kidnappings, and other vices, as against settling in Lagos State that is relatively peaceful and business-friendly?"
Acordingly, there are expectations that  the next governor of Rivers State would put the Onne Port and the Port Harcourt Port into use   so that raw materials can come directly to Port Harcourt, as against what is currently obtainable. Where "a truckload of raw materials coming from Lagos to Port Harcourt cost almost N1 million. That money can be saved if we are using our ports. It is also hoped that the next governor will create additional industrial parks with a good road network, energy, and water to boost manufacturing in the state.  This if  done, would lure investors to move in and develop their lots.  The next governor should, as a matter of necessity,  seriously consider accelerating the process of obtaining  Certificate of Occupancy (CoO) so that property owners in the state can use their properties as collateral to boost their capital.
Therefore, security and energy  must be treated as  major components of EoDB.  Guaranteed that security  seemed improved in the day time for now,  there  is the need   to make day and night secure, just as Port Harcourt used to be in the past; and also make sure there is steady energy. When these two things are there, "people can do their business both day and night, bringing Port Harcourt to its former glory."Mr. Okuku stated.   According to him, Lagos State has no oil, but it's just a business-friendly environment. For us here, we have the seaports, we have the rail, we have the major roads, and we have the airport. So, these principal routes of entry, and exit make Port Harcourt the second best place to invest outside Lagos.
The  economic agenda for the next governor is very clear: fight multiple taxes; improve Ease of Doing Business; build new industrial parks; open up the seaports. Others are to help local government areas develop industrial hubs based on their unique comparative advantage; support small businesses with equipment loans to boost capacity and productivity; create an opportunity desk to hunt for jobs, scholarships, and grants for the indigenes of the state; and reorient Rivers People to be more investor- friendliness.
By: Sylvia ThankGod-Amadi with report from Raphael Pepple